HyperX and Team SoloMid Are Giving Away DDR4 RAM
Updated: 13 Aug 2017 10:44 pm
HyperX Fury DDR4 is pretty nice RAM. Just gotta win it.
TSM and HyperX are holding another giveaway.
Team SoloMid has partnered up with HyperX to give away DDR4 RAM. For the non-computer savvy, before you ask what RAM is, allow me to say that I'll answer that question shortly. To enter the giveaway, follow this link.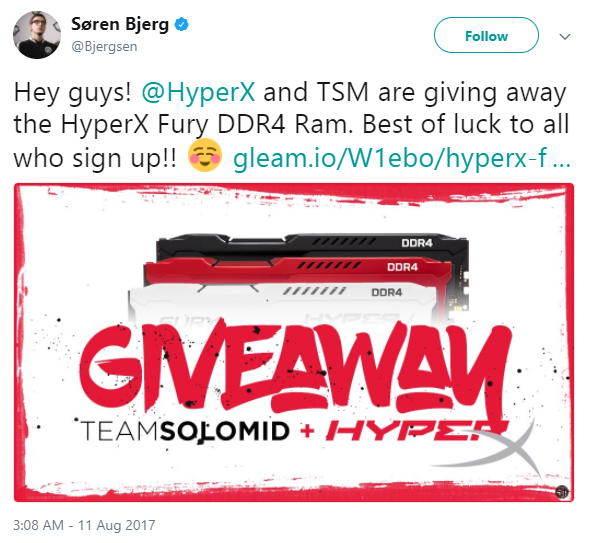 Bjergsen's tweet about the giveaway.
The giveaway is a sweepstakes running from August 10th to August 17th through gleam.io, a platform used for many different types of giveaways. There will be 5 winners of the HyperX Fury DDR4 RAM. Anybody residing in North America or the European Union can enter as long as it is not prohibited by law. To enter, follow the link and complete the listed tasks to gain entries into the sweepstakes. The winners will be selected randomly from eligible entrants. The more tasks you complete, the higher chance of winning.
Now, to explain what RAM is, it's basically the short term memory storage of the computer. If you have a desktop computer, it's likely you could upgrade your RAM if you win this giveaway. Lots of ifs, but nothing free is easy to get. The better your RAM, the more your computer can handle at one point. DDR4 can handle a lot more a lot faster than DDR3, but it is also much more expensive if you want to be able to handle modern games. For example, my computer has 8 GB of RAM and it's having trouble loading Chrome right now because I have more programs in the background. If I were to upgrade my RAM, I would not be lagging at this point. Anyways, good luck to all who enter the giveaway.