LoL Best Xayah Skins - All Xayah Skins Ranked Good To Best
Updated: 15 Sep 2022 4:50 am
Original Xayah Skin
Xayah's sharp and quick feathers make the nickname, 'The Violet Raven,' very fitting for her. Quick-witted and determined, Xayah will never give up or run away from a fight.
The way she fights almost seems like she is dancing in the air, twirling her glowing feathers towards her enemies.
Xayah also has a loyal, loving companion with her, which makes playing her even more enjoyable.
Although Xayah doesn't have very many skins, the ones she does have are breathtaking. It surely won't be easy to pick a favorite!
#4. SSG Xayah (Ok)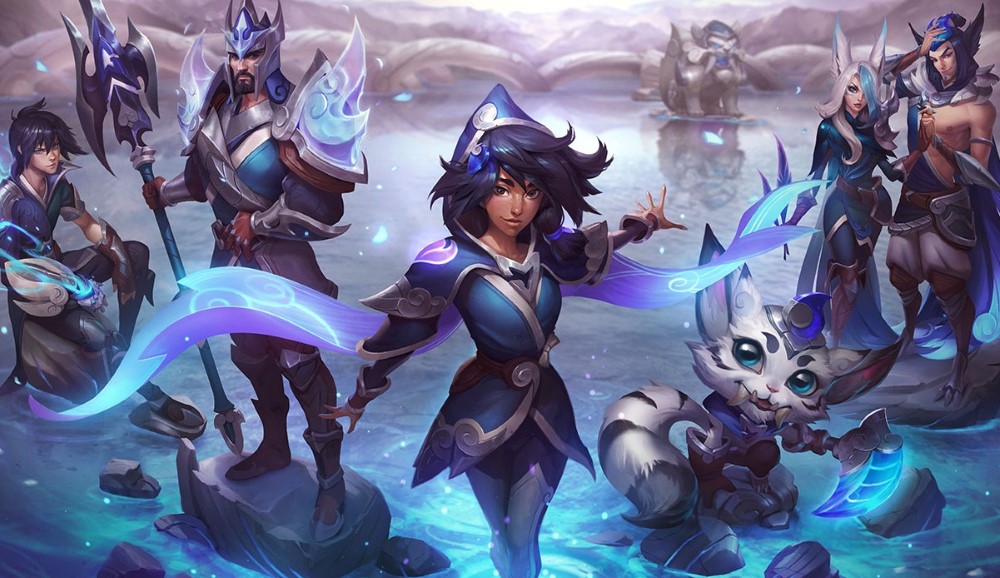 SSG Xayah skin
Considering how great Xayah's other skins are, this one may feel slightly underwhelming. It is a very simple skin just like the typical SSG skin series. From the style to color, there isn't anything unique or special. SSG Xayah doesn't seem to know what to portray in the splash art while other skins' splash arts display a specific character of Xayah: Cosmic Dust - mystic; Sweetheart - lovely; Star Guardian - dark and dangerous.
What makes this skin so simple:
SSG Xayah's splash art does not emphasize her at all. Rather, she is just in the right corner with Rakan with a questioning look upon her face. If you wanted a skin that truly portrays Xayah's character, this one may not be for you. 
Her overall look, however, is simple yet pretty. SSG Xayah is like a winter raven. The white and blue colors make her aura quite majestic!
The two recalls are amazing! Alone, SSG Xayah is escorted by a carriage of birds. With Rakan, she seems to be celebrating something!
How to get this skin: 
Available during special events in the client shop for the price of 1350 RP.
See SSG Xayah in action!
#3. Cosmic Dusk Xayah (Awesome)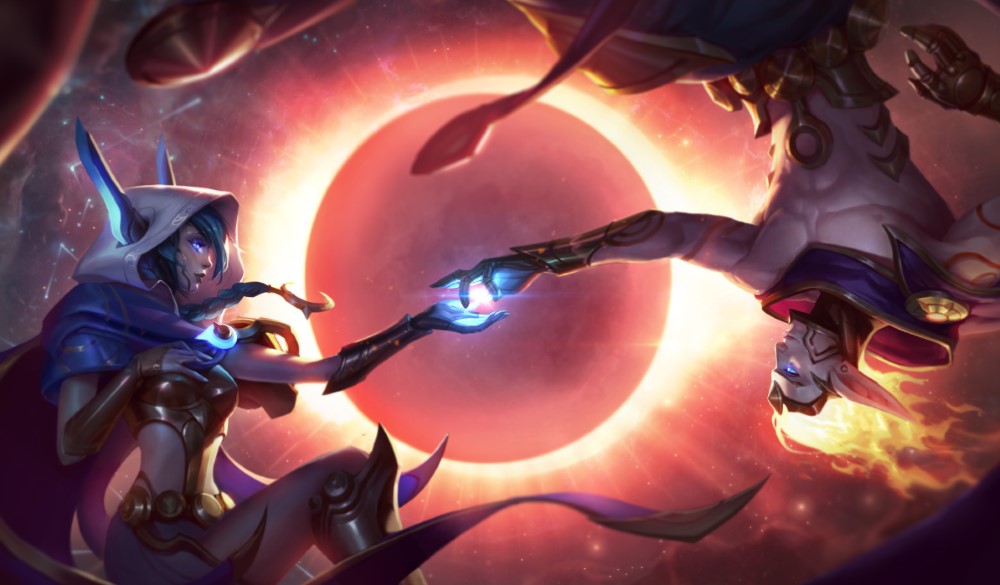 Cosmic Dusk Xayah skin
This skin is simply stunning with a mystic vibe. Xayah and Rakan are on either side of a glowing solar eclipse, enjoying a peaceful moment together. You can really feel their strong connection in this one. If you're feeling mystical and particularly empowered by astronomical events, this skin is for you!
What makes this skin mystical: 
Xayah and Rakan share a powerful connection, and that deep connection is depicted in great detail in this splash art. It is just so heartwarming!
Cosmic Dusk Xayah's outfit is unique and fitting for a cosmic skin. The red and gold colors compliment her glowing eyes and also work well with the glimmering crimson background. 
You will fall in love with Cosmic Dusk Xayah's feathers during gameplay. They glow with a blue outline and give an overall amazing astronomical feel. 
How to get this skin: 
Available in the client shop for the price of 1350 RP.
#2. Star Guardian Xayah (Legendary)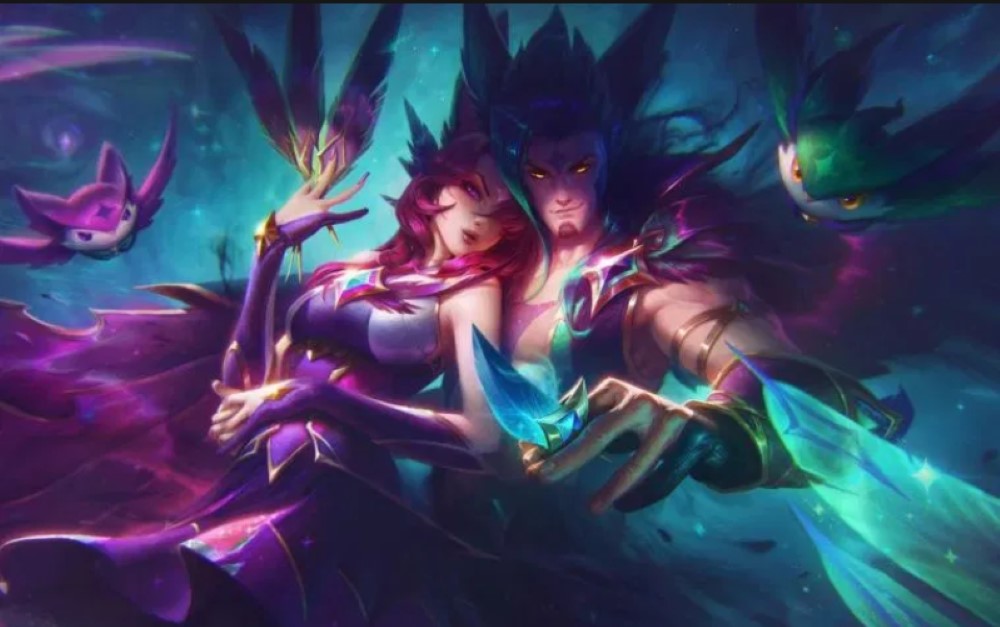 Star Guardian Xayah skin
If you were expecting another lovely anime-themed skin, you might be surprised by this one, but you surely won't be disappointed! Star Guardian Xayah portrays a dark, dangerous, and aggressive side of Xayah. The effect and visuals of her moves make her sharp attacks look even scarier! What an addition to the already popular and beloved Star Guardian skin series. 
What makes this skin interesting:
In contrast to the usual bright and cheery ambiance of past Star Guardian skins, Star Guardian Xayah is darker and more mysterious. This evil spin to the Star Guardian series is interesting, but may also be a deciding factor for many when contemplating which skin to get. 
The concept behind this skin is Xayah's inner conflict between good and evil. This conflict is very well portrayed during combat, as some abilities emit light, while others are dark and vicious. 
Star Guardian Xayah is absolutely stunning. She has a devious look upon her face. Both seductive and beautiful. If this is your style, don't hesitate to get this skin!
How to get this skin: 
Available in the client shop for the price of 1820 RP.
See Star Guardian Xayah in action!
#1. Sweetheart Xayah (Legendary)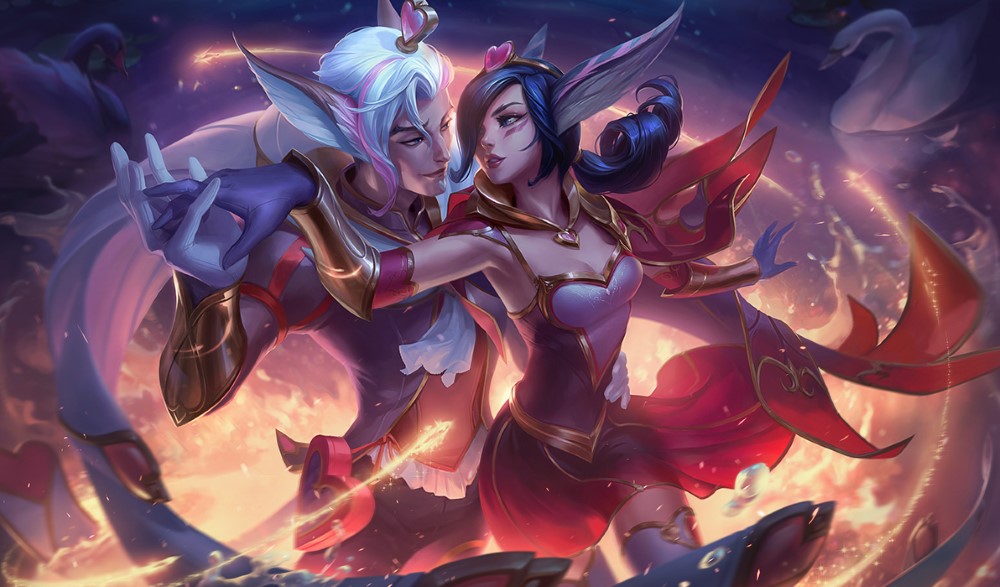 Sweetheart Xayah skin
The Sweetheart Xayah skin has one of the prettiest splash arts in the game, especially when your sweetheart plays the matching Rakan's skin. There is no better way to enjoy the spirit of Valentine's day. Now, show off your deadly moves filled with love. Have you seen the joint recall with Rakan? 
What makes this skin lovely: 
Sweetheart Xayah and Rakan are in the middle of a lake surrounded by beautiful swans. It seems like they are in a world of their own, ignorant of whoever is watching. 
The little heart details on Xayah's hair and outfit are cute yet charming. Usually a sharp and firm character, Sweetheart Xayah has a little more of a soft image. She gazes at Rakan with the most delicate expression. Can you feel the love yet?
Her cape! It is stunning and flows behind her during gameplay, much resembling her own feathers. Sweetheart Xayah's feathers themselves are as sharp as ever, but with a nice pinkish glow. A skin truly fitting for Valentine's Day! 
How to get this skin: 
Available during special events in the client shop for the price of 1350 RP.
See Sweetheart Xayah in action!
You may also be interested in: