Halo Infinite gets delayed to 2021, won't be Xbox Series X launch title
Updated: 14 Aug 2020 5:35 am
Graphics aren't everything… but 2007 called, and they want their brute model back.
343 Industries Halo Infinite to skip holiday season and Xbox Series X launch
Earlier this week, on August 11, 343 industries announced the delay of 343 Industry's upcoming Halo Infinite for Xbox Series X, Xbox One, and Microsoft Windows.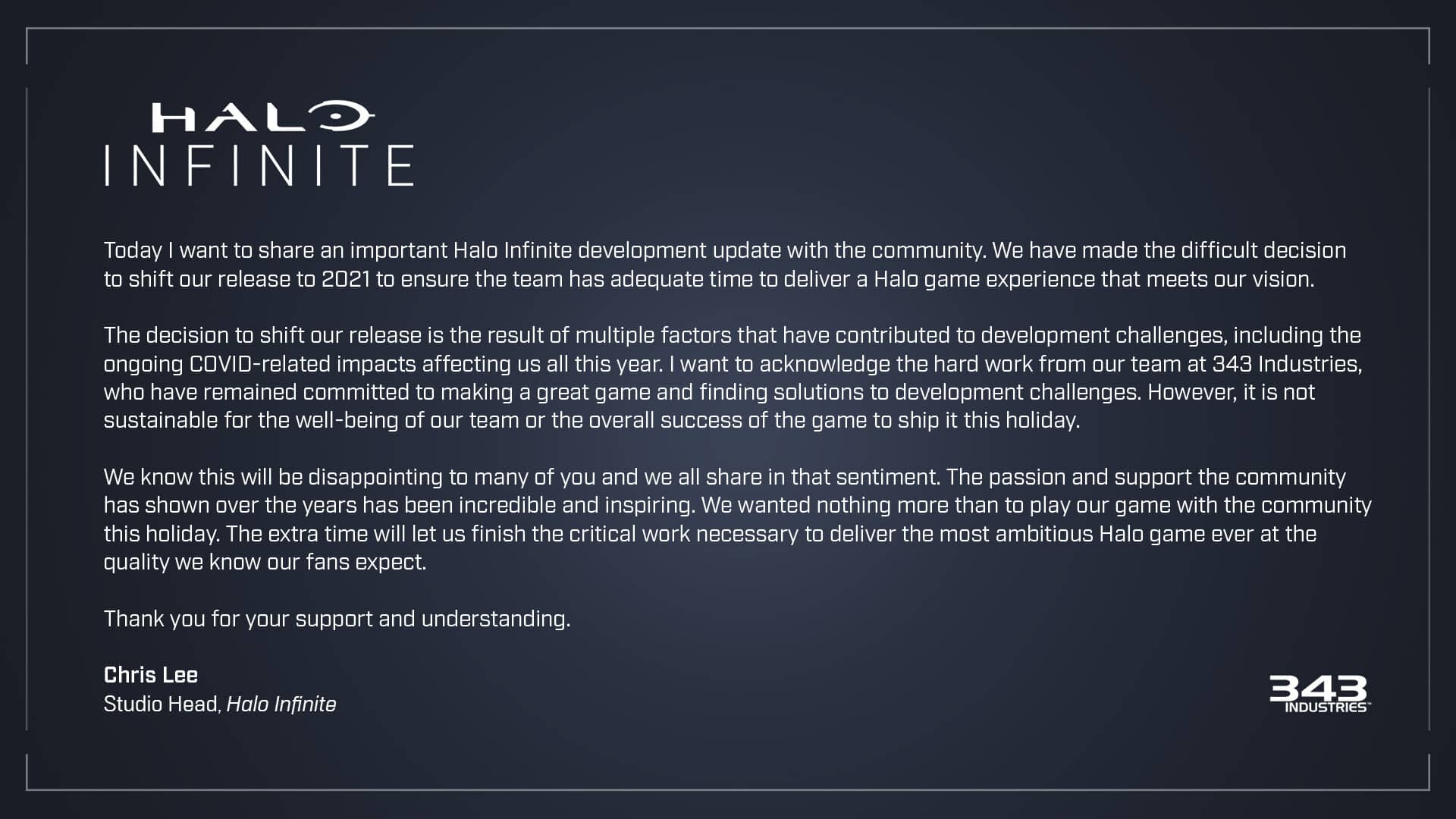 Here's the dreaded announcement in question.
"We have made the difficult decision to shift our release to 2021," wrote Studio Head Chris Lee in the announcement. "To ensure the team has adequate time to deliver a Halo game experience that meets our vision."
Citing "multiple factors" as the delay's cause, including the COVID-19 pandemic, 343 relayed their concern for not only the welfare of their development team but also the quality of their product. Despite the delay, 343 acknowledged that while they are committed to working around obstacles in game development, the current circumstances make their original project goals "not sustainable" – at least not for a holiday 2020 release.
Lee then relayed that like those eagerly anticipating Halo Infinite, 343 as well are disappointed that Halo Infinite will not be available until 2021. In short, Halo Infinite will not be a launch title for Microsoft's next-gen console, the Xbox Series X.
Arguably the only major exclusive for Microsoft's next-generation of hardware, Halo Infinite's delay is not only ahead of the holiday season but also outside of the Series X's launch window, which will undoubtedly play a role what purchases consumers will consider once November/December comes around.
The delay isn't the only major announcement this year for Halo Infinite; late last June 343 tweeted that Halo Infinite's multiplayer would be completely free-to-play even for those who don't purchase the entire game. It isn't clear yet if Infinite will model the Call of Duty: Modern Warfare method of having a separate free-to-play mode like Warzone.
"The extra time will let us finish the critical work necessary to deliver the most ambitious Halo game ever," Lee went on. "At the quality we know our fans expect." This last statement is hard to separate from the overwhelming backlash 343 received after Halo Infinite's gameplay reveal during the Xbox Games Showcase. Many detractors, including Domino's Pizza, criticized the game's graphics, which to them, seemed under-par for a next-generation title.
With no official release date, 343 Industries have bought themselves a lot of time to refine their most anticipated project to date. As legendary Nintendo producer and game designer, Shigeru Miyamoto once said: "A delayed game is eventually good. A bad game is bad forever."