Final 5 Battlefield 2042 Specialists Are Out! - Will They Make an Effective Team?
Updated: 23 Oct 2021 6:11 am
Battlefield keeps getting better and better!
In the wake of the Battlefield 2042 open beta, Battlefield has revealed the final 5 specialists, bringing the total to 10. Each specialist has a unique specialty and passive trait. The question is, how well do the new specialists complement each other as a team?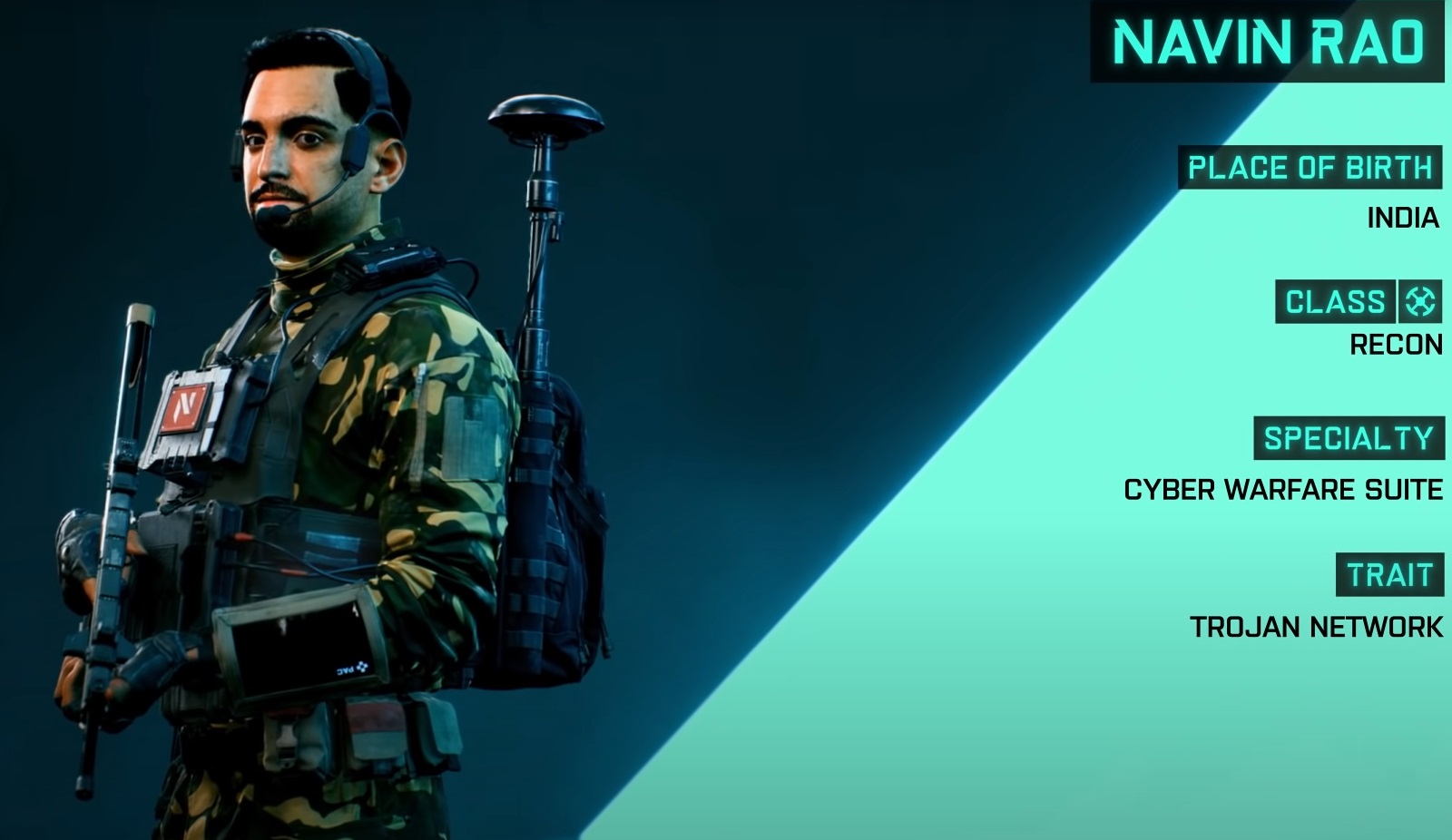 Navin Rao. Image by Battlefield.
The first of the new specialists is Navin Rao. 
Class: Assault
Specialty: Cyberwarfare
Trait: Trojan Network
Cyberwarfare allows him to hack enemy players and equipment. Trojan Network reveals enemy positions around a hacked player that he kills.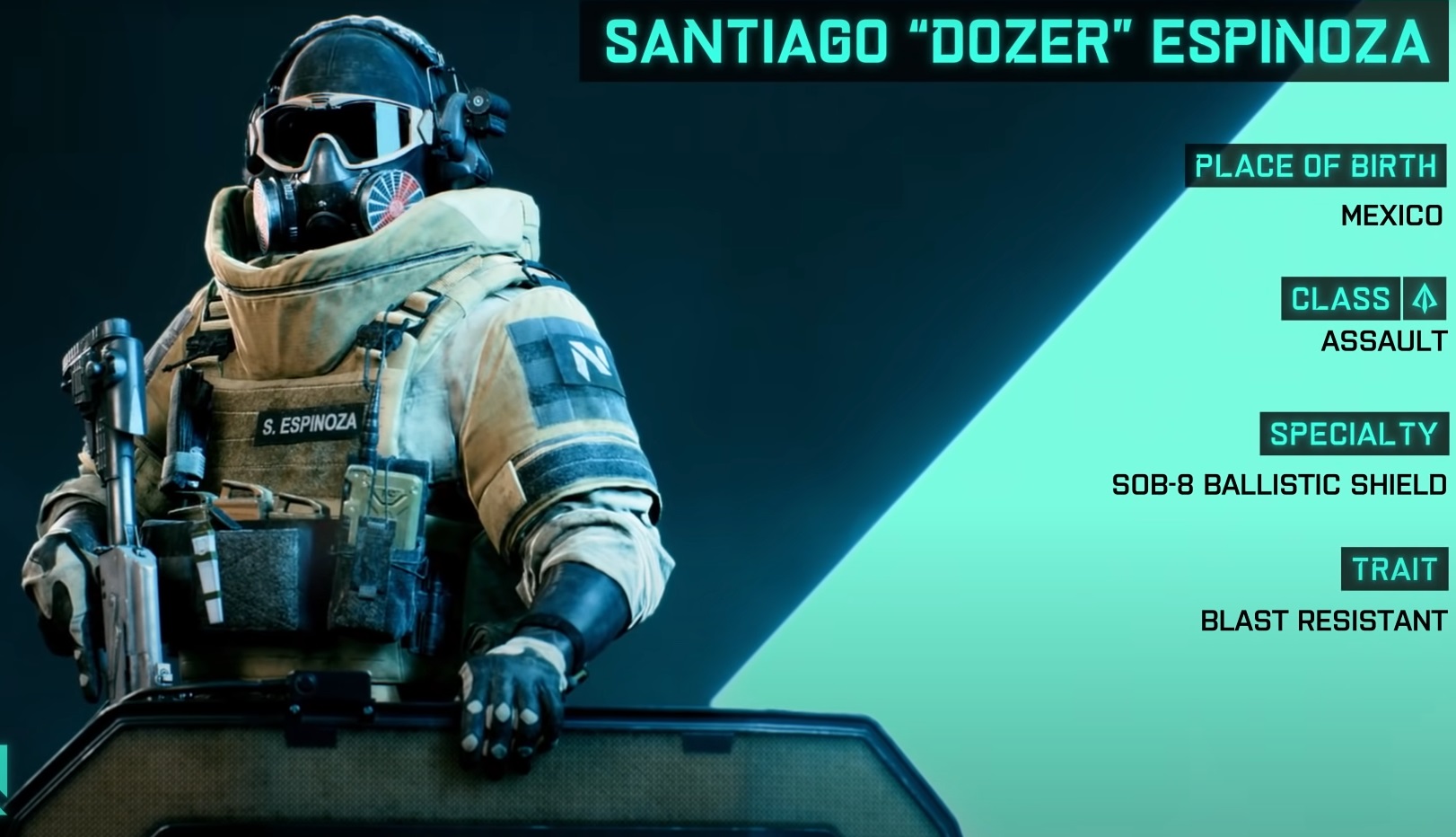 Santiago Espinoza. Image by Battlefield.
The second specialist is Santiago "Dozer" Espinoza.
Class: Assault
Specialty: SOB-8 ballistic shield
Trait: Blast resistance
The ballistic shield can be used as cover and is an effective weapon to rush enemies with. Blast resistance means Espinoza takes less damage from explosions and heals faster from explosive damage.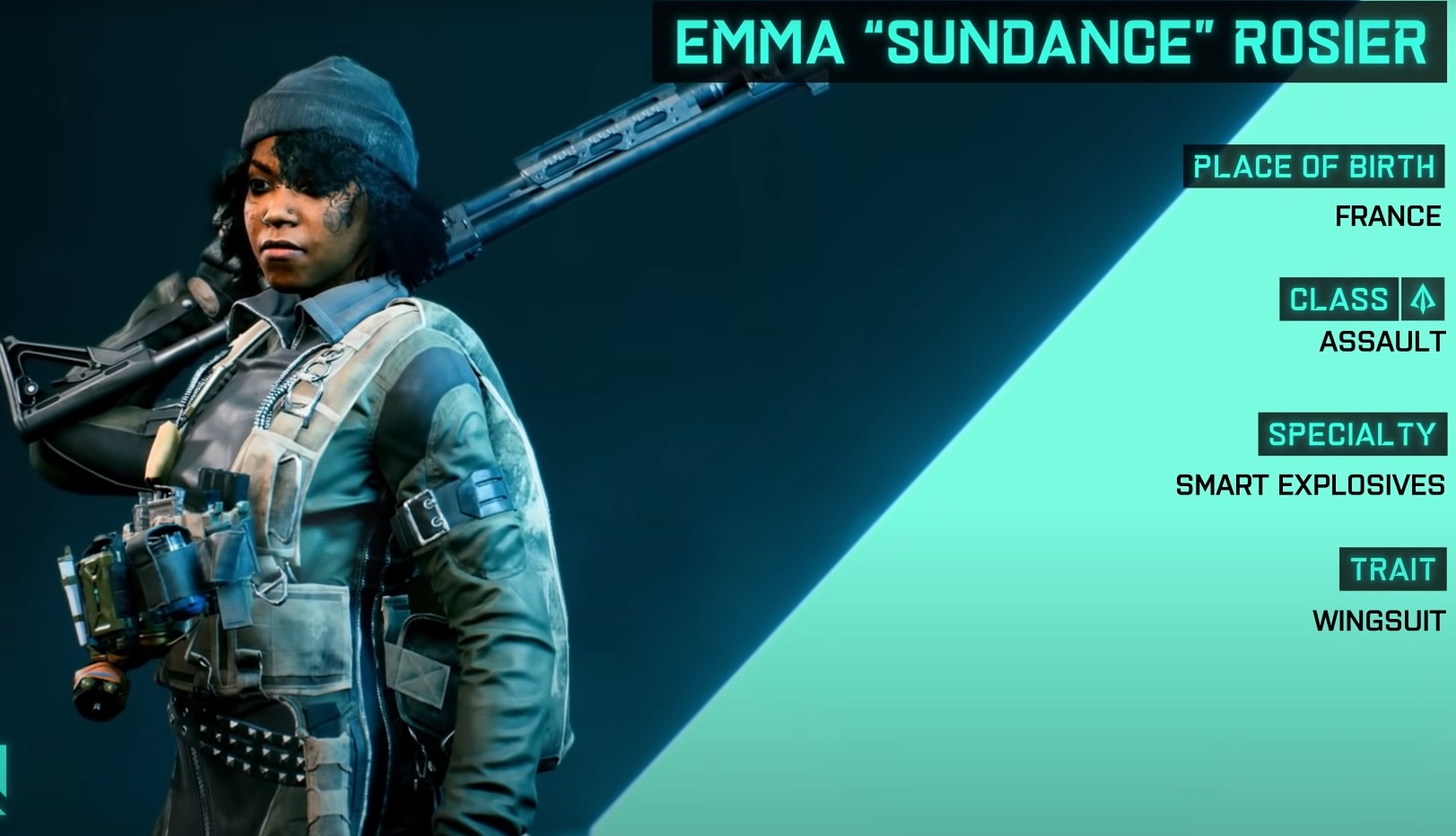 Emma Rosier. Image by Battlefield.
Next is Emma "Sundance" Rosier.
Class: Assault
Specialty: Smart explosives
Trait: Wingsuit
The wingsuit allows her to fly and rapidly cover significant distances. The smart explosives consist of a variety of EMP, Anti-material, and Scatter grenades, which can be used to take out vehicles, equipment, and personnel.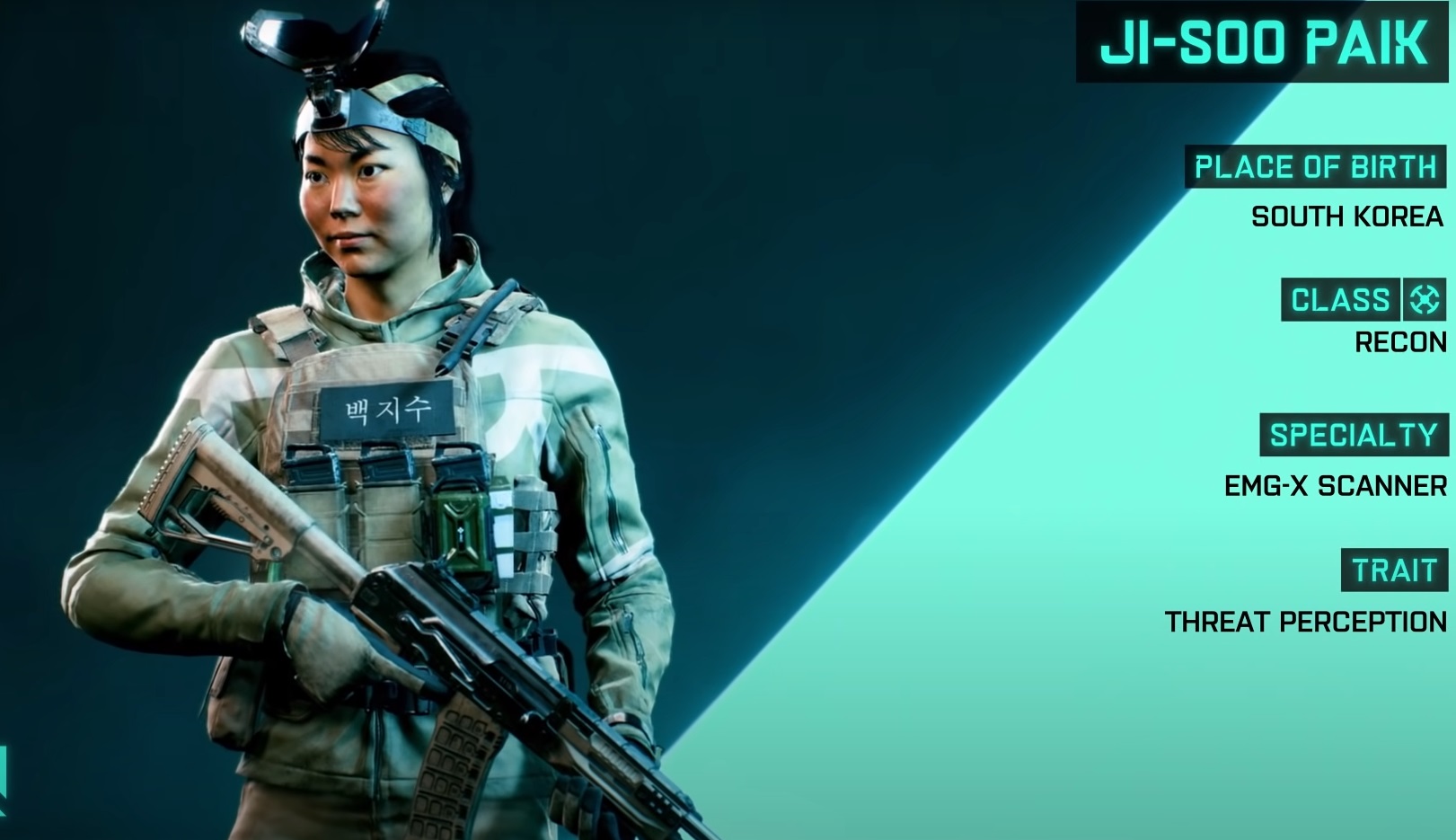 Ji-Soo Paik. Image by Battlefield.
The fourth specialist is Ji-Soo.
Class: Recon
Specialty: EMG-X scanner
Trait: Threat perception
The EMG-X scanner displays a magnetic overlay of enemy players behind cover, similar to a Bloodhound scan in Apex Legends. Threat perception highlights enemy players that deal damage to Ji-Soo.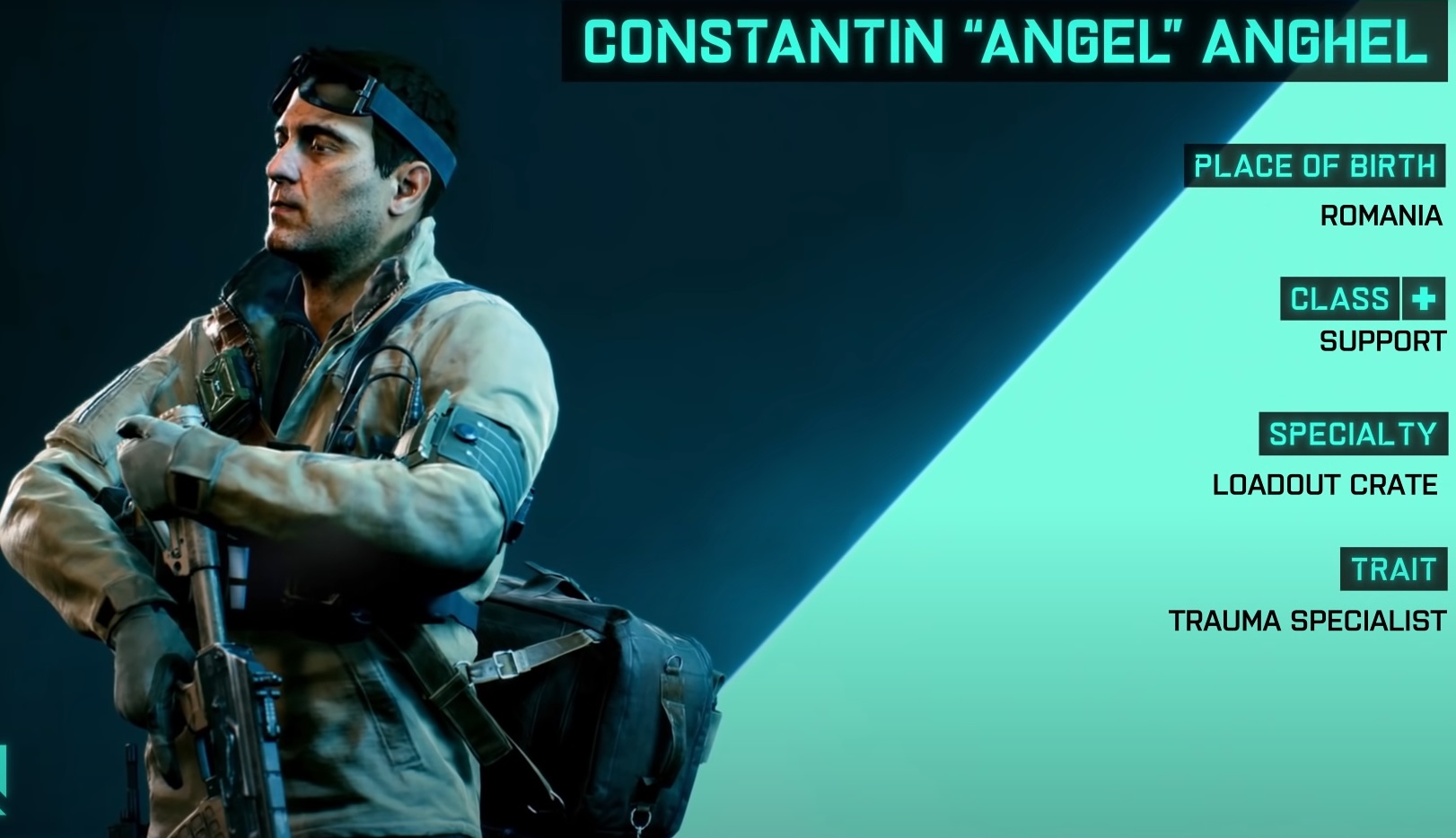 Constantin Anghel. Image by Battlefield.
Last, but not least, is Constantin "Angel" Anghel.
Class: Support
Specialty: Loadout crate
Trait: Trauma specialist
The loadout crate can be used to provide yourself and your team with armor, ammo, and new loadouts. Being a trauma specialist means that Anghel can revive fallen teammates rapidly and restore their armor.
Now to deal with the question of effective team play. Both Rao and Ji-Soo have unique recon abilities that can help them determine enemy positions and call these out to teammates. Knowing the enemy positions enables effective re-positioning and the development of an effective assault plan.
Rosier and Espinoza both have abilities that allow them to rapidly close in on enemies with minimal damage to themselves and maximum damage to enemies. If used in conjunction with the intel from the recon characters this could potentially prove to be a deadly combo.
Anghel has all the tools to support the rest of the team and to provide them with medical aid, ammo, and a loadout suitable to the immediate circumstances.
Battlefield has also announced the addition of a 1 button ping system with multiple possible selections since the open beta. This ping system can be used for effective communication between players. 
The unique abilities of each specialist, in conjunction with the pinging system, suggest that the new specialists will make an effective team and that despite initial concerns, effective team play is possible.