[Top 10] Zombie Strategy Games That Are Excellent
Updated: 21 Dec 2022 9:19 pm
Strategize your way through these 10 Excellent Zombie Games.
Zombie games have been a dime a dozen, with each release having the same plot and gameplay elements with little to no innovation. However, the combination of strategic genre helped breathe new life into the otherwise dying genre.
So now, it's time to take a look at the Top 10 Zombie Strategy Games that are Excellent.
10. Colony Survival (PC)
The voxel world of Colony Survival, which is inspired by Minecraft, allows you to construct and defend your colony from the army of creatures that prowl the night.
Colony Survival requires you to build, survive, and strategize your way across an open world.  Its expansive world, along with its addicting base defense gameplay, makes for such an engaging experience that you might just want to invest hours into it.
A lot of the game's enjoyment comes from defending yourself against the group of bizarre-looking zombies in your colony, in a charming art style reminiscent of Minecraft. So, if you like the titular game, then there's no doubt you'll like this one.
Play This Game if You Like:
Tower Defense
Resource Management
Stunning Visuals
Voxel Gameplay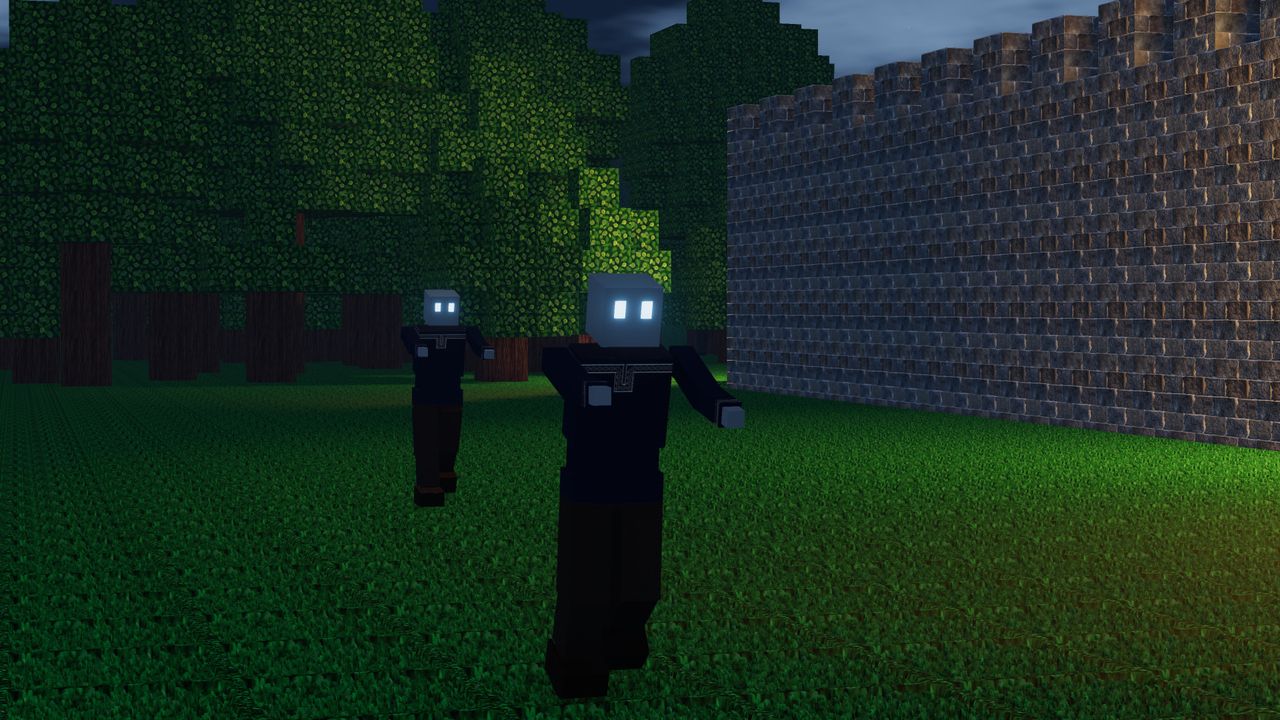 Prepare your colony before the undead arrives at night.
9. Decision: Red Daze (PC)
Decision: Red Daze is an action role-playing game that blends tower defense and survival mechanics to create a breathtaking experience. Leading your team of specialists through a post-apocalyptic wasteland in pursuit of a cure.
In Decision: Red Daze, killing hordes of zombies and acquiring resources has never been more enjoyable. A captivating game that keeps you playing as you fight your way through its hideous undead while offering thrills, chills, and explosive action.
Play This Game if You Like:
Base Defense
Open Exploration
Top-Down Shooter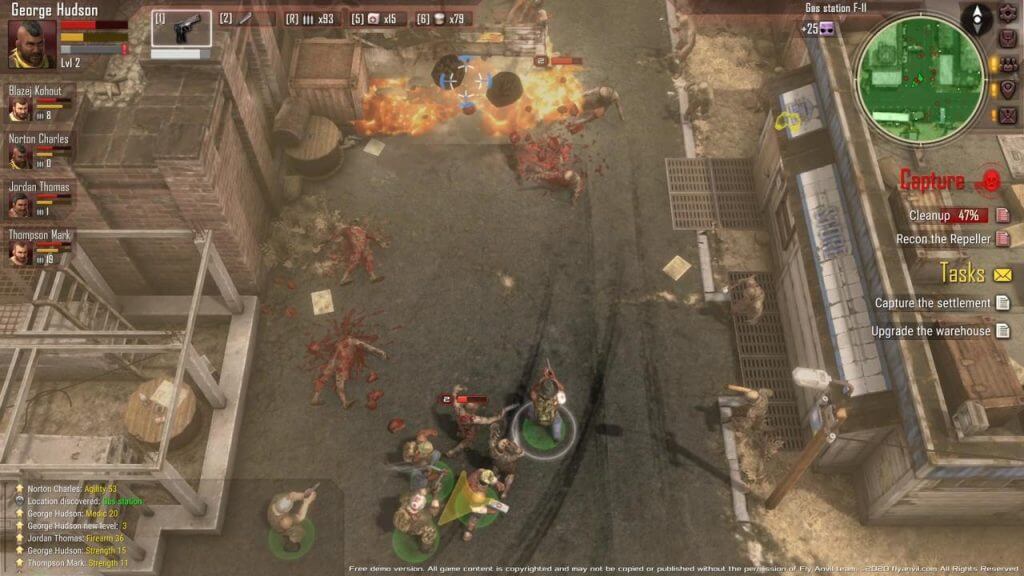 Play as military soldiers fighting zombies.
8. Survivalist: Invisible Strain (PC)
Set 10 years after the infection started, you take on the role of a survivor trying to make it in a harsh world as you construct your new life.
If you love State of Decay, then you will surely love this highly addicting and stress-inducing strategic game. It's a game that puts a large emphasis on survival as you try to defend yourself by any means necessary, including building a base that serves as your safe zone.
With a lovely cell-shaded art style and a weather feature designed to inject some life into an otherwise desolate and tough game.
Play This Game if You Like:
Cell-shaded graphics
Sandbox Mode
Challenging Gameplay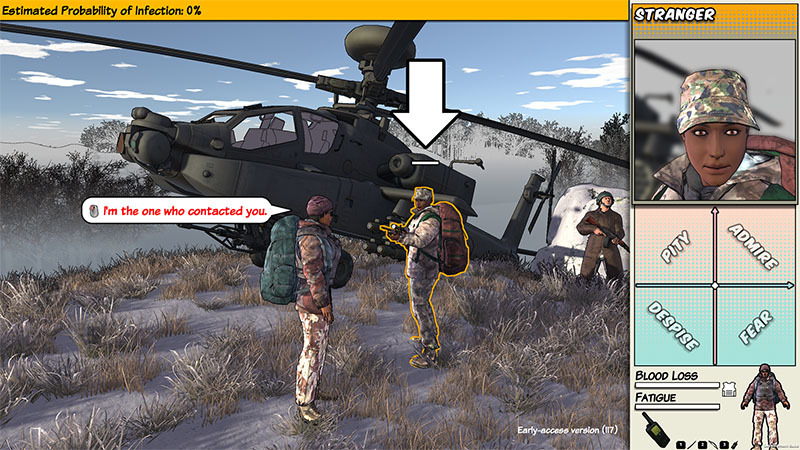 Save and make friends with the other survivors of the zombie-infested world.
7. Red Solstice 2: Survivors (PC)
Red Solstice 2 promises relentless, wild action. Plan your strategy and infiltrate a tactical real-time battlefield with your group of seven squad members. 
Top-down shooters have always been a niche genre of video games, but Red Solstice 2 will quickly capture your attention with its explosive action gameplay and flexible strategic system that's open for so many experimentations.
It's a game that packs in a worthy challenge, complimented by stellar combat and even more satisfying gory visuals, culminating in an experience that every gamer should experience.
Play This Game if You Like:
Real-Time Battle
Multiplayer Mode
Tactical Depth Gameplay
Fight your way through grotesque looking infected.
6. Yet Another Zombie Defense HD (PC, PS4, XBOX ONE, SWITCH)
Test your survival skills as you mow down hundreds of zombies and defend your base in Yet Another Zombie Defense HD.
Yet Another Zombie Defense HD pokes fun at the tired genre by providing a hilariously good time with its easy-to-pick-up-and-play gameplay that will keep you addicted for hours on end, especially with its multiplayer mode.
Although the game's appearance may appear simplistic, this is actually one of its greatest qualities. And with an assortment of weapons to choose from and an investing tower defense mechanic, you might just find yourself obsessed.
Play This Game if You Like:
Online and Local Co-Op
Base Defense Mechanic
Simplistic Gameplay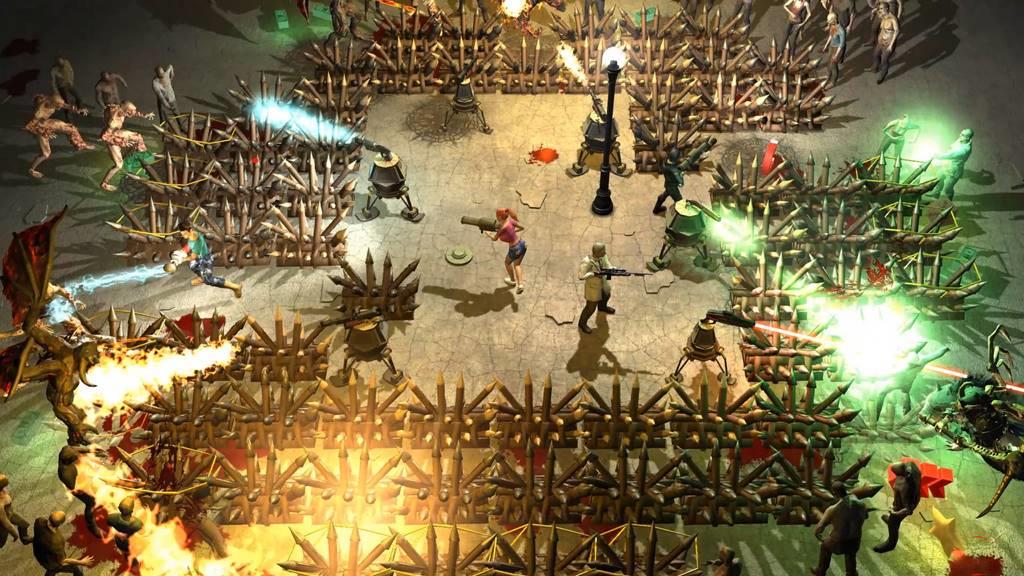 Defend yourself and others from the group of nasty and shambling zombies.
5. Rebuild 3: Gangs of Deadsville (PC)
Rebuild a ruined city and manage a group of survivors in this post-apocalyptic mix of strategy and simulation.
A game that harkens back to the strategic role-playing board games of old. Rebuild 3 tasks you with reclaiming a post-apocalyptic world by making harsh decisions with significant consequences using its strategic mechanics. Managing your defense and supplies also makes for an engaging, sweat-inducing game.
Play This Game if You Like:
Random Events to Spice up the gameplay
Survivor Skills
Multiple Endings
Build a powerful faction in a zombie-infested world.
4. Infectonator 3: Apocalypse (PC, ANDROID, IOS)
Nothing's more fun than being able to cause the zombie apocalypse itself, and Infectonator 3 succeeds at making this come true. As you're tasked to drop a virus and spread it across the world.
Infectonator puts a new spin on the familiar strategic zombie game genre. By giving you the ability to put an end to humanity by infecting everyone that you come into contact with using its fun and chaotic mechanic that lets you put zombies or an infected item on a level.
It's such a blast to see the level go from what initially appears to be a typical setting to one where every wall is covered in blood. The game also has an adorable pixelated art style that makes each bloody scene hilarious.
Play This Game if You Like:
Pixel Art Style
Upgrade System to Increase Zombie Stats
A variety of silly zombie types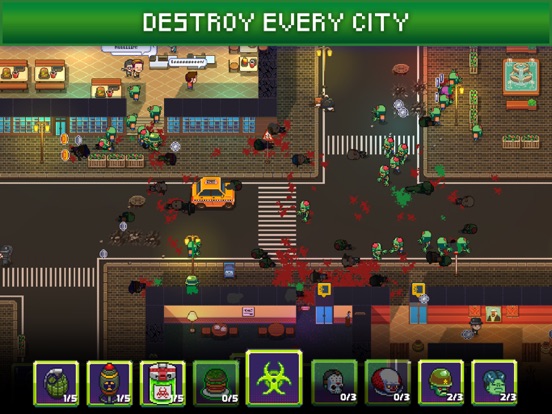 Create mayhem in this charming pixel game.
3. Zombie Night Terror (PC)
Spread the pandemic and turn everyone into thirsty walking undead in Zombie Night Terror. A strategic game where you have direct control over the zombie horde's actions!
While some games on the list focus on the perspective of a survivor, Zombie Night Terror, on the other hand, focuses on the shambling undead as you play in a Lemming-style gameplay where you can wreak mayhem and eat the flesh of the living.
A game that boasts a simplistic but gorgeous art style, an in-depth strategic mechanic, and buckets of blood that will cover your computer screen, there's a lot to love in this chaotic game. 
Play This Game if You Like:
Sandbox Style Approach to Level Design
Different Zombie Types to cause mayhem
Challenging Puzzles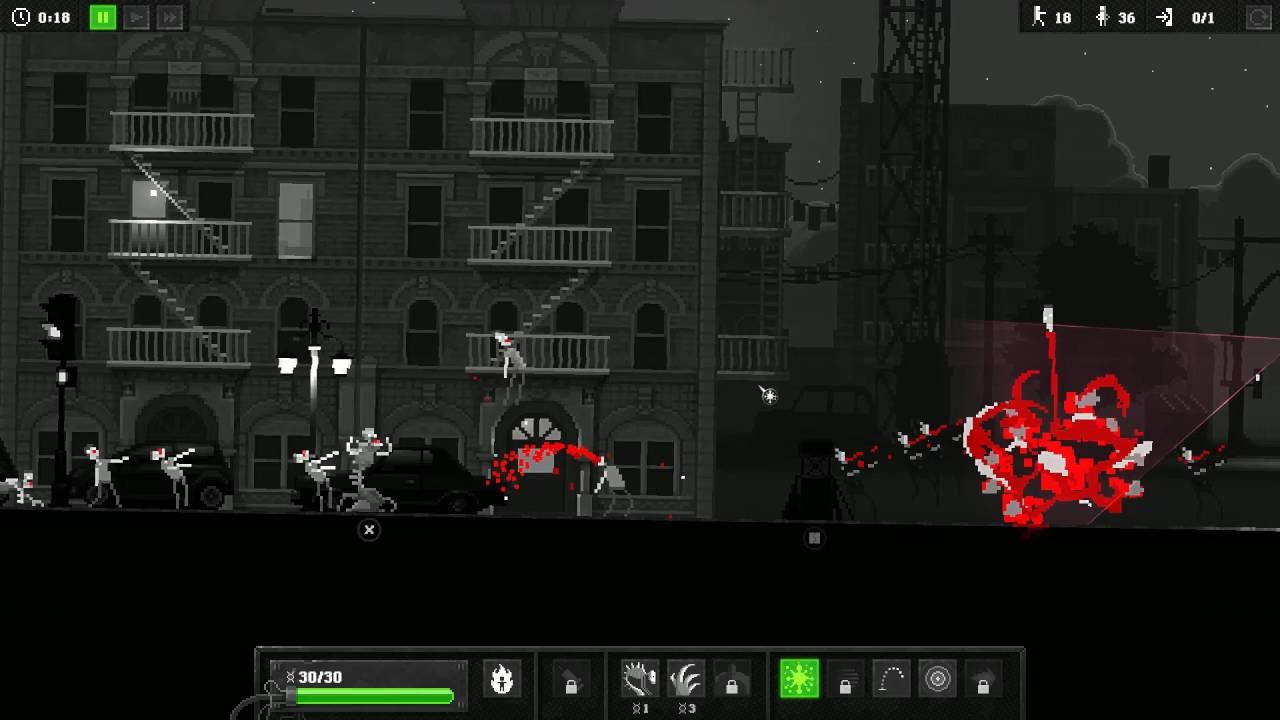 Let the blood cover the city streets.
 2. 7 Days to Die (PC, PS4, XBOX ONE, MAC, LINUX)
In 7 Days to Die, you are put into the shoes of a survivor of the Third World War, where zombies have taken over the world. You must gather resources and find shelter before the undead make their way to you.
Putting a realistic spin on Minecraft, 7 Days to Die is an addicting game that puts a large emphasis on realism. To survive the enormous horde of zombies pursuing you, the game forces you to construct your own fort using its complex building elements.
The game may look rough around the edges, but it certainly doesn't hamper the otherwise stellar experience. And while the game has been around for years now, it still remains highly memorable.
Play This Game if You Like:
Day and Night Cycle that affects the actions of the zombies
Base Building
Multiplayer Mode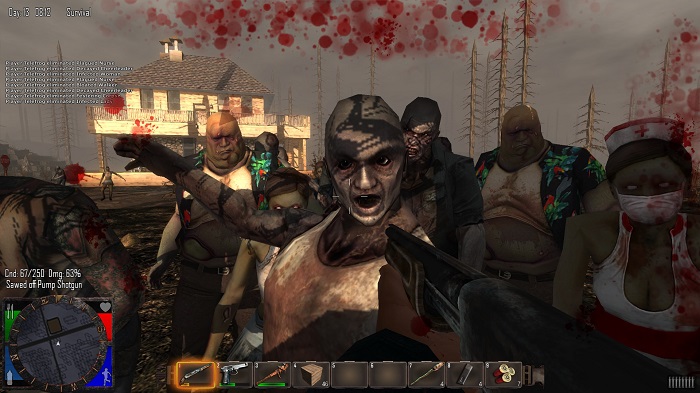 Kill all the zombies on sight before the night comes.
1. They Are Billions (PC, PS4, XBOX ONE)
Immerse yourself in a post-apocalyptic steampunk real-time strategy survival game, They Are Billions. You are tasked to build a base and plan out your defenses to keep away the undead.
They are billions is a clever and complex game that requires your intense focus and thinking to be able to survive its zombie-infested world. It's a game where every single battle is a tense and blood-curdling encounter.
Each of your supplies and even the town's folk are scarce and just one bite from the undead could change everything and lead to your downfall. This is a game that even newcomers to the strategic genre could enjoy.
Play This Game if You Like:
Solid Base Defense Gameplay
Zombie Horde Attack
Real-Time Strategy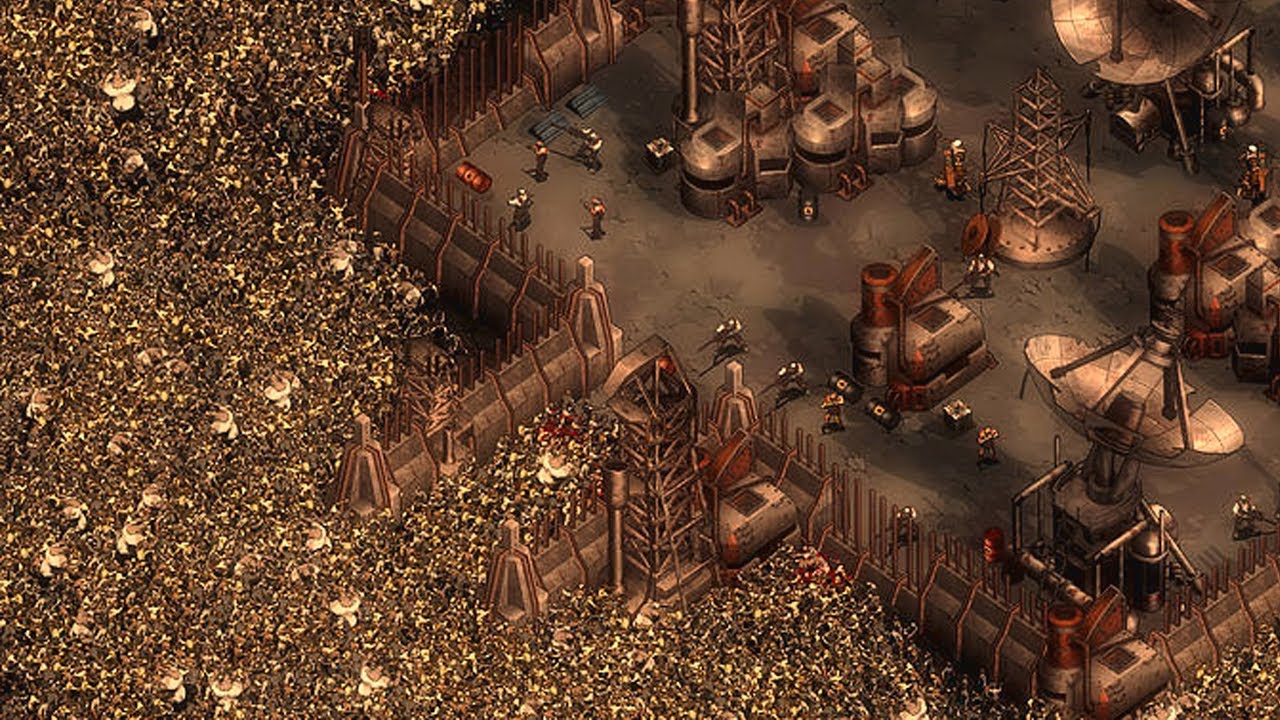 Yes, there are indeed billions of undead.
You may also be interested in: