WWE 2K19 Review - Is It a Good Game?
Updated: 30 Jan 2020 7:47 am
The Cenation Leader
RIGHT THROUGH THE TABLE!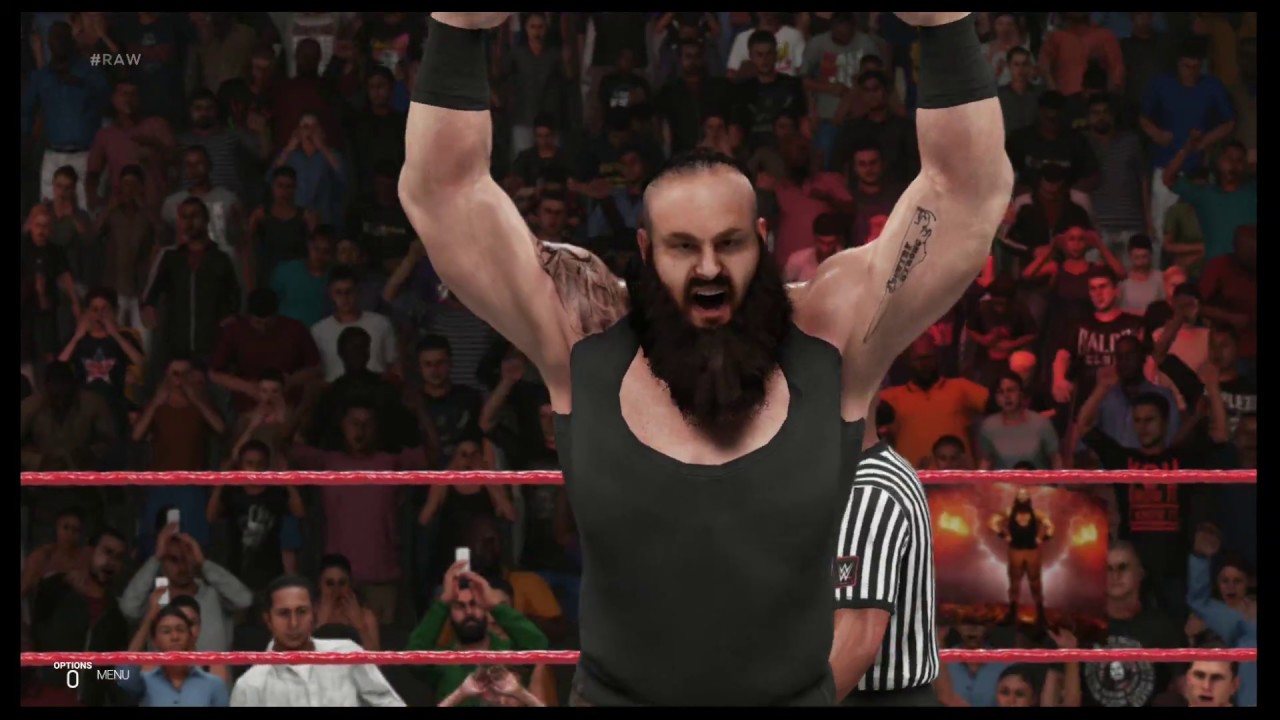 WWE 2K19 is the 6th game of the WWE 2K Series that simulates pro wrestling in a cool way and it sure didn't disappoint. It fixed some of  the major issues from the past games and delivered something truly phenomenal (Come on I had to say it).
By all means this is not a perfect game but it truly does set the bar for more wrestling games to come.  Now It's time to play THE GAME!
MyCareer Mode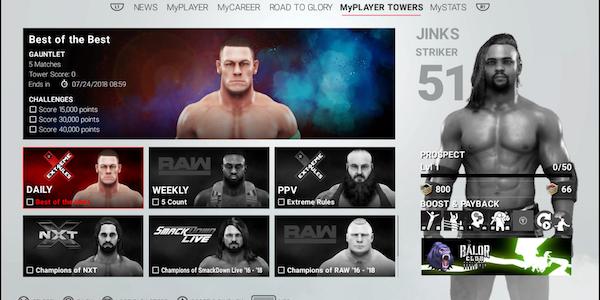 MyCareer Mode
Here we start off with one of the best features of the game, MyCareer Mode. Did you ever want to be a wrestler ,main event WrestleMania and step in the ring with the likes of Kevin Owens, Bobby Roode etc. Then this is exactly for you.
 In past WWE 2K games you would start off in WWE's developmental brand NXT but in this game you have to go through an indy wrestling promotion first called BCW. This made everything feel even more realistic because usually pro wrestlers don't go straight into the WWE, they wrestle in high school gyms, tiny halls, shopping malls you name it.
 Then you would invade NXT, go into a feud with Triple H and much more. This story was truly fantastic and it was made even better because of the spectacular voice acting done by former Tough Enough contestant A.J. Kirsch. Various other wrestlers also do make an appearance with some voice acting but none as good as Kirsch. Throughout the mode you also get skill points that can be used to upgrade your wrestler with the skill tree.
Overall MyCareer Mode was a win but there was one specific major flaw.. We will get to that in a bit.
Gameplay
In terms of gameplay 2K19 managed to improve a few things but still haven't learned from their same mistakes from past games. The controls feel great and fluent, as they stuck with the more or less the same control scheme they have been using for years now. 
Unfortunately after years of complaints about the commentary.. It still sucks. I literally groan everytime Michael Cole says something like "He has finally gained some momentum in this match" for the fifth time in a match. Another big downside from this year's gameplay is the removal of placing your opponent on the announcer's desk, now your superstar has to be equipped with an OMG finisher in order to put their opponent through the table. But some improvements are when you nail someone with a finisher it looks amazing and hit detection is definitely a big improvement from last year.
2K Towers/Showcase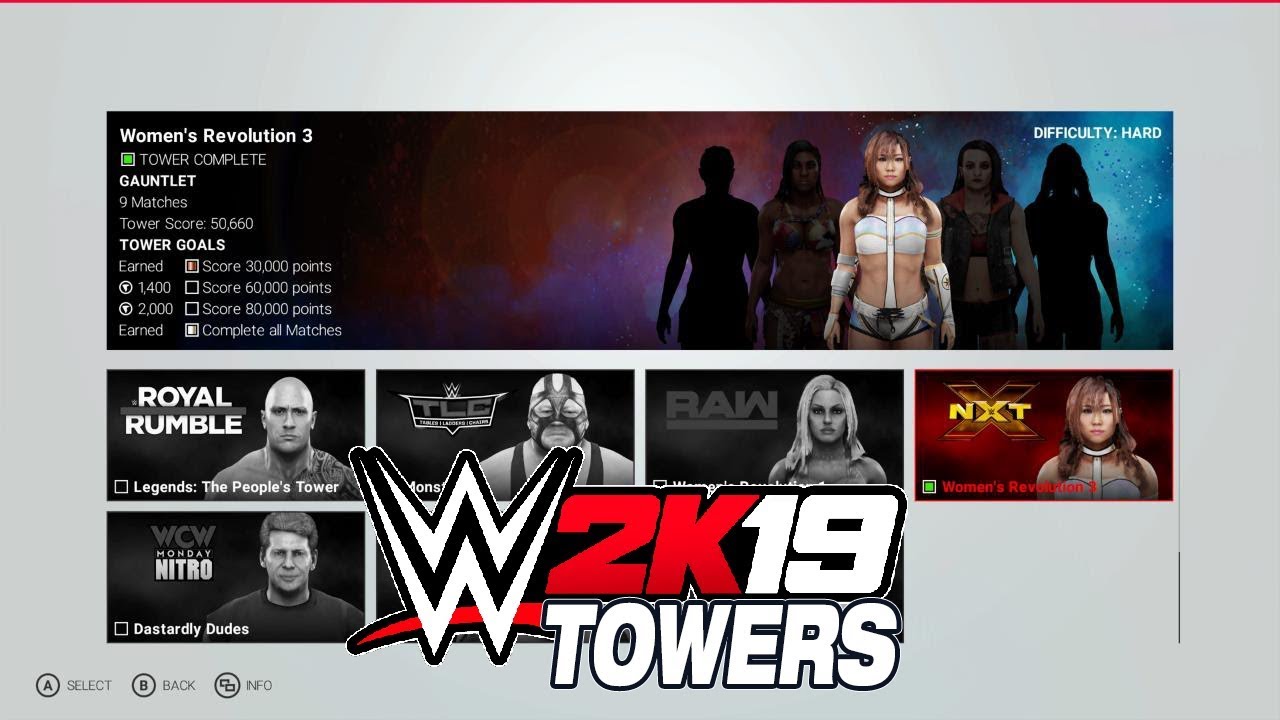 2K Towers
2K introduced a new mode in the game which is called 2K Towers. A tower consists of a Mortal Kombat like system of gauntlet matches with some having different stipulations and themes. You can choose to play as a created player or a WWE Superstar.  2K tried something new and it worked. This arcade-like game mode does challenge you and it's very fun to play.
And now we move over to 2K Showcase mode where this year's star was Daniel Bryan and it tells us the tale of his career with all the ups and downs he went through. You play important matches from his career with objectives to replicate what happened in the real matches we saw on TV. It was great and before every match we got a video package from Daniel himself giving us some insights. This is shaping up to be a great game.. Or is it?
Creations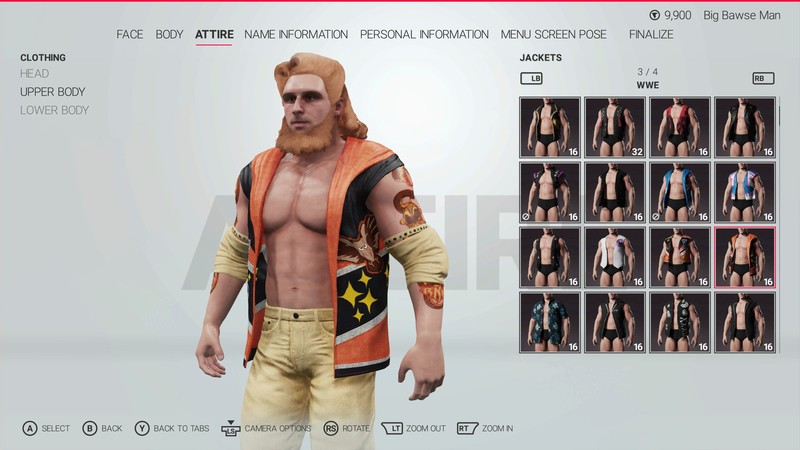 Creation Suite
Oh creation suite I knew you'd come! The creation suite itself is fantastic and you can go above and beyond with all the crazy and wacky characters you can create. You can also download upto 20 custom characters from the creation community per day. And it includes custom championships,arenas and more. All of this is great but us the fans have been yearning for the return of custom finishers that was removed in later years of the 2K series.  
Remember the major flaw we were talking about about MyCareer Mode.. well here it is. We are gonna step away from the actual creation suite for a second and talk about MyCareer.
 Now.. WHY CAN'T WE USE A CUSTOM CHARACTER THAT WE HAVE ALREADY MADE! Yes in MyCareer mode you have to create a whole new wrestler and this is because of the awful lootpack system that we will get to.  I understand that in already custom characters the overall can be high when playing a Career mode with the whole point being to get better and stronger all throughout the story but, I don't understand why they can't just remove the entire overall from them and make them start from basics. Hopefully this is something 2K will fix for next year's game. 
In Game Currency
In MyCareer Mode you get rewarded VC points which can be used to buy loot packs ( packs that contain attire parts or moves to upgrade your superstar). They can also be used to buy certain wrestlers in the game that are locked. The VC points aren't a bad idea but the loot packs are terrible and should be removed from the game because they ruin the creative freedom when wanting to create your own wrestler and performing certain moves. 
Graphics
2K Developers are always striving for the best graphics and they kept their word. These graphics look extremely realistic and if you were sitting a distance away from the TV, it would look like you were watching RAW or SmackDown. When  your opponent sustains critical damage, they start bleeding and by the end of the match it is covered on their entire body.
The wrestlers feel and look great, 2K kept their attention to detail with their attires and overall the graphics were pretty good.
Development/Prices 
Although 2K published the game, Yuke's and Visual Concepts were the masterminds behind the development of the game. Yuke's has been making WWE games since the 2000's and they were the brains behind the Smackdown and SVR games.  WWE 2K19 sold 364,738 copies in its first week. As far as prices go, a normal copy of the game is 19.99 with the WOOOO edition being 27.97. It is playable on PS4, Xbox One and PC.
Verdict
By all means WWE 2K19 isn't a perfect wrestling game but it does its job by being a solid wrestling game with various game modes and many other features to keep you from being bored. What did you think of this game? Let us know in the comments and Happy Gaming!
My Score: 8.5/10
You May Also Be Interested In:
[Top 10] WWE 2K19 Best Characters
[Top 15] WWE 2K19 Best Movesets
[Guide] WWE 2k19 Best Fighting Styles
[Top 10] Best Wrestling Games to Play in 2020
Image Gallery