[Top 5] Stardew Valley Best Honey Layouts That Are Excellent
Updated: 05 Jun 2022 10:29 am
The cute pixel world of Stardew Valley
If you are looking to make money in Stardew Valley, there are many ways that you can. One of those ways is Honey from Bee houses. All you need is maple syrup, flowers and sprinklers to start farming Honey and money. Remember that it doesn't work in winter and indoors.Now I will give you a round up of the best honey layouts so you can make the most profits.
5. Noob Bee Layout (Early game)

For starters, when you unlock the Bee house and want to make the most profit for your first layout, you should make 15 Bee Houses, 1 scarecrow, get a quality sprinkler and 8 flowers. For the flowers you can plant any that is available for that particular Season.
4. Not so Noob Layout (Early game)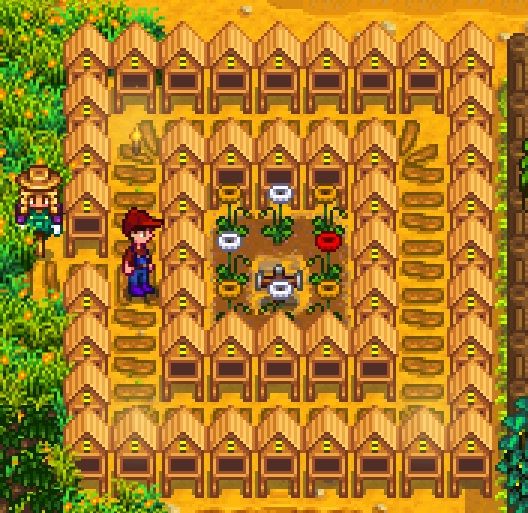 This next one is for when you have advanced a bit into summer or fall in the first year and have farmed the material to make more Bee houses. For this layout you need 47 Bee houses, 1 quality sprinkler, 1 scarecrow and 8 flowers.
3. Complex Bee House farm (Mid game)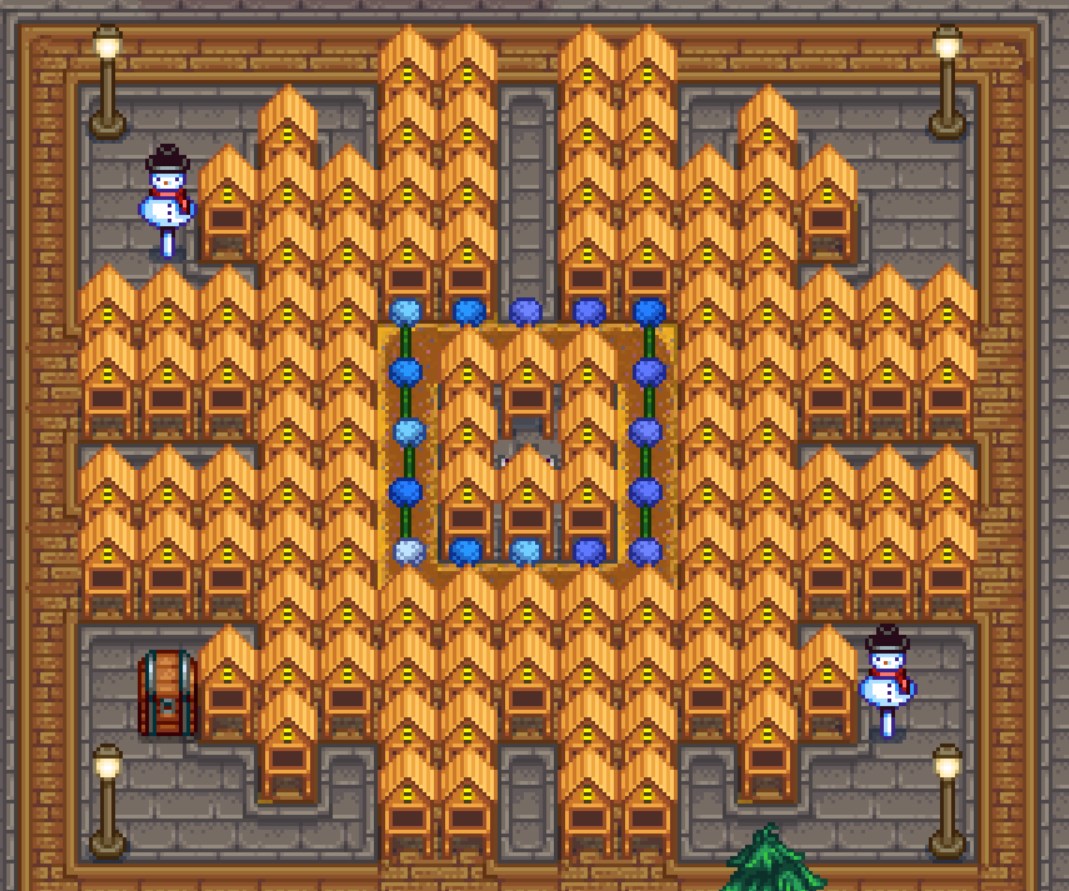 A more complex (and much more efficient layout) involves using an iridium sprinkler, 18 flowers, 2 scarecrows, and up to 102 bee houses. This will take a ton of time to put together but gives you an opportunity to make a ton of cash.
2. Honey farm Expert (Late game)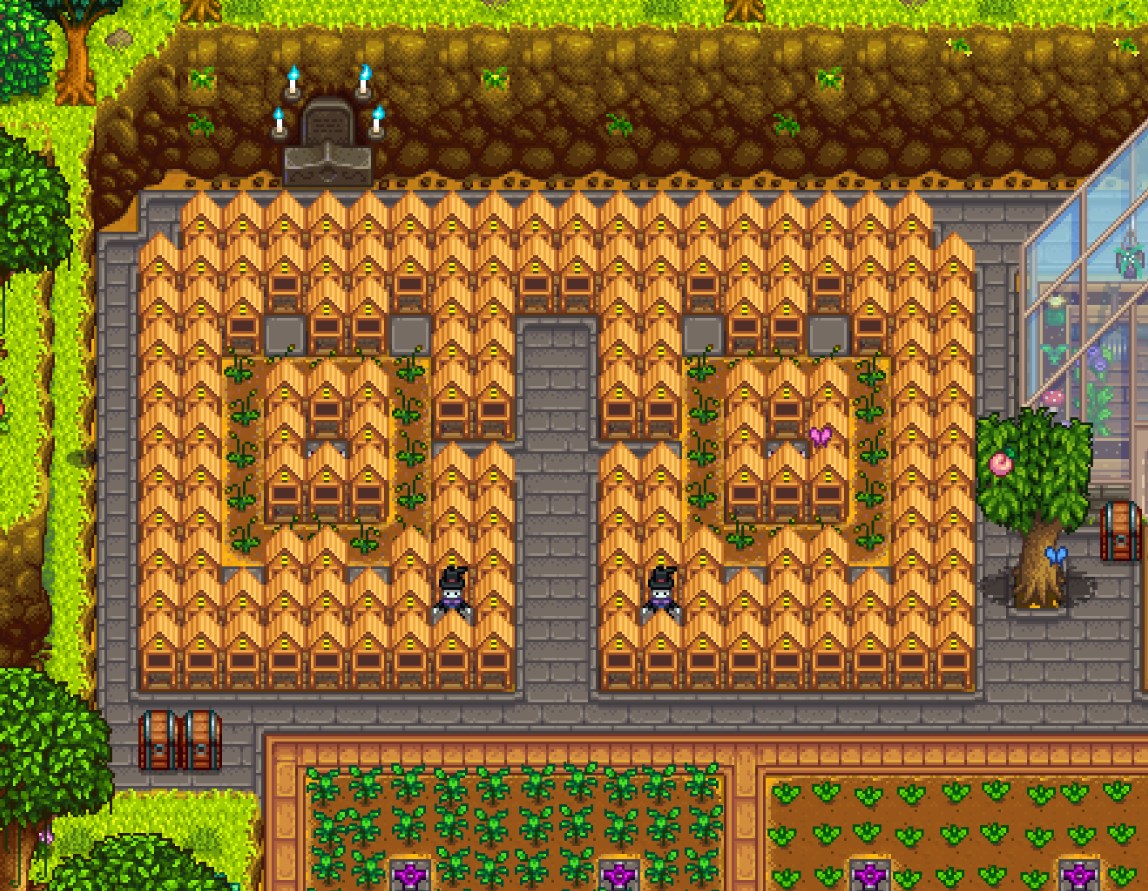 If you're on the default farm, this layout is perfect; it's a slightly modified version of the previously mentioned layout to fit perfectly in the space to the left of the greenhouse, near Grandpa's Shrine. Build 2 scarecrows, 2 iridium sprinklers, 48 flowers, and 150 bee houses.
1.  Ultimate Honey farm (Late game)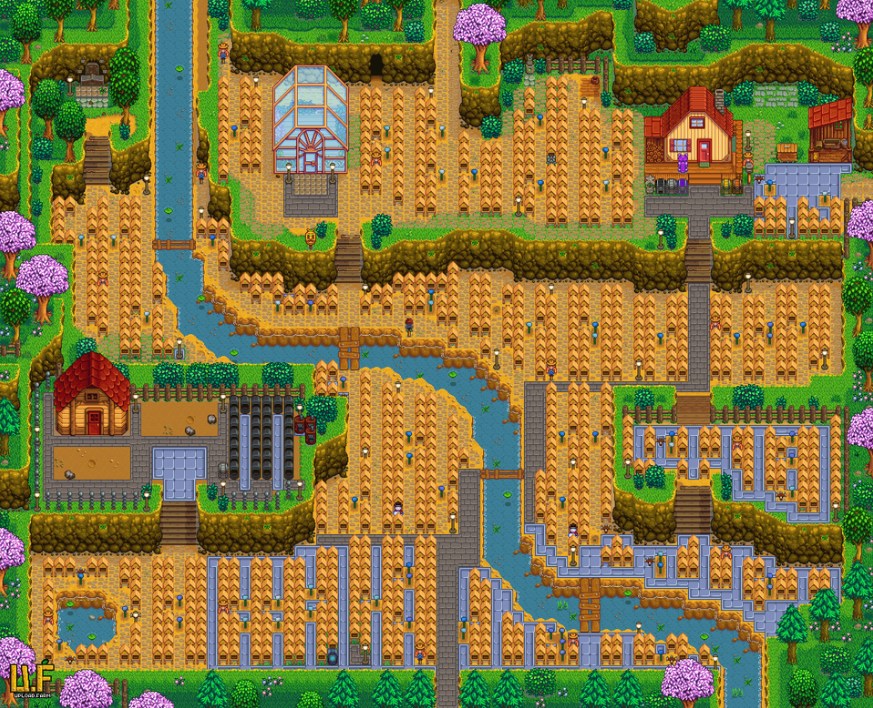 This is the ultimate honey farm where your whole farm is just honey, you can do this in any Farm Map except the Beach farm, the farm in the image is the Hill-top farm.
This is a very late game layout cause you will need to work a lot to set up everything but it will be worth it cause you will make great profit.
You May Also be Interested in: