[Top 7] MHW Best Long Swords That Wreck Hard!
Updated: 15 May 2023 5:34 pm
The weapon that lets you become an anime character
When you've played co-op on MHW before, you'll likely have at least one of your squad members using the Long Sword. This is because the LS has always been the top contender of the most popular weapon in the game, and for a good reason.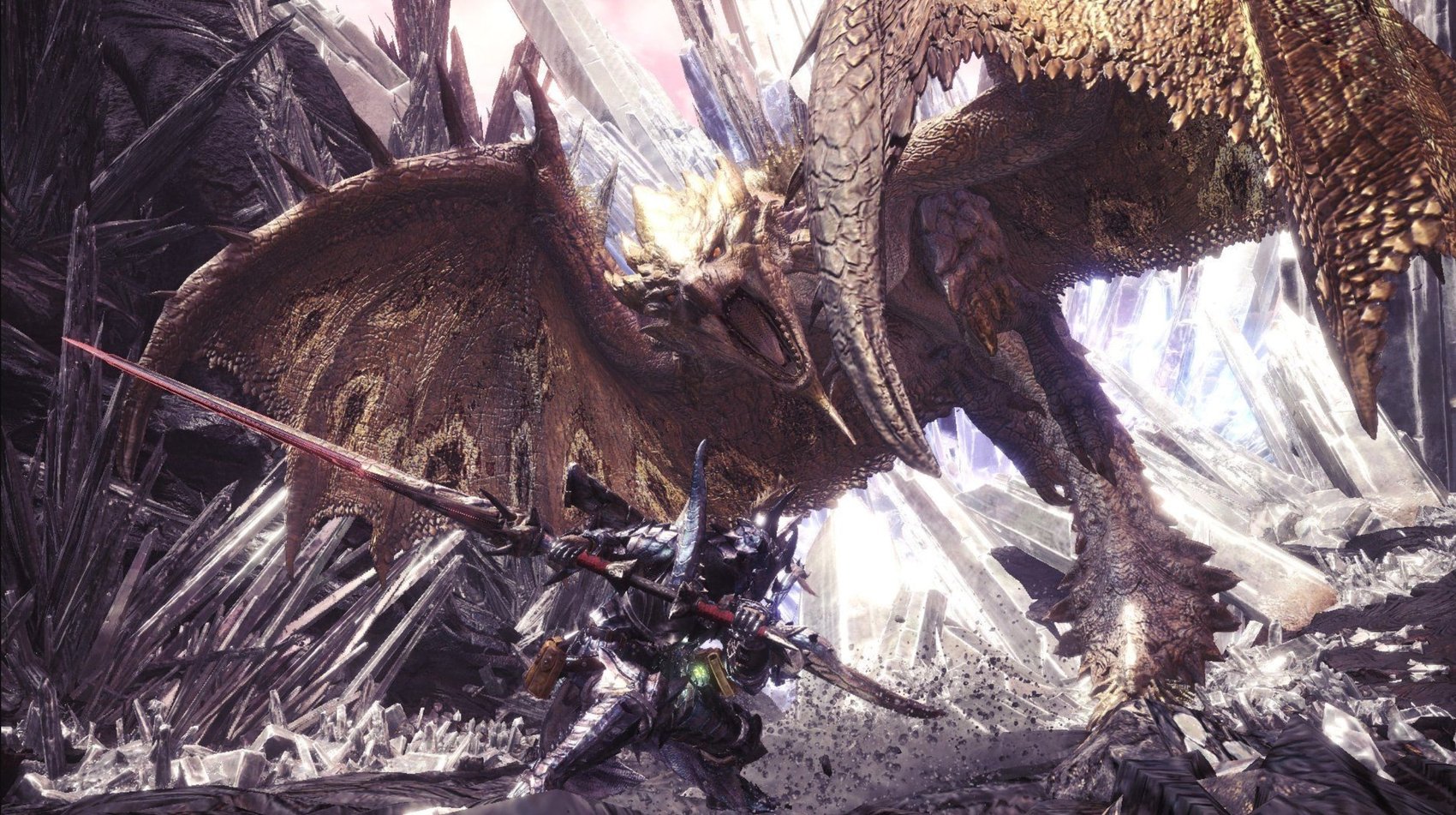 This Gold Rathian is about to feel the wrath of the Long Sword's stylish foresight counterattack.  
The Long sword offers power, speed and lets you do all kinds of stylish anime finishers! It's also one of the easier weapons to pick and learn for new hunters but can make some insane speed run records when wielded by the Long Sword pros.
Now, let's get into our list of the 7 best Long Swords so you can also be an LS pro wielder!
7. Radiant Flow
Looking for a deadly non-elemental Long Sword? Look no further than The Radiant Flow as explained in this video by SmackDaddyKing.
We're starting our list with the LS crafted from the main story's final boss. The Radiant Flow is the Long Sword you'll likely stick to during the early post-main story as it offers decent damage of 924 raw, slight white sharpness, and neutral affinity.
The weapon also offers high Elderseal and 450 hidden dragon element, which if released, is the ideal choice for slaying elder dragons during mid-game. It also provides an additional 30 defense bonus to give you that extra protection when facing formidable foes.
Highlights:
Decent raw damage with neutral affinity.
High Dragon element (when released) with high Elderseal which is effective against Elder dragons.
+30 defense bonus for extra protection.
Weapon details:
Rarity 12
924 base damage
0% affinity
450 Dragon element (Hidden)
Two level 1 decoration slot
High Elderseal
+30 defense 
6. Great Demon Halberd
Thales Moustache takes the Great Demon Halberd's potential damage to the max with this build!
After you've slayed the mighty Rajang a few times, you'll gather enough materials to craft this epic halberd of thunder. The Great Demon Halberd offers a monstrous 1023 base raw, which is the second-highest raw in the game. It also offers a great deal of white sharpness with additional 120 Thunder damage. 
Indeed, the Long Sword's major weakness is the -15% affinity. But you can easily bring it up with augments or using Expert and  Weakness Exploit jewels on the level 4 decoration slot that comes with the weapon. I personally love the Long Sword's Halberd aesthetics that look that's straight out of Wukong.  
Highlights:
1023 base attack power, which is the highest raw pre-Fatalis.
One level 4 jewel slot to combat the Long Sword's negative affinity.
White sharpness and 120 Thunder damage are the icing on the cake for its excellent raw.
Unique halberd design similar to what the legendary monkey king wields. 
Weapon details:
Rarity 12
1023 base damage
-15% affinity
120 Thunder element
One level 4 decoration slot
5. Kjarr Sword "Decay"
The Kjarr Sword Decay's Critical Dragon element allows Dirgad Plays to speedrun the Ruiner Nergigante in just over 5 minutes.
The Kjarr weapons are only obtained from Kulve Taroth, which was first introduced in the base game. In Iceborne, these weapons got an upgrade by fighting the Master Rank version of Kulve Taroth.
The reason why we've included the Kjarr Swords in our list is because of the free Critical Element skill. When this skill activates, your critical elemental damage will benefit from your regular critical attacks. This makes it effective when fighting specific monsters that are weak to elemental damage. 
We chose the Kjarr Sword "Decay" out of all other Kjarr Long Swords because it has the highest DPS potential. It also has a fair shade of white sharpness that you can maintain with the right armor skills.
Highlights:
Critical Element skill is highly effective on specific monsters weak to elemental damage.
Massive elemental damage with +15% base affinity.
Dragon element will be useful for fighting Elder dragons.
Weapon details: 
Rarity 12
974 base damage
15% affinity
480 Dragon element
One level 1 decoration slot
Critical Element
Average Elderseal
4. Safi's Shatterblade
Is it possible to get a constant 100% Crit with infinite sharpness? Arrekz explains that, yes, it is possible with Safi's gears!
After Kulve Taroth, there was another monster that required you to grind on an extensive siege system to receive highly rewarding weapons. Safi'Jiiva's weapons are known to be powerful, especially their elemental options. But for Safi's Long Sword, we recommend choosing the Shatterblade.
The reason is that it's always good to have Blast status if you're looking to maximize your DPS. Safi's Shatterblade has 891 raw, 5% affinity, and 180 Blast. These numbers may not seem much at first, but once you use the "awakened" abilities exclusive to Safi, you can boost these numbers by a significant amount. 
The awakening system also lets you add a "monster's essence," which are set bonuses from armors. This opens doors to a variety of builds that fits your needs and has the potential to boost your DPS even further.
Highlights:
The awakening system exclusive to Safi's weapons can significantly raise your raw damage. Safi's Long Swords can be boosted up to a whopping 1106 raw!
If you're looking to boost DPS, the awakening system also lets you boost the weapon's elemental damage/status alignment significantly.
You can also include a monster's essence that offers more flexible builds for boosting your DPS.
Safi's weapons glow in different colors based on the elemental skills and status effect. 
Weapon details:
Rarity 12
891 base damage
5% affinity
180 Blast status
One level 4 decoration slot
3. Lightbreak Edge
The intro from this video by IDeVaste shows how OP the Lightbreak Edge is while fighting Velkhana. 
If you like to give the monster you're hunting a taste of big explosions on every hit, the Lightbreak Edge is the Long Sword that will do just that! 
This LS isn't difficult to craft as long as you can slay the Raging Brachy monster several times for its parts. The Lightbreak Edge offers one of the highest raw damage in any LS, with 990 raw and 0% affinity with an explosive 270 Blast damage. 
You might think, why does it rank higher than Safi's Blast weapon? Well, even though you can bring Safi's raw and blast damage higher, the Raging Brachy's LS offers a great balance of raw and status alignment. And not to mention its natural purple sharpness and excellent decoration slots.
Highlights:
Excellent raw damage paired with blast damage for great DPS.
Purple sharpness and great slot options for flexible builds.
Cool weapon aesthetics; who doesn't want to wield a glowing sword of lava?
Weapon details:
Rarity 12
990 base damage
0% affinity
270 Blast status
One level 3 decoration and one level 4 decoration slot
2. Dark Claw "Demise"
Still trying to slay Fatalis to craft its weapons? Dear Gamer shows how to do it with the Dark Claw "Demise"!
When Alatreon joined the monster roster, it brought the most badass-looking Long Sword in the game. The scythe-like Dark Claw "Demise" lets you swing the blades like a grim reaper!
Indeed, its 924 raw doesn't compete with other top-rank Long Swords in this list, but its 660 Dragon element is its source of power, annihilating any Elder dragons in your way. 
This Long Sword from Alatreon also offers two level 2 slot decorations for customizability and an insane amount of purple sharpness that extends even further with Handicraft. This lets you worry less about sharpening and focus more on those stylish finishers with your deadly scythe!
Highlights:
Decent raw with a whopping 660 Dragon element which allows you to slice through any dragon-weak monsters. 
Insane large chunk of purple sharpness and two slots makes this a highly comfortable weapon.
Its scythe design is possibly one of, if not the coolest designed weapon in the game.
Weapon details:
Rarity 12
924 base damage
0% affinity
660 Dragon element
Two level 2 decoration slots
Low Elderseal
Fatalis Zaggespanon
Team Darkside managed to speedrun Fatalis 2 days after release with the best Long Sword in the game.
What other Long Sword in the game deserves the throne of the best LS in MHW? It's none other than the one crafted from the king of the Elder Dragons, Fatalis. And if you've managed to slay this epic final boss, the Fatalis Zaggespanon is a true beast of a Long Sword!
The best thing about all of Fatalis's weapons is their staggering raw damage as this LS offers an unmatched 1155 base raw that you can increase even further with Augments. Besides that, it provides natural purple sharpness, two level 4 decoration slots, and 150 Dragon element with High Elderseal to destroy Elder dragons. 
Indeed, all of Fatalis's weapons also share the same weakness; the natural -30% affinity. But you can cover this up with skills like Weakness Exploit and Critical Eye that you should already have during the endgame. 
Highlights:
1155 base raw, which is the highest raw attack from a Long Sword.
Purple sharpness and the best gem slots in any Long Sword.
High Elderseal with additional dragon element to help you slay Fatalis over and over!
Weapon details:
Rarity 12
1155 base damage
-30% affinity
150 Dragon element
Two level 4 decoration slots
High Elderseal
And that ends our list of the 7 best Long Swords that wreck all monsters in MHW!
You can freely switch any of the Long Swords in this list according to the monster you're hunting. If you're looking to look at some satisfyingly huge numbers, take the Fatalis Zaggespanon. However, if you rather take advantage of a monster's weaknesses, choose any of the Kjarr Long Swords or the Dark Claw "Demise."
Whichever LS you choose. The weapons on our list should be your top choice for slaying monsters in style!
Also be sure to check out these articles: