Top 15 Games Like Monster Hunter World With Awesome Boss Fights
Updated: 08 Aug 2019 10:16 pm
Somewhere, Little Mac is smiling.
15. Dauntless
Dauntless Gameplay
Dauntless is a wonderful monster hunting game with a focus on fun. Your mission, should you chose to accept, is to save the last vestiges of the world from an invading group of behemoths. The game uses vibrant cell-shaded graphics, and it was designed from the ground up as an online co-op experience. 
In classic Monster Hunter style, fights can be very long, and they shine brightest when you're defeating the big baddies with your friends.  Dauntless is scheduled to be released on consoles in April of 2019, but in the meantime a free PC version can be downloaded here.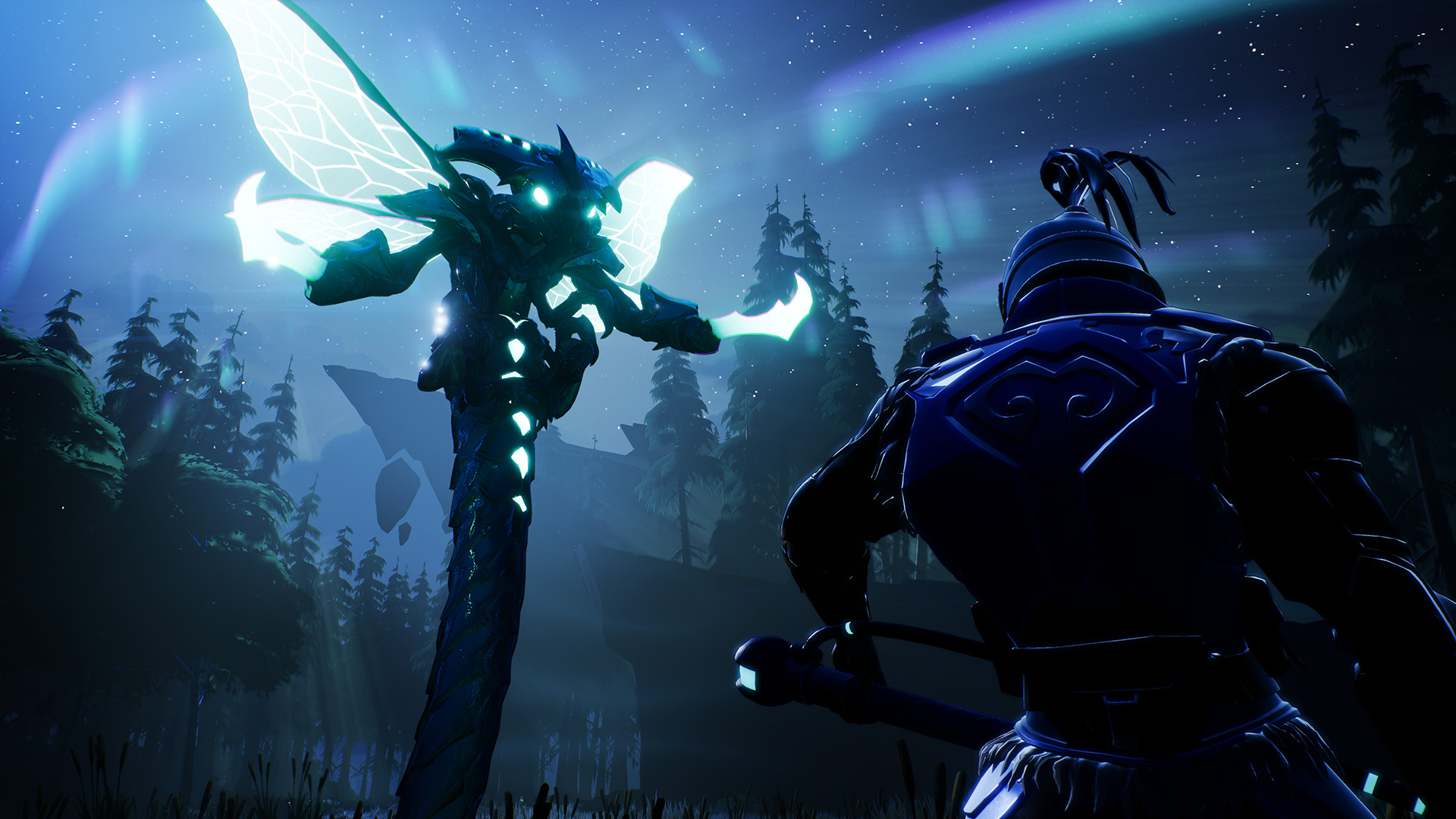 Rezakiri: To be effective against this monster, you will need your greatest weapon; the one between your ears.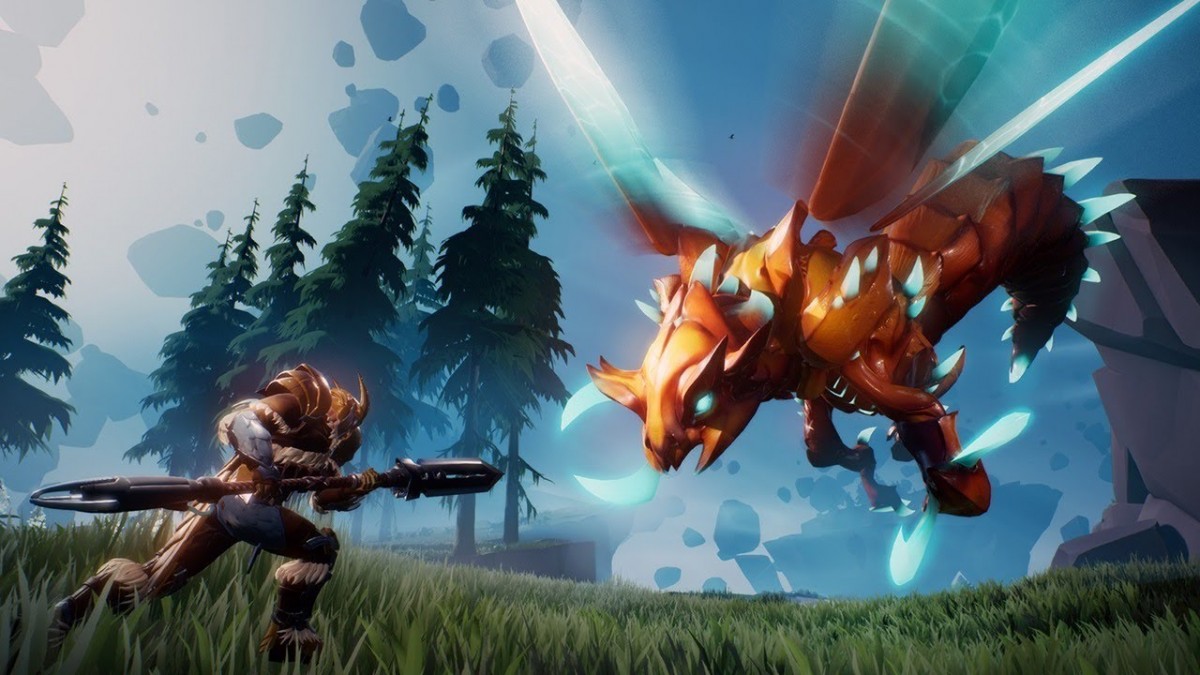 Queen Bee:  A combination of claws, a huge tail, swarms of bees, and a few pouncing attacks, ensure that this is one tough fight.
14. Toukiden 2
Toukiden 2 Gameplay
Toukiden 2 adds a deeper story to the monster hunting formula. The game is set after an event called The Awakening, in which a group of monsters known as Oni come forth to destroy humanity. 
Playing as a Slayer in one of 12 classes, you fight along side your human compatriots to eliminate the Oni threat.  The game has a generous loot system that allows for quick progression of your character, and when combined with its advanced targeting system, Toukiden 2 is a delight to play.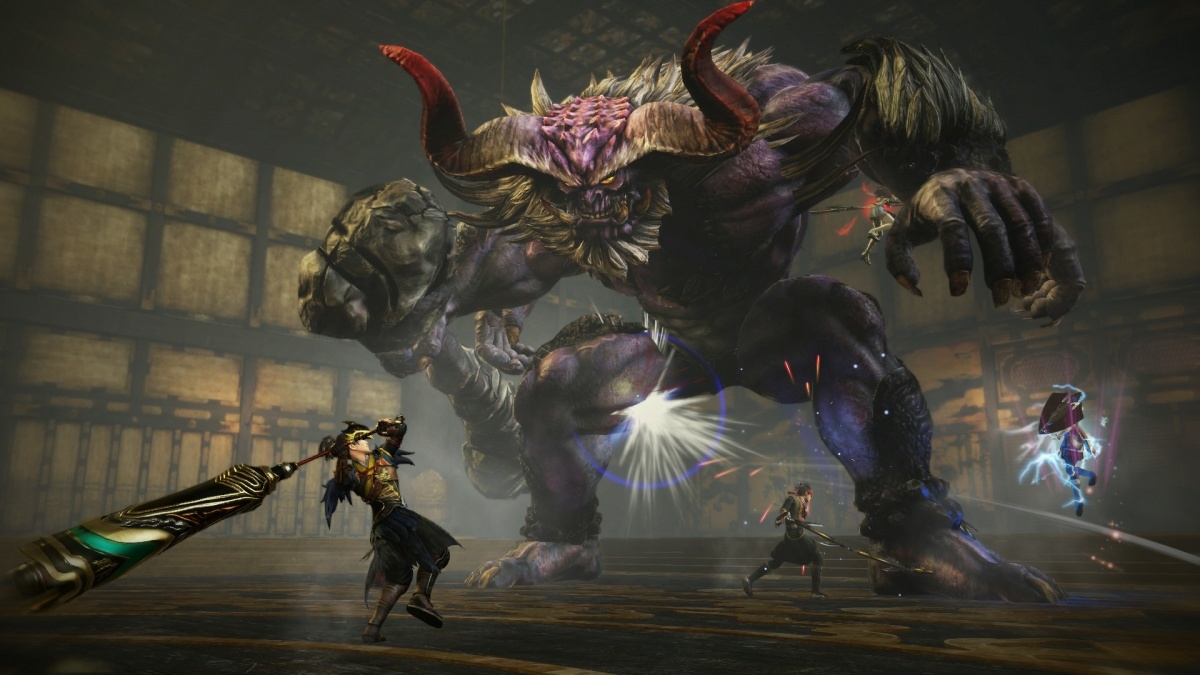 Quadbracchium: Only solid teamwork and coordination can defeat the 4-armed horned beast.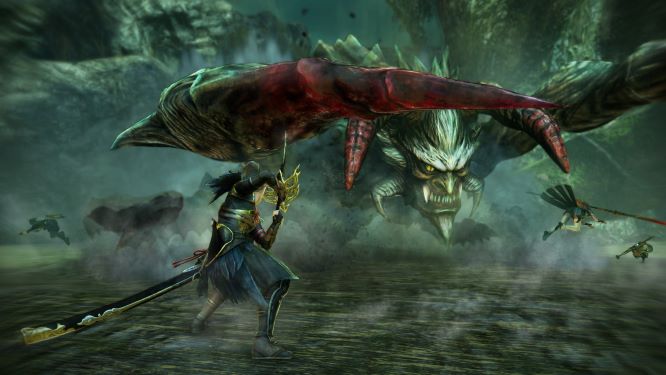 Bruteclaw: Half scorpion, half man, half devil, and probably half manbearpig as well; focus on the giant arms and you should leave this fight intact.
13. Code Vein
Code Vein Gameplay
The upcoming Code Vein will combine Souls-like gameplay with vampire lore and anime.  Playing as a member of a secret society of vampires, you will explore a dystopian world overrun by mindless creatures known as the Lost. 
As you fend off hordes of Lost and advance through the game, you uncover the mysteries of events leading up to the start of your narrative.  Code Vein features a dynamic story that is affected by player choice, and  the adventure begins on December 31, 2019.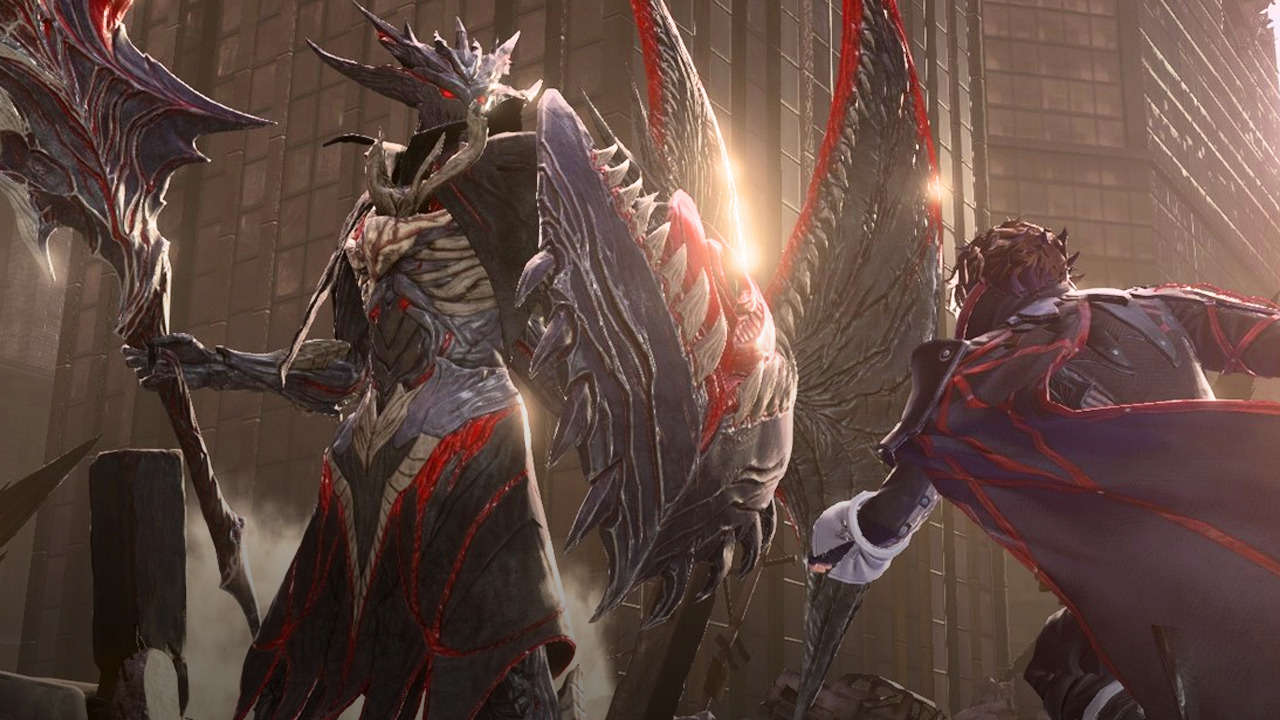 Queen's Knight:  I gotta admit, that's one cool costume, but I'm thinking pawn E5.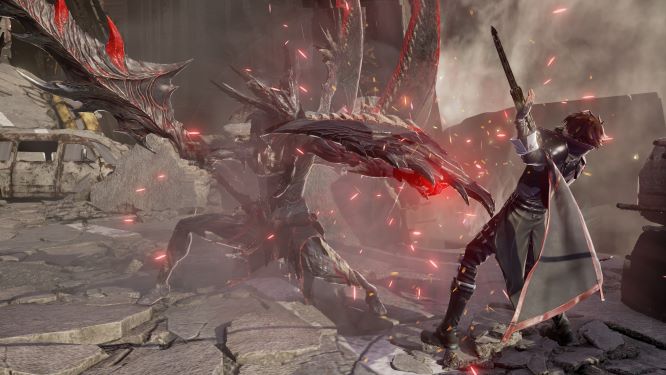 It Begins:  It's still too early to tell if this opening will lead to the Frankenstein-Dracula Variation.
12. Hellpoint
Hellpoint Gameplay
Hellpoint takes notions from physics and creates an eerie take on the Souls universe. The game unfolds after a disturbance in spacetime goes awry in the form of a quantum catastrophe. 
You begin the game as a nameless character aboard a space-station orbiting a black hole.  As you explore the station, you fight off enemies that have melded with versions of themselves from parallel universes, and you try to uncover the truth of your alternate reality.  Hellpoint expertly blends together elements of Souls, horror, and sci-fi, and it's expected to release in early 2019.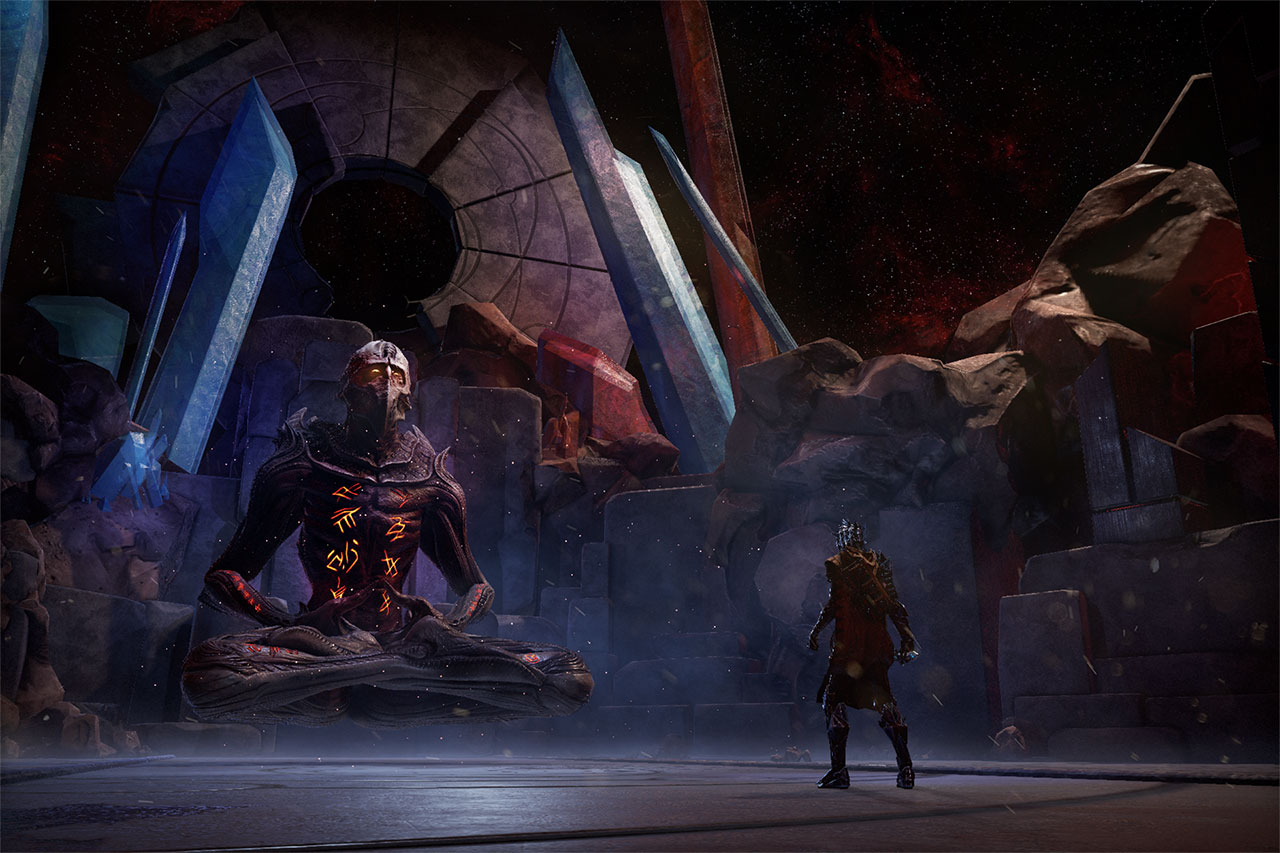 All is Calm: Impressive architecture in a large open area?  I've got a bad feeling about this...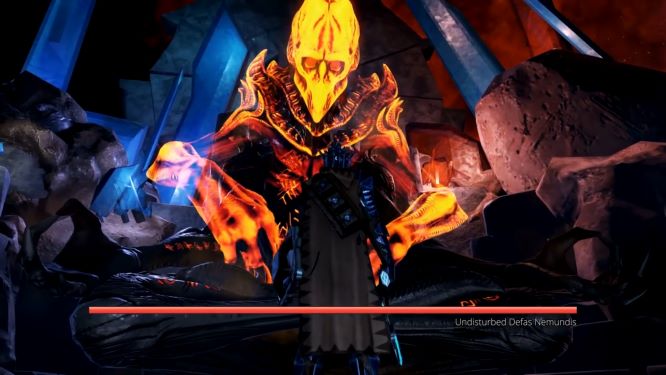 Defas Nemundis: A spooky boss fight against a space monk; bet you weren't expecting that.
11. Nioh
Nioh Gameplay
Nioh, is the inspiring story of a western sailor, who went to Japan in the early 1600's and changed the course of history.  The game is based on the true events of William Adams, although it takes certain liberties for gameplay considerations. 
Playing as William, you arrive on the shores of Japan in search of the Amrita; a magical stone that the British government is seeking to aid their war efforts in Europe.  After becoming a samurai, you fight opposing factions of Oni, and encounter several historical figures along the way.  Nioh contains a very deep and rewarding combat system, and it's a must-own game in the RPG genre.
Oda Nobunaga: 4X strategies will not help you against him in this game.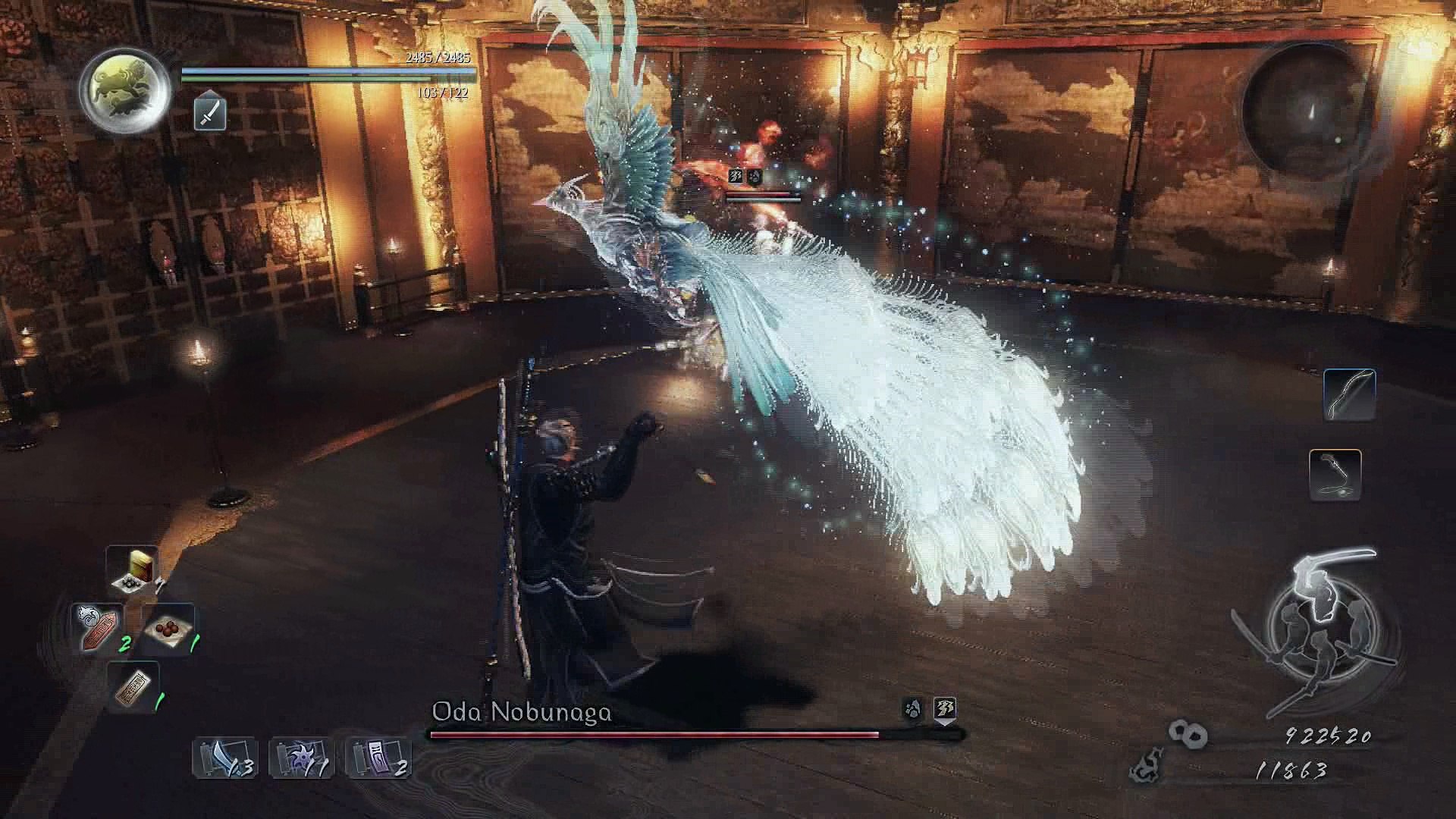 Little Bird:  This deceptive attack from Nobunaga is fairly easy to dodge, but his lightning will wreck you almost every time.   
10. Sekiro: Shadows Die Twice
Sekiro Gameplay
In this game you will take control of Sekiro; a samurai warrior who lost his arm in defense of his kensei.  After obtaining a prosthetic arm, which has various uses, you embark on a quest throughout fuedal Japan in an effort to rescue your master.  Sekiro's left arm is equipped with a grappling hook, allowing for a greater range of motion relative to other FromSoft titles.
Combat is expected to be very intense, yet Sekiro has a unique ability to revive after death.  This is a highly anticipated game by the Souls community, and it's currently slated to launch on March 22, 2019.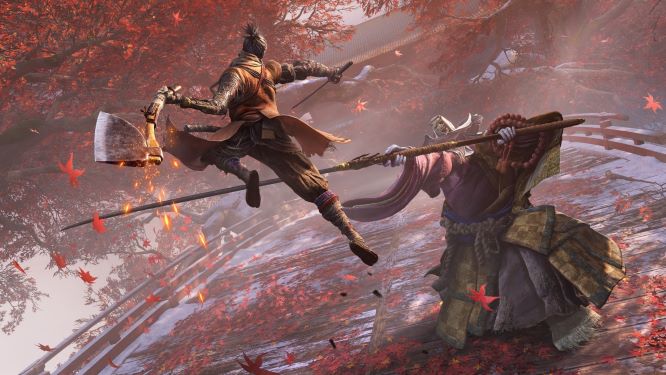 Mixin' It Up:  Sekiro elevates his position to gain an advantage on the Corrupted Monk.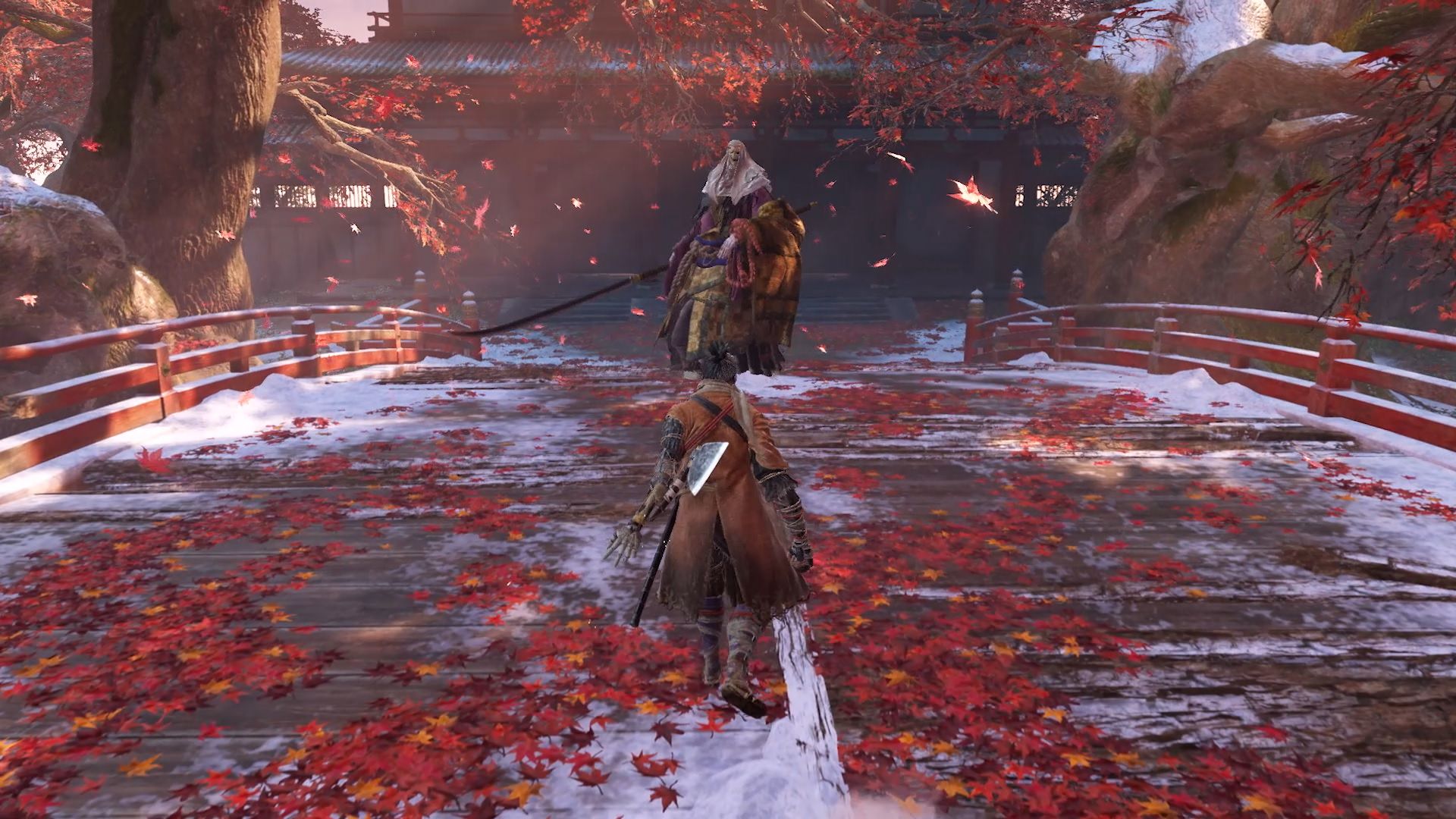 Prelude to Battle: Arguably the greatest moments in FromSoft games.  The threat of violence here is like something out of a Sergio Leone film.
9. The Surge 2
The Surge 2 Gameplay
The Surge 2's story takes place in a futuristic and post-apacalyptic setting.  The CREO corporation's launching of nanobots has failed miserably, and humanity has been pushed into a city where they are struggling to survive.  The world's ecology has taken a nose-dive off the proverbial cliff, and your character must bring some semblance of health back to the planet. 
Armed with the power of your exoskeleton, and your mastery of a Souls-like combat system, only you can stop this catastrophe and bring humanity back from the brink of extinction.  Polygon labeled The Surge their "biggest surprise of 2017", and its sequel is set to arrive sometime in 2019.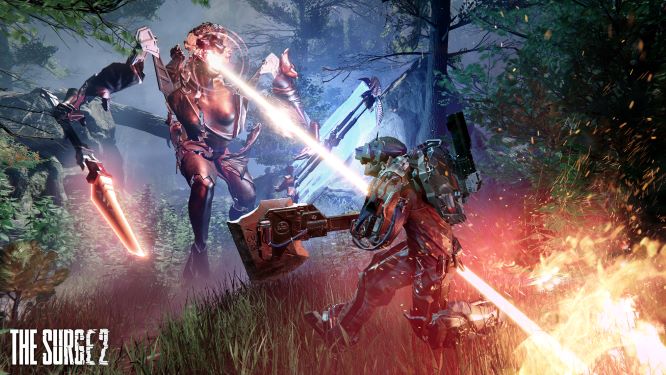 The Goddess Helena:  A pre-rendered promotional image of the boss fight with Helena.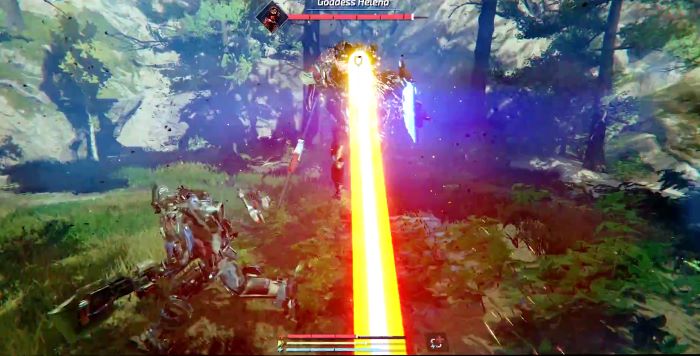 The Great Outdoors: The camera goes blurry here, but there are impressive particle, lighting, and environmental effects on display in this fight. 
8. Attack on Titan 2
Attack on Titan 2 Gameplay
Attack on Titan 2 is an expansion and refinement of the first game in the popular anime saga.  In this one, you'll have the opportunity to create a character and become a trainee in the fight against the mindless titans.  There is a ton of lore to be discovered here, and the expanded story, as well as an enhanced dialogue system, offers fans the chance to immerse themselves in this world. 
You'll have plenty of tools at your disposable, including omnidirectional mobility gear, and an insanely fun war horse for charging into battle.  Attack on Titan 2 is a great time, and fans of either anime, or AoT lore, are well advised to give this one a look.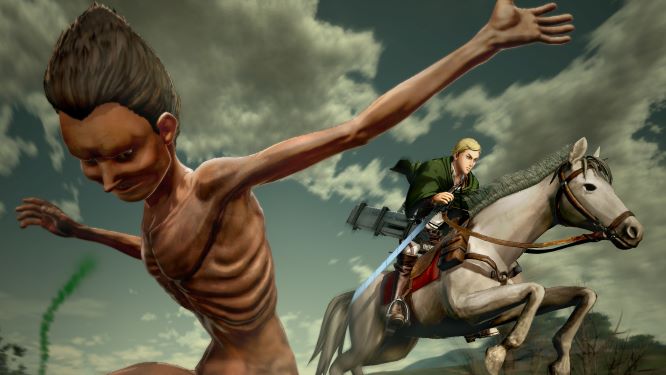 On a Pale Horse: Charging into battle on a trusty steed is a blast in AoT2.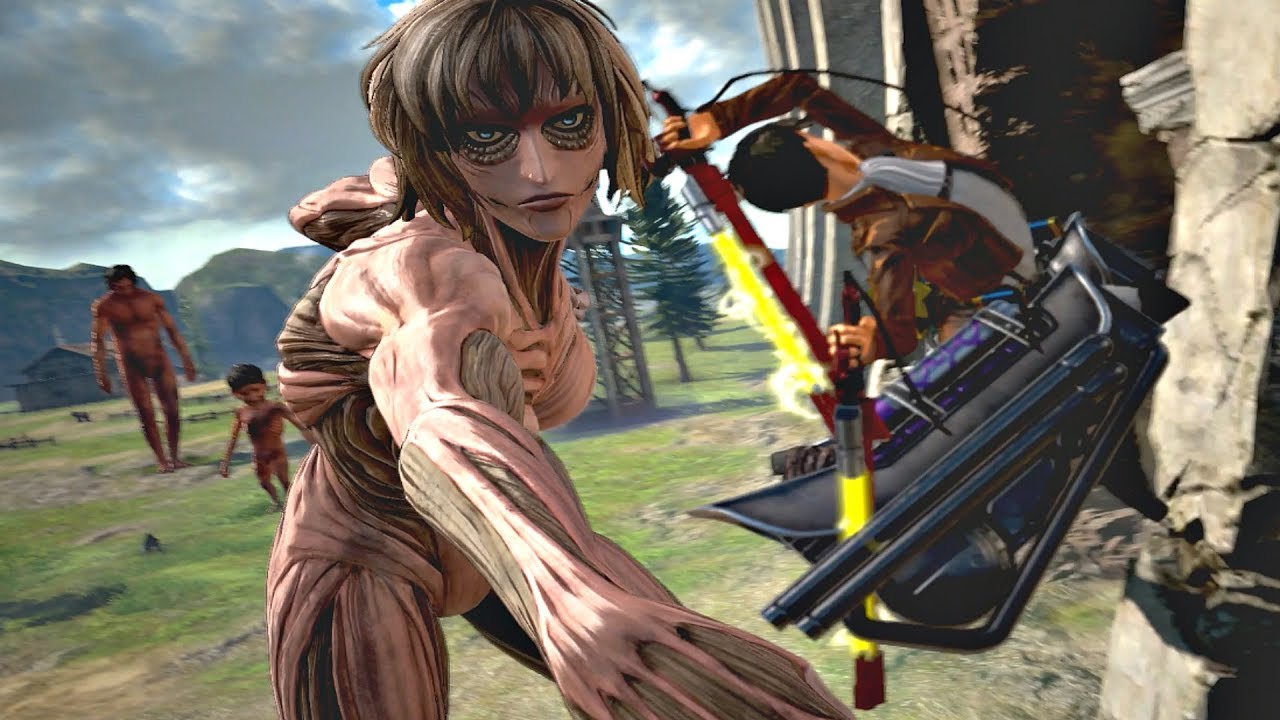 Female Titan Boss: The dynamic camera offers some great cinematic perspectives as you take on these man-eating giants.
7. EITR
EITR Gameplay
EITR is a deep and rewarding Souls-like experience.  With an isometric camera perspective, and an art style reminiscent of the 16-bit days, you will play as a Norse Shield Maiden on a quest to save the tree of life from the EITR poison. Combat is strategic and methodical, and many of the enemies require a lot of practice to be effectively dispatched.  The game takes a different approach to traditional leveling-up systems by introducing the Favor System, which allows for a choice between permanent upgrades, or perks that boost weapon stats until death.  EITR is currently set to release sometime in 2019.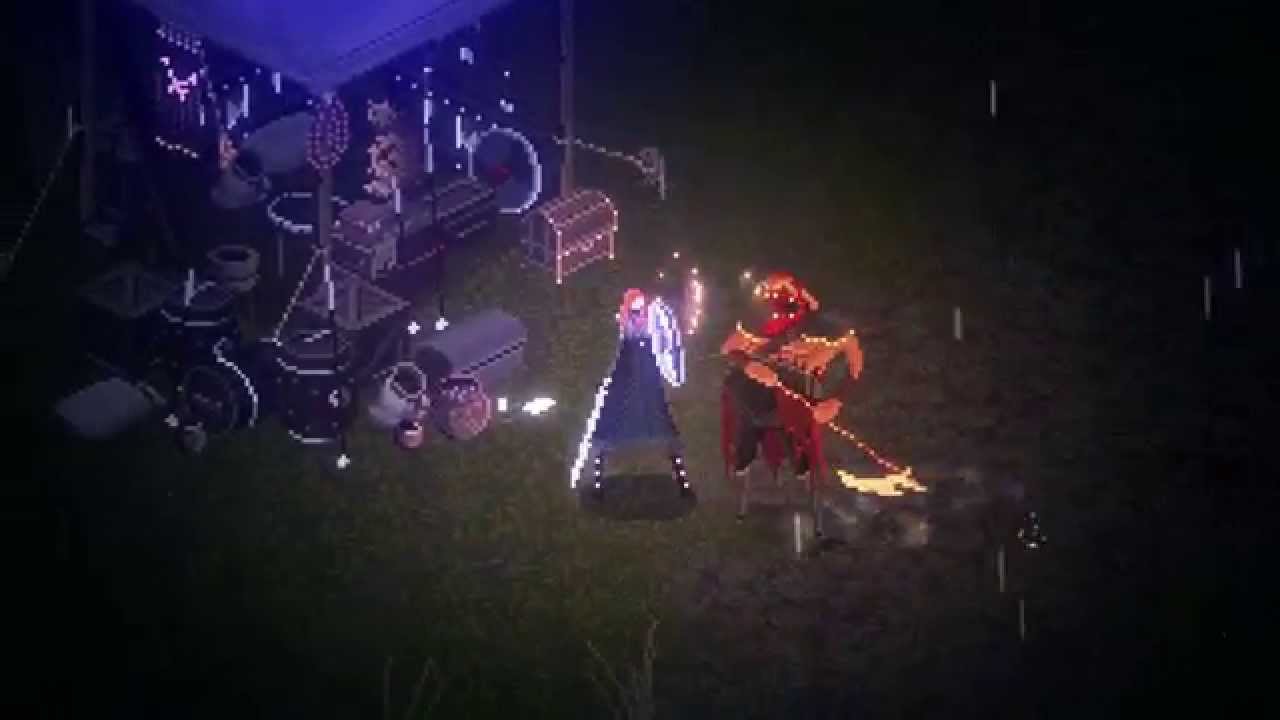 Isometric Souls: EITR features an alternate perspective and a nastalgic art style, creating a unique twist on the Souls-like experience.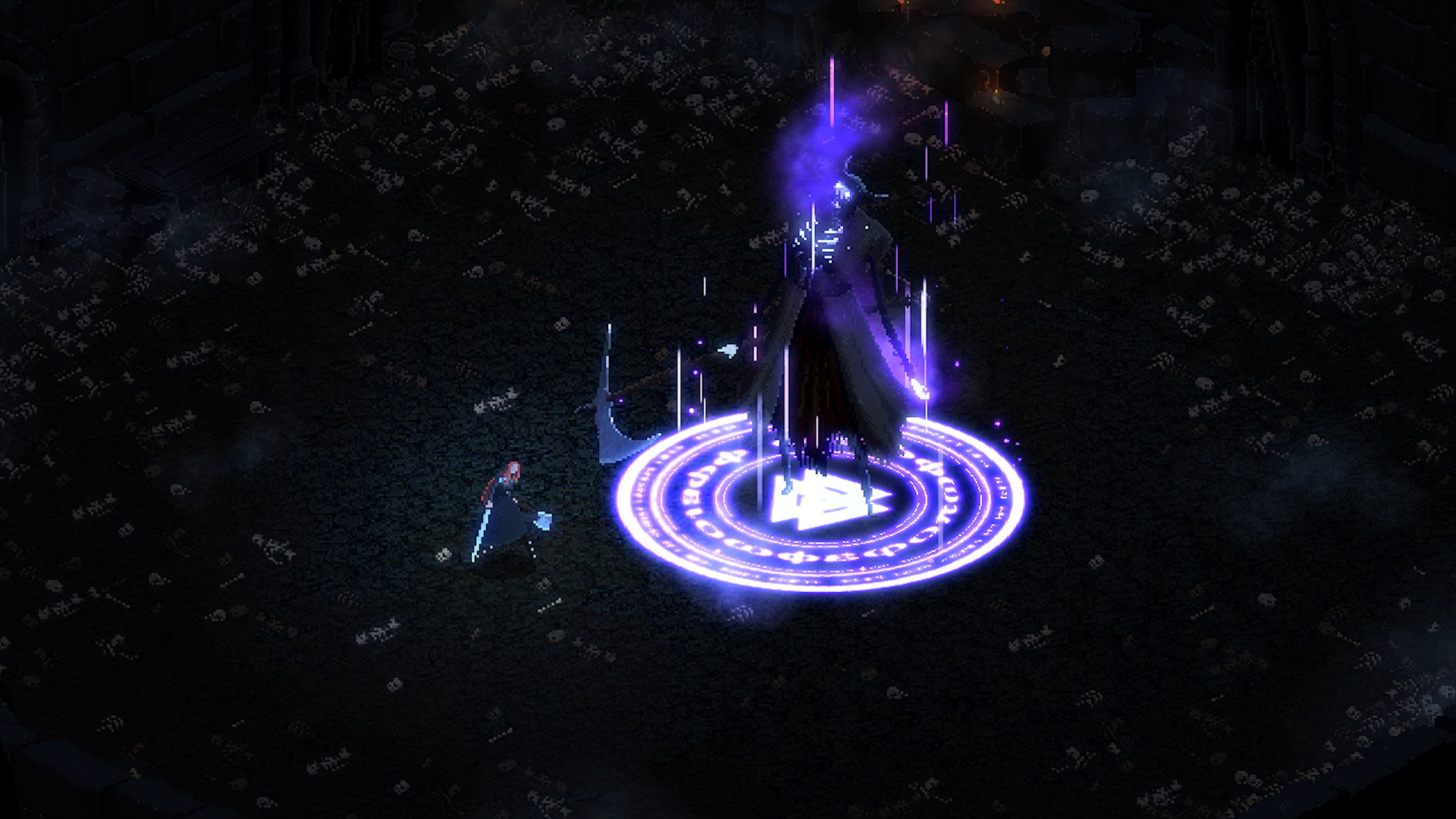 Seidr: This three phase boss fight is definitely not for the weak or faint of heart.
6. Devil May Cry 5
DMC5 Gameplay
Much to the delight of fans, the DMC saga returns on March 8, 2019. In DMC5 a demon tree has sprouted in Red Grave City, and only Nero and friends can stop the inevitable demonic invasion.  With the mechanical ingenuity of his friend Nico, Nero will have access to several prosthetic upgrades, and he'll be teeing off against a gaggle of demons in typical over the top fashion.
Players can now chose between 3 playable characters, each of which will have unique combat styles, allowing for a multitude of crazy ways to take down the bad guys.  If you're in a hurry to scratch that DMC itch, then a free demo of the game can be downloaded on the XBone.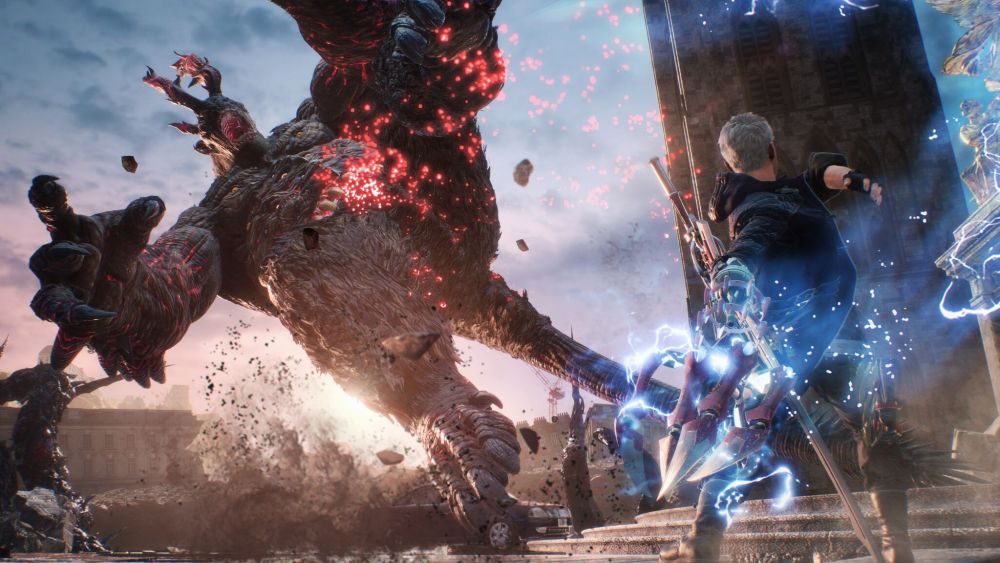 DMC Enhanced Edition: The RE engine struts its stuff, as DMC5 returns with a massive graphical upgrade and buttery smooth gameplay.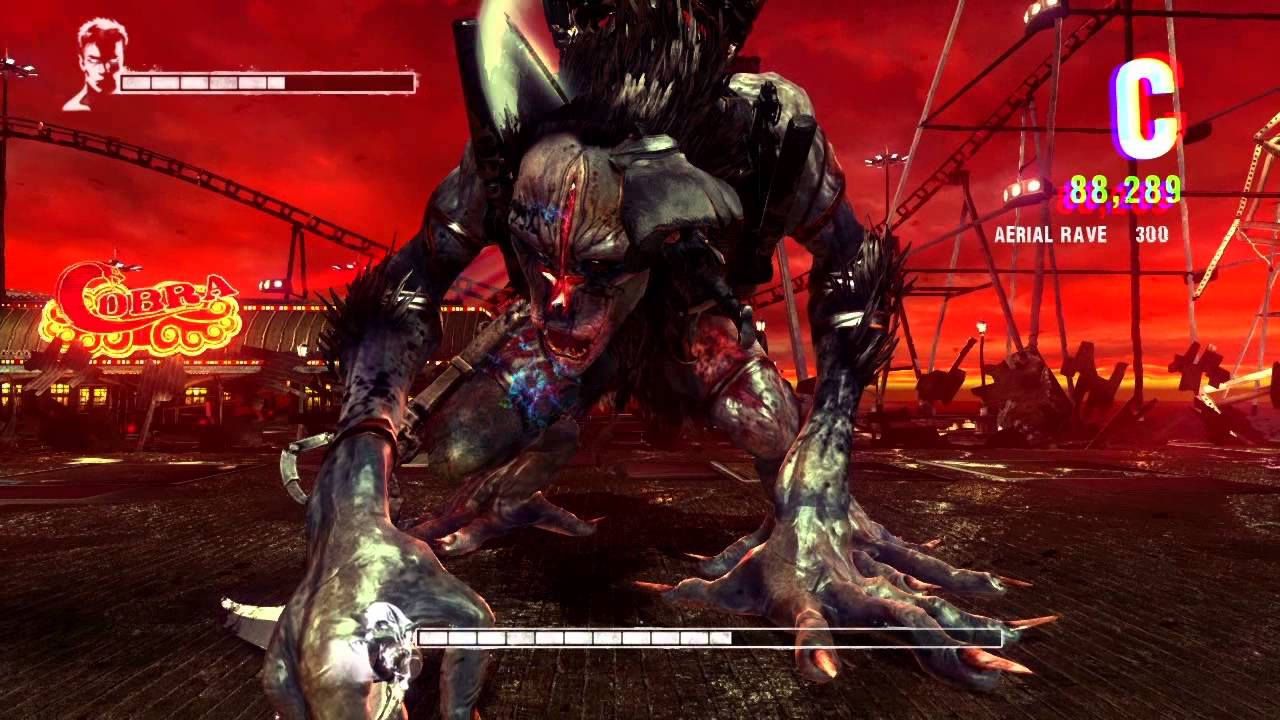 Goliath: Something tells me Nero has a witty insult for this situation.
5. The Witcher 3
The Witcher 3 Gameplay
The Witcher saga is based on the series of books by Polish author Andrzej Sapkowski. In the Witcher 3 you take control of Geralt of Rivia, who is on a quest to save Ciri; a child of the Elder Blood.  You will search the ends of the Earth in your quest to find her, and you may also find yourself getting involved in several sorted love affairs along the way. 
In fact, you'll do nearly everything in this game, and the superb voice acting as well as the unique quest lines, ensure that you'll enjoy every second of it.  The Witcher 3 is a superb RPG, and it's a must-own title for fans of this genre.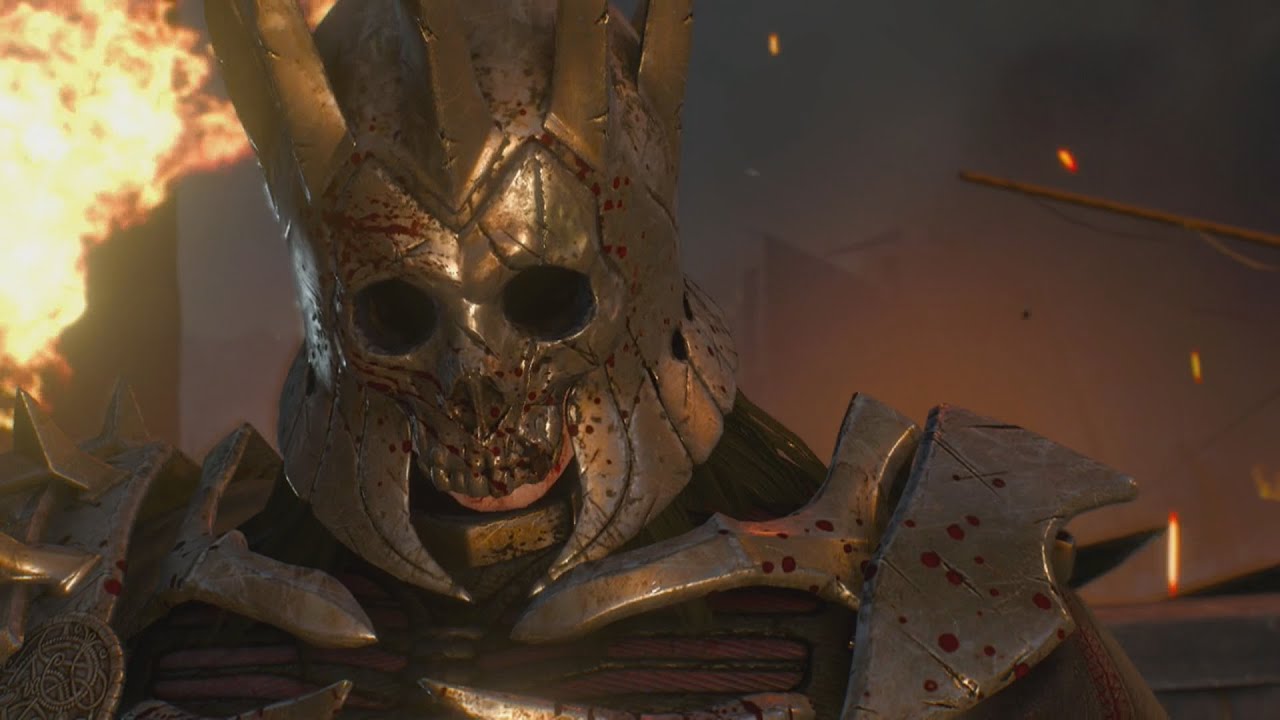 Eredin: The one who stands in your way.  Gather your potions and muster your strength Geralt, because this time, it's personal.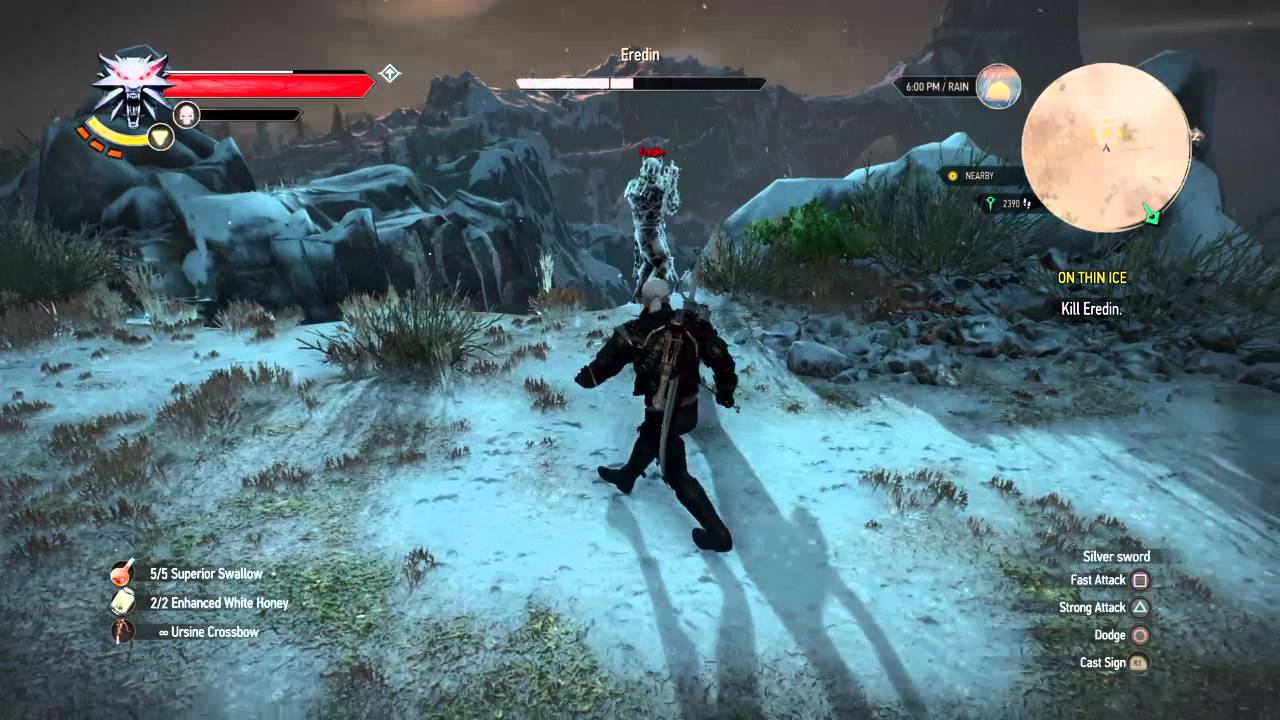 Through Time and Space: Eredin frequently teleports around during this fight, requiring Geralt to close the distance quickly. 
4. Metal Gear Rising: Revengeance
MGRR Gameplay
In Metal Gear Rising: Revengeance [MGRR], you play as the character Raiden from the Metal Gear Solid 2 story.  Raiden's security force is attacked in Africa, and he loses an arm and eye in the process.  It then becomes his mission, and yours as the player, to get—you guessed it—Revengeance against those who wronged him. 
MGRR changes-up the formula from previous Metal Gear titles by introducing hack and slash gameplay to the series.  It still contains the convoluted plotlines that have become a staple of the Metal Gear franchise, but the game is at its best when you're distentegrating enemies with Raiden's impressive sword art.  While not a traditional Metal Gear game, it's extremely fun, and it will give fans of the hack and slash genre a grin from ear to ear.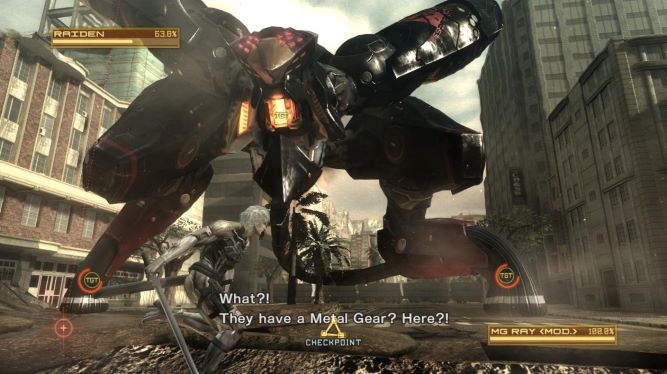 MG Ray: A Metal Gear, in a Metal Gear game?  Get outta here.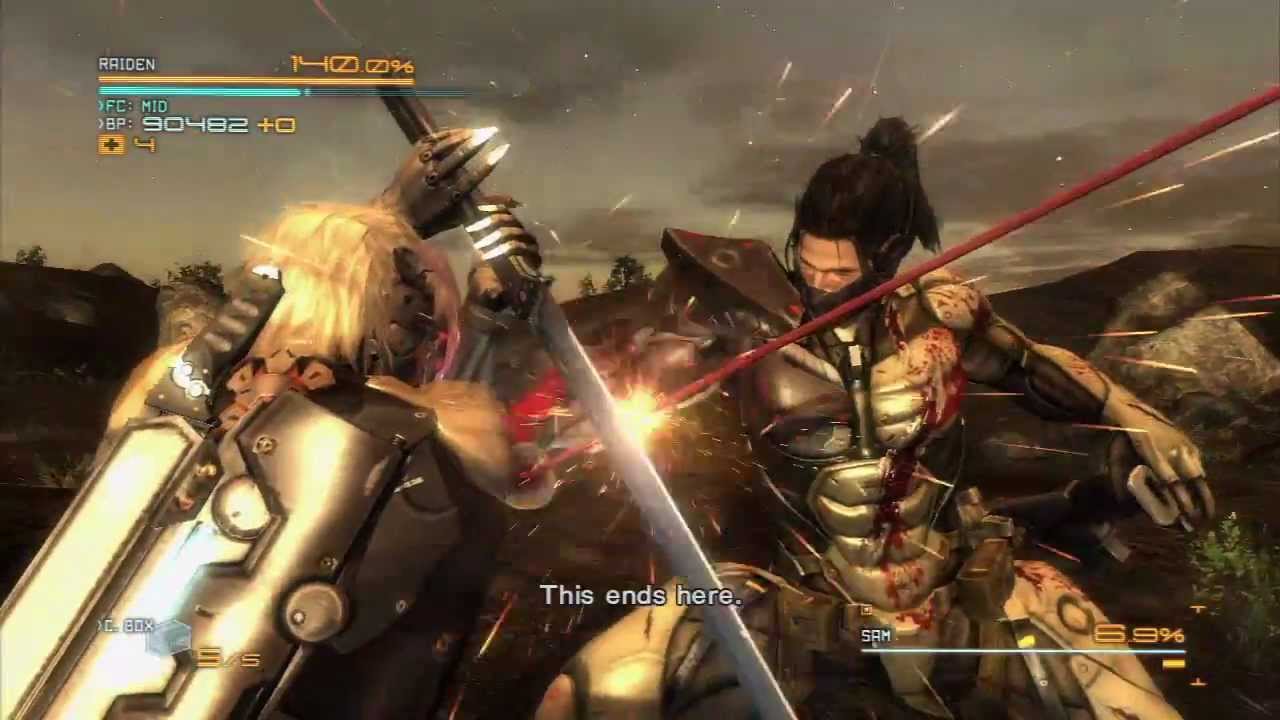 Dance of Death: You'll need all of your fancy footwork for this fight with Sam. 
3. Lords of the Fallen
Lords of the Fallen Gameplay
In an old English proverb, it is said that it takes a thief to catch a thief.  In Lords of the Fallen, you'll be given an opportunity to put that notion to the test.  Playing as the convicted criminal Harkyn, you are given a chance to redeem your past mistakes, and prevent the world from receding into utter chaos. 
Lords of the Fallen utilizes gameplay mechanics from the Souls series, yet it is shorter and less difficult than those games.  If you're a player who enjoyed Dark Souls, but were perhaps turned off by its insane difficulty, then Lords of the Fallen may be your cup of tea.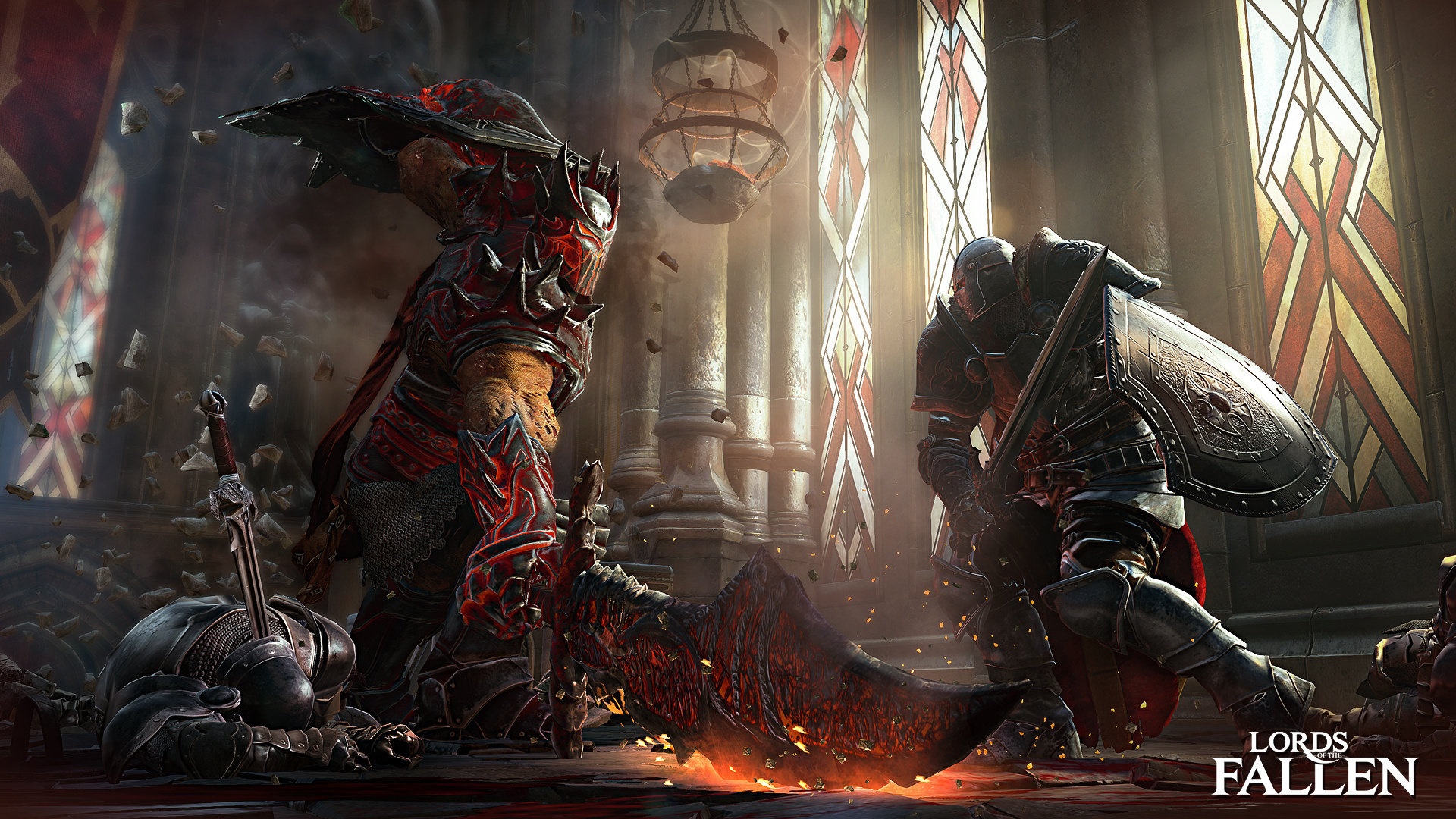 Dat Look Good: It's a pre-rendered promo image, but still, this game's graphics were very impressive for its time.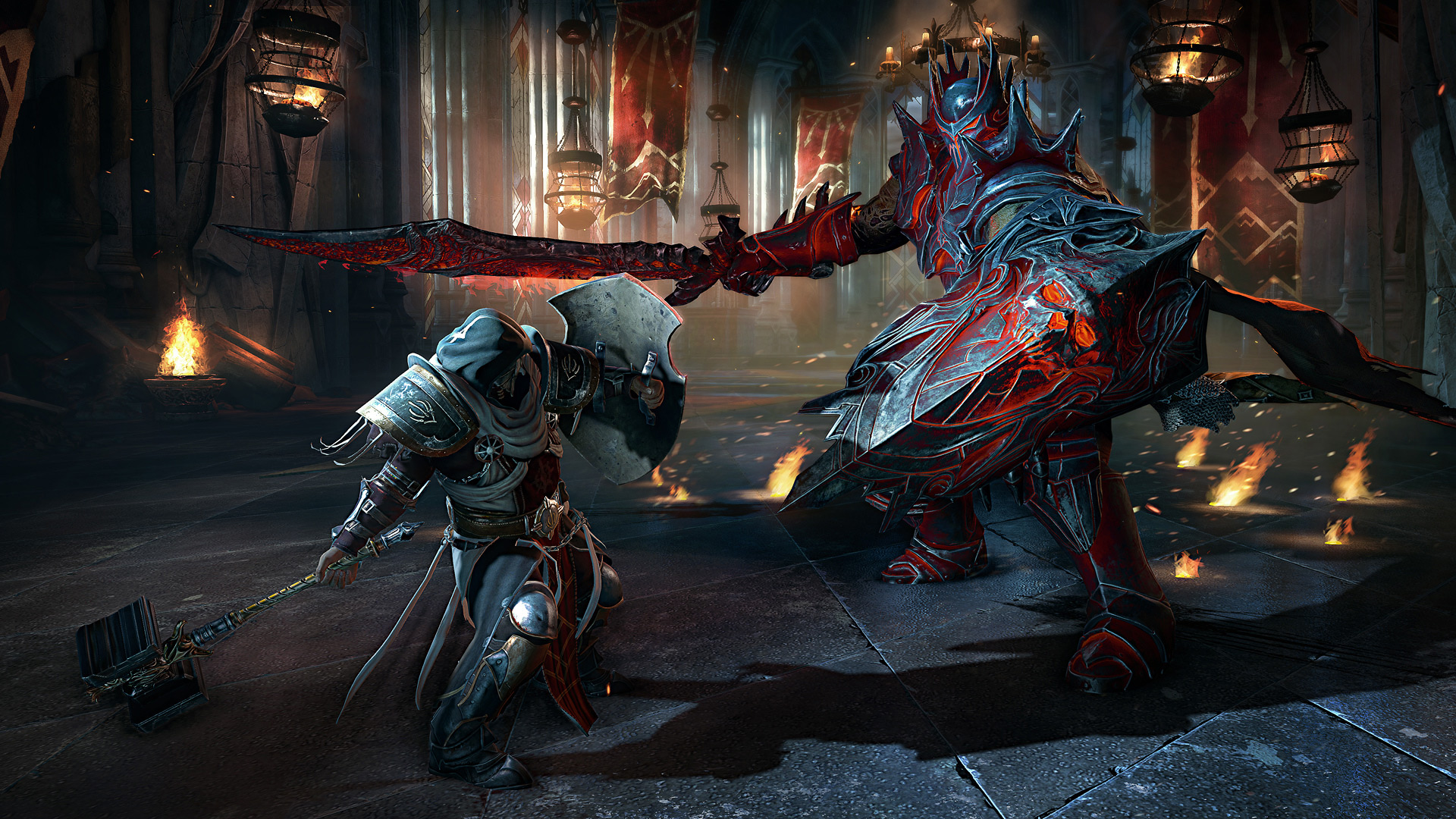 Big Boss, Little Fight:  He may be huge, and he's wielding a blade the size of a Mack truck, but fortunately the enemies in this game don't play too rough.
2. Darksiders 3
Darksiders 3 Gameplay
In Darksiders 3 you are Fury, the newly annointed leader of the 4 horseman from biblical lore. However, you're not a man at all, rather, you are a strong and fiery women in pursuit of the 7 deadly sins.  The sins have been unleashed on Earth, and your task as leader of the riders is to capture them and prevent them for destroying the world. 
To do so, you'll have to master the game's high paced combat system, and solve a few puzzles along the way.  Darksiders 3 has some beautifully detailed character designs, and its multiple endings should keep you coming back for more.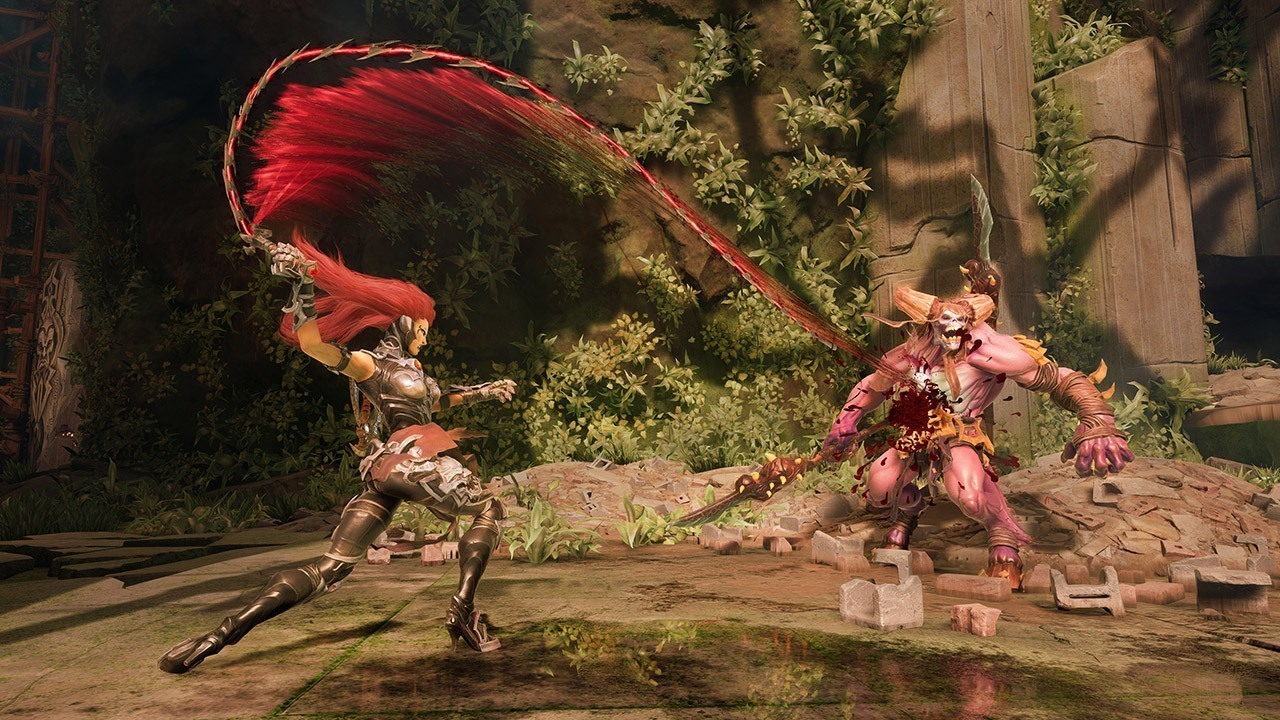 Fury: What is it that they say about a woman scorned?  The guy at the end of this whip probably knows.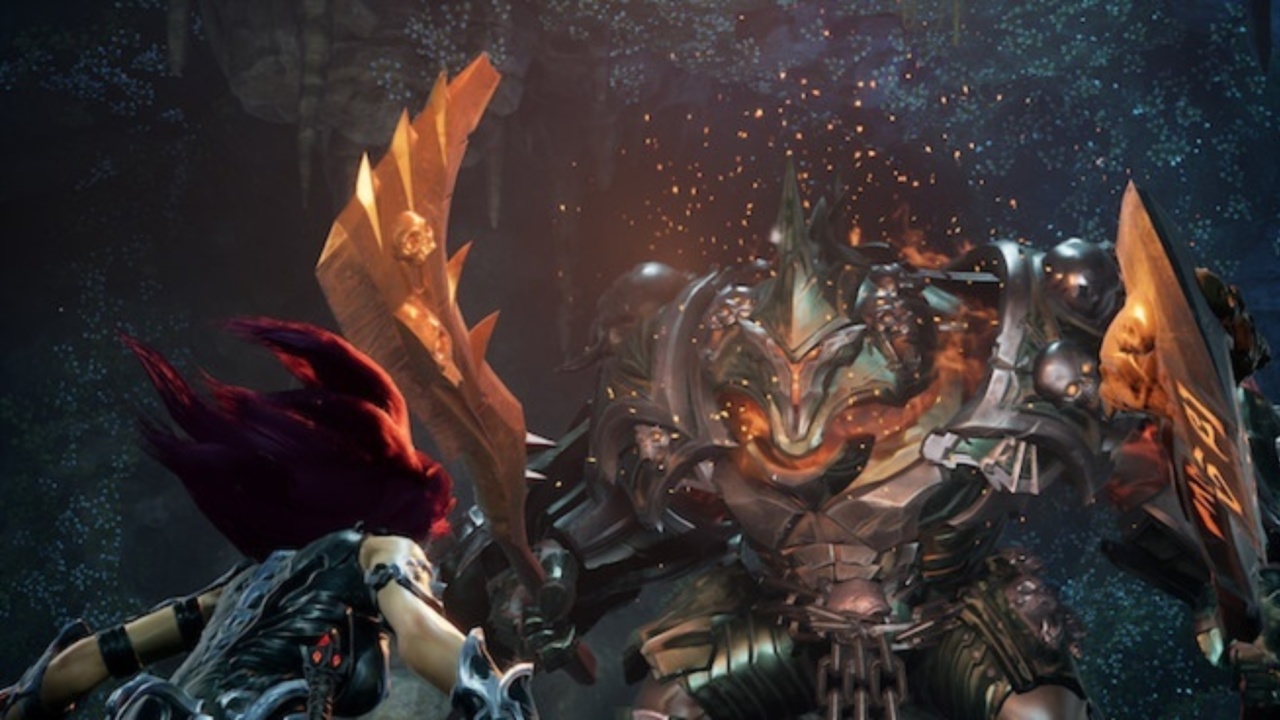 Wrath: Fury's emotions run high in this fight, and yours might do the same.
1. Dark Souls 3
Dark Souls 3 Gameplay
Dark Souls 3 is a game that will brutalize you at every turn.  It constantly tests your resolve, and it teaches you the most important lesson in life; never ever give up.  As you fight and repeatedly die your way through its world, you may find yourself asking deep questions about its lore, and answering them becomes a game within the game. 
Dark Souls 3 is rich with philosophical notions, yet it also has some of the most epic boss fights in gaming history, and the music that accompanies those fights is simply phenomenal.  Rarely does a game come along that so expertly combines aesthetics and narrative with gameplay, and the satisfaction you feel after defeating a DS3 boss is unmatched in this genre.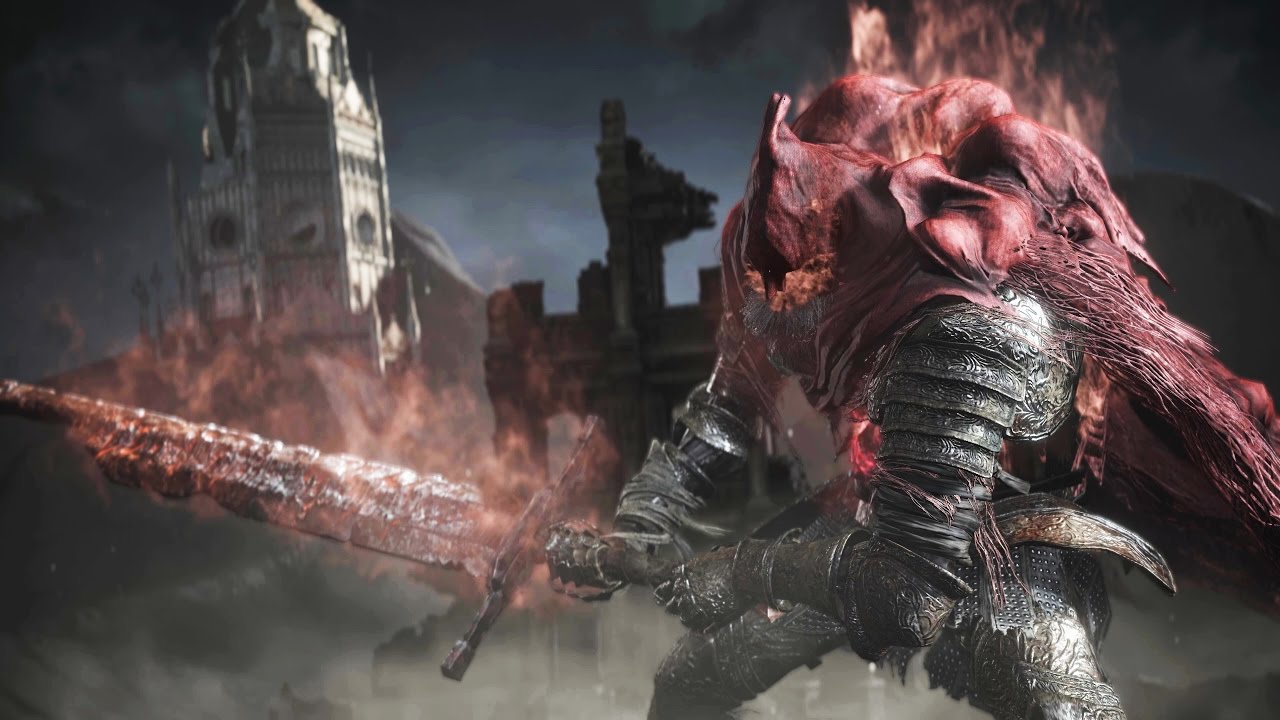 Blood of the Dark Soul: With his broken greatsword in-hand, Gael awaits your challenge.  Rise Ashen One.  Rise to meet this epic final boss, and lay claim to your right; The Dark Soul.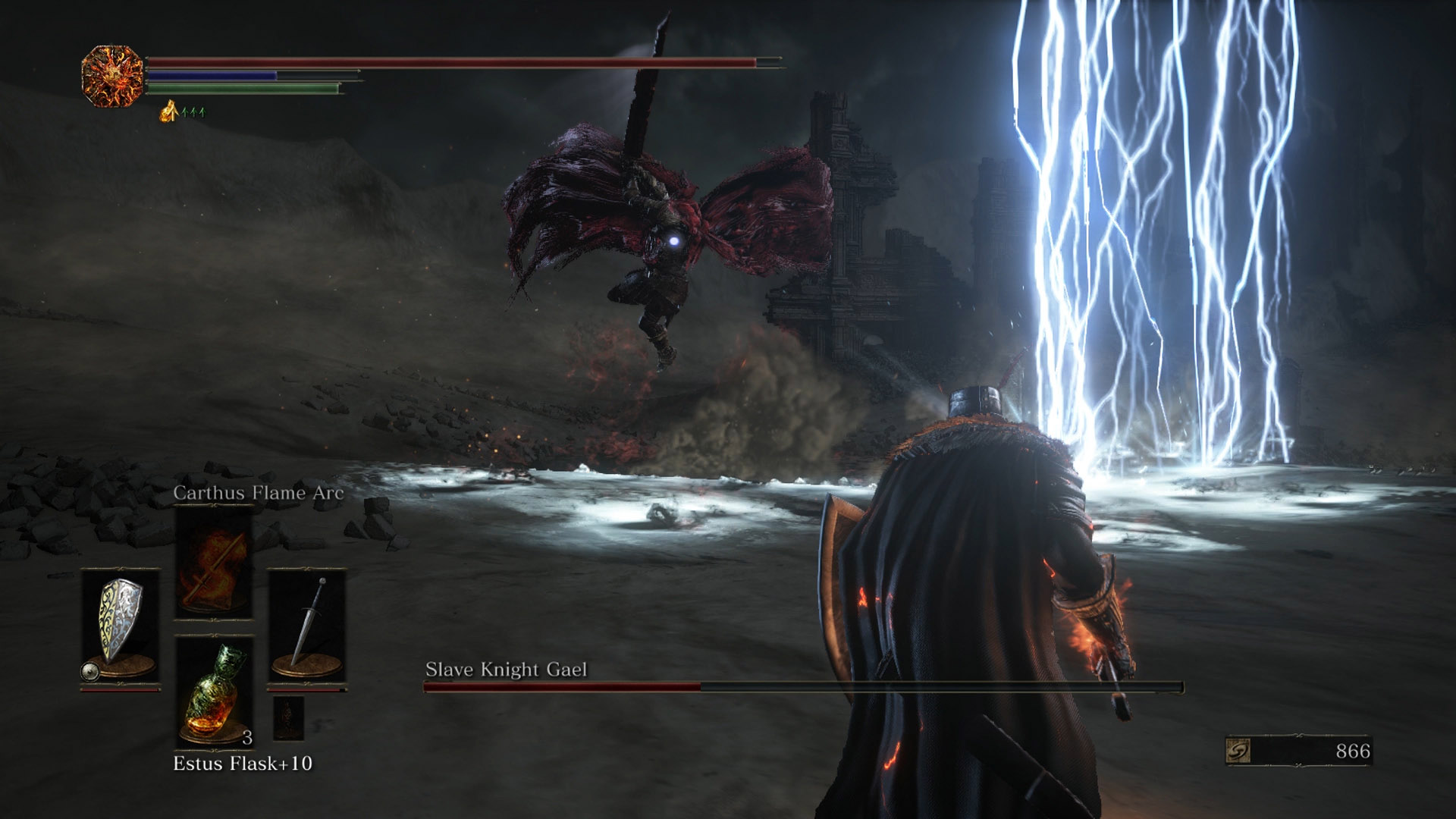 Let there be No Vacillation: At this point in the fight, it will feel like the universe is conspiring against you.  Be master of yourself, and you will claim this victory.
Also be sure to check out these articles:
Is Monster Hunter World Worth it?
Monster Hunter World Review - Hot or Not?
10 Things We Love About Monster Hunter World
Top 5 Best MHW Builds (MHW Strongest Builds Ever)
Monster Hunter World Tier List (MHW Best Weapons Ranked)
The 10 Best Monster Hunter World Mods (That Give You a Winning Edge)
Monster Hunter World Guide: 50 Tips and Tricks
Best Monster Hunter World Tips, Tricks and Secrets
Monster Hunter Live Action Movie Release Date, Cast, Trailer, Story, News
Monster Hunter World Large Monsters List: Weaknesses, How To Kill, and Location