[Top 10] MHW Best Safi Weapons That Wreck Hard
Updated: 14 Dec 2022 4:42 pm
Safi'Jiiva weapons wreck as hard as the red dragon itself.
Grinding Safi'Jiiva weapons felt like my first gacha game ever. Similar to the Kulve Taroth Siege, it felt like a box of chocolates (you'll never know what you're going to get). One of the game's most difficult bosses, with the ability to one-shot one-shot all four hunters on the map, the weapon you'll obtain is as powerful as the elder dragon itself.
Although Safi weapons are good in general, each run is quite time consuming and a challenge. So, to assist you in saving those valuable dragonites earned with each run, here are the top ten best Safi weapons that wreck hard.
10. Safi's Dreambuster/Shatterbuster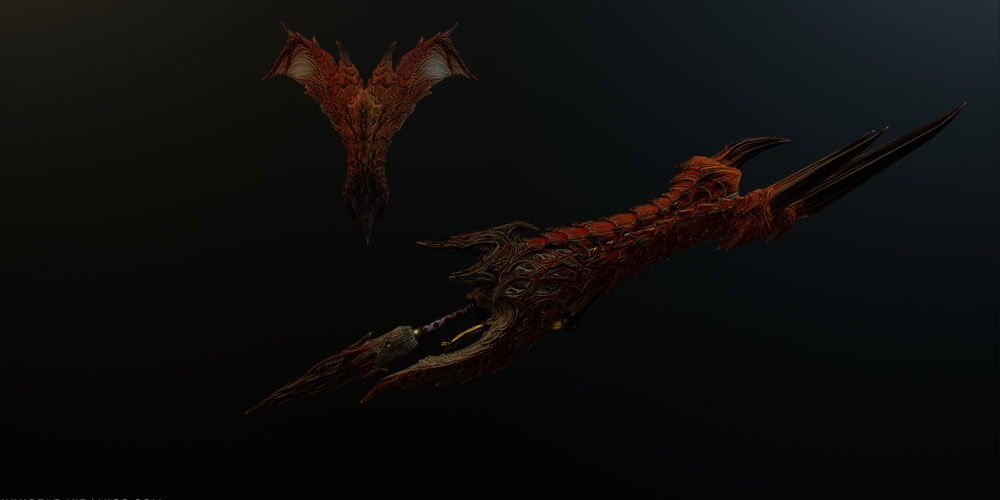 See Safi's Dreambuster in action
The Dreambuster and Shatterbuster from Safi are the first items on this list. Both deserve a spot for many reasons. Gunlances have little synergy with elements or status because half or more of their damage is not affected by status.The most significant status for gunlance will definitely be "sleep," because of the wake up attack potential. You're guaranteed two sleeps if you go looking for Safi's Dreambuster (or any other sleep monster in general).For blast, well, it just procs on every 8–12 pokes and is very potent for monster flinching, so it's pretty hard to ignore. 
What's good about the Safi gunlance is that you have the choice to increase the weapon's sharpness via the awakening mechanic. It doesn't matter if it's purple or white; as long as you have anything above the green sharpness, your shelling damage will be constant. Add the wake up damage from the wyvernblast and maybe a couple of mega barrel bombs, and you'll be doing optimal damage already. 
Since it's a Safi weapon, you can customize and access either of the three shelling styles the gunlance offers. Preferring the wide over the two would also mean you could inflict pseudo-KO damage that makes monsters flinch easily. The long shelling is also good except for the charging, which takes a little bit of time to trigger, plus you'll need three levels of focus to make it optimal. The normal gunlance is definitely strong, but would need a crit eye to be significant, and while the shell unload combo is pretty cool and powerful, it takes time and animation commitment to pull off. They all have their pros and cons, so choose your cup of tea. This overall choice is what makes the Safi gunlance so great and deserves a spot on this list.
What Safi's Dreambuster is great for
1. Access to normal long and wide shelling lets you play whatever style you prefer.
2. Sleepbombing is too satisfying to pass up.
3. All shelling are viable for this weapon, as they all have the same maximum level.
4. Very easy and safe to use.
Safi's Dreambuster stats:
A gunlance made from Safi'jiiva parts. Awaken its hidden potential by using unique materials.
621 Attack
5% Affinity 
180 Sleep
Lv4 Deco Slot
Normal Lv 5 Shelling (default)
9. Safi's Shatterspear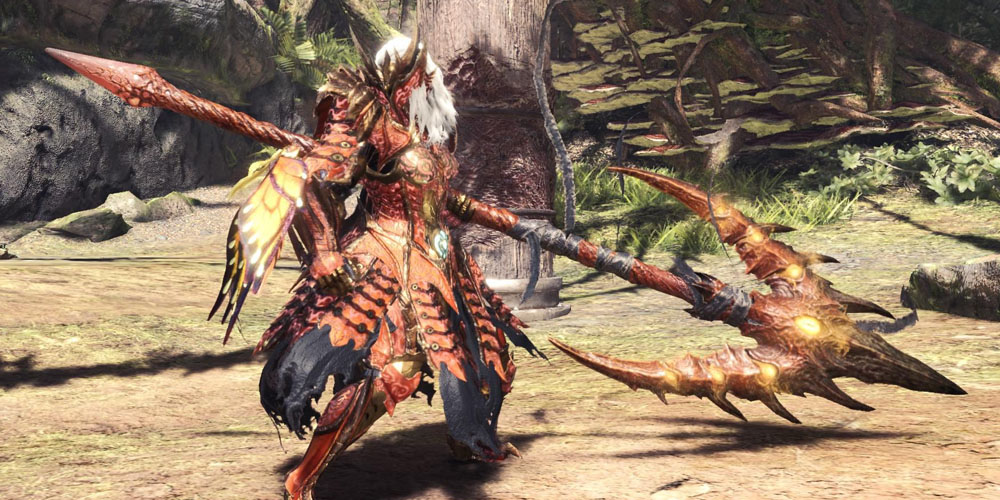 See Safi's Shatterspear in action
Reaching for the sky is one of the fun playstyles the insect glaive gives, and what else can be more fun than adding blast procs. Aesthetically pleasing design and excellent weapon stats are what secured this weapon's place on this list. 
Although the aerial playstyle is not DPS focused, its grounded playstyle makes up for it once you're done evading the monster's grounded attack and breaking hard-to-reach parts. The highest motion value move is also very easy to access; that's why you'll still see speedrunners use this weapon. Overall, this weapon's blas proc is out of this world, making it one of the best weapons in the game.
What Safi's Shatterspear is great for
1. A highly customizable weapon with above-average stats means it's easy to build around this weapon.
2. Constant blast procs make breaking monster parts easier.
3. Equipping a poison kinsect lets you inflict 2 of the best statuses in the game.
Safi's Shatterspear stats:
A bow made from Safi'jiiva parts. Awaken its hidden potential by using unique materials.
837 Attack
5% Affinity 
180 Blast
Speed Bonus Kinsect Bonus
Lv4 Deco Slot
8. Safi's Boltbow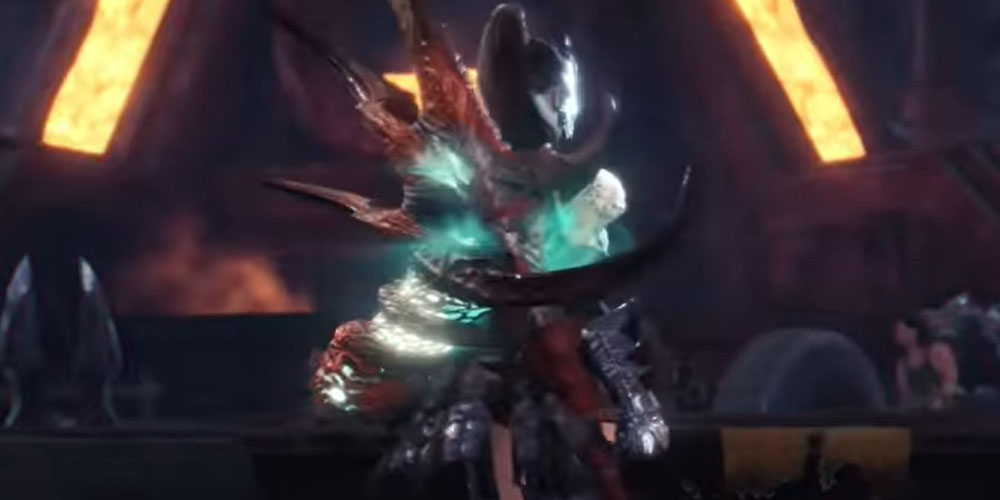 See Safi's Boltbow in action
This list would be incomplete without a Safi bow, and what better bow to include than the Safi's Boltbow? The design is just glorious, and the glow on the quiver and the bow shine like you're holding thunder itself.
The thunder element is known to be a weakness for a lot of monsters. This is where the Safi's Boltbow thrives. Inflicting damage from a distance lets you shoot at will without minding those quick and short-range monster attacks. 
What's good about this bow is the integration of the Velkhana Divinity skill, which lets you abuse the power of the Dragon Piercer move. Spamming Dragon Piercer lets you boost your attack even more because the boosted damage from the divinity skill carries over all the ticks, and most monsters weak to thunder usually have a long body, perfect for the Dragon Piercer.
What Safi's Boltbow is great for
1. Dragon Piercer is the way to go for this bow, carrying the buff from the Velkhana Divinity
2. Most monsters are weak against thunder.
3. It's simple to build around because you don't have to build for critical eye and instead concentrate on three levels of crit draw.
Safi's Boltbow stats:
A bow made from Safi'jiiva parts. Awaken its hidden potential by using unique materials.
312 Attack 
5% Affinity 
120 Thunder
Lv4 Deco
7. Safi's Hellbow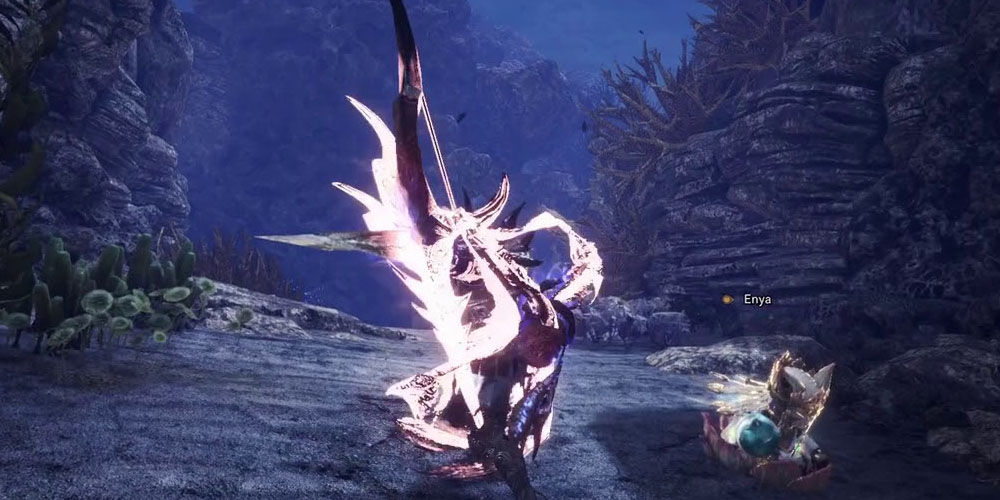 See Safi's Hellbow in action
Another entry would definitely be a Safi bow weapon. Not only does it have an impressive fire element, but the raw is just phenomenal.
Shooting from mid-range has its advantages; being able to fire at will means more chances to get critical hits. Because of its true critical element armor skill, the Silver Sol armor would be the meta pick for this weapon.But since it has quite limited slots and capabilities, another contender for a potent armor build would be the Namielle for its bonus armor skill to build up elemental damage. 
You can also opt to go full Safi armor since this bow has a naturally high raw of 312 and inflicts more crits with the fire element. 
So go ahead and shower those monsters with arrows and obliterate them with more elemental damage using this "hell" of a bow.
What Safi's Hellbow is great for
1. Surprisingly high raw for a bow.
2. Inflict a high fire element on the most annoying fire-weak monsters 
3. Dish out damage from a much safer distance. 
Safi's Hellbow stats:
A bow made from Safi'jiiva parts. Awaken its hidden potential by using unique materials.
312 Attack 
5% Affinity 
120 Fire
Lv4 Deco
6. Safi's Shattershield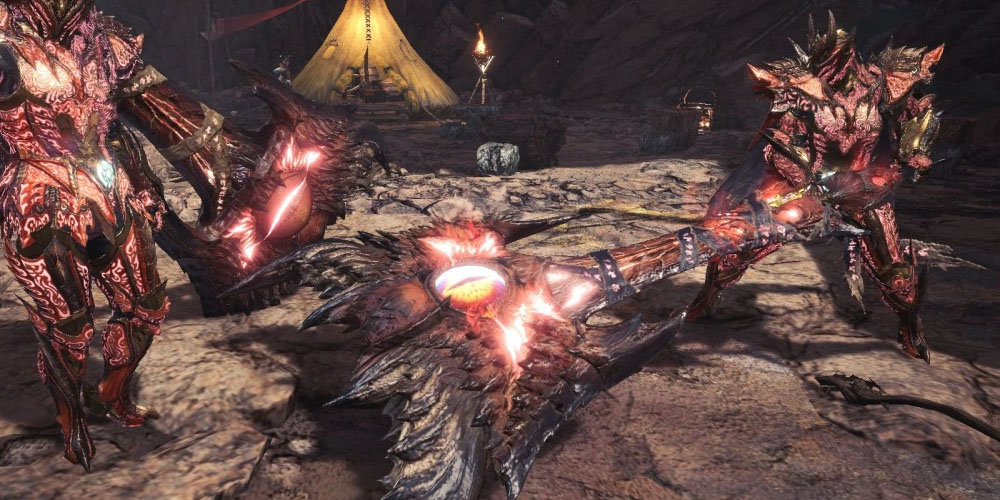 See Safi's Shattershield in action
One of the best looking weapons in the game, the Safi's Shattershield looks both unholy and divine at the same time. Once awakened, your shield's eye opens up looking like you have Sauron's eye with you, which is more obvious when you're in axe mode. My favorite part is when you charge your sword (or shield), the eye pops out from the shield! You just know that this weapon will be on this list!
Although the game has a crit meta, the charge blades' ability to spam SAED is just too much to ignore. The badass move and camera zoom whenever you trigger the move are just cinema for the eyes. The Safi charge blade, being a blast weapon, adds up to this kind of weapon. Just max out your artillery and attack skills, and boom, you've got yourself an optimal build already. The temptation to go UNGGA BUNGGA on this weapon is just too much to ignore.
What Safi's Shatteshield is great for
1. The SAED is the one of the coolest move in the game
2. The spinning axe mode creates fast attack and blast build up
3. One of the best raw damages in the weapon tree
4. Hard but rewarding weapon
Safi's Shattershield stats:
A charge blade made from Safi'jiiva parts. Awaken its hidden potential by using unique materials.
972 Attack 
5% Affinity 
120 Blast
Lv4 Deco
5. Safi's Shattercrusher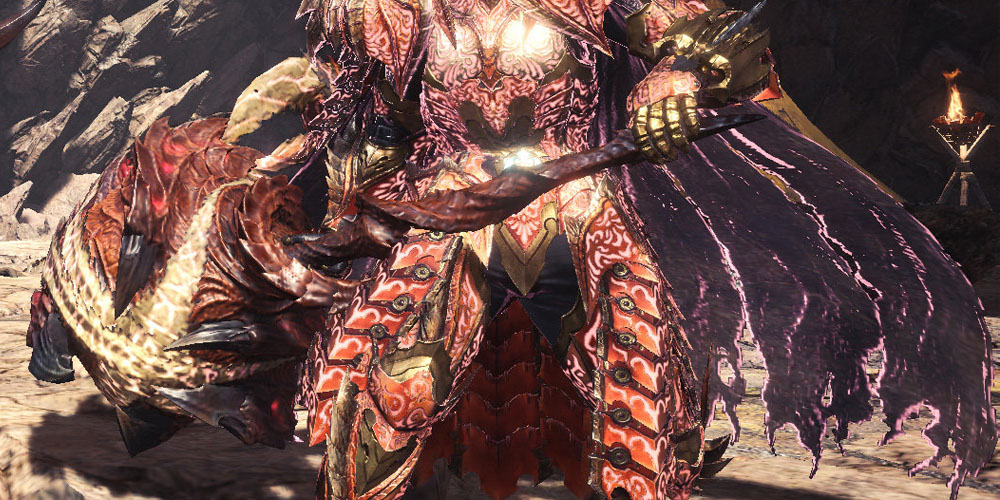 See Safi's Shattercrusher in action
The Safi's Shattercrusher is every Hammer Bro's dream. Just the sinister weapon design alone already makes me want to put my hands on this thing! 
Bonking monsters with KO damage and blast have never been this good. The Safi Hammer is on this list because of its incredible damage, affinity, sharpness, and overall stats.Although a big and blunt weapon, the hammer has pretty fast attacks accessible in its arsenal, which synergize with the blast status attack. With the amount of white sharpness this weapon has, you don't need Master's Touch with this weapon and instead focus all on the attack, critical eye, and up. Since you'll be at the monster's grill at most times, it is also important to augment this weapon with health regeneration.
So KO, drain their stamina, and go boom boom on your hunts!
What Safi's Shattecrusher is great for
1. Fast attacks can proc more blast
2. KO monsters with ease.
3. 3 in 1 damage per attack
One of the best raw damages in the weapon tree
Safi'Shattercrusher stats:
A hammer made from Safi'jiiva parts. Awaken its hidden potential by using unique materials.
1404 Raw
210 Blast 
5% Affinity 
Lvl 4 deco slot
4. Safi's Shatterblade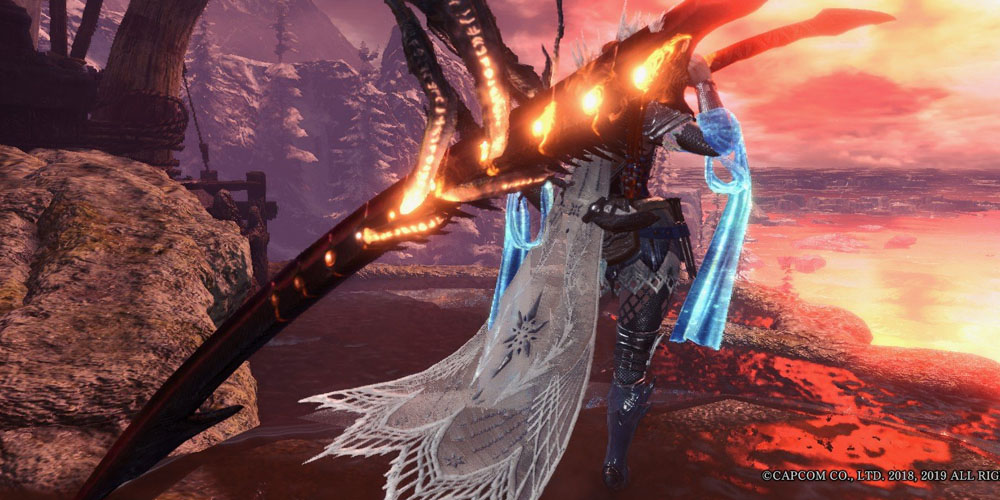 See Safi's Shatterblade in action
Definitely one of the best longswords in the game, the Safi's Shatterblades badass aesthetic is more than meets the eye. Not only does the weapon look cool, but it also dishes out massive damage with an extra blast.
Taking advantage of the longswords' fast and fluid attacks is why this is on this list. Mathematically, blast is the best damage choice in the status pool (poison being a very close second). If you've seen speedrunners pilot this thing, you'll be amazed at how many blast procs they can inflict in a single quest. The only reason they couldn't do anymore is because the monsters were already dead. 
The best advice for this weapon is to build for Master's Touch and prioritize affinity to lock the weapon's sharpness to purple as you destroy monsters with this living, breathing weapon.
What Safi's Shatterblade is great for
1. One of the most versatile weapons in the game.
2. Throughout each hunt, the Blast status deals the most overall damage mathematically.
3. Can build a ridiculous 1106 damage and purple sharpness.
Safi'Shattersblade stats:
A great sword made from Safi'jiiva parts. Awaken its hidden potential by using unique materials
Lv4 Gem Slot 
891 Attack 
5% Affinity 
180 Blast Damage
3. Safi's Shattersplitter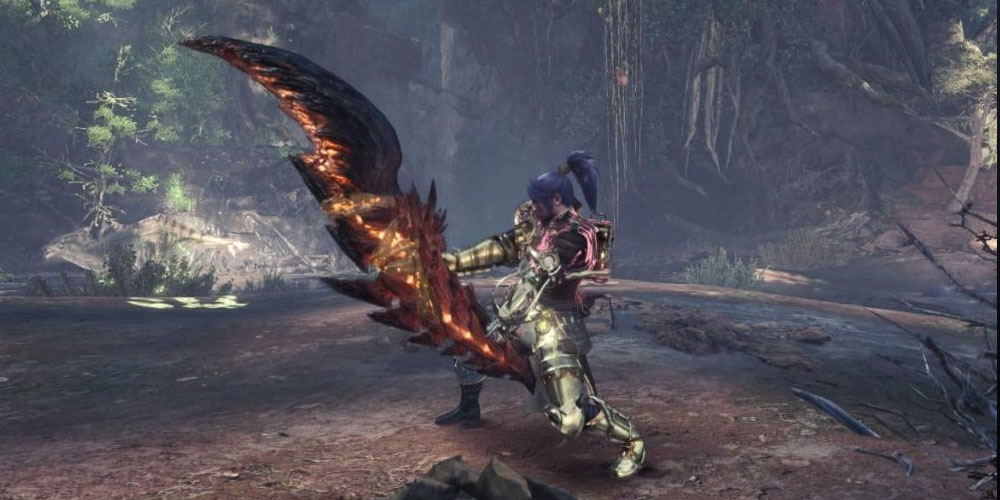 See Safi's Shattersplitter in action
Arguably the best greatsword in the game, the Safi greatsword is for wielders of grossly oversized yet deeply satisfying weaponry's dream come true. It's time to talk about the Safi'Jiiva greatsword and what it's meant to do. HIT THE MONSTERS HARDER THAN EVER BEFORE!
The Safi'Shattersplitter definitely broke the Greatsword meta when the Safi'Jiiva quest was introduced. Even now that Fatalis weapons are available, the Shattersplitter remains at the top of the Greatsword meta.What's odd here is that greatswords are commonly built as raw weapons and take advantage of the non elemental boost skill that boosts the raw damage even further. 
The raw damage alone stands at 1325 completely pushing this on top of the greatsword tree as the best in the game and able to stand higher than any greatsword even with a non elemental boost. With enough handicraft skill, you can push to a reasonable level of purple sharpness and take advantage of the Master's Touch multiplier.Although this may or may not be better with an elementless skill equipped, the blast procs a lot more and more than makes up for the damage it could've given you, so blast is still viable for optimal damage builds.
What Safi'Shattersplitter Is great for:
1. Monstrously high raw damage
2. Blast procs a lot more than any other status in the game.
3. Can take advantage of the Master's Touch weapon bonus even with the sliver of purple sharpness.
4. Sinister weapon design.
Safi'Shattersplitter stats:
A great sword made from Safi'jiiva parts. Awaken its hidden potential by using unique materials.
1325 Attack 
5% Affinity 
300 Blast Damage
Lv4 Decoration Slot
2. Safi's Aquashot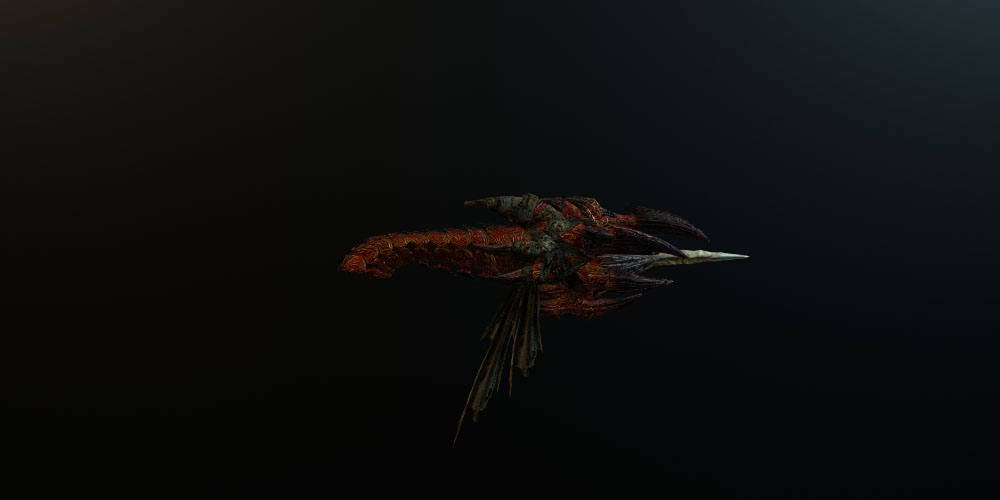 See Safi's Aquashot in action
Since Safi's Aquashot was added to the game, sticky ammo has never been this good. This weapon's stats are disgustingly overpowered and feel like a cheat code when taking advantage of its high raw and sticky.
Keeping yourself at a safe distance while unloading sticky ammo with ease is this weapon's greatest attribute, with a stylish evade reload and ridiculously low recoil and deviation values. This means that the downtime between sticky shots is almost nonexistent. It's also important to remember that sticky ammo inflicts KO damage when shot at the monster's head, thus creating more knockdowns and openings for your co-hunters. 
If you think creating openings with knockdowns is the only thing that this weapon offers, then you're dead wrong. The raw damage on this weapon is insane and one of the best in the lightbowgun tree, making it the best Safi weapon in the game. Imagine the plethora of armor skills you can use to boost this weapon's already overpowered raw damage. By the way, affinity doesn't affect sticky ammo at all, so that'll free up space to build for more raw. There's peak performance, agitator, attack, KO, and most importantly, artillery. Combining these skills isn't really a hard thing to do since the weapon alone is already plenty and not much tinkering is needed when it comes to its setup. Make sure that you equip 2 recoils and 2 evade reloads for the custom mod. All you'll have to do is shoot a few times, then evade reloads. It's that simple.
What Safi'Shattersplitter Is great for
1. Very low recoil, deviation, and downtime between shots
2. There are plenty of skills to choose from to boost the sticky ammo damage.
3. You'll definitely look cool doing the evade reload.
4. Ammo management can be challenging and rewarding at the same time.
5. Taking advantage of the Nargacuga armor bonus is meta for sticky builds.
Safi's Aquashot stats 
A light bowgun made from Safi'jiiva parts. Awaken its hidden potential by using unique materials.
325 attack
5% affinity
Lv4 decoration slot
1. Safi's Burstcannon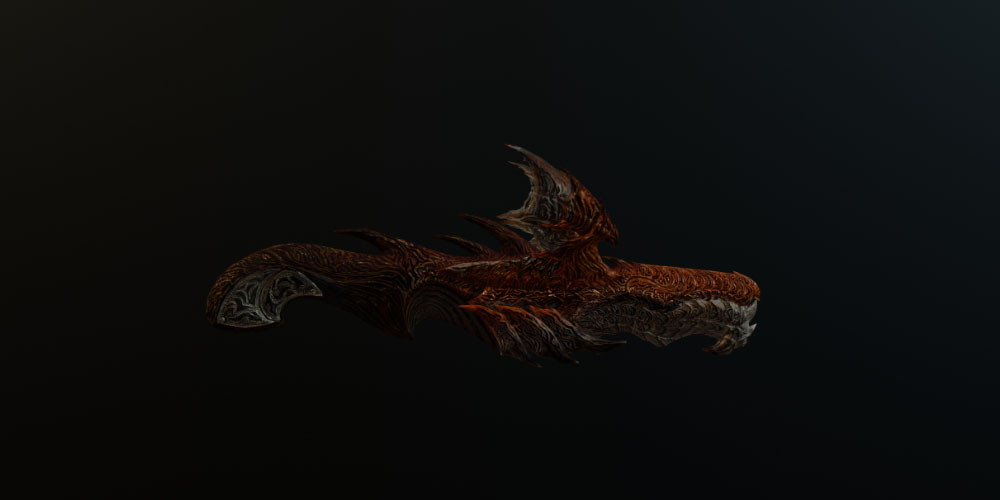 See Safi's Burstcannon in action
Ladies and gentlemen, the reincarnation of the Glutton heavybowgun in Iceborne, the Safi' Burstcannon! It mows down any monster in its path like it's nothing and even surpasses the DPS of the Safi' Shattersplitter. It averages 477 damage per spread shot with a massive clip size, this weapon is indeed worthy of the number one spot on this list. Although it was painful for me to put this over the Shattersplitter (being a Greatsword main since Freedom Unite), the stats don't lie on this boomstick. The recoil, damage, and clip size are just too much for any weapon in the game to even surpass. Only the Vor Buster can stand toe to toe with this monstrous heavy bowgun.
In reality, you'll be at a close distance even if this is a heavy bowgun because of the potency of the spread ammo. You might feel unsafe, knowing you are at a close distance from the monster and you're just two or three hits away from carting, but don't fret! This weapon is capable of a shield attachment and still dishes out massive damage. If you feel lucky and are an experienced speedrunner, then good for you. You can equip a scope for more damage. The damage and defense it provides is just bonkers.
Imagine yourself shooting spread ammo at will while shielding, walking, and reloading really fast. This is why this weapon is at the top of this list! 
What Safi's Burstcannon is great for
1. Massive spread clip size mean constant damage.
2. Can out DPS the greatsword.
3. Access to a shield means you can also play safe.
4. Fast reload means less downtime.
5. Walking reload and shooting for extra comfort.
Safi's Burstcannon stats:
A heavy bowgun made from Safi'jiiva parts. Awaken its hidden potential by using unique materials.
375 attack
5% affinity
Lv4 decoration slot
There you have it! These are the 10 best Safi'Jiiva weapons you must try, and while all weapons are viable, these 10 are definitely a must-try if you're new to the game and if you're confused as to what you can build your dracolites on.
Also be sure to check out these articles: