[Top 5] Genshin Impact Best Razor Builds
Updated: 07 Oct 2021 10:08 am
Razor, best wolf boy
[Top 5] Genshin Impact Best Razor Builds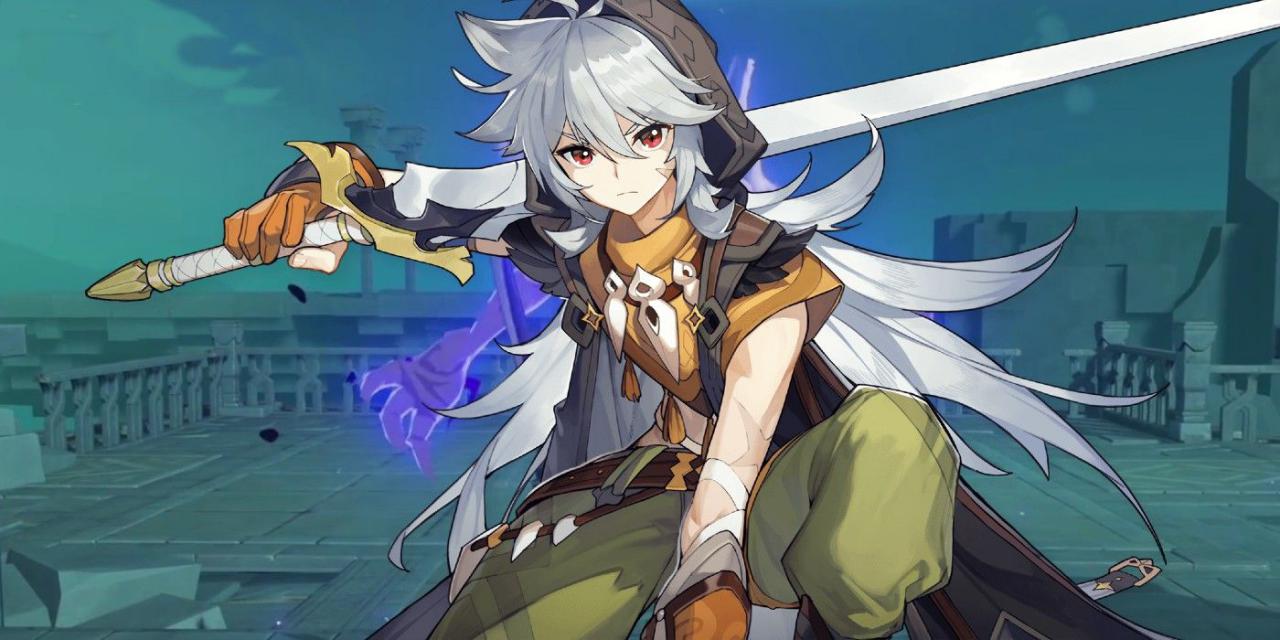 Razor is a hidden gem in the Genshin impact four star character roster. He's a cute little electro boy who deals massive damage with his claymore, which lets you use him as a DPS, and his claymore means you can use him to break Geo shields in Spiral Abyss. It's great to have him around in your team. He might use a bit more energy, but the fact that he creates a lot of Physical Damage kind of makes up for it. Here, I'm going to talk about how to build him so that you'll be able to capitalize on all his strengths and make up for his weaknesses.
Artifacts
First off, we're going to talk about the best artifacts to use on this good boy. It's best to build him as a physical damage dealer, with crit rate and crit DMG being your stats to focus on. His electro elemental skills are great, but there's the problem of it using up so much energy recharge. Not to mention, his skills don't transfer if you switch him out with other characters. So yes, he's great to use for electro damage and elemental combos, but only if you're willing to use him for longer in the field, or use him as your DPS.
The artifact sets that work well with him are Pale flame two piece set and the Bloodstained two piece set. You can use the thundershooter if you're so inclined.
The two piece Pale flame set is going to give you an increased Physical DMG of +25% and the two piece Bloodstained is also going to give you an added Physical DMG of +25%, which you can combine and make him your big physical damage dealer. Below are some details of the artifacts you can use on him.
Bloodstained Chivalry Set
Circlet - Bloodstained Iron Mask 
+DEF ( 7 - 58%)
ATK (6 - 46%)
Crit Rate ( 4 - 31%)
Crit DMG ( 8 - 62%) 
Elemental Mastery ( 25 - 187)
Goblet - Bloodstained Chevalier's Goblet
DEF ( 7 -58%)
ATK (6-46%)
Physical DMG bonus (7-58%)
Elemental DMG (6-46%)
Pale flame Set
Plume -  Wise Doctor's Pinon
ATK (42-331)
Sands - Moment of Cessation
DEF - (7- 58%)
ATK (6-46%)
Energy Recharge (7-51%)
Flower - variable
Now, let's talk about weapons for our Razor. He's a claymore user, so he's going to deal a lot of damage with it, which makes him so fun to play. Below are the best weapons to use on Razor. Every five star weapon is going to be better than a four star weapon, but for the plebs like me who cannot afford to have a lot of wishes, or just have terrible luck in gatcha, I've included some great four star weapons to use on him as well, which, when leveled up and paired with our artifacts work just as well as the five star weapons.
5) Prototype Archaic 
I've always said Prototype Archaic is the best F2P claymore, because it really is. I can't mention enough how cool this weapon is, because it works so well on your four star characters. It's going to give your Razor so much Physical damage, and its passives deal 240% DMG to opponents. It's good to use your Razor as DPS or sub DPS here because your little wolf boy is going to create so much destruction with this weapon.
Stats
+450 base attack after lvl 70
+ 22% ATK after lvl 70
On hit, Normal or Charged ATK have 50% chance of additional 240% ATK DMG 
Can occur once every 15s
Build Details
Use with artifacts that increase Damage, such as Bloodstained Iron Mask, which creates up to 60% DMG 
It's super easy to create, and also to level up, and Bloodstained ins't that rare of an artifact if you are looking for only the 2 piece set, which will increase DMG by 25%
You can use Razor as a DPS or sub DPS because of the high level of damage that it rates. 
4) Blackcliff Slasher
Blackclliff Slasher is an underrated four star weapon, which increases ATK by 12% for 30s after defeating an opponent. The more enemies you attack, the higher your damage is going to be. The Base attack is pretty good for a four star weapon, and the secondary stat is the Crit Damage. It's going to be a great weapon to use in the field, dealing lots of damage to your opponents. It's definitely a superbweapon if you don't have any kind of five stars in your arsenal.
Stats
Base ATK +40 after lvl 70
Crit DMG +45%  after lvl 70 
Increased ATK +12% for 30 s after defeating an opponent. This effect has max 3 stacks. 
Build Details
Because this weapon's secondary stat is the CRIT Damage, pair with artifacts that have high crit damage. 
Use Pale Flame's Mocking Mask for Crit DMG of up to 62%
Can use as Support, or Sub DPS Razor 
3) Serpent's Spine
Serpent Spine is a super weapon for this build on Razor, because of its high base attack, and the crit rate being the substat. It makes Razor do more damage, and can be acquired as a battle pass bounty. Its passive increases the Damage dealt to Razor, which creates stacks, making it better when you use him for long periods of time, which is how you're going to be using Razor anyway because of his talent Lightning fang, which disappears when you switch him out with another character.
Stats
Base ATK - 414 after lvl 70
+22% crit rate after lvl 70
Every 4s Razor is on the field, he will deal 6% more DMG. 
Max 5 stacks, will not be reset Razor leaves the field, but reduced when he takes DMG
Build Details 
Because this weapon has a  high crit rate, you're going to want to use Artifacts that capitalize on that, such as Bloodstained Circlet, which gives you +62% crit rate at Max level 
Also make sure you focus on Damage on your Razor, with this weapon, such as Gladiator's Intoxication
It's good to use for Razor when you want to change him out from time to time because it doesn't reduce your stacks 
2) Wolf's Gravestone
Wolf's Gravestone is just the weapon meant for Razor, lore-wise. Its secondary stack is ATK, which means you also deal heavy damage. It just fits him, and even a rank 1 Wolf's Gravestone is nothing to scoff at. It's best for physical attacks, and just letting Razor do his thing without trying to go for elemental bursts, etc. This means that you can swap him out with other characters, and use him as a support.
Stats
Base ATK more than 480 after lvl 70
+ATK 45%
On hit, Attacks against enemies with less than 30% HP increase all party memeber's ATK by 40% for 12s. 
Occurs once every 30s
Build details 
Good for supportRazor because it increases all party members ATK. 
Use with two piece Gladiator's Finale, because the two piece set increases ATK by 18%
The secondary weapon stat means that it's best switched to Razor when your enemies HP is already low, so use heavy damage dealers as your main DPS first. 
1) The Unforged 
The Unforged is the best claymore for Razor, hands down, because of its massive base attack, and also, the secondary stat is the Attack bonus. Hitting enemies increases ATK for 4% for 8s. It's also a great shield weapon, so it's best to use it with your shield characters in your party. Let Razor run wild with this weapon, and you won't regret it.
Stats
Base ATK 480 after lvl 70
ATK + 40% after lvl 70 
Increases Shield Strength by 20%
Scoring hits on opponents increases ATK by 4% for 8s. 
Max 5 stacks. Can only occur once every 0.3s. 
While protected by a shield, this ATK is increased by 100%.
Build details 
Pair with two piece gladiator's finale, which gives you ATK bonus of +18, and two piece Pale Flame. 
Best used as a support Razor, but can also be used as DPS Razor
You can fight bosses quickly without having to run around a lot. Best used with characters that create a shield, such as Xinyan, because having a shield will increase your attack damage with this build and weapon.
This is basically all you need to know to build your Razor. I hope you have fun playing our best wolf boy!
You May Also Be Interested In: