[Top 5] Genshin Impact Best F2P Teams
Updated: 19 Feb 2022 8:41 pm
Genshin impact
[Top 5] Genshin Impact Best F2P Teams
So when we talk about Genshin impact F2P that can mean many things for different people, but for this list, I will consider that four star characters are much more easier to get in the gatcha system than a five star character, and therefore will only be using only four stars to build my teams. This is your budget teams for your less - heavy spenders, and we are going to use each character's special abilities and combinations of elements to make our team strong enough to battle our foes whether it's a domain or a spiral abyss.
5) Razor Electro Team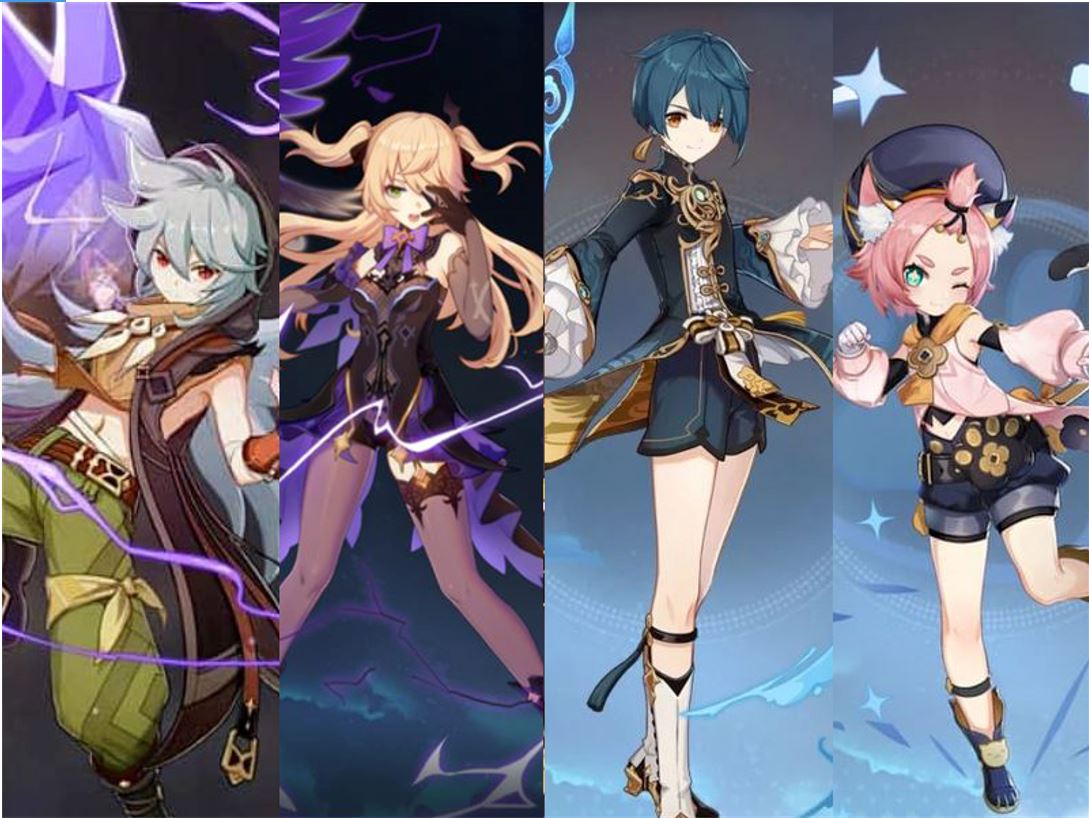 Razor might not be your go to for a team comp because of the fact that his Elemental Burst does not stay when you switch out your characters, BUT he has a great Attack and Elemental Damage still, and you can charge him with Fischl and let him run wild on your enemies.
Razor ( Main DPS)
Fishcl (Sub - DPS)
Xingqiu (Support)
Diona (Support)
So how the team dynamics works is as any other. Fischl, though going to be used as a battery to charge your Razor's attacks, her attacks are also going to give you major damage against multiple enemies. Razor And Fischl, your main damage dealers and electro characters can create some great combos with Xingqiu as Electrocharged and Diona with Superconduct, and Diona and Xingqiu is going to give you freeze. 
Affected by Hydro for 40% less time. Superconduct, Overloaded, and Electro-Charged have a 100% chance to generate an Electro Elemental Particle 
Razor and Fischl will give you superconduct and electro charged with XIngqiu
Diona can give you support, shield and freeze with Xingqiu
4) Nigguang Geo Team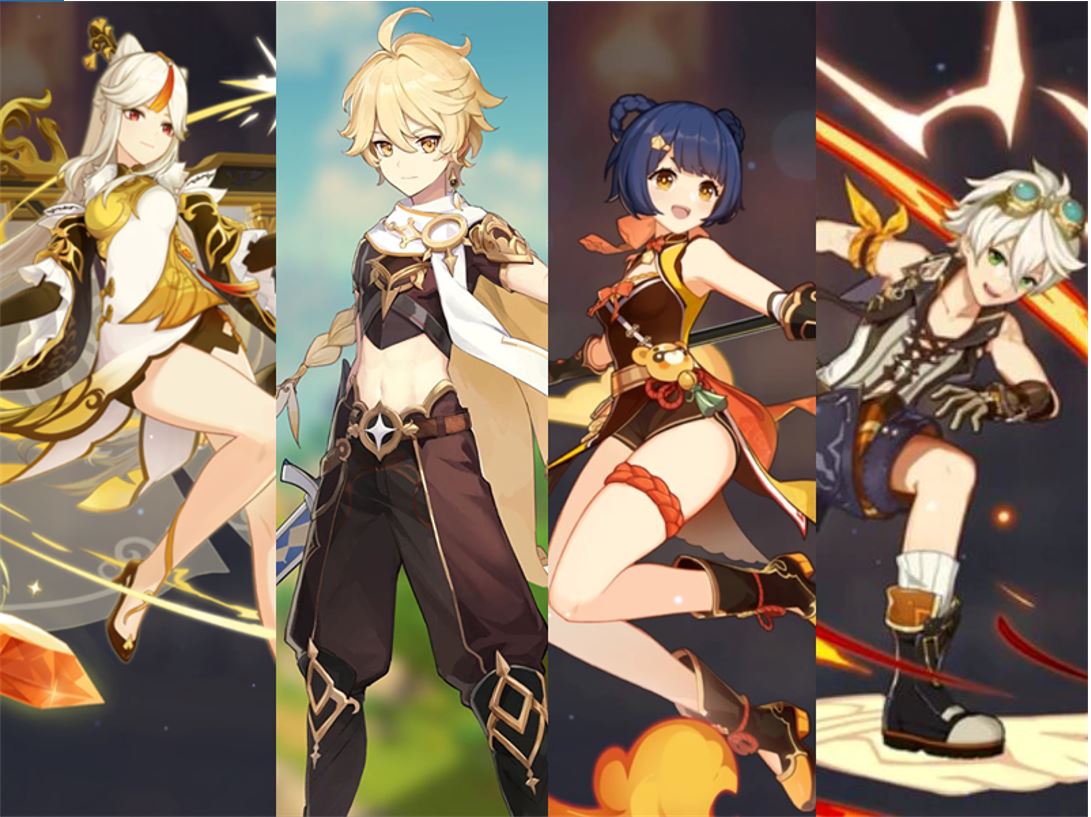 This team setup uses the geo element to its advantage with a severely underrated character, Nigguang. She's extremely powerful when you build her properly, and she can lead your team as a main DPS even if she's a four star. Using good supports for her such as the geo traveller and Bennet, and a sub DPS like Xiangling will allow you to make a great team out of your four star characters.
Nigguang (Main DPS)
 Geo traveller (support)
,Xiangling (Sub DPS)
 Bennet (support)
Nigguang is an extremely powerful four star, and her geo damage is an untapped mine of DPS for you and your Geo Traveller is just going to make her stronger with another geo element in the party. Now Niguang drops shields all over which you can use, and Xiangling is there to do your heavy damage with fast attacks and her pyronado, while Bennet is going to be your healer and as always, the best support.
The double Pyro from Bennet and Xiangling decreases the impact Cryo has on your party by 40% and increases attack by 25%
Double Geo resonance Increases shield strength by 15%. DMG dealt increased by 15%, dealing DMG to enemies will decrease their Geo RES by 20% for 15s
3) Rosaria Cyro Team
Rosaria may prove to be an unconventional choice for a DPS but she's still a powerful character nonetheless. Now, here we're using her as a main DPS, with Fishcl as your battery, Xingqiu and Diona as your healing and support.
Rosaria (Main DPS)
Fishcl (sub DPS) 
Xingqiu (support)
Diona (support) 
Roasria has interesting talents, because you can use her to teleport behind enemies and attack, which increases the crit rate. It also provides an AoE that deals Cyro damage to enemies within a certain time period. THis is when you can use Fishcl, whom I said will be your battery, but her attacks are also going to cause superconduct. Xingqiu's burst will let your enemies freeze, and Diona is going to provide you with a shield. With this team you can't go wrong - just let your enemies freeze and get the damage by swapping out your characters!
Rosaria's second talent will increase crit rate for your party after using elemental burst. 
Rosaria and Diona combined with Fischil will cause superconduct. 
Use Xingqiu to freeze your enemies 
Xingqiu with Fishcl can also create electrocharged. 
2) Yanfei Pyro Team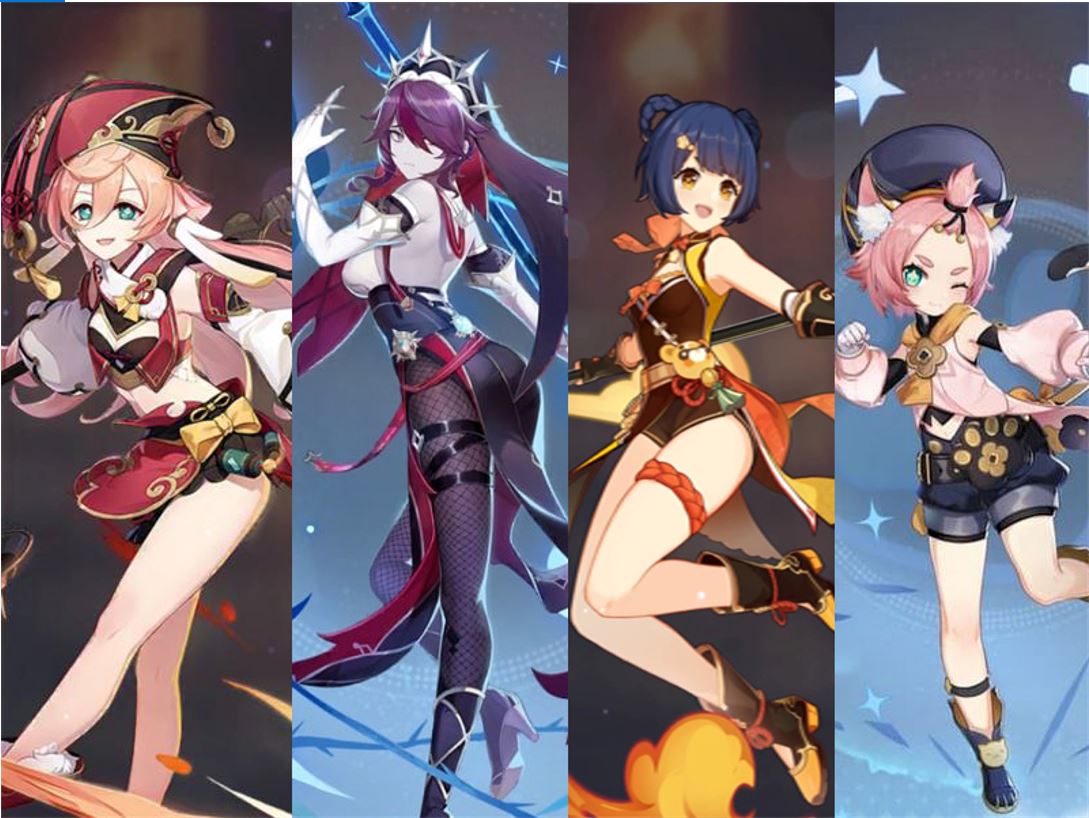 With the 2.2 update comes a host of new characters which introduces exciting new opportunities for team comps. One of these is the Yanfei team which focuses on melt. Yanfei is going to deal a great deal of Pyro damage with her burst, which is going to be perfect after using Rosaria, or Diona, creating Melt, In addition. Xiangling is also going to give you massive Pyro damage in addition to Yanfei, and this all girls team is a beautiful melt team comp which is going to be great for taking on a mob of enemies.
Yanfei (Main DPS)
Rosaria (Sub DPS)
Xiangling (Sub DPS) 
Diona (support) 
Yanfei's elemental burst creates a great Cyro damage to a mob of enemies. She creates scarlet seals, which you can collect to create larger AoE and damage dealt. This team relies heavily on melt comp, with Yanfei and Xiangling using their pyro attacks combined with Diona and Rosaira's Cyro attacks. What's great about this team is that Yanfei, Rosaria, and Xiangling are all DPS material which means you're going to be dealing heavy attack after heavy attack after heavy attack.
Double cyro from Diona and Rosaria gives you Elector resistance for 40% less time and also increases Crit Rate against enemies that are affected by Cryo by 15%
Double Pyro from Yanfei and Xiangling gives you increased attack by 25% and is affected by Pyro for 20% Less time. 
Diona's shield is going to give you less damage to your team
1)National Team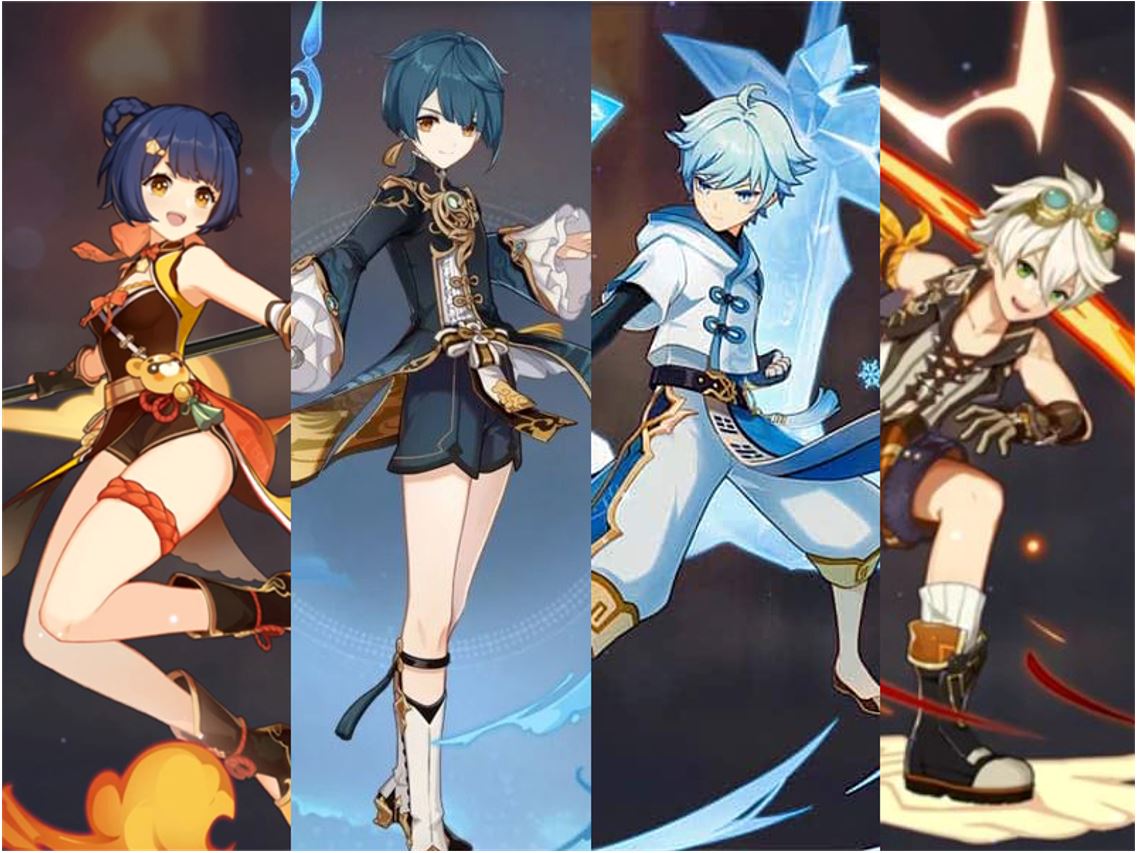 Here we have the best F2P team, also popularly known as the national team, is Xiangling, Xingqiu, Chongyun and Bennet. Now Xiangling is an amazing four star to have in your team. With just these four stars you can create massive damage, some suburb elemental combos.
Xiangling (DPS)
Xingqiu (Support) 
Congyun (Sub-DPS) 
Bennet (Support)
With your Xiangling and your Bennet you have two Pyro characters which increases their ATK %. Now you can then create either melt or vaporize with Congyun and Xingqiu respectively. Use Xiangling as your main DPS, since she deals massive damage with her Pyronado which you can keep on running while you switch her out with other characters. Not to mention, she will prolong your buffs. With Bennet and Xingiu, you have your best supports, and also the healers of the team, while also dealing great ATK damage in their own right.
The double Pyro from Bennet and Xiangling decreases the impact Cryo has on your party by 40% and increases attack by 25%
Your Xiangling and Bennet can be used with Congyun to melt and Xingqiu to vaporise
Xiangling and Chongyun will deal heavy damage while your Xingqiu and Bennet will support with healing. 
Xiangling's elemental burst is very effective against multiple enemies, as well as Xingqiu's rain swords
So there you have it. Who says can't create great team combos with only four star characters? You don't technically need five stars to create great teams. If you're a F2P player, then you're going to have only a few five stars in your roster and spiral abyss is going to require you to have two teams, so it's important to build teams that really work well together. Hope you had some insight into building teams, and happy playing !
You May Also Be Interested In: