[Top 5] Genshin Impact Best Bows and How To Get Them
Updated: 23 Mar 2022 11:15 pm
Only right that Venti is here as the representation
Not everyone can play archer and that's a hard fact to accept.
Compared to other existing weapons in the game, using a bow is considerably harder. Personally, I'm too panicky to use one and I just end up running around at the sights of Hilichurls getting closer when I'm on Aiming Mode instead of actually shooting arrows.
As far as updates go, there will be new weapons and new characters. So far, in ver 1.4, there are a total of 22 bows in the game with a total of 6 users.
One of the Archers is Amber, a free playable character we get quite early in the game. That being said, just like Swords, a bow might happen to be one of your first weapons too at first.
Here are the top 5 Bows on the game.
5. Rust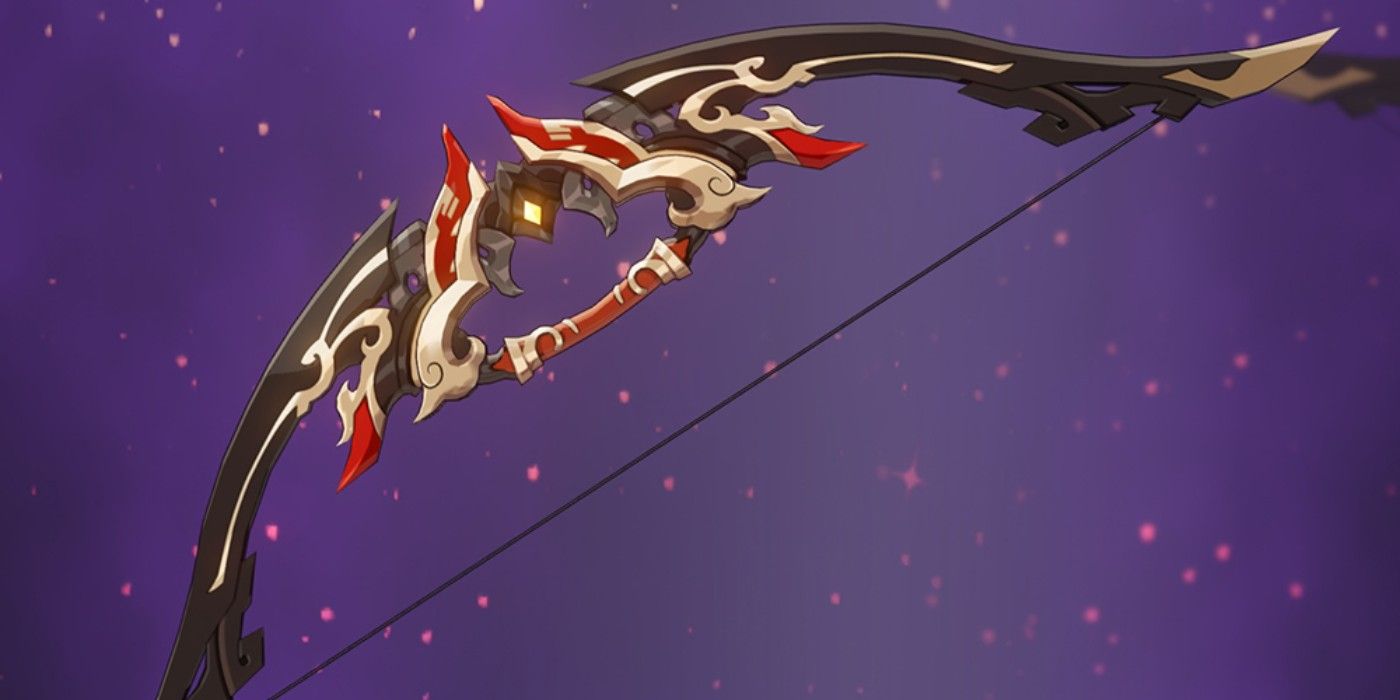 Rust easily starts off this list. This weapon is suitable for your main DPS, all of its stats and effects exclusively focusing on ATK.
This Bow starts off its ATK number on 42 and can be maxed up to 510. Its substat is also an ATK boost; starting with 9% on Level 1 and 41.3% on Level 90. It is pretty clear it's for your main DPS.
According to its Refinement level, Rust also increases Normal Attack DMG done by 40~80% at the cost of Charged Attack DMG being decreased by 10%.
Frankly, that's the reason it's pretty low on this list; because it decreases a stat to increase the other. On another note, it should be okay if you focus more on spamming Normal Attack compared to other forms of attacks when using this particular bow.
Weapon details: 
Stars: 4
How to Get: Wish
Base ATK: 42
Substat: ATK (9%)
Why Rust Is Great:
It boosts your ATK up to 41.3%
It also increases Normal Attack DMG up to 80%
Encourages you to spam Normal Attack
4. The Stringless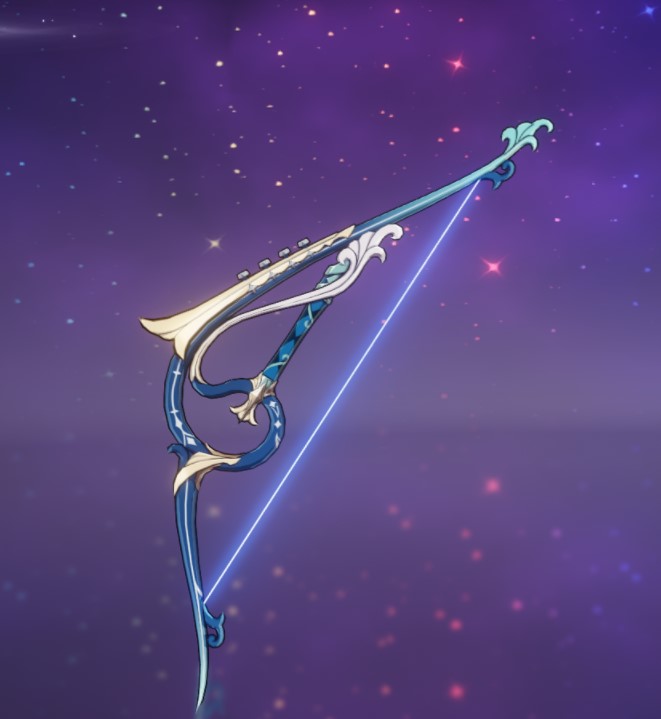 The Stringless is the kind of weapon that can be used by your Archers no matter what  roles they've got  your party. Whether you Archer is a main DPS, sub DPS, or Utility; The Stringless is always ready to assist.
With a Base ATK of 42 on Level 1 and 510 at maximum, this Bow also increases your Elemental Mastery. On Level 1, it boosts your Elemental Mastery by 36 and 165 on Level 90.
The Stringless also raises the damage done by your Elemental Skill and Elemental Burst by 24~48%. Personally, I believe this is a rather enormous boost of DMG even if you might use your Bow users just for their Elemental Burst.
From this description alone, it is safe to say this particular Bow is better fit if you like to play Elemental rather than Physical. Fischl in particular would be a great match for The Stringless.
Weapon details: 
Stars: 4
How to Get: Gacha
Base ATK: 42
Substat: Elemental Mastery (36)
Why The Stringless Is Great:
The stats given by this bow is great if you're not good at using Bows but want to use your Bow characters' Elemental Skill and Burst
To optimize its use, this Bow is best suited for support Archers
3. Amos' Bow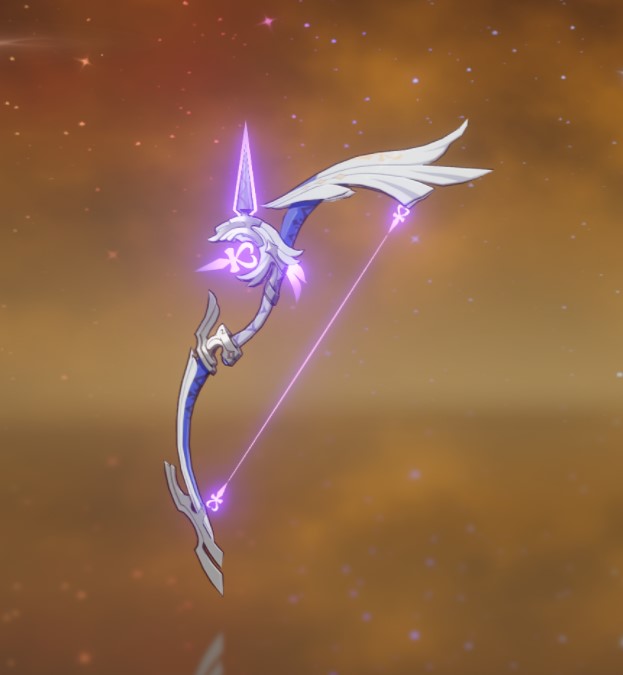 In a way, Amos' Bow is an upgraded version of Rust—it's perfect for your main DPS because it increases your ATK in multiple ways, this time without decreasing any stat.
Starting off with 46 Base ATK, Amos' Bow ATK can go up to 608 on its max. level. Its substat is also ATK, 10.8% on Level 1 and 49.6% on Level 90. 
To top off, it increases Normal and Charged Attack DMG by 12~24%. Firing shots with Normal or Charged Attack will increase itsDMG  by 8~16% every 0.1 seconds which can be stacked to 5 times. The % number is according to its Refinement level.
That being said, it is pretty clear that this arrow is most suitable for your main DPS who continuously uses Normal and Charged Attack rather than Elemental skills.
Weapon details: 
Stars: 5
How to Get: Wish
Base ATK: 46
Substat: ATK (10.8%)
Why Amos' Bow Is Great:
It increases ATK up to 49.6%
It increases DMG done by Normal and Charged Attack
Easy boost to spam Normal ATK
2. Elegy for the End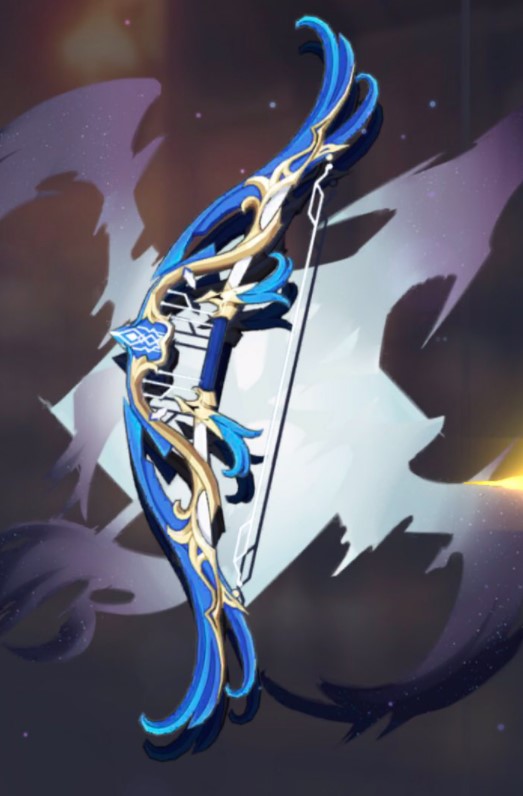 Elegy of the End is one of the latest Bow introduced to the game, quickly making its way as one of the best Bows in it.
This five-starred Bow has 46 as its Base ATK which can be maxed to 608. Its substat is Energy Recharge, which starts at 12% on Level 1 and 55.1% at the very maximum. According to its Refinement level, this Bow also increases Elemental Mastery by 60~120. This will help in spamming Elemental Burst.
Aaand, long explanation ahead.
When the wielder of this Bow triggers Elemental Skills or Bursts and deals DMG, the character gains a Sigil of Remembrance. This effect occurs once every 0.2 second and can be triggered even if the character isn't on field. Once you have 4 Sigils of Remembrance, they will be consumed and cause all party members to obtain "Millenial Movement: Farewell Song" effect for 12 seconds. This effect increases Elemental Mastery by 200 and increases ATK by 40%.
Consuming this will reset the Sigils, followed by a 20 seconds cooldown. Buffs of the same type will not stack.
That being said, this Bow is pretty flexible as it doesn't only focus on ATK but also boosts other stats. 
Weapon Details:
Stars: 5
How to Get: Wish
Base ATK: 46
Substat: Energy Recharge (12%)
Why Elegy for the End Is Great:
It increases your ATK by 20% on 1st Refinement
It also boosts Energy Recharge and Elemental Mastery
Pretty much suitable for every role
1. Skyward Harp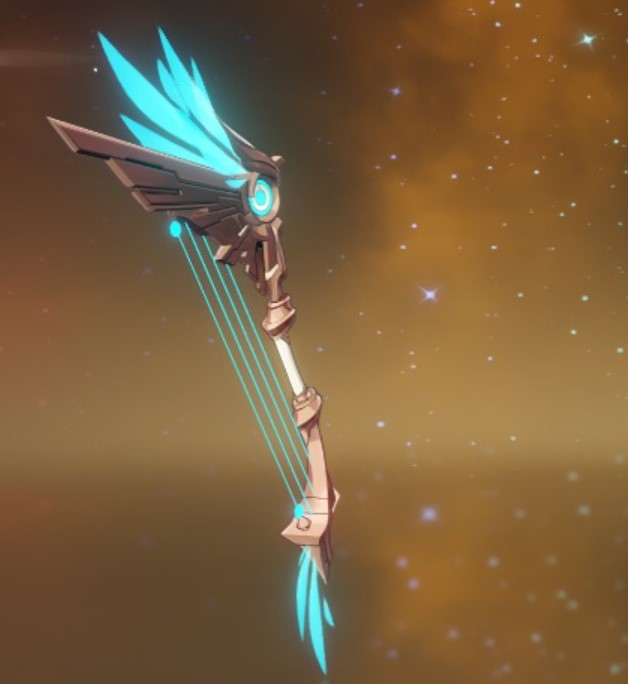 Skyward Harp is easily first on this list for many reasons.
If you've been playing Genshin Impact long enough, it is understood that CRIT Rate and CRIT DMG stats are pretty much scarce. For some unfair reason, this Bow offers you both.
With 48 as its Base ATK, which can be maxed up to 674, this Bow also increases your CRIT Rate as a substat. On level 1, it raises your CRIT Rate by 4.8% and 22.1% on Level 90. This is practically heaven.
Furthermore, it increases your CRIT DMG by 20% and gives you a 60% chance to bring in a small AoE attack with a Physical ATK DMG of 125% on hit. This can only occur once every 4 seconds, which is a very small price considering the effect it offers you. All of this on the 1st Refinement. 
If you're lucky enough to be able to Refine it to the very last, CRIT DMG is boosted by 40% with the chance turning into 100%, while countdown is shortened to 2 seconds.
You can't go wrong with Skyward Harp.
Weapon details: 
Stars: 5
How to Get: Wish
Base ATK: 48
Substat: CRIT Rate (4.8%)
Why Skyward Harp Is Great:
It raises both of your CRIT Rate and DMG 
It gives you a 60% chance of an AoE ATK
It's suitable for any of your Archers regardless of their roles
CRIT Rate boost is up to 22.1% while CRIT DMG is up to 40%
You May Also Be Interested In:
Image Gallery