[Top 5] Battlefield 4 Best Assault Rifles That Are Powerful
Updated: 19 May 2022 4:49 am
Soldier bracing for the gunfight of his life.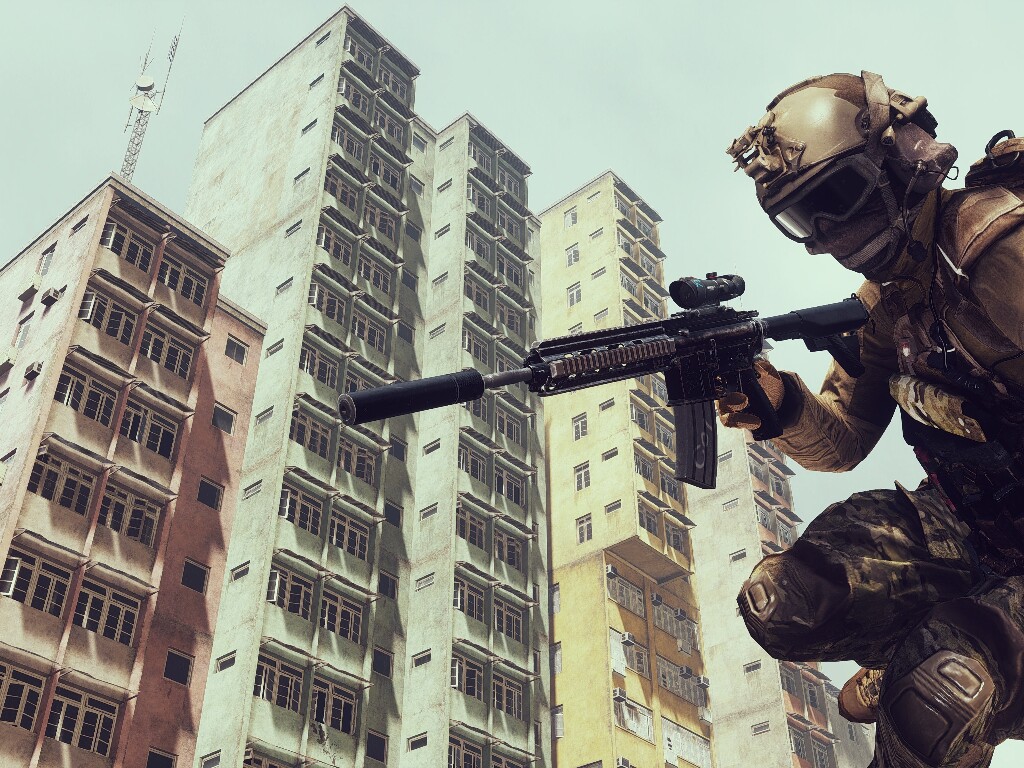 Assault soldier traversing over an obstacle.
The Assault class of Battlefield 4 is blessed with the luxury of having the assault rifles as their Class-specific weapons. Assault rifles are arguably the most well-rounded weapons in the game. They are very versatile and effective in almost any gunfight and situation. So, we made a small list of the best assault rifles you can use in Battlefield 4.
5. AUG A3 (best for short to medium range)
The AUG A3 is a full-auto assault rifle for the Assault Class. The perks of this weapon are:
Controllable recoil
Slightly better mobility than rest of it's weapon class
Good stopping power
To unlock this weapon:
Use any assault rifle for the Assault class
Reach an Assault Rifle Score of 48,000
4. M416 (best for short to medium range)
The M416 is a full-auto assault rifle that can only be used by the Assault Class. The perks of this weapon are:
Easy to control recoil
Steady rate of fire
Good mobility
One of the first unlockable assault rifles
To unlock this weapon, you must:
Play as the Assault Class
Reach an Assault Rifle Score of 11,000
Damage: 18-25
Accuracy: 50
Mobility: 50
Range: 55m
Rate of Fire: 750 RPM
3. FAMAS (best for short to medium range)
The FAMAS is a full-auto assault rifle exclusive to the Assault class. The perks of this weapon are:
Highest rate of fire of it's weapon class
Slightly better mobilitary
25 round magazine
To unlock this weapon, you must:
Equip any assault rifle
Reach an Assault Rifle Score of 37,000
2. SCAR-H (best for short to medium range)
The SCAR-H is an assault rifle that can only be used by the Assault class. The perks of this weapon are:
Highest damage assault rifle
One of the first assault rifles to unlock
20 round magazine
To unlock this weapon, you must:
Play as the Assault class with any assault rifle
Reach a Assault Rifle Score of 4,000
Damage: 25-34
Accuracy: 50
Mobility: 50
Range: 55m
Rate of fire: 620 RPM
1. AEK-971 (best for short to medium range)
The AEK-971 is an assault rifle only usable by the Assault class. The pros of this weapon are:
Second, highest rate of fire in it's weapon class
Great mobility
Good stopping power
To unlock this weapon, you must:
Play as the Assault class with any assault rifle
Reach an Assault Rifle Score of 28,000
Damage: 18-25
Accuracy: 50
Mobility: 50
Range: 55m
Rate of fire: 900 RPM
You may also be interested in these