[Top 10] Games Like Battlefield (Games Better Than Battlefield In Their Own Way)
Updated: 17 May 2022 6:31 am
Sideshot of an infantry soldier.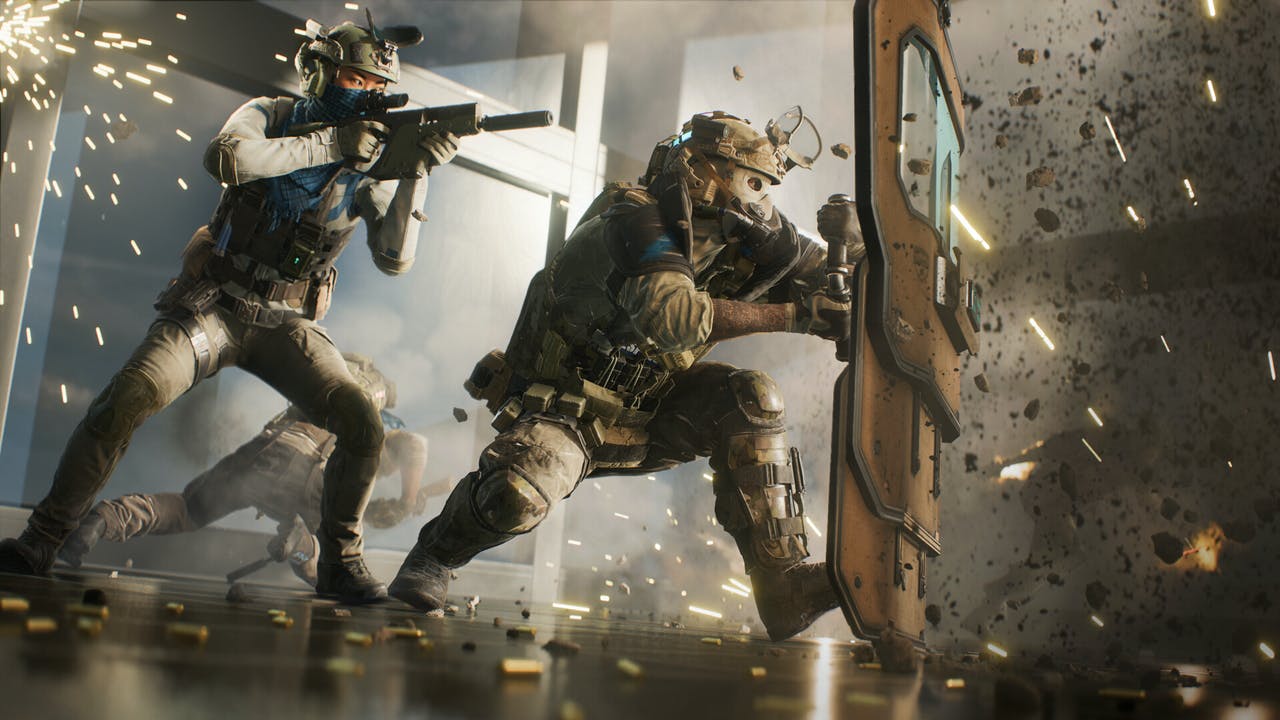 The Battlefield franchise has been a highly praised, highly influential series of the shooter genre for the two past decades. The game series is known for its intense, large-scale battles that allow players to enter battle as regular foot soldiers, or tanks, or even attack jets. But, the last few entries of Battlefield have left fans more and more disappointed with each release. Many are speculating that Battlefield's glorious reign may be coming to an end.
So with that being said, many players are looking for game alternatives that can give them the Battlefield experience that they want. Thankfully, because of Battlefield's giant influence there are many games that have been created in its likeness. Some of these games are actually better than Battlefield, in certain ways. So, here's a list of the similar shooter games that we recommend.
10. Call of Duty: Modern Warfare (PC/PS4/XBO) 
Battlefield and Call of Duty have been two of the most popular shooter series for the past decade. They have always been seen as rivals to each other, with diehard fans on both sides. Call of Duty is more of a casual, arcade shooter while  Battlefield is more tactical and has bigger battles.  
Call of Duty: Modern Warfare, released in 2019, completely renovated the Call of Duty series with brand new graphics, gameplay mechanics, and weapon customization.  As well as introducing a new large-scale, 32 vs 32 game mode called Ground War. Basically, it's Call of Duty's version of Battlefield's conquest mode minus attack helicopters, fighter jets, and attack boats.
9. Tom Clancy's Ghost Recon Breakpoint (PC/PS4/XBO/STADIA)
Released in 2019, this open world, third-person shooter is set on the island of Aurora somewhere in the Pacific Ocean. The island is the headquarters of a corrupt technology corporation called Skell Tech who have hired Sentinel, a private military contractor, to protect their island. You play as Nomad, the leader of an elite group of U.S. special forces called the Ghosts, who is stranded on the island and must work with surviving Ghosts and local resistance to take down Skell Tech before they use their technology to start a world war.
The game offers a vast open world to explore, conduct missions and raid bases. Explore the world with one of the eight different classes and playstyles, such as Combat Medic, Panther, Sharpshooter. Weapon and character customization is very in-depth with a level system for all gear, weapons and equipment as you progress through the game. 
8. Insurgency: Sandstorm (PC/PS4/XBO/XBSX+S)
Insurgency:Sandstorm has struck a balance between shooter games like Battlefield and military simulators like Arma. The game is set in a fictional conflict in the Middle East and you play either a Security or the Insurgence. Each team has their own weapons and equipment. There are eight classes to choose from, each with their unique arnaments
The game focuses on realistic, slow-paced close combat which can get very intense. Teamwork is essential.There are no instant respawns and only by completing an objective can dead players can respawn.  Any lone wolf attitude will almost guarantee a defeat or at the very least, a few lost rounds. 
7. Enlisted (PC/PS4/PS5/XBO/XBSX+S)
Originally an Xbox Series X/S exclusive, Enlisted eventually made its way to PC and Playstation. The free-to-play MMO shooter lets you experience some of the major battles of World War 2, the Invasion of Normandy and Battle of Stalingrad to name a few. There are currently five campaigns available to play.
Enlisted is a squad-based shooter, each player takes control or is in a squad of up to 9 players. If no other players are available then AI players will be provided in their place. Or you can choose to not be in a squad and run solo. Tanks and fighter planes are also available for use.
6. Tannenberg (PC/PS4/XBO)
One of the few shooter games based in World War 1, Tanneberg is heavily praised for its historical accuracy. It is inspired by the conflict of the same name, the Battle of Tannenberg. You will also play in other various conflicts from the Eastern Front of World War 1. 
Only three game modes are available to play: Deathmatch, Maneuver and Attrition Warfare Tannenberg supports up to 64 players on PC and 40 players on consoles. Landscape of maps are very large, with different variants of each map(sunny, cloudy, heavy snow).
5. Hell Let Loose (PC/PS5/XBSX+S)
With 50 vs 50 game modes and 5 square kilometer maps, Hell Let Loose is undoubtedly one of the largest World War 2 tactical shooters ever made.  If not, one of the largest shooters of any time period. There aren't any kill/death stats as teamwork is very central to the game. So, be a team player and pick one of the 14 roles to play as. Or take control of any of the large array of attack vehicles Hell Let Loose has to offer.
4. Planetside 2 (PC)
Capable of hosting up to 2,000 players in one battle and holding the Guiness World Record for the most players in a single battle at 1,283 players. As well as having sections of the map as big as 64 square kilometers in size. This makes Planetside 2 the largest shooter game ever. 
A free-to-play first person shooter, you have 6 infantry roles to choose from. There are 18 vehicles, ground and air, to make sure of to traverse the massive landscape. Coordinate with teammates to create bases, complete objectives, and attack enemy bases. 
3. Star Wars Battlefront 2 (PC/PS4/XBO) 
Battlefield and the Star Wars Battlefront are both developed by DICE and published by EA. So, there shouldn't be any surprise as to why there are so many similarities between the two game series. Both games offer large scale battles. 4 basic classes, and vehicle warfare, etc. Essentially, Battlefront 2 is a Star Wars version of Battlefield.
A few major differences are the playable heroes and villains from the Star Wars saga, allong with the 4 vs 4 and 2 vs 2 game modes. Co-op missions are another key difference that sets Battlefront 2 apart from Battlefield.
2. Squad (PC)
Squad has managed to accomplish the perfect balance of an arcade shooter and a military simulation. It's a team-based, tactical FPS game that supports up to 100 players in 50vs50 game modes. There are 20 maps to play on and 8 different factions to play; for example, U.S. Army, Canadian Forces, Russian Ground Troops, etc.
Each player will be in a squad and each squad will work together for the mission. A squad leader can be established so that communication with the other squad leaders can coordinate a plan, build bases and delegate objectives. As of right now, Squad is quite possibly the most realistic shooter game available right now.
1. World War 3 (PC) 
Based on a fictional global conflict during our modern era, World War 3 is a realistic tactical FPS set in various famous East European cities. Make use of all forms of weaponry for all-out combat. Whether it's picking off enemies with a highly customized assault rifle or causing mass chaos to the enemy team in a tank, the choice is yours. Jump into the madness of the 20 vs 20 objective based mode - Tactical Ops. Or enjoy some classic shooter fun with Team Deathmatch's 10 vs 10 gamemode.
You may also be interested in these
Gunsmith Simulator Gives Players A Chance to Try the Art of Crafting Deadly Weapons
Call of Duty Vanguard Ranked Beta
10 Things That Make an FPS Awesome