Assassin's Creed: Odyssey—All Bandit Camp Locations and How to Find Them
Updated: 25 Jun 2021 12:25 am
Discover the bandit camps scattered across the Greek world.
What are the Bandit Camps?
One of the most common enemies' players will come up against in the broad open world of Assassin's Creed: Odyssey are bandits. There are dozens of bandit camps hidden in caves and forests, and on the beaches and mountains found across the Greek world. There are several quest-lines in the game that involve rooting out bandit camps, such as 'Besieging Bandits', and at these various locations players can find Ainigmata Ostraka, weapons, gold, armour, and other valuables.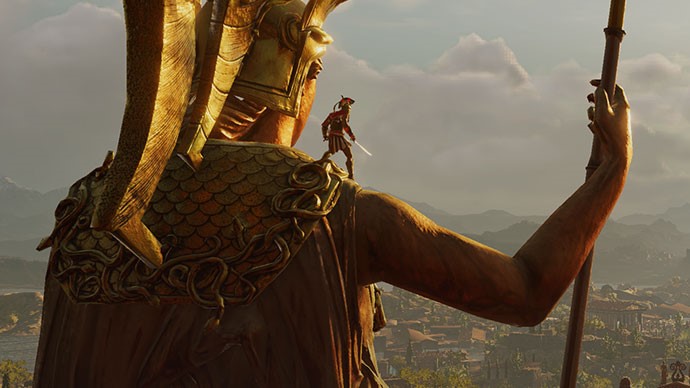 Explore the huge open world of Assassin's Creed: Odyssey in search of Bandit Camps.
However, it can be extremely disarming to encounter bandits when players aren't expecting them. This is worsened by the fact that these bandits can be several levels above you, and can potentially cut you down in a matter of seconds. We have therefore compiled an alphabetical list of the bandit camps scattered throughout the game, paired with a link to a YouTube video which will show you where this camp is on the map, and how you can complete it. Alongside the bandit camps, we have listed the objectives for each camp and the region in which players will find it.
Happy hunting!
  Abandoned Hunting Camp, Arkadia
1—Free Captive
1—Loot Treasure
1—Kill Bandit Leader
3—Free Captive
1—Find Ainigmata Ostraka
4—Loot Treasure
  Altar of the Dioskouroi, Lakonia 
1—Find Ainigmata Ostraka
1—Loot Treasure
  Aristomenes Camp, Messenia  
2—Free Captive
1—Loot Treasure
1—Kill Bandit Leader
2—Free Captive
3—Loot Treasure
1—Kill Bandit Leader
2—Free Captive
  Artemis Trikalaria Camp, Achaia 
1—Kill Lead Huntress
1—Free Captive
  Artemis's Hunting Grounds, Arkadia 
2—Loot Treasure
  Astra's Training Grounds, Boeotia 
Quests: Sibling Revenge
1—Kill Captain
4—Kill Cultist Guard
1—Loot Treasure
1—Free Captive
1—Find Ainigmata Ostraka
1—Loot Treasure
  Barracuda Island, Mykonos  
1—Kill Bandit Leader
2—Loot Treasure
  Bronze Club of Periphetes, Argolis
2—Free Captive
1—Find Ainigmata Ostraka
1—Loot Treasure
1—Kill Bandit Leader
1—Loot Treasure
  Camp of the Bow Bearers, Phokis  
1—Kill Lead Huntress
1—Loot Treasure
  Chariot of Hippolytos, Argolis  
2—Free Captive
1—Loot Treasure
1—Kill Lead Huntress
1—Loot Treasure
1—Free Captive
1—Kill Bandit Leader
1—Free Captive
2—Loot Treasure
1—Kill Lead Huntress
1—Loot Treasure
1—Kill Bandit Leader
1—Free Captive
1—Loot Treasure
Quests: The Best Defense
1—Kill Bandit Leader
1—Loot Treasure
1—Kill Lead Huntress
2—Loot Treasure
  Hypermnestra Camp, Argolis
1—Kill Lead Huntress
1—Loot Treasure
1—Kill Lead Huntress
1—Loot Treasure
1—Kill Bandit Leader
1—Loot Treasure
1—Kill Bandit Leader
1—Loot Treasure
1—Loot Treasure
  Ktimene Beach, Kephallonia 
Quests: Debt Collector
1—Loot Treasure
1—Free Captive
1—Loot Treasure
1—Kill Lead Huntress
1—Free Captive
1—Loot Treasure
1—Kill Lead Huntress
2—Loot Treasure
  Landslide Bandits, Arkadia 
1—Kill Bandit Leader
2—Free Captive
2—Free Captive
2—Loot Treasure
1—Kill Lead Huntress
1—Loot Treasure
  Marooned Bandit Camp, Phokis 
Quests: Equal Employment Opportunity Program
1—Loot Treasure
1—Kill Leader Huntress
1—Loot Treasure
  Melanippos's Camp, Boeotia 
Quests: Let My Patients Go
1—Kill Bandit Leader
3—Loot Treasure
1—Kill Bandit Leader
2—Free Captive
2—Loot Treasure
1—Kill Bandit Leader
1—Loot Treasure
  Panoptes the Forest Guardian, Argolis
1—Kill Lead Huntress
1—Loot Treasure
1—Kill Lead Huntress
1—Loot Treasure
1—Free Captive
1—Loot Treasure
1—Kill Bandit Leader
1—Free Captive
1—Kill Bandit Leader
1—Free Captive
1—Loot Treasure
Quests: Family Values
2—Loot Treasure
Quests: Odyssey Into the Past
1—Kill Bandit Leader
7—Free Captive
1—Find Ainigmata Ostraka
2—Loot Treasure
Quests: A Pirate's Life
1—Kill Captain
1—Loot Treasure
  Pond of Tainaros, Lakonia 
1—Kill Captain
1—Loot Treasure
1—Loot Treasure
2—Kill Captain
3—Kill Cultist Guard
6—Free Captive
2—Loot Treasure
  Pyrrha Salt Pirates, Malis 
Quests: The Blind Blacksmith
1—Kill Bandit Leader
2—Free Captive
Quests: The Measure of a Man
1—Kill Bandit Leader
2—Free Captive
2—Loot Treasure
Quests: Confiscated
3—Loot Treasure
Quests: A Horse, of Course
1—Kill Bandit Leader
2—Loot Treasure
  Sanctuary of the Muses, Boeotia
1—Kill Lead Huntress
1—Loot Treasure
  Seaside Hideout, Makedonia 
2—Loot Treasure
  Shipwreck Campsite, Kythera Island 
Quests: Atoll Order
1—Loot Treasure
1—Kill Bandit Leader
1—Loot Treasure
2—Free Captive
1—Loot Treasure
1—Kill Bandit Leader
1—Free Captive
1—Loot Treasure
  The Scorched Tree, Arkadia 
Quests: White Lies and Blackmail
5—Kill Cultist Guard
1—Kill Bandit Leader
1—Free Captive
2—Loot Treasure
  Worshippers of the God of War, Malis 
1—Kill Clan Chief
2—Free Captive
1—Loot Treasure
You might also be interested in:
Top 10 Assassin's Creed: Odyssey Best Weapons and How to Get Them
https://www.gamersdecide.com/articles/assassins-creed-odyssey-best-weapons
Top 5 AC Odyssey Best Armor
https://www.gamersdecide.com/articles/ac-odyssey-best-armor
Top 15 Best Assassin's Creed Games to Play Today
https://www.gamersdecide.com/articles/best-assassin-games
Image Gallery