[Top 10] Ark Survival Best Base Locations And Why They're Great (2022 Edition)
Updated: 09 Dec 2021 2:36 pm
Fly over the maps and choose the best base location!
10.  The Island - Snow Cave  ( Best for PVP Alpha cave base)
Don't adventure in this cave if you are a beginner, as only untamable creatures with levels between 120 and 340 will be found here. However, if you have a small, powerful tribe and you're already an Ark veteran, this gorgeous and terrifying cave can be the best base location. 
Snow Cave entrance with beautiful icicles
What makes the Snow Cave great: 
Limited access for outsiders
Plenty of space for a small tribe 
Natural entrance 
Nearby resources 
How to get to Snow Cave: 
All you have to do is follow the coordinates and you'll see the natural entrance
Coordinates: 29.1° Lat, 31.8° Long
The Island - Snow Cave Location
9. Valguero - Spider Cave ( Best for resources )
It may not seem like the most appealing base location at first, due to the presence of the Broodmother that's guarding the entrance. Despite this, the Spider Cave is an amazing place for building a base, providing a lot of space and various resources. Just take a bug repellant with you and a campfire to remove leeches. They are dangerous creatures that bring diseases. With some work, this cave and its warm climate can make an amazing base location.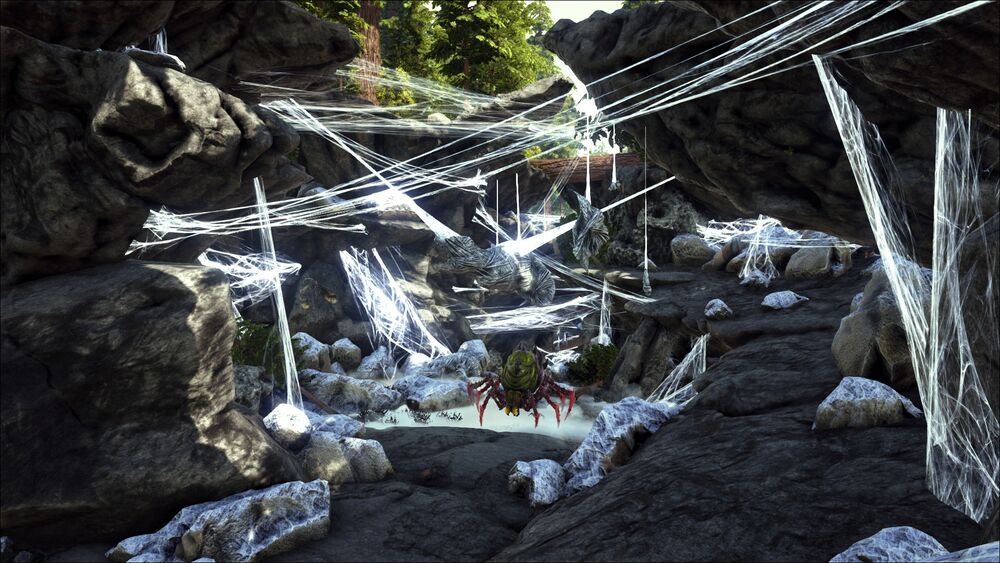 Spider Cave and its scary tunnels
What makes the Spider Cave great: 
Protection from other players and creatures
A lot of space: some paths go in many directions and don't seem to end 
Multiple resources: flint, stone, metal 
Creatures from the cave can be a source of oil, venom, silica pearls, and even organic polymer 
How to get to Spider Cave: 
Coordinates: 73.1° Lat, 40.6° Lon
Location: in the Redwood Forests, in the southern ends of the Valguero map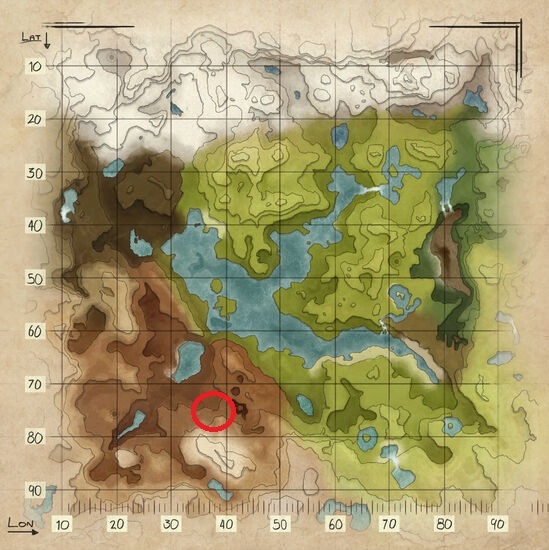 Valguero - Spider Cave Location
8. Scorched Earth - Church Cave ( Best for a strong position in PVP )
Before we start talking about this base location, it's best to mention that structures take 6 X damage in caves. So, don't try to establish a base here if you don't have the power to hold it. For experienced players, the Church Cave in Scorched Earth offers a position of power in PVP. The cave looks stunning, as the memory of a lost civilization. A Direwolf, Mantis, or Tylacoleo are the ways to explore this cave and make it yours.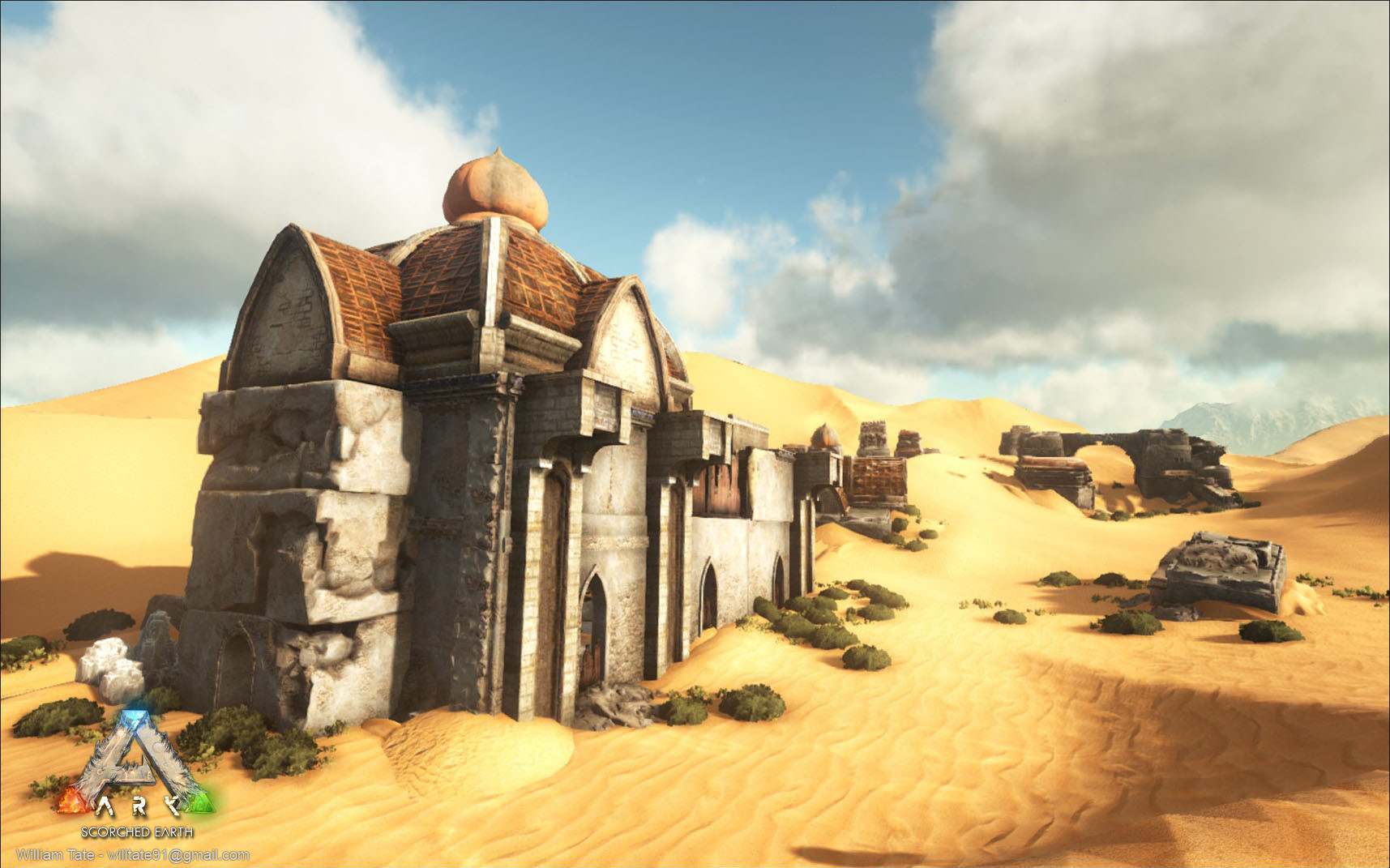 The mysterious church ruins that cover the entrance to the Church Cave
What makes the Church Cave great: 
Lots of available resources: crystal, obsidian, rare mushrooms, sulfur 
Local creatures that can provide Megalania toxin 
In the artifact crate, you can find The  Artifact of the Destroyer and a  Scorched Sword Skin
Taking this cave as a base for your tribe it's a power move 
Limited access, complex entrance
How to get to Church Cave: 
Coordinates: 78.5° Lat, 75.6° Lon
The entrance consists of walking through the Church y down until the path splits into two and you start to descend
Crawl under boards at the old gate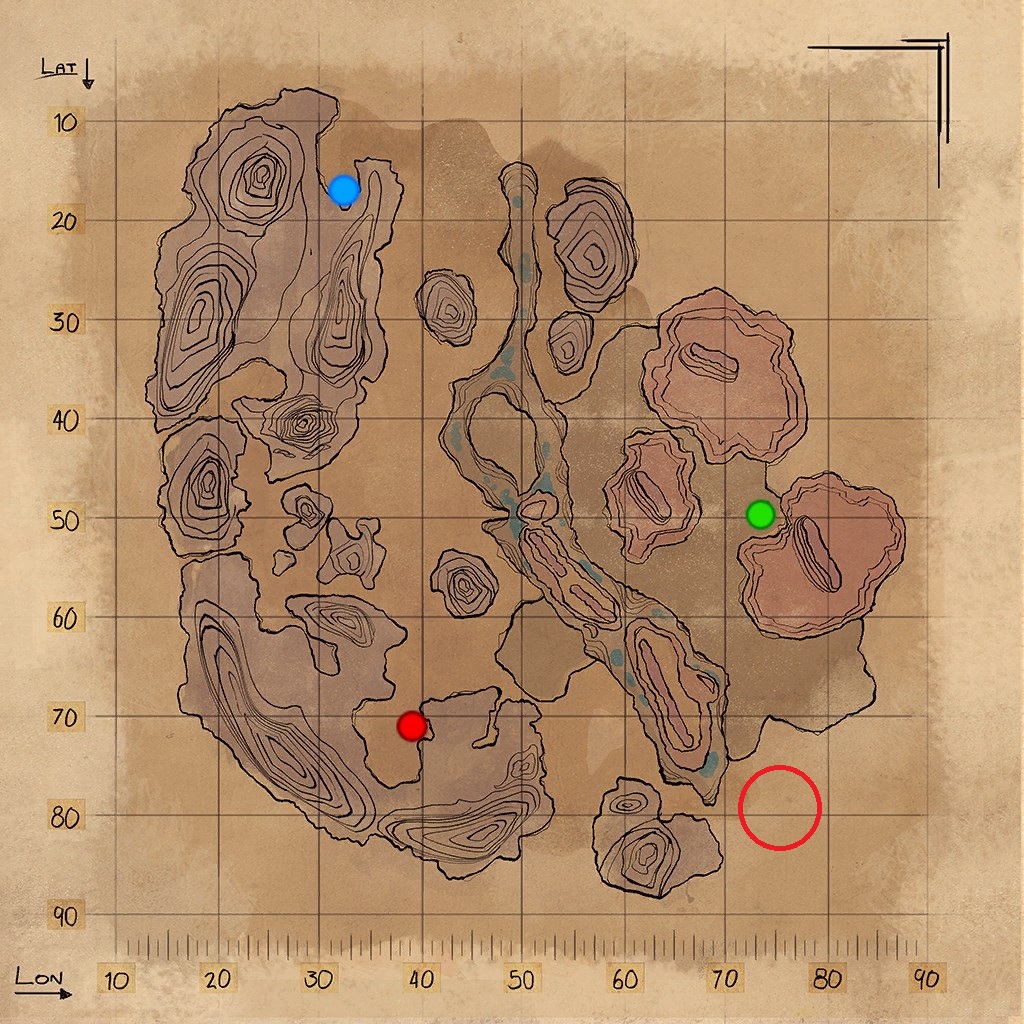 Scorched Earth - Church Cave Location
7.  Ragnarok - Vikings Bay ( Best for starting up a base ) 
This base location is way safer than any cave out there. That's why it's perfect for inexperienced players, who are just starting to understand the game. Dangerous creatures don't usually spawn here, but it's still a good idea to pay attention to predators that can wander, searching for their meal.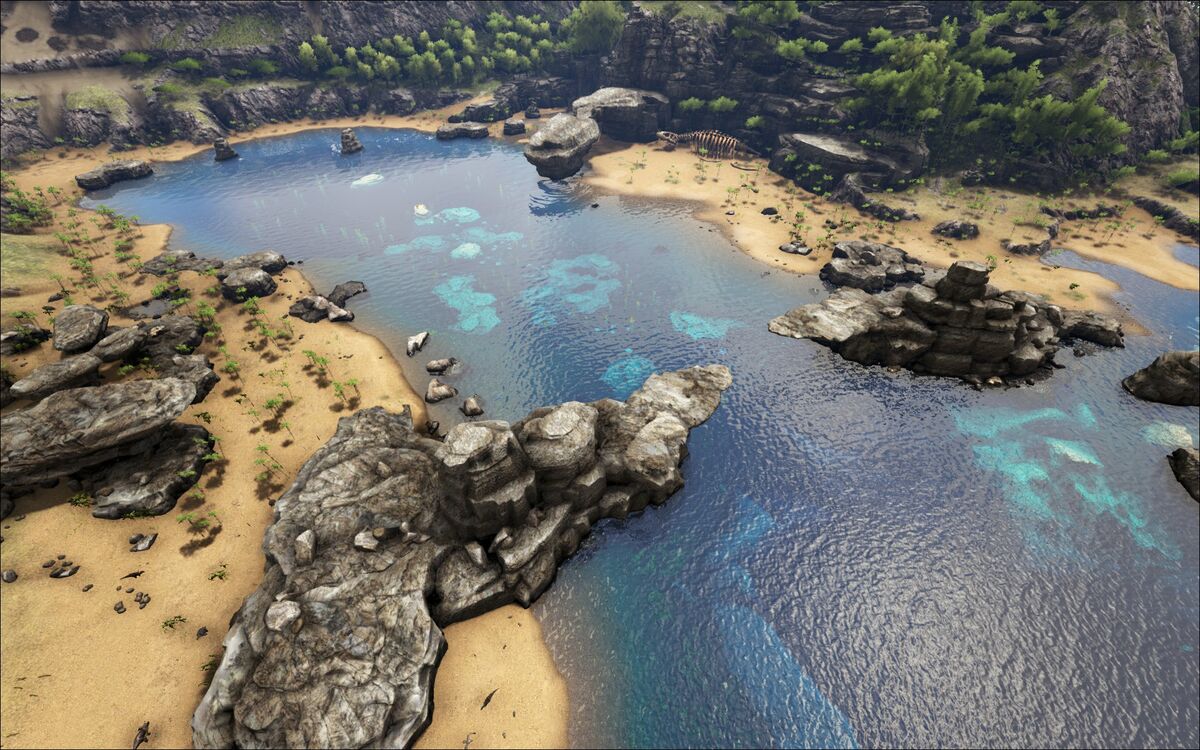 The gorgeous lagoon of the Vikings Bay
What makes the Vikings Bay great:
You can find Oil nodes in this area 
A sunken Viking longship gives the bay an amazing aspect 
It has a water source 
It's relatively safe, as dangerous creatures don't spawn here 
How to get to Vikings Bay: 
Coordinates: 22° Lat, 31° Lon
You can find it between the Oluf Jungle and Freyja Plain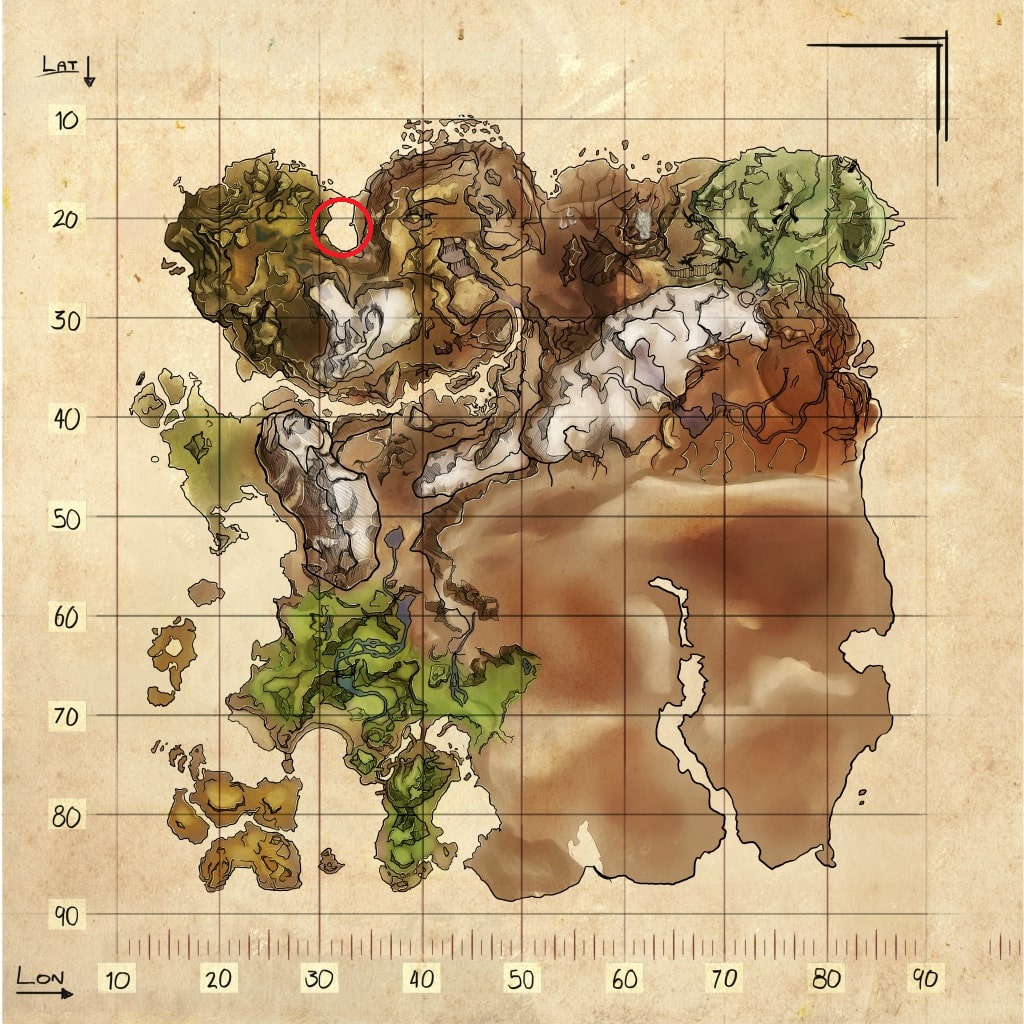 Ragnarok - Vikings Bay Location
6. Aberration - Shadow Cave ( Best for tribes)
The Shadow Cave is another impressive base location for advanced players, who are already looking to obtain the Artifact of the Shadows. Its looks take simply take your breath. Well...its looks and the underwater tunnels that you'll have to discover. If you dream of conquering this cave and making it feel like home, equip yourself with SCUBA armor and ranged weapons that can be fired underwater. A Rock Drake is also a powerful ally.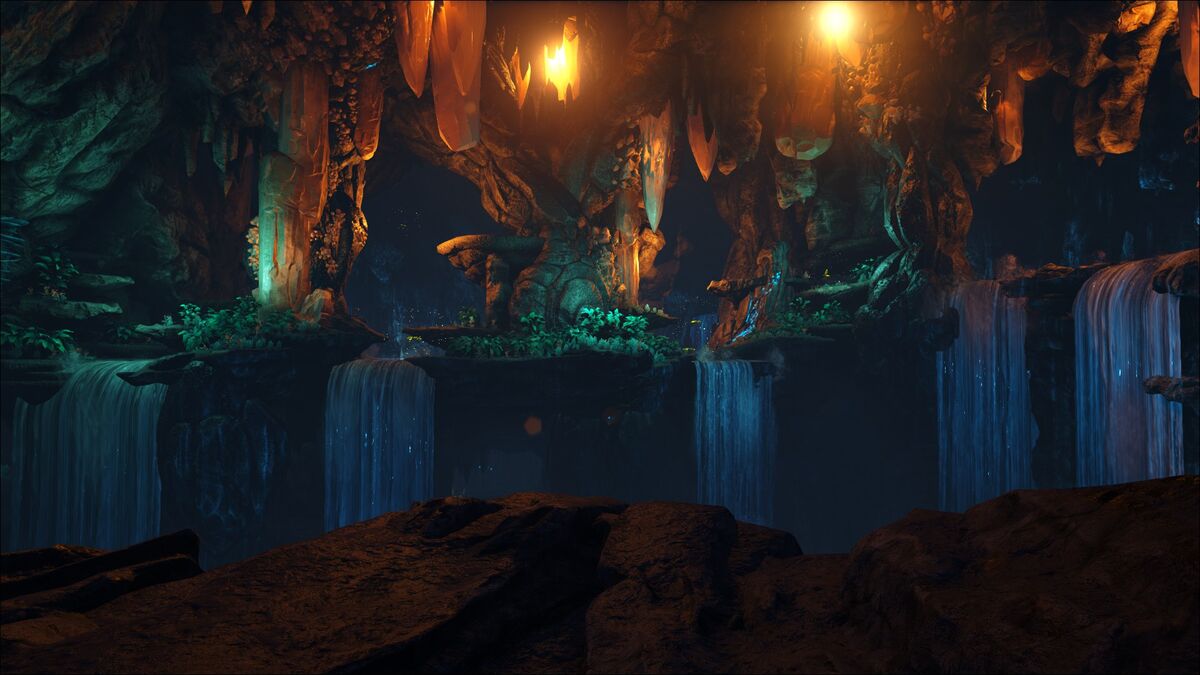 A unique show of bioluminescent structures in the Shadow Cave
What makes the Shadow Cave great: 
Here you can find the Artifact of the Shadows 
It offers lots of resources: crystal, metal, blue gems, flint, berries, etc.
You can build structures in many places throughout the cave 
Limited access for outsiders 
The strongest base location from Aberration DLC 
How to get to Shadow Cave: 
Coordinates: 55.2° Lat, 65.9° Lon
The cave entrance is a vertical shaft located underwater, so prepare yourself for an adventure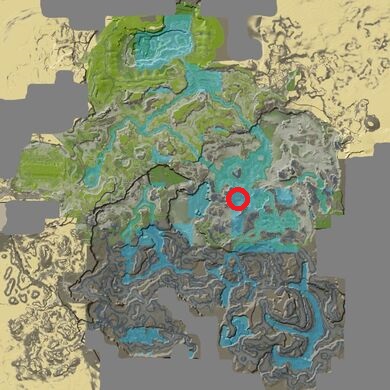 Abberation - Shadow Cave Location
5. The Island - Hidden Lake ( Best for Mid-Game base )
This base location offers everything you need to survive and advance throughout the game. In the center of the valley, you'll find a small lake, the perfect water source for your future farm. The lake is surrounded by dense forests and boulders, providing enough wood for any construction. Moreover, you'll find Giant Beaver Dams and a lot of resources nearby, as the Hidden Lake is located next to Far's Peak.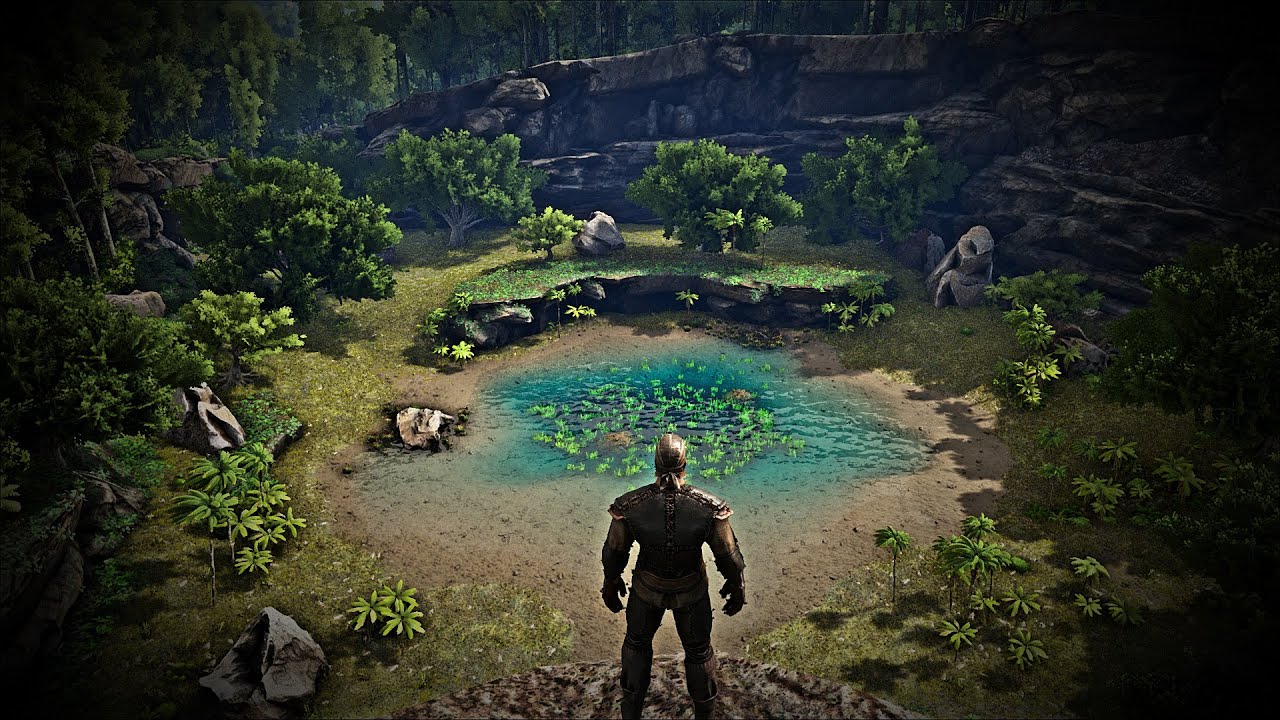 Discover an incredible hidden paradise in the heart of the forest
What makes the Hidden Lake great: 
Multiple resources that are easily accessed 
If secured properly, other tribes can't get in 
Perfect for beginners, as dangerous creatures rarely spawn here 
3 Supply Crates spawn here 
How to get to Hidden Lake: 
It is located in the northeast part of The Island
Coordinates: 21° Lat, 68° Long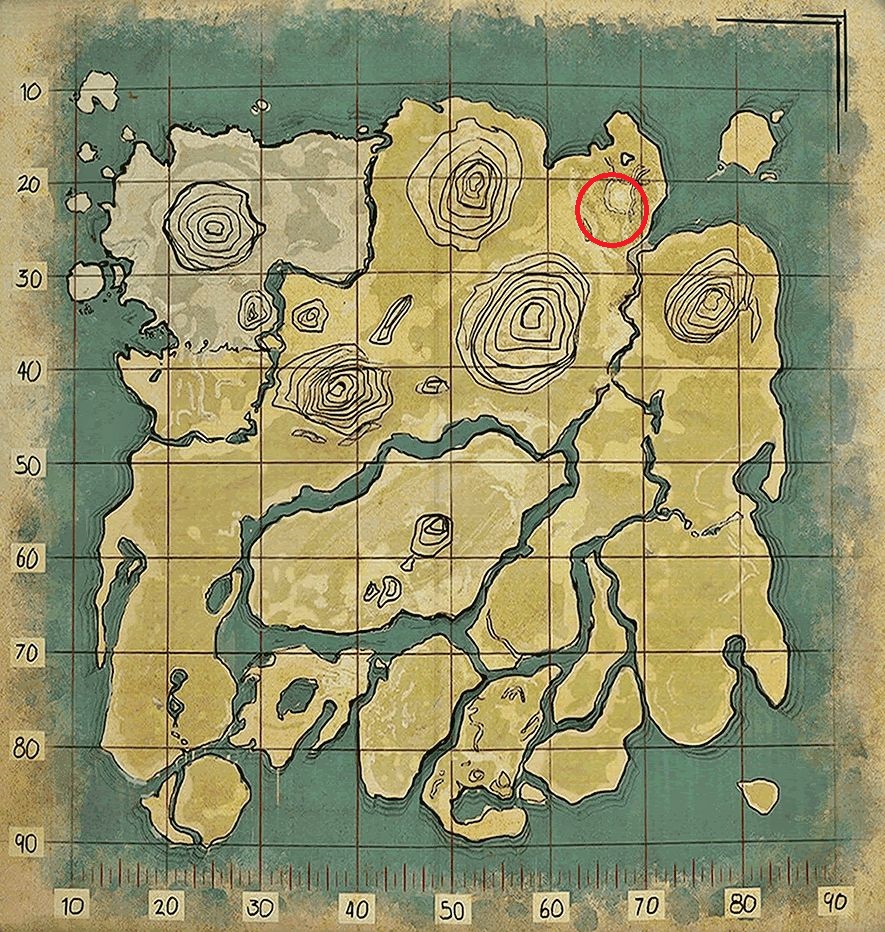 The Island - Hidden Lake Location
4. The Center - Pearl Cave ( Best for End-Game & large tribes )
Another complex, impressive cave on this list. The Pearl Cave from the Center holds the Artifact of the Hunter. Grappling hooks can save your day when you first access this place. Some creatures that have excellent access in this cave are Beelzebufo, Direwolf, Equus, Jerboa, Kairuku, Sabertooth, and many others. The Lava Oasis Cave has a beautiful view, almost making you forget of all the dangers that await in it. It is hard to hold this base location for your tribe, but this is because it's one of the best.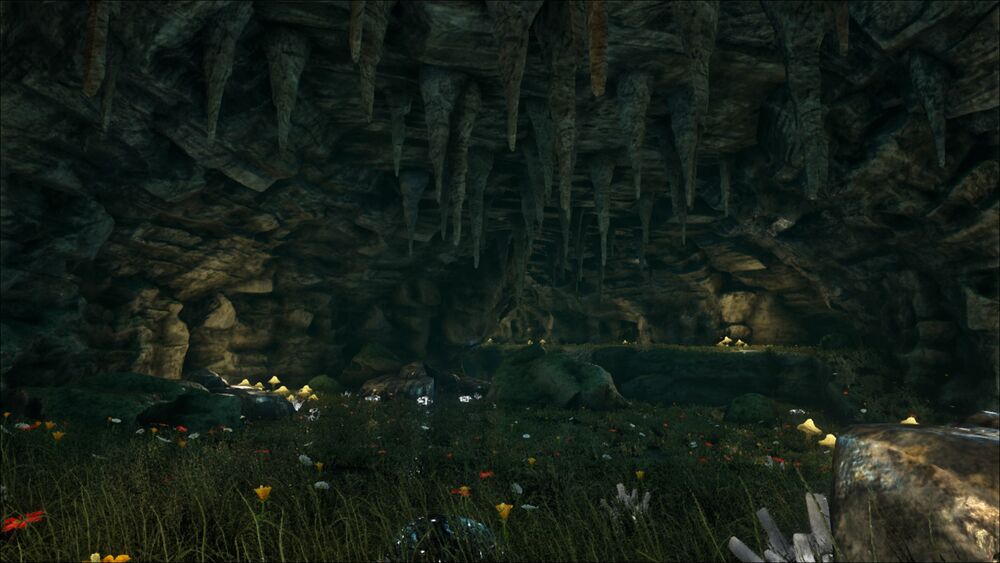 The lovely glade of the Pearl Cave waiting for you
What makes the Pearl Cave great: 
Large space for building structures 
Access for multiple creatures 
The entrance is hard to find 
You can find here the Artifact of the Hunter 
Access to resources: crystal, metal, flint, stone, silica pearls 
Water sources
How to get to Pearl Cave: 
Coordinates: 15.8° Lat, 50.5° Lon
The entrance is hard to spot, so bring a light source 
It is located in the West of the Lava Biome of The Center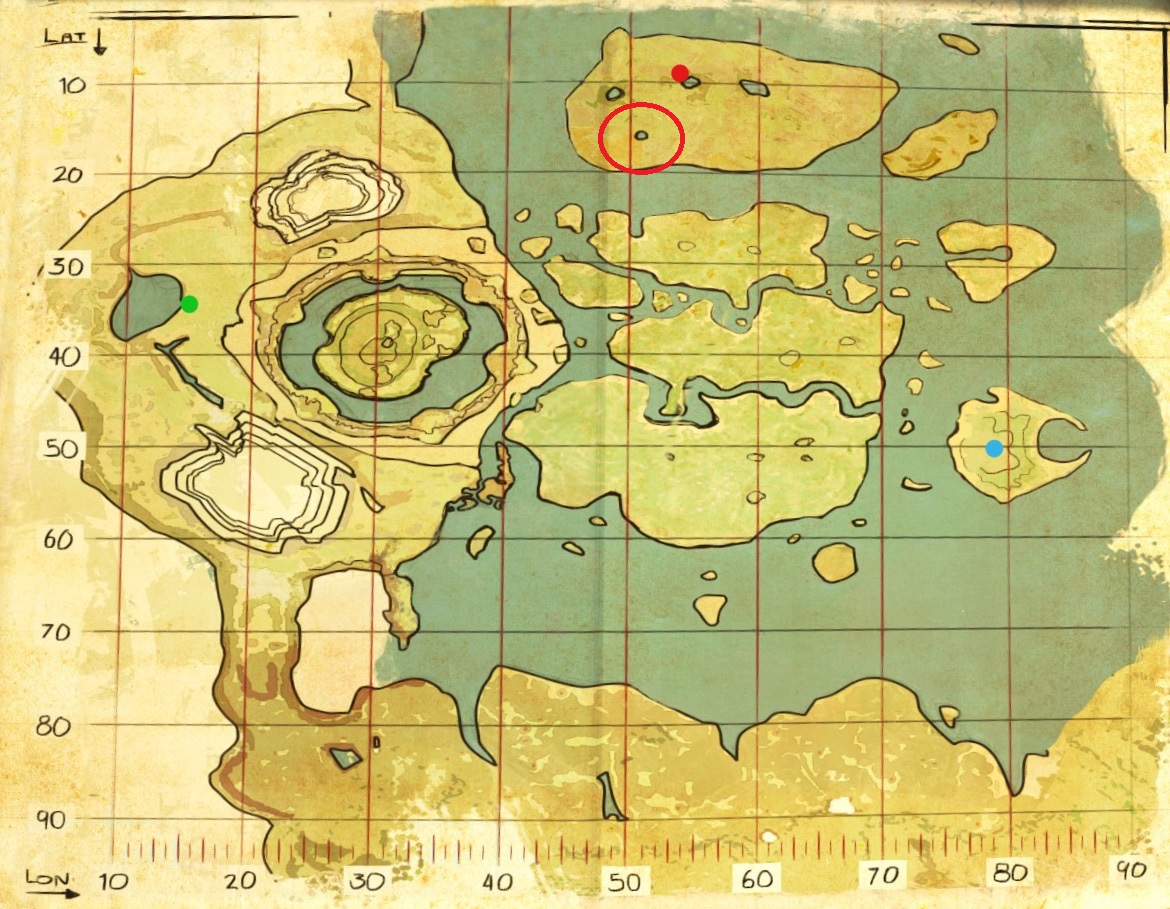 The Center - Pearl Cave Location 
3. Scorched Earth - Eastern Oasis ( Best for beginners, as it has easy tames and water sources)
Considering that Scorched Earth is dry, with extremely hot temperatures and sandstorms, finding an oasis means finding paradise. And once you have found it, chances are you won't leave it too soon. The Eastern Oasis looks splendid, providing a viable water source and various plants. It gives access to all the resources you need to survive and it's the perfect place to start taming creatures.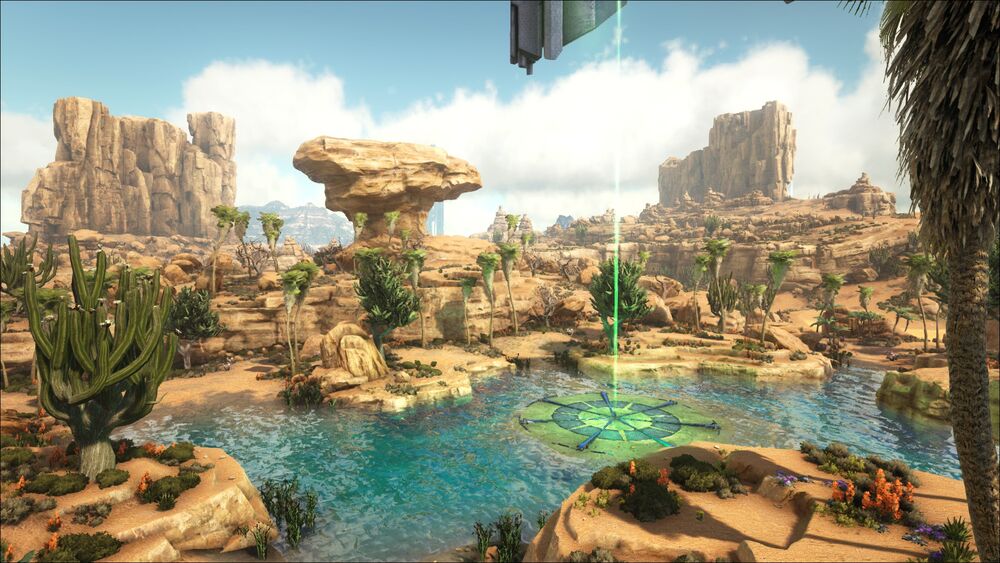 A dream in a sea full of sand - the Eastern Oasis
What makes the Eastern Oasis great: 
You finally have a stable water source 
It contains the necessary resources, like metal, cactus sap, flint, stone, wood, and many more 
You can find Morellatops as starter tames, or search for Tylacoleo if you are advanced 
Plenty of space for building 
How to get to Easter Oasis: 
Coordinates: 50° Lat, 73° Lon
It is the only oasis located in the East of the map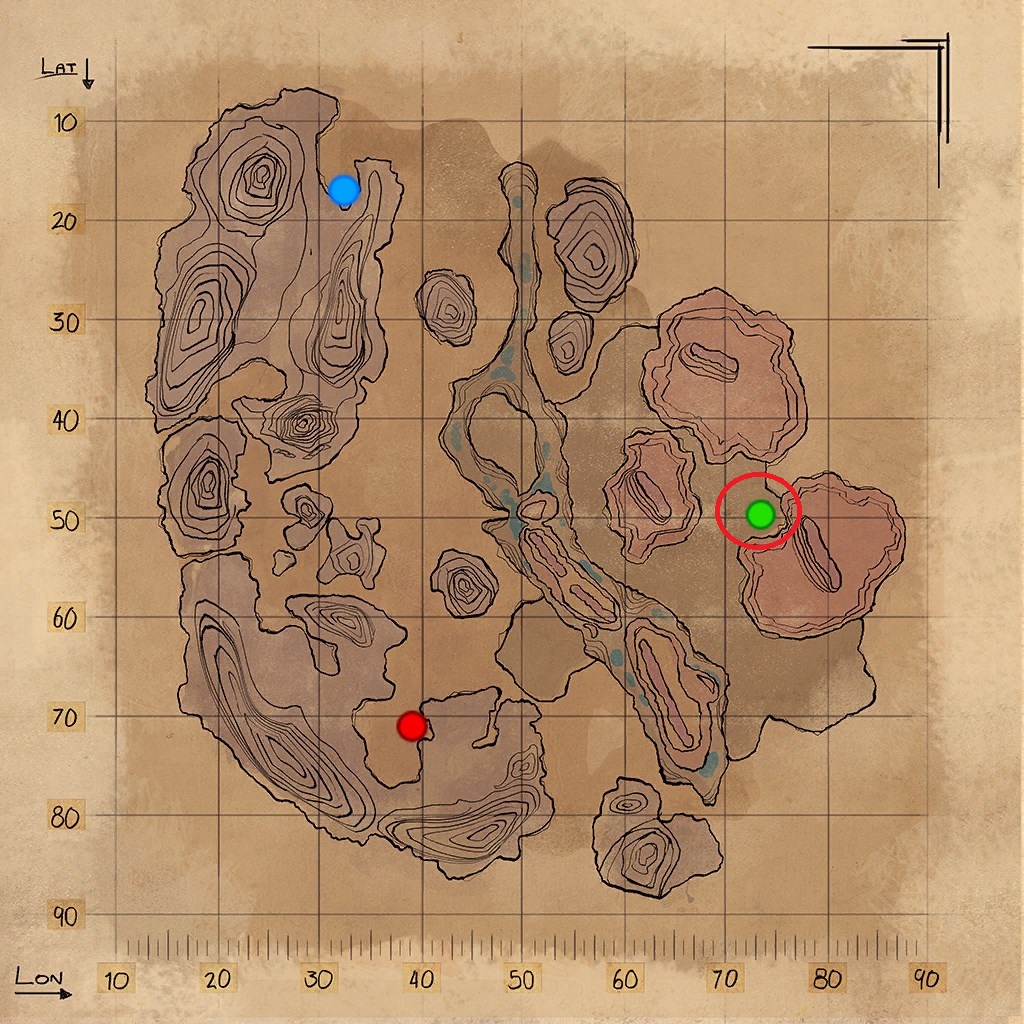 Scorched Earth - Eastern Oasis Location
2. Crystal Isles - Floating Islands ( Best for a PvE base & resources )
Nothing compares to the beauty of Crystal Isles. This map surprises its players with every single new location discovered. The Floating Islands make no exception. Apart from their beauty, the dense vegetation hides this location perfectly, so you feel safe no matter the hour. It's a resource paradise. You'll find everything you need, from main resources like stone, wood, and metal to plant species X, organic polymer, and oil.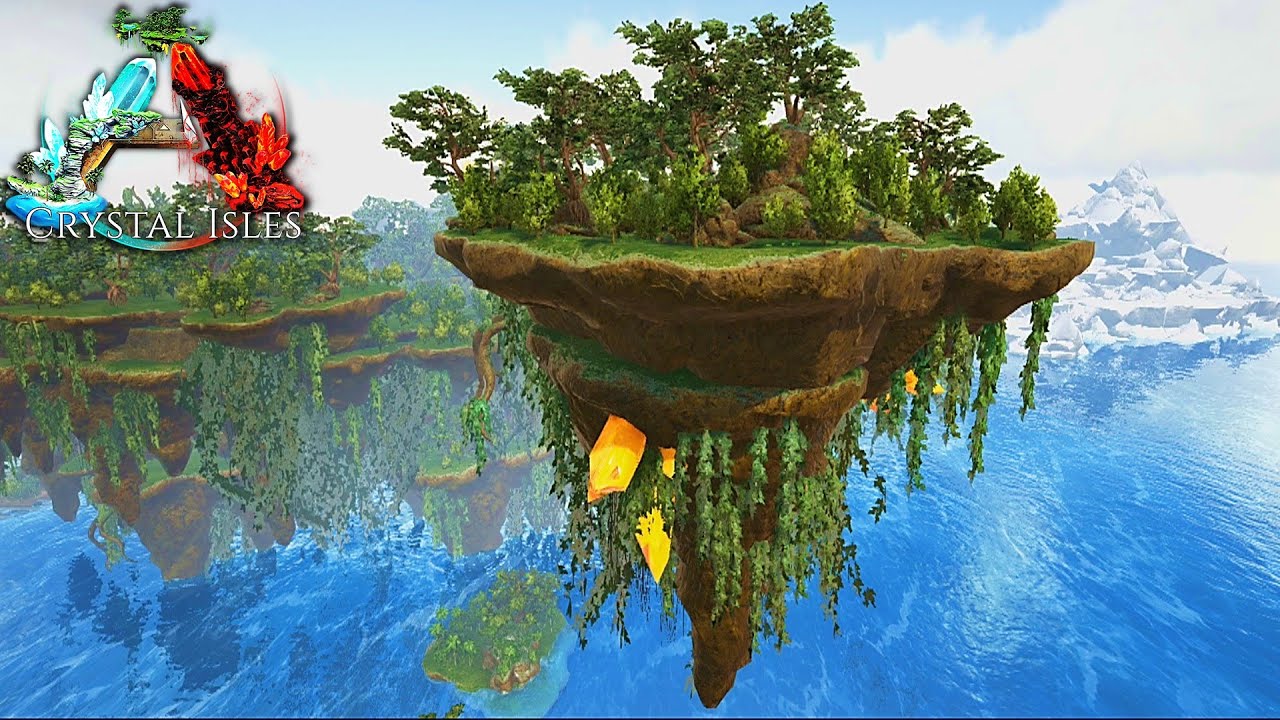 The magic of Crystal Isles is floating in the air
What makes the Floating Islands great: 
The Islands are connected by roots or land bridges, providing enough space
It is well hidden 
Home to many creatures that create an amazing ecosystem 
Water sources everywhere 
You can find Rock Drakes here 
How to get to Floating Islands: 
Coordinates: 50° Lat, 80° Long
They are located in the Apotheosis region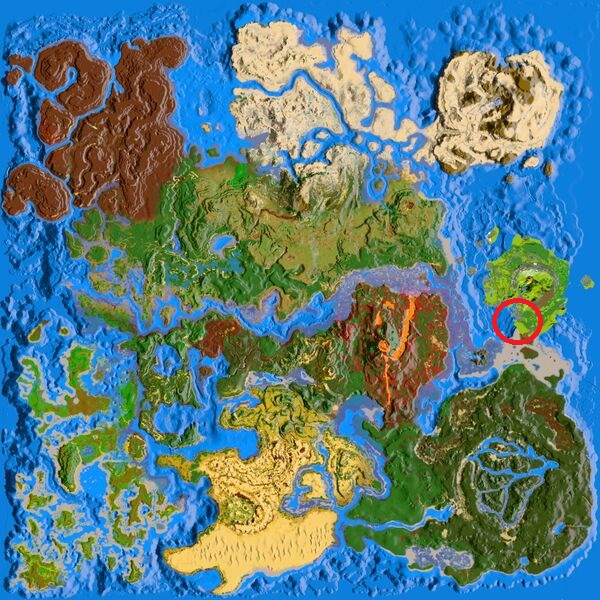 Crystal Isles - Floating Islands Location
1. Ragnarok - WhiteDove Falls ( Best for a large base )
This is one of the most beautiful views you'll find in Ragnarok. The WhiteDove Falls is a location that comes with an impressive water source, a hidden cave behind the stunning waterfalls, and multiple small islands situated in the basin of the waterfalls. What more to ask from a base location? Its location in the center of the Titans Rise provides access to large building space and numerous resources.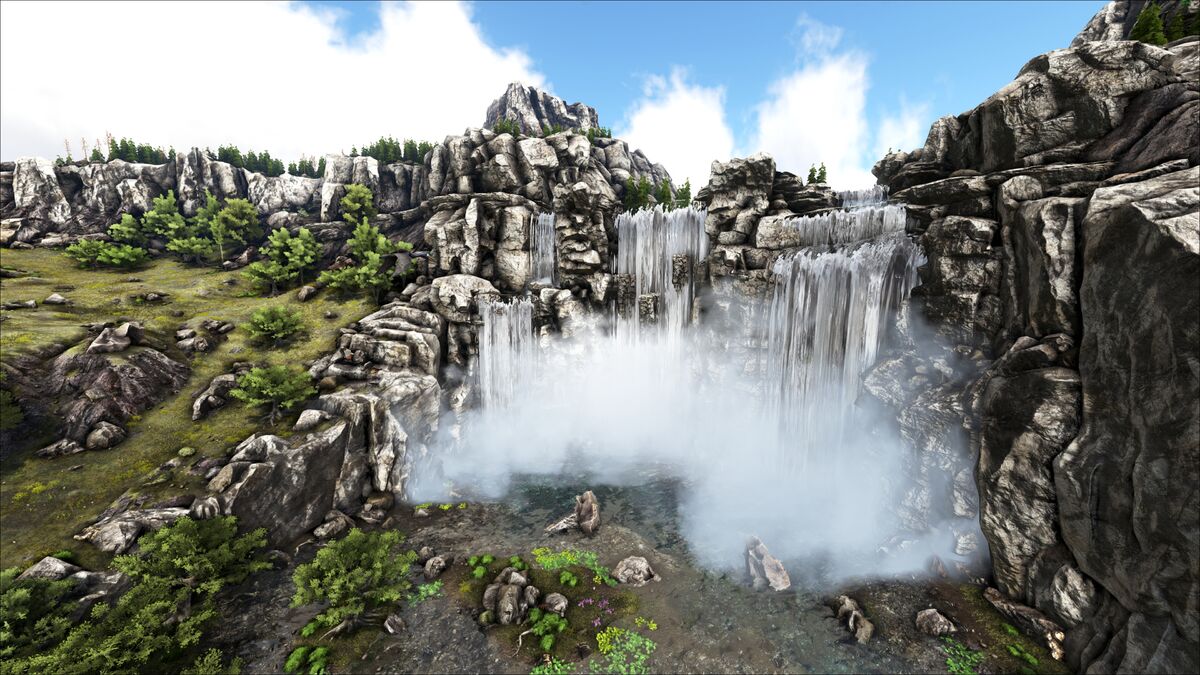 Would you take a leap of fate? The beautiful waterfalls hide an incredible secret
What makes the WhiteDove Falls great: 
Various resources are available: berries, fiber, flint, metal, stone, wood, etc. 
It is a spawning point for Sabertooth if you are looking to tame one 
It gives access to Titans Rise, a large, flat area, perfect for building a base
A lot of places to explore 
Incredible view
There are NO creatures spawning in the hidden cave behind the waterfalls
How to get to WhiteDove Falls: 
It is located in the middle of the Titans Rise
Coordinates: 27.3° Lat, 47.7° Long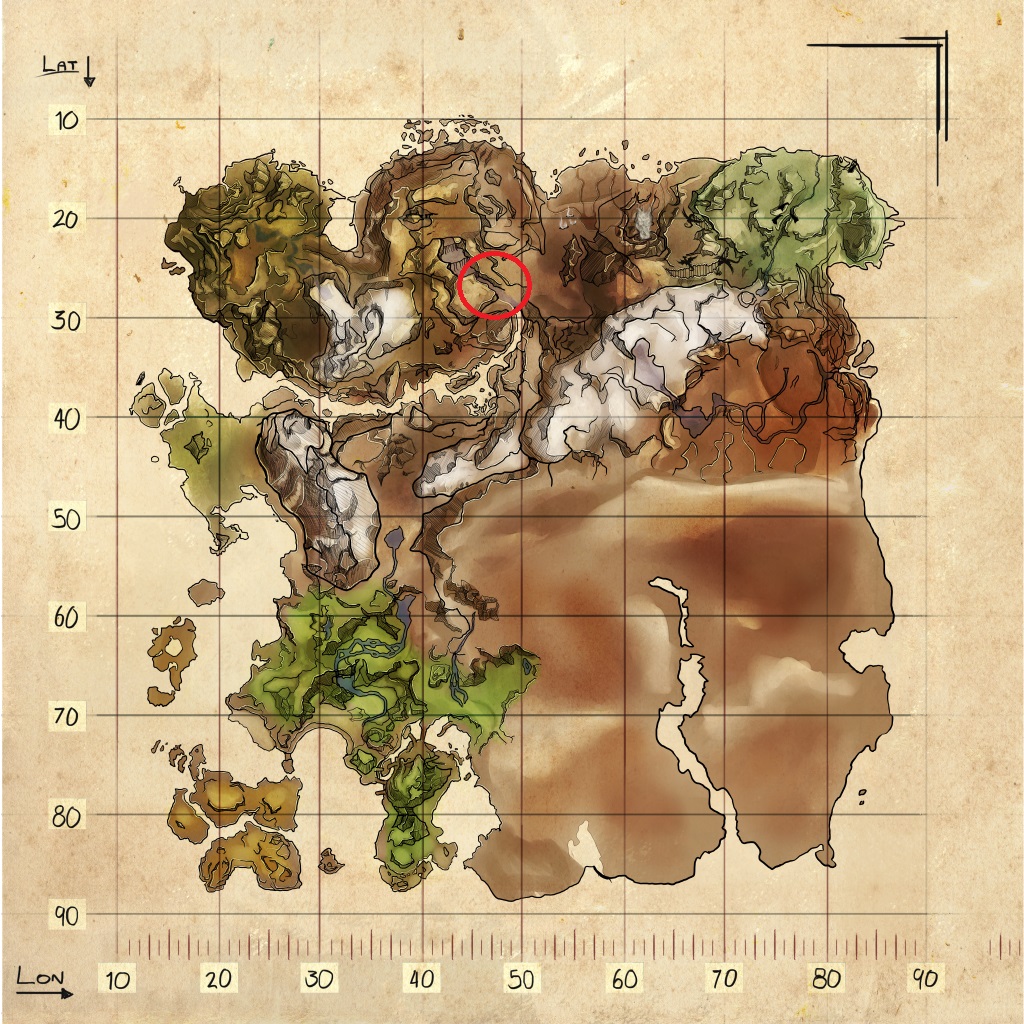 Ragnarok - WhiteDove Falls
You May Also Be Interested In:
Image Gallery