Valorant Releases New Agent, FFA Deathmatch, Re-worked Ranking System in Latest Patch
Updated: 06 Aug 2020 5:13 am
Why even send Agents when you have a literal gun on legs just standing around?
Riot Games' latest release enters its second Act with a host of new content
On August 4th Riot Games released the Episode 1: Act II update for their free-to-play character-based FPS Valorant. Included, among the bug fixes and general improvements, are a new and improved competitive ranking system, Battlepass, and a new Agent – 'Killjoy.'
The first new Agent released in around three months since Raze was introduced during the closed beta, Killjoy, is a robotics genius from Germany who specializes in position control and area denial. She can deploy a whole arsenal of powerful, hand-made machines catered to her "tactics beat firepower" philosophy.
Her Alarmbot can hunt and debuff any enemy within range – so while it won't kill them outright, it well giver her proper warning, especially against enemies trying to sneak a flank. Her Nanoswarm grenade deploys a hidden swarm of covert nanobots that attack on her command. She even has an automated Turret and a Lockdown Ultimate that cripples the enemy's speed (after a long wind-up).
As Valorant is inherently designed for 5v5 competitive play, Riot Games promised a revamped ranking system that aims to be more transparent about placement details and more accurately represent a player's current skill. The team behind Valorant wants to "build a ranked system that promotes growth and engagement over 'peaking' at a top rank, getting anxious about losing it, and stuffing it in the fridge."
To do so, Riot has introduced 'Act Ranks' that are composed of a player's nine best-ranked wins and the total number of competitive wins during an Act. The new ranking system will also track 'proven skill,' which uses a player's ninth-best ranked win to measure their win-consistency at any given level.
Going forward, placement matches and early Act ranking will go a lot smoother, Riot has promised. So while initially players might be irked by their "conservative placement" after their qualifying matches, Riot stated that only three games will be required (five if you weren't ranked in the previous Act). That and early game performance will have a much, much more significant impact on leaderboard standings.
An unranked, ten-player, free-for-all Deathmatch was added to give players a chance to warm up their fundamental FPS skills like aiming, peeking, and map-knowledge before jumping into ranked games. There are no abilities whatsoever, but players will have full access to the weapon roster and equip heavy armor by default. This game mode is still in beta and will only be available for a limited time starting August 5th.
The second Act also brings about a new Battlepass full of skins, Player Cards, and sprays among the motley of cosmetics that modern gamers expect from free-to-play models. The free version does offer some content for those who don't want to pay, but players will need to shell out 1000 VP (aka $10) for the full version.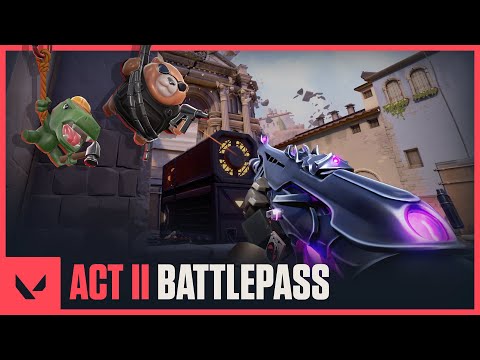 Valorant Act II Battlepass Trailer
Valorant fans will also be happy to receive a ton of new bug fixes, balancing tweaks, and quality-of-life improvements. One such improvement is that players will now receive a notification if a player they had reported got punished – not exactly Earth-shattering. Still, it will help players feel like Riot is listening and taking an active role in moderating their experience.
Act II has only just been released, and there is still a long time to go before players can adequately judge the depth of Riot's efforts. Valorant is still quite in its infancy, and this latest patch is only the first of many if Riot has any hope of remaining competitive once the dust has settled. 
*Addendum: at the time of publishing, Riot Games have acknowledged reports of major performance issues with AMD users. They have also disabled the Agent Raze until a bug with her ultimate is fixed and have removed the map 'Ascent' from the competitive rotation.
This has been an unstable patch, sorry! Raze is disabled temporarily while we investigate a bug with her ultimate. We're also aware of FPS issues with some AMD GPUs and actively investigating.

— VALORANT (@PlayVALORANT) August 5, 2020