Gifts For Gamers: 10 Gifts Every PC Gamer Would Love: Page 4 of 10
Updated: 20 Jun 2015 6:00 pm
Who else wants an awesome gaming rig for their birthday?
7. RAM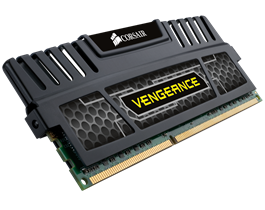 Freedom at last.. for your memory
7th on our list is one item that should never go overlooked on a computer and can mean all the difference between enjoying a game, and being frustrated with a game. The Corsair Vengeance 16 GB RAM kit, boasts the ability to overclock, ensures compatibility with the Sandy Bridge processor, XMP, the ability to be both dual and quad channel, an aggresive look, and a low price. Coming in a kit of four 4GB chips the Vengeance will run you about 135 dollars.
Not only does RAM decrease program loading times, but it also increases system stability to prevent crashes while in the middle of a gaming marathon, so even though most of the processing is done through video memory, there are other things that a gamer will be doing on a computer that requre extra system RAM. Before you buy though, make sure you are aware of what kind your system takes.
Image Gallery