Doublelift Disappointed That God of War Is Not Playable on PC
Updated: 09 May 2018 6:22 am
Team Solo Mid's AD Carry Doublelift (Photo by Riot Games)
Team Liquid's AD Carry, Doublelift, has not just been in the Esports spotlight, he has also been in the news for a tragic event that struck his family at the end of last month. For those who might be living under a rock, Doublelift's mother and father were attacked by his older brother at their home in California. His father would recover. However, his mother was pronounced dead at the scene. Since that incident and what we reported on earlier, nothing has changed. His father is not in any news, nor is Doublelift really talking about it. He is still clinging to his teammates and fans for support. Still tweeting about League of Legends (LoL) and gaming culture in general. Not surprising, seeing as Team Liquid had just won the NA LCS Spring Split shortly after Doublelift lost his mother. One thing is clear though, Doublelift has other interests other than LoL. Recently, the professional LoL player had tweeted that he wanted to stream the new God of War video game that had just released on April 20th. For those same who are living said rock above here is a little bit about God of War.
God of War is a, Greek Mythology, hack and slash series by Sony that was originally released in 2005 on the PlayStation 2. The main protagonist is Kratos, he is a demi-god and son of Zeus. The series follows Kratos in his never ending quest for revenge on the Olympians after they killed his family. Since its first release there have been about 8 titles and in each of them players will battle Greek Gods like Hades, Ares, and even Zeus himself. It is clear that God of War is a very successful franchise, in 2012 it was reported that the series had sold over 21 million copies, and that was just in 2012. The newest release has already been projected to be the most successful title on the PS4. With all this hype it is no wonder that Twitch has seen an exponential increase in streamers playing God of War for their fans.
Doublelift has also expressed he wants to be part of the action as shown by this tweet.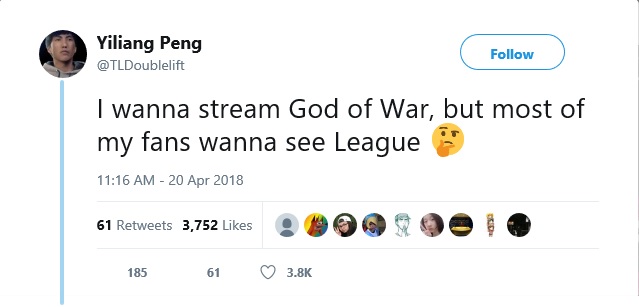 Doublelift Really Wants To Play God of War (Yiliang's Twitter)
Doublelift's conundrum is nothing new for streamers. They often find themselves torn between playing games that they want, like the new God of War, or playing what their fans fell in love with their stream for. Streamers like Dr. Disrespect have seen their chat explode with fans asking, "Why are you playing this game? I want to see you play PUBG!" Luckily for Doublelift he has a great fan base that encourage him to branch out. "I watch anything you stream, I loved the dark souls 3 streams" replied one follower, but this is just one example of many. There is just one problem. God of War is a PlayStation exclusive.
Doublelift seemed more than a little miffed by the fact that he could not play God of War, as made evident by this tweet.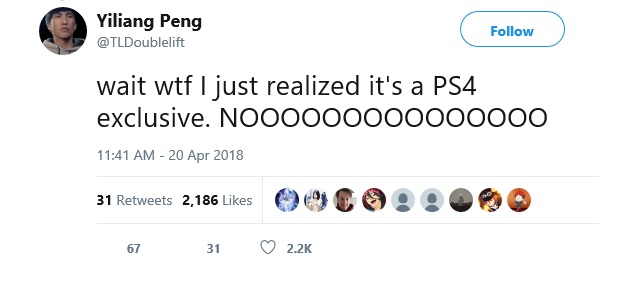 Doublelift's Displeasure With The PS4 Exclusive (Yiliang's Twitter)
Doublelift has over 1.1 million followers on Twitch and all of his streams so far have been sticking to his LoL comfort zone, but that does not mean it will stay that way. There is no evidence yet, but I would not be surprised if Doublelift starts a new stream featuring God of War.