[Top 25] Skyrim Best House Mods We Love
Updated: 18 Feb 2021 8:03 pm
Find a beautifully unique house for your character (like this one).
You've spent hours making your character. Give them a house as unique as they are.
Player houses in Skyrim are some of the most unique mods the game has to offer! There have been many well-known favorites, like the Elysium Estate and the fancy Breezehome overhaul. I wanted to make sure this list is made up of some lesser-known homes and hideouts, and many of the houses on this list came out within the past year (pertaining to when this was written). Here are 25 great player homes for Skyrim! 
25. Laboratorium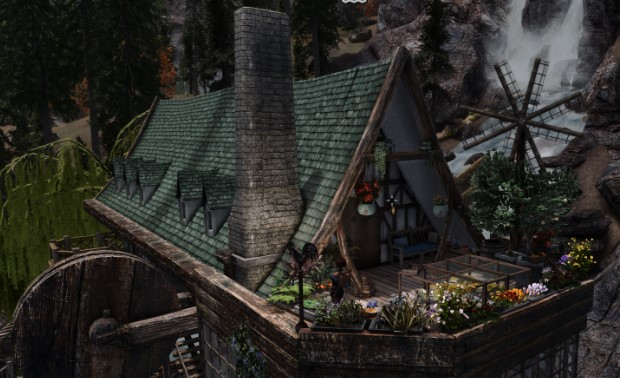 A look at the incredibly detailed exterior of Laboratorium. 
Laboratorium is definitely on the larger end of player homes, so if you're looking for the 'quaint little cottage' type of house, look elsewhere on this list. This beautiful house is located somewhat near Darkwater Pass, and there are two small quests to do before you can call yourself the owner. 
Features:
Two brand new quests to complete
Unique models and features throughout the home (the mod author has put so many features in the house that they would prefer not to be spoiled, rather explored for yourself)
Support for the player, spouse, and one follower, but kids/adoption are not supported
Get the mod here for SE. 
24. Adventurer's Sanctum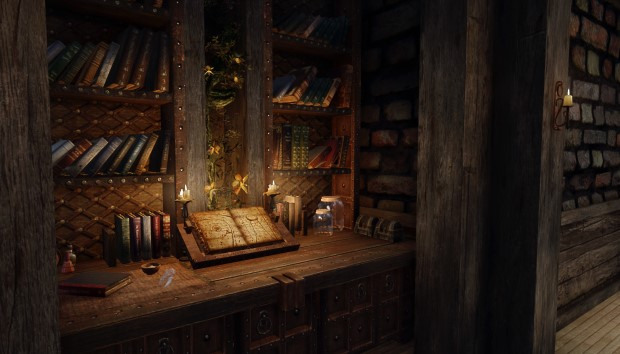 A small reading nook located in Adventurer's Sanctum. 
Adventurer's Sanctum is a small-mid sized player home close to Whiterun. This home has just enough features that it doesn't feel overdone. It may look like a normal house from the outside, but it truly shines on the inside!   
Features:
Functional map of Skyrim that allows fast travel, tons of room for storing your books, weapons, and gear
Dynamic lighting that changes based on the time of day, complete with fancy skylights throughout
Supports the player and up to 5 followers, but no kids/adoption support
Get the mod here for SE. 
23. Riverwood Falls Manor and Bleak Mines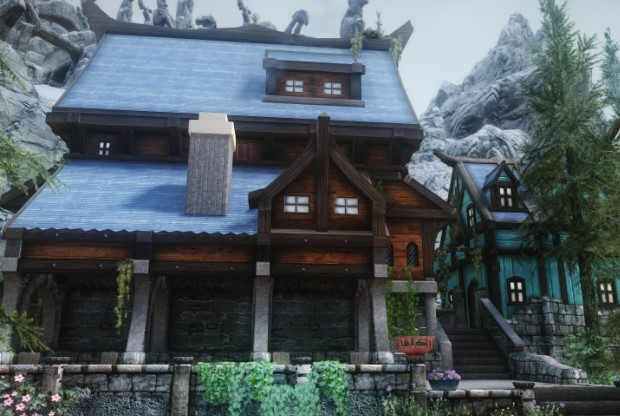 A few from the front of Riverwood Falls and all of the greenery surrounding the home.
Riverwood Falls is a mid-sized, feature-rich house that has room for so much more than you and a follower! This house has room for your player's family, followers, and merchants such as blacksmiths and apothecaries. As the name suggests, this house also includes its own mine for you to explore. 
Features:
Two versions: Hearthfire version with room for 4 children and a spouse, and Non-Adoption version gives that space to followers and re-decorates the area to be more suitable for adults as opposed to children
Starting the quest to acquire the house is as simple as getting a letter from a courier 
Hearthfire gardening, sinks and toilets, property staff, and huge display and storage areas for anything you can think of 
Get the mod here for SE. 
22. Mirele Bismath - The Comfy and Compact Wizard Tower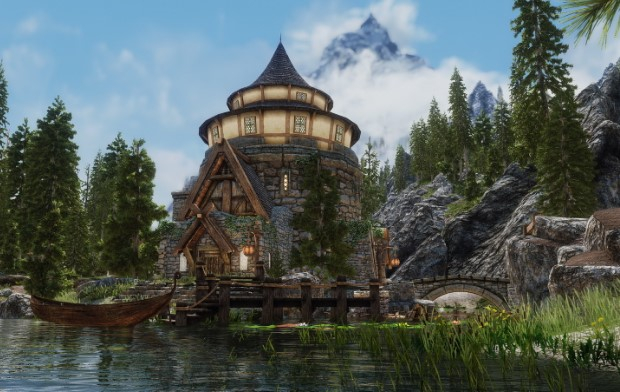 The tower of Mirele Bismath located on the lake which provides for wonderful scenery.
The creator of Mirele Bismath has written plenty of lore about the Dunmer (previously from Morrowind) who used to occupy this tower. Located off the edge of Lake Ilinalta near Helgen, this house truly feels like it was made for a mage! 
Features:
2 bedroom house with Hearthfire: Multiple adoptions support for your family
Dramatic lighting, unique item shelves, and plenty of displays for your treasures
Includes a lore-friendly fast travel alternative to the house
Get the mod here for SE. 
21. Traveller's Inn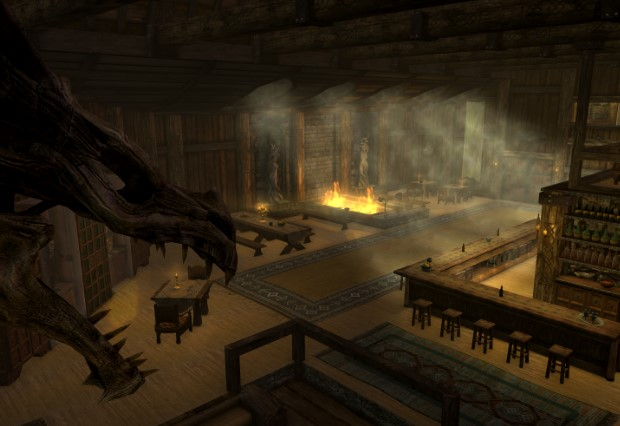 A dragon's skull overlooks the patrons of your very own inn.
The Traveller's Inn is a large-sized house that has an Inn attached that you can run for a profit. Located near a large waterfall north of Ivarstead, this house has tons of space for you and your companions while making you money at the same time! 
Features:
Room for you, multiple followers, and adopted children as well
2 staff members for the inn, weekly income, visiting customers, and custom music
Fast travel system, bathing room, full crafting suite, and plenty of display/storage room for gear and weapons
Get the mod here for SE.  
20. Canalside Bunker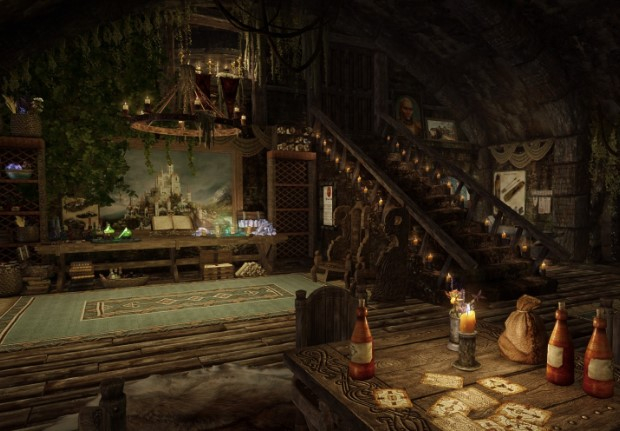 The Canalside Bunker is fully of overgrown plants, unique art, and much more. 
The Canalside Bunker is a cozy house located in Riften, across from Elgrim's Elixirs. Gaining ownership of the house is simple; just purchase the house-key from Pawned Prawn. Being located in Riften makes this house perfect for thieves, but anyone can enjoy this house!
Features:
3 follower beds, and 2 child beds (supports multiple adoptions)
Displays for unique items, and named cloud storage for many types of items
Nearly all crafting stations (no smelter or Hearthfire oven)
Get the mod here for SE.   
19. Astronomer's Loft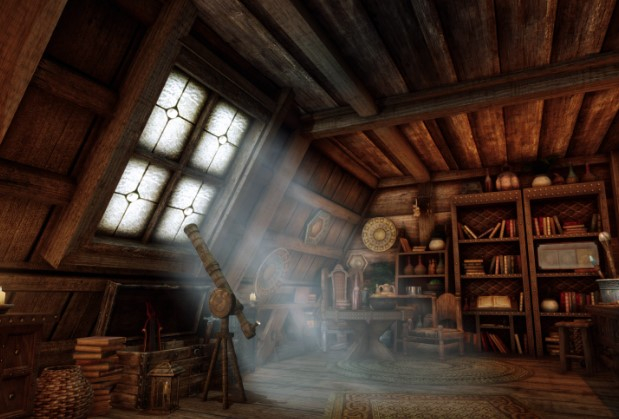 A view of the window and lots of shelving from inside of the cozy Astronomer's Loft. 
The Astronomer's Loft is the perfect house for someone who wants a small place to call home. This home doesn't require a key and is located in the attic of Arcadia's Cauldron in Whiterun through a new entrance. It is full of books, making it perfect for the character who wants to learn everything they can get their hands on. 
Features:
Completely free, and extremely accessible to low-level characters by being located in Whiterun
Single room with plenty of storage and containers
Includes an enchanting book and an alchemy alembic that function as any crafting station would, but saves on space 
Get the mod here./se version. 
18. Springwood Estate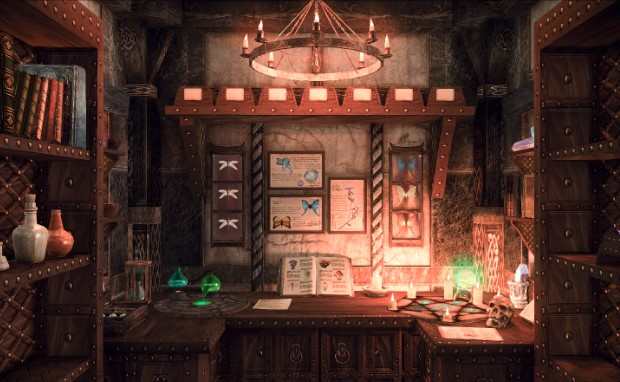 A view of the beautifully decorated enchanting area inside of the Springwood Estate.
The Springwood Estate is located in Solitude and features room for everything your character needs! It has the classic Solitude architecture you would expect, and you can even hire a bard and a steward for your home. To get this house, you just have to talk to Ilyrio outside the home to buy it. 
Features:
Room for followers as well as multiple adoptions support
Loft with mannequins and displays for all of your gear
Forge, crafting, and multiple bathing areas 
Get the mod here./se version. 
17. Oldhollow Chalet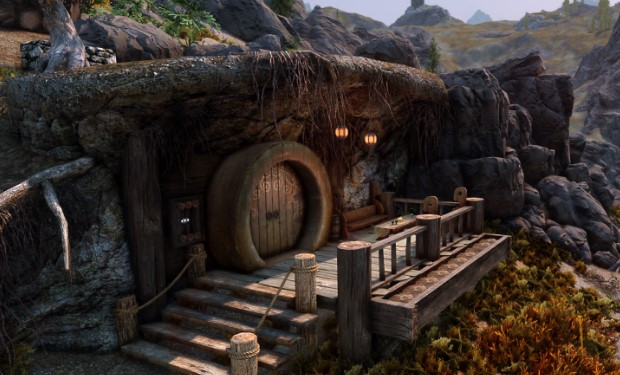 This house is hidden away in a cozy landscape filled with rocks and greenery. 
The Oldhollow Chalet is a home located in the snowy tundras of Skyrim. It is a tiny little place, but it still has everything you could need! It still has plenty of storage and displays for your weapons. It is described as ideal for mage characters.
Features:
Auto bookshelves, shield and weapon displays, planters
Wood chopping, cooking, oven, enchanting, alchemy, and blacksmith tools
Room for you and two followers, but no support for kids or multiple adoptions
Get the mod here for SE. 
16. Winterhold Retreat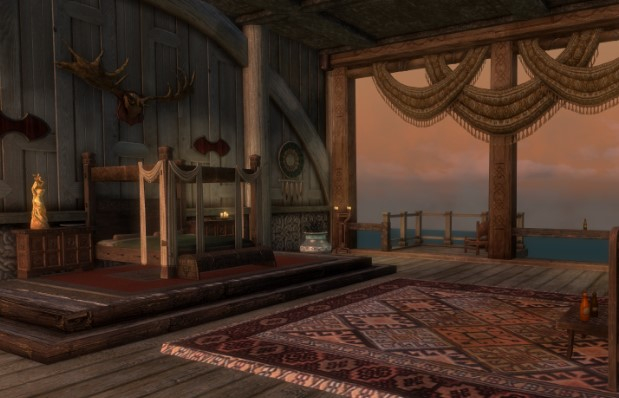 The views from the bedroom are breathtaking in this house, with a completely open area overlooking the water.
If your character is looking for a larger house, the Winterhold Retreat should be perfect. The location is beautiful, right on the coast of Winterhold overlooking the water. If you use follower mods to travel with a big group, the extra space in this house will be just what you're looking for. 
Features:
Room for 10+ followers, and room for 4 children (multiple adoptions supported)
Full Skyforge and crafting in the basement
Many weapon racks, a greenhouse, and a temple of portals
Get the mod here for SE. 
15. Ternview Hall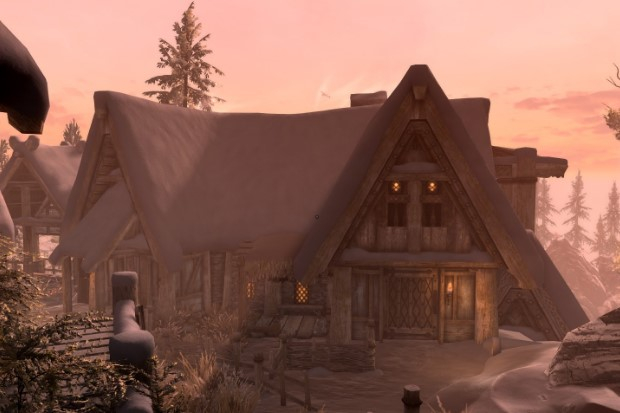 This snowy home is located in the Skaal Village, so be sure to keep warm.  
I wanted to make sure that this list includes houses in many locations, and Ternview Hall happens to be located in the Skaal village in Solstheim! This house has a ton of interactive features and is great whether you want to roleplay as a member of the Skaal or just want a place to call home while doing the Dragonborn quests.
Features:
Immersive features such as fireplaces that you have to chop wood and manually light by dropping the wood, and even an interactive goat to milk
Plenty of crafting/cooking areas, as well as tons of specialized containers for all of your stuff
A custom made shrine to the All-Maker on one of two balconies 
Get the mod here./se version. 
14. Amon's Retreat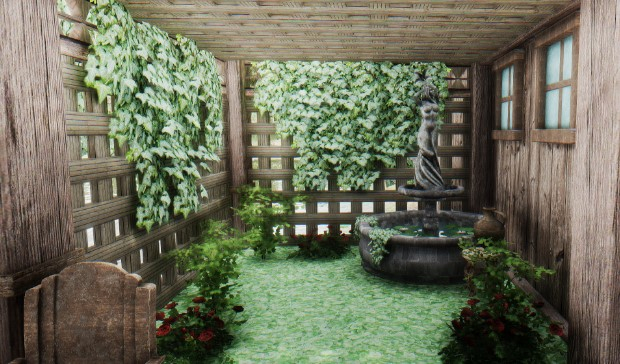 A beautiful area of Amon's Retreat filled with lush ivy and a fountain featuring Dibella. 
This cozy house is located directly on Lake Ilinalta, so you can imagine how wonderful the view is. Amon's Retreat has plenty of items to interact with and even more places to store and display everything you collect during your travels. 
Features:
Interactive items such as candles to light, places to eat, and readings books
2 beds for adopted children and 3 beds for followers
Bath/sauna area, collector's room, and an armory 
Get the mod here./se version. 
13. JK's Riverfall Cottage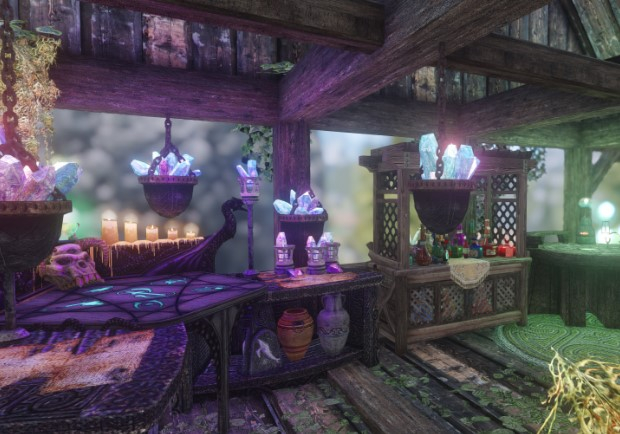 Tons of soul gems used to decorate this glowing alchemy/enchanting area of the cottage. 
Riverfall Cottage is a beautiful, medium-sized player home located in the city of Riverwood. It has plenty of room for your companions and family, and much like the other mods this creator has made, you won't find a corner of this house that isn't wonderfully decorated. 
Features:
Room for 3 followers and 3 children (adoption support), a bathtub, and an armory
Kitchen complete with a Hearthfire oven, and a full smithing/crafting station
Plenty of containers to free up that carry weight before you get back to questing
Get the mod here for SE. 
12. Hermit's Stump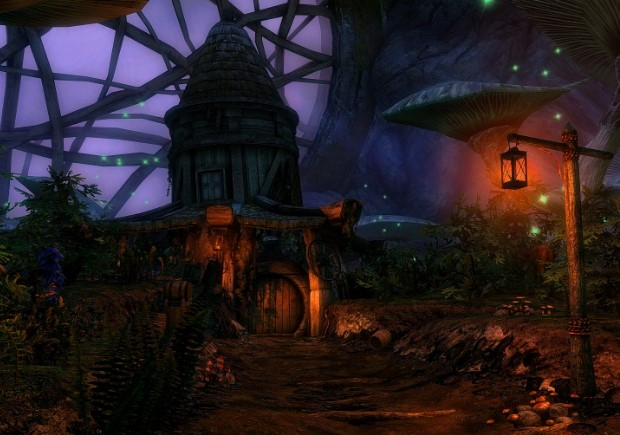 Hermit's Stump surrounded by mushrooms, deer, and a magical glow. 
Hermit's Stump is one of those little unique houses that you never forget. Located in its own little world (the Hermit's Cave on the way to Ivarstead), this house is worth getting just for its one-of-a-kind design alone.
Features:
The location truly feels like another world, with deer jumping around happily and incredibly atmospheric lighting
Crafting stations, planters, all in a compact tiny design
Normal storage containers and bookshelves, and Solstheim music for the interior 
Get the mod here./se version. 
11. Severin Manor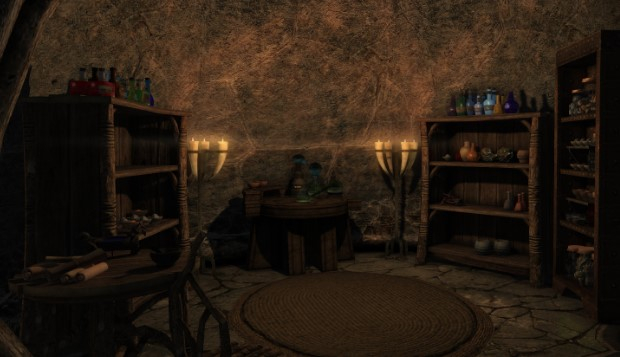 Your alchemy station in Severin Manor, now with shelves full of ingredients just for you. 
If you did the side quest to acquire Severin Manor in Raven Rock, you might've been a little disappointed by the dreary lighting. Or maybe you just want more functional features in the house! This overhaul of Severin Manor helps with all of that and more without drifting too far from the original.
Features:
2 versions of the house: one with auto-sorted storage containers, and one without
Teleports to vanilla player houses, and a spell to return to Severin Manor from anywhere
Updated cozy lighting, shrines, and much more
Get the mod here for SE. 
10. Tel Mos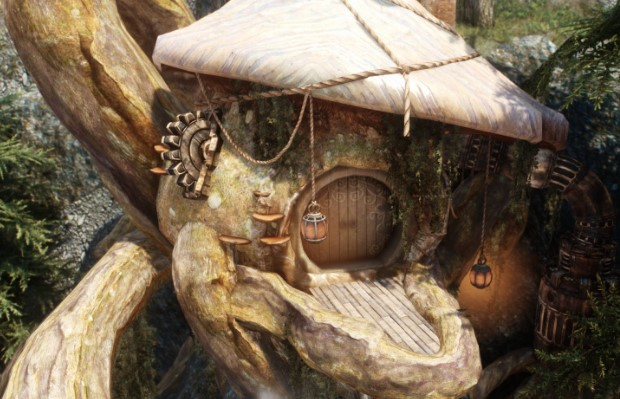 The outside of Tel Mos, with cozy warm lighting and dwemer decor. 
Tel Mos is a small home in the Telvanni style, with some Dwemer mixed in as well. It is located next to Hilgrund's Tomb on the path to Ivarstead. This house definitely stands out, and even has a dwemer-style gear turning on the outside of the house.
Features:
All crafting stations included
This house is best for a character who travels alone, as there is no room for followers or family
Standard bookshelves and containers, and Solstheim music throughout the interior
Get the mod here./se version. 
9. Mindrot's Rest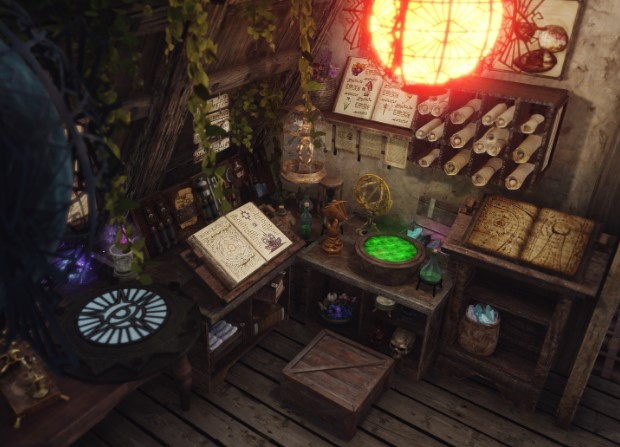 This house is beautifully decorated with so many unique items you'll always find something new.
Mindrot's Rest once belonged to a painter named Marius Mindrot, but now it can belong to you! This mod has a bit of story and exploration involved to get it, so I won't spoil any of that here. The decorations and items in this house are certainly some of the most unique and well-done I have seen.
Features:
Room for 2 followers and 2 children, or the option for 4 follower beds
2 bath areas, tons of displays for collectibles, and Hearthfire planters outside
Custom containers, kitchen and dining area, and many other secrets to discover
Get the mod here./se version. 
8. Hill House Returned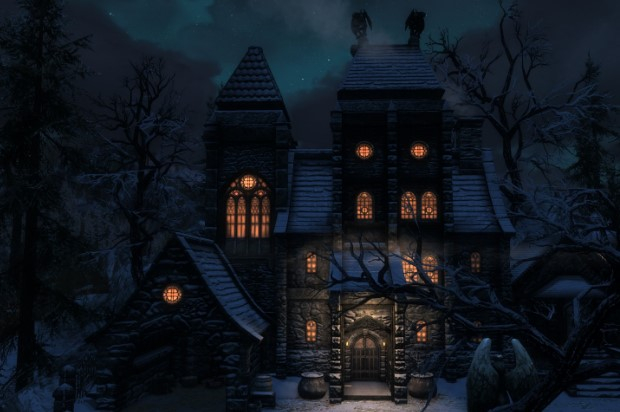 The eerie, intimidating exterior of Hill House sets the mood for the entire estate.  
Hill House is a gothic-themed house that is intended for vampire characters. The mod creator wanted to make sure it wasn't exclusive to vampire characters though, so they included unique features to suit your character's needs. A new ship has arrived at the East Empire Company docks, maybe you should see where it takes you?
Features:
Unique ability to toggle between beds and coffins, as well as between regular food and a blood feast 
2 bedrooms support up to 5 beds/coffins, no support for adoptions/children
Plenty of storage containers, displays for dragon priest masks, and a smithy located next to the house with all of your crafting needs
Get the mod here for SE.
7. Morskom Estate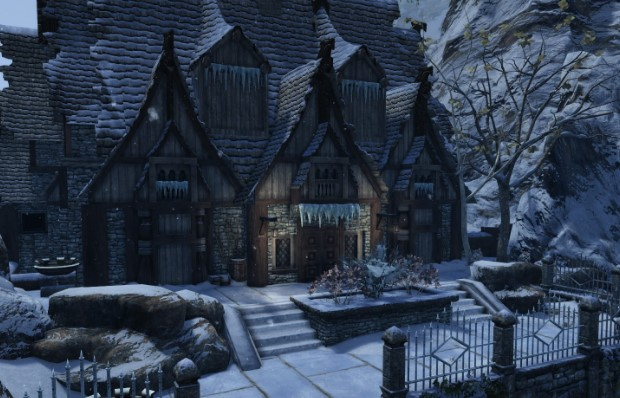 Your eyes will be drawn to the exterior of Morskom Estate once you set foot in Dawnstar. 
Morskom Estate involves a unique quest before you can start fixing it up to live in the house. Once you've done that, the house functions similarly to a Hearthfire home. Morskom Estate sits on top of a tall hill in Dawnstar. 
Features:
Build up the interior and other additions yourself, or hire workers to help out
Interactive features, like fireplaces you can toggle on or off
Plenty of customizable aspects, including choosing what you want down the color of your bedding
Get the mod here./se version. 
6. Tel Nalta - Telvanni Home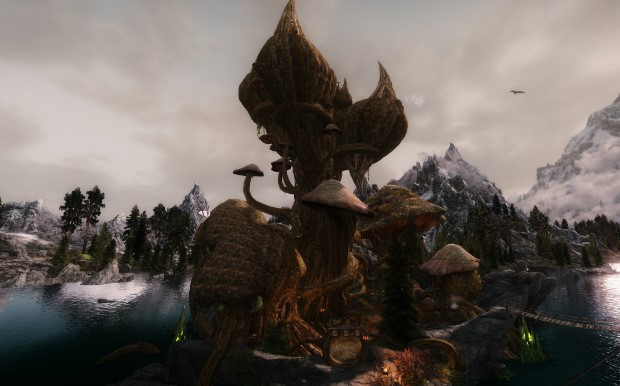 Tel Nalta (once complete) is massive, and so much more than just a player home. 
Tel Nalta adds a lot more than the average player home. It is a growable Telvanni settlement that is located on Lake Ilinalta. This process can be started by getting a courier letter from Neloth (though this is not required and just for immersion purposes). 
Features:
A player tower for you and your belongings, your spouse, and the option of 2,4, or 6 beds for children
Consilium tower for merchants and NPCs with things such as an Apothecary shop and a library
General store, greenhouse, bathing area, catacombs, fish hatchery, blacksmith, and much more
Get the mod here./se version. 
5. Maple Manor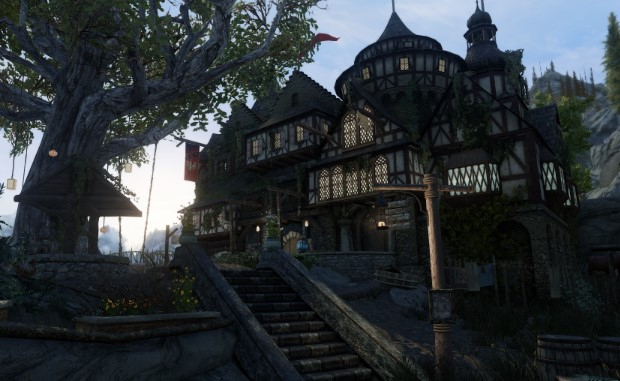 The exterior of Maple Manor shows off it's many windows, and a beautiful yard surrounding it. 
Maple Manor is a nice sized player home that is located near Ivarstead. It is considered a large-size player home, so you can expect even more storage than you know what to do with. The home can be purchased for 20,000 gold. 
Features:
2 versions: standalone version and Legacy of The Dragonborn version, which links many features of the house with the popular mod
6 follower beds and 6 kids beds (multiple adoption support)
4 guards outside the house, windows have a day/night lighting system, and all the crafting and storage you could possibly need
Get the mod here for SE.  
4. Gleamblossom Hollow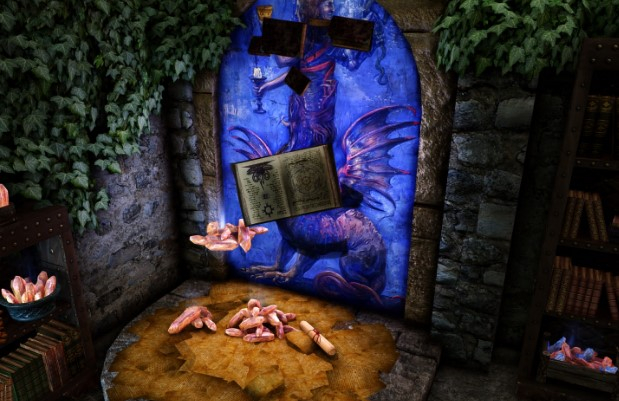 The unique art and features throughout Gleamblossom Hollow are unlike any you have ever seen.
Gleamblossom Hollow is a player home that is absolutely brimming with magic. It is a medium-sized player home with a portal located on the path between Winterhold and Saarthal. The key can be purchased from vendors or the previous owner's key can be searched for in Morvunskar. 
Features:
Multiple adoption friendly, with 2 kid beds and 3 companion beds
Incredibly unique textures/magical art all over the walls of the house
Named cloud storage, custom music, crafting stations, and a teleport spell
Get the mod here for SE. 
3. Hobbiton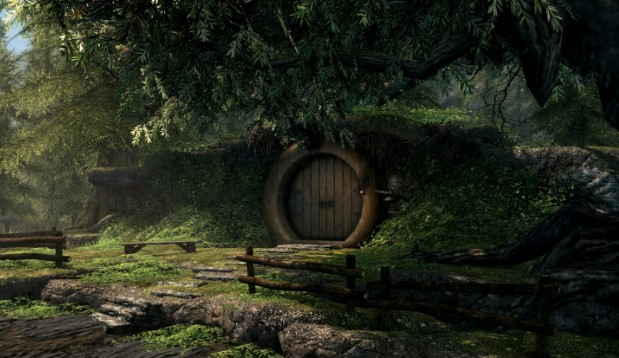 One cozy home to rule them all. 
Whether you're a fan of Lord of the Rings or not, you'll love this cute Hobbit-style home! This house is as small, cozy, and tucked away in greenery as you'd expect a Hobbit's home to be. With that being said, the map location is shown on the mod page. 
Features:
Enough bookshelves to collect every book in Skyrim, so your living room can look like a (not so) little library
Smithy room for all of your crafting needs and a spot to cook second breakfast in the kitchen
A large window that lets in plenty of exterior light
Get the mod here for SE.  
2. Tel Jerdein - Telvanni Sorcerer Tower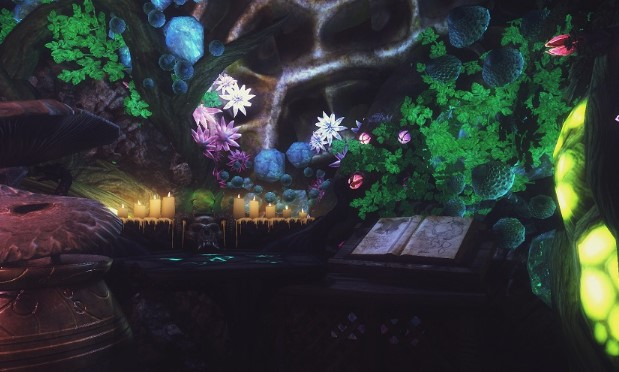 Greenery, flowers, and much more serve to give this house its incredibly magical feel seen here. 
Tel Jerdein is located all the way up on the cliffs of the Rift, north of Ivarstead. The key to this house can be found in Tel Mithryn, but I won't say where in case you want to discover it yourself! (If not, the location is given on the mod page, of course). 
Features:
All crafting stations, storage on every floor including bookcases, weapon racks, and bug jars
8 Hearthfire planters, made to support Hearthfire multiple adoptions
Wonderful view from the tower that you'll have to experience for yourself
Get the mod here./se version.
1.Tirashan - Necromancer Home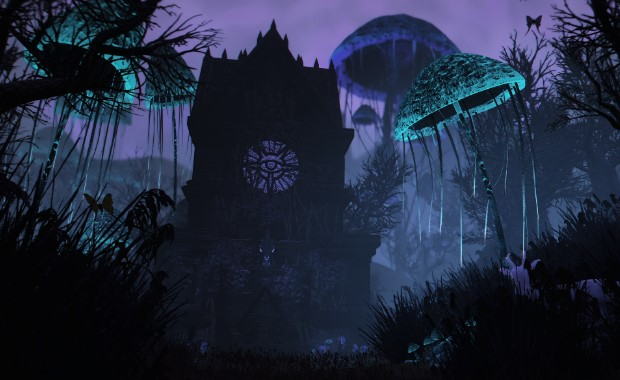 Tirashan's exterior is beautifully lit, and features the symbol of the College of Winterhold.
Tirashan is a beautiful tower of a home inside its own little pocket realm of Oblivion. The portal to this realm is located in the Reach, and more details on how to get there are on the mod page in case you want to stumble around looking for it yourself. The dark, mystical theme is perfect for a necromancer, but it can be for any character you like! 
Features:
Merchant inside the realm to sell your items to, he sells a teleport spell to the realm
All crafting/workstations, including a disenchanting font to reset player-created items
Many unique and customizable displays, including the option to switch between male and female armor wardrobes 
Get the mod here./se version. 
You may also be interested in:
Image Gallery