[Top 5] PoE Best Armor Sets for Slayer That Are Powerful
Updated: 06 Oct 2022 8:31 pm
Women swoon at the sight of him, men tremble at the thought of him, and few that face him in battle live to tell the tale.
[Top 5] PoE Best Armor Sets for Slayer That Are Powerful
Slayers are still some of the last-standing bastions of pure melee, though you can still do some weird spell shenanigans. The cool charge mechanic is what most intrigues people, and can push the damage, and build diversity further.
5 – Shockwave Cyclone Slayer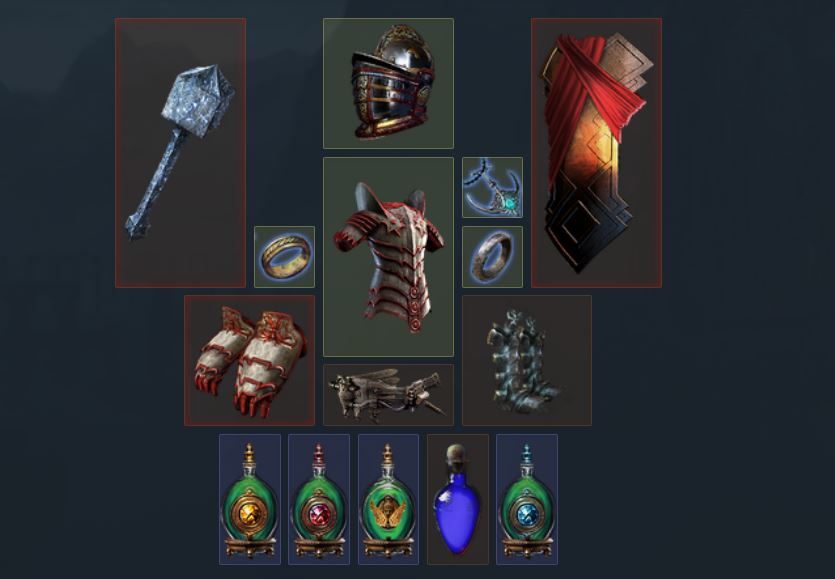 Surprisingly, the most interesting build of the list isn't a Champion but a Slayer instead. This build revolves around many synergies that compound on a lot of damage in an easy-to-follow interaction.
Helmet
This is similar to the Berserker Strength stacker helmet, with lots of Accuracy per Str, Crit Chance, Nearby Enemies have Minus Chaos Res, etc. Getting a lot of life and even a Phys Taken as Fire is a great idea to improve your survivability, since you are a melee build!
Body Armor
You could use an Iron Fortress, but there's a lot of power defensively with using a tanky, powerful chest with as much life as possible, MRE, and even getting % Less Damage Taken Per Str from Eldritch Implicits!
Gloves
Though you can do better with other gloves, Meginord's Vise is easy to mass corrupt in order to get some easy Despair on Hit and a bucket load of Strength.
Boots
The core of the build, Replica Alberon's Warpath takes your Strength (while also giving up to 18%!) and converts it into a truck-load of Chaos Damage to Attacks! This synergizes super well with the weapon we use!
Weapon
Replica Frostbreath is a great weapon because we don't need a super quick or high DPS weapon. But it grants us a 100% chance to Deal Double Damage, which is literally 100% more damage, while also chilling enemies.
Shield
Redblade Banner, to boost our Battlemage's Cry to the maximum since we're a Strength Stacking build that will use Iron Will and then convert that extra damage back into Attack damage, which translates into a LOT of damage for our Shockwave.
Amulet
For all your jewelry, you'll want as much % Strength as Possible, as Synth Bases, and then craft upon that to reach over 2k STR. You'll also want Life, Crit Multi, AoE, Minus Mana Cost for Channeling skills.
Rings
Same as the Amulet. Crit Multi with essences, % Strength, Life, Minus Mana cost.
Belt
Mageblood, of course.
Build Details: https://poe.ninja/challenge/builds/char/BLADEMAJIAN/VUERICH?time-machine...
4 – Vaal Lightning Strike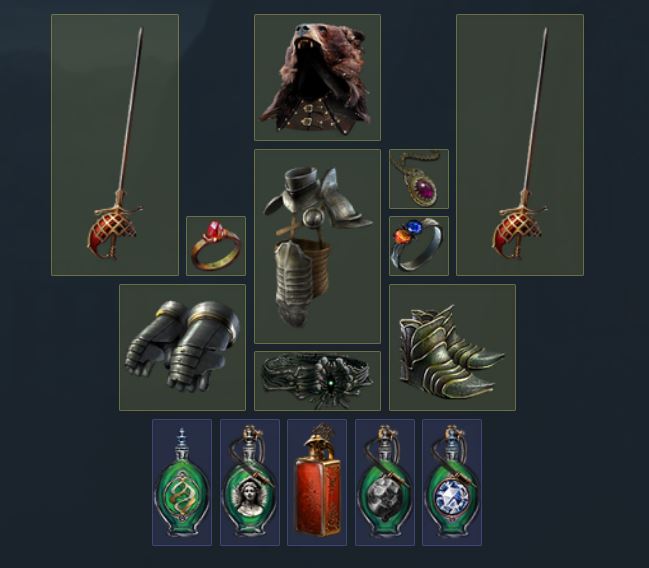 As usual, with such a dominant skill, in one of the most melee Ascendancies there is, Lightning Strike would make an appearance. It isn't the best place for this skill, but it's certainly serviceable.
Helmet
You'll want a rare helmet with as much Spell Suppresion, RME, life and resistances as possible, as well as either Lightning Strike Helmet Enchant, or a +1 Pierce craft.
Body Armor
Any body armor with as much Spell Suppression, Life, resistances as possible, as well as the amazing Eldritch Implicit that grants free Fortify.
Gloves
Definitely a must is a pair of gloves with +1 Strike Skills. The rest you'll want life, Resistances and yet another +1 Pierce, if you don't have the Helmet Enchant.
Boots
Spell Suppression, Life, Movement Speed, Onslaught, Resistances. All great things. You can also get some Action Speed and Life Regen Rate from the Eldritch Implicits here, or you can go for Ailment Avoid with Essences of Loathing, and then spec a little bit into it, with your Chest Craft and from the Passive Tree.
Weapons
You can go with either Claws, to abuse Nightblade, or go with Foils for a lot of Melee Strike Range. Claws will ultimately be better, but you can get good foils for cheap. Aim for as much eDPS and Crit Chance/Multi.
Amulet
Life, Resistances, Elemental Damage with Attacks, Attributes.
Rings
You'll want at least one right with Elemental Weakness on Hit. For the rest, you'll want Life, Resistances, Elemental Damage with Attacks, Attributes as you need them. Don't forget to pick up as much Accuracy as possible too.
Belt
Life, Resistances, WED.
Build Details: https://poe.ninja/challenge/builds/char/casualty1337/CryptocurrencyIsCoo...
3 – Boneshatter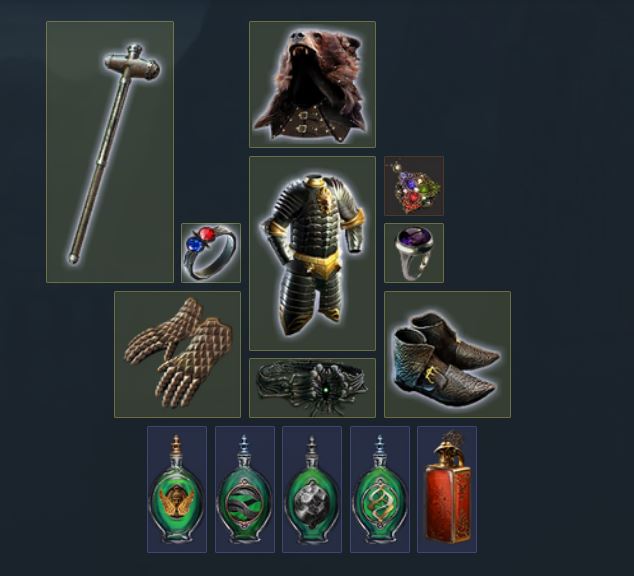 The Melee-est of melee skills, Boneshatter is picking up steam lately, showing up for all melee ascendancies, and seemingly taking things by storm. And Slayer is no different in this trend. With great access to certain amazing notables, the Slayer can mitigate the biggest of Boneshatter's issues, which is AoE and survivability, through Impact and Endless Hunger.
Helmet
A Helmet with as much RME, Life, Accuracy and Spell Suppression. Resistances as you need them, and picking up some Maximum Res will go a long way into making you feel tankier.
Body Armor
As much Life, Spell Suppression, and Physical Damage Reduction as possible. If you can, % Max Life, Phys Taken as Ele from Gravicius, or even Ailment Avoid are great options. It's also where you'll get the most aura effect as possible, ramping up your damage a lot.
Gloves
Spell Suppression, Life, Attack speed, Damage while leeching are easy and great pickups. But what's definitely required is +1 Strike Skills, which is what makes Boneshatter feel even remotely good for clearing.
Boots
Spell Suppression, Life, Attributes, and Movement Speed are a must. If you want, you can invest into getting a lot of Ailment Avoid with Essence of Loathing.
Weapon
A strong 2H Mace with as much Stun Threshold as possible, and the highest pDPS as possible.
Amulet
If you're rich, got for a strong Ashes of the Stars, which enables so many cool mechanics, and is honestly my favourite amulet in the game.
Rings
Kalandra Jewelry is a great choice here, but all you really want is Life, Attributes, Chaos Res, resistances, and Minus Mana Craft, to be able to attack without any cost.
Belt
Any well-rolled Stygian, with as much Life and resistances as possible.
Build Details: https://poe.ninja/challenge/builds/char/Svolen87/SvolSmasher?time-machin...
2 – Shield Crush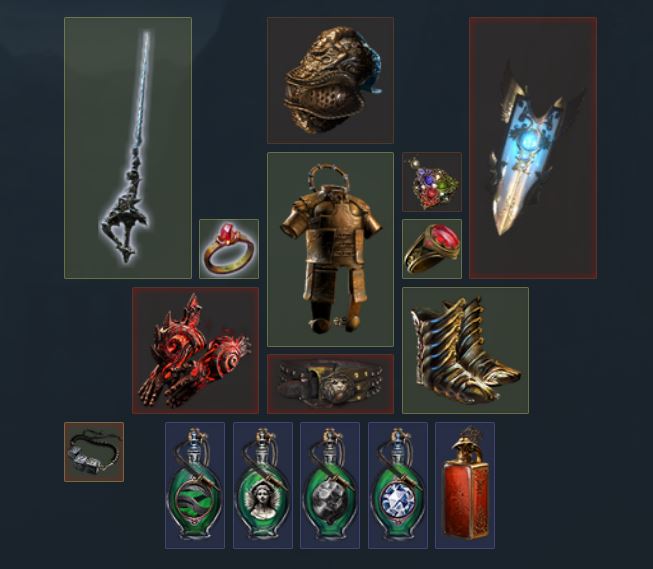 Unsurprisingly, this is a fantastic skill in the hands of the master of AoE Attacks, and with some newly buffed uniques, and using newly introduced ones, this skill gets taken to a whole new level of damage and clearing.
Helmet
Abyssus. We're now a Critical Shield Crush, using the Divergent variation, as well as Seething Fury for extra chance to crit and a lot of crit multiplier per ES on the shield. Aim for an Abyssus with the lowest increased Phys damage taken as possible.
Body Armor
You'll want a Frenzy on Hit Redeemer Woke Orbed with Attack Crits from a Hunter, so you can craft then +1 Curse, in order to deal maximum damage. Whatever else you can get on, it is gravy on top.
Gloves
The newest and freshest item in the game, Kaom's Spirit enables Rage for any non-Berserker class, making it extremely strong for any Leech or ES oriented build. This pair of gloves enables the use of a very long Berserk, for maximum damage, and it's a cheap enough pair of gloves that you can then corrupt en masse for good implicits.
Boots
You'll want as much life, movement speed, resistances as possible. It's also a great place to pick up some Life Regen Rate and Action Speed, with Eldritch Implicits.
Weapon
Since we're a Shield build, our weapons work like a stat stick. So only global things apply. You'll want as much Crit Multi and Double damage as possible, and it's not a bad idea to go for Impale effect, since we're pure Phys!
Shield
The newly buffed Emperor's Vigilance is a Shield Skill's wet dream, with a massive amount of Armor and ES that enables Divergent Shield Crush to its fullest potential when combined with a very special amulet.
Amulet
Ashes of the Stars. This makes it so Divergent Shield Crush gets nearly 50% Crit Multi per 100% Maximum ES on your shield. This means, with a shield that gives 400 ES, we can get, for free, upwards of 200% Crit Multi!
Rings
You can use Kalandra jewellery, but all you really need is life, Accuracy, resistances and Attributes, and do not forget to pick up Minus Mana Cost crafts.
Belt
Yet another buffed unique, The Magnate can grant a bucket load of damage with its now Double Damage and Triple Damage. This is effectively 19,5% more damage in a belt, for ANY build.
Build Details: https://poe.ninja/challenge/builds/char/PhoKingHai/Haivo_Kalandra?i=12&s...
1 – Flicker Strike
The god of Melee. The chosen one. The reason Slayer remained even relatively relevant throughout the years.
Helmet
Abyssus, of course. Unless you're going for Elemental Flicker, you'll always want an Abyssus. Aim for as little increased Phys Dmg Taken as possible.
Body Armor
Replica Farrul's Fur, which is extremely expensive, but very worth it. It enables free Endurance and Frenzy Charges, which makes Flickering a breeze. It's also a good chest overall, with solid defenses and Life.
Gloves
You'll want to use a Hunter/Warlord influenced pair of gloves with +1 Strike and +1 Frenzy Charge, since that's how Flicker deals more damage. Life and anything else you get on it is gravy.
Boots
Darkray Vectors. +1 Frenzy charges, a lot of movement speed, and a lot of Evasion per Frenzy.
Weapon
A 2-H Fleshripper with as much pDPS as possible. Don't forget to pick up as much Accuracy on gear as possible too.
Amulet
You can do a lot of things here, from Uul'Netol's Vow to Kalandra jewelry, but this one decided on a solid amulet called Stranglegasp, which grants up to 4 Anointments, which allows you to pick up a bunch of Frenzy charges without massive traveling.
Rings
Kalandra Jewelry is a great pick up here again, for as much Life, Resistance and Attributes as possible. But you'll also need a ring with Vulnerability on Hit, the highest you can get. And don't forget to craft Minus Mana Cost on them, in order to spam Flicker without running out of mana!
Belt
Ryslatha's Coil. Though not the best as it is for Bleed Damage, it's still a solid damage boost, which can net you overall 25%+ more damage in a single slot. It also grants a lot of Life and Life recovery in the form of Life Gained on Stun.
Build Details: https://poe.ninja/challenge/builds/char/%EC%95%8C%EB%A1%9C%EC%83%A4/Kala...