[Top 10] Overwatch Best Reinhardt Skins That Look Amazing
Updated: 11 Jul 2020 8:23 am
"We shall prove ourselves in glorious combat!"
Top 10 Overwatch Best Reinhardt Skins that Look Amazing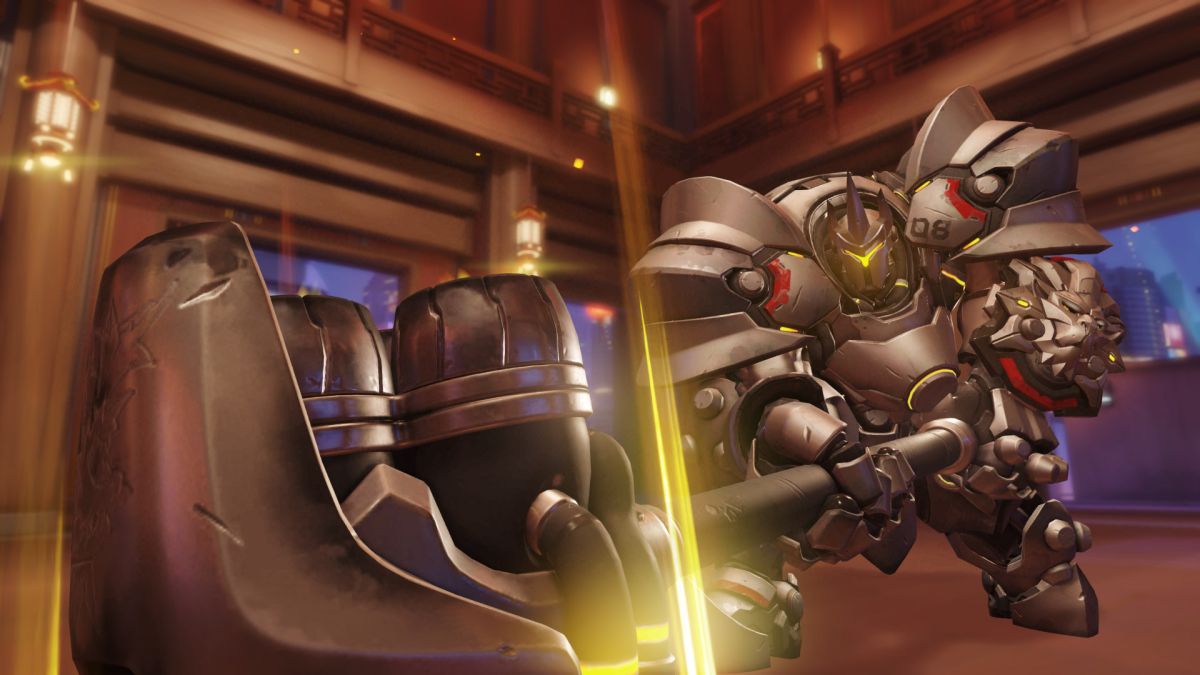 A knight of a new age who holds on to deeply to the knightly codes of valor, justice, and courage. Reinhardt (once an Overwatch operative before Overwatch was shut down) travels the world in his old age protecting the innocent alongside his squire Brigitte (another playable Overwatch hero), for they are their shields. Reinhardt is one of the most fun tanks to play as in the Overwatch roster. His positive demeanor and over-eagerness to get into the fight makes any Overwatch player ready to charge in without second thought. I could truly go on and on about what makes Reinhardt such a good tank and enjoyable hero to play, but that is not why we're here. Today we fine ladies and gents we are going to go over Reinhardts top 10 most amazing, most epic skins in his roster. So hold on to your horses as we begin! 
1. Festive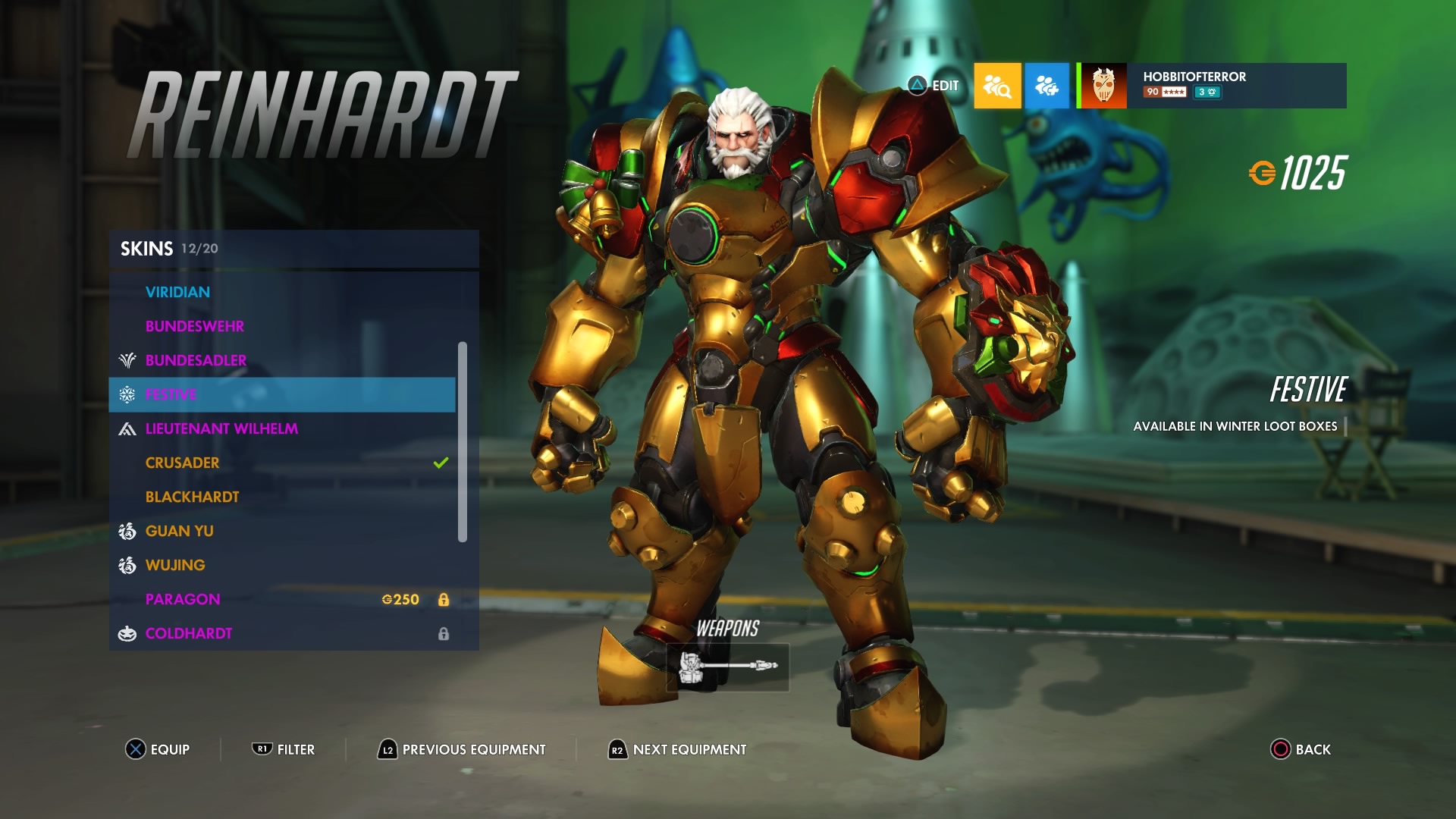 Like with most of the rares that will be featured on this list they aren't exactly as exciting or amazing as the legendaries but are still pretty epic in their own unique way. 
What's Awesome About Festive:
It can put any cold-hearted, grouchy Jack Frost into the festive, cheerful season mood.
The color scheme of the skin just has such a charming Christmas feel to it even though it is just made up of three different colors. 
And Reinhardt without his helmet is always a plus.
(This skin is only available during the Winter Wonderland Event)
See Festive in action:
9. Lieutenant Wilhelm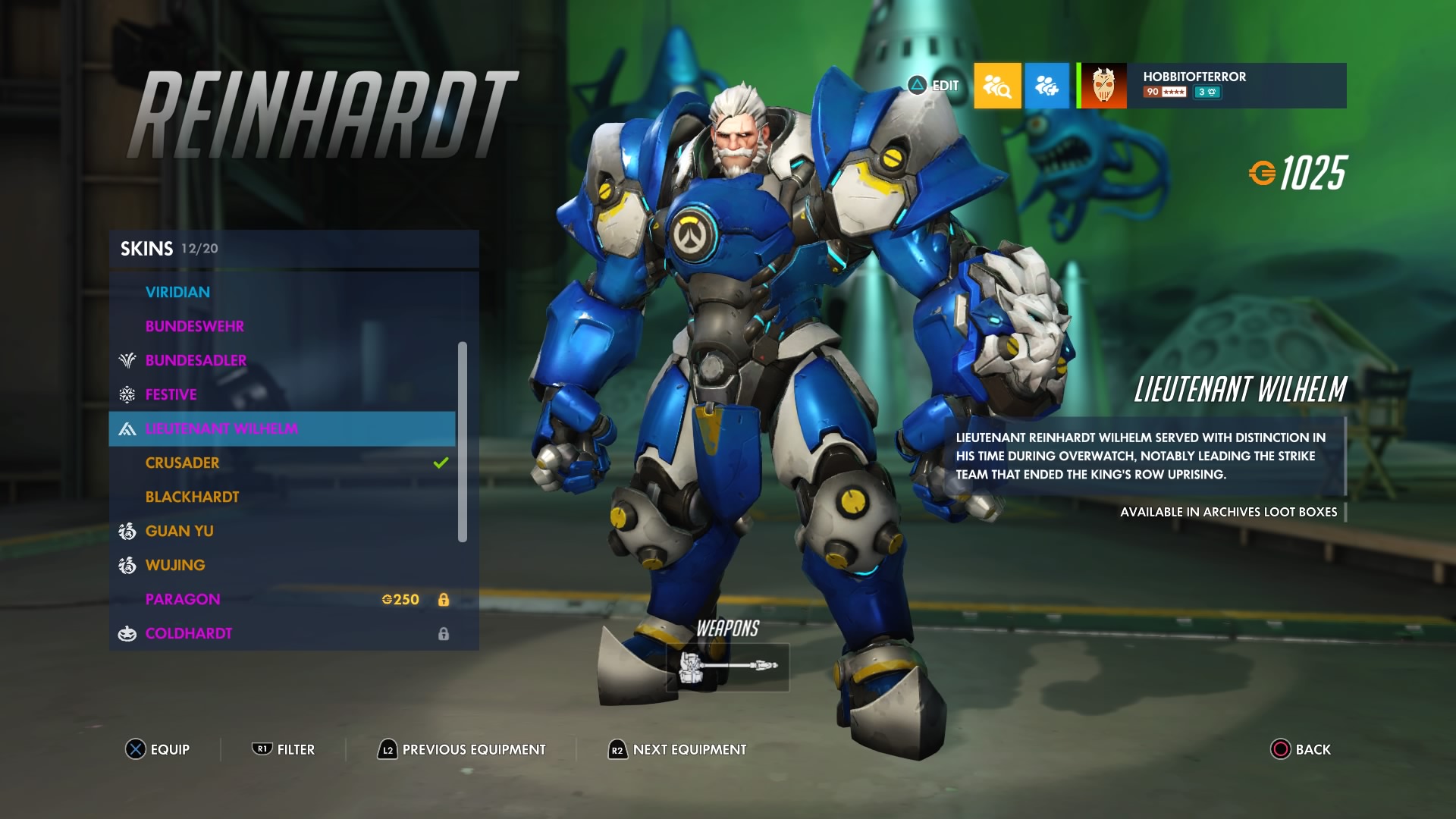 "Ah, Lieutenant Wilhelm at your service" is just what the skins say when looking at it. Prepared and ready to fight and be the shield that his teammates need. 
What's Awesome About Lieutenant Wilhelm:
It is one out of two canon skins in Reinhardt's roster.
The skin makes its appearance in the Overwatch comic "Uprising"  alongside many other Overwatch canon skins belonging to other Overwatch playable heroes. 
It is also the cheapest of the Reinhardt conan skin.
(This skin is only available during the Archives Event)
See Lieutenant Wilhelm:
8. Coldhardt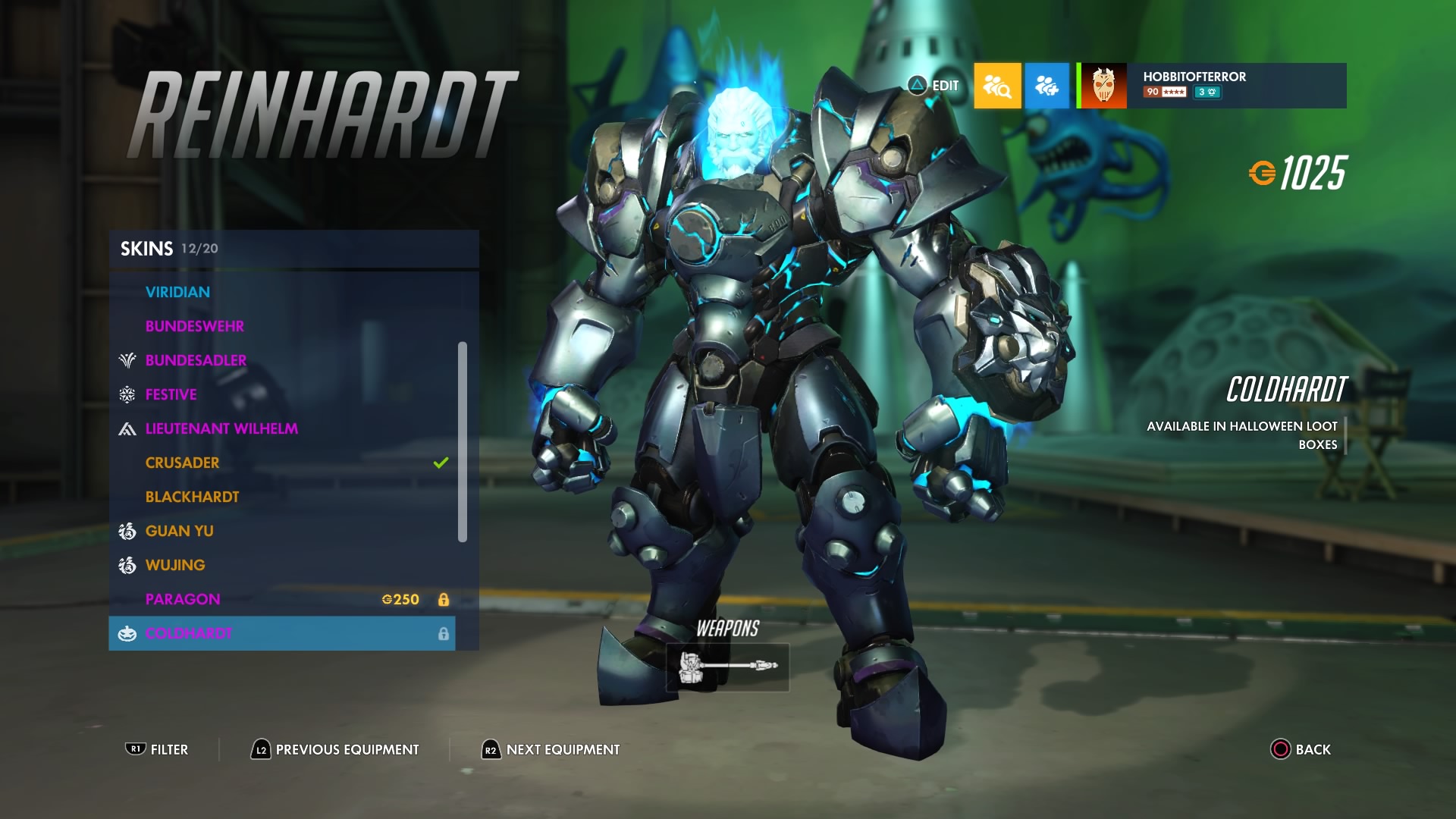 Cold is this very night as our dear Reinhardt wakes up from his eternal rest. Why he has awakened, no one knows. We can only hope and pray that it is not revenge that he seeks. 
What's Awesome About Coldhardt:
It betrays our dear, friendly Reinhardt as a cold-hearted ghost whose purpose is unknown. 
Not as exciting as many of the other Halloween skins in Overwatch; however, this skin still gets across the scary Halloween spirit. 
It is also one of the cheapest Halloween skins in the Overwatch roster. 
(This skin is only available during the Halloween Terror Event)
See Coldhardt in action:
7.Blackhardt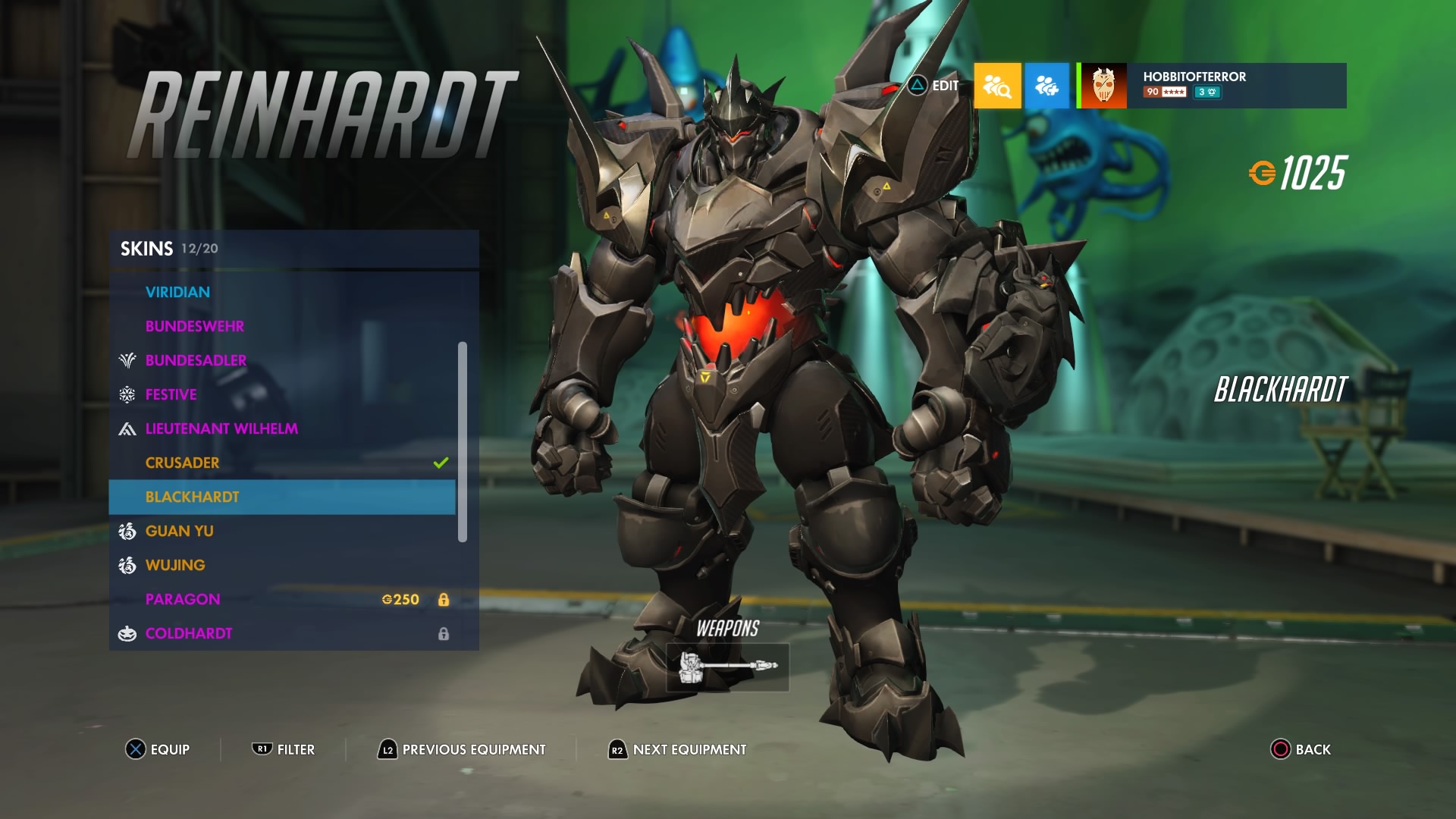 Have you ever heard the tales of the black knight? About how those who looked upon him and trimble to ground in fear, praying to whatever god they worship for mercy and deliverance. 
What's Awesome About Blackhardt:
It is quite haunting skin with the gaping mouth in Reinhardt's stomach, hungry for the souls of the damned.
Though not a Blizzard property, this skin gives off a "Darksiders" vibe that can't really be explained.  
The bright and fiery red colors are a really nice contrast against the black of the skin. 
(This skin is available all year round)
See Blackhardt in action:
6.Lionhardt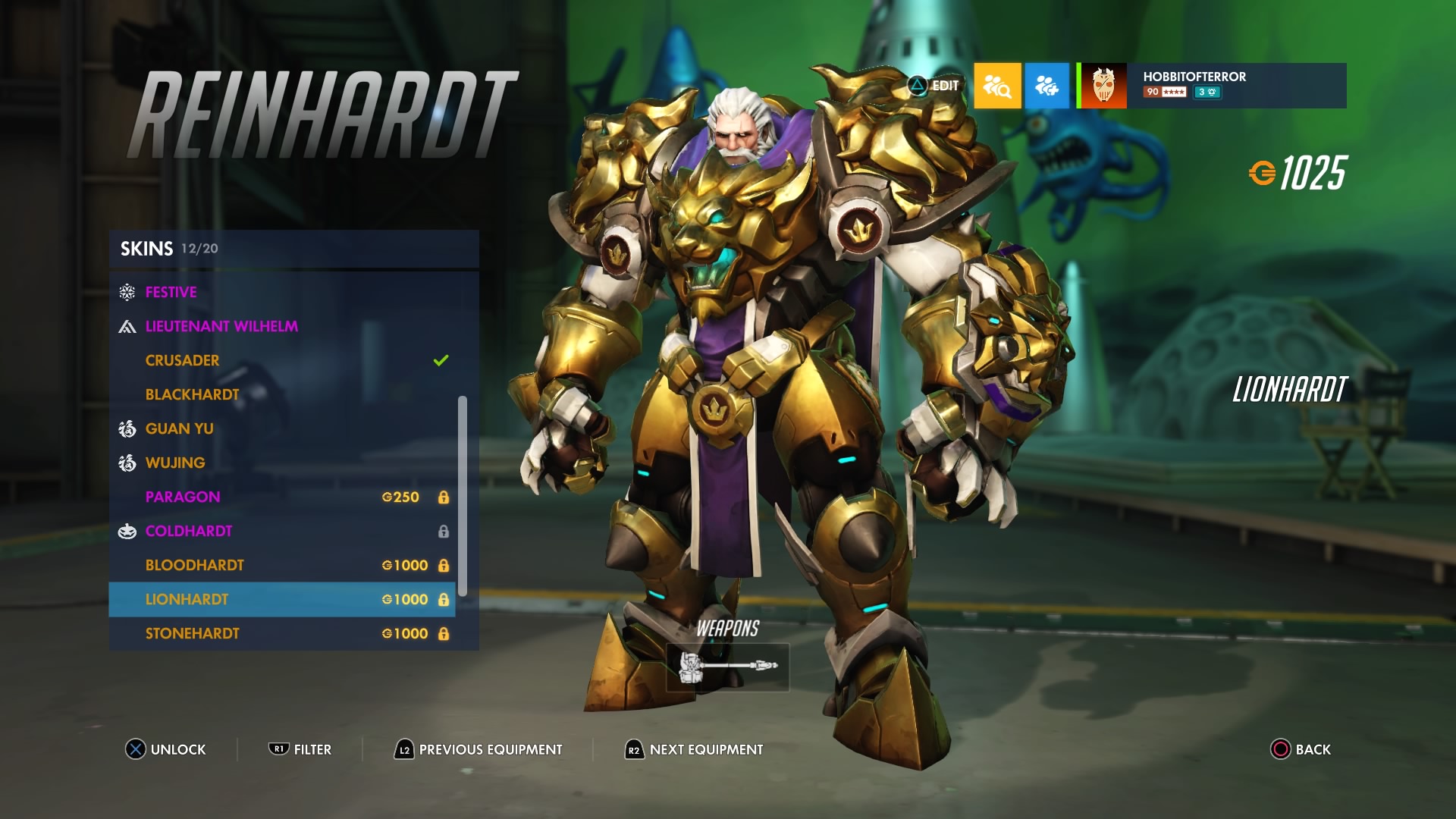 A skin that makes Reinhardt look more like an old, wise, justice king than a humble knight. It will truly make your peers look up to you for guidance while in the heat of battle. 
What's Awesome About Lionhardt:
It has a World of Warcraft flare and brilliance that makes playing in this skin super nostalgic. 
The glowing eyes and mouth of the lions just add to the WoW feel and also gives the skin that added magic touch. 
Rienhardts name is obviously a playoff this skins name Lionhardt. 
(This skin is available all your round)
See Lionhardt in action:
5.Greifhardt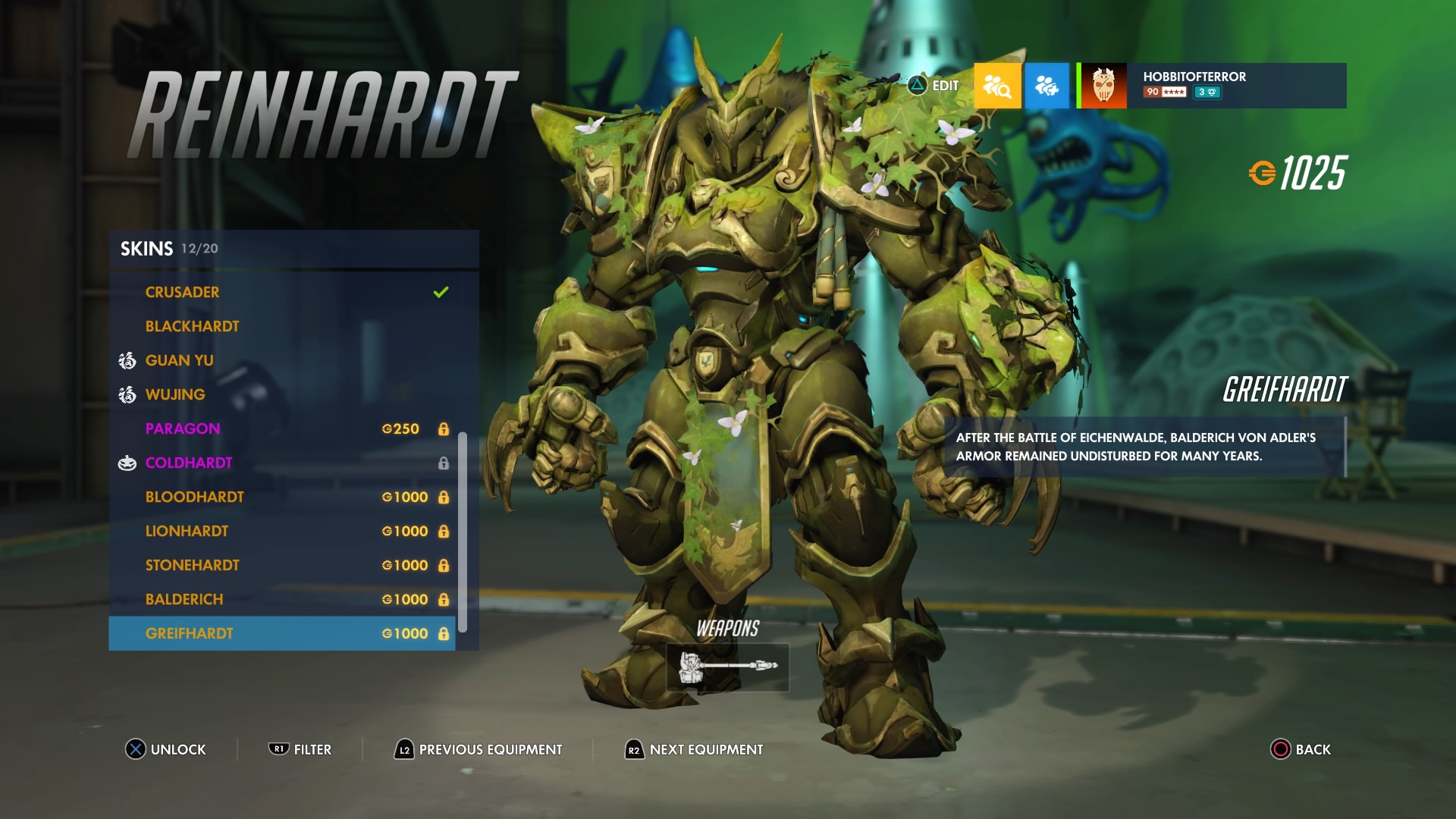 For many, many years the armor of the great warrior Balderich Von Adler still rests on the throne of the abandoned castle of Eichenwalde. 
What's Awesome About Greifhardt:
It made an appearance in the Reinhardt short "Honor and Glory" Which also gave us more insight into the man who had owned the armor before his tragic passing. 
You can also get this skin without all the vines and moss, but I found that this version of the skin gave off a bit of a haunting factor which is always a plus in my books.
It also gives this feeling that when you are playing in this skin that you are actually playing as  Balderich Von Adler's ghost, giving one last good fight before he fades away forever.
(This skin is available all year round)
See Greifhardt in action:
4.Gridironhardt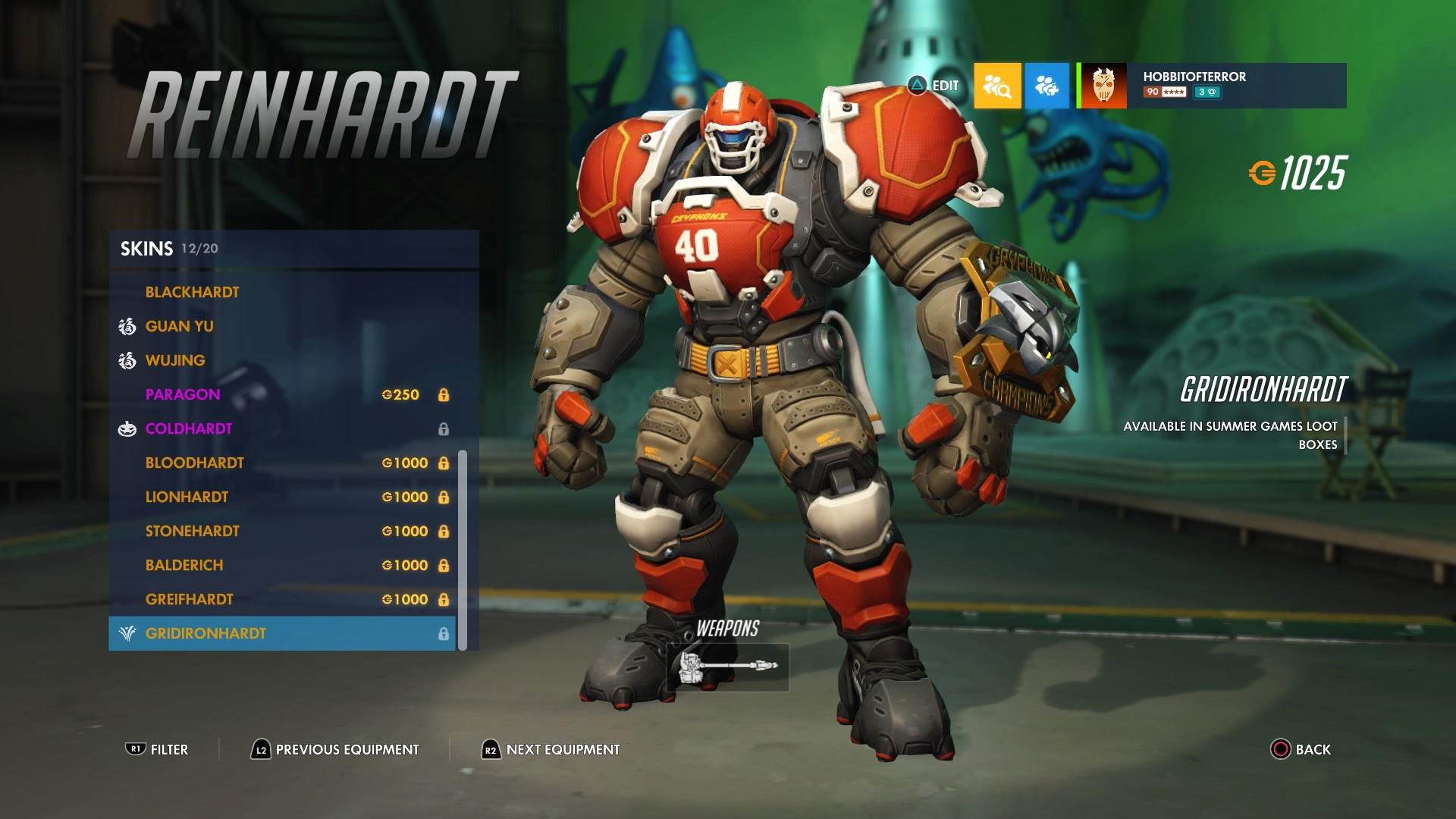 "Reinhardt, Reinhardt, oi, oi, oi!" is what we all are thinking if not already saying out loud while in this skin.
What's Awesome About Gridironhardt:
Your enthusiasm to charge into a 1 v 6 goes 95% to 200% in the span of 0.01 seconds while playing in this skin.
Out of all the Summer Olympic Event skins in Overwatch, this one matches the hero the best. I mean what better sport is there out there for Reinhardt then football. 
If you have a golden gun for Reinhardt this skin becomes 10x cooler and I will leave that for you to figure out why. 
(This skin is only available during the Summer Games Event)
See Gridironhardt in action:
3.Wujing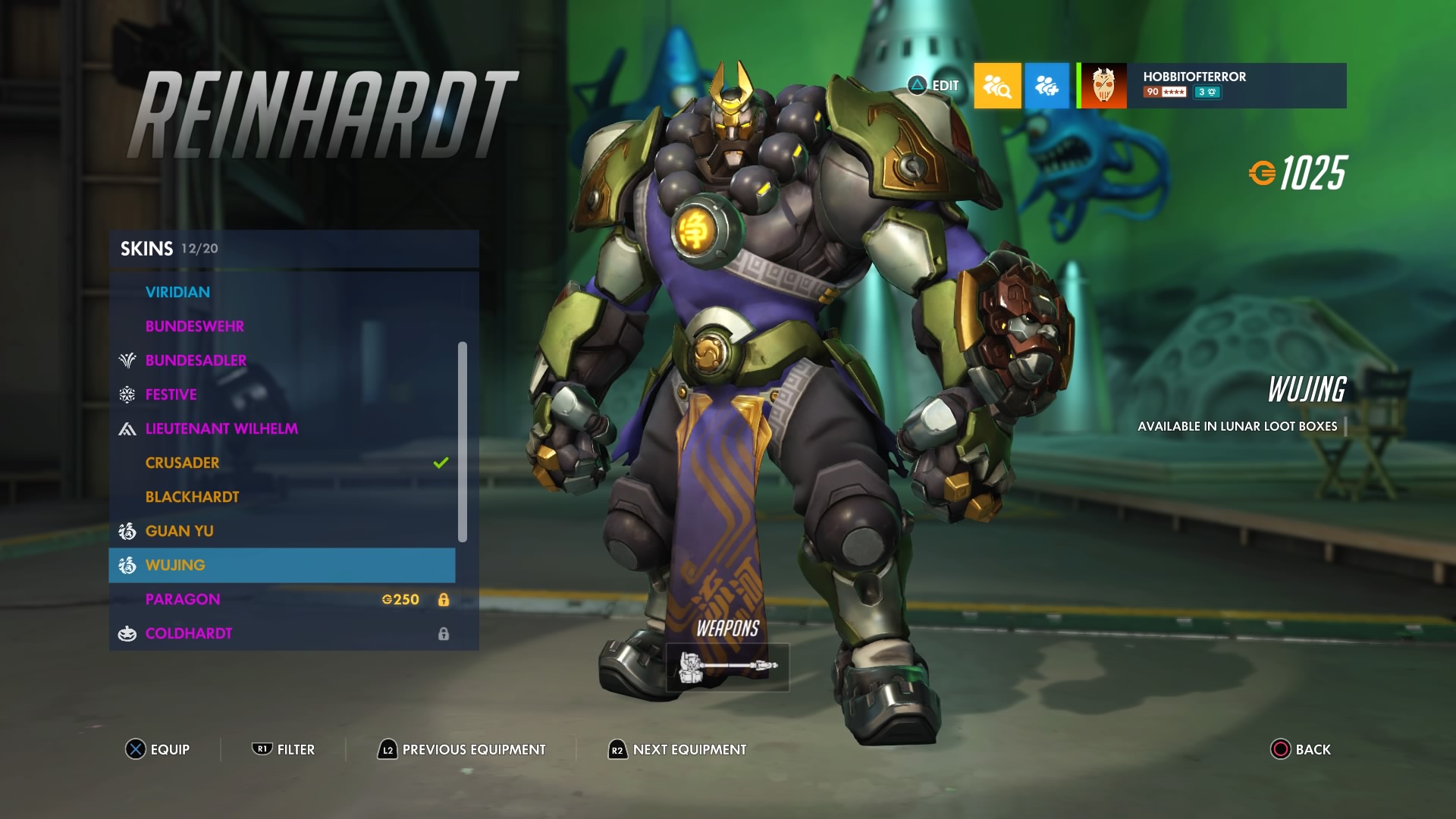 The first Reinhardt Lunar skin that was released a couple of years ago is utterly intimidating and will make those Reaper mains think a couple of times over before attacking you.
What's Awesome About Wujing:
Those yellow glowing eyes with that stoick faced helmet makes it look like Reinhardt is a warrior guardian ready to protect his point and his teammates at all costs. 
The muted greens, purples, golds, and browns makes this skin majestically pleasing to the eyes.
This skin is a good way to welcome in the new year with a strong and fierce foot forward. 
(This skin is only available during the Lunar Event)
See Wujing in action:
2.Guan Yu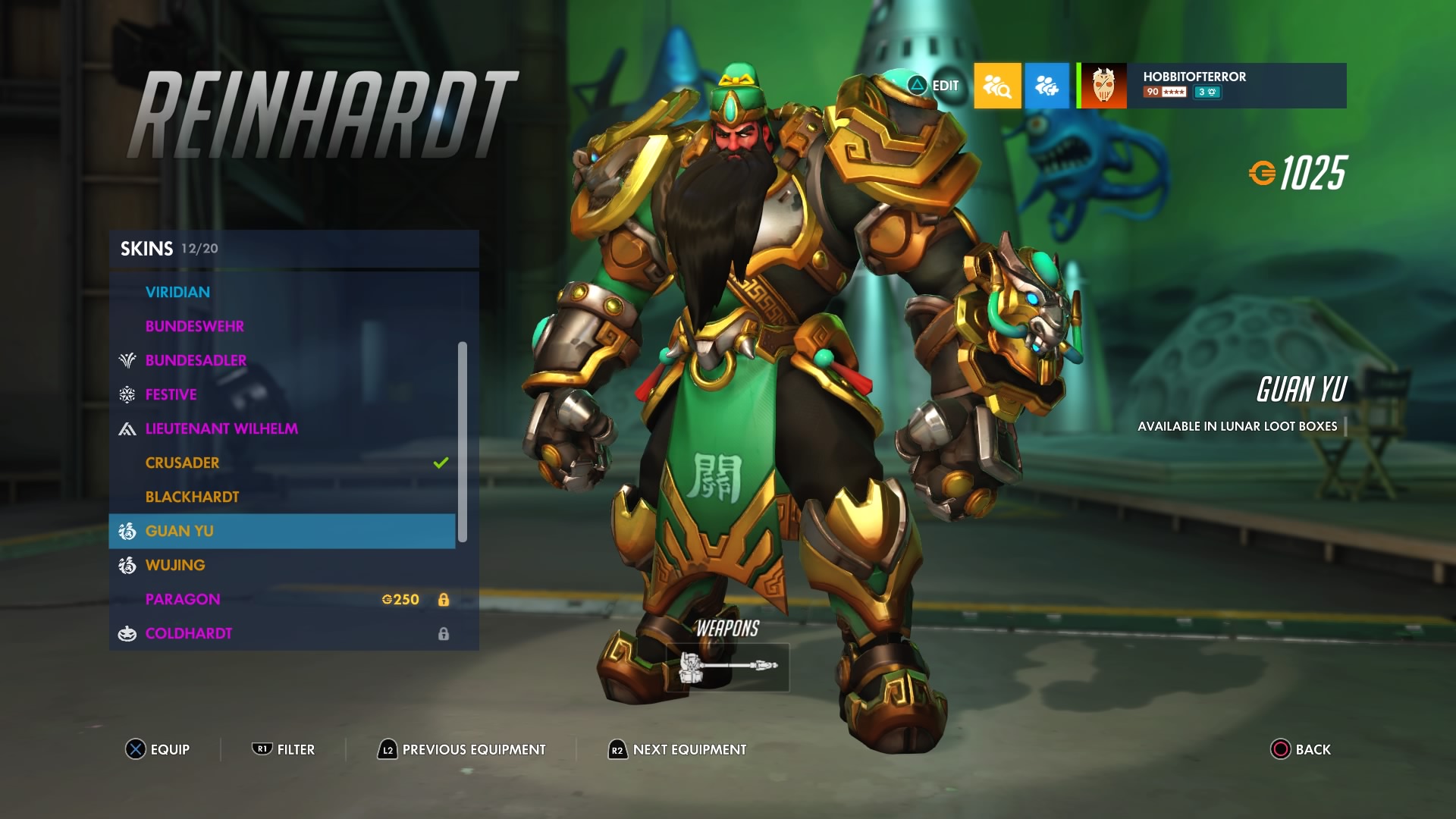 If "Lionhardt" made Reinhardt look like a great World of Warcraft king, then this skin makes him look like a majestic jaded emperor who is not afraid to bury you six feet under to protect his people. 
What's Awesome About Guan Yu:
The skin is beautifully put together with all the green, golds, and that pop of red. Just making Reinhardt feel more royal and powerful. 
Reinhardt gets to live out his dream of having a long dark beard that came down to his belt. (I actually don't know if that is Reinhardt's dream, but you never know.)
This skin, for some odd reason, gives off a "General Fong" aura from "Avatar: The Last Airbender". 
(This skin is only available during the Lunar Event)
See Guan Yu in action:
1.Crusader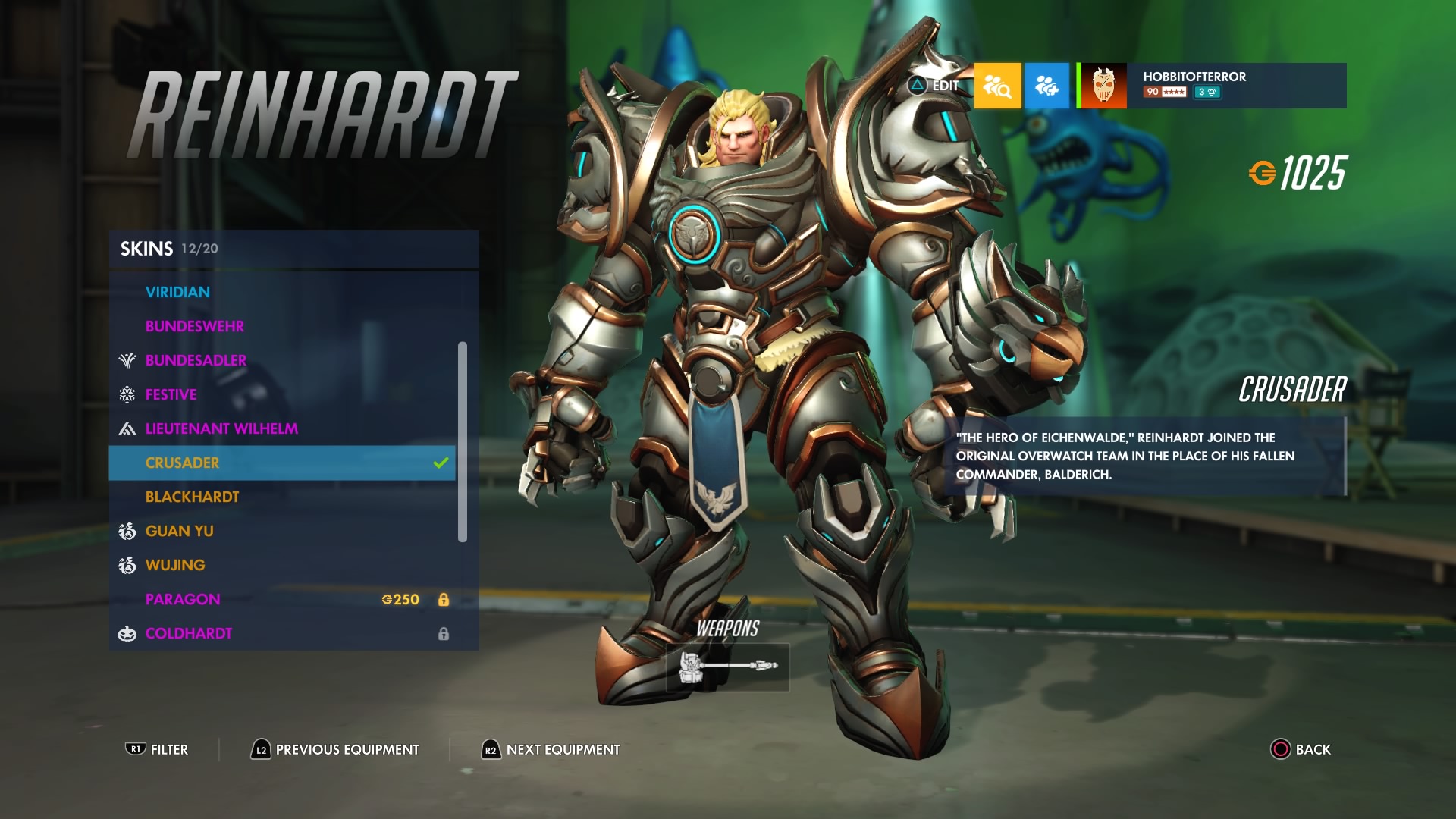 And at last, we have reached the most amazing, most epic skin out of all of Reinhardt's roster. So please give applause ladies and gents to the "Crusader" skin.
What's Awesome About Crusader:
It is his second (and his most expensive) canon skin out of his roster. And thanks to this skin we get to see what Reinhart looked like when he was a Crusader in his homeland of Germany before joining Overwatch. 
The skin made its day view in the Overwatch animated short "Honor and Glory" which had a lot of Overwatch fans crying. 
Playing in this becomes quite humorous after a few minutes of playing Overwatch. Even though this skin places Reinhardt most likely in his late 20's the game still sees Reinhardt as 63 so all his old man voice lines and taunts still play.
(This skin is available all year round)
SeeCrusader in action:
Reinhardt skin details:https://overwatch.fandom.com/wiki/Reinhardt/Skins_and_Weapons
You may also be interested in:
Image Gallery