[Top 10] MLB The Show 22 Best Free Agents
Updated: 01 Nov 2022 7:30 am
Are you looking for a challenge in MLB The Show 22? Look no further to the free agent team challenge! This list shows the top players that show up as a free agent in Diamond Dynasty.  These players all provide their own positive impact on your team and will help lead you on the path to victory!
10. Walker Buehler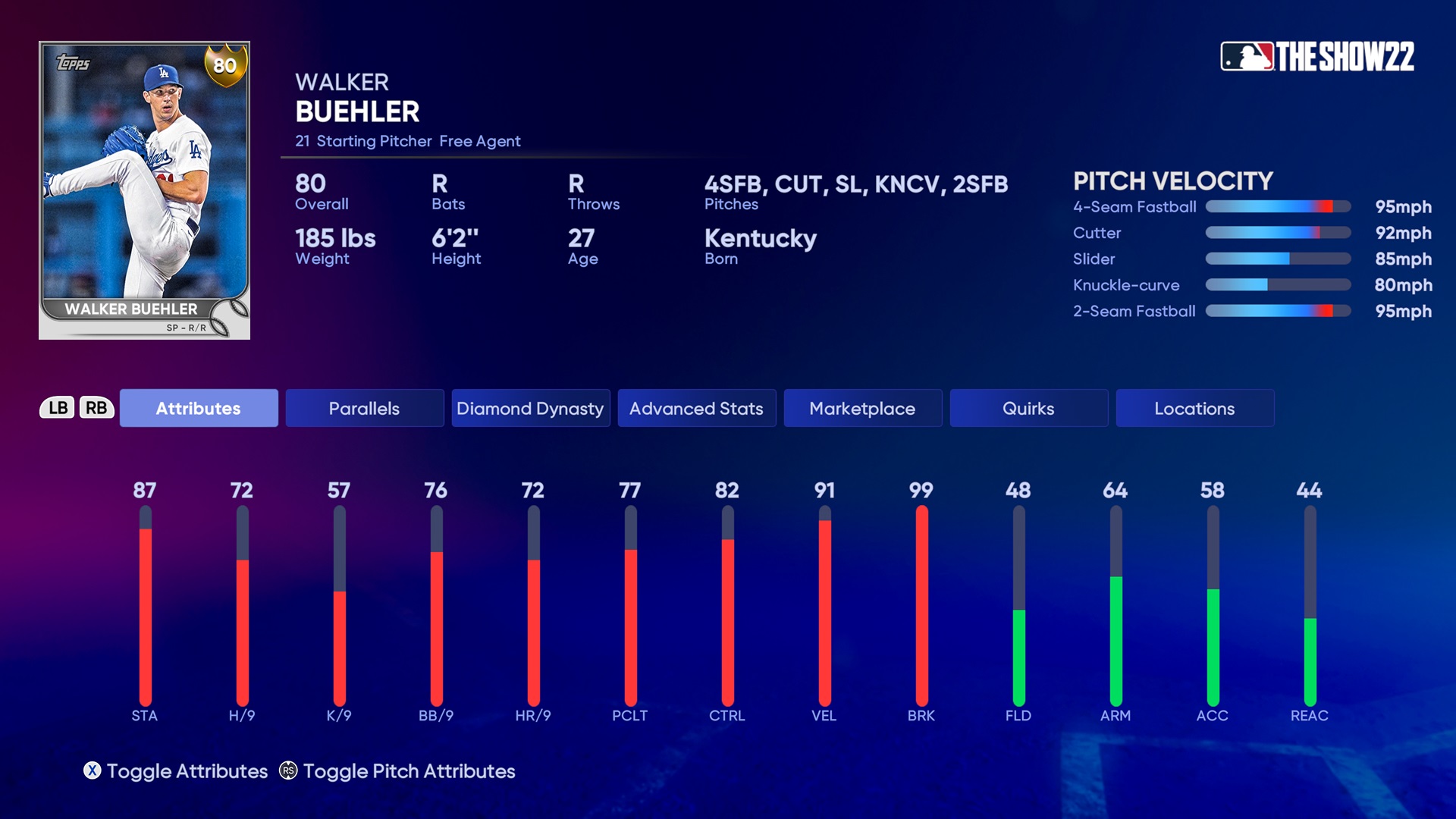 Now I know what you are thinking, that Buehler is on the Dodgers still, which is true in real life. But due to what I can only guess is that he is on injured reserve, he is showing up as a free agent within The Show 22. If you were going to try to create an all-free agent Diamond Dynasty, Buehler is the perfect addition to round out a rotation. His 99 break and 91 velocity help create elite speed and movement on pitches.
Why Buehler is a steal:
He is a elite pitcher that would bring a solid right handed pitcher to the rotation
His ability to limit hits and home runs brings a lot of defensive help in order to preserve leads
He has an excellent pitch combination that can generate misses easily
9. Daniel Hudson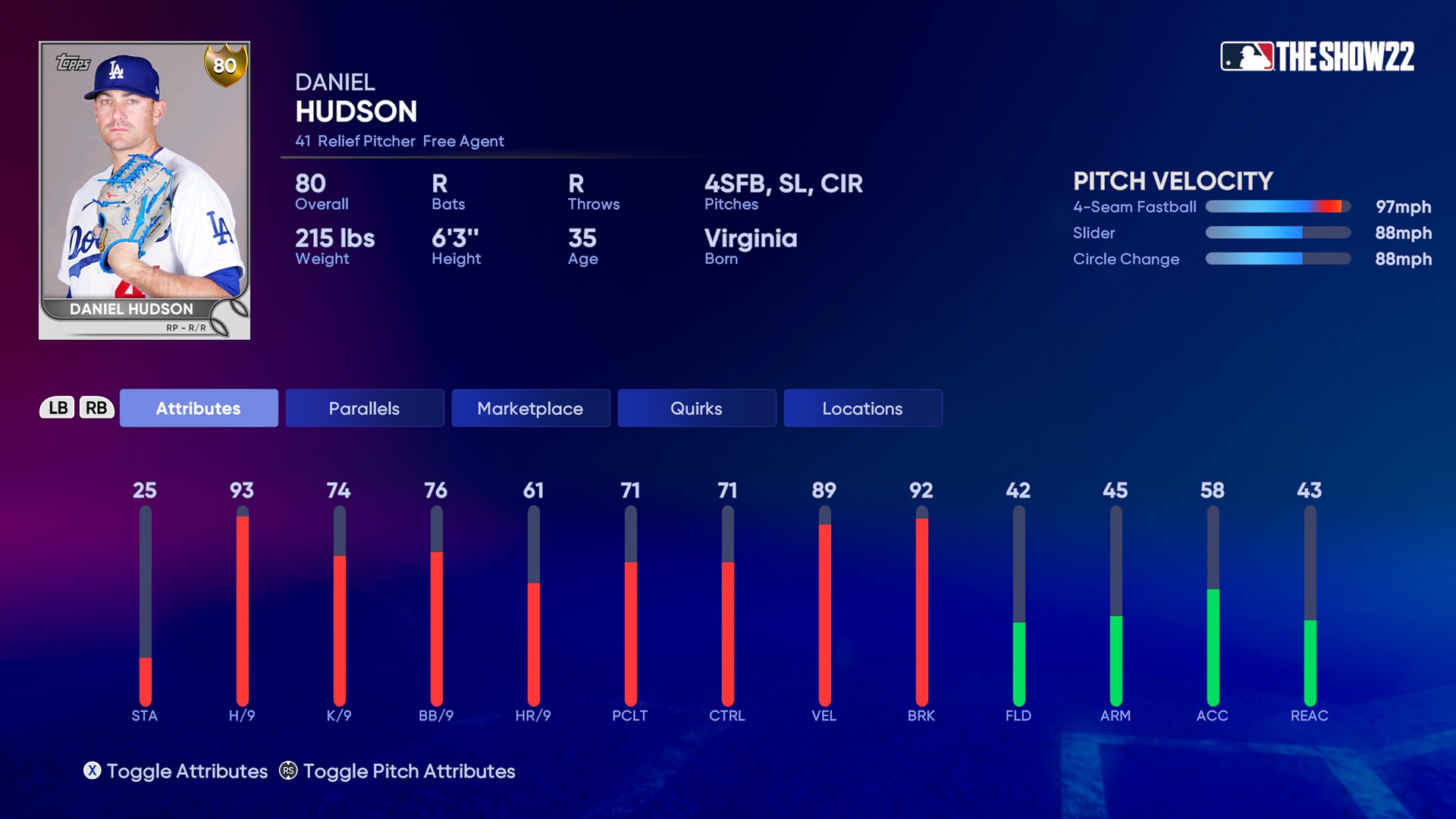 Daniel Hudson is another one like Buhler, where he is on a team but on injured reserve. Unfortunately for the World Series-chasing Dodgers, Hudson tore his ACL and was placed on the injured list at the end of June. Before getting injured, the 35-year old reliever was sitting at a 2.22 ERA with 30 strikeouts.
Why Huddy can help you:
His extremely high Hits Per 9 rating (93) means that he can limit hits very well and can provide excellent support in the later innings when trying to hold onto a lead.
His 4 seam fastball's velocity alone will catch hitters off guard.
With his change of pitch speed and Hits Per 9 he can be used in the back end of the bullpen to hold a lead or even as a closer.
8. Kevin Kiermaier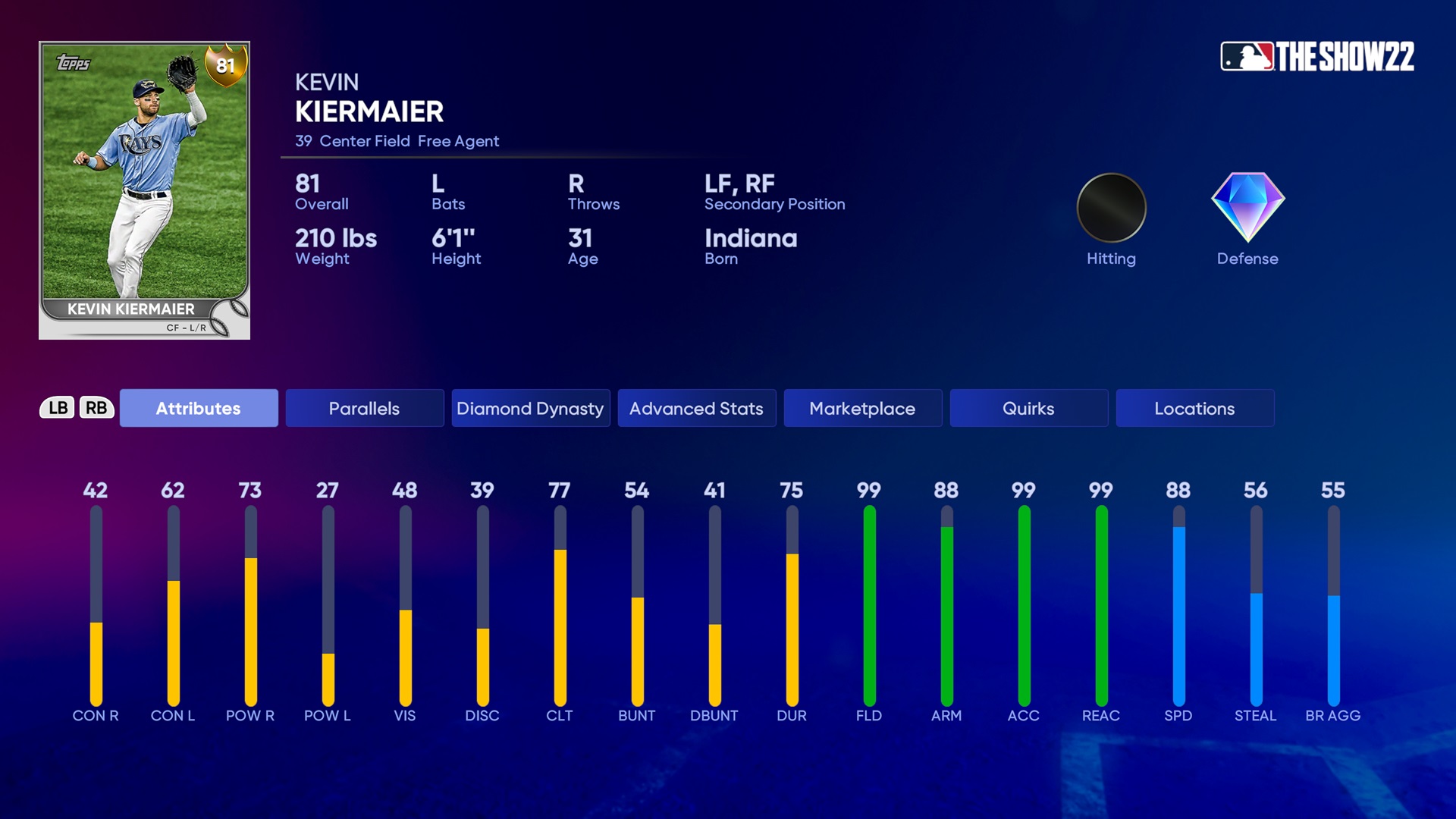 Another veteran on the injured reserve and another solid addition to your squad. A veteran in the outfield, Kiermaier can play all three positions and has the defensive stats to prove it. He is sitting at almost a perfect 99 overall in all of his fielding stats, which alone gives him the diamond rated defense. Before undergoing hip surgery, Kevin was batting a 2.28 average with 7 home runs and 22 RBI.
Reasons why Kevin Kiermaier should make the team:
As stated before, he can play every outfield position and be a strong player doing so
He has great power hitting stats against right handed pitching, with good contact against left handed pitching, making him a threat at the plate as well
His 88 speed rating gives him the opportunity to dig out extra base hits and steal bases
7. Andrew Kittredge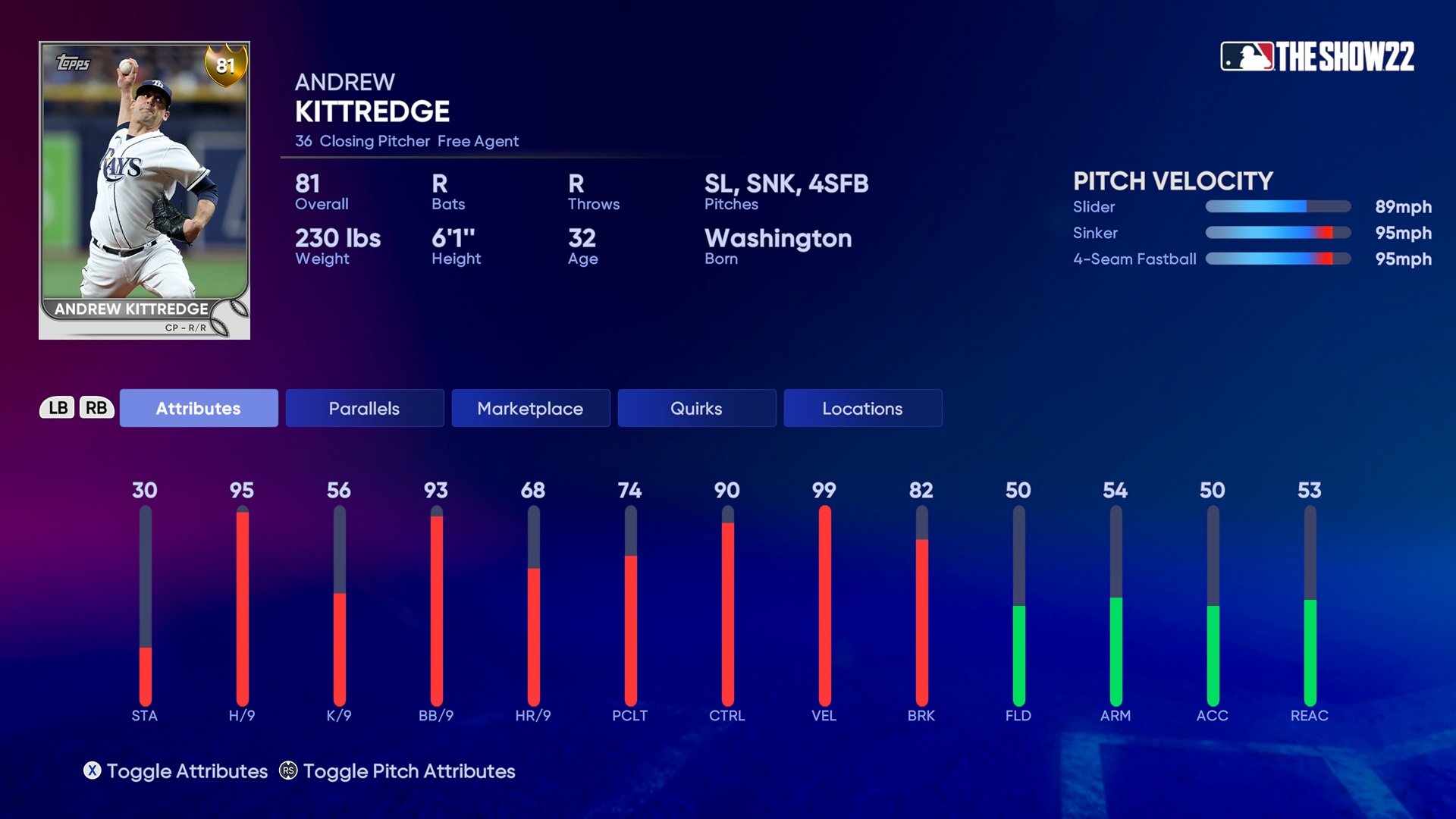 The second Ray's player on this list is yet another injured reserve player. Kittredge is a closing pitcher with an excellent arm. The 32-year old has a high 90's sinker and a 4 seam fastball, along with a high 80's slider to throw hitters off. His high Hits Per 9 and Walks Per 9 indicate that he has the ability to hold a lead and secure the win. 
Why Kitt should be trusted in your bullpen:
With his 99 velocity and slider as his main pitch, he can cause a lot of swings and misses with his insane change of speed.
His sinking fastball's movement has the ability to paint all 4 corners of the plate
Kitt is another strong choice to bring of the back end of the bullpen
6. Stephen Strasburg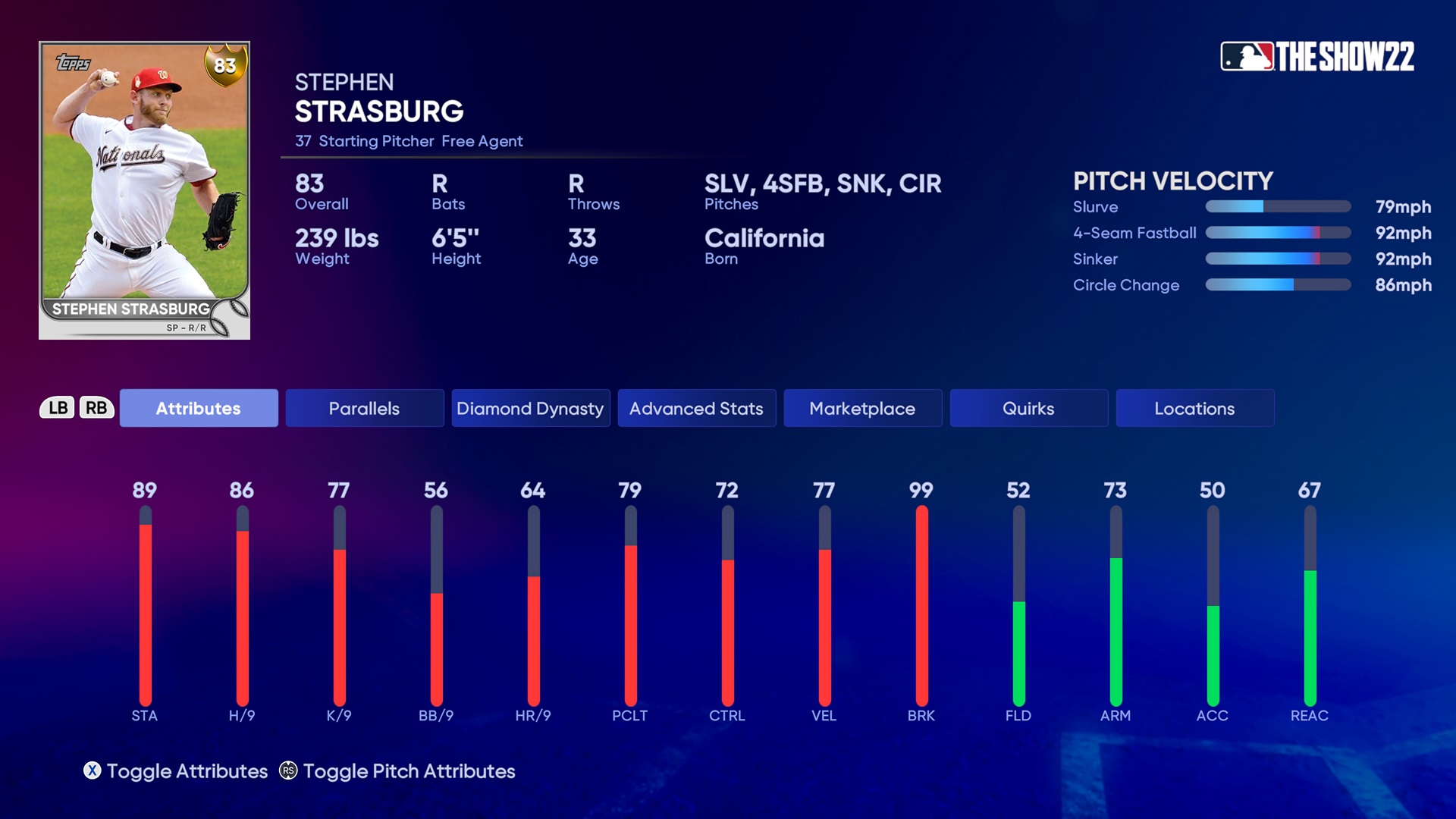 Stras is back on injured reserve for what seems like the 5th season in a row. The once dominant pitcher has been struggling with injuries for the past few seasons now, and some wonder if he will ever be able to come back to his prime form. On the bright side, he is still a dominant pitcher in the show, which is why he is on this list of the best free agents. The three-time All-Star has a career ERA of 3.24 with 1723 strikeouts.
How Stras can help you:
Strasburg has a bitch selection centered around movement, which is shows by his 99 pitch break.
His Slurve is his primary and strikeout pitch, which goes hand in hand with his low 90's fastball and sinker.
He has great stamina which means he can go deep into games as long as he is performing well
5. Trevor Bauer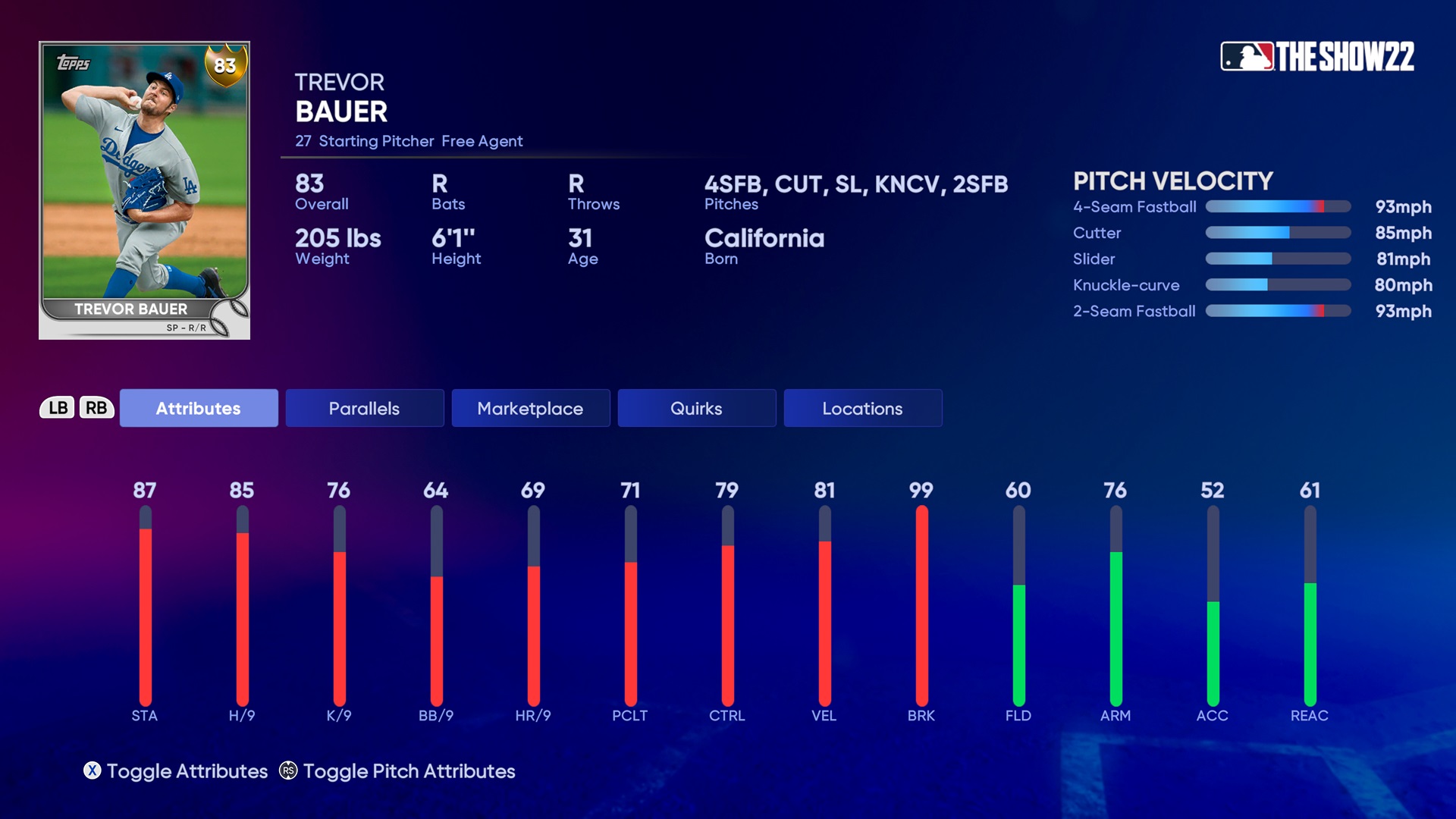 The 2020 Cy Young Award winner has had a very embattled past 2 years, but that doesn't change the fact that he is still a dominant player in the show. The 31-year-old right-hander has a great mix of velocity and movement on his pitches. Even though he has not played baseball since June of 2021, Bauer still has a career ERA of 3.79 with 1416 strikeouts.
Why you should give Trevor a chance:
Between his mid 90's fastball and his low to mid 80's cutter and slider, his change of velocity messes with the timing of batters and helps generate strikeouts.
He is also able to create poor contact within the break of his pitches
He is a workhorse that has the ability to work long into a game while maintaining velocity.
4. Michael King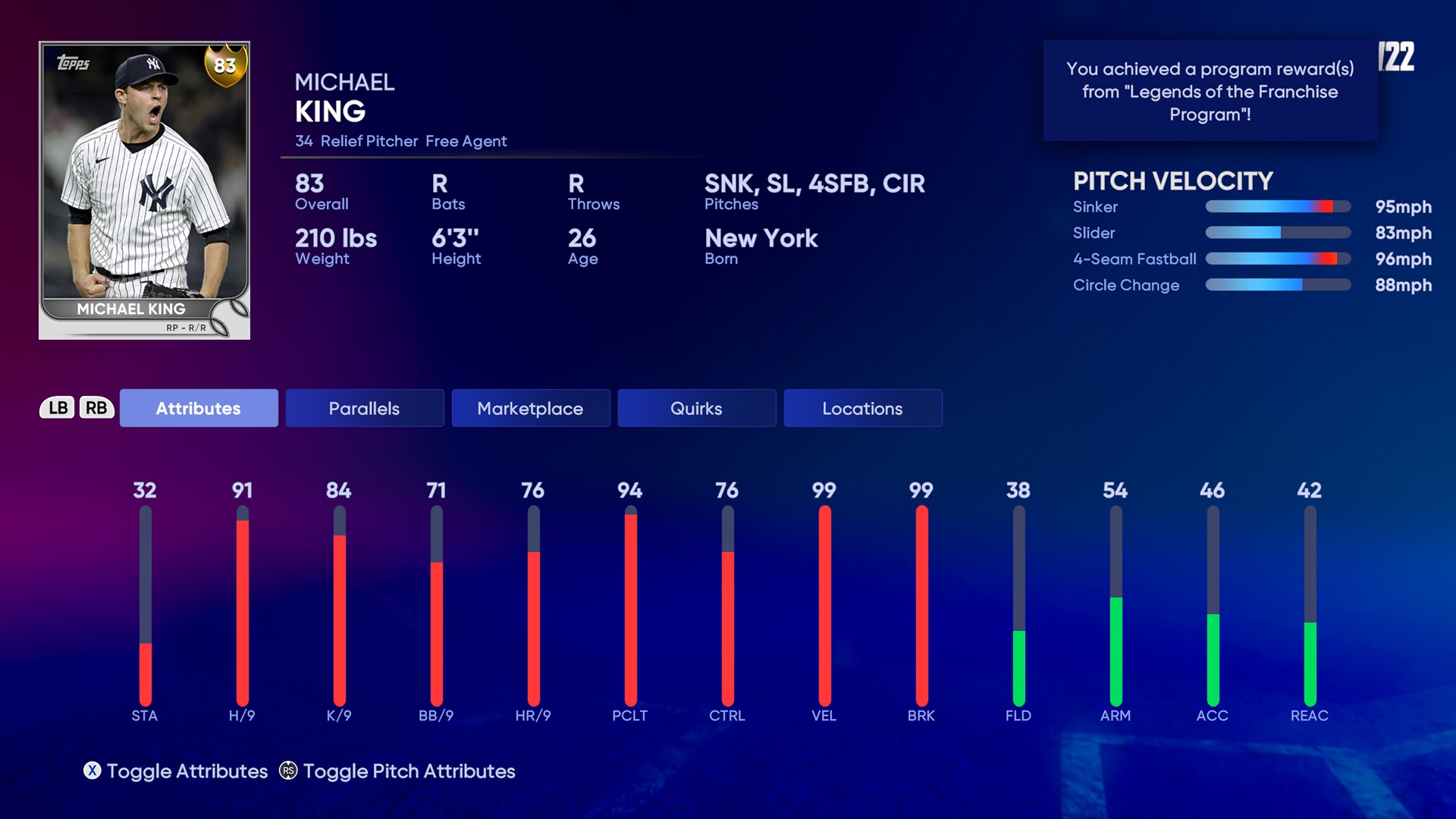 Michael King was having a masterful season until a fractured left elbow landed him on the injured reserve and ended his season. The 26-year old relief pitcher had a low ERA of 2.29 with a record of 6 wins and 3 losses, with 1 save and 66 strikeouts. A bright light in the Yankees' bullpen can be a bright light in yours in The Show 22.
Why King deserves to be in your bullpen:
His high 90's sinker can be thrown with pinpoint accuracy in every area of the plate.
Between that sinker, his mid 90's fastball and his low 80's slider, the change of velocity causes a lot of swings and misses.
His high Hits Per 9 and Strikeouts Per 9 stats means he limits the amount of hits he gives up and mainly strikes people out.
3. Luis Severino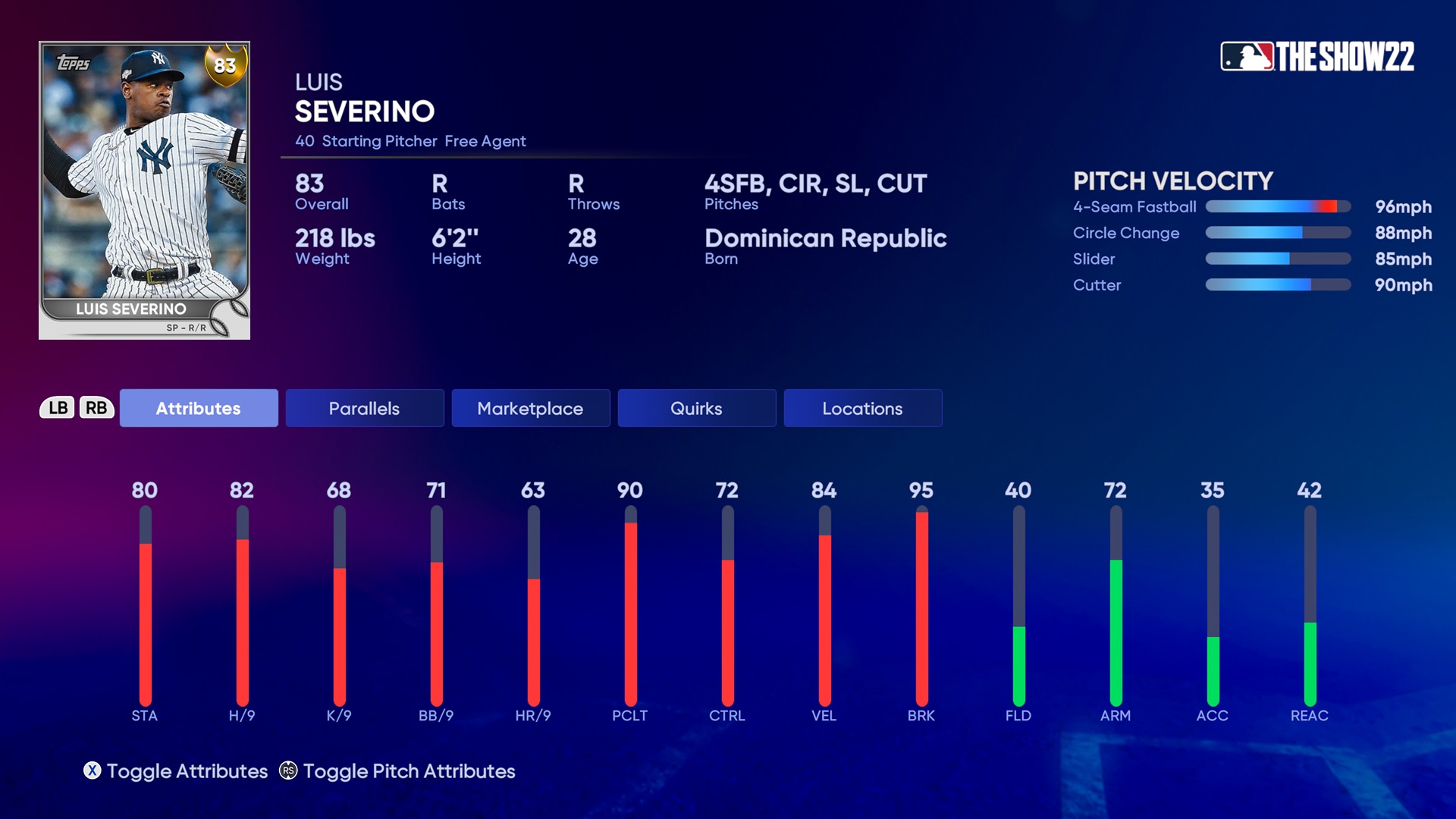 Another player who was placed on the injured reserve has recently returned to action. Severino is making his way back to help the Yankees push for a World Series, and he can help you push for one as well as a free agent in The Show 22! So far this season, he has a 3.41 ERA with a record of 6 wins, 3 losses, and 105 strikeouts.
Why should Luis pitch for you:
As a starter he has a relief pitcher velocity changes with a high 90's fastball and a mid 80's changeup and slider
With his 90 clutch pitching stat, he can help come in clutch in those tough moments for you in game
He has the stamina to keep rolling through games if he is doing well, and the Hits Per 9 stat to make sure he does well
2. Tyler Glasnow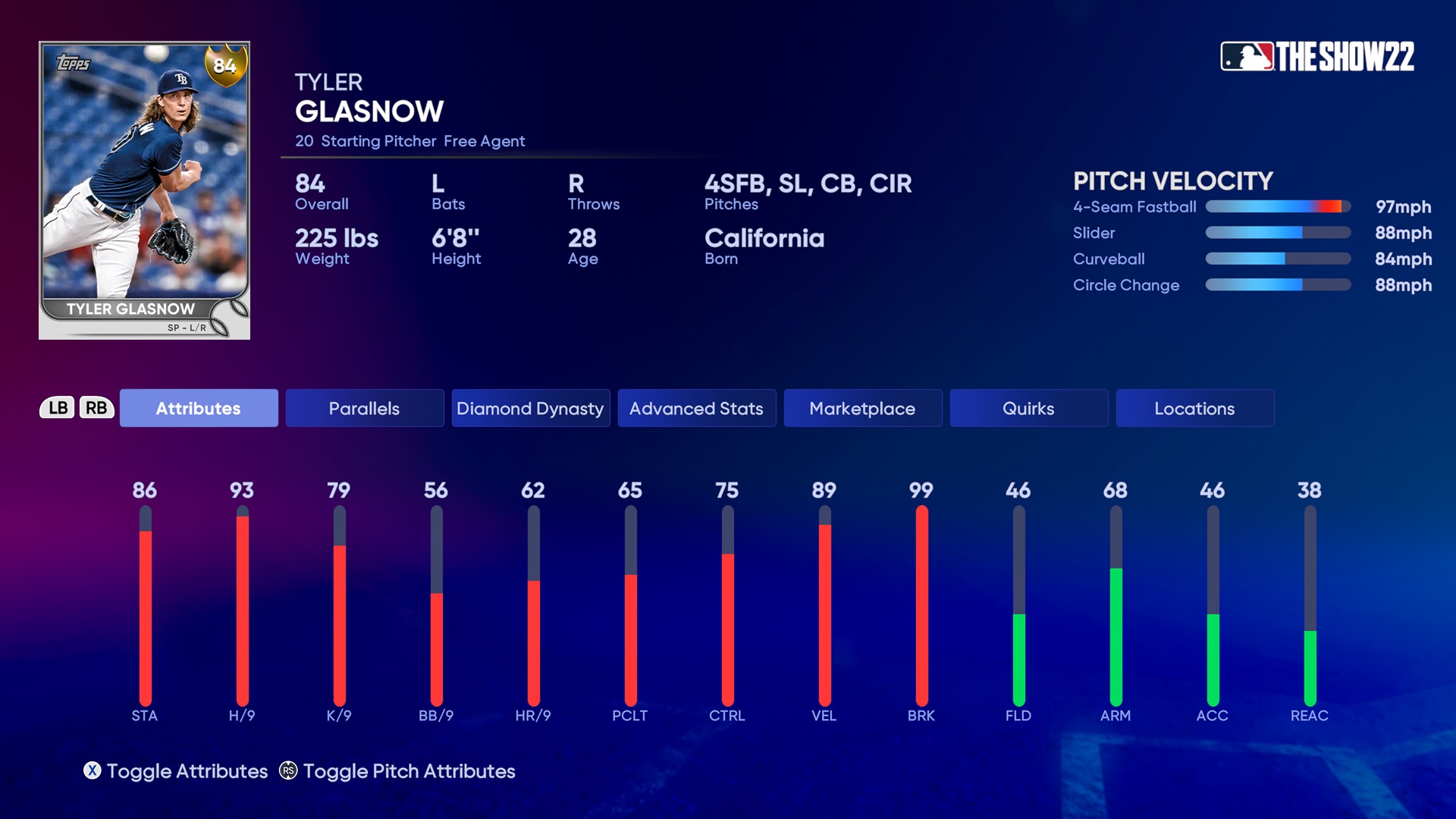 Then the last Tampa Bay player on the list, and your ace in the rotation of your all-free agent team. This lefty has been on injured reserve since March of 2022 and was just recently reactivated to help the Rays postseason push. There is hope that Glasnow returns to his prior form after his Tommy John surgery.
Why Glasnow would work for you:
He has a high 90's fastball that created swings and misses with its natural movement
With his high stamina rating and high hits per 9 rating, he can make it deep into a game with limiting the hits that he gives up
His velocity helps makes his offspeed pitches even more deceptive by throwing off the timing of the batter.
1. Fernando Tatis Jr.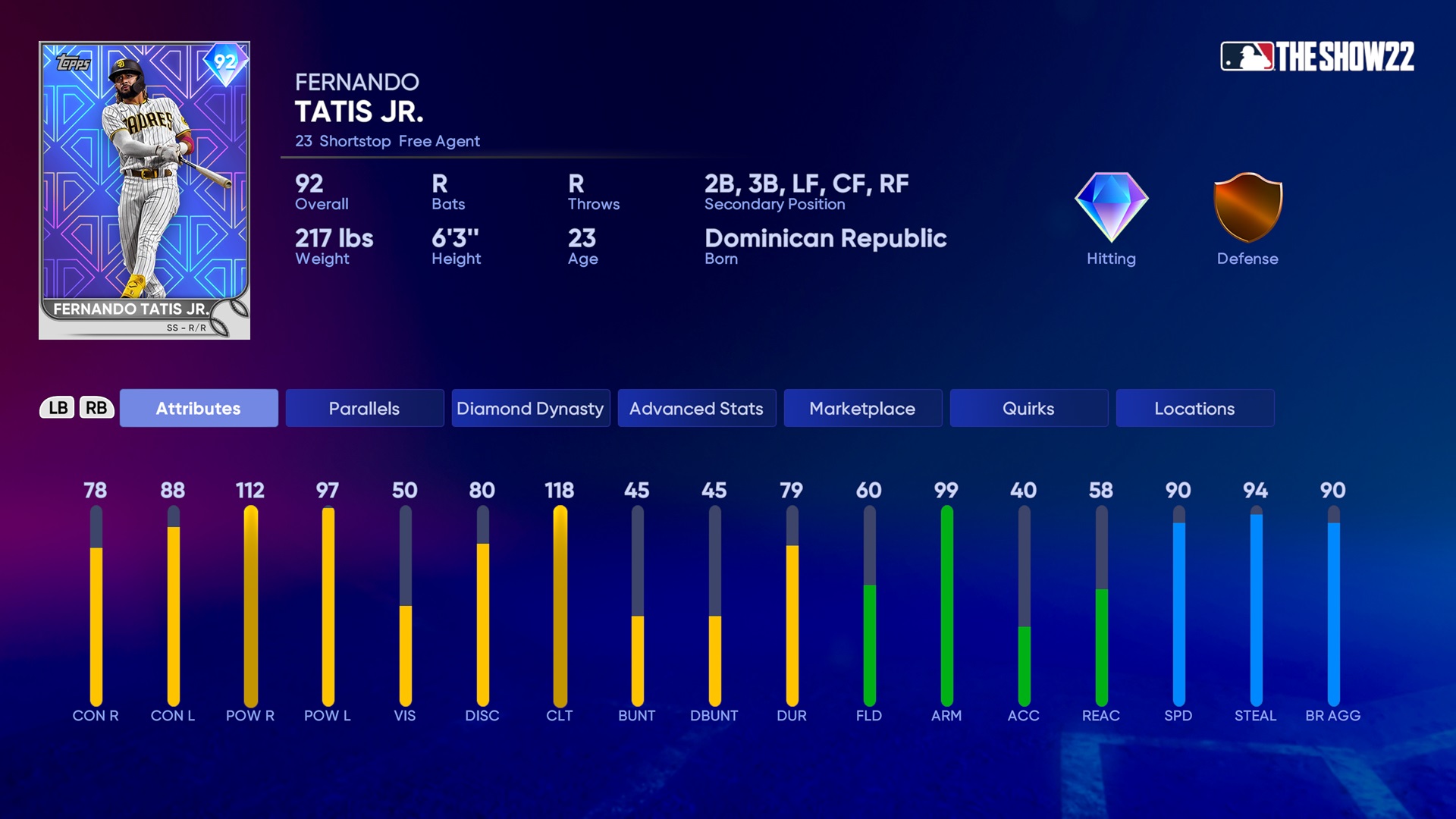 The Padres' superstar is out this season and part of next due to a PED suspension and wasn't able to join them on their postseason run. Tatis Jr. has insane hitting stats that give you power from both right-handed and left-handed pitching, as well as the speed to create extra base hits. Tatis has a .292 career batting average with 81 home runs and 195 RBIs.
Why El Nino should be on your squad:
He is one of the best hitters in the game, and can get base hits, extra base hits and home runs to every corner of the park
He can play a multitude of positions so his versatility can help build the best team possible
His speed helps with stolen bases and extra base hits, as well as his very high clutch pitching stats 
You may also be interested in: