[Top 25] MLB The Show 22 Best Players
Updated: 01 Nov 2022 7:29 am
Mookie Betts showing why he is on this list
When playing any game the objective of the game usually includes getting the best possible items or combination of items that you can have for the game.  Think of this article as your guide to the best players to stack your team with in MLB The Show 22. These players are the best of the best and will help you bring home that World Series trophy over and over again!
1. Aaron Judge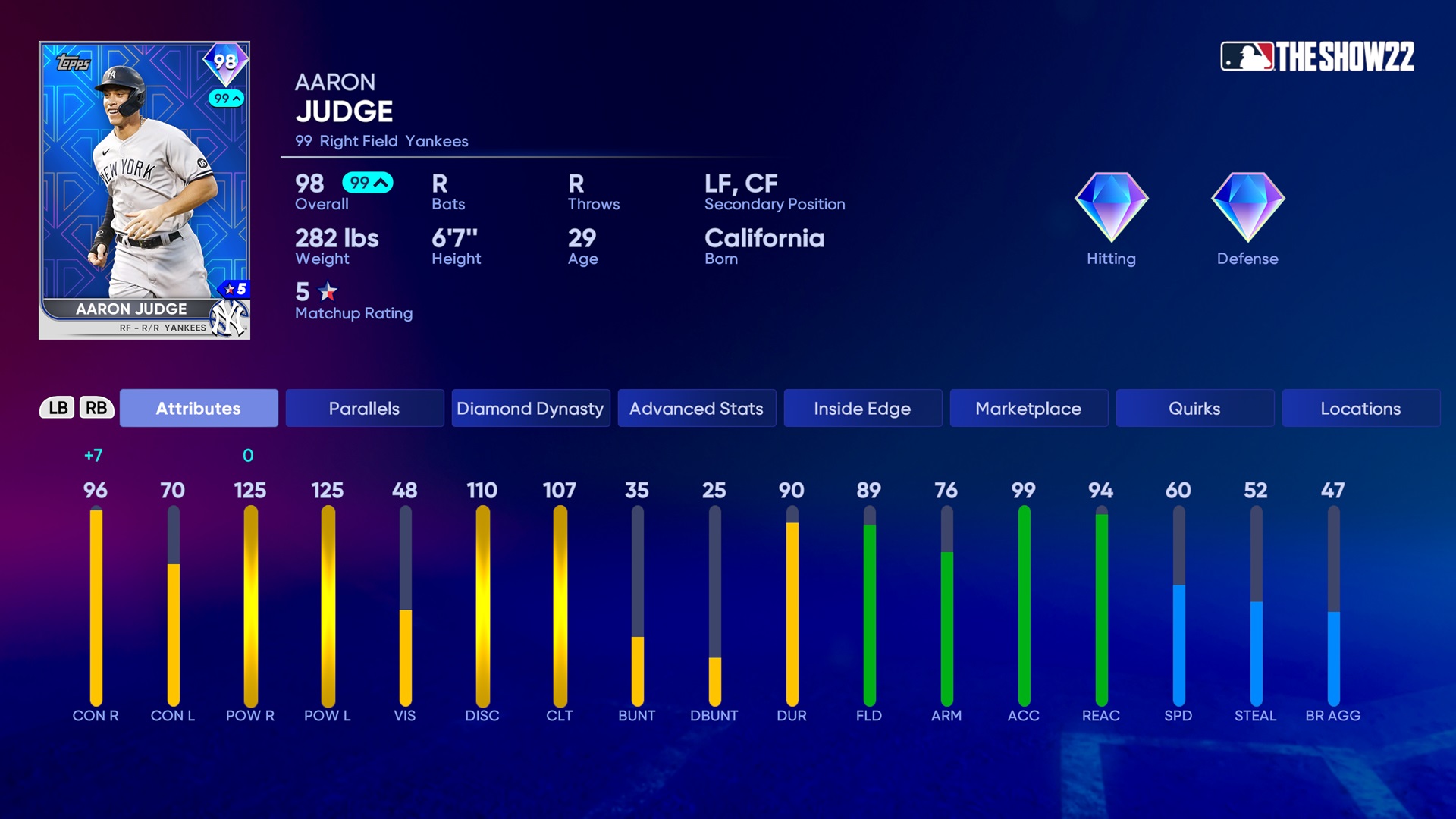 Judge in action
Aaron Judge went off this year in a good way, all while helping the Yankees to another postseason berth. Judge broke the record for most home runs in a season in the American League with 62. On top of that, he was chasing the triple crown (when a player leads the league in batting average, home runs, and RBI's) until the very last game of the season. On top of the 62 home runs, Judge hit a stellar .311 average with 131 runs batted in.
Why should you use Judge?
He is a jack of all trades, he can play offensive and defensive baseball extremely well.
With his maxed out power rating from left and right hand pitching, he is a threat no matter who is on the mound
His hidden trait is that, for being a power hitter, he can run well and has decent speed that can turn those hits that aren't out of the park into extra base hits.
Aaron Judge full details here 
2. Jacob deGrom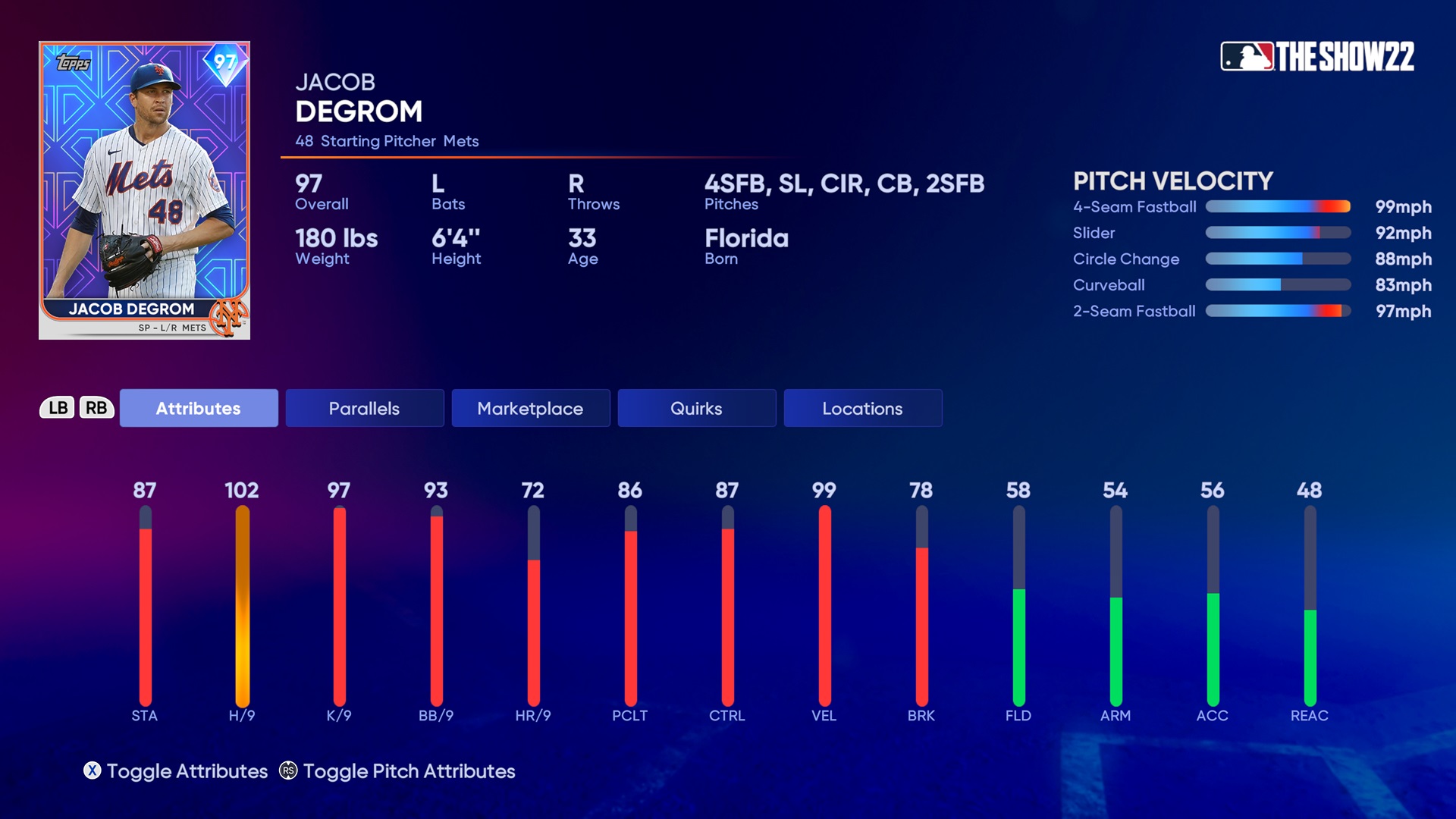 deGrom's 2022 highlights
Another elite pitcher who has struggled with injuries in the past few years, DeGrom is still the best pitcher to do it in this day and age. Even though he is 33 years old, he is showing no signs of slowing down (other than the injuries). No matter what rehab assignment he goes through, he comes back throwing absolute fire. With an almost 100 MPH 4 seam and 2 seam fastball, it is hard for anyone to get a hit off of Jacob. Even though deGrom had a stellar outing in the Wild Card games, it wasn't enough to take the Mets to the Divisional round.
Why Jacob:
The velocity is the best in the game.  His fastball is very hard to catch up with
He still has a lot of control over his secondary pitches and creates a ton of movement off of the plate with them
When he is on point he can easily pitch complete games with high strikeout ratios
deGrom's full details here
3. Edwin Diaz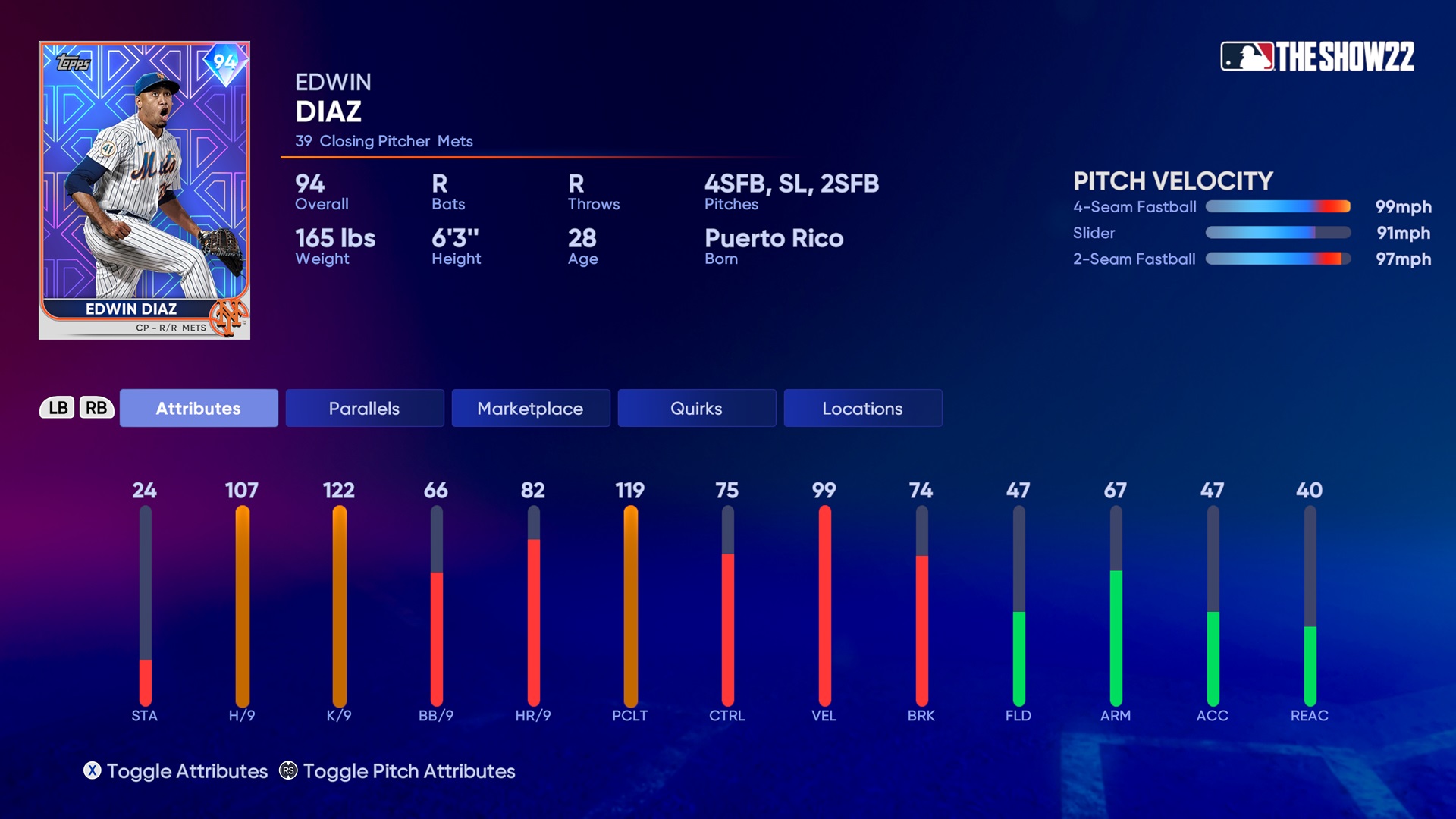 Diaz's action from 2022
The second of three Mets' pitchers on this list is the centerpoint of a potent Mets bullpen. Coming off another excellent year, Diaz posted a minimal 1.31 ERA with a total of 118 strikeouts while converting 32 out of 35 save opportunities. Even though he put on excellent innings during Wild Card Weekend, it wasn't enough to keep the Mets in the playoffs.
Why Diaz should be in your bullpen:
He is a save machine and will hold your lead to secure you the win
The high 90's fastball also has a lot of movement, which causes swing and misses and poor contact.
With his 107 hits per 9 and 122 strikeouts per 9, he is almost impossible to hit and racks up a lot of strikeouts while at it
Diaz's full stats here
4. Shohei Ohtani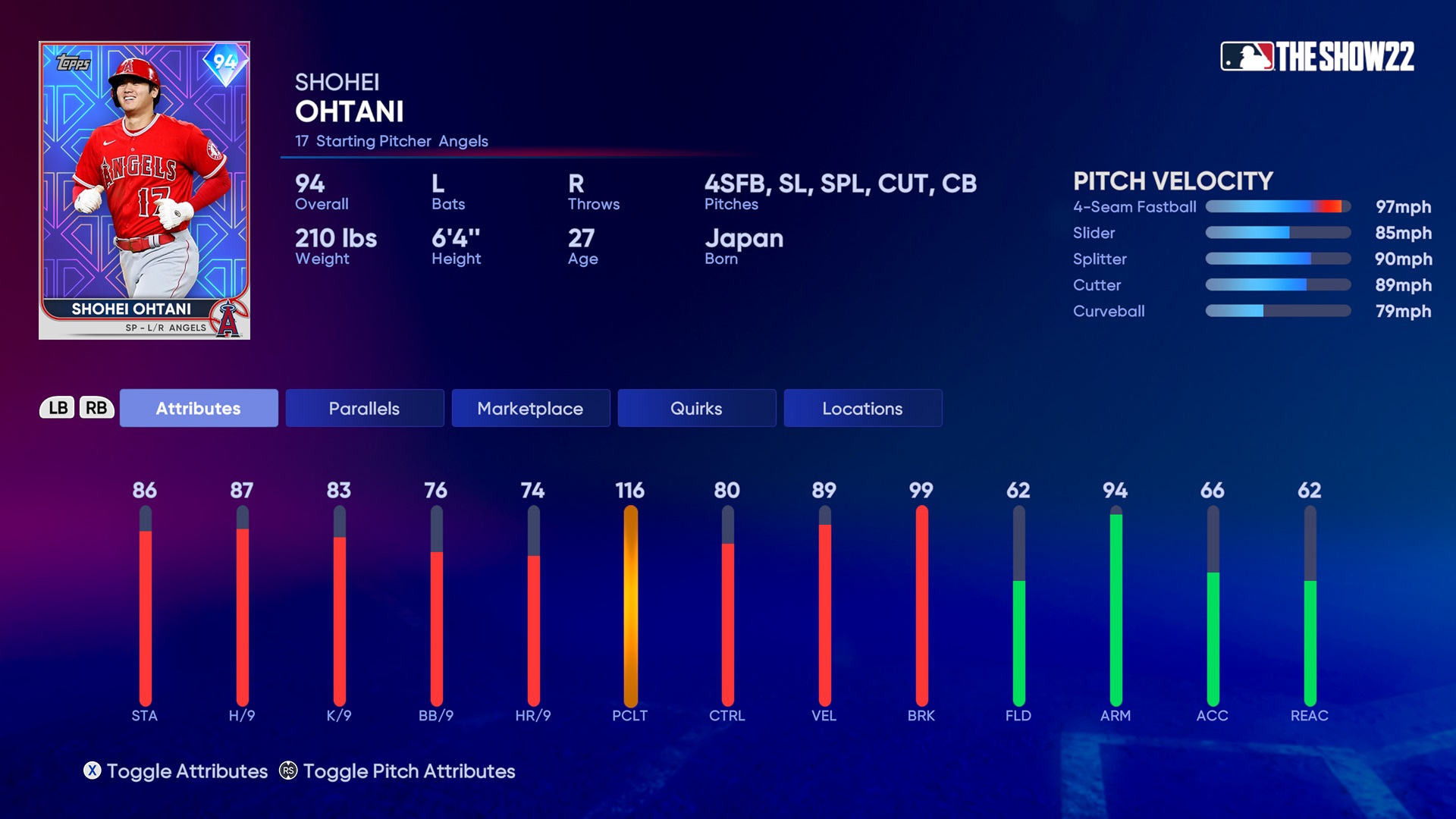 Watch Ohtani's magical season
The dual threat phenom The ever-versatile Ohtani is one of the most feared pitchers in the league. He is often referred to as the modern day Babe Ruth, due to his dominance from the mound and from the batter's box. In a game in 2022, Ohtani became the first player to record 10 strikeouts, 2 RBI's and a stolen base in a single game.
Why trust Ohtani:
Not only pitching power, but hitting power as well
Has high velo with great break, causing a lot of swings and misses
His slider is an excellent strikeout pitch with great off plate movement
Ohtani's full stats here
5. Fernando Tatis Jr.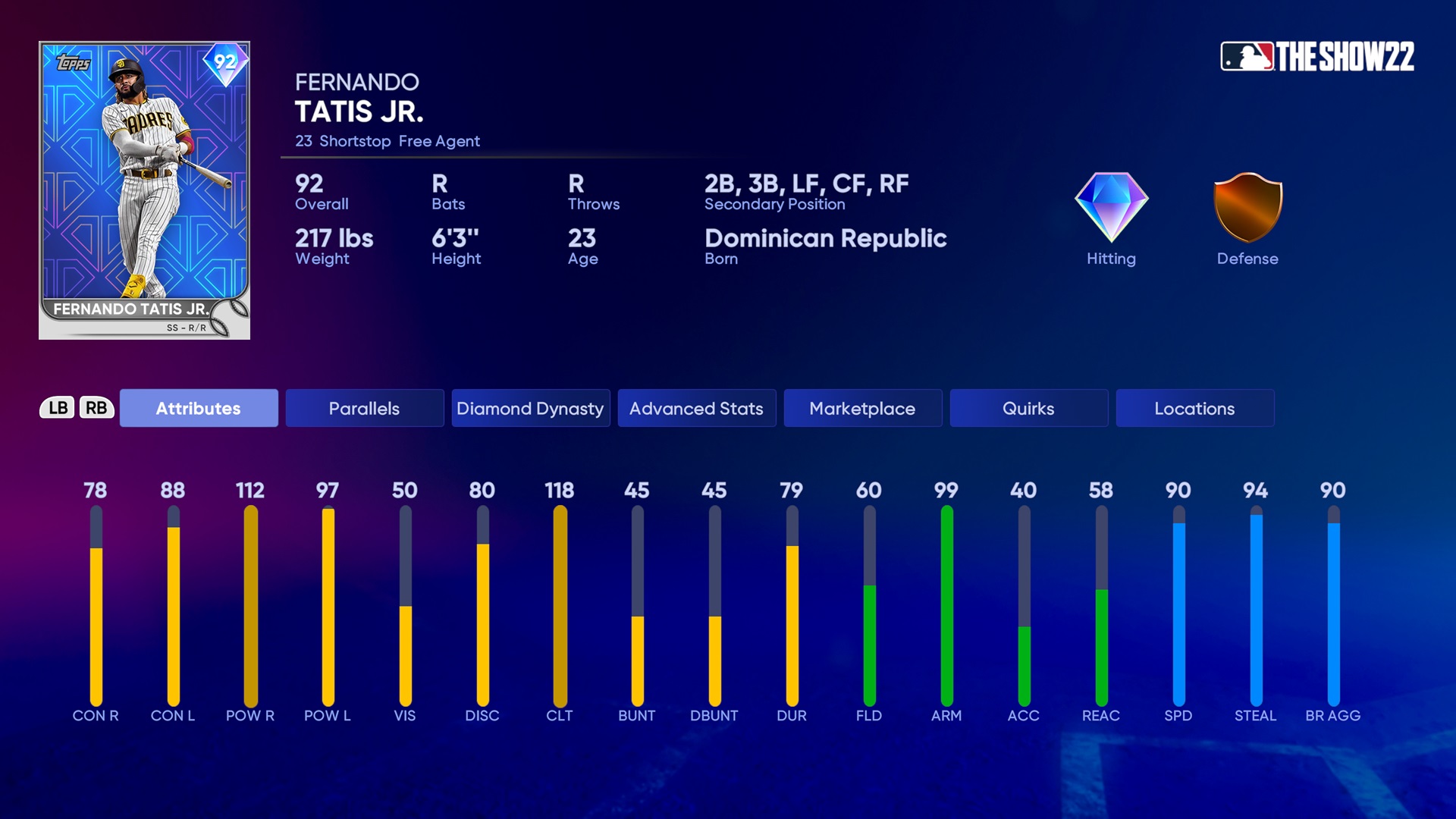 Watch Tatis Jr's career highlights
The Padres' superstar is out this season and part of next due to a PED suspension and wasn't able to join them on their postseason run. Tatis Jr. has insane hitting stats that give you power from both right-handed and left-handed pitching, as well as the speed to create extra base hits. Tatis has a .292 career batting average with 81 home runs and 195 RBIs. 
Why El Nino should be on your squad:
He is one of the best hitters in the game, and can get base hits, extra base hits and home runs to every corner of the park
He can play a multitude of positions so his versatility can help build the best team possible
His speed helps with stolen bases and extra base hits, as well as his high clutch pitching stats 
Tatis Jr's full stats here
6. Paul Goldschmidt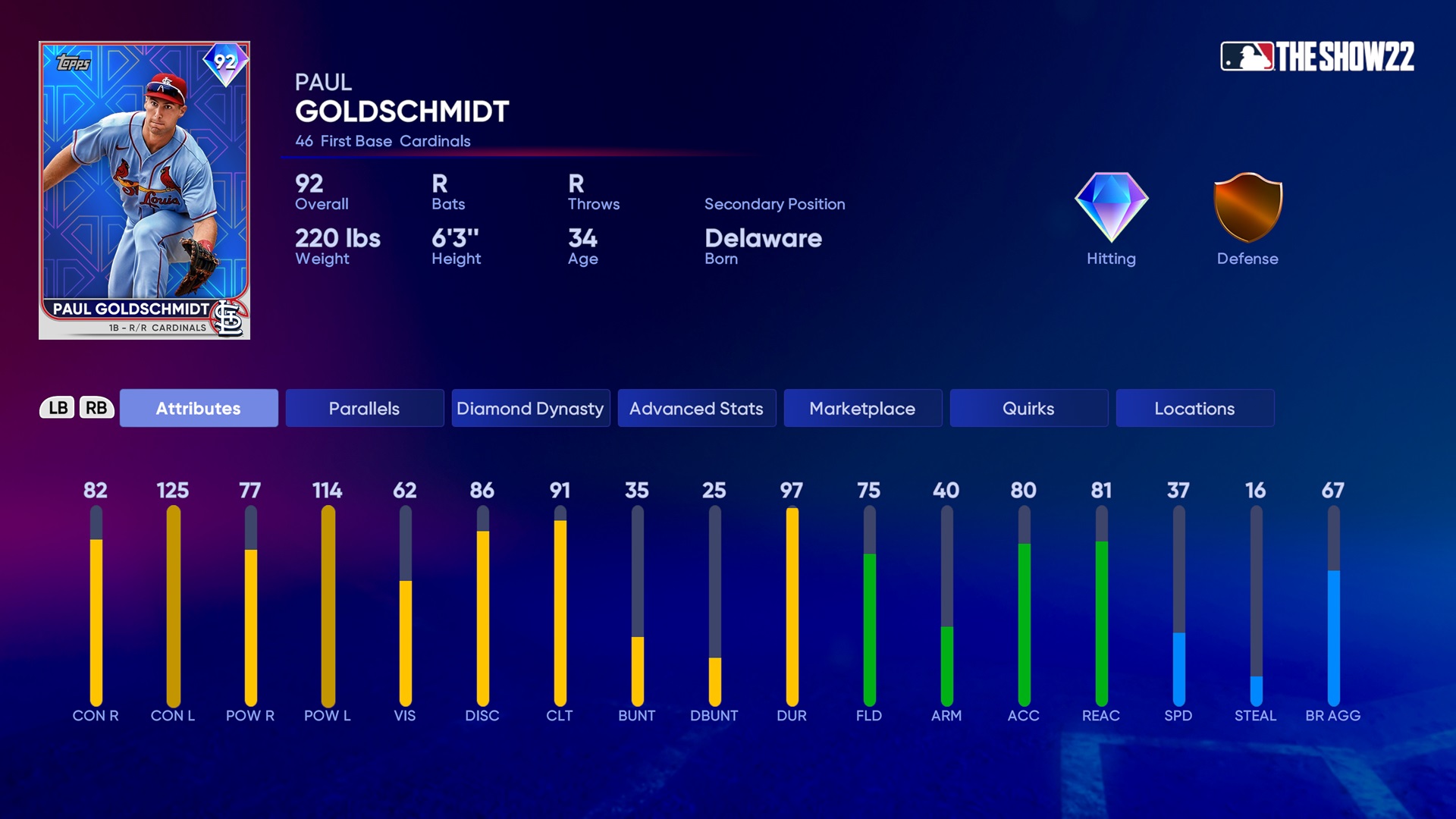 Number one out of two of the Cardinal's corner players, Goldschmidt, or Goldy, is an absolute staple on first for the Cards. Since being traded to them from the Diamondbacks, he has been a staple of their offense and defense and keeps getting better with age. He had a career year in 2022 with a batting average of .317 with 35 home runs, and 115 RBI's.
Why Goldy should play for you:
He is a decent 1st baseman with fantastic hitting stats
He can hit left handed pitchers very well, with maxed out contact and almost maxed out power against them, while still having great contact and power against right handers
He is a clutch hitter, who can be depended on when you need some runs scored.
Goldy's full stats here
7. Mike Trout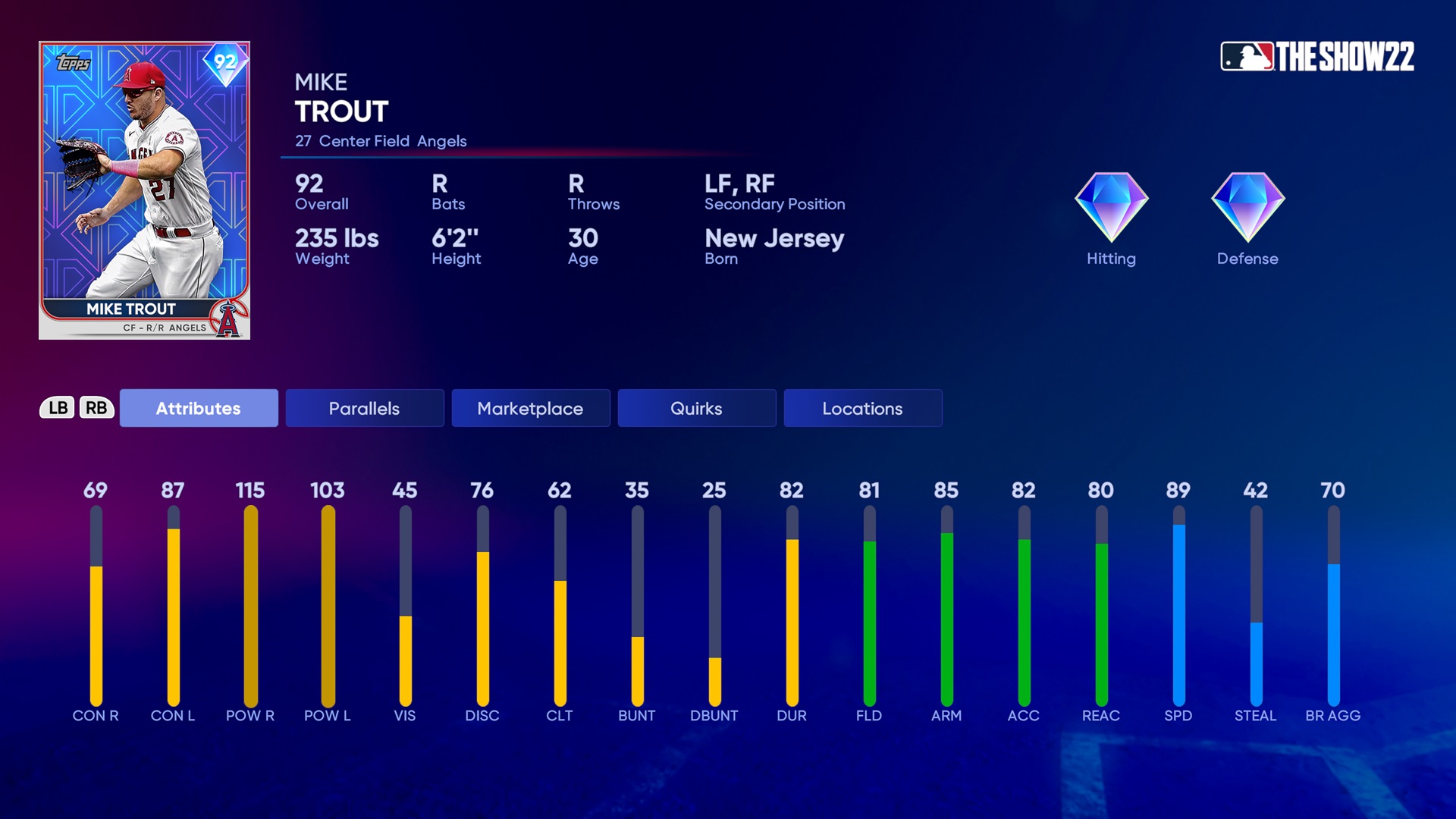 Mike Trout's 2022 best plays
Mike Trout is a true superstar, arguably the best center fielder in MLB today. From the ability to hit home runs to chasing down fly balls in all different parts of center field, Trout can do it all. Mike Trout ended the season with a .283 batting average with a whopping 40 home runs and 80 RBI's.
Why you should use Trout:
He is excellent at the plate, with huge power against left and right handed pitching, he has the skill to hit home runs on almost everyone on the mound
If he isn't hitting home runs, he can make contact with the ball and has the speed to rack up extra base hits
He has excellent defensive skills and can play the entire outfield with ease
Trout's full stats here
8. Justin Verlander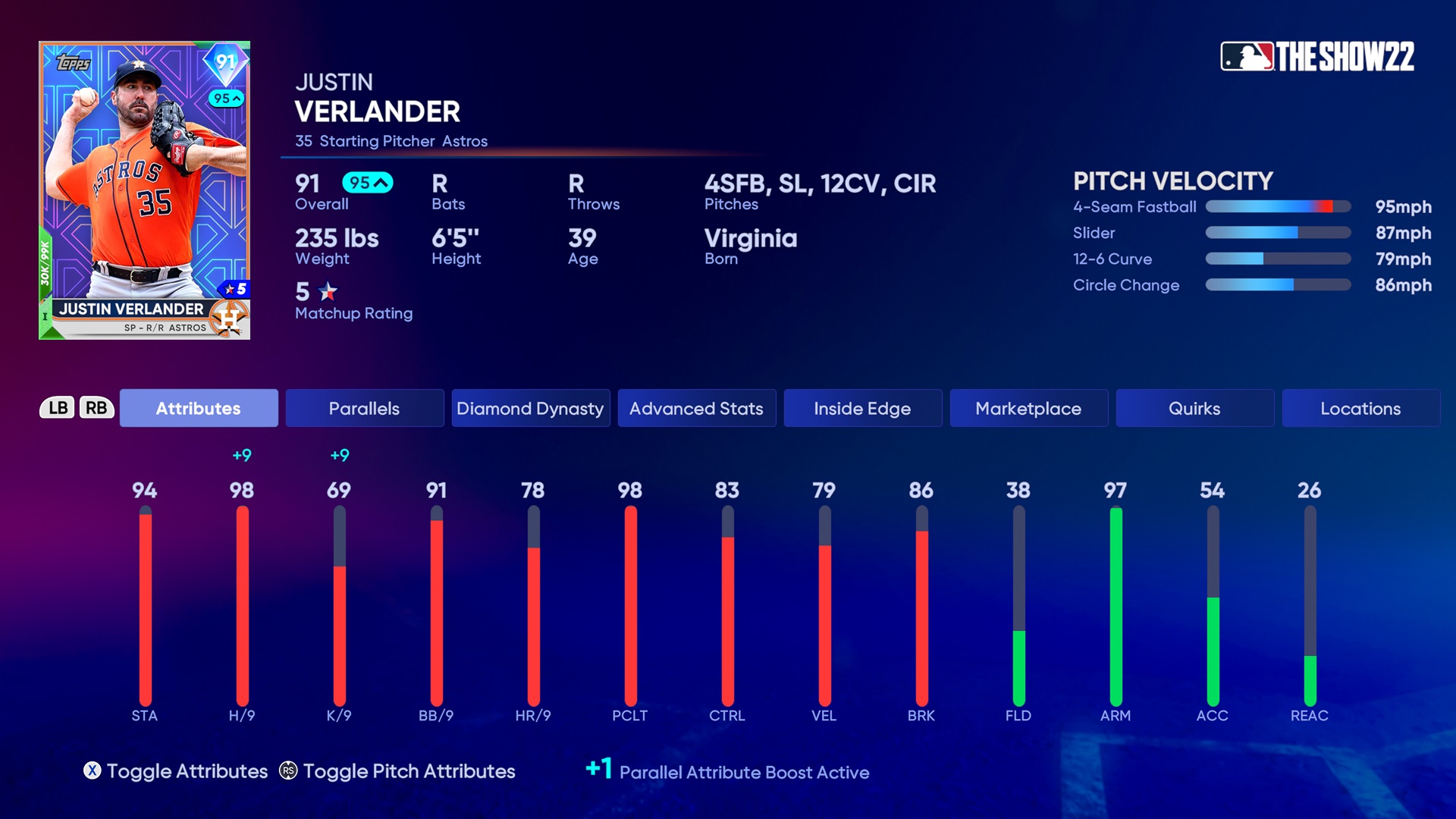 Verlander has come roaring back from a down year in 2021, when he missed the entire season with Tommy John surgery. He went from being unsure of where he was going to be playing this offseason, being a free agent coming off of Tommy John surgery at the age of 39, to resigning with the Astros and grinding his way to being a frontrunner for the Cy Young Award. Verlander is sitting at 17 wins with only 4 losses this season with a 1.82 ERA and 168 strikeouts.
Why you should invest in the fine wine Verlander:
He is a proven workhorse, being able to keep up velocity and break deep into games
Even at almost 40 years old, his 4 seamer can reach up to 95 MPH
He has a very effective changeup and slider as secondary pitches
Verlander's full stats here
9. Nolan Arenado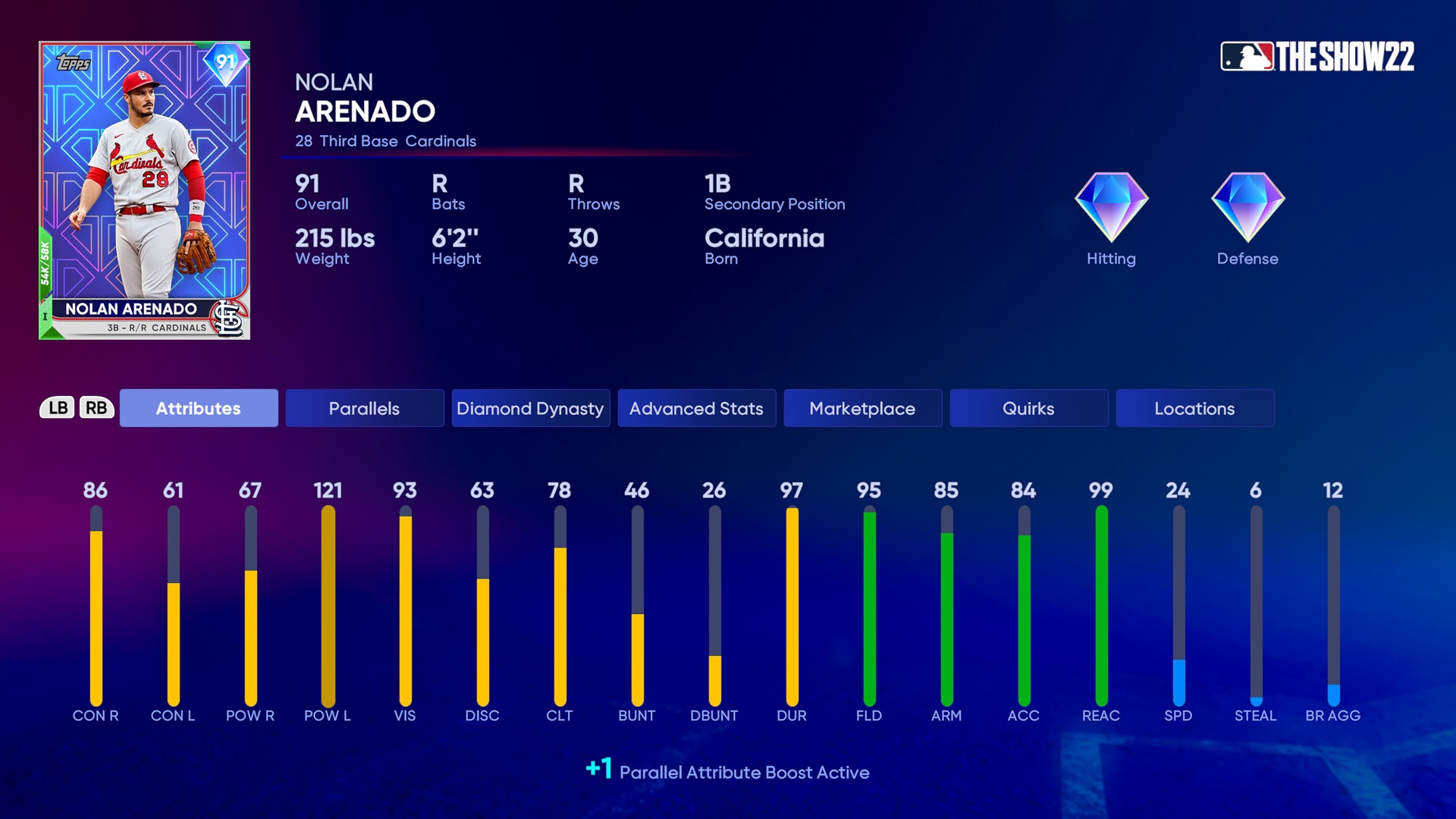 Arenado, the superstar across the diamond from Goldy, is the best third baseman in MLB, with the Golden Gloves to prove it. He has won a Golden Glove in every season he has been at the major league level, and even has a couple of platinum gloves mixed in there. Arenado had a solid year and helped the Cards make it to the playoffs, even though they were eliminated during Wild Card Weekend. Arenado hit .293 with 30 home runs this season. 
Why Nado should play your hot corner:
He is a defensive guarantee and can cover almost any ball that is hit to him. 
Aside from defensive play, he has great hitting stats, with excellent power against left handed pitching, and great contact against right handed pitching.
He is a very durable player, so you don't have to worry about injury or him getting tired easily.
Arenado's full stats here
10. Mookie Betts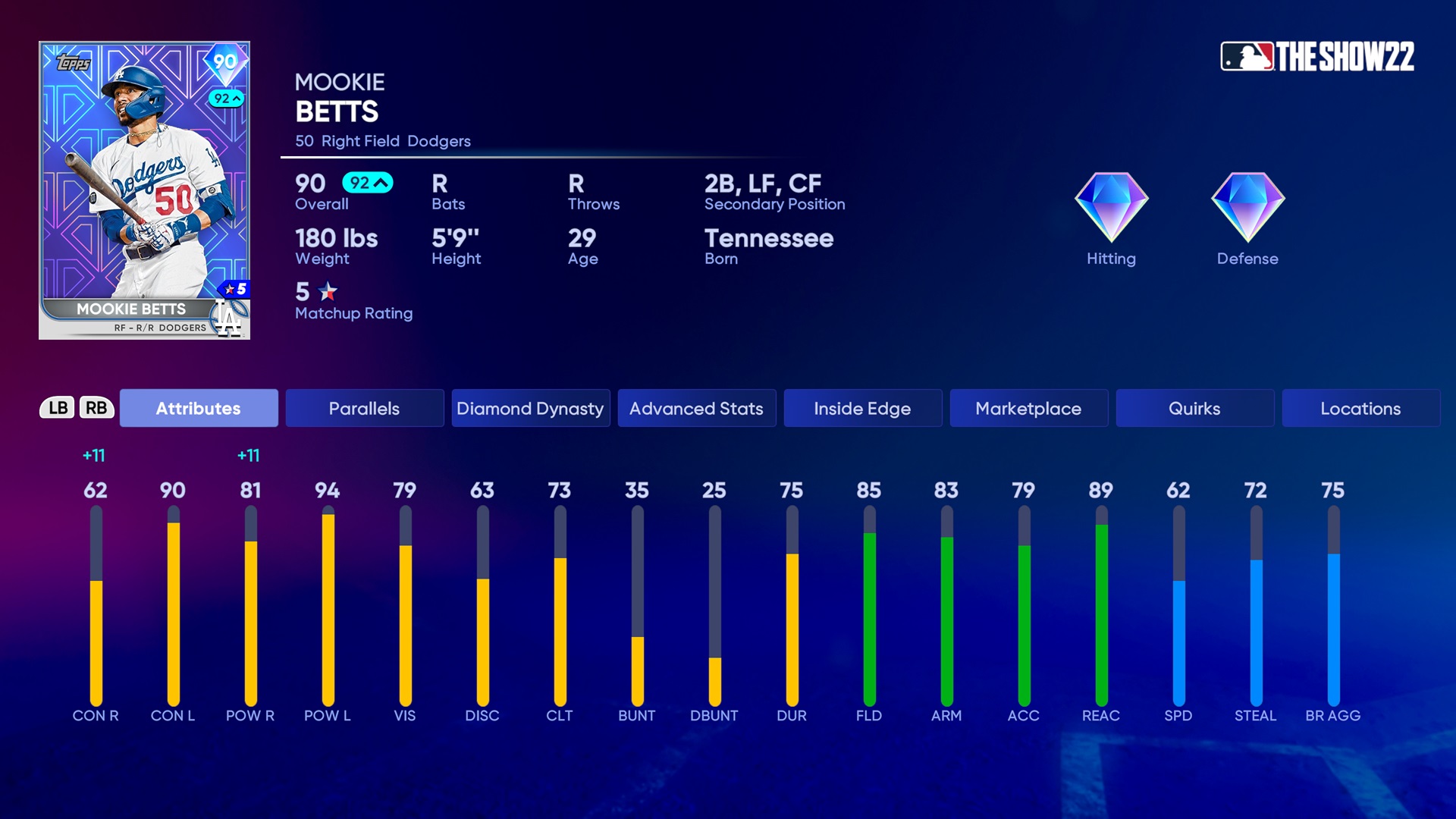 Mookie Betts career highlights  
Mookie Betts is what is called a "5-tool" player. He can do it all when it comes to baseball. He is a fantastic hitter, an excellent right fielder, and an overall clutch player.  He made a name for himself while with the Red Sox, and then was traded to the Dodgers in 2020 and kept up the high level of skill. Betts has a .293 batting average, 213 home runs, and 649 RBIs in his career. 
Why you should bet on Betts:
He is an on base machine, between hitting or walks, Mookie always finds a way to get on base.  
He has great power against both right and left handed pitching, and can drive the ball all over the field.
His contact against left handers is a lot better than against right handers, but he is still able to get hits to all parts of the field, and is able get extra base hits with his running skills
Mookies full stats here
11. Max Scherzer
Mad Max's 2022 highlights
Mad Max is a nickname that is very much deserved by this pitcher. With two different colored eyes and a very vocal pitching delivery, he has always had a very intimidating presence on the mound. Coming into 2022, Max signed a big contract with the Mets and it has paid off so far. In this year Max has a 11 and 4 record with a 2.14 ERA with 169 Strikeouts.
Why should you use Mad Max:
His control of the plate is world class. He can hit every corner of the plate with ease
His Fastball can still reach mid 90's and has a ton of movement
He can limit hits with the movement his primary and secondary pitches have
Scherzer's full stats here
12. Bryon Buxton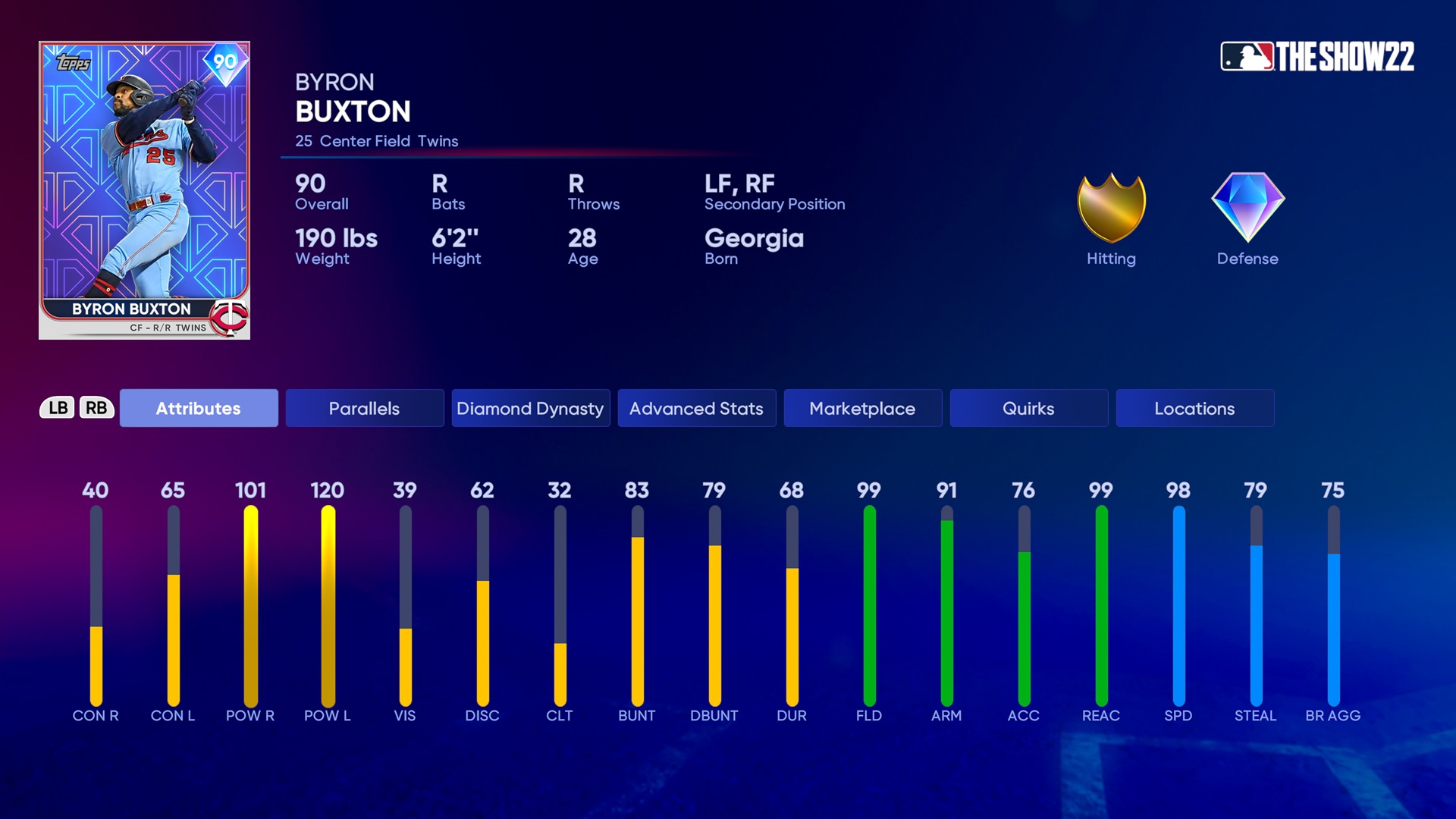 Watch Byron's 2022 highlights
The speed demon of Minnesota has always been electric to watch. Between the speed on the basepaths or the speed in center field, Byron Buxton has been an absolute superstar for the Twins since his call-up in 2015. Buxton has a.244 batting average, 98 home runs, and 255 RBIs in that time. 
Why Buxton is worth playing for you:
He has excellent power hitting off of both left and right handed pitching
His contact hitting is a little low, but his speed give him the opportunity to beat out some of the bad hits to get on base with
He plays stellar defense and is a staple in any outfield position.
Buxton's full stats here
13. Jose Altuve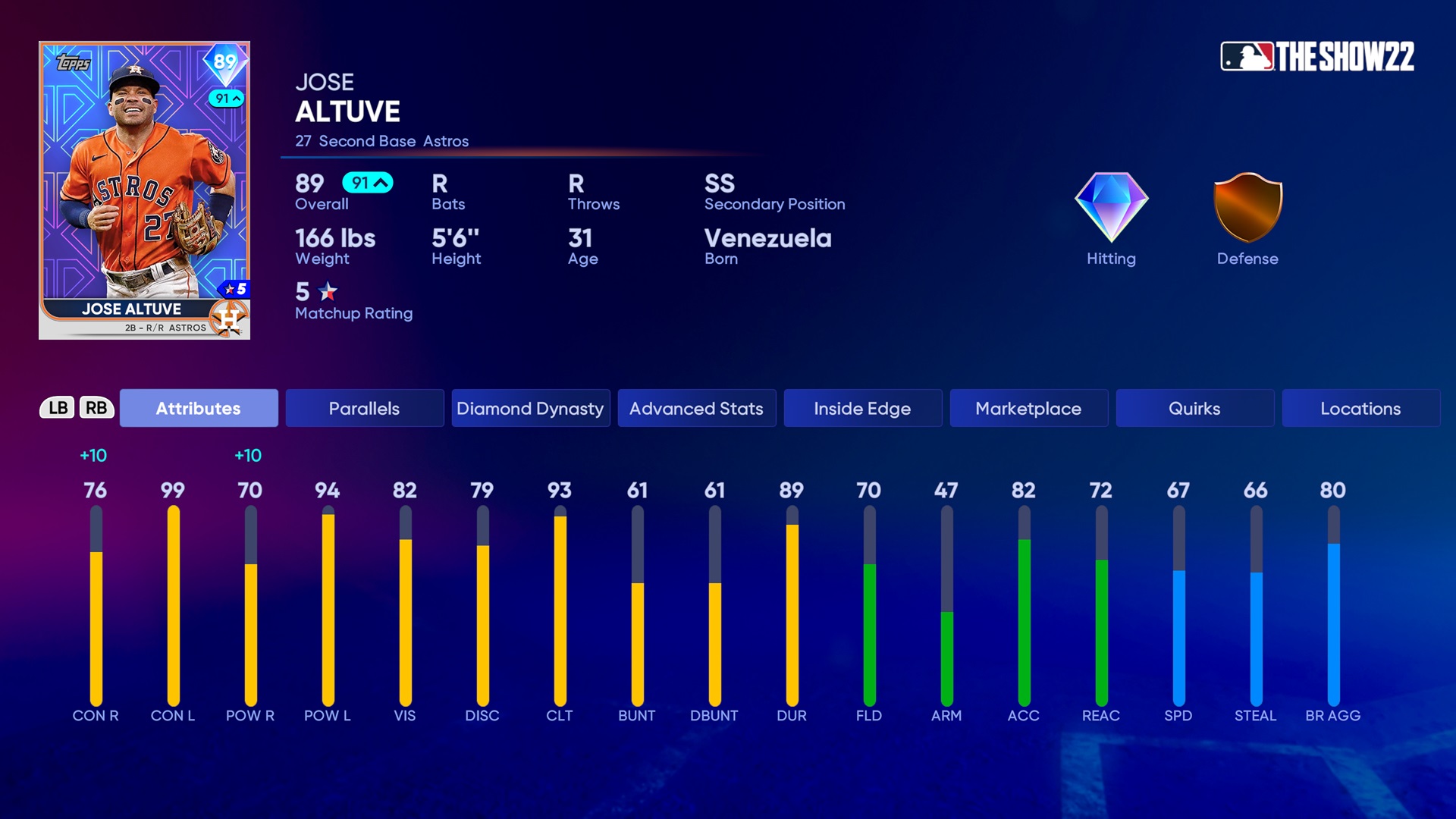 Altuve's career highlights
Jose Altuve has been a staple of the Astros' infield for the past 11 years. Throughout that span, he has helped the Astros win one World Series and countless other division titles. Altuve is considered one of the best leadoff hitters as well. Altuve has 1,935 hits, 696 RBIs, and 192 home runs since being called up in 2011. He looks to help the Astros make another run at the World Series this postseason.
Why Atluve fits on your team:
Altuve is a contact hitter with great left handed pitching power. 
Not only does he have great contact and power, but he also has the skill to hit in the clutch, which helps give you runs when you most need it.
His feilding is okay, and he has good speed and great baserunning aggressiveness to turn those singles into extra base hits.
Altuve's full stats here
14. Shane McClanahan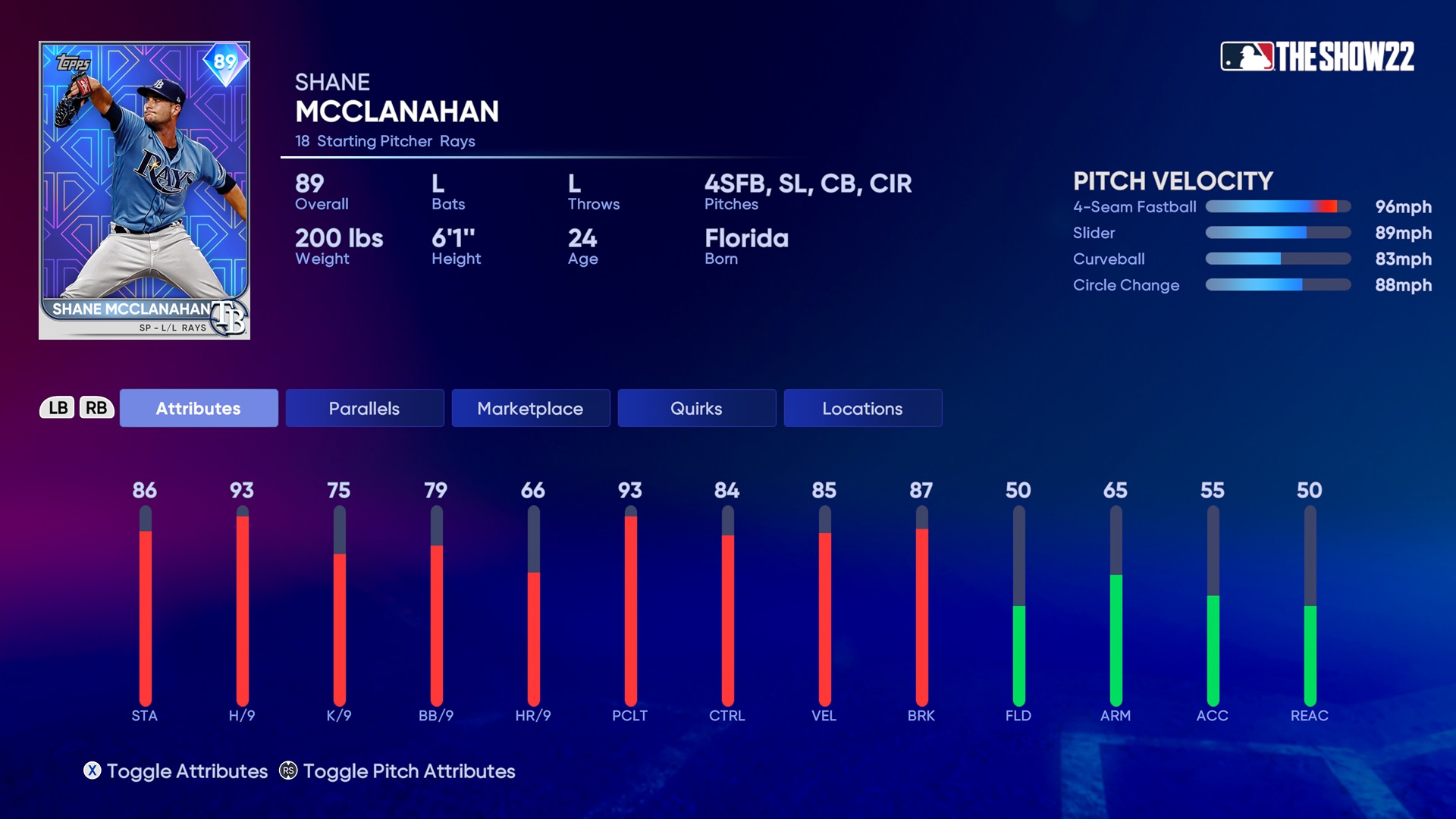 Watch Shane's 2022 highlights
One of the Rays' young stars who added firepower to an already young rotation. McClanahan was called up in the 2021 season and instantly provided a solid piece in their rotation. Shane has the ability to throw a high 90's fastball as his primary pitch and then is able to mix in mid to high 80's secondary pitches to cause swings and misses. Since he was called up, Shane has racked up 335 strikeouts and posted a 2.92 ERA.
Why Shane should be in your bullpen:
Shane offers a good mix of velocity between his primary and secondary pitches which cause a lot of strike outs.
His high nits per 9 rating means he has the ability to limit hits while he is on the mound, which helps preserve your lead
His high pitching clutch means you can rely on him to get you out of jams and get get you out of clutch situations with ease
Shane's full stats here
15. Corbin Burnes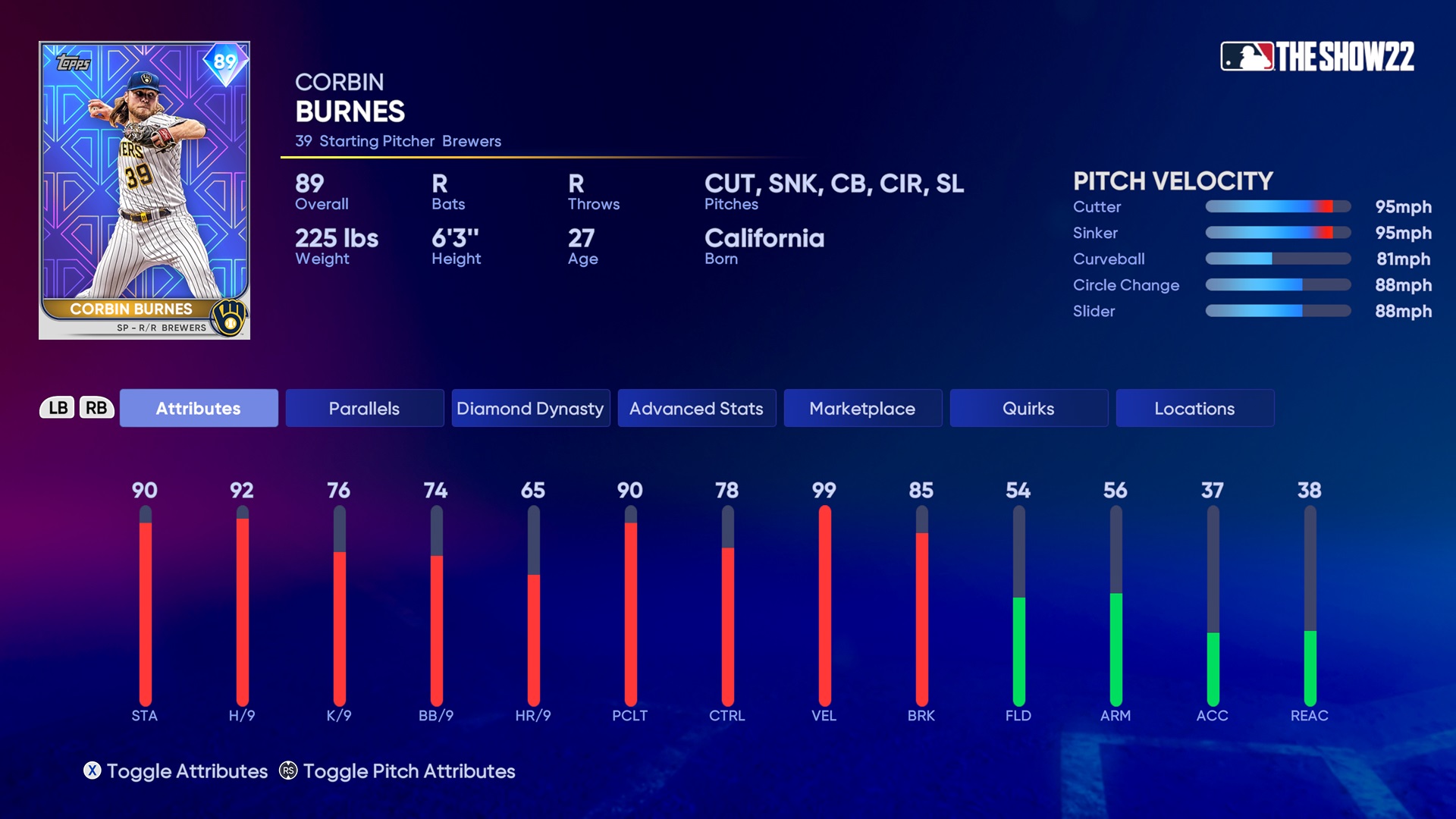 Burnes Cy Young 2021 season
The 2021 Cy Young award winner came into 2022 with everything to prove. Even though he has had a bit of a rougher 2022, he is still putting on a show with a record of 11 and 8 with a 3.11 ERA and 231 strikeouts, which lead the National League. Corbin was a National League All-Star in 2021 and 2022.
Why you should Burne with Corbin:
His high velocity creates whiffs at the plate
He has the stamina to keep his innings up even with a higher pitch count
With his mid to high 90's sinker and high 80's slider he can create movement on every corner of the plate
Corbin's full stats here
16. Ryan Helsley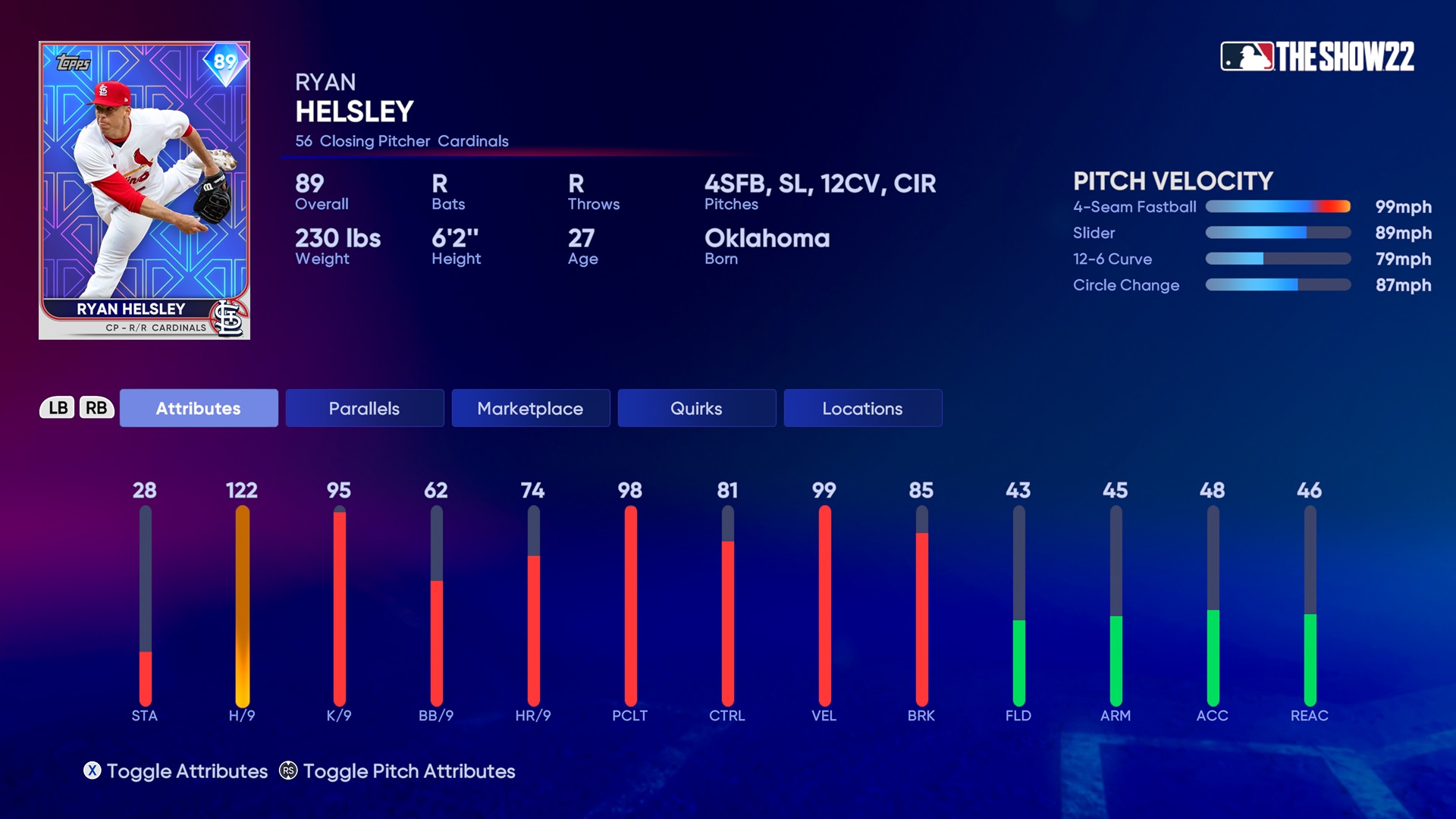 Helsley's 2022 highlights
Another player from the Cards' lineup and for good reason. Helsey has quickly made a name for himself as one of the brightest relief pitchers on the staff. Since being called up in 2019, Helsey has posted a 2.91 ERA with 183 strikeouts and 21 saves, with 19 of those saves coming from the 2022 season.
Why choose Helsley for your bullpen:
Helsley has an amazing hits per 9 rating which means it is extremely hard for batters to get a hit off of him
His almost 100 MPH fastball not only has the speed, but movement on it that provides even more trouble for hitters to try to get a hit off of him
With his high pitching clutch and strikeouts per 9, he is an almost perfect closing pitcher, with the ability to rack up strikeouts and come into clutch moments and win them
Helsley's full stats here
17. Manny Machado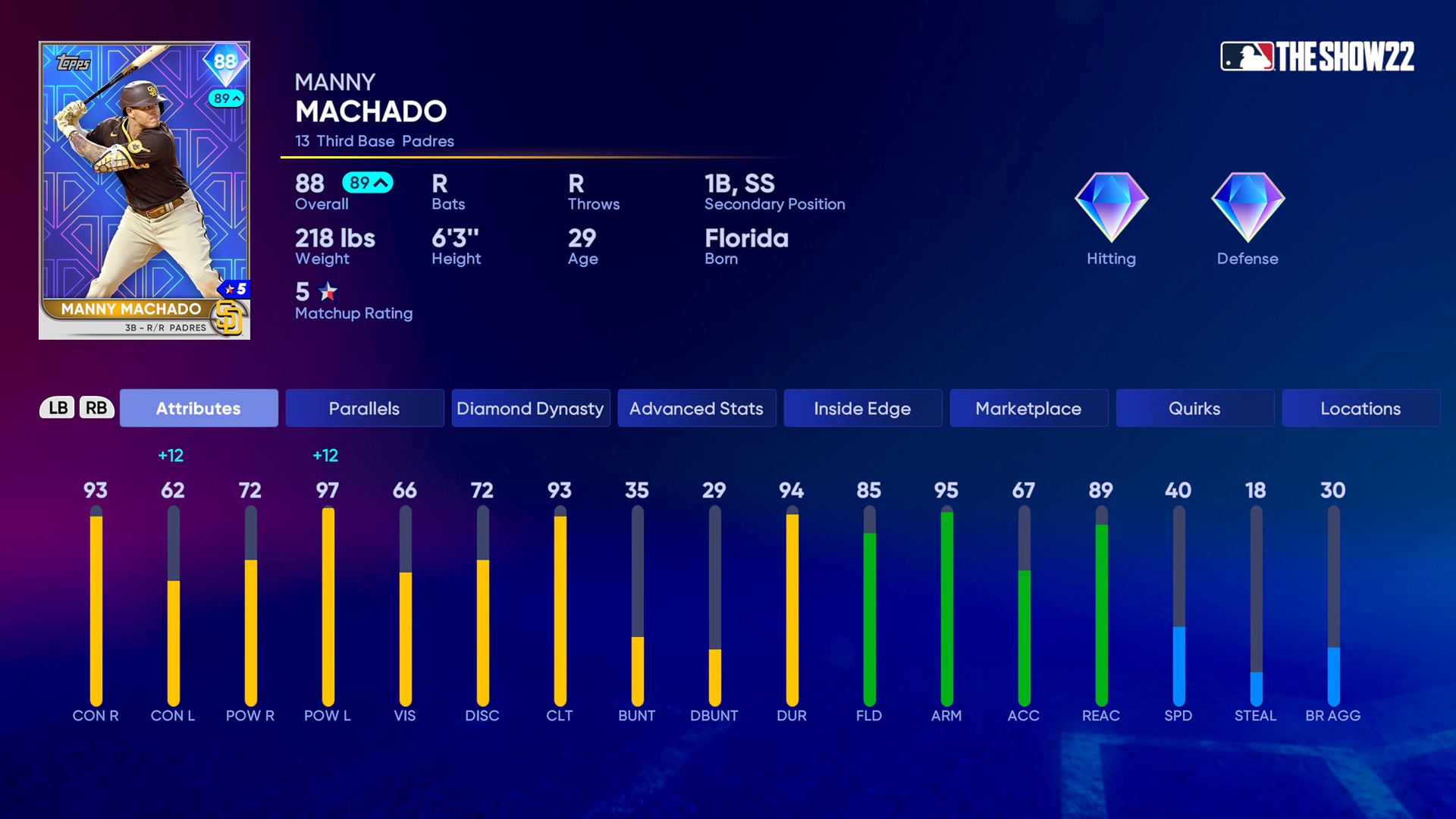 Machado's career highlights
The sure-handed third baseman for the Padres is currently enjoying his team's postseason run. Machado quickly burst onto the scene with the Orioles and proved why he was deserving of that third overall pick. Since coming up to the big league in 2012, Machado has put up amazing stats. So far in his career, he has a .282 batting average, 1,597 hits, 853 RBIs, and 283 home runs. 
Why you should put Machado on your hot corner:
Machado is one of the best 3rd baseman in the game, often compared to another on this list, Nolan Arenado
He has great power stats against left handed pitching and great contact stats against right handed pitching
His high durability and clutch ratings means that he will be able to stay in the game and not get injured so he can help you out in those clutch moments
Machados full stats here
18. Michael Harris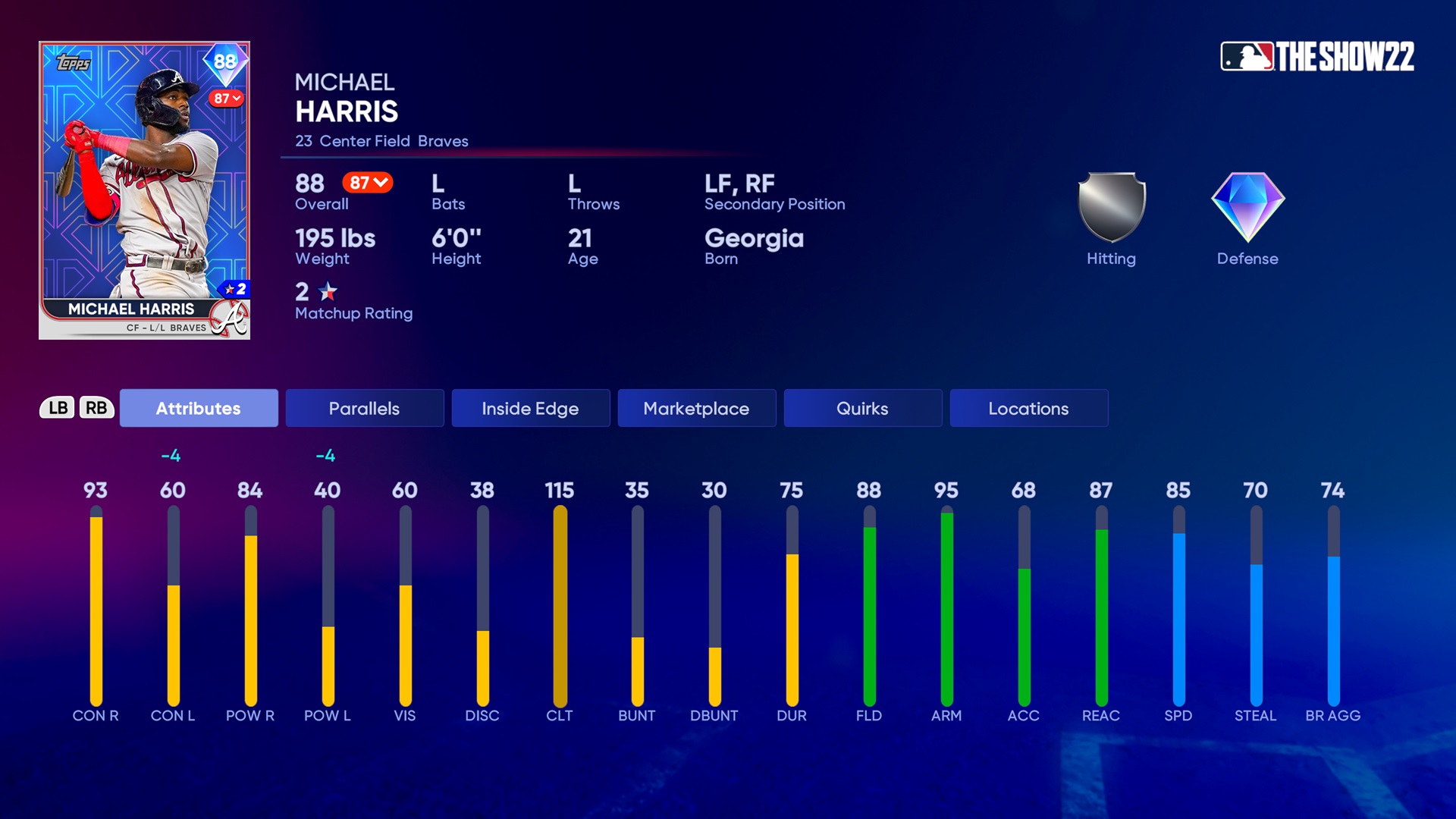 Michael Harris burst onto the Braves team with a much needed burst of lightning this year. The 21-year old was called up at the end of May and went on to win National League Rookie of the Month in June, August, and September. He had a .297 batting average, 19 home runs, and 64 RBIs in his career. 
Harris' rookie year highlights
Why trust a rookie:
Even though this is his first year in the league, he has already proven that he has the makings of a superstar
He has excellent fielding and can play all 3 outfield positions with ease
He has good contact stats with good power against right handers, with the ability to drive the ball all over the field
Harris's full stats here
19. Yordan Alvarez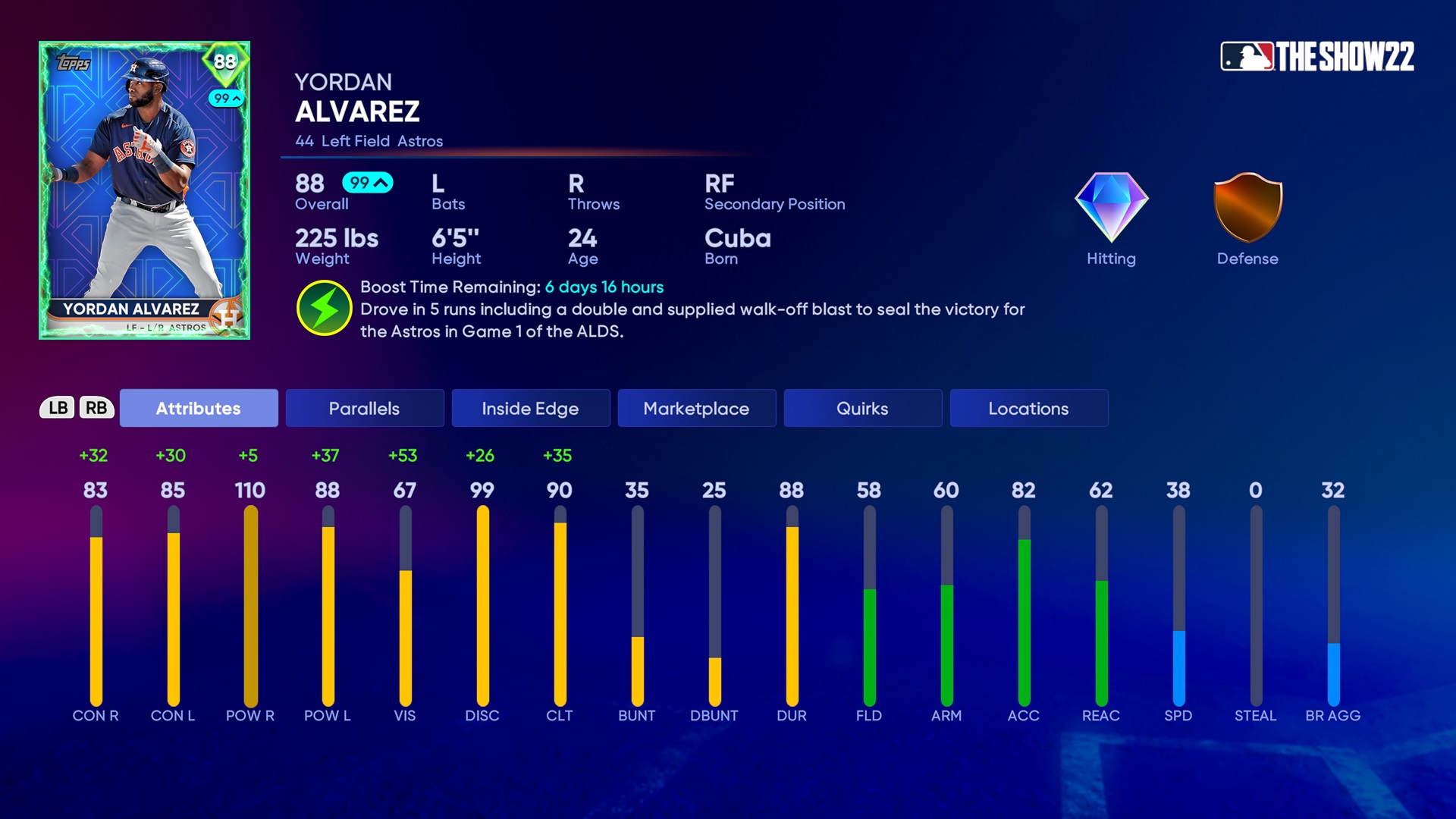 Yordon's midseason highlights
Another Astros powerhouse on this list, and a huge reason for the success in the past couple of years. This hard-hitting outfielder has often given the Astros the spark they needed to stage a comeback or to show up big in must-win games. Speaking of clutch, Alvarez won the Astros' first divisional game in the playoffs this year with a walk-off, 3-run home run.
Why Yordan is so good:
He is a hitting machine, with excellent contact and power to both left and right handed pitching
He can hit the ball to both sides of the field, with the power to hit opposite field home runs as well
He is a clutch hitting so you know that he will perform for you when you need him most
Alvarez's full stats here
20. Brandon Woodruff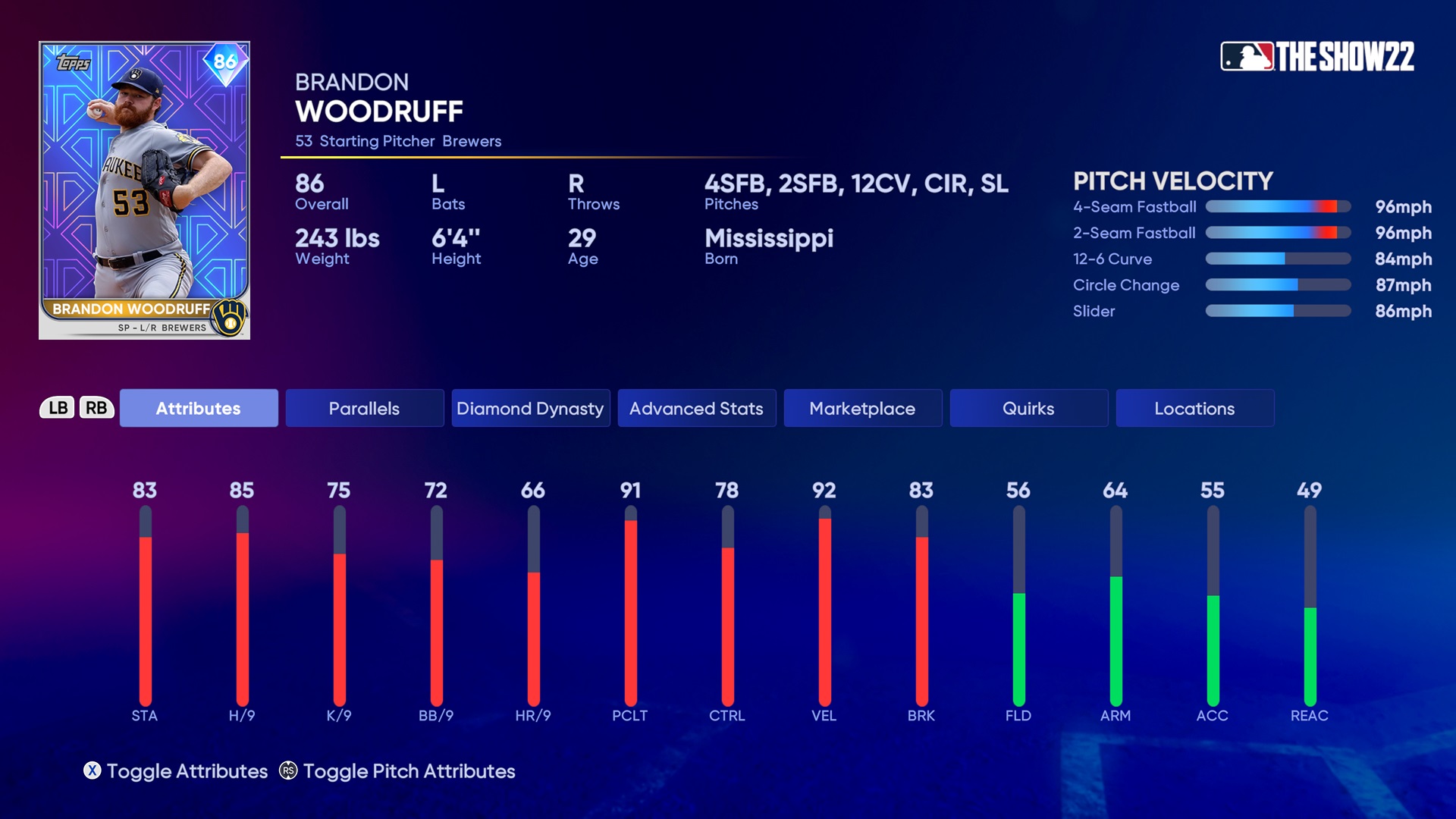 Watch Woody's 2021 Highlights
Even though Woody spent a few weeks at the beginning of the season on the IR, he has come back as strong as ever. The 2021 National League All Star is sitting pretty on the season with a 12 and 4 record with a 3.18 ERA and 173 strikeouts. With 173 strikeouts, he is also the 9th most strikeouts in MLB this season! 
Why you have a friend in Woody:
His velocity and break are out of this world.
He has a 4 seam and a 2 seam fastball, which both have different movement off the plate
He can also throw a very effective 12-6 curveball, even though it does get punished at times
Woodruff's full stats here
21. Gerrit Cole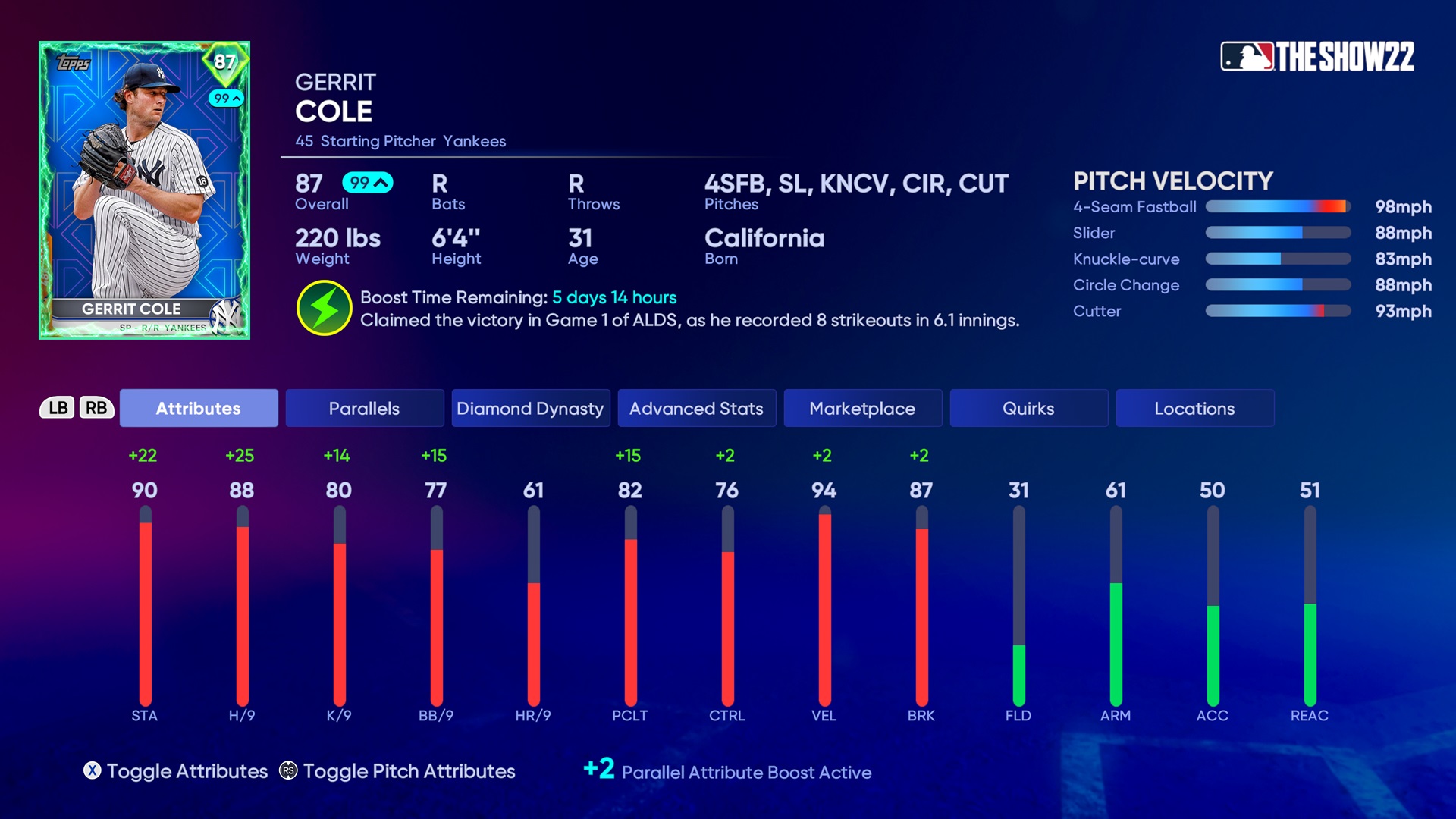 Watch Cole in the Big Apple
Another gem who has built his name from the ground up. He was the biggest free agent signing of 2020 for the infamous Yankees. He brought a staple to the rotation and a seasoned veteran presence to a very young group of starting pitchers. He has had a couple rough starts in the Big Apple, but in true Gerrit Cole form, he has reigned it in and shown why he is worth the millions of dollars he is earning. So far in 2022, Cole has a 3.49 ERA with a record of 12 and 7 with 244 strikeouts. His whopping 244 strikeouts have him sitting at first in the MLB for them.
Why you should pay Gerrit the big bucks:
A seasoned workhorse who can control the entire strike zone
His velocity and break have only gotten better throughout the years, creating a lot of missed swings
He is a very clutch pitcher, coming in handy in the worst spots
Gerrit's full stats here
22. Carlos Rodon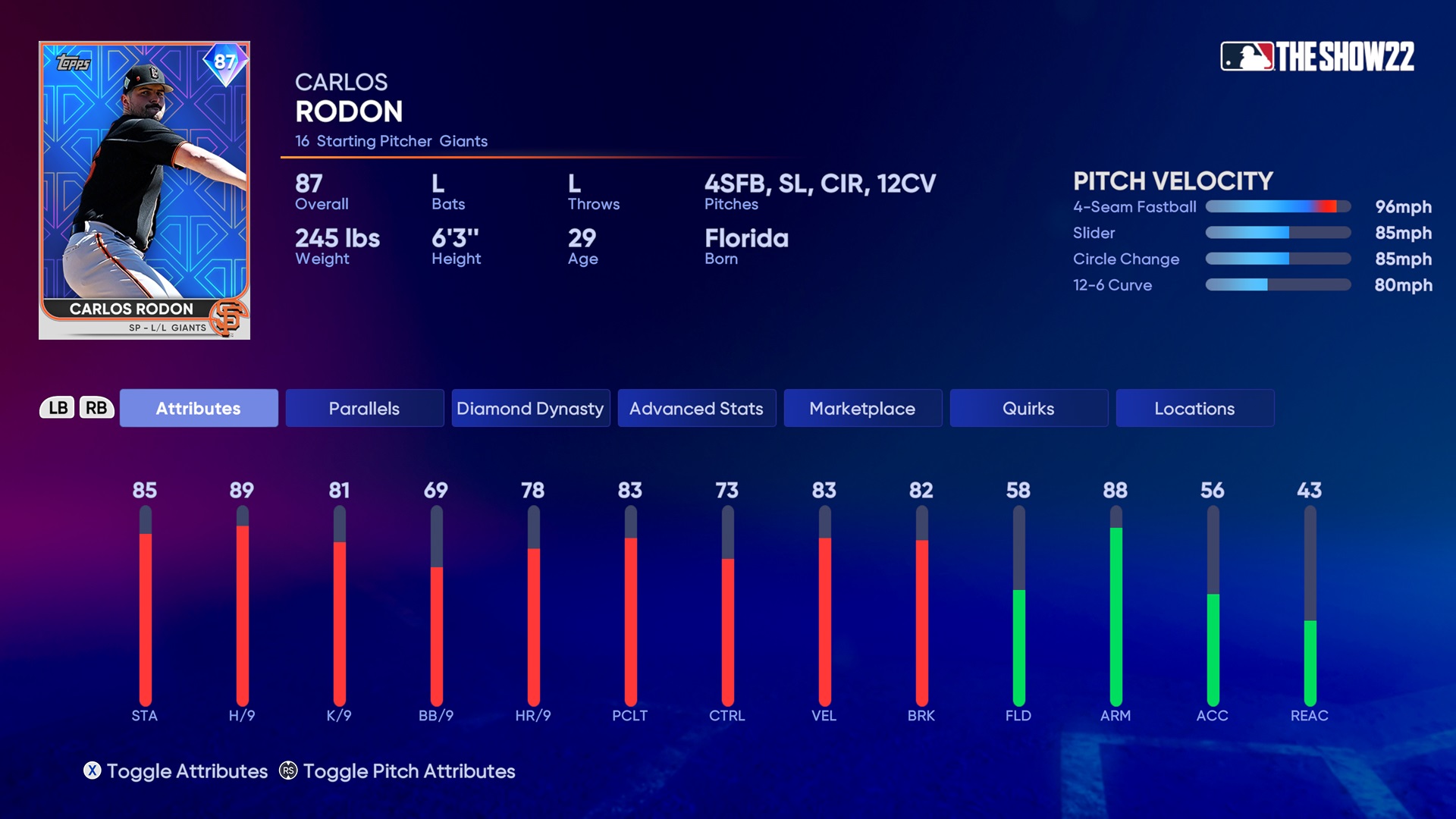 Rodon's midseason highlights
The newest ace for the San Francisco Giants has been on fire so far this year, earning a record of 13 wins and 8 losses with 227 strikeouts and an ERA of just under 3, sitting at 2.98. Rondon was so ready for this season that in his very first outing in a Giants uniform, he ended up fanning a whopping 12 batters over a mere 5 innings!
Rodon's Perks in The Show:
His high stamina and hits per 9 means he can last long in a game without giving up hits
He has great arm strength, which is proven by his 95 MPH fastball
He also has a great swing and miss pitch with his slider
Rodon's full stats here
23. Trea Turner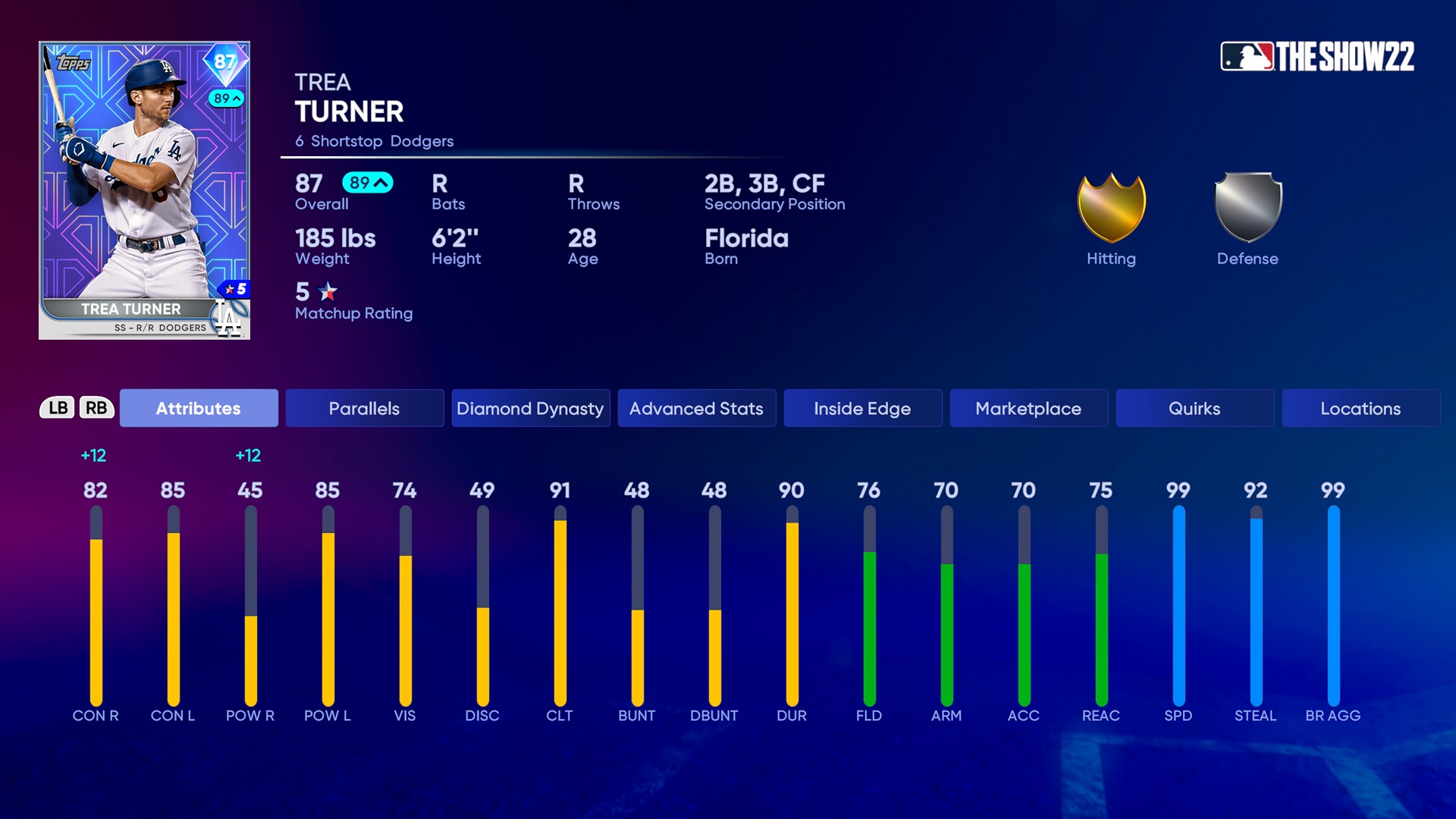 Turner's 2022 highlights
One of the league's premier speed demons, Trea Turner, has continued his success after his move to the Dodgers from the Nationals. Since being traded in 2021, he has continued to be a threat on the basepaths as well as in the shortstop position. Trea has great contact on both left and right-handed pitching with great power against left-handed pitchers. When he isn't hitting home runs, he is carving out doubles and triples because of the speed he has. Back in 2016, he was clocked at running 22.7 MPH at least 2 times that season.
Why bring in Turner:
He is a great defensive player who can turn out plays to keep the lead for you
His contact stats means he can bring in base hits and extra base hits when he isn't hitting home runs against the left handed pitching
Again, his speed is his number one ability, with the skills to extend base hits and steal bases
Turner's full stats here
24. Bryce Harper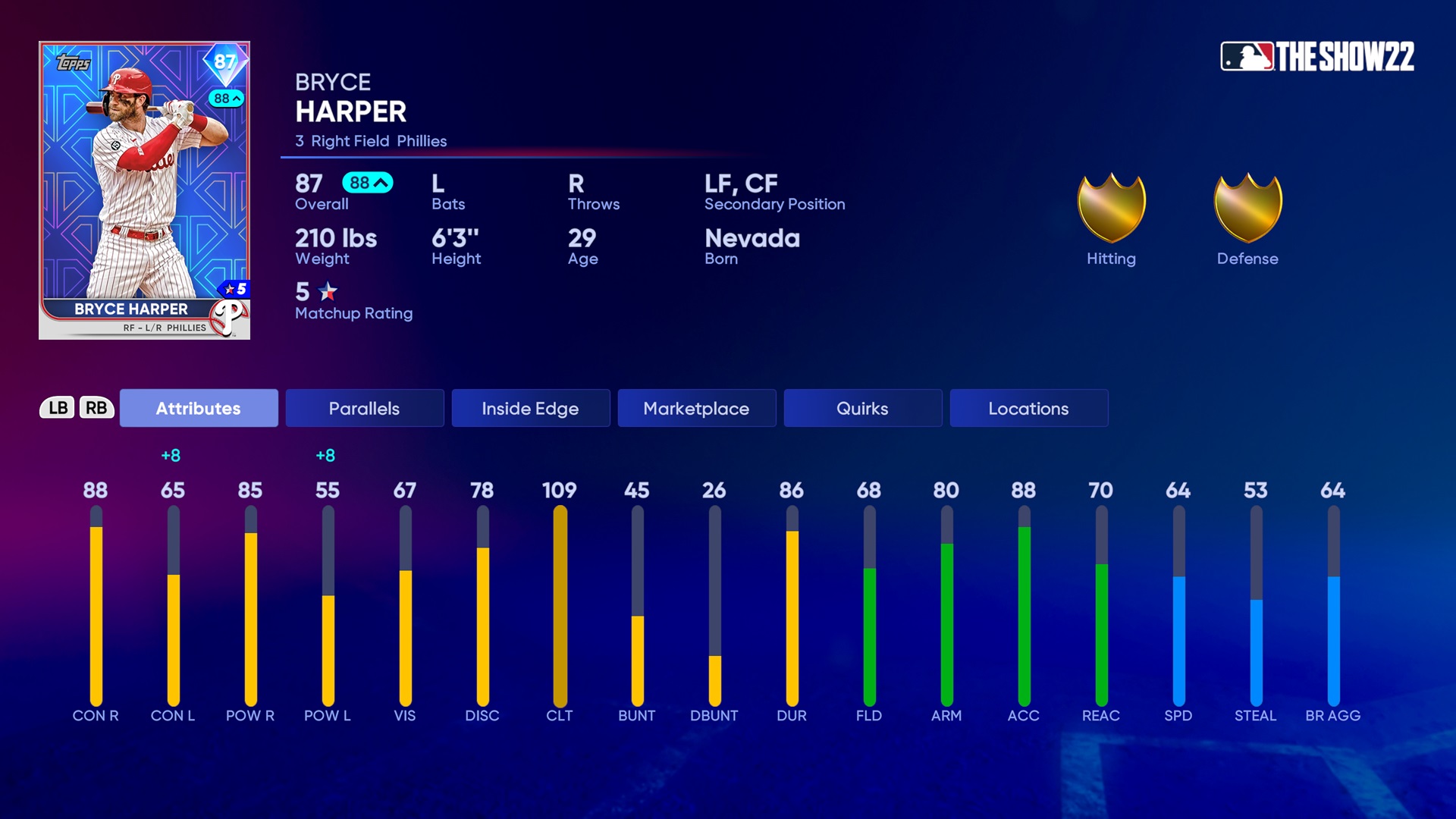 Harper doing Harper things
Since his call-up in 2012, Bryce has been putting on a show across Major League Baseball. Harper was the first pick of the 2010 MLB draft and started his career with the Washington Nationals. In his career, Bryce has hit 285 home runs, with 817 RBIs and a .280 batting average.
Why put Harper in:
Bryce is one of the most clutch players out there right now.  He is well known for his comeback hits and other clutch plays in baseball
Bryce has the stats to hit right handed pitching very well, with both the ability to make contact and the power to drive the ball out of the park
Harper is also an excellent outfielder, who has incredible arm strength and accuracy to help generate outs from the outfield
Harper's full stats here
25. Aaron Nola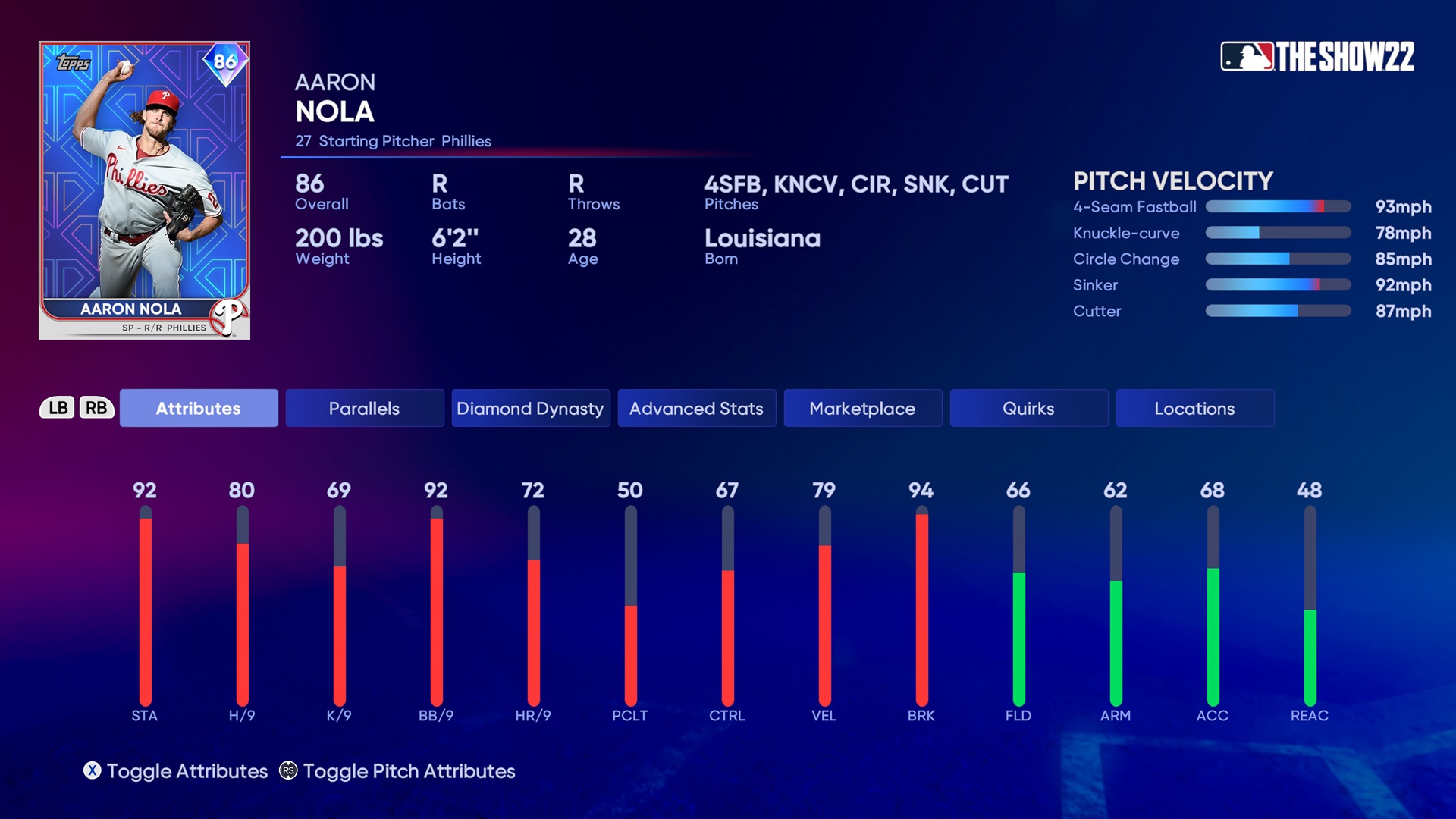 Nola's 2022 midseason highlights
Another Phillies player, and for good reason. This Phillies ace has made it hard to deny he is one of the best pitchers in baseball. Nola has the potential to keep up his dominance as long as he can stay healthy. In 2022, Nola had a 3.25 ERA with 235 strikeouts.
Why Nola should be in your rotation:
Nola's 5 pitch mix adds a lot of choices between off speed and fastball pitches, to keep the batter guessing their entire at bat
With his high stamina rating, that means he can pitch deep into games for you, and help keep the bullpen rested
With his very high break rating, his offspeed and even his mid 90's fastballs have a lot of movement, which causes swings and misses as well
Nola's full stats here
You may also be interested in: