[Top 10] Lost Ark Best Foraging Spots That Are Great
Updated: 01 Dec 2022 2:48 am
Let's all get rich together
Howdy, folks! The topic of this article is foraging. Foraging is a Lost Ark profession that entails gathering various plants for the purpose of selling them or brewing potions to use in combat. When taking this into account, it's clear that you'll want to forage in a place with few obstacles and no obvious threats. We'll start with early-game locations, then move on to the best islands for foraging, and finally the best spots for end-game farming. 
Let's see which locations are best suited for plant farming.
10. Medrick Monastry (West Luterra)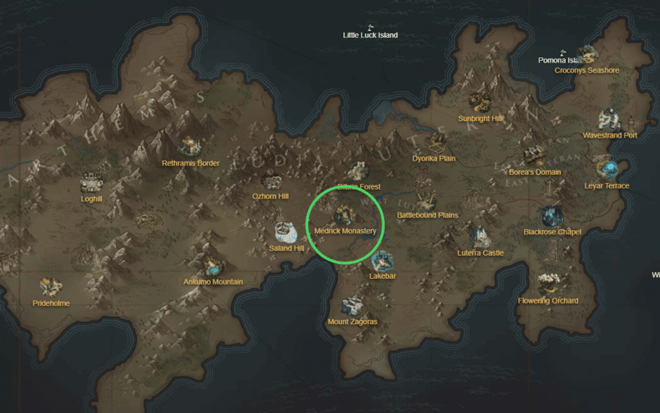 Medrick Monastry
This ancient monastery maintains a friendly relationship with the royal family of Luterra because it is devoted to Lord Regulus. The Medrick monastery in West Luterra is a nice place to start foraging shortly after beginning Lost Ark. To enter the city, use the Freyad Lake Triport or the Bilbrin Forest portal. Foraging plants flourish in the mob-free areas around the lake and in the trails and grottos to the east and south.
Why Medrick Monastry is a Great Foraging Spot
The best starting area for foraging.
You can forage in peace without any enemies bothering you.
Great place to forage Dreamwalker Flower.
Medrick Monastery Location, Lost Ark
9. Dyorika Plain (East Luterra)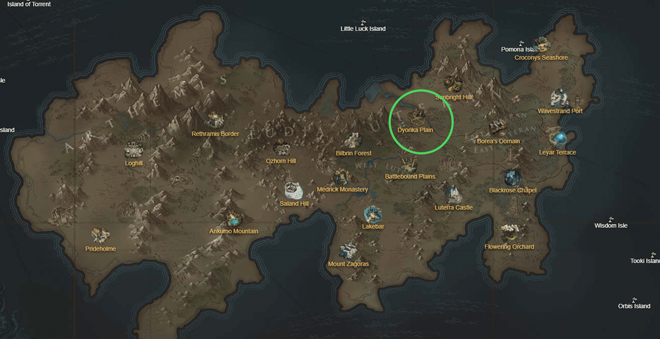 Dyorika Plain
Nahun's offspring have kept this rich plain in good condition. Famous worldwide for its high-quality grain and horses. Once you've made it to East Luterra, you have a few solid options, including Dyorika Plain. This expansive farmland features plant foraging nodes spread evenly throughout the map, allowing easy access to both Monterque Manor and Bishu Manor by teleportation. The clockwise route from Monterque Manor through Monterque Ranch has a lot of great nodes but also a lot of annoying mobs.
Why Dyorika Plain is a Great Foraging Spot
A location with a high concentration of foraging nodes.
All the enemies are weak, so you can kill them without any trouble.
Also an excellent location for gathering the Dreamwalker Flower.
Dyorika Plain Location, Lost Ark
8. Croconys Shore (East Luterra)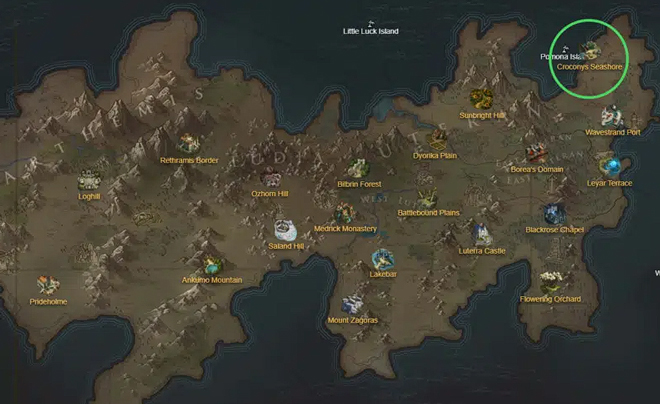 Croconys Shore
A quiet stretch of sand in eastern Luterra. According to legend, the legendary pirate Blackfang is hiding nearby, so watch out not to bump into him while foraging. Even though there are several good foraging spots all throughout Croconys Shore, we find the western part of the zone to be the most rewarding. Using the portal at Wavestrand Port, you can go from the Memorial Monument all the way down to the Wild Market, where you'll find a lengthy row of crafting materials in the form of plants and trees. You can explore a lot of places without running into any enemies, and the few groups of enemies you do run into will generally be weak.
Why Croconys Shore is a Great Foraging Spot
The spot is very large, so you can just keep foraging in circles without changing channels.
There are no elite enemies in this place.
Full of triports for faster teleports.
It's also a great place to find the Dreamwalker Flower.
Croconys Seashore Location, Lost Ark
7. Delphi Township (Anikka)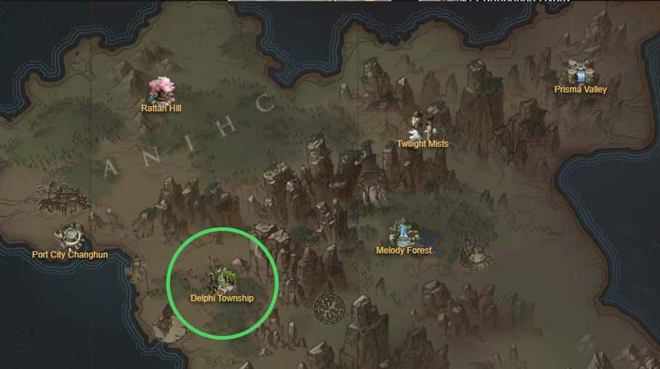 Delphi Township
Tradition and politeness are highly valued in Delphi Township, the city with the longest history in Anikka. The Anikka region of Lost Ark's Delphi Township contains a number of prime foraging locations. To the east, near the Delphi Township Farmland Triport, are the most conveniently located fields. Many annoying mobs attack from afar despite their low health. The trade-off, however, is a high concentration of safe foraging nodes. You might perhaps try the more peaceful Delphi Forest to the north of the risky Salon district.
Why Delphi Township is a Great Foraging Spot
Very populated with foraging nodes.
More types of plants exist, such as Dreamwalker Flower and Forsythia Mushroom.
It's also ideal for farming rare plants like Exquisite Sunset Primrose and  Exquisite Sparrow Mushrooms.
Delphi Township Location, Lost Ark
6. Breezesome Brae (Rohendel)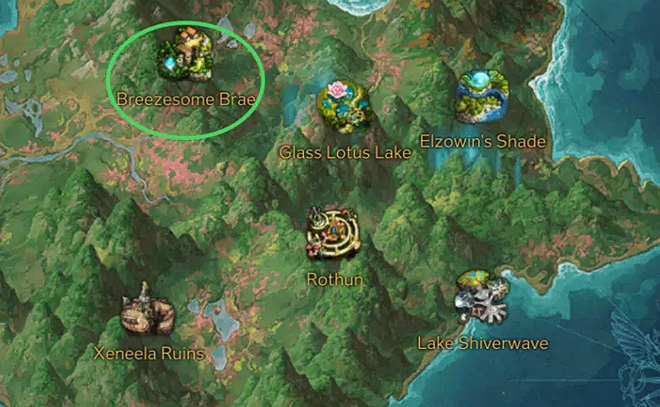 Breezesome Brae
A mountain from which the winds of Rohendel blow. The Cradle of Winds is overseen by the Fairies, who settled here and constructed their village. In the north, in Petal Glen, there are several crafting nodes, as well as many trees and ores. It's relatively easy to navigate because there aren't that many enemies and those that are present are large, slow elementals. The big Windy Hill is the same, only the elementals here are more numerous, faster, and squishier than they are anywhere else. The central Verdure Plains and the southern Breezesome Forest have most of the nodes.
Why Breezesome Brae is a Great Foraging Spot
All enemies are easy to avoid at this foraging spot.
You can forage pretty fast, going straight from one triport to another and then teleporting back.
A good place to farm Dreamwalker Flower and Forsythia Mushroom.
As well as rare plants like Exquisite Sunset Primrose and Exquisite Sparrow Mushroom
Breezesome Brae Location, Lost Ark
5. Tideshelf Path (Punikka)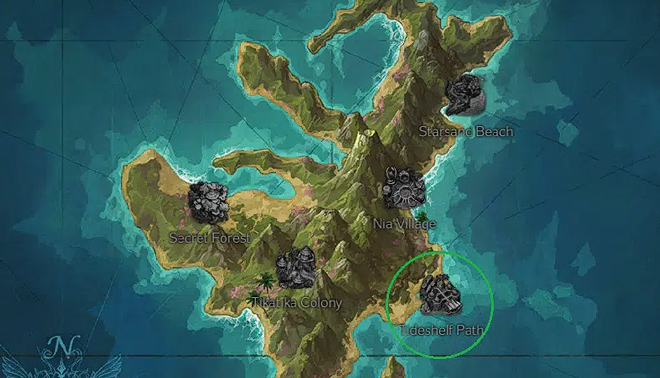 Tideshelf Path
A seaside port built on the emerald sea. The first place you'll visit on Punikka is Tideshelf Path. Make your way to the map's grand Central Plaza Triport and then strike off in a westerly direction. Throughout the short distance you travel to reach Mellow Beach, there are a lot of nodes. These foraging nodes are absolutely safe and include no mobs, but there aren't very many crafting sites, and there's a fair amount of wood and ore mixed in, either. In the Ashen Volcanic Area, you can find many more nodes, but watch out for the many dangerous creatures that live there. 
Why Tideshelf Path is a Great Foraging Spot
Best place to forage in the endgame.
There are little to no enemies around here.
One of the best places to farm Red Velvet Flower and Freckled Mushroom.
Very high drop rate of rare Exquisite Snowbloom and Exquisite Fairy Mushroom
Tideshelf Path Location, Lost Ark
4. Slime Island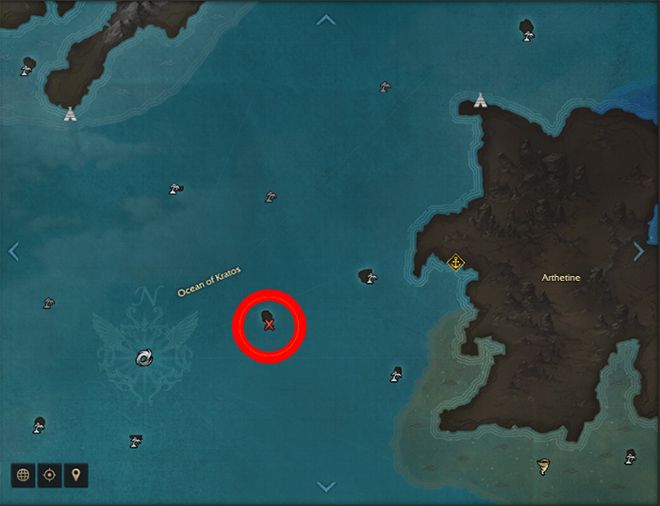 Slime Island
An island full of colorful slimes. You can get plants by defeating slimes. From the Arid Path in Arthetine, it's a short sail west to Slime Island. You should realize that Slime Island is a permanent PvP zone where you can expect to be killed by other players at any time. You'll also need combat boots; the island is overrun with slime mobs. On the other hand, there is a wealth of foraging nodes in the area, particularly around the point of entry. It's easily one of the best foraging spots in the entire game, but it comes at a cost. 
Why Slime Island is a Great Foraging Spot
An island with an enormous number of foraging nodes.
You can have fun fighting other players while foraging.
The best location for farming Dreamwalker Flower and Forsythia Mushroom.
There are also rare plants such as Exquisite Sunset Primrose and Exquisite Sparrow Mushroom.
Slime Island Location
3. Orvis Island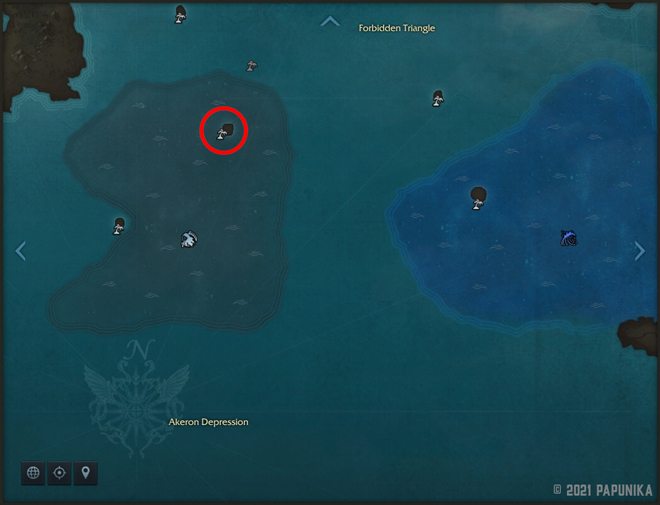 Orvis Island
The island where the Harvest Lord is claimed to be worshipped Orvis Island is located south of Wavestrand Port in East Luterra. It's in the Dead Waters Sea, which is at Level 2, so your ship should be prepared for that. There are also a lot of powerful enemies living there, but they are easily avoided. But the payoff is worth it, as there are many foraging nodes in a relatively small area, and literally no one comes here except when the raid boss, Harvest Lord Incarnate, is spawning (once every few days).
Why Orvis Island is a Great Foraging Spot
The best place to forage, where you are unlikely to encounter other players.
Enemies are easily avoidable, and you will have no trouble foraging here.
One of the few locations where you can farm Ever Flower and Clown Mushroom.
High drop rate of rare plants like Exquisite Lilium Flower and Exquisite Deep Sea Mushroom. 
Orvis Island Location
2. Lullaby Island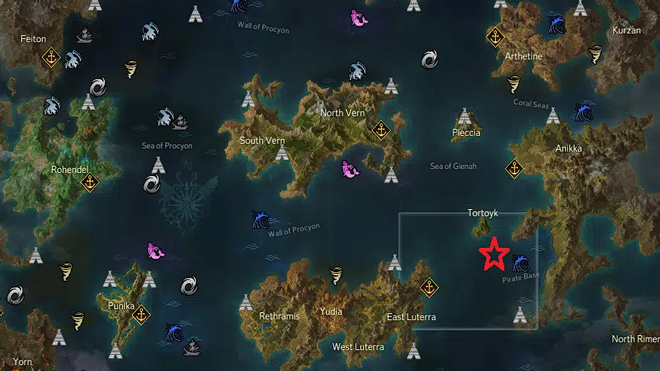 Lullaby Island
A little ethereal island with a song Lullaby Island is an excellent location for plant harvesting. It's only a short sail to the east of East Luterra's Wavestrant Port across clear seas. You arrive on a big and calm island teeming with nodes, some of which are rare. However, it is also the location of one of Lost Ark's most popular repeatable quests, so there are sometimes many players competing for the same nodes, but this isn't a major concern because you can simply switch channels and find one that is empty.
Why Lullaby Island is a Great Foraging Spot
The best island for herb farming, with an endless supply of foraging nodes.
There are no enemies on the island, so you can forage in peace.
Aside from foraging, you can engage in any other profession.
Great place to acquire common plants like Dreamwalker Flower and Forsythia Mushroom.
Pretty high drop rate of rare plants such as Exquisite Sunset Primrose and Exquisite Sparrow Mushroom.
Lullaby Island Location
1. Platinum Fields (Nahun's Domain)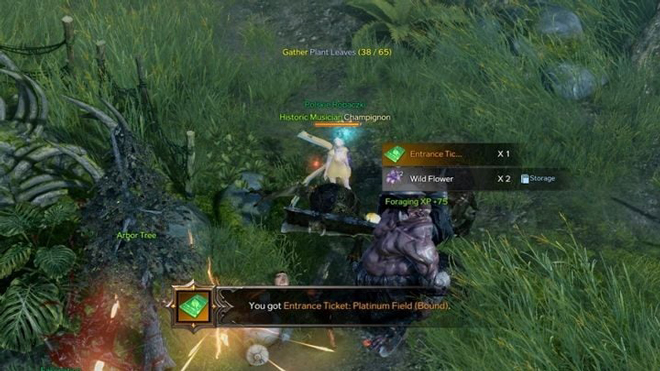 Player obtaining a Platinum Field ticket
The Platinum Fields is a special instanced arena that you can only access with a special ticket. This ticket can be found by doing any trade skill task, in this case, foraging. Once you get a ticket, you have access to two platinum field maps: Nahun's domain and the Old Yudian Canal.
The crucial thing to remember is that if you wish to harvest foraging supplies, you must select the Nahun's Domain Platinum Field from the two options available. Also, keep in mind that you only have 15 minutes to gather before being sent out again. If you play with friends or in a guild, include others in your team to maximize your gains. It will also make it easier to access unique places and get bonus rewards, both of which can be very valuable.
Why Platinum Fields are a Great Foraging Spot
Because there is no energy use while inside, they can provide an endless farm of plants.
You can farm them by yourself or with other players.
Aside from foraging, you can farm ores and trees as well.
Instances provide buffs to boost foraging.
Platinum Fields allow you to farm any type of plant that exists in the game.
Platinum Fields Guide: Insane Resource Farm
You May Also Be Interested In: