[Top 15] LoL Best Fan-Made Skins That Look Freakin' Awesome
Updated: 09 Jul 2021 5:44 pm
The fans rival even Riot Games in making amazing skin concepts
Have you ever wished to see a skin in League of Legends that doesn't exist?
The community of League of Legends is huge. As the parent company, Riot creates more games like League of Legends: Wild Rift, Valorant, Legends of Runeterra and TFT, the community is finding more ways to be creative. This is no exception with skins and splash art. 
Fans have been creating some amazing skins. Some skins are serious, cool and edgy. Others are camp, silly and absolutely out of this world. To showcase their talents, we've compiled a list of 15 fan-made skins that you will wish were in-game, they're that cool!
15. Raven Xayah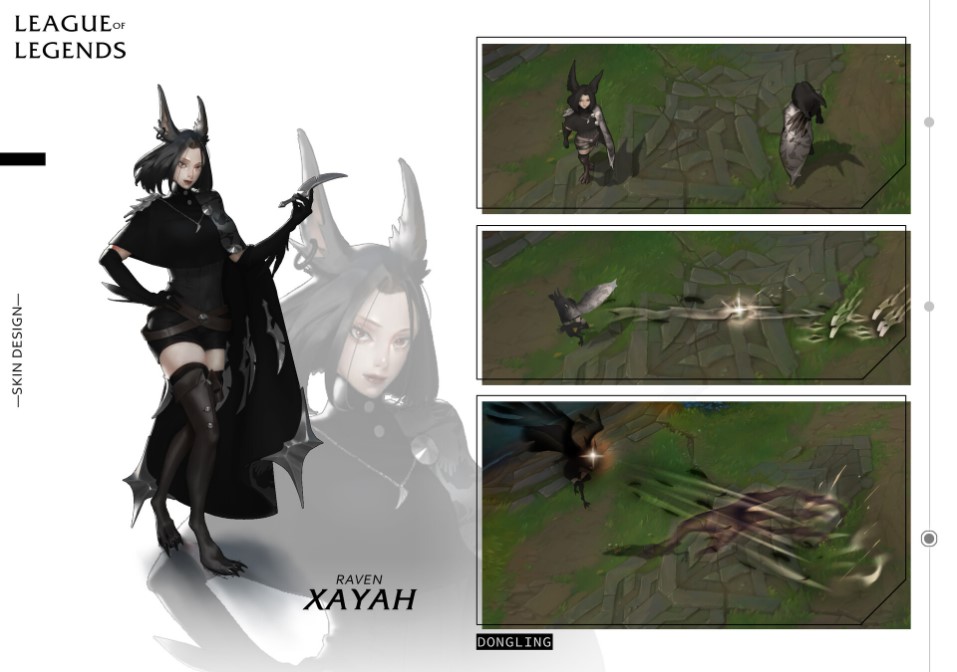 Raven Xayah by artist Dongling Guo highlights Xayah's colder colour scheme and edgier style than her flamboyant counterpart, Rakan.
Xayah has always been the darker counterpart of the colourful Rakan. Her colour palette is always more toned down, while Rakan is bright and eye-catching. That is the reason why we think that Raven Xayah is the perfect fit. 
The work of artist Dongling Guo is precise, detailed and unique. This theme and palette really fit Xayah's personality, and we would love to see it in-game someday beside Ravenborn LeBlanc.
Follow Dongling Guo: https://www.artstation.com/dongling_guo
14. Kylin Soraka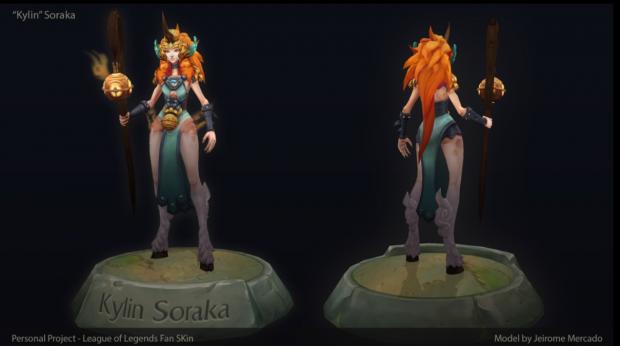 Chinese myth meets celestial being. Kylin Soraka skin concept art by Jeirome Mercado.
Soraka is a celestial being with quite a few outstanding skins. Yet none of them have the striking ginger plume of hair that this fan-made skin features. A Kylin is described as a unicorn with the body and legs of a deer, tail of an ox and is also a unicorn. Sounds… different, right?
 If you spot the details on Jeirome Mercado's work, you'll notice the spots on the upper thigh that signal the characteristics of a deer, while Soraka also sports a horn. This Chinese myth inspired Soraka skin has a cultural meaning, as well as being a work of art.
Follow Jeirome Mercado: https://www.artstation.com/jmercado
13. K/DA MF, Riven, Lux and Syndra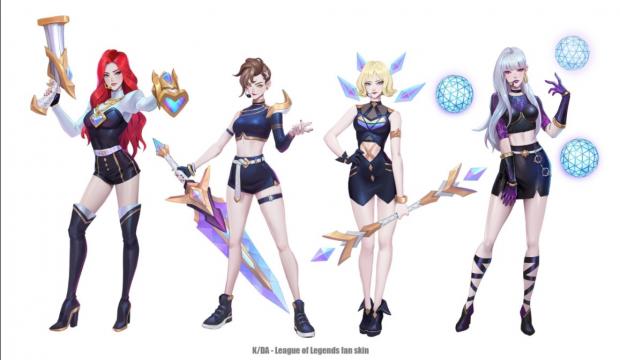 Miss Fortune, Riven, Lux and Syndra are strutting their stuff to the sounds of a group of K/DA skins by Shen YH.
If there is anything the LoL community loves: it is their K/DA skin lines. We love the detail of K/DA's ALL OUT crystalline structures in each skin: Miss Fortune's guns, Riven's blade, Lux's shoulder piece/wand and Syndra's spheres. 
But the standout is Syndra, with her spheres reimagined into disco balls which is a really nice touch. If Riot wants a second girl group, they need not look any further than here.
Follow Shen YH: https://www.artstation.com/artwork/YaGE8X
12. Stellacorn Lillia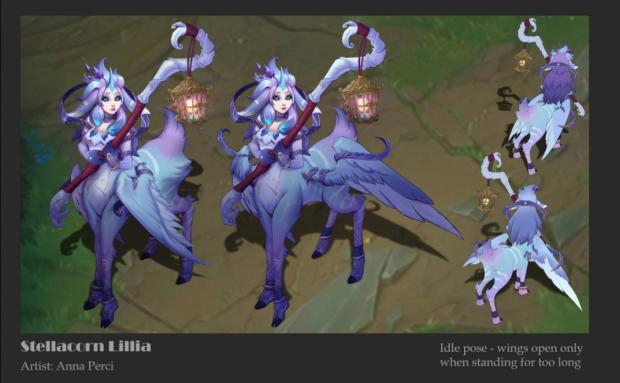 Lillia is fashioned as a beautiful Stellacorn by Anna Perci.
As a relatively new champion, Lillia doesn't have many skins. With her unique silhouette, we can imagine that it is difficult to fit her into current skin lines. For example, could you imagine a Project Lillia? Especially with her timid personality? No way!
However, Anna Perci builds upon the lore of League of Legends by creating a skin for Lillia based on the Stellacorns. If you're a lore nerd like us, you'll know the Stellacorns. This is the perfect merging of lore and fit for Lillia. The fan skin could well and truly end up on the rift someday.
Follow Anna Perci: https://www.artstation.com/artwork/8eDVNO
11. Bardbarian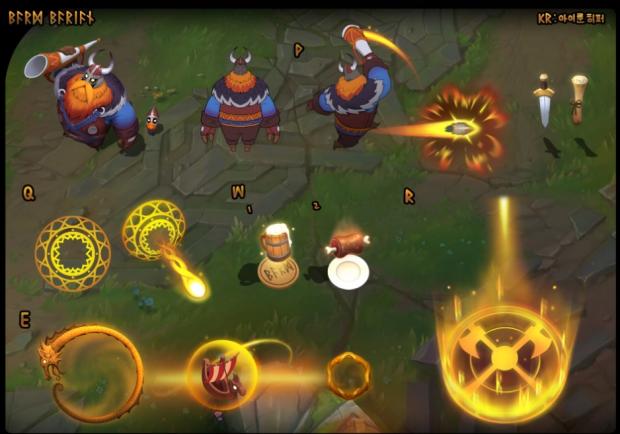 What we would do to ride in Bardbarian's Viking ship. Art by Irun Hipper.
A Viking inspired barbarian skin for Bard just seems so fun and fresh. With this skin, Bardbarian could be seen on the rift healing you with an overflowing beer tankard or a chunk of roasted meat. The idea behind Bardbarian is silly in the best way possible. We would love to see it in-game, especially for the Viking ship in his E. Oh, and the pun on his name of course.
Follow Irun Hipper: https://www.artstation.com/artwork/L2J3nk
10. Dark Star Sylas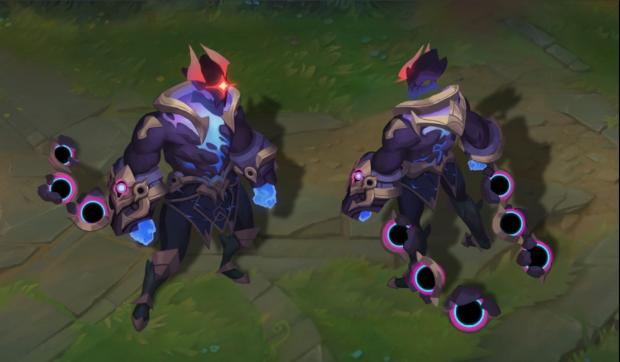 The bad boy of League just went cosmic. Dark Star Sylas skin courtesy of the talented Robert Song.
Just making it into the top ten, Sylas is kitted out in a cosmic skin. As you are most likely aware, the Event Horizon / Cosmic - Dark Star universe revolves around the duality of Cosmic (generally considered "good") and Dark Star (the "bad guys") champions. Without a doubt, Sylas would fit into the latter. 
Within his original lore, Sylas is a complicated villain, with a dark past with Demacia. That's the nicest way we can describe it. He isn't afraid to kill, that's for sure.  Here, however, we could imagine him as an agent for the Dark Star, ready to help further the chain of corruption. Yes, that's a pun. Deal with it.
Follow Robert Song: https://www.artstation.com/artwork/aR5KP9
9. Demon Irelia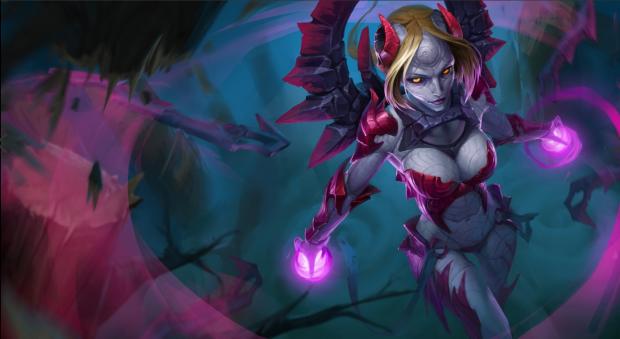 Demon Irelia is a far cry from our Ionian leader's normal skins. Art by Alexey Gorbatov.
Irelia's base skin is a dancer turned resistance leader. So obviously, we want to see her as a Demon. Look at the detail on this splash art, you'll notice the ancient blades that give her a distinct silhouette from other notable demons in the game, such as Evelynn. A cool skin for Irelia, that's very different from any of her official ones.
Follow Alexey Gorbatov: https://www.artstation.com/artwork/1XB2K
8. Spirit Blossom Lissandra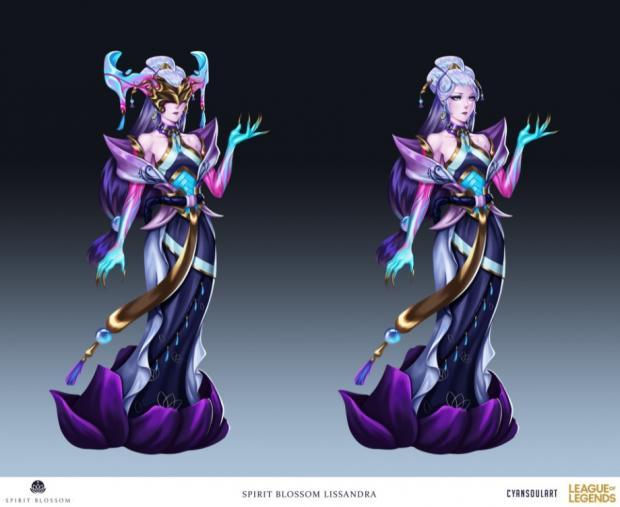 Our favourite ice witch, Lissandra is rocking a beautiful Spirit Blossom skin by Osman Batuhan Koçak
The Spirit Blossom event brought us a whole world of missions, lore, legends and most importantly, beautiful skins. Staying with the colour palette of the Spirit Blossom skin line, Osman Batuhan Koçak has created a beautiful concept art for Lissandra. 
Here are two renderings of Lissandra, one with her headpiece on, and the other without. As with other Spirit Blossom champions, you can toggle between their human and demon forms, like Thresh. 
Follow Osman Batuhan Koçak: https://www.artstation.com/artwork/WKBkJE
7. Dragon Trainer Bard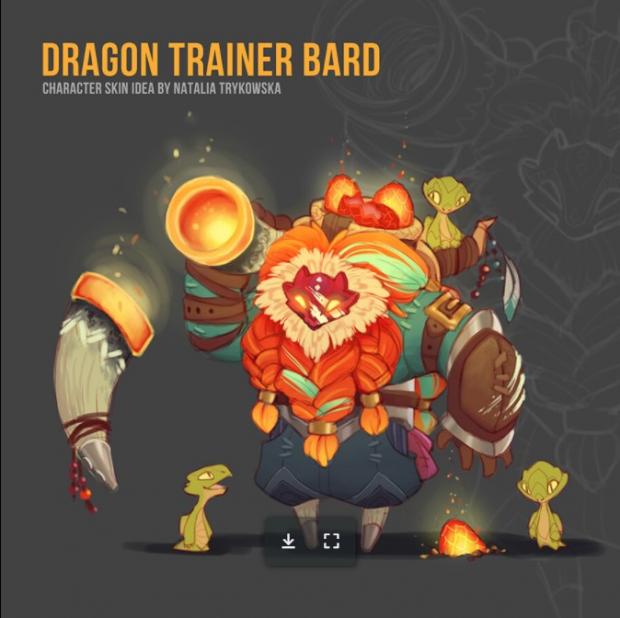 Dragon Trainer Bard by Natalia Trykowska is accompanied by the cutest little meeps
Following Riot's SpooKatey's #Skintober prompt list, artist Natalia has created a stunning skin for Bard, fitting into the category of Dragon Trainer. Instead of his golden meeps, he has baby dragons spawning around the rift which are just adorable. 
On the skin, you can see a ginger bearded Bard stylised with trinkets and feathers, as he carries a nest of fiery dragon eggs on his back. His horn is filled with dragon fire. This would be an awesome addition to the Dragon Trainer skin line.
Follow Natalia 'Verauko' Trykowska: https://www.artstation.com/artwork/N5wOdJ
 6. Odyssey Wukong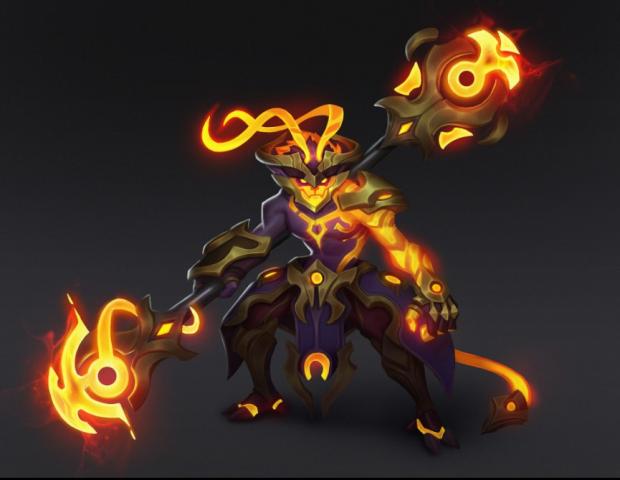 Odyssey Wukong by Anthea Zammit fits like a glove into the Odyssey skin line.
Anthea Zammit has created a genius skin concept for Odyssey Wukong. In the galactic universe of Odyssey, where Aatrox leads the criminal Syndicate against the high priestess of the Templar Order, Karma, Zammit has created this skin as a henchman to Aatrox in his fight for Karma. 
While many Odyssey skins are colourful in style, a darker palette for Wukong is fitting, considering the artist's vision and story. Aatrox, who is disfigured due to Ora abuse, has infected Wukong with Ora, changing him completely. Follow the link below to get more elements on their work, which is in-depth and detailed. 
Follow Anthea Zammit: https://www.artstation.com/artwork/rAy92a
5. Ringmaster Qiyana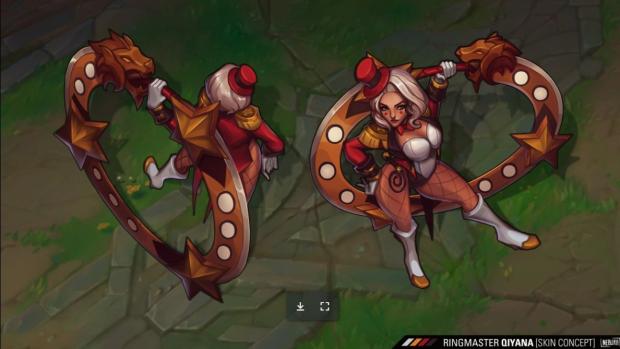 If there was ever a time to go to the circus, it would be now. Ringmaster Qiyana by Nebura ART wows the crowds.
Ringmaster Qiyana is a circus themed skin that could easily be incorporated into League of Legends. As a newer champion, Qiyana doesn't have the same volume of skins compared to Ahri or Lux, yet we could see this one making its way onto the rift. 
Artist, Nebura ART, has done an incredible job of kitting out Qiyana in this classic and easily recognisable circus theme, as well as a mock up for a Clown Yasou skin, which you have to check out by following the link below. Because you know the Yasou on your team is a clown.
Follow Nebura ART: https://www.artstation.com/artwork/rAvO2E
4. Blackthorn Zyra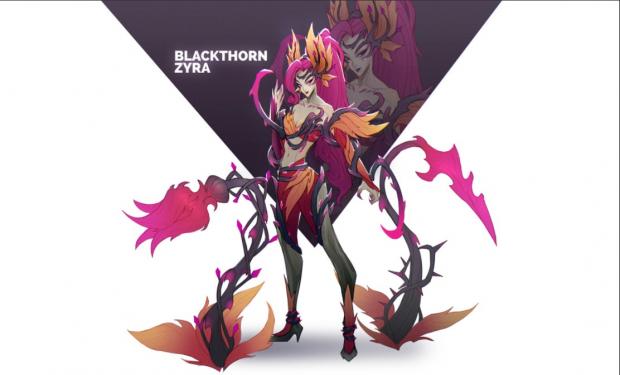 Blackthorn Zyra skin created by the very talented Devin Yang.
Our favourite gardener has a number of skins that feature darker colours  (Coven, Dragon Sorceress and Haunted) while others such as Wild Fire and Crystal Rose are almost monochromatic in their colour schemes. This skin borrows from the already existing Blackthorn Morgana colours of black with an ombre into pinks and magentas. This skin would fit Zyra's dark lore and personality well. We would love to see it on the rift someday!  
Follow Devin Yang: https://www.artstation.com/artwork/GaE0KB
3. Burnt GingerBrand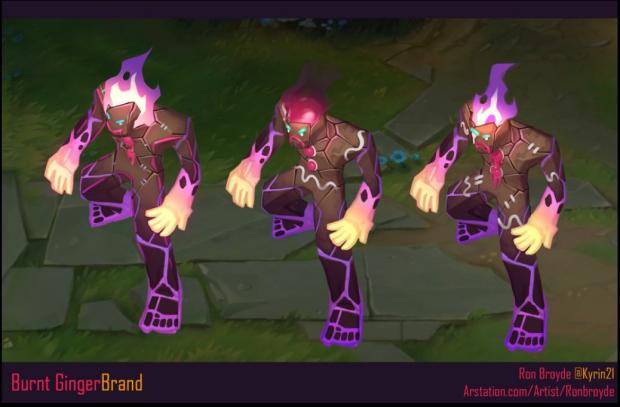 Burnt GingerBrand by Ron Broyde is a holiday-themed skin that we are dying to see on the rift.
Do you know the Muffin Man? The Muffin Man? Who lives on Drury Lane? If there is any goodness left in the world, Riot will bless us with this skin. League of Legends has a number of fun skin lines that come out to celebrate special times of the year, like April Fool's Day, Harrowing (Halloween) and Snowdown (Christmas). 
This skin would fit in perfectly to the latter category, as Brand rocks a Burnt Gingerbread skin and he's not happy about it. Has Brand ever been happy? With such incredible details such as the baking cracks on his body and the melting icing sugar, this skin would be amazing to see in the game!
Follow Ron Broyde: https://www.artstation.com/artwork/58QKeA
2. Battle Boss Mordekaiser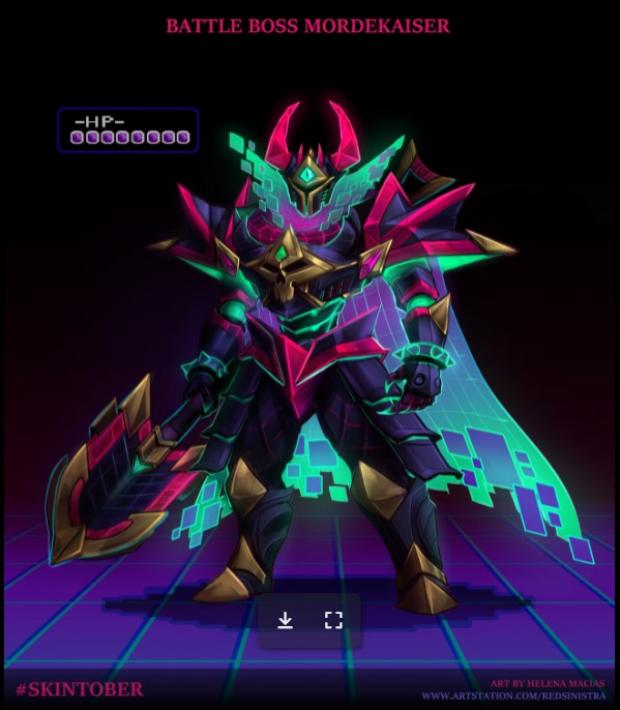 Helena Macias has created a fantastic skin for Mordekaiser which is both cool and fun.
While Burnt GingerBrand revels in the fun aspects of skin lines, and skins like Demon Irelia play into the serious side of skins, the Battle Boss and Arcade skin lines walk the line of both camp and serious. 
If any champion deserves to be made into a Battle Boss, it is Mordekaiser. With sharp edges, pristine lines accentuated with electric blues and turquoises, the colour palette and style of Battle Boss is unrivalled. 
Follow Helena Macias [aka RedSinistra]: https://www.artstation.com/artwork/Nxb1O5
1. Fairy Queen Diana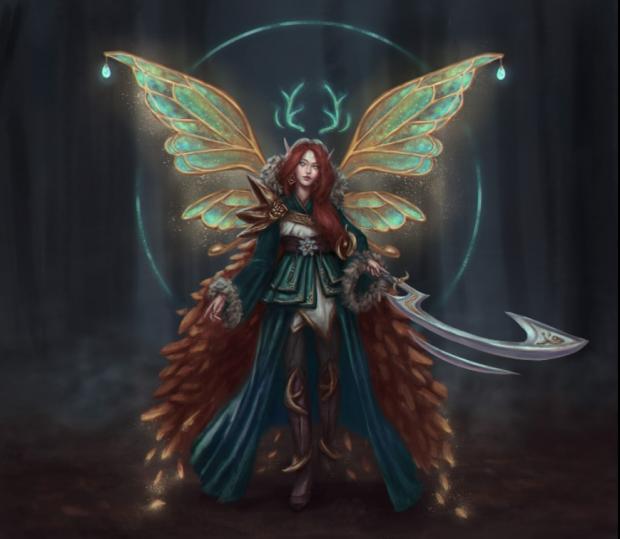 Diana kitted out in a Celtic Fairy Queen skin by artist Céline Vu.
Finally, number one on our list is Fairy Queen Diana. We highly doubt that Riot would release a skin like this due to Diana's recent skin, Battle Queen Diana. However, we can hope! 
The artwork behind the concept of Fairy Queen Diana is delightful. There is a mystical nature to the skin from her ethereal wings, antlers made from aurora borealis and her Celtic inspired clothing. Yet Diana is instantly recognisable due to her weapon of choice, the crescent moon blade.
Follow Céline Vu: https://www.artstation.com/artwork/NxmPwg
That wraps up our list of best fan-made skins that look freakin´awesome. What skins do you like? Do you have any you wish to see on the rift? Comment below!
You may also be interested in: