[Top 10] Garry's Mod Best Anime Player Models
Updated: 14 Apr 2021 7:45 pm
I sold my soul to the devil.
What are the best anime playermodels in Gmod?
Ugh. I have officially sold my soul to the devil, but uh yeah - today I'm gonna be sharing my favorite top 10 anime playermodels with you guys. These playermodels can be used for many things - perhaps for a server, perhaps you're a weeb and you like to look at anime girls in single-player(ain't no shame in your game) or maybe you just want to take a pic for your Steam profile. Who knows!
Before I start, I am pretty anime-ignorant, thus please don't jump at me and cut me into pieces with a Nodachi while screaming "baka" and ''uWu". Also, I have weeb friends and they're pretty cool, so we cool, cool?
10. Casual Girl (Playermodel)
Eh, pretty casual, but deserves a spotlight.
Hey man, as the title suggests, it's a "casual girl" playermodel. As any goddamn anime character, she has big round eyes with straight hair showing upfront and behind her back. She's dressed in a sweater and jeans, also some boots that I have no clue what they're called ;P. 
What Casual Girl does great:
Multiple hairstyles to choose from
Faceposing is not too buggy
She comes in different proportions
There's even working finger posing!
Download link: https://steamcommunity.com/sharedfiles/filedetails/?id=628672890
9. NYMPH Playermodel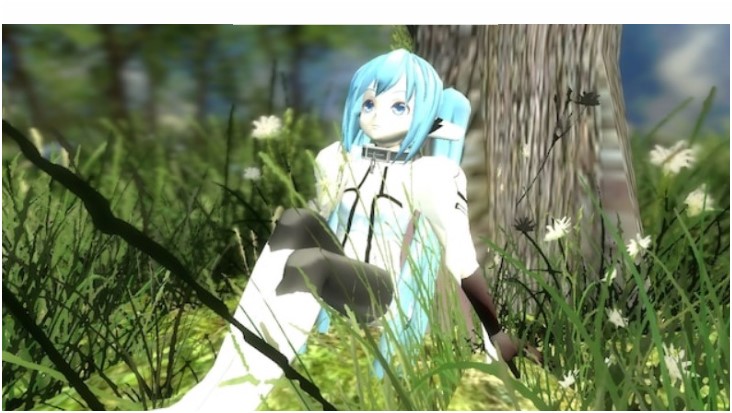 Cat ears and blue hair. Everything a weeb needs.
About this playermodel. Hmm, I like the mixture of blue and dark combined together(her hair/costume). Another thing that I like is the odd cape cut in stripes, I do not quite understand the point of that, but hey, it looks cool I guess. and OH SHET IT COMES WITH CAT EARSSSSSSSSSSSS!!!!!!!!!!!1111111
What NYMPH does great:
JIGGLEBONES - (her body parts jiggle).
She has 6 body groups in total
Idk looks cute or smtn?
Download link: https://steamcommunity.com/workshop/filedetails/?id=728982839
8. NEPTUNE PM/NPC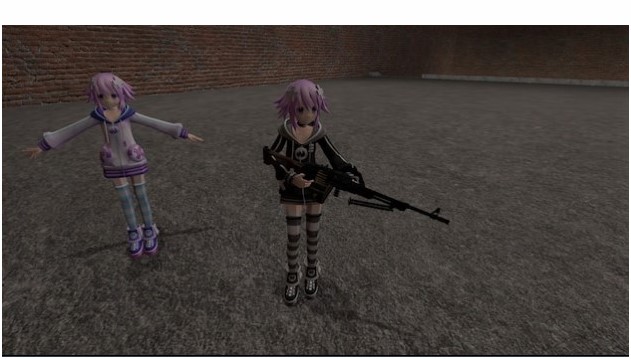 An anime character carrying a weapon twice her weight.
What is there to say? A pretty short playermodel with pink hair looks like something straight outta primary school. The model comes in two editions, one of them wearing a more grim, dark sort of clothing and the other model comes in a more feminine version - purple/pink clothing. I wanna die.
What NEPTUNE does great:
Being cute
Changable proportions
Great for avoiding bullets in servers(poorly made hitboxes ;P)
Download link: https://steamcommunity.com/sharedfiles/filedetails/?id=658141618
7. Choukai (Kancolle) P.M. & NPC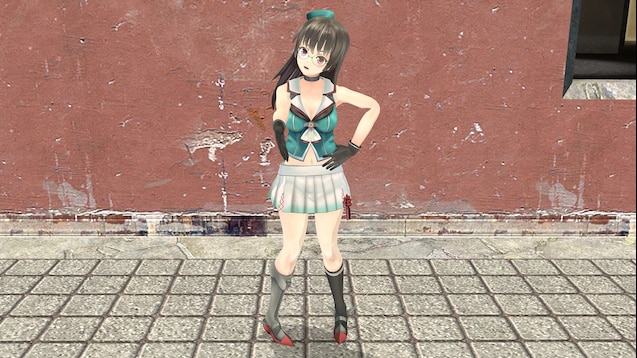 With a bit of skin.
Hello there, weeb. I've got another cool skin for ya - this playermodel is from a card game I believe(I could be wrong, so don't jump at me you rabid weebs!) - anyways, it's a chick wearing a very small hat with grey hair, wearing a blue shirt and 2 different types of knee-high socks for whatever reason. Shes also showing cleavage. Yay!
What Choukai does great:
You can create an enemy NPC with this playermodel and shoot it in the face.
Another playermodel with jigglebones. You know what that means, close the doors and get to business.
Theres also a ragdoll included in this addon.
Download link: https://steamcommunity.com/sharedfiles/filedetails/?id=926816453
6. Chell (MMD) P.M. & NPC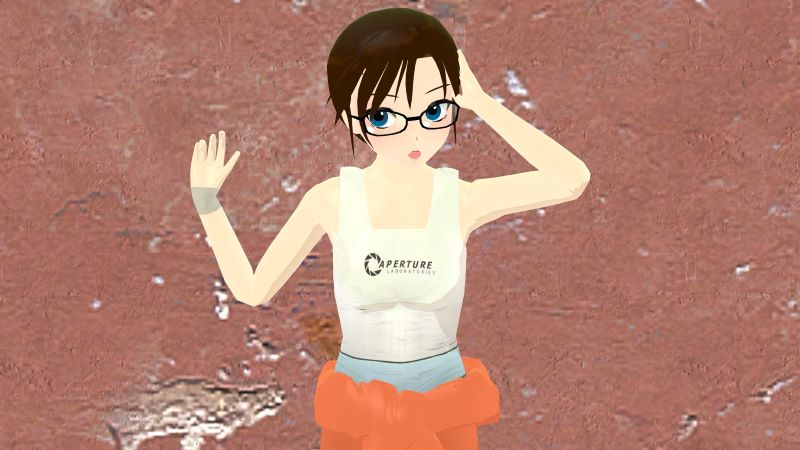 This was a triumph. 
Wow, Portal 1 and 2 are one of my favorite video games made by Valve and you wanna tell me Chell from those games has its own anime playermodel in Gmod? Waoww! If you like anime and the portal games, bruh, this is for you. Admire the cuteness of Chell in a completely cartoonish/anime remake - get it naow!
What Chell does great:
First-person view arms. You can now kill combines in cold blood with a crowbar as Chell.
The playermodel here looks less heavy than in the Portal series.
Download link: https://steamcommunity.com/sharedfiles/filedetails/?id=946847096 
5. Yowane Haku (Christmas)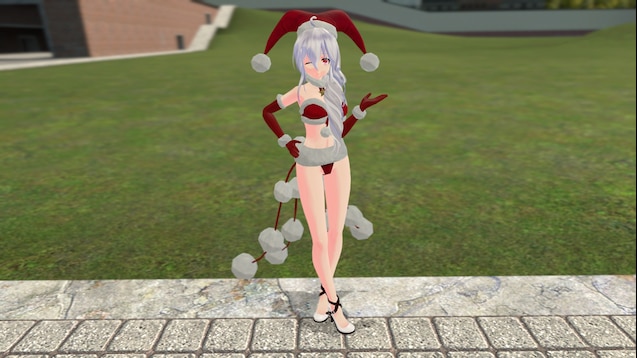 4 months too late!
If it wasn't a few months too late, Haku would have been on number 1. Or at least number 2, but anyways - the chick has a clown-like Christmas hat and grey hair, followed by red clothing with grey baubles. Of course, there is not as much clothing as there is skin showing but that's a good thing for weebz.
What Yowane Haku does great:
Gives you Christmas vibes.
Great for non-mechanical reproduction simulation.
Waow, it even has its own eye blink animation!
Download link: https://steamcommunity.com/sharedfiles/filedetails/?id=1236087169
4. FKG Setaria Green PM/NPC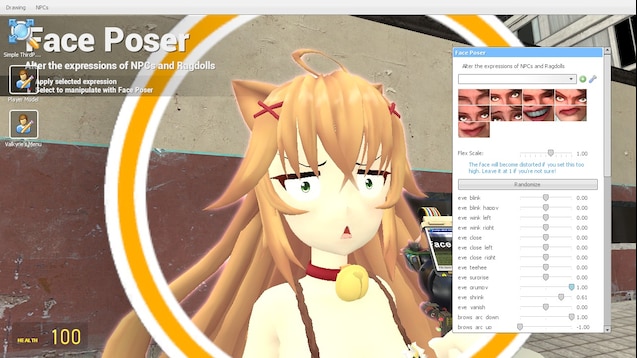 Oh noes, the cat ears.
Brown hair with cat ears, cute little anime girl in a white dress and sandals - she even has a tail with a ribbon on the tip of it - to look even cuter, I guess? The model looks pretty HQ and well detailed, also is quite highly customizable. It's a pretty nice model and deserves the 4th spot.
What Setaria green does great:
Does a great job looking cute
Glowy eyes. Glowy cat eyes. Extra cute.
You can change her face via the faceposing tool(eyes as well).
Download link: https://steamcommunity.com/sharedfiles/filedetails/?id=1342528542
3. USS Iowa (Kancolle) Playermodel and NPC

USA and Japan had a baby.
Pretty much the hottest playermodel on this list, it looks cool because it's not your typical Japanese-style anime gurl, but with a pinch of Americanism in it.  Blonde hair with grey-white clothing showing a lottttttt of cleavage. Another great material for non-mechanical reproduction simulation, but besides the top, she has a skirt and stockings with the flag of the United States of America. I picked this playermodel for Top 3 mostly cuz of the style it was presented in!
What this playermodel does great:
"Nice eyes"
Unique style
Jigglebones have been included a few times already, but with this playermodel it's x100 times more important.
Download link: https://steamcommunity.com/sharedfiles/filedetails/?id=934301109
2. Cinder Fall Playermodel & NPC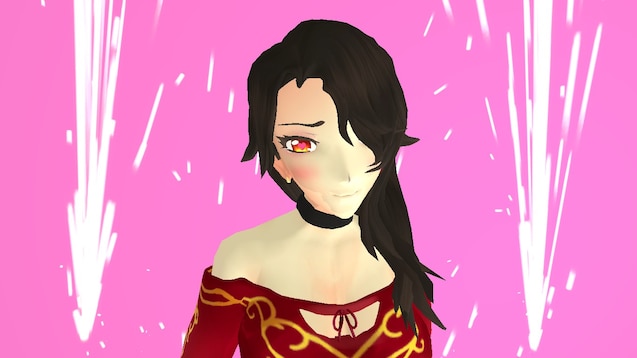 Classy anime gurl.
A cool playermodel with another unique style - a red dress with golden hems, dark hair, and high heels. It's not another lewd anime playermodel, but a playermodel with a classy style. I don't really know what else to say here, I've seen so many playermodels with "unique characteristics" that the simplicity and classiness of Cinder Fall deserve the 2nd spot in my eyes. 
What Cinder Fall does great:
Nothing too lewd.
Outstanding, classy style(the golden hems glow in the dark).
She'll be your waifu.
Download link: https://steamcommunity.com/sharedfiles/filedetails/?id=1303342986
1. Hatsune Miku V3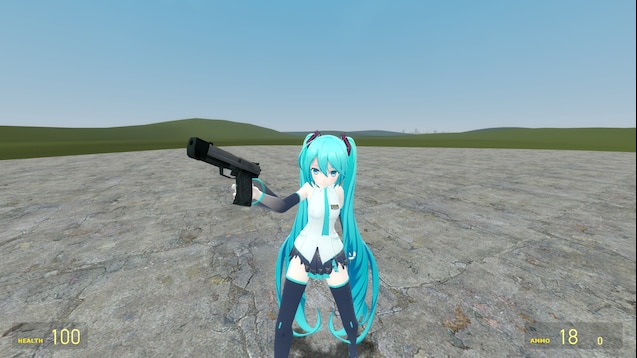 I was thinking of picking Goku, but oh well.
I don't know why this playermodel is so popular amongst the Gmod servers, let it be darkRP/Surf/Deathrun or whatever. I always see this playermodel and it boggles my mind, but anyways, about the playermodel - the first thing you're gonna notice is that Miku is pretty shiny. That's because the textures of this playermodel were specifically made to be glowy, she has long as fu- blue hair, some sort of school uniform with thigh-high stockings and shoes. 
This playermodel reminds me of the countless times admins with Hatsune Miku playermodels pulled me up to a roof with a gravity gun and told me why I'm gonna get banned for RDM'ing, griefing and blocking the spawn point. It's also a pretty popular playermodel used on Surf/Deathrun servers that you can buy on pointshops. It's a pretty cool playermodel that I've seen since a kid and generated alot of memories, so yup, it's getting a number 1. 
What Hatsune Miku does great:
Hair physics
2 different sleeve skins
Being the most overused playermodel right next to Male_07
Download link: https://steamcommunity.com/sharedfiles/filedetails/?id=1529164892
So pretty much guys, this is done. My soul has been sold to the devil and there is no turning back, I have become death, the destroyer of the worlds. But on a serious note, I did my best to rate these chicks from 10 to 1, if you don't agree with me here, please don't kill me. Thank you, my dear weeaboos <3
Special thanks to: Joyfreak Gaming Forum for the help!
Also Be Sure To Read:
Image Gallery