[Top 10] Garry's Mod Best City Maps
Updated: 22 Mar 2021 10:44 am
''Here my heart have no base, and right now Babylon de pon ma case''
What are the most kick-ass city maps in Gmod, you're askin' me?
I have played Gmod, oh yes I did, 6000 hours - countless sleepless nights, mom yelling at me for playing darkRP instead of fixing grades in school, destroying money printers before police officers can break into my apartment,  And what I consider to be a large part of the Gmod community, are the city maps - they can range in sizes and scenery, perfect for RP servers and much more.
I have played all of these maps in the span of the last 13 years, ever since I was a little 7 years old up until now, going back to some of these maps made me go on a massive nostalgia trip and I'll share with you my thoughts on them!
10. rp_downtown_v2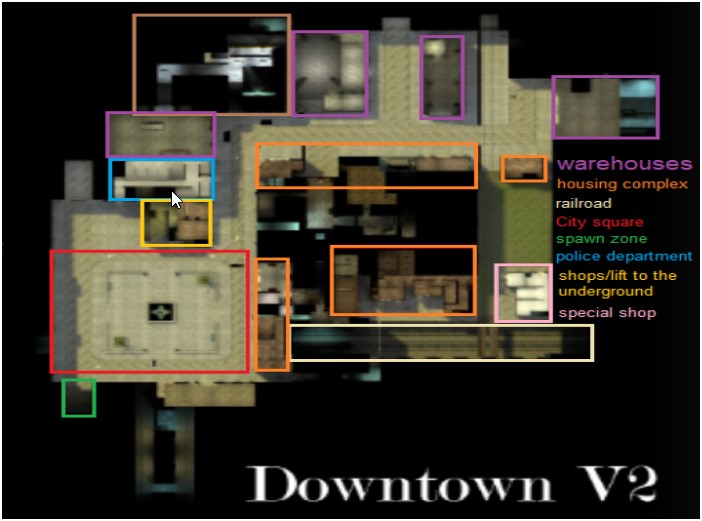 Feeling old yet? Yep, this is the map that started the explosion of darkRP servers.
Despite it being relatively small, it's still one of the most popular, smartly designed maps being played by thousands and thousands of players daily, even up to this day! The map has received millions of modifications and rightfully so, earned a legendary status.
The housing complex is obviously for legal purposes, like storing money printers or cooking meth. Warehouses, yeah, also for illegal purposes, but this time you have more space to share, thus starting your base/gang is more than welcome. The police department is where you spawn after being randomly arrested by some prick cop. City square - this is where you turn down your volume to avoid kids screaming into your microphone. Special shop - what makes this shop special? the fact that it has an opening hatch. That's it. Shops/lift to the underground, besides everything else mentioned about this map, also has an underground section - great for bases, illegal activities, and RDM'ing. 
What's great about this map:
●You don't have to worry about this map ever fading into irrelevancy.
●Simple and enjoyable map design.
●14 different buildings that you can interact with.
●There's a ghost hiding on this map, btw.
9. gm_bigcity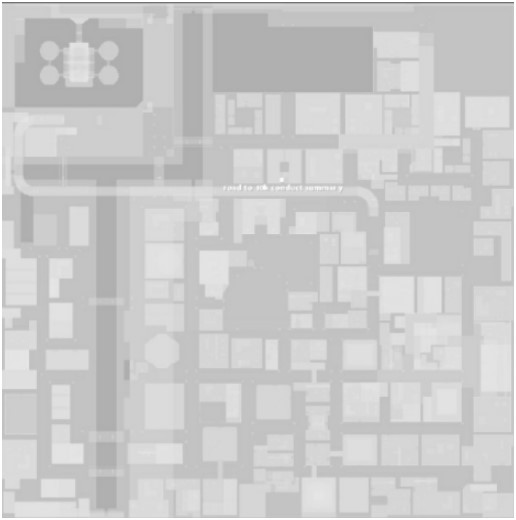 ''Don't let the system get you down''
You like maps with tall as hell buildings? Well, this map is for you. The name speaks for itself and it delivers the same - a big city. Besides skyscrapers it also has a few easter eggs and a toxic waste facility, plenty of roads and a few interactable buildings. This map is most of the time a sandbox map, yet it was used for gamemodes such as Underdone or Attack on Titan. 
What's great about this map:
●Large skybox, you can fly planes and helicopters without worrying about hitting an invisible wall.
●Dope for car racing with your friends.
●Great map for making cinematic videos.
●Creepy easter eggs.
8. rp_evocity_v2d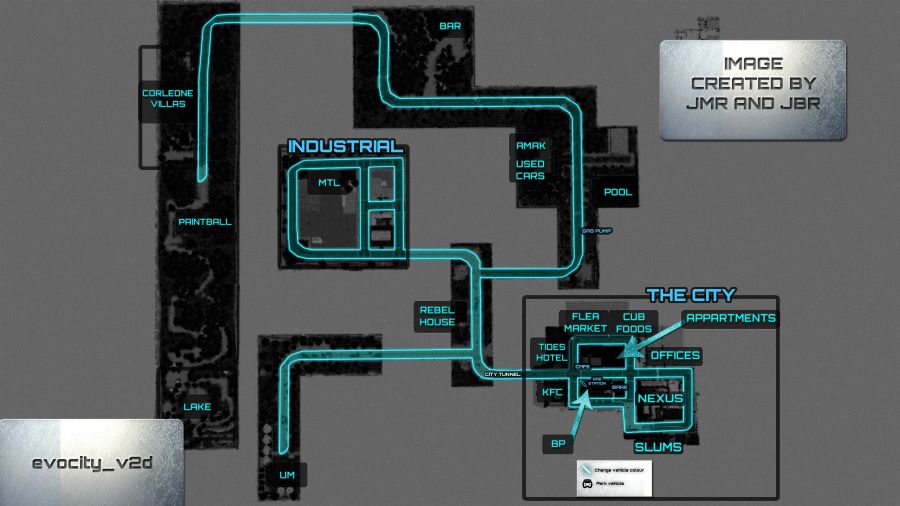 Fun map that I've spent hundreds of hours on!
After I became sick of playing darkRP, I switched to a less popular semi-roleplay server(FearlessRP) and that's when my adventure began with Evocity_v2 - the map is massive and it was specifically made for roleplaying, gorgeous design and filled with different zones, the busiest one being the city, that's where the most players reside and that's where the most rule breaking occurs. Also there are remote areas, such as the bar, the pool or the Corleone Villas, etc - go there if you want to grow the dank kush. And DON'T GO to the cave. 
What's great about this map:
●Buildings are scattered all around the map/vary in sizes and types
●The roads will take you almost everywhere, so getting somewhere on foot is rarely necessary
●Interior inside of buildings is well designed
7. gm_fork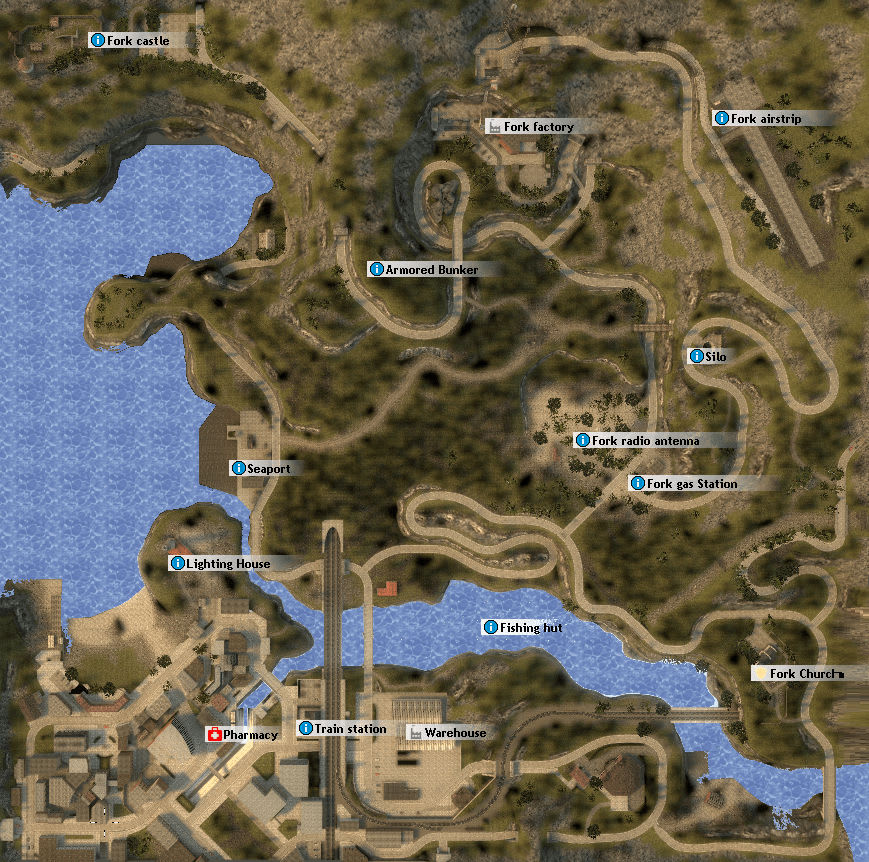 Gotta say, nuke explosions look dope on this map!
Gm_fork is a map that differentiates itself with awesome and diverse terrain, the city located in the south is surrounded by a lake, rivers and mountainous region that you can get an awesome view from - despite the city being smaller than rest rest of the map, it still feels massive during exploration. The map has a few interactive buildings and big potential for zombie/fallout themed gamemodes.
What's cool about this map:
●Maximum map size
●Curved, uphill roads
●Tall skybox(cool for flying planes and such)
●Map with one of the best sceneries
6. rp_danktown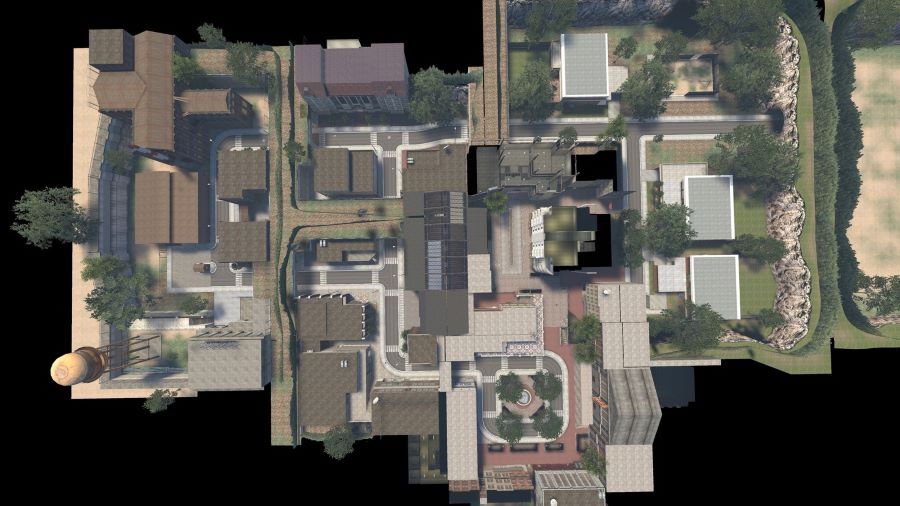 There's a reason for everything and there's a reason why this map is called danktown - cuz it's dank. 
The map's design is dope, it has everything that a city should have - shops, a bank, a bar, a police station with prisons - but what makes this map special in my mind is the amount of fun I've had escaping cops, whether on foot - you can access rooftops which leaves you with more options of escaping, or by vehicle - the roads branch out a lot and makes car chases more fun than on other city maps.
What this map is dank at:
●Map is easy to learn
●Many buildings with fun interior design that pave the way for different types of roleplaying
●Cool prison design, makes jailbreaks very fun on RP servers
5. rp_evocity_v33x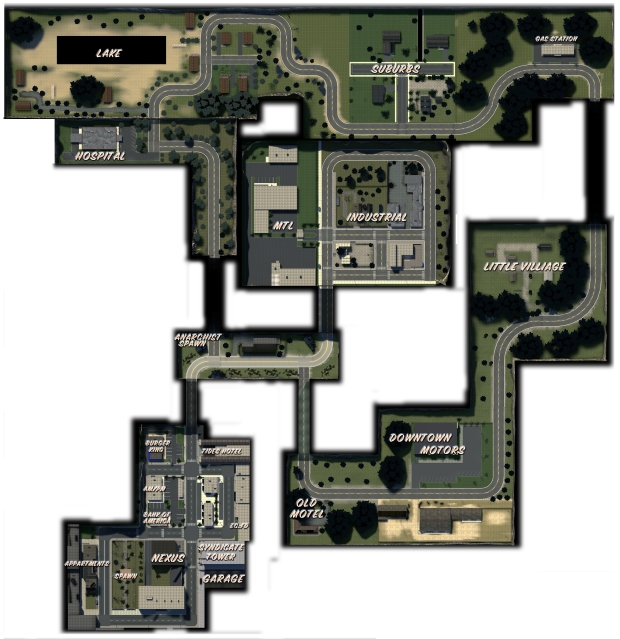 Welcome to Evocity_v33, it's like Evocity_v2d but on steroids.
The map is also pretty old and deserves a place amongst the OG roleplay maps. In contrary to Evocity_v2, this map has a fire department and a park, besides that a 3 times larger lake with a neighborhood. Instead of Corleone Villas you get the suburbs, which for the most part can be owned by anyone…. sometimes. There's also a remote village, it lacks space so it's not great for contrabands, but it's great for RP'ing - perhaps you want to start a cult that wants to assassinate the president, maybe something else. 
What's great about this map:
●More areas to explore than in evocity_v2d
●Industrial area is bigger and has more diverse buildings
4. rp_rockford_french_v4b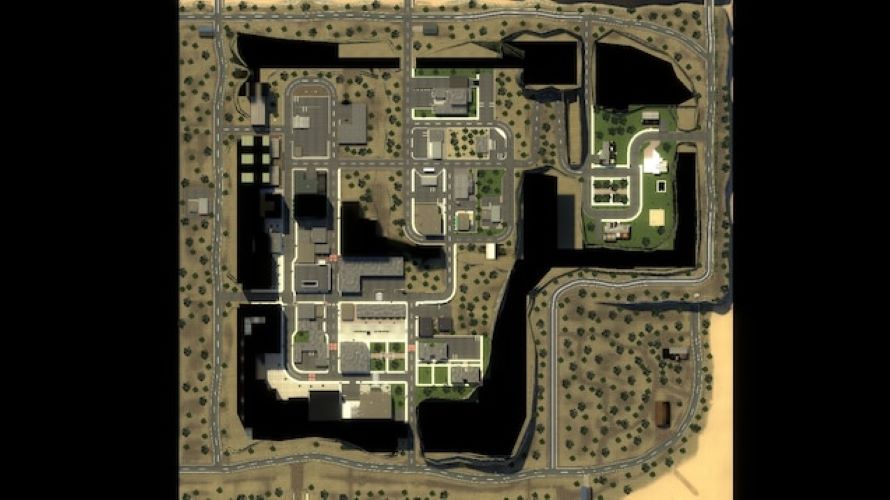 This map doesn't have too many rocks, actually.
Rockford is a map that doesn't necessarily have to be used for RP only content, I saw this map used for Underdone and a zombie apocalypse themed gamemodes. The city area is not separated from the industrial zone, which makes it one of the bigger cities. The design of the map is also very eye-pleasing, custom made buildings and many green areas, it even has a disco club! (Map made by 
What's great about this map:
●Very long roads, perfect map for car races
●Zones are cramped up together, which allows for more player interaction
●There are many interactable houses to which players won't run out of.
3. Evocity2_v5p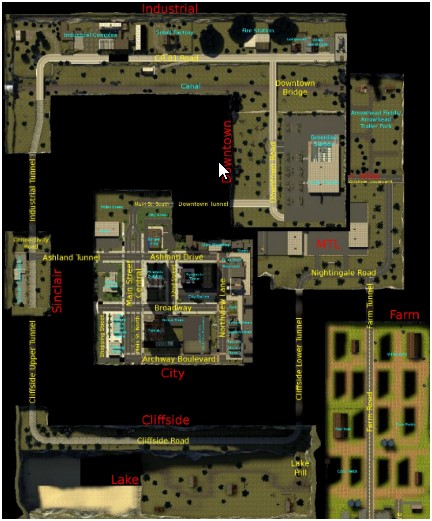 LOOK, I KNOW THAT THE NAME IS EVOCITY, BUT THE MAP IS COMPLETELY DIFFERENT!
The map is well done with fun content - the city in the center has a bank and an elevator leading you to a train station, which can either take you to Cub Foods or the suburban area. This map to me is a breeze of fresh air - industrial is not a gloomy poophole, but a nice line of factories alongside the river, which is a nice change of scenery. Another thing that contributes to scenery is the cliffside road, this is where the most car accidents and CDM reports happen. There's also a farm. You can guess for what.
What's great about this map: 
●Cool visuals(fog, brightness)
●Original map design
●Fancy music while travelling via trains
2. San Ranevo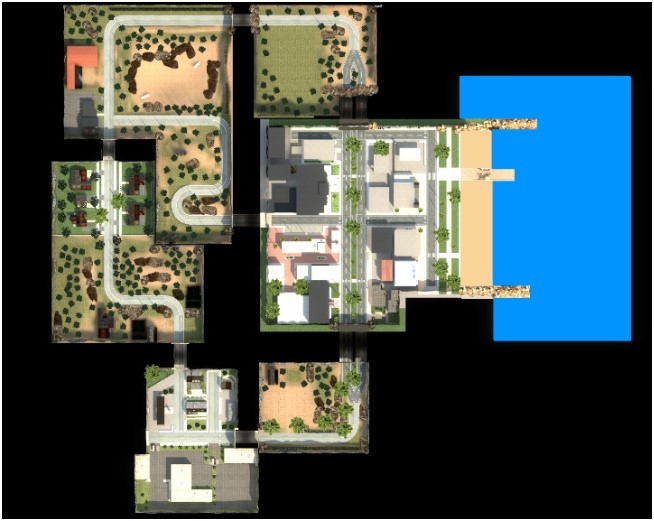 ''Land of the heinous, gang bangers and cold heat''
First time loading this map, you're gonna notice the warmth of it and that's probably because it's based off of west coast California. The map has very well detailed buildings, the hospital alone has: a large waiting room, a surgical room, ICU, private wards, 2 staff desks and more. I could detail every interior of this building, but I can't let you sleep yet, we're slowly heading to the end of this top10!
If you could never afford a ride on a ferris wheel, don't worry, you can get yourself one for free on the pier located in the city! Truly one of my favorite RP maps.
What's great about this map:
●Awesome Californian setting(Palm trees, beach, pier, etc)
●You can build your own house, there's a section with a lot of space
●You can pray in a church.
1. Paralake City V4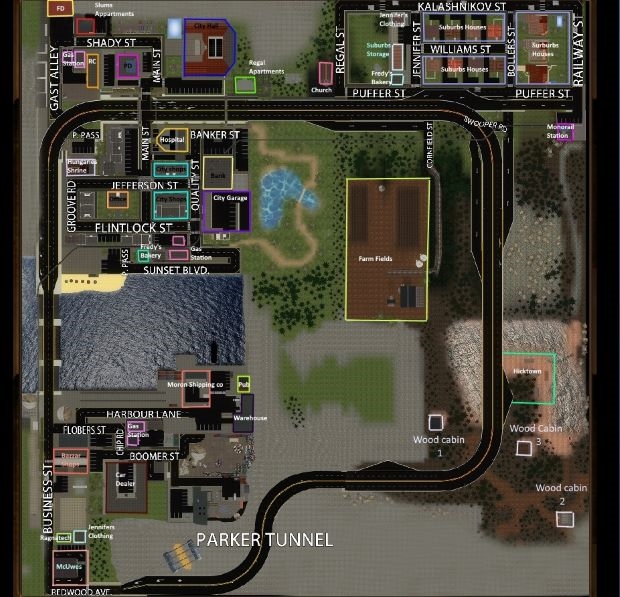 The one and only.
Ladies and gentlemen, hands down, the best city map(in my opinion) I've ever played. I discovered it first on a Perpheads server in 2018 and I was just simply stunned with how beautiful the map was. I stacked around 150 hours on it and I still was discovering new areas. Throughout the city there's a huge highway that will literally take you to everywhere, even if you can't afford a vehicle on an RP server, this map has public transport that can take you to either the industrial located in the bottom-left area or the suburbs located in the top-right corner of the map(Well, it can't take you to the swamps, but who goes there anyways, yikes). 
I fell in love with this map and if not for my potato PC I'd still be playing it ;(.
What's awesome about this map:
●Inventive map design
●It will take you a long time to run out of places to explore
●Countless amount of buildings with awesome interior design in many different zones
●Massive map size(if not the max)
City maps are perfect for roleplaying servers. I love these maps because they remind me of my childhood, playing them with your friends on some servers is also an even better experience. These maps are really worth a shot, their authors put a lot of heart into their work and if you're a fan of roleplaying, you'll be far from disappointed. Although I love these maps and many RP communities, I still have PTSD flashbacks from kids screaming and crying into their mics.
Download links for the maps:
10. https://steamcommunity.com/sharedfiles/filedetails/?id=107982746
9. https://steamcommunity.com/sharedfiles/filedetails/?id=105982362
8. https://steamcommunity.com/sharedfiles/filedetails/?id=607702684
7. https://steamcommunity.com/sharedfiles/filedetails/?l=polish&id=326332456
6. I literally couldn't find any download link for rp_danktown, idk where it is
5. https://steamcommunity.com/sharedfiles/filedetails/?id=708804738
4. https://steamcommunity.com/sharedfiles/filedetails/?id=781977979
3. https://steamcommunity.com/sharedfiles/filedetails/?id=538207599
2. https://steamcommunity.com/sharedfiles/filedetails/?id=1828706266
1. https://steamcommunity.com/sharedfiles/filedetails/?id=971467487
Also Be Sure To Read:
Image Gallery