[Top 15] FIFA 20 Best Players Who Are Amazing
Updated: 09 Feb 2020 2:40 pm
Only The Best Players Will Do For You
To be the best on FIFA 20 you need the best players, so here they are.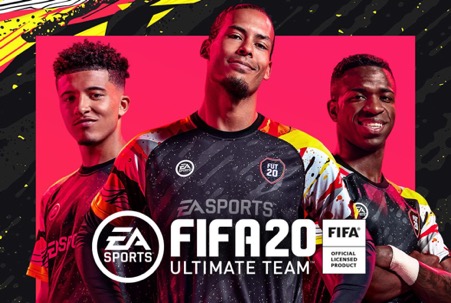 Every FIFA player always wants to know the answer to that all important question. Which players should I have in my team? Well,  this article will provide the answer to that question to make sure you have the ultimate FIFA 20 dream team.
15. Heung-Min Son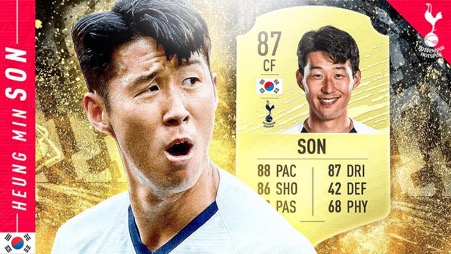 Heung Min Son looks amazing on FIFA 20.
No best FIFA 20 player list would be complete without Spurs's South Korean superstar Heung-Min Son. All of us have faced the wrath of this insane card every time we come up against him and here is why he is amazing.
An insane 5* Weak Foot means he can smash goals in with either foot.
A great composure rating of 87 makes sure Son will never fluff his shots or fall over.
A curve rating of 85 means that Son faces no difficulty curving his shots around the goalkeeper. 
Heung-Min Son full details - https://www.futbin.com/20/player/525/Heung%20Min%
14. Antoine Griezmann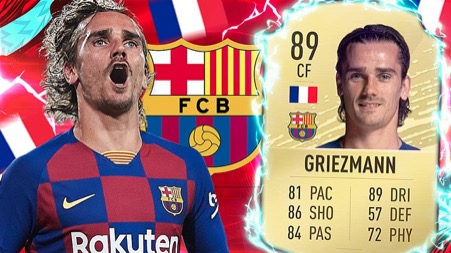 Antoine Griezmann will fire in the goals on FIFA 20.
No FIFA 20 attack would be complete without Barcelona's newest big money signing Antoine Griezmann. The World Cup winner recently joined the Catalans for £107 million for exactly the same reasons you should sign him on FIFA 20.
A brilliant dribbling rating of 89 means Griezmann will have no problem gliding with the ball past defenders.
A solid 84 passing rating means that Griezmann will link up well with your other attackers. 
Being French and playing for Barcelona, Griezmann links up easily to some of the other top FIFA 20 players, like Lionel Messi and Paul Pogba. 
Antoine Griezmann full details - https://www.futbin.com/20/player/896/antoine-griezmann 
13. Mohammed Salah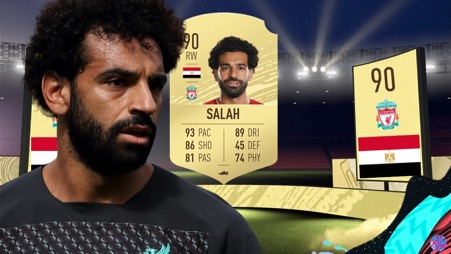 Mo Salah looks rapid on FIFA 20.
Mohammed Salah has lit up the world of football since joining Jurgen Klopp's Liverpool. He is a key part of Liverpool's deadly attacking trio and he could easily play that role for your FIFA 20 team. 
93 pace makes Salah a speed demon that can easily leave defenders in his wake.
89 dribbling makes Salah one of the best with the ball in FIFA 20. He should have no problem weaving his way through the opposition. 
92 reactions will make sure Salah is always first to the ball.
Mohammed Salah full details - https://www.futbin.com/20/player/461/mohamed-salah 
12. Moussa Sissoko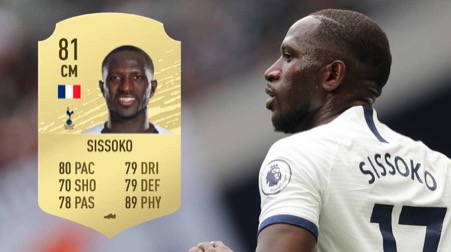 This powerhouse will demolish your competition.
Moussa Sissoko is the lowest rated player on this list, and he may not initially look like he belongs, yet there are reasons he keeps top midfielders like Luka Modric and Sergio Busquets out of this Top 15. 
An incredible stamina rating of 91 means he will never slow down over the 90 minutes, and this is even more important for a box to box central midfielder. Sissoko is like an annoying younger sibling, he just won't leave anyone alone.  
An outstanding strength rating of 90 means that no player in the opposition side will be  a physical threat with Sissoko around. 
85 shot power means that Sissoko can slam his shots right into the top corner with so much power the goalkeeper has little chance of making a save. 
Moussa Sissoko full details - https://www.futbin.com/20/player/19775/moussa-sissoko 
11. Alisson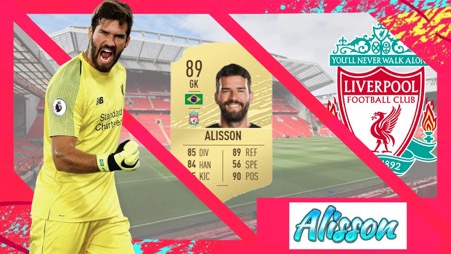 The Brazilian shotstopper won't let you down.
After years of poor performers such as Simon Mignolet and Loris Karius, Liverpool have finally found the top goalkeeper they needed in Brazilian Alisson. Alisson has been a sensation for Liverpool and on FIFA 20 he is no different. 
Having 89 reflexes means Alisson is always quick to dive in the direction of the ball.
90 positioning makes Alisson a reliable goalkeeper as he is always in the right position.
At 6 foot 3 inches, Alisson should have no trouble catching shots from any striker trying to cheekily chip him. 
Alisson full details - https://www.futbin.com/20/player/471/alisson
10. Paul Pogba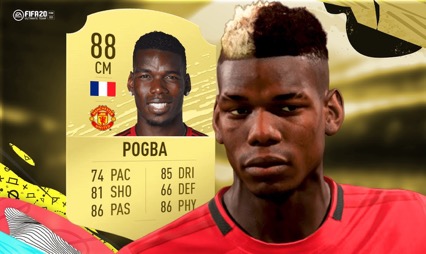 Man Utd's £80 million man would be a FIFA 20 bargain for you.
Manchester United's French star faces a lot of flack from football pundits, opposition fans, and sometimes even his own fans. But that doesn't mean that Pogba isn't still one of the best players in the world and on FIFA 20.
5* skill moves make Pogba an unusually skillful player for central midfield, which makes him a unique threat. 
89 strength means that even if Pogba cant skill his way past his opponents he can easily push his way through. 
Being 6 foot 3 makes Pogba an attacking threat off corners and crosses as well as a defensive asset. It also makes him tall. 
Paul Pogba full details - https://www.futbin.com/20/player/242/paul-pogba
9. Sergio Aguero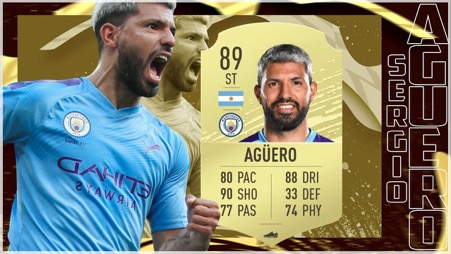 Agueroooooooooooooo.
Sergio Aguero has cemented himself into the legion of Manchester City legends, although there aren't many, with a huge collection of important game winning goals, such as his infamous title winning goal against QPR in 2012. He could do the same and more for your FIFA 20 team and here is how. 
A shooting stat of 90 means that Aguero is one of the best finishers in the game.
A high positioning rating of 93 means that Aguero will always be in the right place at the right time when it counts.
81 jumping and 78 heading accuracy make Aguero's one weakness, his height, a strength.
Sergio Aguero full details - https://www.futbin.com/20/player/294/sergio-ag%c3%bcero 
8. Marco Reus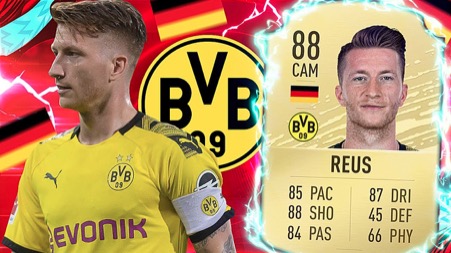 Reus would be electrifying for you on FIFA 20.
Borussia Dortmund and Germany's ace attacker, Marco Reus could slot into any side in the football world. And your FIFA 20 team is one of them. 
A well-balanced player with 80+ ratings in key areas such as dribbling and shooting makes Reus excel in most aspects of FIFA.
A high attacking work-rate means that Marco Reus will always be making runs into the box looking to get on the end of any chances. 
A 90 penalties rating makes Reus a clinical spot-kick taker. 
Marco Reus full details - https://www.futbin.com/20/player/189/marco-reus 
7. Virgil Van Dijk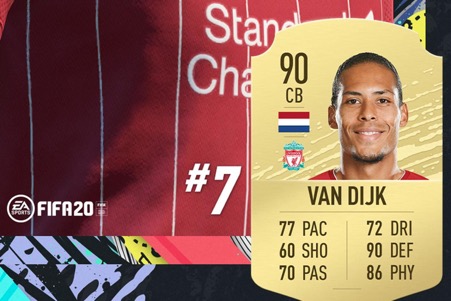 Liverpool's defensive general is a must for you on FIFA 20.
Arguably the best defender in world football, VVD is easily the best centre back on FIFA 20. And when you look at his stats it is no wonder why.
77 pace means that VVD can catch up to the opposition's attackers, on the off chance they get past him.
A gigantic height of 6 foot 4 inches means that VVD can head any ball into the box out of danger.
92 standing tackle and 85 slide tackle ratings mean that VVD rarely misses a challenge.
Virgil Van Dijk full details - https://www.futbin.com/20/player/469/virgil-van-dijk 
6. Kevin De Bruyne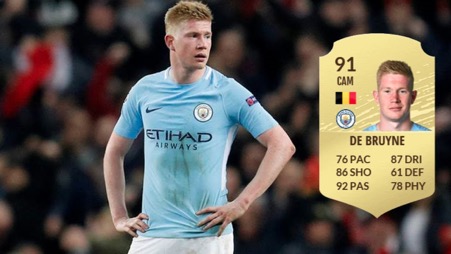 Man CIty's midfield meastro is a magnificent must on FIFA 20.
Manchester City's star player Kevin De Bruyne may have been injured most of last season but he has shown his class this year and his real life performances echo his potential as a top FIFA 20 player. 
90 long shots make KDB a huge threat from anywhere on the pitch.
92 passing shows why KDB is considered one of the best passers in the world and his pinpoint accuracy will be of great benefit on FIFA 20.
5* weak foot means that KDB can shoot from range and provide excellent passes with either foot, making him that extra bit more dangerous.
Kevin De Bruyne full details - https://www.futbin.com/20/player/291/kevin-de-bruyne 
5. Eden Hazard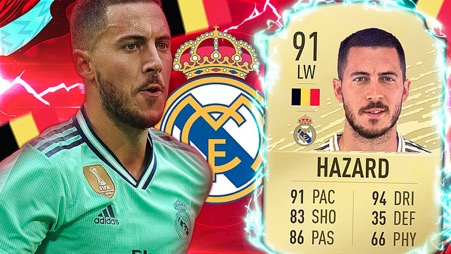 Belgium's best attacker will bulldoze opposition defenders. 
Real Madrid's new £89 million galactico is perhaps the biggest signing of the summer transfer window. After spending years at Chelsea, Hazard decided to swap the rainy London weather for the sunshine of Madrid and who can blame him. He is a world-class player that would fit into any side in the world and your FIFA 20 team is no different. 
91 pace means that Hazard will have no trouble leaving opposition defenders in the dust. 
84 stamina makes Hazard one of the most reliable players on FIFA 20, as he will keep running at the opposing team for the full 90 minutes. 
Being Belgian means that Hazard can provide the links to other top FIFA 20 players like Kevin De Bruyne and Dries Mertens. 
Eden Hazard full details - https://www.futbin.com/20/player/385/eden-hazard 
4. Neymar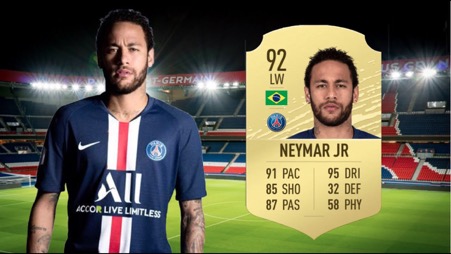 Brazil's brash superstar will deliver the goods on FIFA 20.
Every generation seems to have the one Brazilian star that dominates world football and there is no better example than Neymar. A Champions League, Ligue 1, and La Liga champion, Neymar can easily help you lift the gold on FIFA 20.
5* skill moves mean that Neymar can pull out any skill move in FIFA 20, so getting past your opponents should be no problem. 
5* weak foot makes Neymar as good on his left as he is on his right, so you never have to worry about getting the ball on his stronger foot when taking a shot. 
94 composure means that Neymar will never miss hit a pass or  shot.
Neymar full details - https://www.futbin.com/20/player/846/neymar-jr 
3. Kylian Mbappe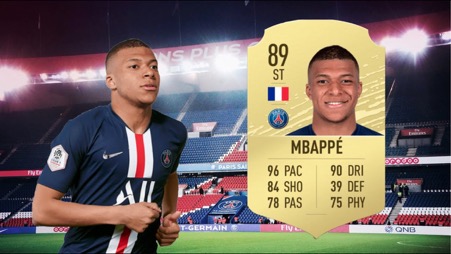 PSG's young French starlet will star for you on FIFA 20.
When Kylian Mbappe first burst onto the football scene as a young star many doubted he would reach his potential. Since then Mbappe has sealed a dream move to PSG and won the World Cup so it is safe to say he proved the doubters wrong. His FIFA 20 card perfectly reflects his real world talent. 
96 pace means that Mbappe is one of the fastest players in FIFA 20 and even the quickest of defenders will stand no chance of catching him. 
Mbappe's high attacking work-rate coupled with his low defensive work-rate makes him the ideal striker, as he will always be looking to be on the front foot and make runs in behind. 
5* skills mean that Mbappe is another tricky player in FIFA 20 who can escape defenders with ease. 
Kylian Mbappe full details - https://www.futbin.com/20/player/854/kylian-mbapp%c3%a9 
2. Cristiano Ronaldo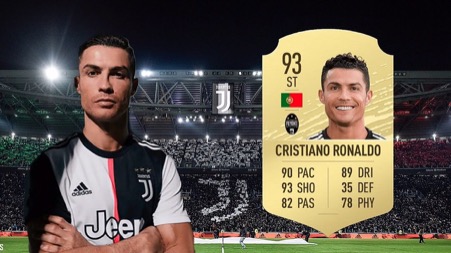 CR7 will take your team to the next level.
Cristiano Ronaldo has a strong case for being the best player of all time and he also has a strong case for being the best FIFA player of all time. CR7 may have received a downgrade from FIFA 19, but that doesn't mean he isn't still one of the best in the game.
93 long shots make Ronaldo just as much of a threat from outside the box as he is inside it.
89 heading accuracy and 95 jumping ratings make Ronaldo one of FIFA 20's biggest threats in the air.
A 76 free-kick rating may seem low but it is still higher than most players in FIFA 20, meaning Ronaldo is one of the best free-kick takers in the game. 
Cristiano Ronaldo full details - https://www.futbin.com/20/player/143/cristiano-ronaldo 
1. Lionel Messi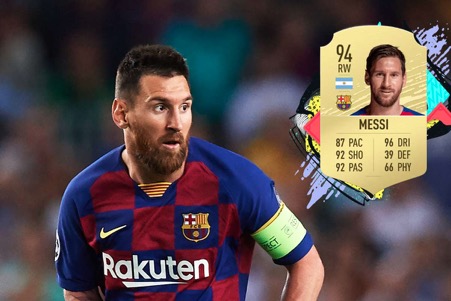 The best in the world is the best player for you on FIFA 20.
There could only ever be one player who could fill the number 1 slot on a FIFA 20 best players list and that is none other than the best player in the world himself, Lionel Messi. And although many fans will argue that Cristiano Ronaldo is the best player in real life, on FIFA 20 there is no debate. 
96 dribbling does not mean Messi needs a bib, in fact, it shows why Messi has no trouble keeping the ball and taking it around opposition defenders. 
92 passing means Messi is one of the best passers on FIFA 20, which is especially handy for through balls and crosses from the wing. 
92 shooting and 95 finishing ensure that, just like in real life, Messi will never miss a chance. 
Lionel Messi full details - https://www.futbin.com/20/player/341/lionel-messi 
Also be sure to check out these articles: 
Image Gallery