[Top 15] Best Indie Co-op Games Worth Playing Right Now
Updated: 16 Mar 2023 8:31 pm
Co-op indie games are mostly great hidden gems
What indie co-op games would you like to try?
Co-op games may not be as popular as they once were, as people prefer single-player or competitive multiplayer games. However, there are many indie games that have focused on cooperative gameplay and are well worth playing with your friends.
We've compiled a list of 15 incredible indie co-op games that you absolutely must try!
15. Human: Fall Flat - July 22, 2016 (PlayStation 4, Xbox One, Nintendo Switch, Xbox Series X/S, PlayStation 5, PC)
Human: Fall Flat is a fun co-op game with up to 8 players that can be quite hilarious. Because it is physics-based, players must use all of their character's limbs to climb up and grab objects.
There are numerous levels in the game, each with its own distinct design. There are over 20 levels that are enjoyable to play with friends. The main challenge is controlling your character, as you must control their arms and legs perfectly to jump and reach platforms in order to complete the mission. Furthermore, if you have the Steam version, you can easily download more community-created titles.
Choose Human: Fall Flat if you like:
Puzzle game with mixed of platformer
Customizing your character
Downloading maps or creating your own maps (Steam only)
Human: Fall Flat Feature:
Human: Fall Flat is a funny physics platformer set in floating dreamscapes
Online multiplayer for up to 8 players changes Human: Fall Flat.
Customizable characters
Fun Factor: 75/100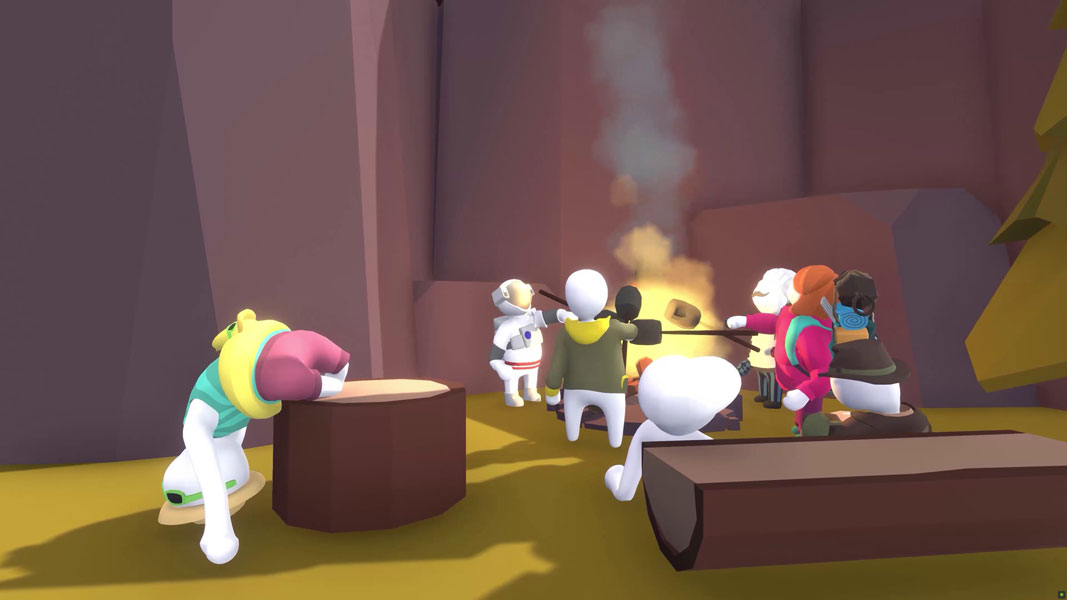 Have a mallows-party with your friends, provided you can carry the stick!
14. Keep Talking and Nobody Explodes - October 8, 2015 (PC, PlayStation 4, Nintendo Switch, Xbox One)
Keep Talking and Nobody Explodes is an entertaining co-op game with an original twist. It's a puzzle game in which one of your friends is the bomb defuser and the other players use a manual to help you defuse the bomb.
You use a different bomb for each run, and if you intend to explore the missions, there will be progression, which increases the difficulty as you progress. You can also use Freeplay Mode to create your own custom mode.
Choose Keep Talking and Nobody Explodes if you like:
Couch co-op game
Puzzle gameplay to defuse the bomb
Multiple missions and customizable modes
Keep Talking and Nobody Explodes Feature:
Play with friends in couch co-op, or online via voice chat service.
Play random bombs every single time
Only one copy is needed, while other players can use an online document.
Fun Factor: 77/100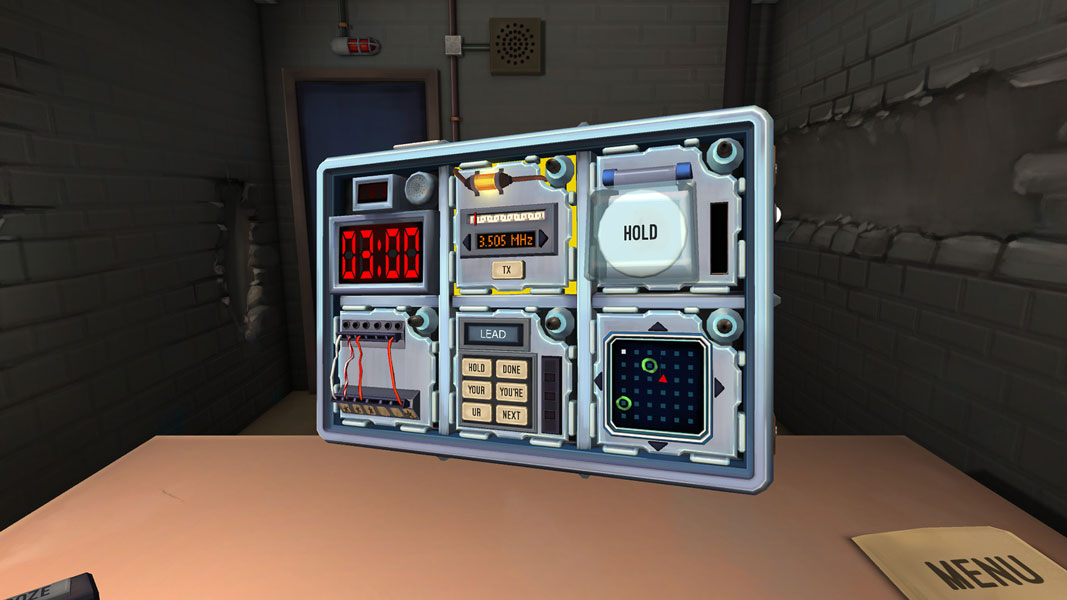 Careful! It's a bomb!
13. No Man's Sky - August 13, 2016 (PC, PlayStation 4, Xbox One, Xbox Series X/S, PlayStation 5, Nintendo Switch)
No Man's Sky is a phenomenal open-world space adventure game. Initially, players condemned the game as one of the worst games ever released, but thanks to Hello Games' passion for continuing to polish the game, No Man's Sky is now one of the best games to play to date, especially with friends.
Although you can enjoy a fully single-player adventure, it is far more enjoyable to play with your friends. Consider exploring generated worlds, encountering pirates or monsters, and gathering resources to eventually upgrade your ships or weapons. There is so much to do in this game, and exploring with friends is simply a blast.
Choose No Man's Sky if you like:
Exploring the space and unique worlds
Building your ship and base
Gathering resources and upgrading plenty of stuff.
No Man's Sky Feature:
Explore, trade, fight, and survive in a shared universe on an epic journey.
Upgrade your ship, weapon, and suit to fend off pirates and enemies.
No Man's Sky is your journey. Will you fight pirates or prey on the weak? It is all up to you
Explore the world with your friends
Fun Factor: 79/100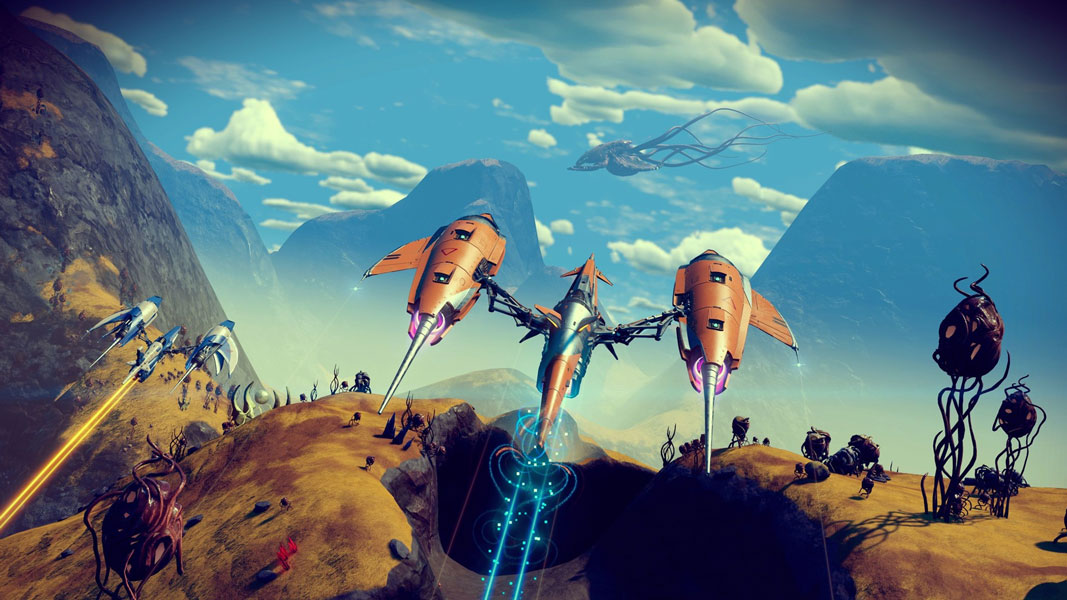 Fly in space or explore unique worlds with different types of resources you can gather.
12. Deep Rock Galactic - February 28, 2018 (PC, Xbox One, PlayStation 4, PlayStation 5, Xbox Series X and Series S)
Deep Rock Galactic is a full-fledged action co-op game that focuses on exploration, resource gathering, and combating hordes of aliens. It supports up to four players, which adds tons of great narrative and fun moments.
You can focus on any job you want, whether it's fighting enemies as a Gunner, scouting caves as a Scout, mining solid rocks as a Driller, or supporting your team as an Engineer. Each job has advantages and disadvantages that are all beneficial in surviving as a team against the enemies. Furthermore, when exploring the generated cave systems, everything is destructible.
Choose Deep Rock Galactic if you like:
Exploring cave systems that are randomly-generated
Play as different classes to help your team
Destroy everything you see and gather riches around the cave systems
Deep Rock Galactic Feature:
Team up to dig, explore, and fight through a massive cave system full of deadly enemies and valuable resources. Surviving the galaxy's most dangerous cave systems requires teamwork!
Choose a suitable class. The Gunner kills enemies, the Scout lights up caves, the Driller chews through rock, and the Engineer builds defensive structures and turrets.
Destroy everything around you to succeed. You can complete your mission your way. You can focus on your goal or explore your surroundings by creating a complex network of paths. Don't get caught in an alien swarm unprepared!
Explore procedurally generated cave systems with enemies to fight and treasures to find. Every playthrough has something new.
Fun Factor: 81/100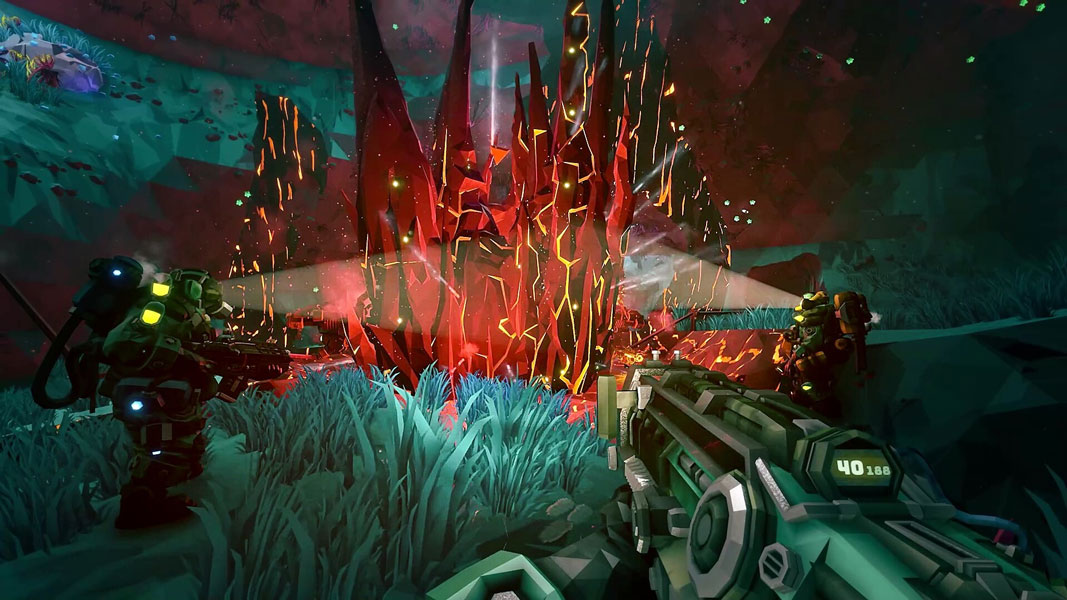 In Deep Rock Galactic, you can destroy everything as you explore the caves.
11. PlateUp! - August 4, 2022 (PC)
PlateUp! is a roguelite restaurant management game in which you manage your own establishment. It's not your typical management game because it incorporates roguelite elements, which adds to the game's longevity.
You can play with up to four players and choose what type of main dish and restaurant layout you want before beginning your run. It is difficult because one disgruntled customer means you lose the entire run. You can upgrade your restaurant as you receive random restaurant upgrades every day, while also receiving passive modifiers to improve your run.
It can get a little crazy with friends, which is always a lot of fun and can result in a hilarious run.
Choose PlateUp! if you like:
Managing your own restaurant
Roguelite elements to improve your restaurant
Challenging co-op game
PlateUp! Feature:
Select your main dish from a variety of choices as well as side dishes, toppings, and desserts.
Design and decor your own restaurant with different layouts
Handle your customers by getting them seated, getting their orders, and serving them the correct food.
Upgrade and place upgrades that are randomly provided to you depending on your playstyle.
Fun Factor: 83/100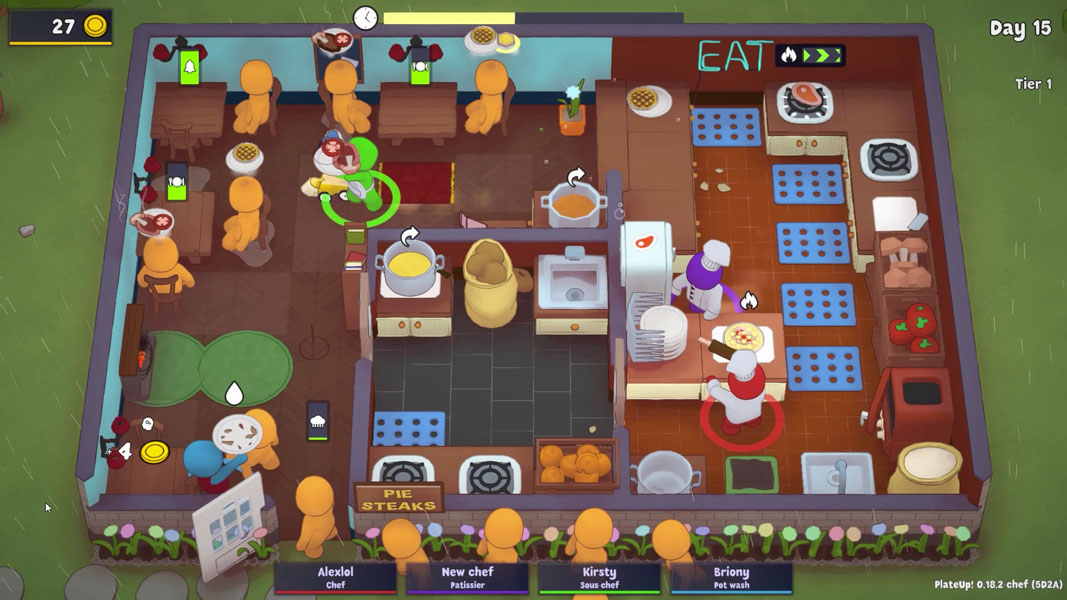 A fully-packed restaurant is hard to mange, even with friends who are most likely panicking.
10. Risk of Rain 2 - August 11, 2020 (Nintendo Switch, Xbox One, PlayStation 4, PC)
Risk of Rain 2 is an action roguelite game that focuses on looting and combining loot. This game can be played with up to four players and is a lot of fun. However, playing single player is also enjoyable.
There are several playable survivors in the game, each with their own combat style. Each run will be unique, and it will always begin with you fighting a swarm of aliens and bosses, who will drop experience and currency to open chests for better loot. Some items work together to create a powerful buff.
As you progress through the game, the difficulty level increases.
Choose Risk of Rain 2 if you like:
Action game with roguelite elements.
Looting items to create powerful buffs for your character
Unlocking unique survivors to play
Risk of Rain 2 Feature:
There are more than a dozen meticulously made locations that are all filled with difficult monsters and huge bosses that work against your ability to survive.
With over 110 items make each run unique in its own way. Each item can have their effects combined to become more powerful.
Unlock eleven survivors with distinct battle styles and skills. Use the Artifacts to toggle friendly fire, random survivor spawns, item selection, and more. 
Randomized stages, monsters, and items make every run unique.
Fun Factor: 85/100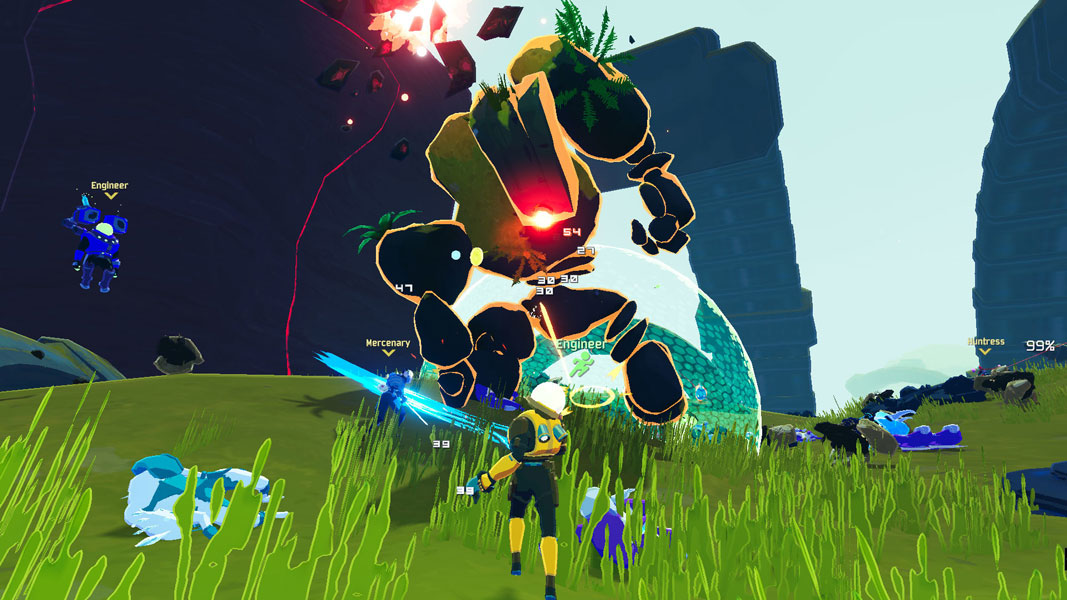 Battle golem-like enemies, and loot them for better weapons.
9. Cuphead - September 29, 2017 (PC, Nintendo Switch, PlayStation 4, Xbox One)
Cuphead is a difficult side-scrolling shoot 'em up action game that will put your friendship to the test. The game's visuals, which are heavily inspired by 1930s cartoons, are another major selling point, as is its audio, which includes jazz recordings.
Although I mentioned that it is a difficult game, it is still enjoyable; however, you must grind your way to unlock powerful moves and new weapons to help you defeat the bosses. To counter enemy attacks, the game also encourages parrying them.
Choose Cuphead if you like:
Challenging co-op game with side-scrolling shoot 'em up gameplay.
1930s visuals as the game is heavily inspired of it.
Using powerful moves and parrying attacks to defeat enemies.
Cuphead Feature:
Classic side-scrolling shoot 'em up game with 1930s cartoon visuals
Traverse multiple worlds, acquire new weapons, learn powerful moves to help you defeat bosses.
Challenging game for you and your friend.
Fun Factor: 86/100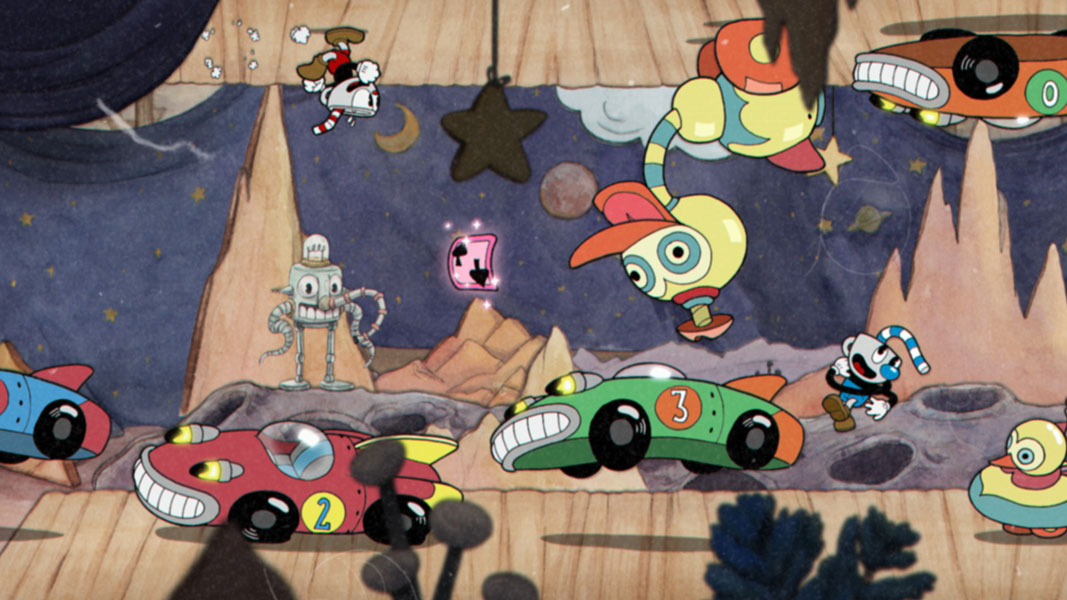 Classic animation visuals from the 1930s bring out the best of this game.
8. Moving Out - April 28, 2020 (PC, Nintendo Switch, PlayStation 4, Xbox One)
Moving Out lets people to be movers, which can be both enjoyable and challenging depending on how you transport, say, a bed from point A to point B. It is a communication test with your friends to optimize your team's performance in moving out and completing the mission.
Players' bronze, silver, or gold ranking is determined by how quickly they pack the moving truck. Optional quests include breaking the windows and packing an unmarked object. As you complete these missions and optional quests, you may gain access to new levels.
Choose Moving Out if you like:
A chill, yet challenging co-op game to test your communication skills with your friends.
Therapeutic gameplay as you move out items, complete optional quests, and more.
A fun-filled levels that will never get boring.
Moving Out Feature:
Up to 4 players can play this game, test your skills and friendship on moving heavy objects!
Recruit unique characters with a variety of looks and design.
Enjoy plenty of maps to move items out in different ways
Fun Factor: 88/100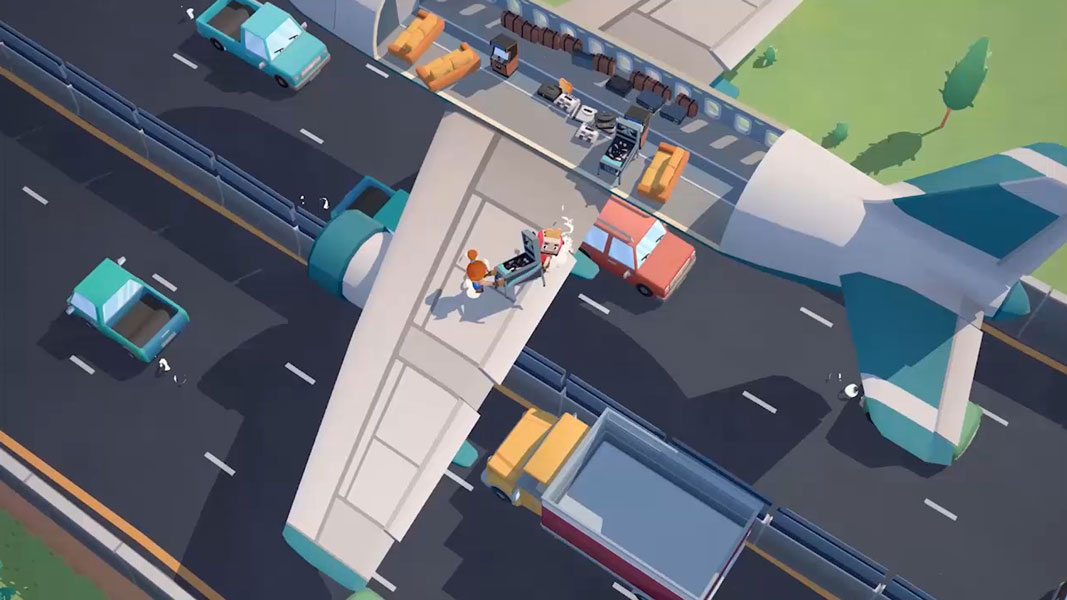 Move out items even in planes and moving vehicles.
7. Project Zomboid - November 8, 2013 (PC)
Project Zomboid is a fantastic indie project that began in 2013. Its multiplayer feature has come and gone in the past, but it is currently quite stable, so it is higher on the list. It is regarded as one of the best zombie games available, owing to the game's blend of realism and survival elements.
Players can create their own characters with traits and personalities that can buff or debuff their own character, adding to the game's realism. It is also highly customizable, which increases replayability if you want to start a new world.
Choose Project Zomboid if you like:
Realistic gameplay for a zombie co-op game
Playing with friends as it adds ton of replayability and randomness in the game
Scavenging, looting, fighting off hordes
Project Zomboid Feature:
Extreme sandbox survival game with a focus on real-world elements like finding food, healing wounds, and resting to avoid becoming a zombie.
Discover your ideal base by exploring a vast map and looting nearby locations.
A fantastic crafting and learning system in which even watching TV can be used to learn new skills. Create your own character and choose their positive and negative characteristics.
Fun Factor: 90/100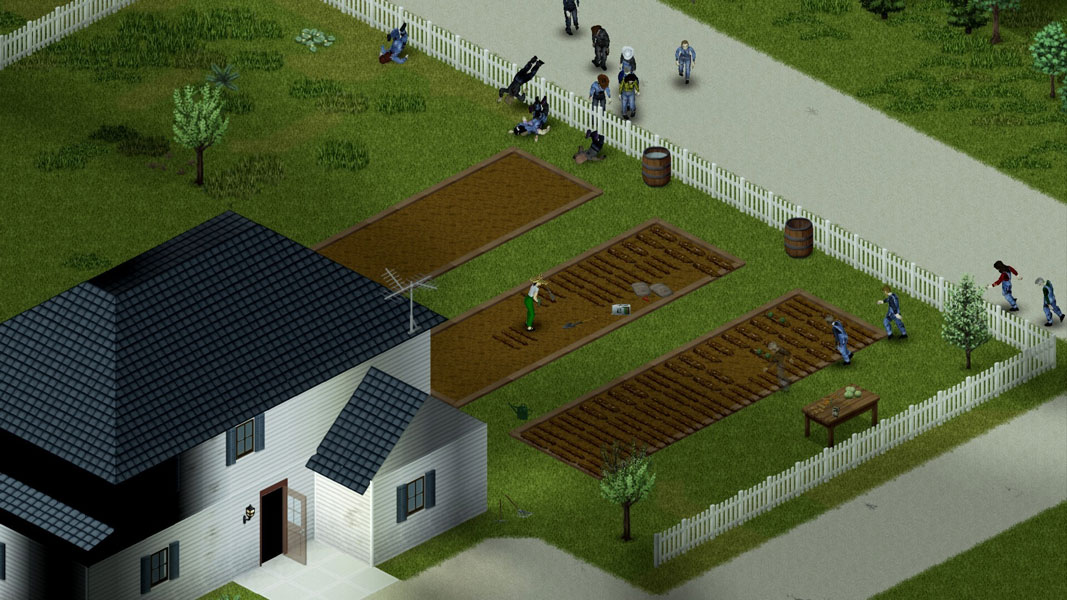 There's always time to plant crops as the zombies take time to reach you.
6. Overcooked! All You Can Eat - November 2020 (PC, PlayStation 4, Xbox One, Nintendo Switch, Xbox Series S|X, PlayStation 5)
Overcooked! All You Can Eat is a remastered collection of the first two Overcooked games. Although the graphics are cute, the game is quite difficult. As it has a 3-star rating system, it is all about optimizing your process with your friends. This is determined by the number of coins obtained during the mission.
There are numerous chefs to choose from, ranging from cats to robots. There are over 40 missions available in the game, and each version has its own set of levels. The level design becomes more difficult as you progress, which can be both amusing and frustrating when trying to improve your process with your friends.
Choose Overcooked! All You Can Eat if you like:
Challenging and hilarious co-op game that is bound to be chaotic
Being a chef, preparing your dishes and serve them to customers
Playing missions until you reach 3 star rating
Overcooked! All You Can Eat Feature:
Be the best chefs, serving dishes in a timely manner!
3-star system based on how many coins you acquire in a mission.
Co-op gameplay or PvP with your friends to see who is the best chef in town.
Unique level designs that each has their own ways of cooking recipes!
Fun Factor: 91/100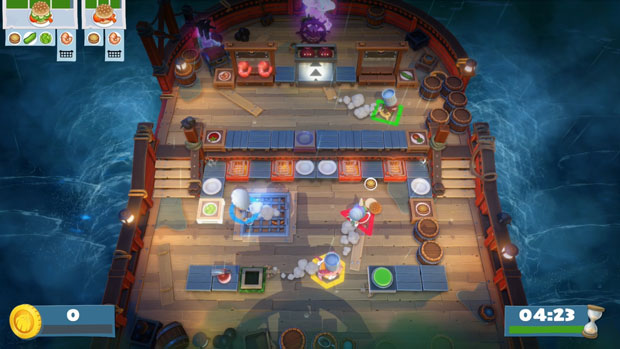 Experience serving dishes in space with ever-changing corridors!
5. Don't Starve Together - April 22, 2016 (PC, PlayStation 4, Xbox One)
Don't Starve Together is a one-of-a-kind survival open-world game with gothic graphics and randomly generated maps with diverse biomes. Players can choose from a variety of characters, each with their own set of passive skills that can help your friends survive longer in the wilderness.
Gather resources, explore different biomes with varying threats, and battle seasonal bosses. Survive as long as possible and avoid becoming a ghost by farming with your friends for food and constructing a base together to fend off threats.
Choose Don't Starve Together if you like:
Gothic visuals
Isometric view perspective, which is still quite creepy when you see "things" lurking around
Randomly-generated maps, seasonal bosses, and enjoy surviving
Don't Starve Together Feature:
Explore a vast procedurally generated biome-rich world with many resources and threats. Whether you explore the surface world, caves, Ancient Archive, or Lunar islands, there will be plenty to do.
Seasonal bosses, roaming menaces, shadow creatures, and plenty of flora and fauna to turn you into a ghost.
Build your dream farm by plowing and planting. Grow crops to feed your fellow survivors and prepare for the future.\
Protect yourself, your friends, and everything you've gathered because someone will want it back.
Fun Factor: 93/100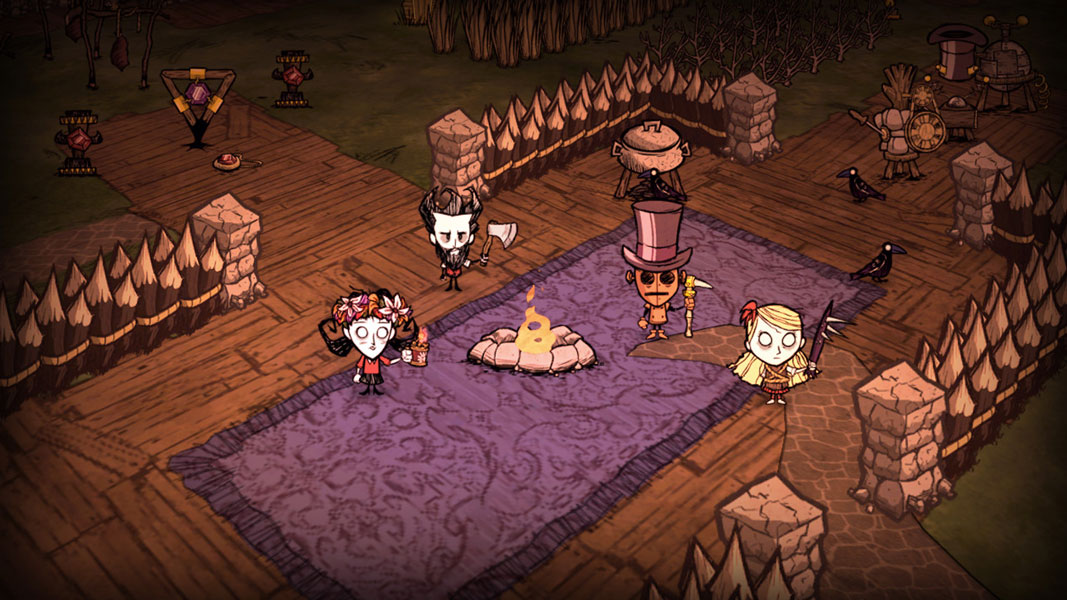 t
Defeat grotesque bosses in Don't Starve Together!
4. Valheim - February 2, 2021 (PC)
Valheim is a gamers' dream come true if they want to play as Vikings. Up to ten players can play at once, especially if you run a dedicated server to reduce lag. You can make your own character, and the game's main focus is purely exploration and resource gathering to make better weapons and houses.
Explore a vast world where exploration is essential, whether on land or at sea. Discover dungeons and bosses as well as plenty of monsters. Build your base and your own longhouses, as the game includes structure integrity, which adds a challenging aspect to home construction in Valheim.
Choose Valheim if you like:
Playing as vikings with up to 10 of your friends
Explore a vast world, full of monsters, dungeons, and set sail to the seas.
Build your home like a great carpenter as it has structure integrity, which adds more depth in creating the buildings.
Valheim Feature:
Explore a world full of secrets. Find different places to explore, each with its own enemies, resources, and secrets to find. 
Be a Viking, sail the open seas in search of new lands, and fight monsters that like to drink blood.
Build Viking longhouses and bases that can protect you from what's coming. With a detailed building system, you can change how buildings look inside and out. Move up the building tiers to improve, grow, and protect your base.
Crafting that is easy and natural, where you find new recipes as you explore the world and find new materials and tools.
Fun Factor: 94/100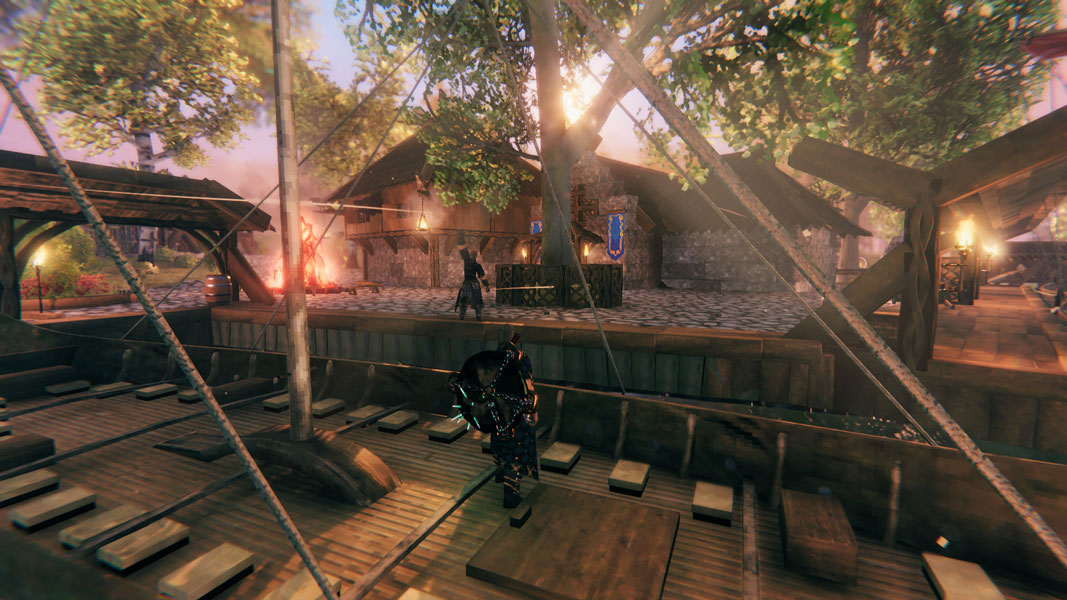 Build homes and create boats to sail and find more islands
3. Stardew Valley - February 26, 2016 (PC, PlayStation 4, Xbox One, Nintendo Switch)
Stardew Valley is currently one of the best indie games, and with the addition of multiplayer, it has also become one of the best co-op games to play with friends if you want a casual, relaxing, and very fun game to play.
Players can collaborate to create the perfect farm, share resources, and improve the community. They can cultivate and sell crops, build useful machinery, and care for animals for their produce. The game features 30 distinct NPCs with whom you should interact in order to form relationships. You can also go to a mysterious mountain and look for valuable items.
Choose Stardew Valley if you like:
Farming and taking care of animals
Interacting with NPCs to build relationships
Leveling up your farming skills and exploring a mysterious cave for treasure
Stardew Valley Feature:
Transform that overgrown plot of land into a bustling farm!
Up to 4 player farming!
Hone your abilities as you use your tools
Become a part of a huge community in the game
Fun Factor: 95/100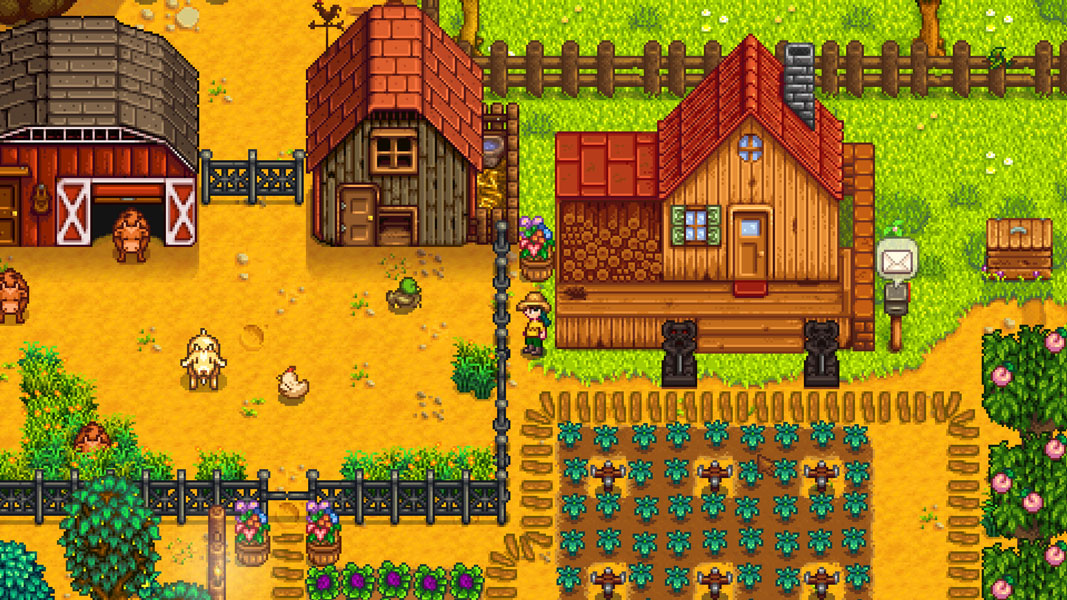 Build farms and manage your poultry and animals with your friends!
2. It Takes Two - March 26, 2021 (PC, PlayStation 4, PlayStation 5, Nintendo Switch, Xbox One, Xbox Series S|X)
It Takes Two is currently the best split-screen game available. It has modernized split-screen, and it is a great game about two friends who are trying to get along. One of the advantages of this game is that you can play it with only one copy, eliminating the need for two copies. The friend pass is free, so you can play multiplayer even if it's not online. It's not just couch co-op.
The gameplay is a mash-up of all great gameplay mechanics, so each level has its own twist. It also creates great obstacles in level design as you progress through the game, and the visuals are truly eye candy that works well with a friend. It's best to play with a friend.
Choose It Takes Two if you like:
Split-screen gameplay
An immersive narrative for all ages
Gameplay that mixes the best gameplay of different genres to create a fun, enjoyable mechanics
It Takes Two Feature:
Gameplay that's fun to mess up — From raging vacuum cleaners to smooth love gurus, you never know what you'll face next. Experience a metaphorical merging of gameplay and narrative that pushes interactive storytelling with genre-bending challenges and new character abilities in every level.
A touching story about getting along. Help Cody and May reconcile. Meet an eccentric and endearing cast. Team up for a memorable adventure!
A thrilling two-player adventure with a friend for free. Couch or online split-screen co-op with ever-changing challenges requires teamwork.
Fun Factor: 96/100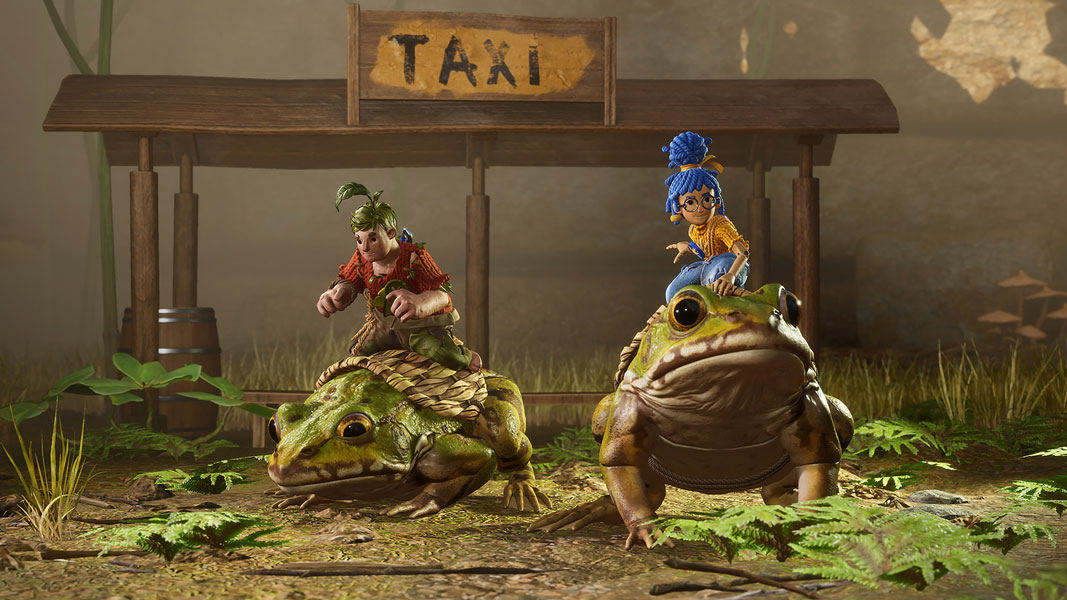 Riding frogs as taxi in this game. Just one of the unique aspects of the game.
1. Terraria - May 16, 2011 (PC, PlayStation 4 ,Xbox One, Nintendo Switch)
Terraria is an indie game masterpiece because it is a timeless sandbox game that still holds up after ten years. It has an infinite replay value, especially when played with friends. You create your own character, and exploring the game's vast open world with a group of friends is a lot of fun because there are so many areas to discover and secrets to find.
Worlds are generated at random, and you must progress at your own pace. Construct your base and home, which will attract NPCs and enemies. As you travel around the world, you will encounter a variety of biomes and bosses that are both challenging and entertaining.
Choose Terraria if you like:
Exploring a randomly-generated world, discovering caverns, and fighting bosses.
Building your home for your NPC as they travel to your town
Craft items and become a powerful character on your own.
Endless replayability
Terraria  Feature:
Sandbox world where you can do anything you want in the world
Randomly generated world with bosses and NPCs
Dig, fight, explore the world, and craft items that you need.
Fun Factor: 98/100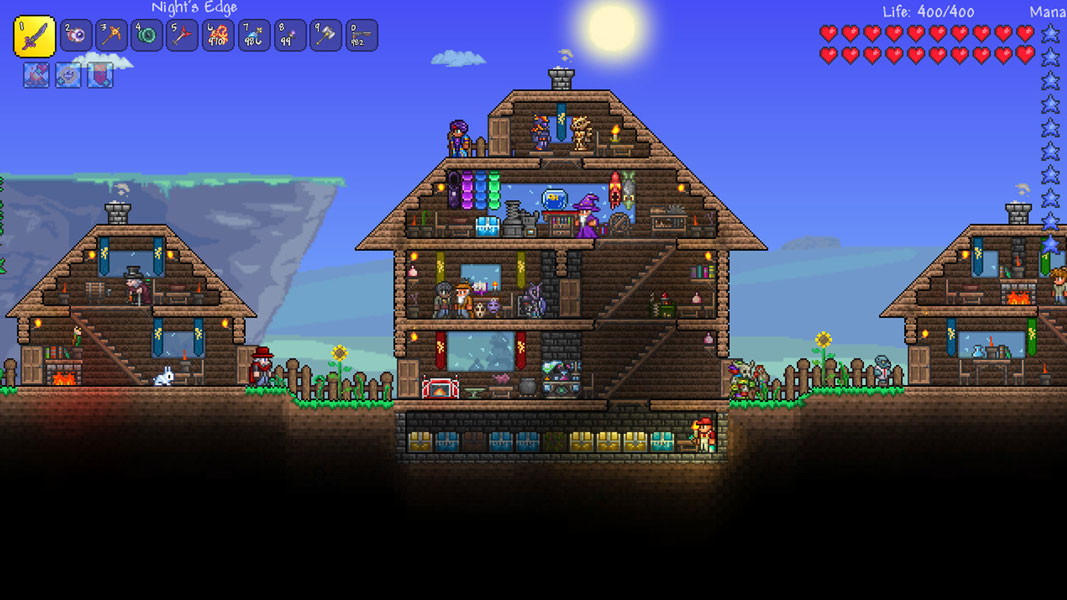 Building homes where your NPCs can stay