The 30 Best Aloy Cosplays We've Ever Seen (Best Looking)
Updated: 30 Sep 2022 1:49 pm
"Confidence Is Quiet, You're Not."
Top 30 Best Looking Aloy Cosplays
Horizon Zero Dawn, an acclaimed action role-playing game set in a gorgeous post-apocalyptic setting, was released in 2017 by Guerilla Games. As the main character Aloy, the player explores and discovers unique clothes from other tribes as Aloy travels to seek the truth about her ancestry. Fans still take pleasure in cosplaying the elaborate ensembles Aloy wears today thanks to the game's success in attracting a sizable fanbase. Here are the top 30 Aloy cosplays we've ever seen, in no particular order.
30-Tophwei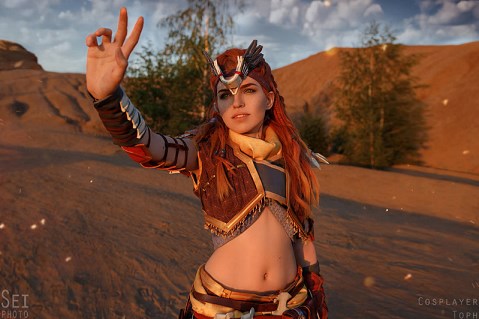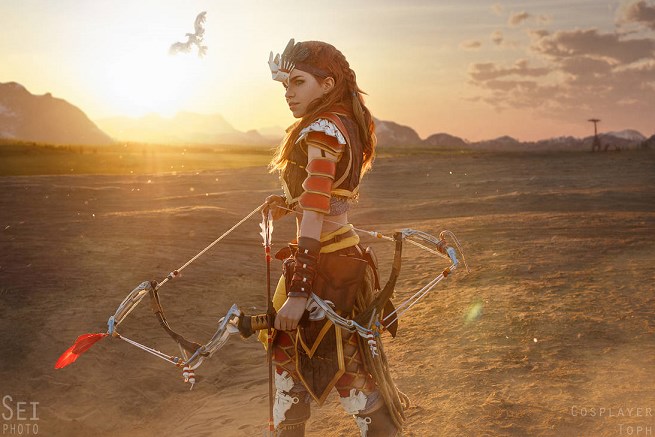 Cosplay by TophWei
Aloy will be better shielded from fire damage and still look stylish thanks to the improvement of her Carja Blazon armor from light to heavy. None of the attacks launched by the Fire Damage Machines will be successful.
29-Vefalasiel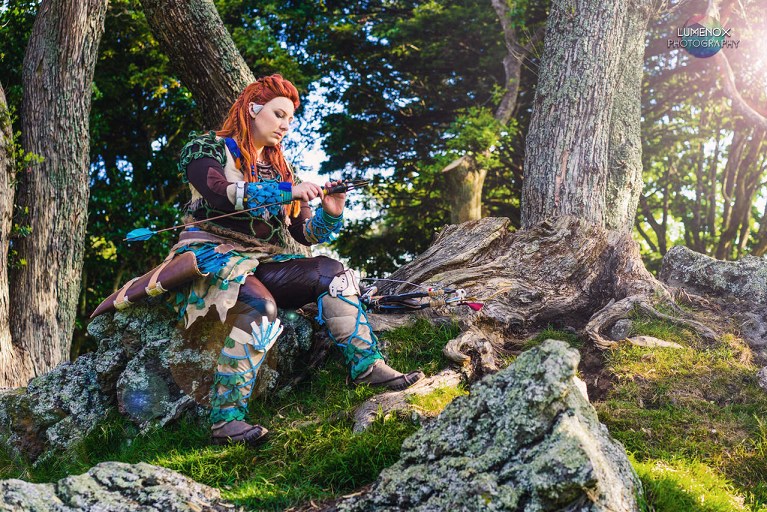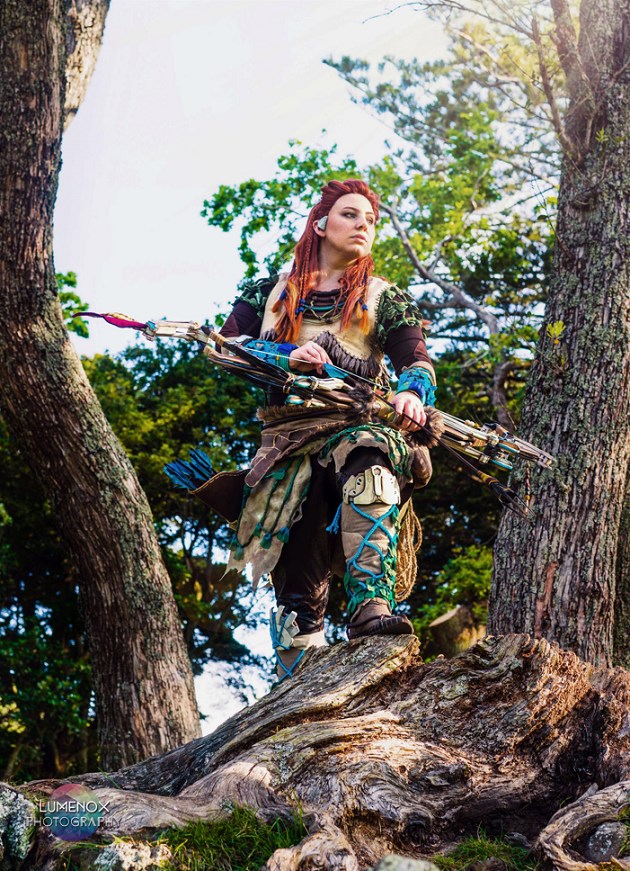 Cosplay by Vefalasiel
Aloy, who has always been prepared, uses the skills learned from her adoptive father Rost and the information she learns from her Focus to keep one step ahead of the hostile machines and other beings.
28-Tsukichan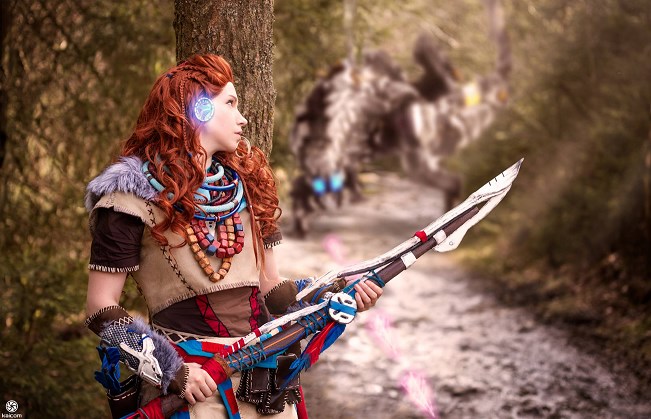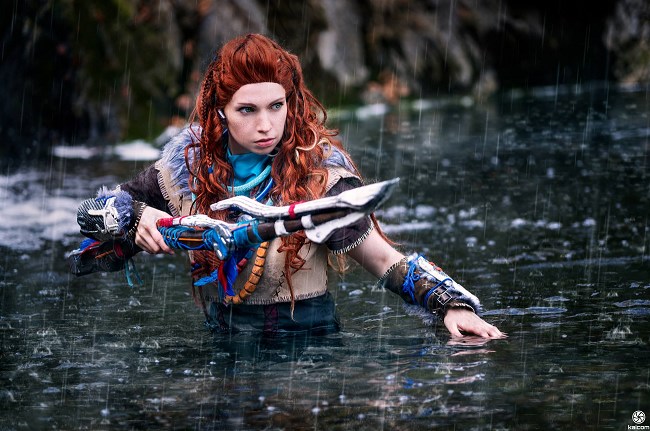 Cosplay by Tsukichan
Aloy is ready to fight in every condition to defend her tribe and herself, come rain or shine.
27-Ms.Terious Cosplay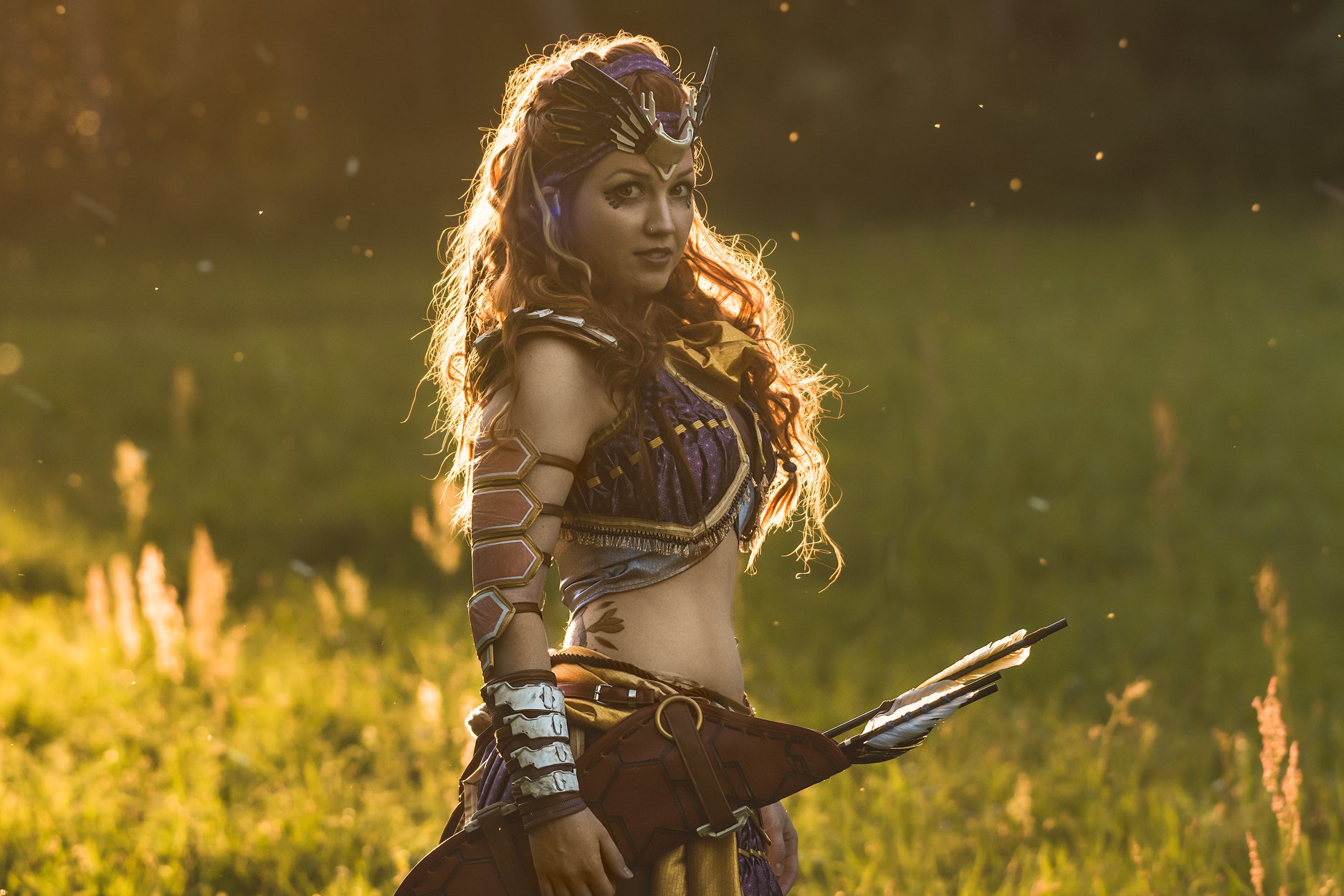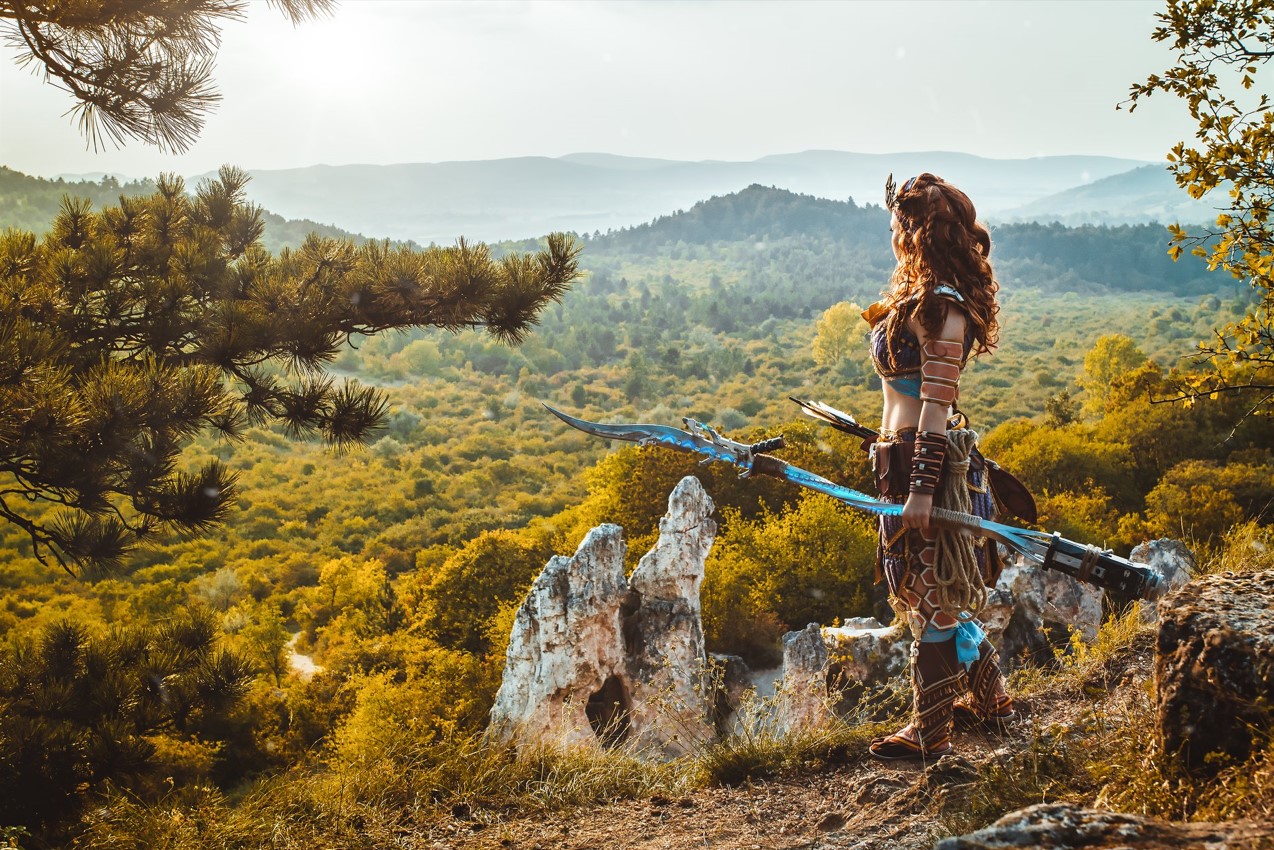 Cosplay by Ms.Terious Cosplay 
As Aloy advances through her mission, she learns more about the many machines she encounters, gaining the ability to override them with her enhanced lance.
26- LiliDin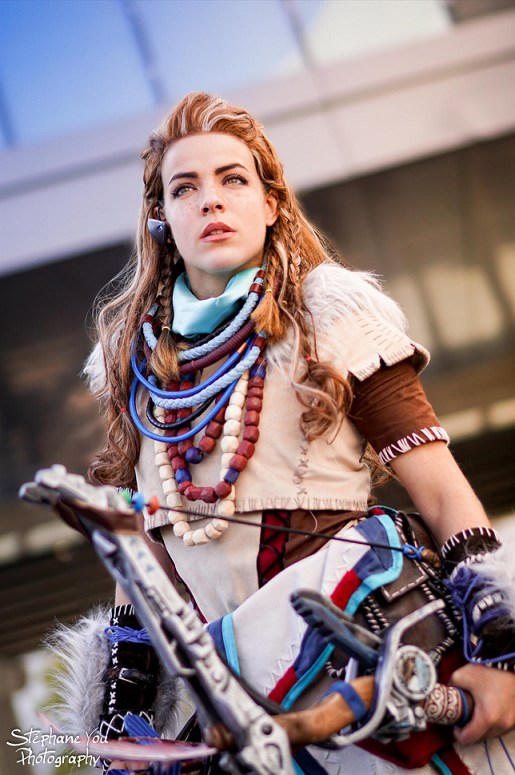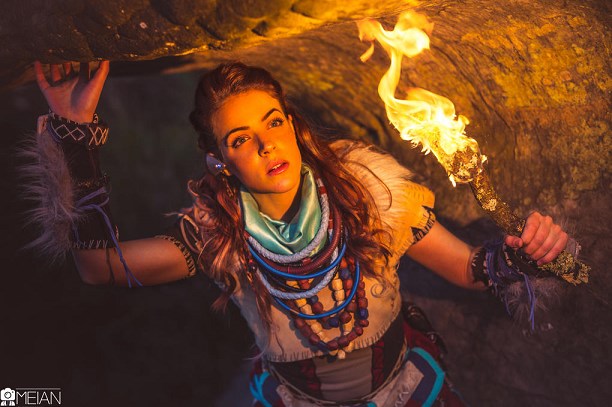 Cosplay by Lilidin
Aloy was given a new Nora Brave armor by an old friend in appreciation for saving him due to her goodness and selflessness as a child. She received it from him soon after being welcomed into the Nora Tribe. She adds ornamental accents to the outfit, highlighting her vibrant hair with colorful jewelry, to show off her uniqueness.
25-TynaCosplay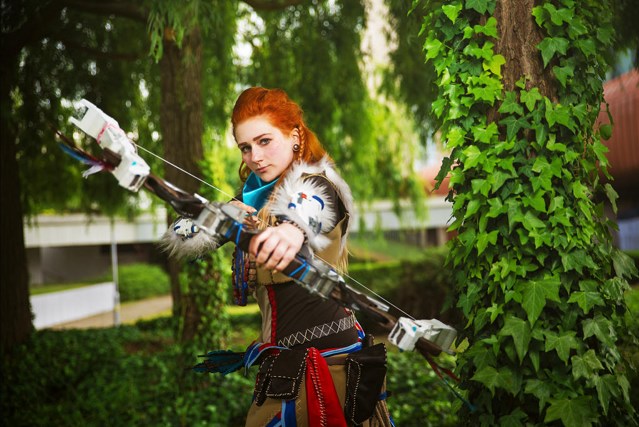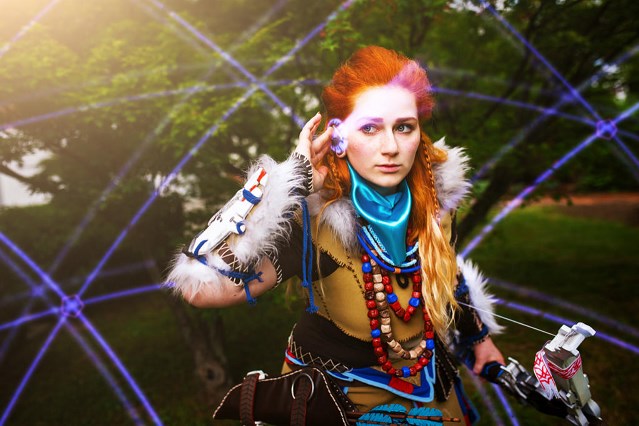 Cosplay by Tyna 
Since she was a young child, Aloy has spent years honing her abilities, with her quick mind being one of her greatest strengths. She exercised her body as well as her mind, which contributed to her excellent physical health.
24-Lucky Strike Cosplay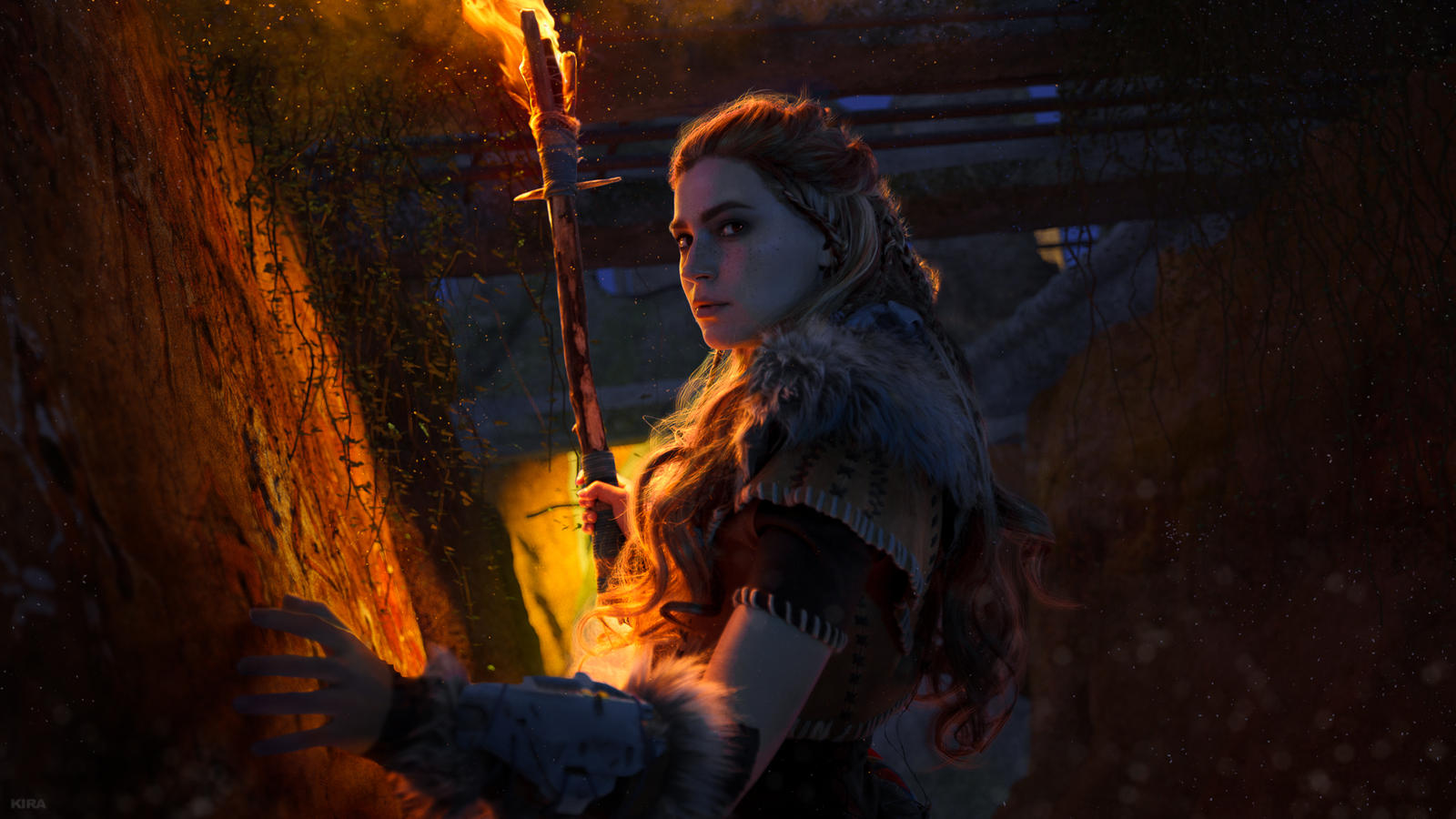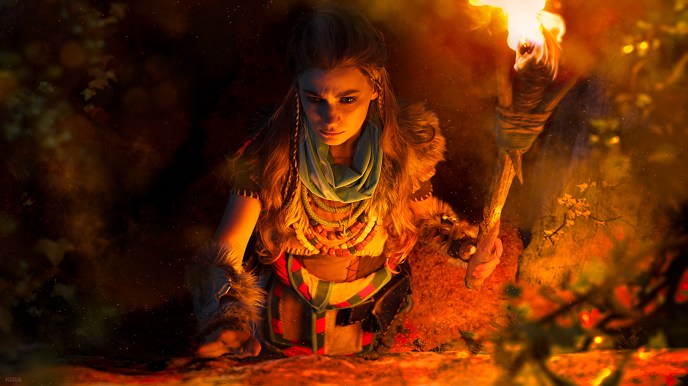 Cosplay by LuckyStrikeCosplay
Aloy has always been fascinated with exploring the Old Ones' ruins, ever since she went on her first cave expedition as a young child. She finds materials and ancient technologies that can be upgraded or traded for shards.
23-Kamui cosplay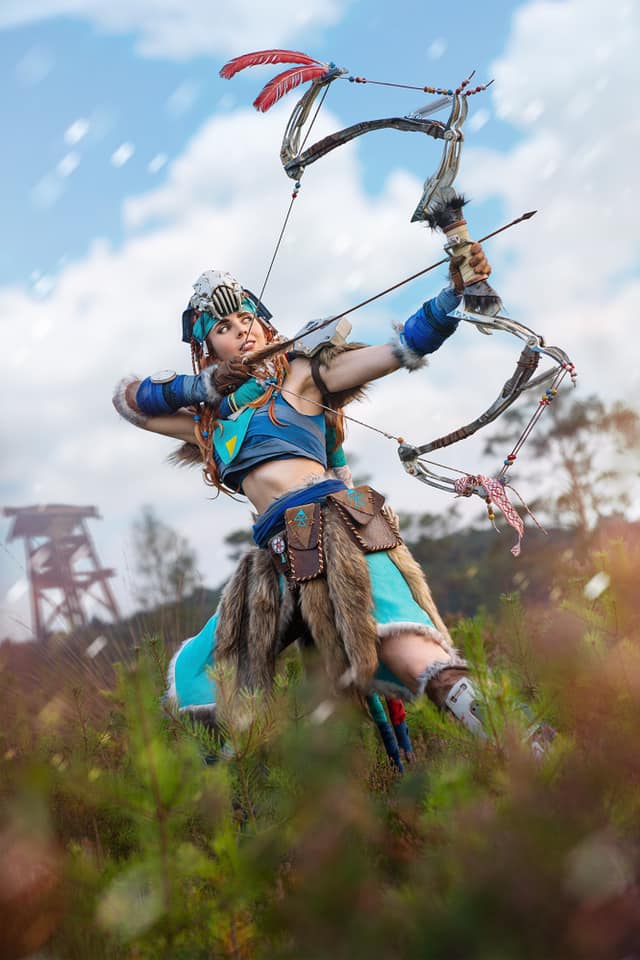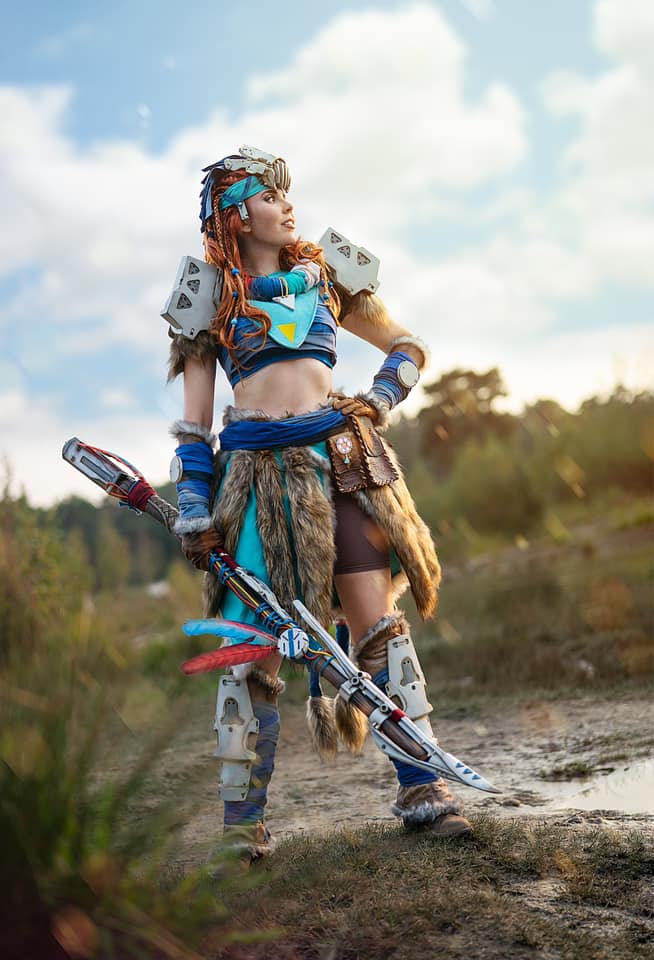 Cosplay by Kamui Cosplay
Having reached the harsh northern environment, Aloy came across the Banuk tribe and learned about their ways. After a series of events, she proves her prowess and becomes a chieftain of a group of the Banuk.
22-Gingerpunk Cosplay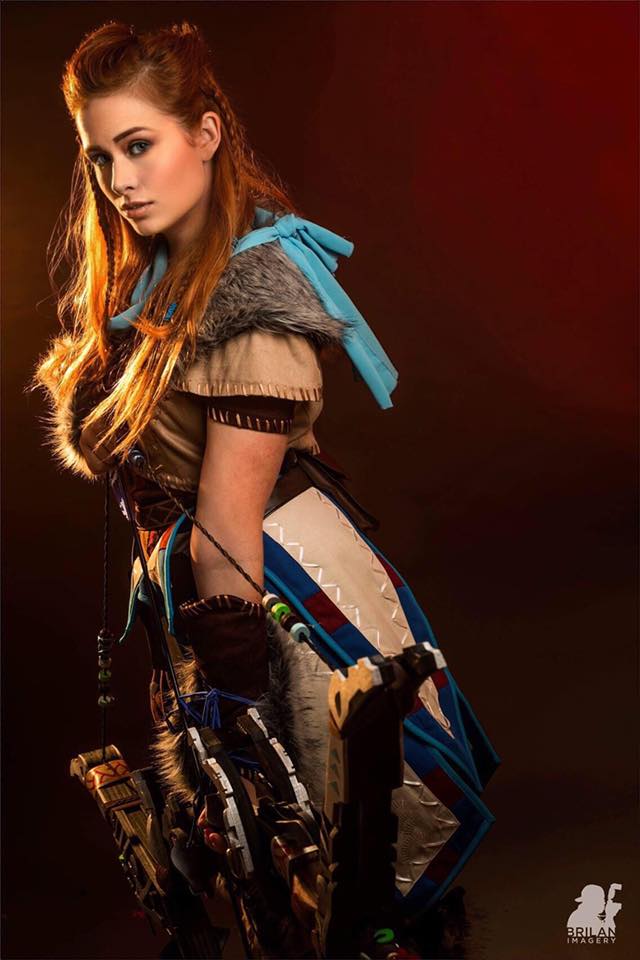 Cosplay by Ginger Punk 
Aloy comes across as a stern, fierce warrior, and she certainly is blunt. However, at times she shows she has a gentle, compassionate, and even playful side to her for those she regards as deserving of such attention.
21-Tiffany Dean Cosplay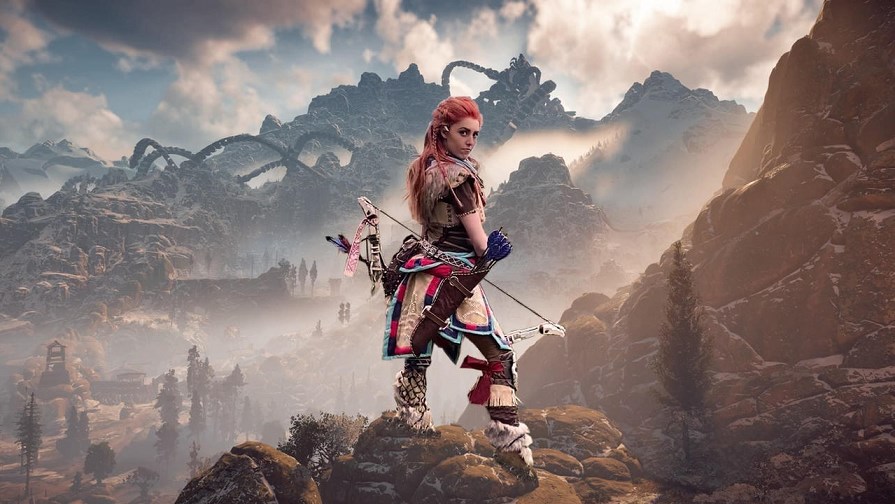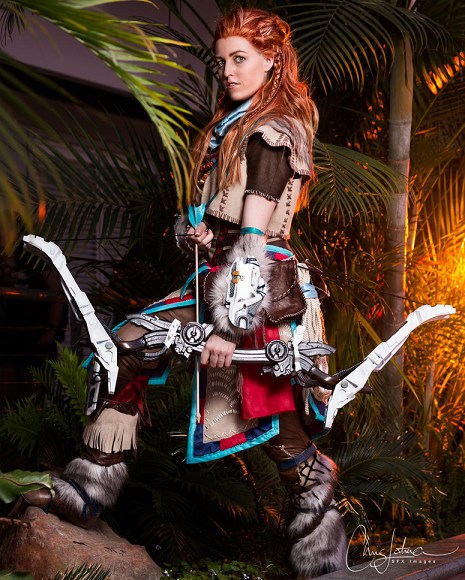 Cosplay by Tiffany Dean 
Aloy is renowned for having a strong archery ability. She is skilled with the bow and arrow and other ranged weapons thanks to her adoptive father's training.
20-Nebulaecos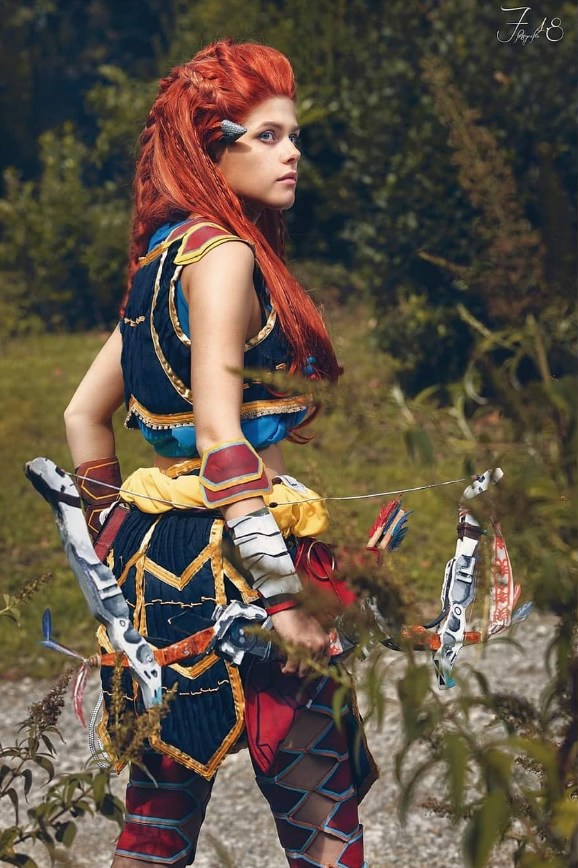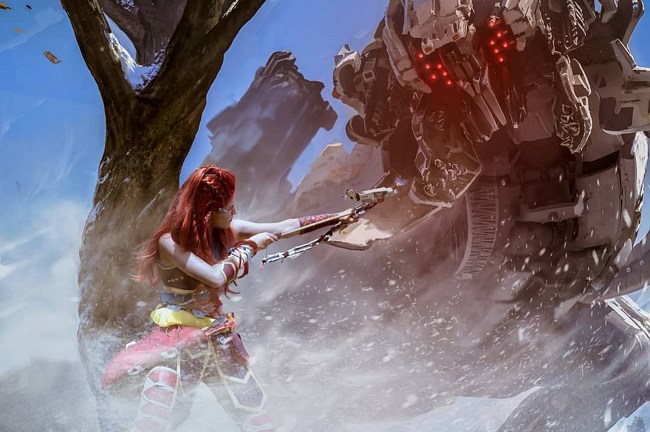 Cosplay by Nebulaecos
People should beware of annoying or wasting Aloy's time because she will call them out and speak her mind, even if it causes her trouble later.
19-Hummel Cosplay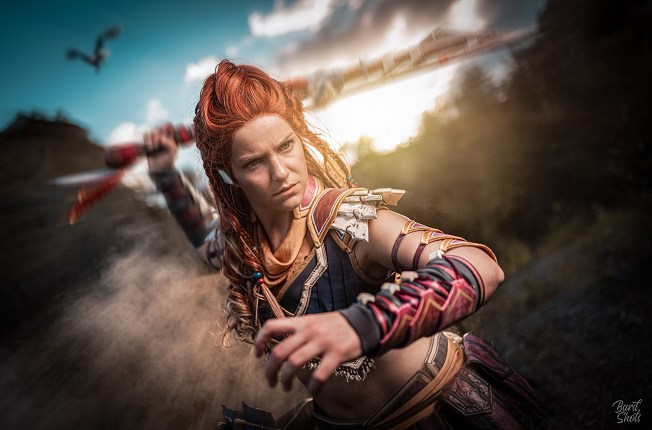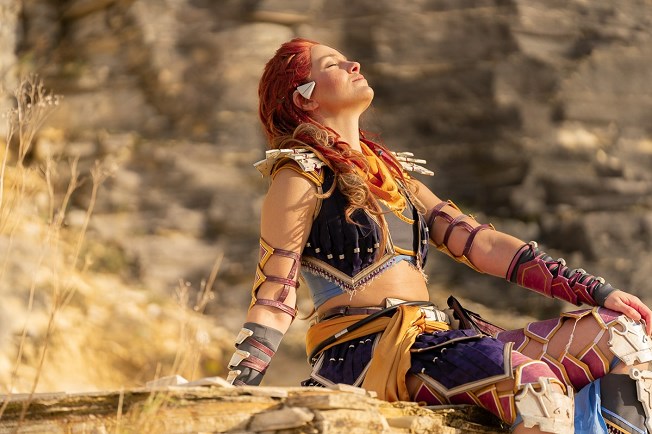 Cosplay by Hummel
As someone who has spent most of her life as an outsider and an outcast, Aloy has a soft place for individuals who find themselves in similar situations and who require assistance.
18-Ms.Terious Cosplay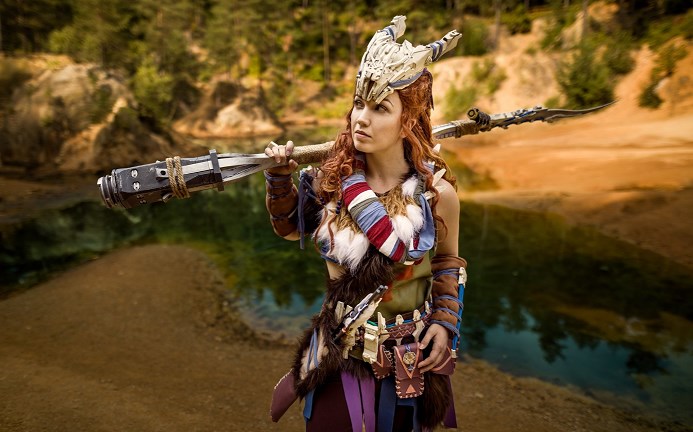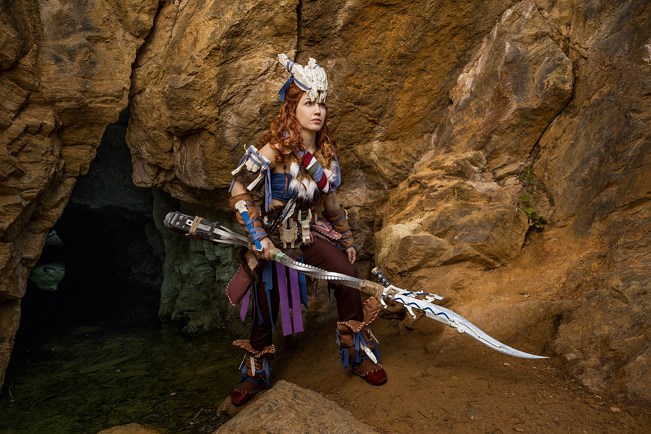 Cosplay by Ms.Terious 
Aloy sought out armor that shielded her from corruption damage after learning about corrupted devices and the harm they wreak. It gives off a commanding presence that perfectly matches the machines Aloy battles.
17-MsSkunk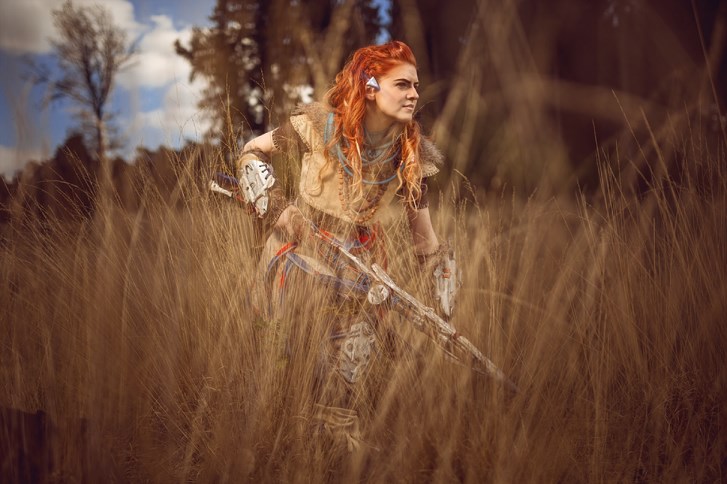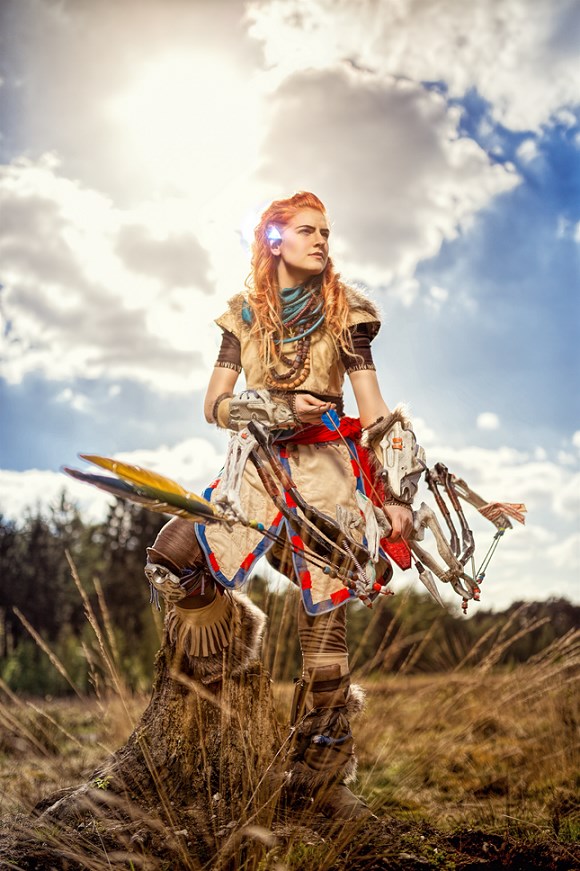 Cosplay by MsSkunk
Aloy's tracking and observational abilities are improved with the aid of her Focus. When she searches for relics from the past, clues, and even human and animal trails, this is helpful.
16-Fenix Fatalist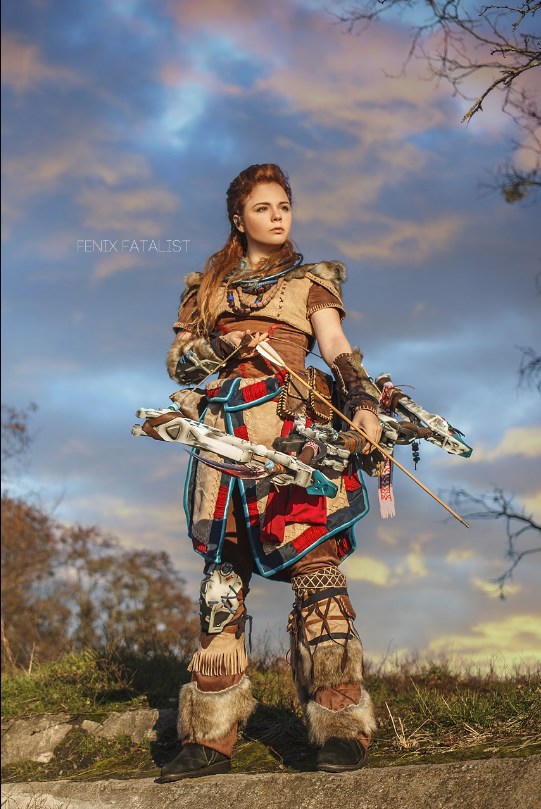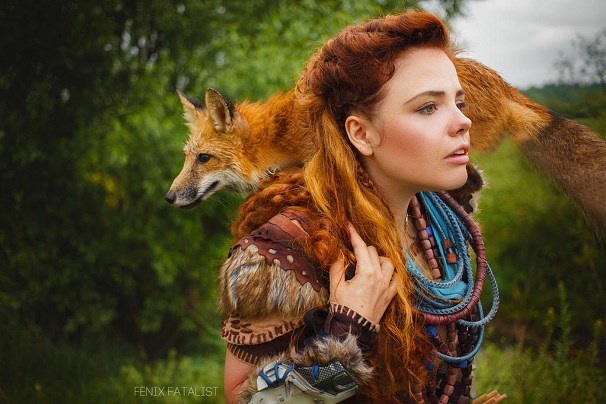 Cosplay by Fenix Fatalist
Aloy has been interested in the people who made the Focus, known as the Old Ones, ever since she discovered it among the ruins. She begins to question the tribal beliefs that the Nora matriarchs and other tribes preach as a result of this.
15-KeyVei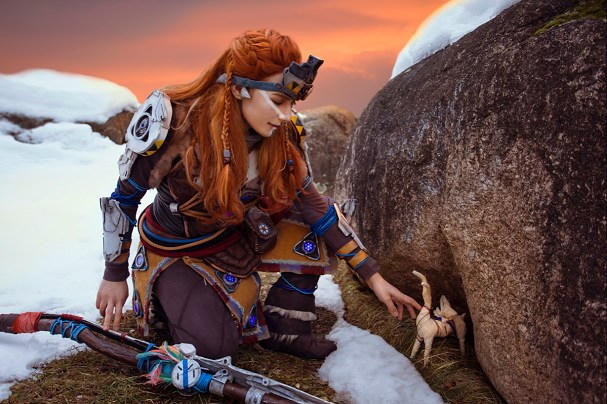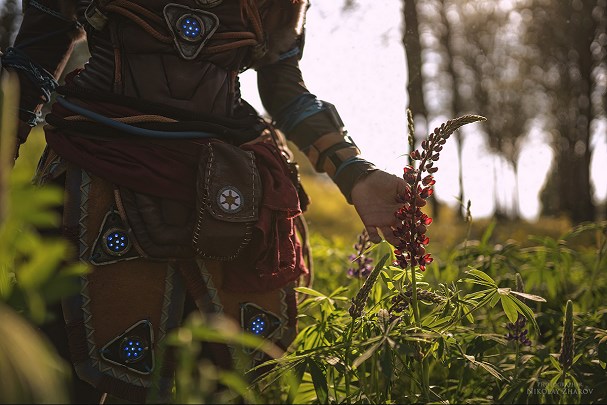 Cosplay by KeyVei
Aloy obtains a powerful armor toward the end of her journey, and after merging it into her attire, she discovers that it improves her fighting skills. Aloy is temporarily invincible while wearing the Shield-Weaver armor.
14-Aurora Yulia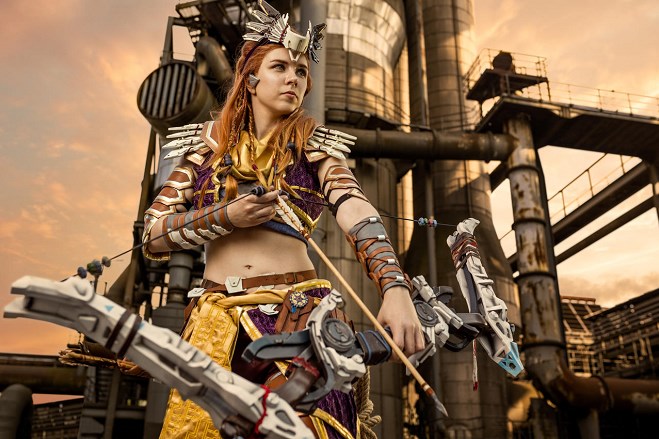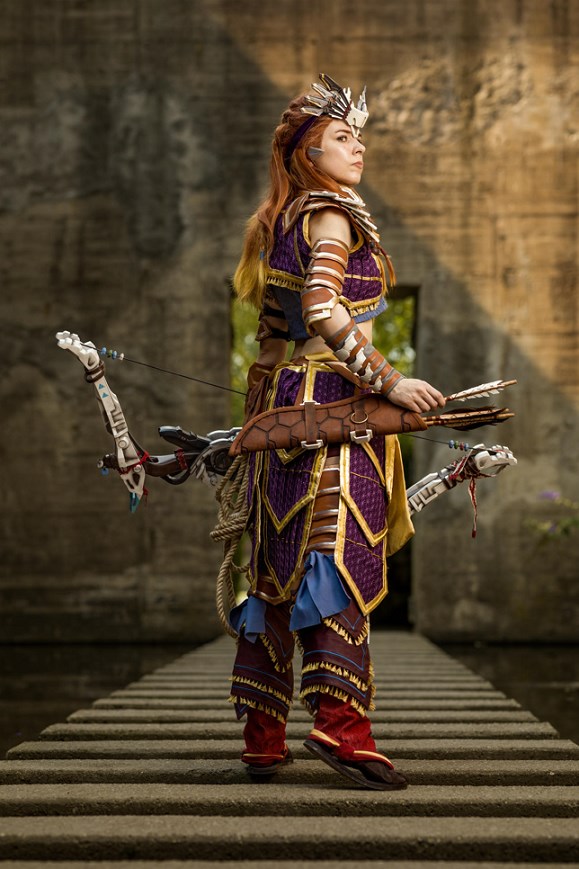 Cosplay by Aurora Yuliya
Growing up without knowing who her mother was or why she was motherless drove Aloy to seek out whatever information she could find. Though it devastated her to learn she was a clone, she eventually realized she was made to defend her world.
13-Chou Kou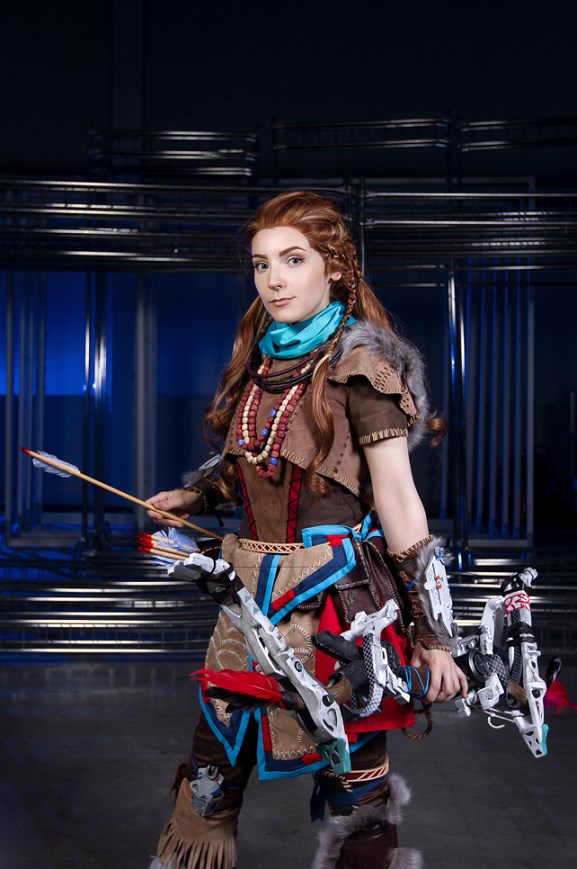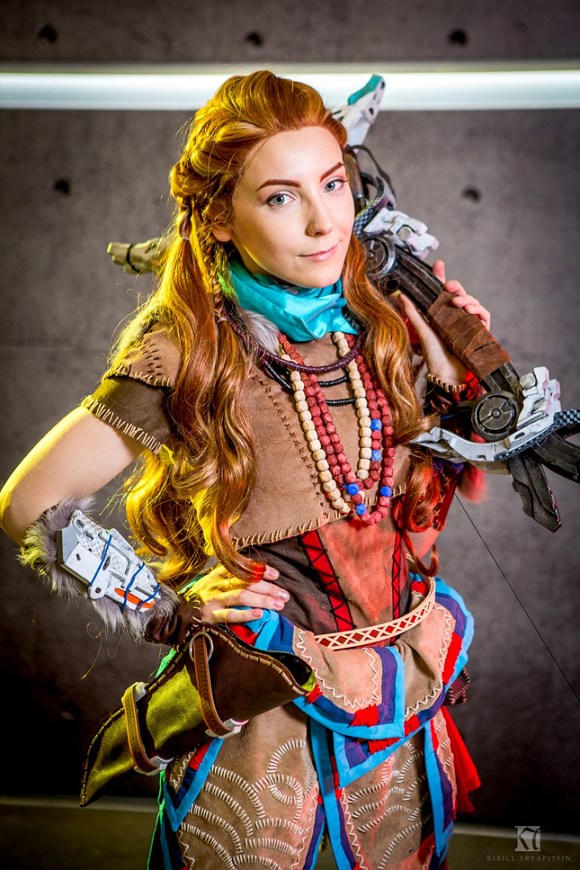 Cosplay by Chou-kou 
Along her travels, Aloy encounters a diverse range of people, some hostile and some friendly. She establishes friendships with members of the various tribes she meets, bridging connections.
12-Ketrin Cosplay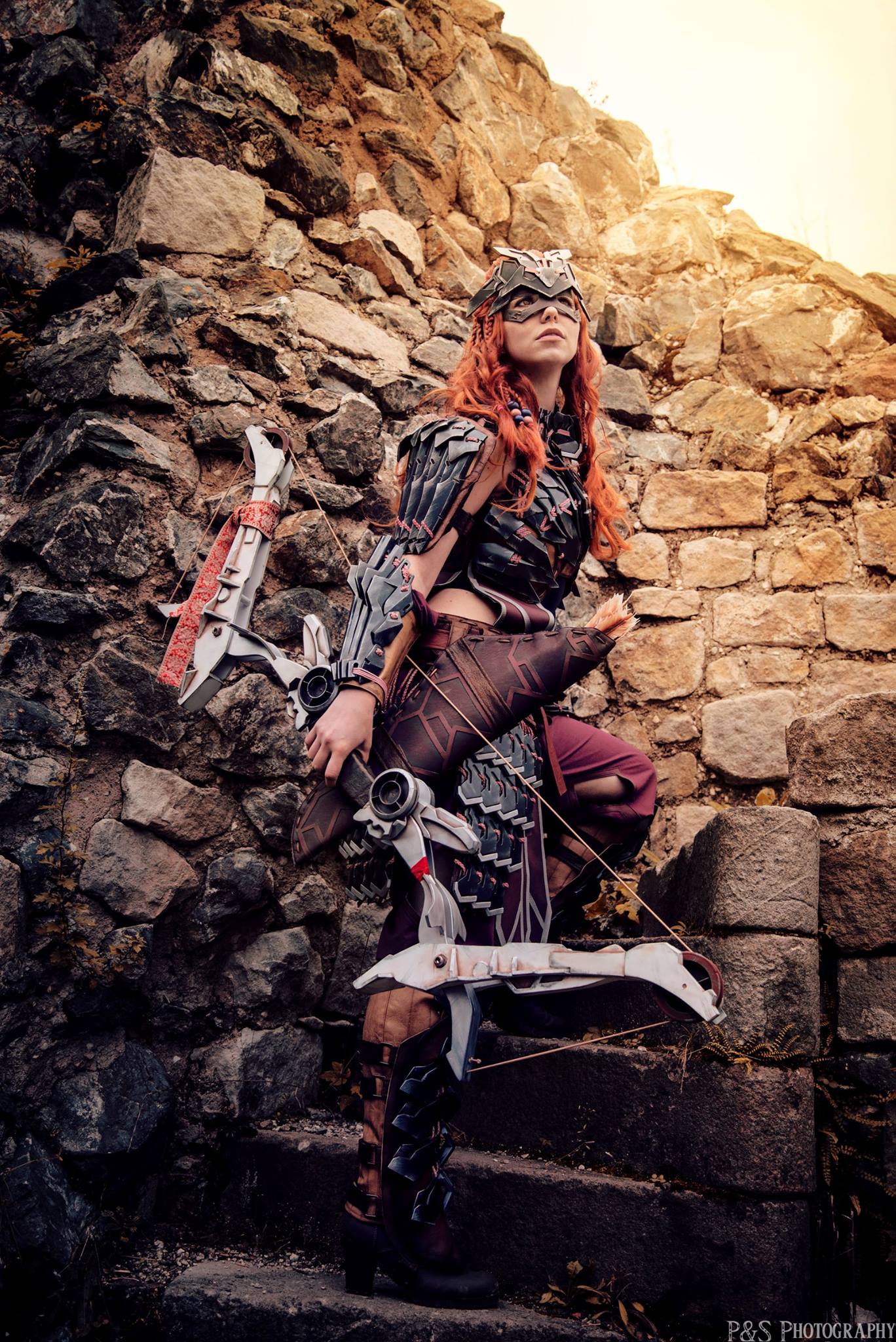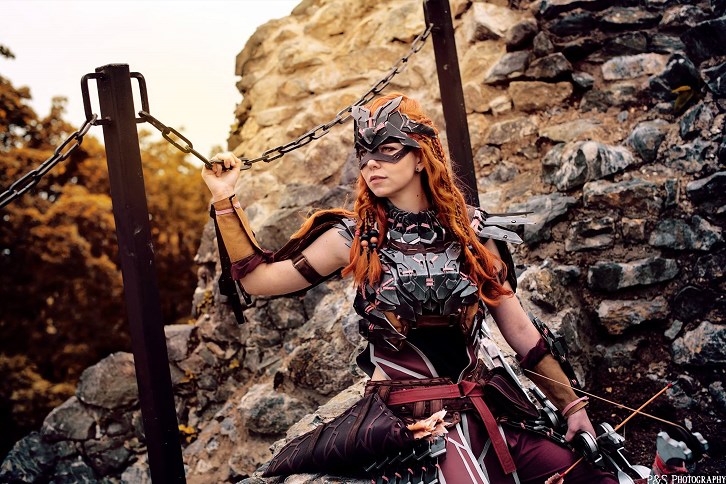 Cosplay by Ketrin
It may not appear that Aloy is concerned with fashion, but she has a distinct sense of style that she maintains even when dressed in clothing from other tribes. Although not all of them are stylish, her individuality still comes through.
11- Etaru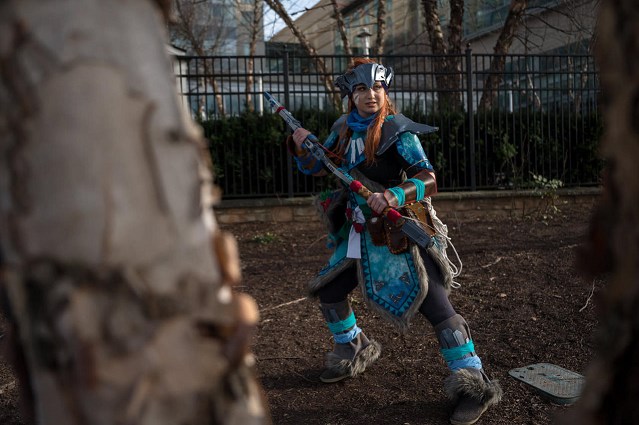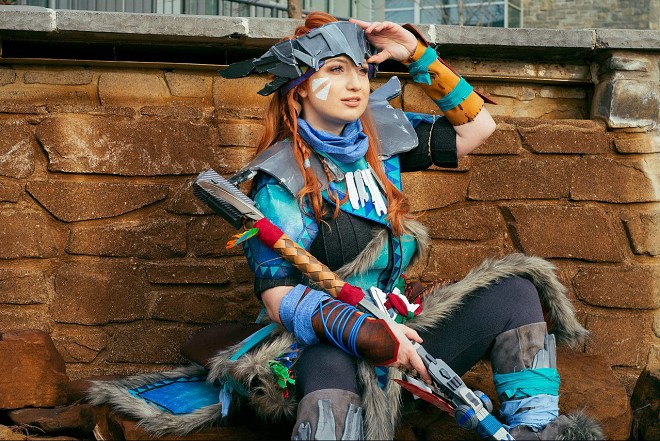 Cosplay by Etaru
Every challenge Aloy faces simply gives her more motivation and opportunities to learn as she explores her surroundings and develops into a well-rounded individual.
10-Rhavaniel Creations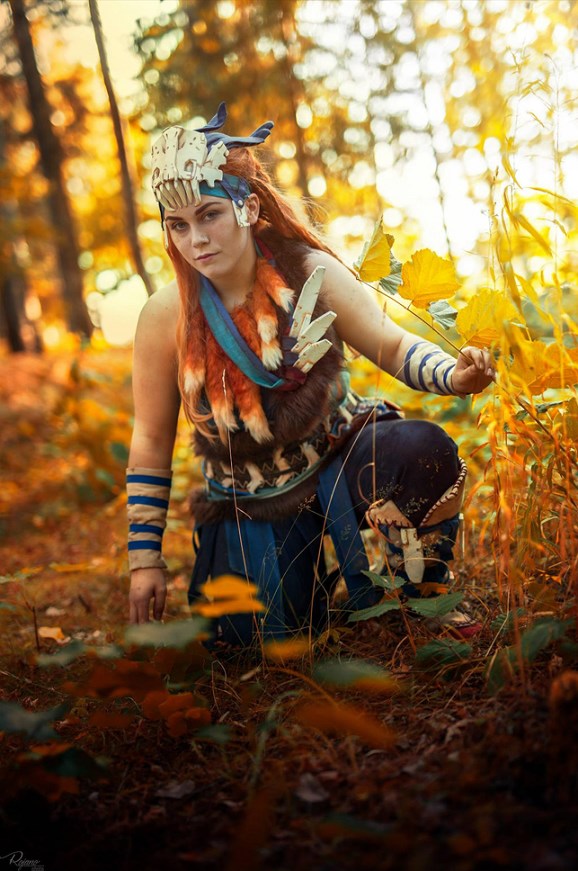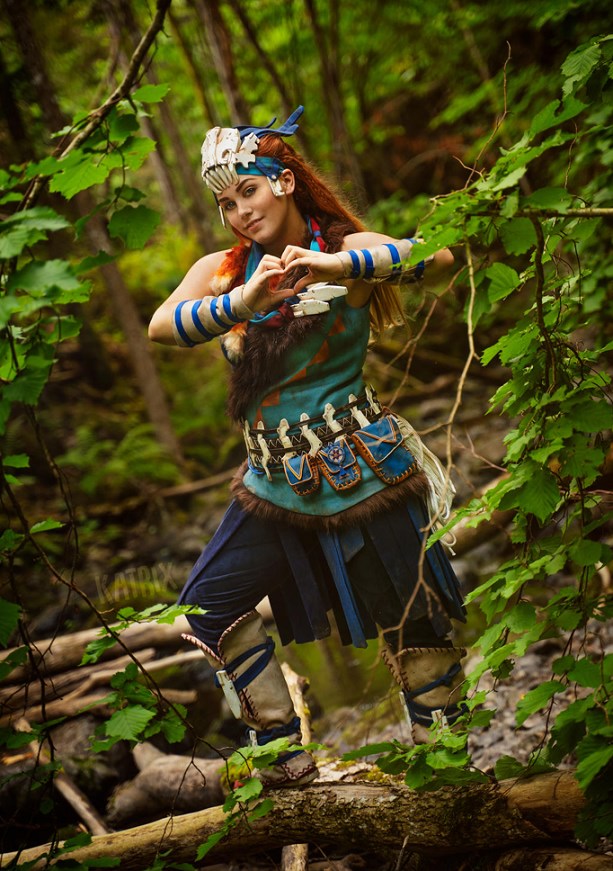 Cosplay by Rhavaniel Creations 
Aloy might seem a little rough around the edges, but she did spend her adolescent years alone with only her adoptive father as a companion.
9-Manulys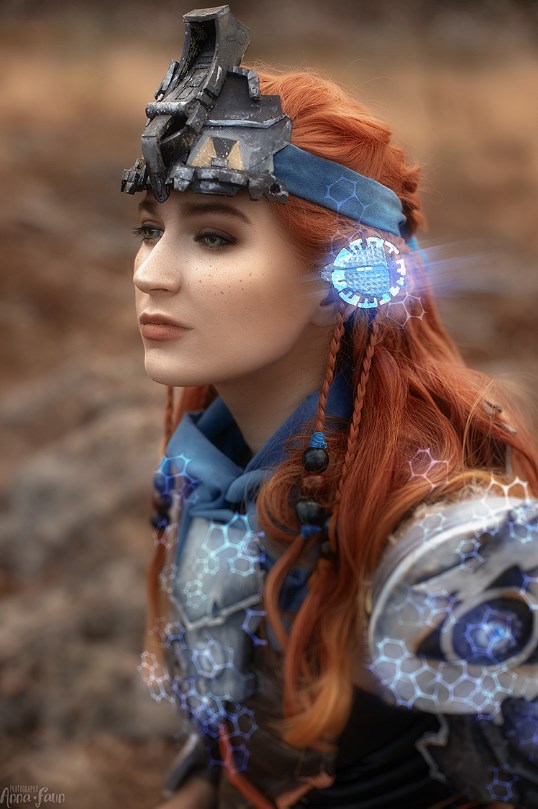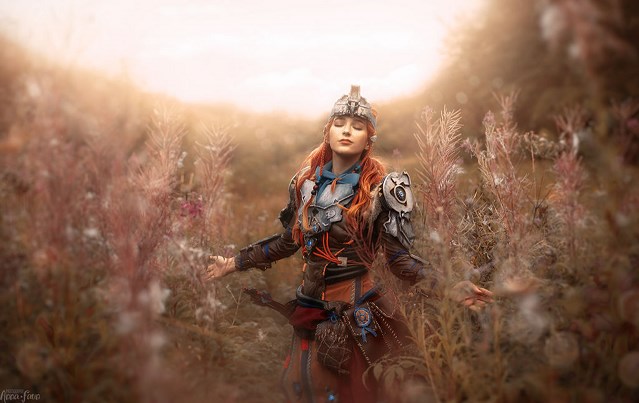 Cosplay by Manulys
Being in the wilderness of nature, away from people, is where Aloy is most comfortable. Even though she has been accepted by Nora, she does not consider herself to be one of them.
8-Arienai Ten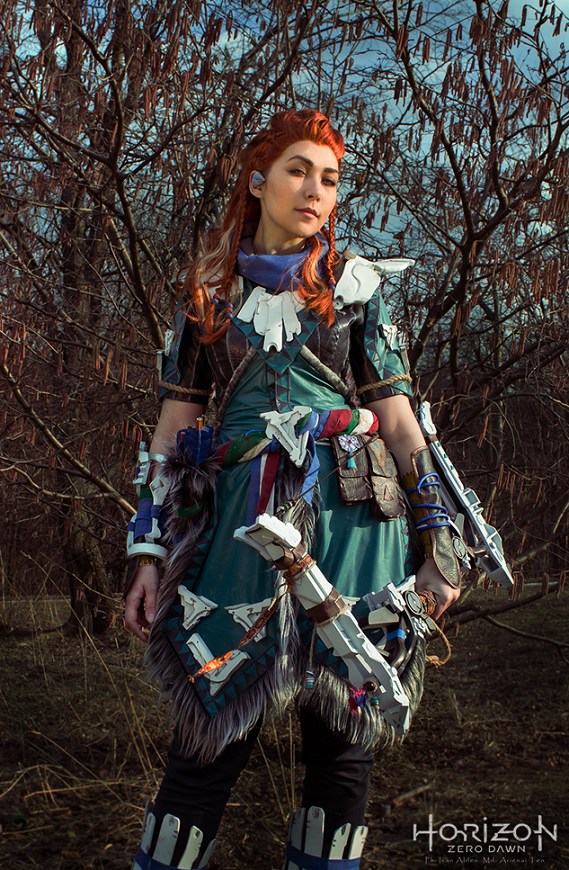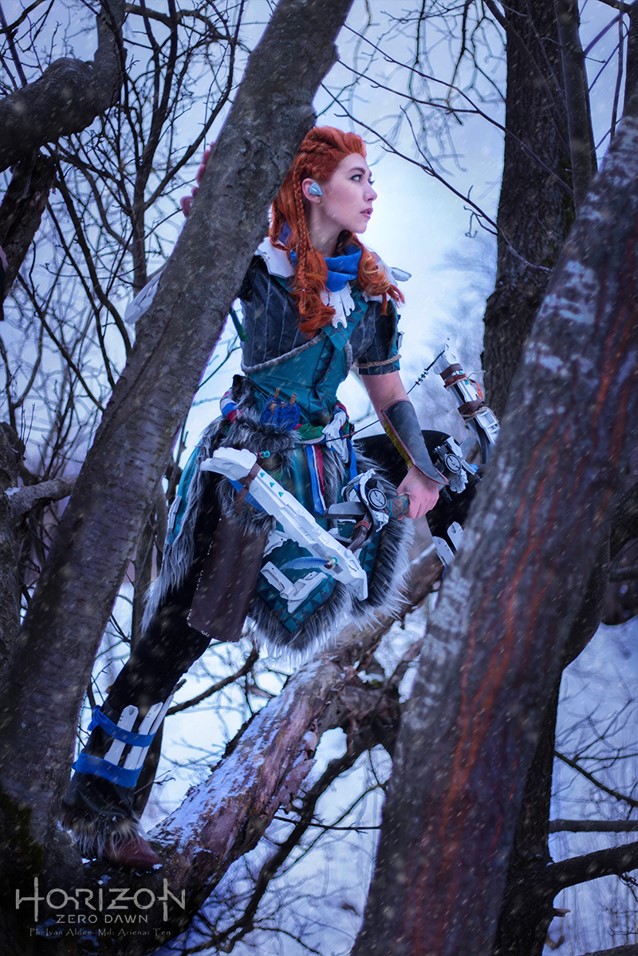 Cosplay by Arienai-Ten
Aloy not only learned about new tribes and their cultures, but she also learned about new, unfamiliar terrains. She has experienced everything, from the harshest winters to the arid sands.
7-Mink the Satyr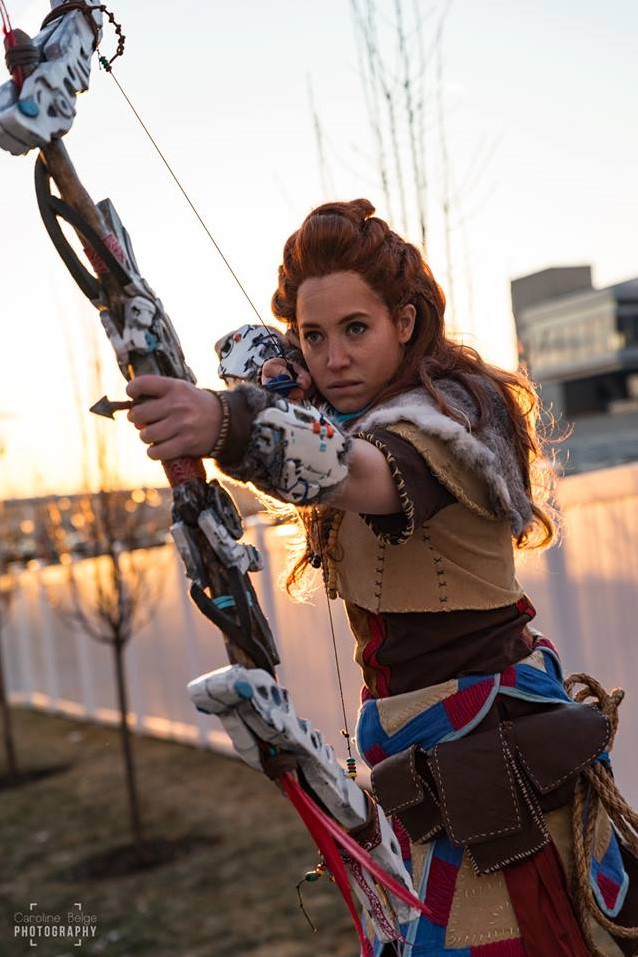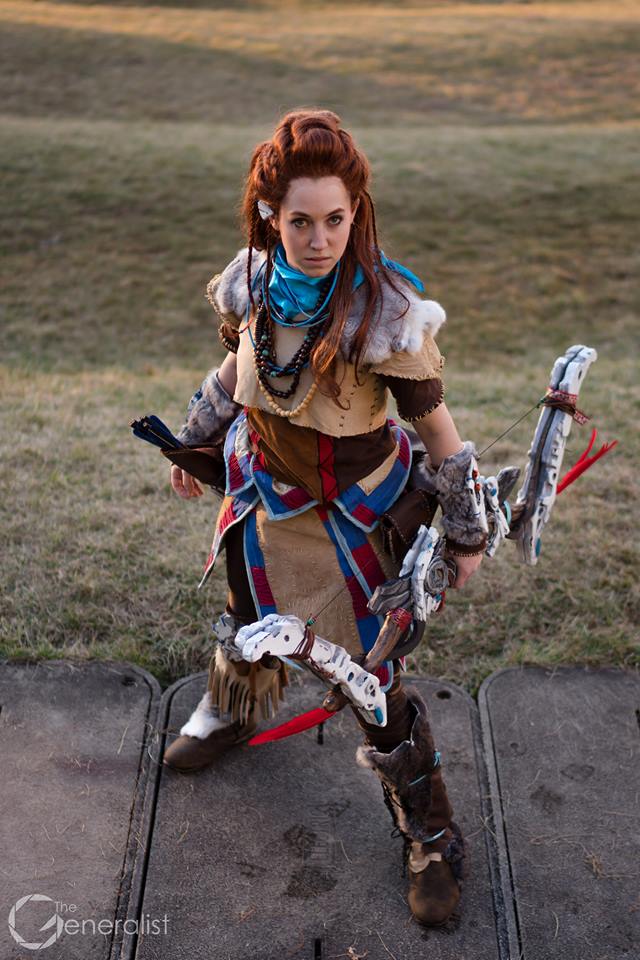 Cosplay by Mink the Satyr
Aloy's sharp eye for detail can be seen in her deadly aim with her weapons. Enemies beware.
6- Thuwoo Creative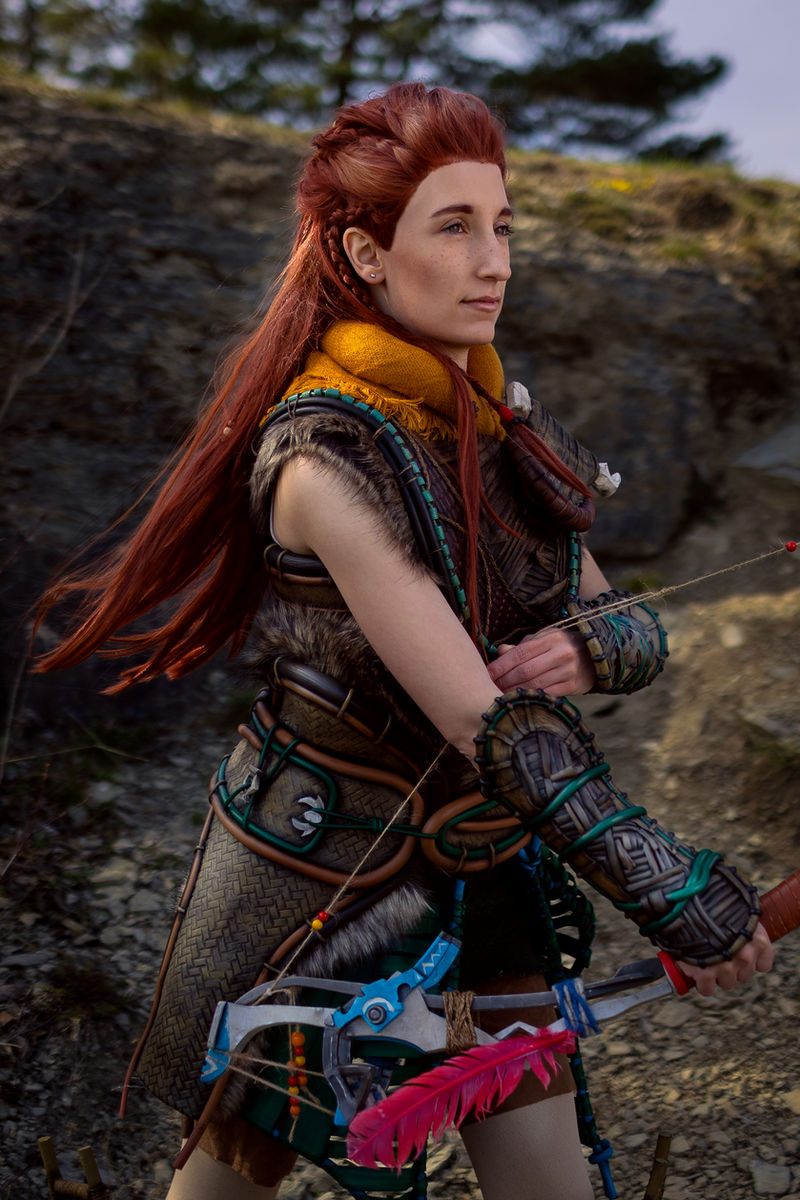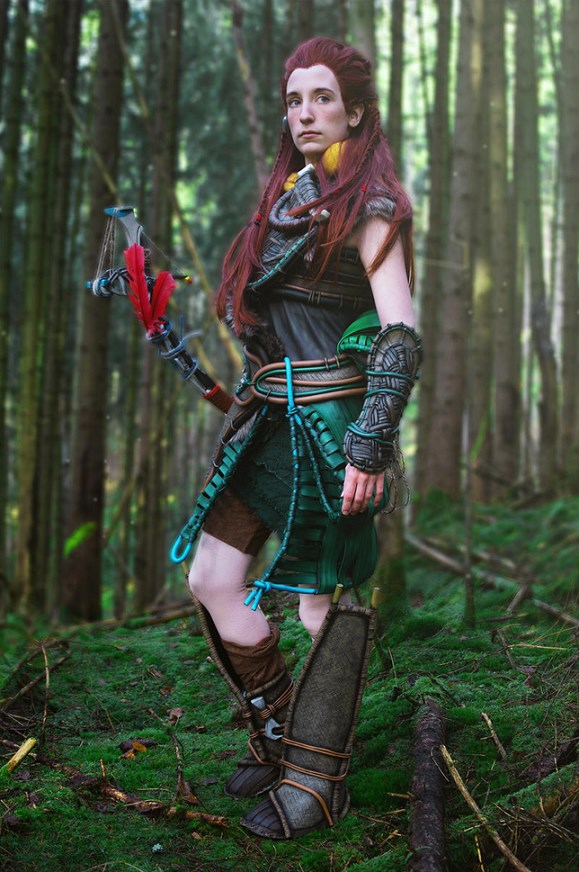 Cosplay by ThuwooCreative 
As she continues on her journey, Aloy encounters a number of different tribes, among them the Utaru. She acquires a new armor set appropriate for her new surroundings while she is around them. The earthy and green tones, as well as the natural woven fibers, are more durable than they appear.
5-Celaena Cosplay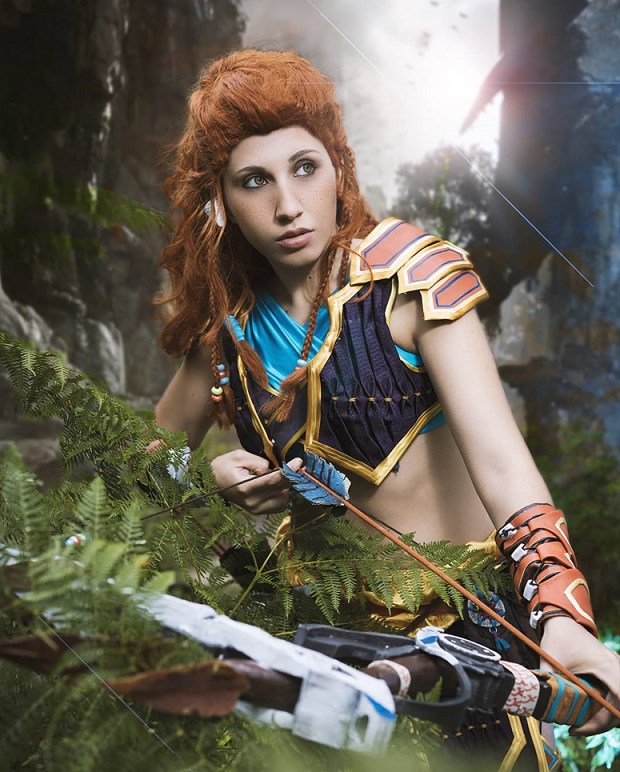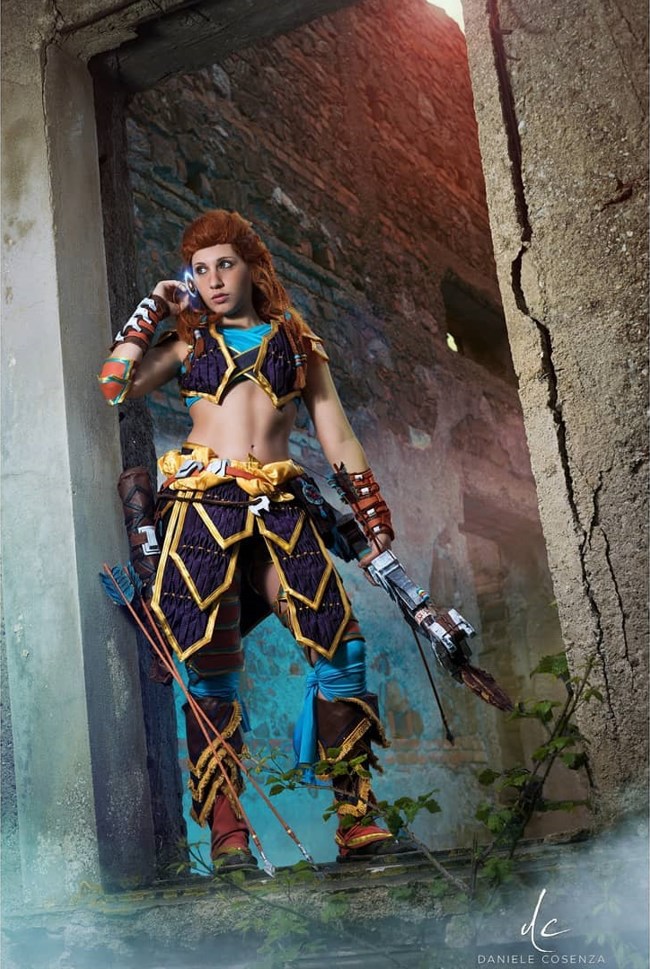 Cosplay by Celaena Cosplay 
Aloy doesn't like the admiration and devotion that the individuals she saved and shielded have for her. She finds it uncomfortable and chooses to live a modest life.
4-Marye le Fay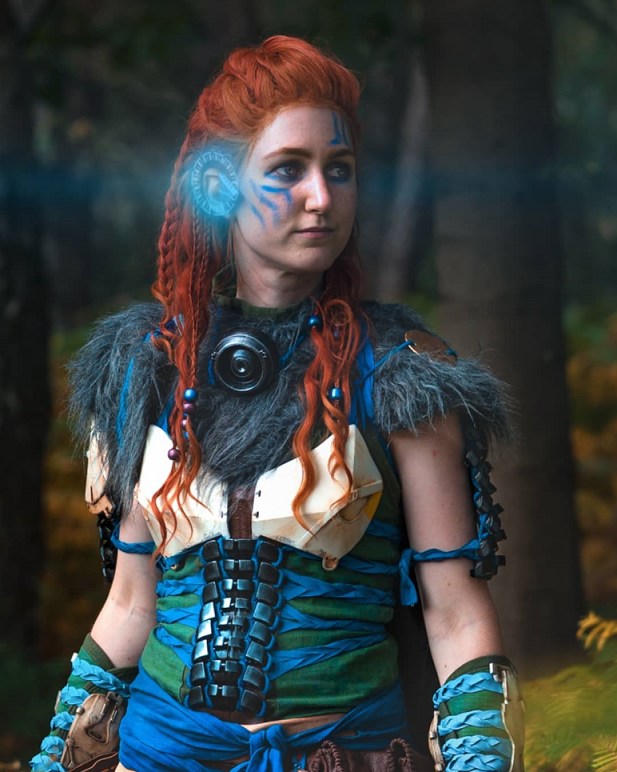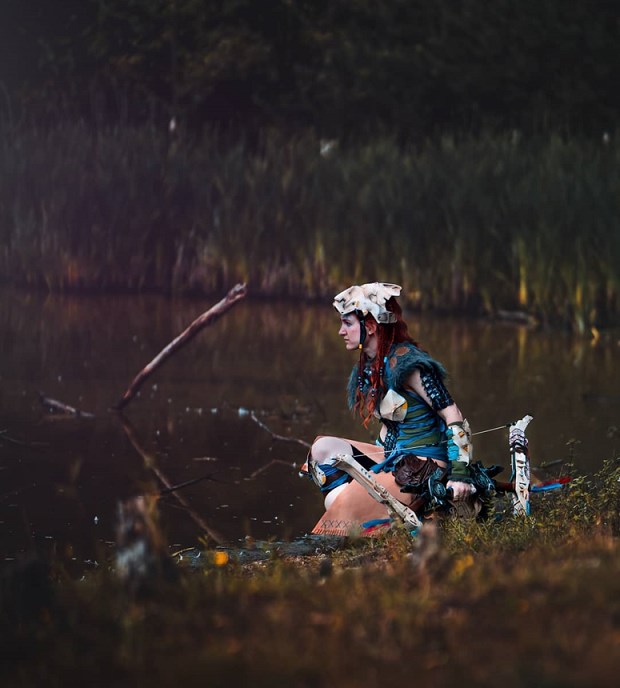 Cosplay by Marye le Fay
Aloy improves her skills as she increases the quality of her armor gear. She is able to follow her victim undetected using the Nora Lookout.
3-ArtcoreCosplay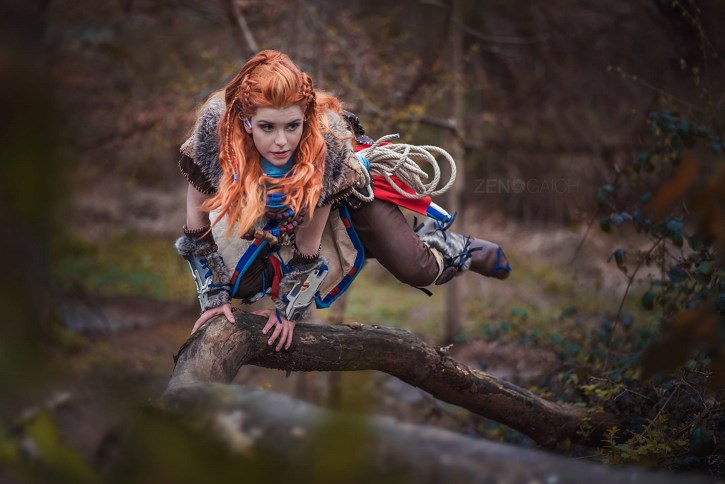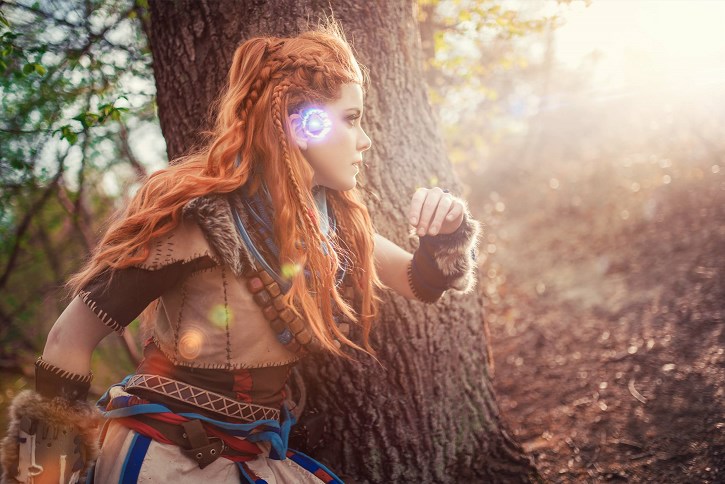 Cosplay by ArtcoreCosplay 
Aloy competes in trial runs occasionally to keep her agility and stealthiness up as she specializes as a hunter and tracker.
2-Tophwei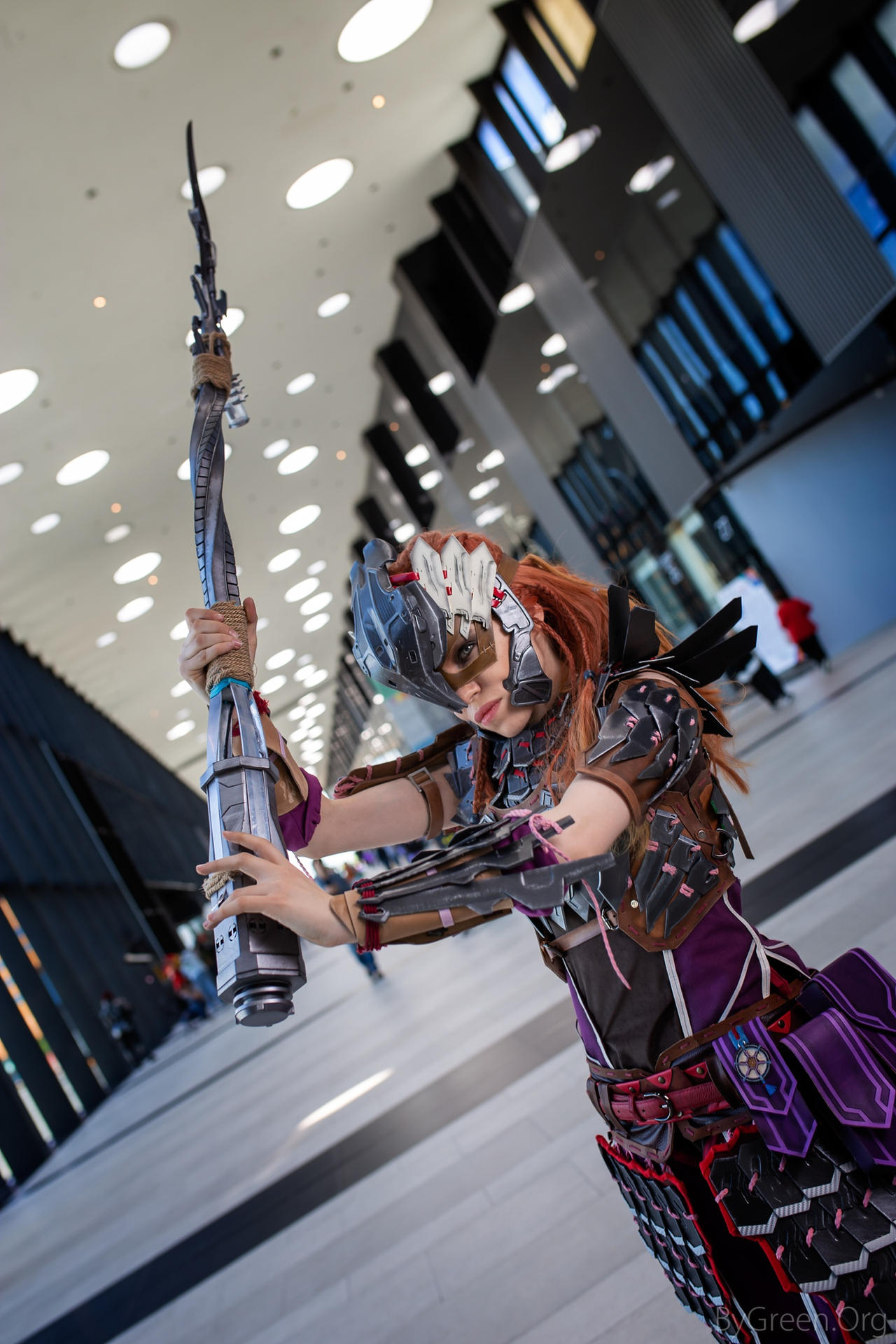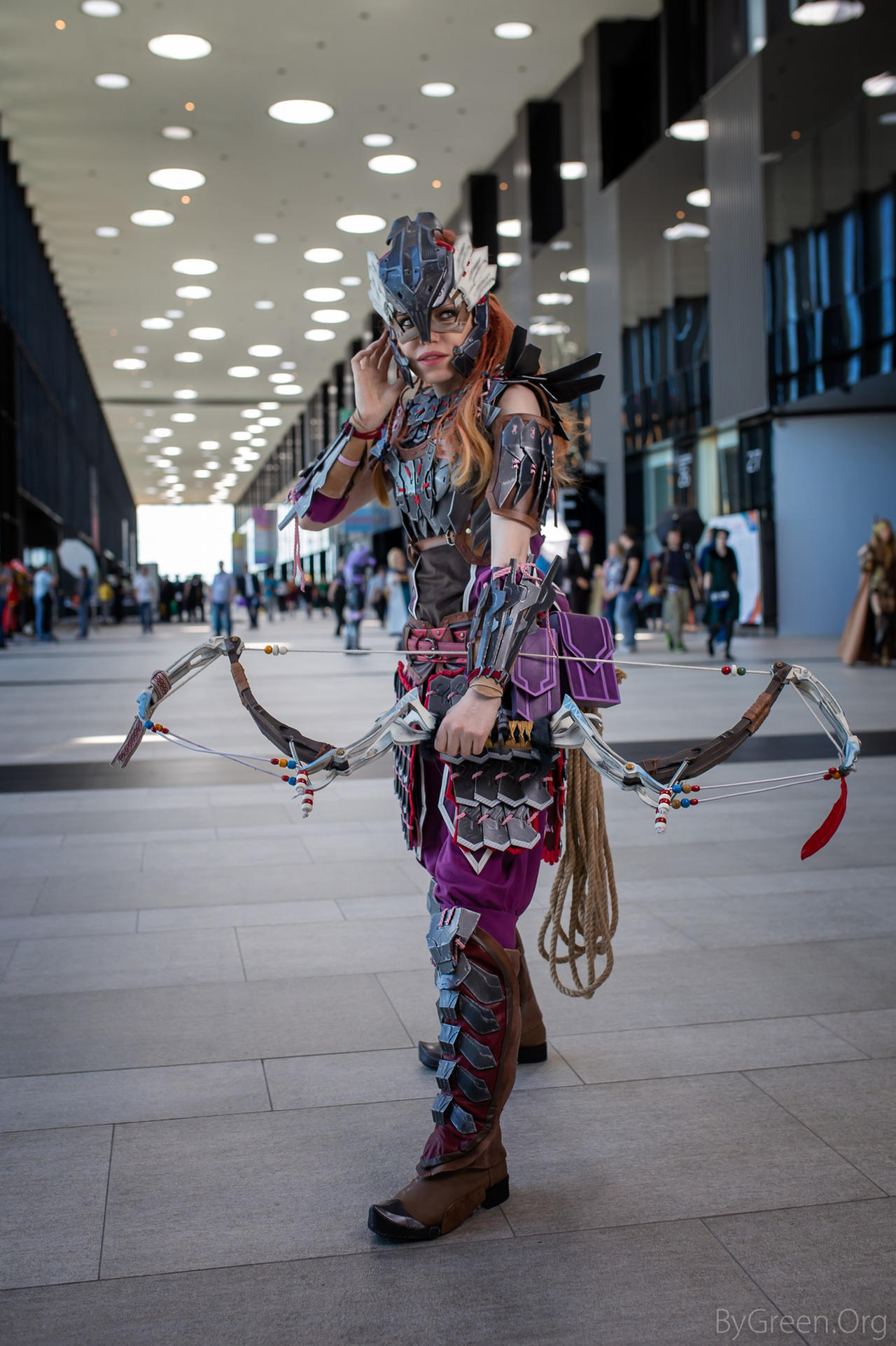 Cosplay by Tophwei
Aloy had to go undercover in one of the toughest quests in order to enter an enemy territory and blend in with the locals. She embodies the image of a Shadow Stalwart perfectly.
1-Illyne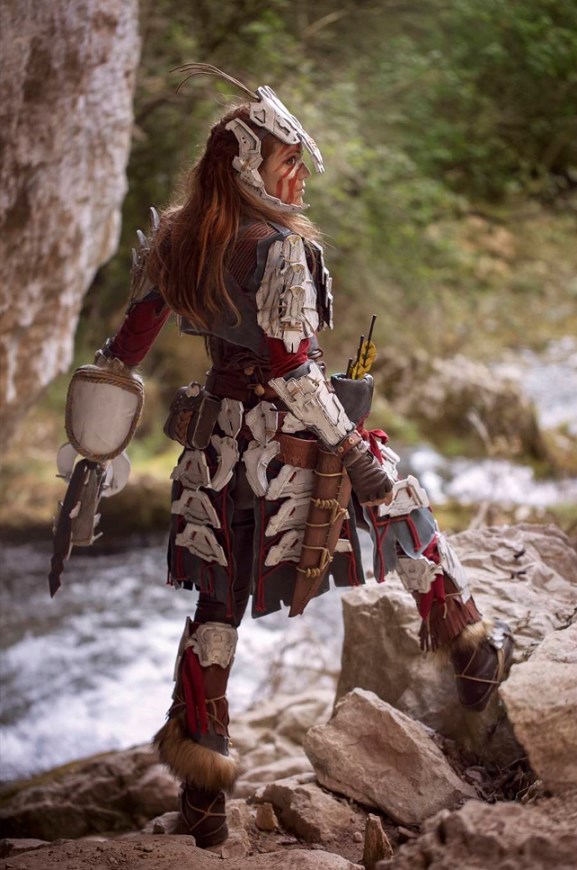 Cosplay by Illyne
Aloy may not live in the world that the Old Ones had planned for her, but she finds it to be full of beauty. Compared to when she first started, she now has a more optimistic perspective on the world and people.
You may also be interested in: