World War Z Release Date, Gameplay, Trailers, Story, News
Updated: 08 Aug 2018 12:48 am
Spanning across three campaigns, players will face-off against legions of zombies
In 2006, fans of brain-eating zombies were treated with the novel, World War Z: An Oral History of the Zombie War, by Max Brooks. It detailed a world ravaged by a zombie apocalypse. Chapters were structured as interviews with those who survived the ordeal; displaying themes of government ineptitude and civilizations relying on isolationism during a worldwide crisis. The book became a huge success, eventually spawning a film adaptation in 2013 starring Brad Pitt. Now, the World War Z franchise is hoping to find success in the virtual market with their upcoming video game of the same name.
Saber Interactive's World War Z will attempt to adapt the best qualities from the book and film. The game will span across multiple campaigns, much like the novel detailing a different viewpoint of the outbreak, with zombies based off of the film adaptation. The undead hordes in the movie were terrifying and relentless; sprinting at full speed and in massive swarms numbering in the thousands. Rendering massive zombie hordes in a video game could prove challenging, but the development team is hoping to capture that visceral action for their upcoming project.
World War Z Story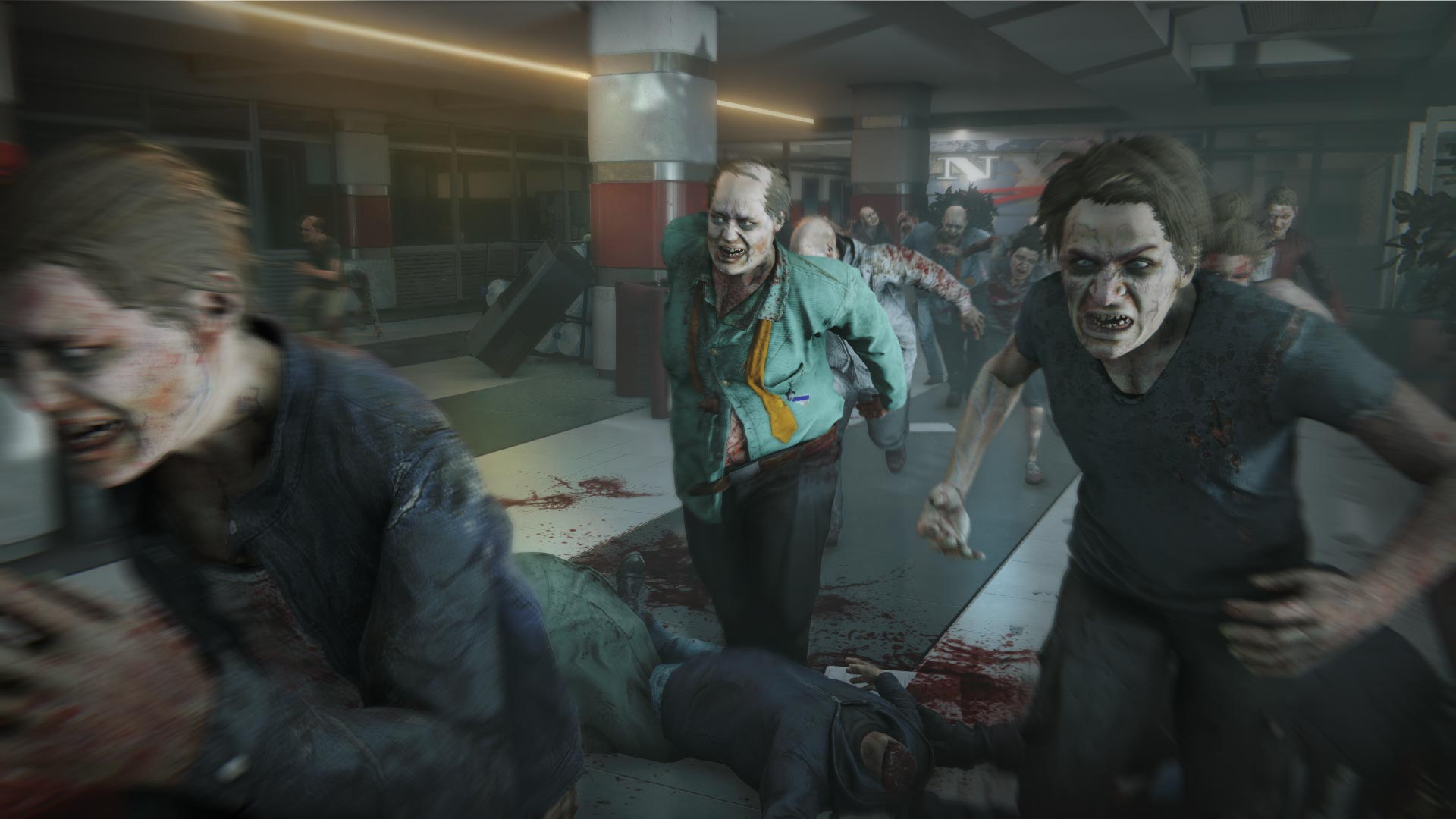 Run: Players will need to be fast and carry a lot of ammo to survive in Saber Interactive's World War Z
The story of Saber Interactive's World War Z will take heavy inspiration from the 2013 film: a world completely ravaged by swarms of relentless, fast-running zombies. Players will have to be quick, stocking up on as much ammunition as they can muster, to ensure their survival against massive waves of undead. The chaos will span throughout different locations around the world; such as Moscow, Israel, and New York.
World War Z Release Date
Saber Interactive's World War Z was revealed late last year during the 2017 Game Awards show and had a playable demo at this year's E3. The game will be published by Paramount Digital Entertainment and will release sometime in 2019 on PC, Xbox One, and PS4. 
World War Z Gameplay
Saber Interactive's World War Z is a four-player cooperative third-person shooter that tasks players to work together to survive monstrous swarms of zombies. Players will have access to an arsenal of weaponry, such as fire axes and machine guns, as well as gear to combat the hordes of zombies running amok around the game's locations. Teams can plan how to survive through setting up traps, fortifying barricades, and placing turrets in strategic locations. Characters will get stronger through the game's level-up system, and players can upgrade their weapons to take on more difficult enemies.
Leveling up, acquiring better gear, and strategizing with other players will be required if your group stands any chance against the overwhelming amount of hostile zombies the game will throw at you. World War Z will run on an engine, dubbed, "the swarm engine", by Saber Interactive, which will help the game render hundreds of zombies on screen at once. These swarms are massive, quick, and will behave like an actual crowd; getting stuck in corridors and using their bodies to climb on top of each other to reach survivors. Teams will definitely need to cooperate, strategize carefully, and come to the party with an ample supply of ammunition if they hope to survive the hundreds of fast-running zombies in World War Z.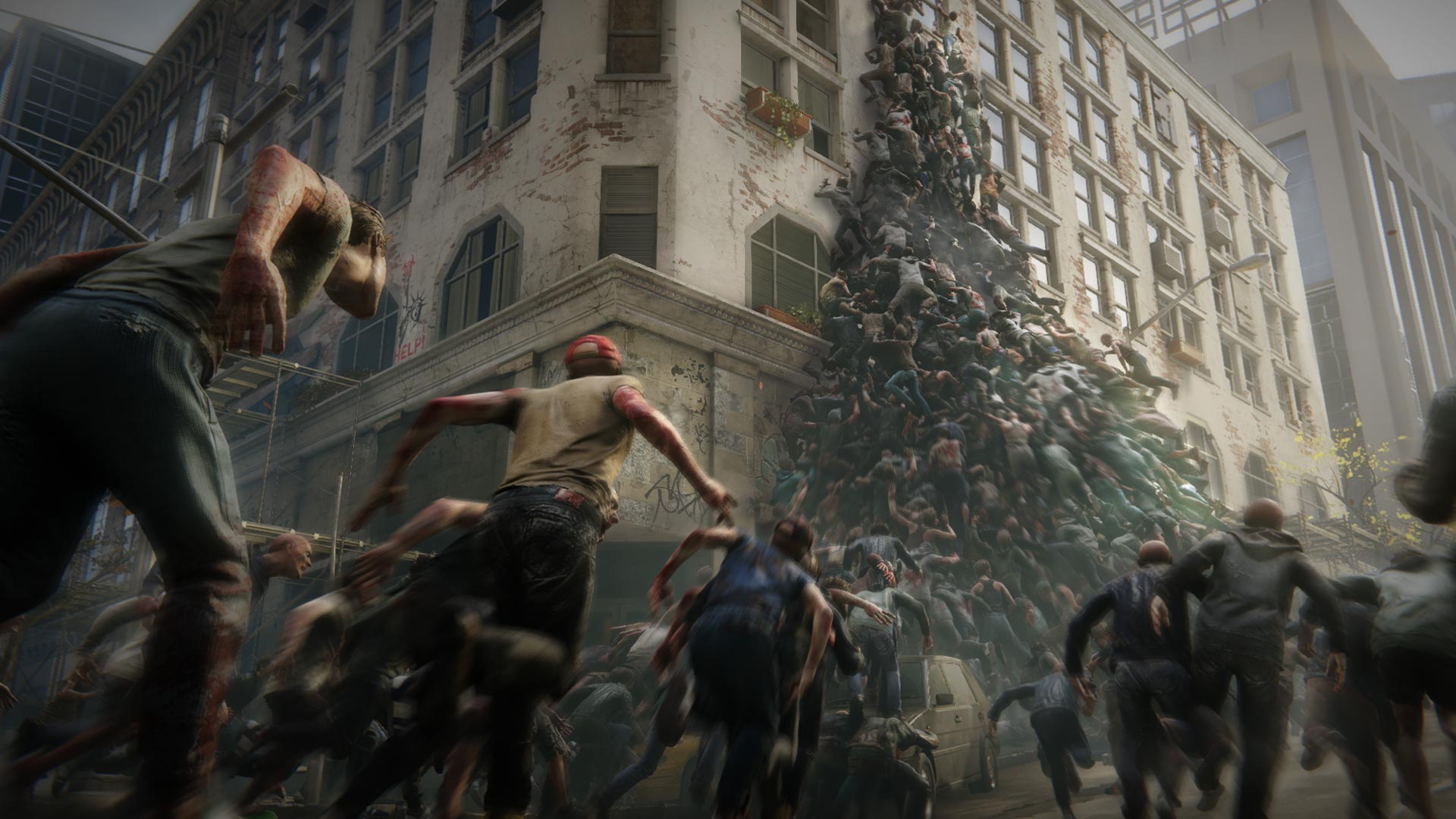 Undead determination: Zombie hordes will pile on top of each other to get closer to seemingly out of reach survivors
Saber Interactive is also adding a few elements to the game to offer a substantial amount of replayability for players. World War Z will contain 3 cooperative storyline campaigns taking place in New York, Moscow, and Israel. Each location will contain its own unique environments, challenges, and stories for players to uncover: New York will feature crumbling skyscrapers and remnants of military action in the streets, while Moscow will be a frozen tundra with abandoned trains and ships. Certain aspects of the game, such as enemy placement and item spawning, will be procedurally generated depending on player performance. By implementing these elements, the development team is hoping that the game will offer players a sense of fun variety and replayability.     
World War Z Trailers
The reveal trailer introduced to fans at the 2017 Game Awards Show. It shows off some of the different environments players will experience: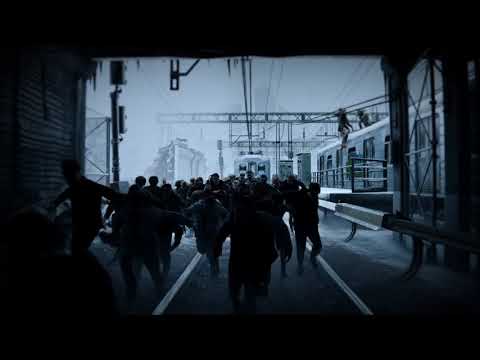 A trailer showcasing some of the gameplay for World War Z, as well as the Moscow setting. Here we see a group of survivors mowing down hordes of undead with machine gun fire:
World War Z Developer
World War Z is currently being developed by Saber Interactive, an American video game developer that's worked on games such as Halo: The Master Chief Collection, Quake Champions, and Inversion. The game was officially announced back in December with the release of the reveal trailer at the Game Awards Show. Saber Interactive built a new engine, which they officially called the swarm engine, for the game to enable hundreds of fast-running zombies on screen at once.
World War Z News
A playable demo was showcased at this year's E3 where fans were able to get a hands-on impression of World War Z's gameplay mechanics. Not only that, but there was also an interview at E3 with Saber Interactive CEO Matthew Karch, where he described the game's swarm engine and cooperative survival gameplay.
During the Interview, Karch mentioned how the development team wanted to capture the best elements of both the novel and film. Saber Interactive is hoping to capture the novel's storytelling structure: a series of individual experiences of the Zombie War around the world, and the films depiction of zombies: massive swarms of fast-running undead that have a blatant disregard for their own bodies. By incorporating both of these elements, the developers are hoping to produce a fast-paced survival game featuring engaging storylines throughout each campaign.    
World War Z Price
As of now, there is no price point for Saber Interactive's World War Z. The game is slated for release sometime in 2019 on PC, Xbox One, and PS4.
Image Gallery