Zombies Invade Virtual Reality in Arizona Sunshine
Updated: 13 Jul 2017 11:02 am
Kill zombies in a post apocalyptic wasteland.
What's Arizona Sunshine ?
Arizona Sunshine is a zombie shooter made exclusively for the VR. It takes place in southwestern America which has been overrun by zombies. You will explore this world while handling weapons as one would expect to do in real life. There will be a good amount to choose from as well, with a total of 25 weapons. These can range from normal handguns to full on machine guns which will aid you in your fight against the zombies.
Thanks to the realism that VR brings, it'll truly feel as though you are in a battle against zombies. The game has a fun campaign which will include the journey through different environments such as caves, canyons, rivers, and more. The gameplay itself is gorgeous and really looks like you're exploring real life. The atmosphere for the game fits perfectly as well.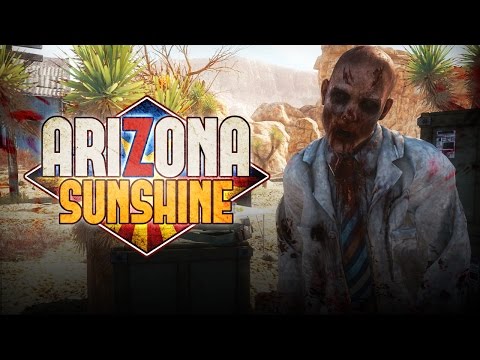 Arizona Sunshine launch trailer
The story takes place as the player awakens in a cave. He sets out to explore and while killing the zombies he come across, he finds a radio and hears a human voice. The player moves on and finds a refinery which has been overtaken by zombies. He finds another radio and this signal comes from Sunshine, Arizona. He reaches Sunshine and realizes no one is there. The game isn't that long and is played through small parts that come together to form something bigger. While the story isn't considered to be the most impressive part about this game, it's still there for you to go through and won't sour the experience.
What to expect
The game also brings in a co-op mode which will double the fun and double the enemies. The graphics are excellent, and the sound does its part well. The story and horde mode are both singleplayer and multiplayer games. The horde mode being where the player tries to survive against large hordes of zombies.
The game requires motion controllers to be played. The controllers are used as virtual weapons and also used to interact with parts of the game such as the environment. In each hand can be a separate firearm as well as the sides of the characters body. An update to the game has made it that free-roaming is now available if traveling long distance, instead of having to teleport instead
Fight zombies in VR
A must have for fans of shooters or virtual reality. The game highlights what virtual reality can really do as the game truly feels like you're absorbed into the world. The great visuals as well as fun gameplay will lead to hours of fun. You'll find yourself defending yourself and handling weapons as you'd expect in a real zombie apocalypse. The game was released December 6, 2016. It will be coming to Playstation VR in June.
You may also be interested in:
1. 11 Best Zombie Shooting Games On PC
2. Top 10 Overpowered Zombies in Video Games
3. Top 10 Games Like DayZ: If You Like DayZ, You'll Love These Games