PS5 Price Leak Fact Check: Real or Fake?
Updated: 27 Nov 2022 8:21 pm
The internet had quite the hubbub recently due to an accused mistake towards Amazon France.
*UPDATE* The exact origins of the screenshot have yet to be determined, Geskin was made aware of it through PlayEXP. A later tweet made this evident. Consider what is below to be a history of how the gaming community approached this.
What is the buzz?
Was it real? Millions of gamers have inevitably asked themselves and Google this question during the stir generated within the last week over Ben Gaskin's "PS5 Leak" tweet. Seen below, a decent amount of information is presented.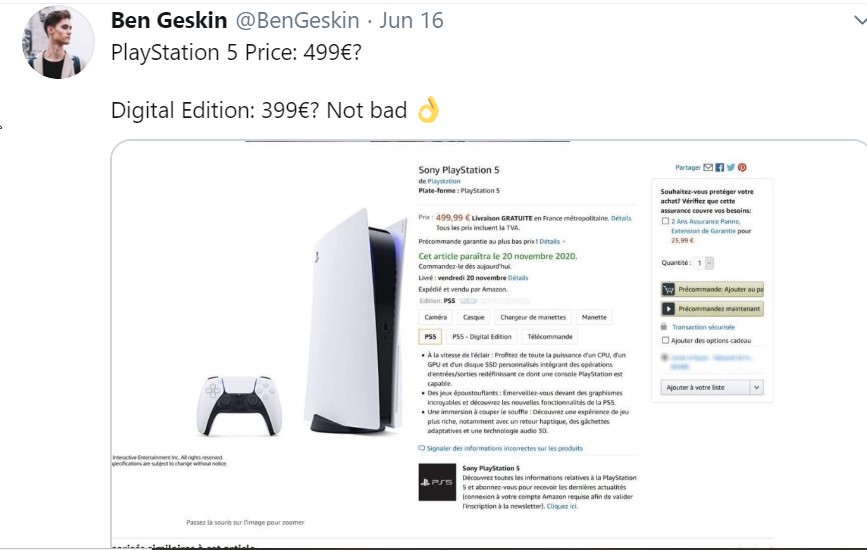 A tweet to be cataloged in the annals of internet and gaming history; it will probably be in a future YouTube documentary when we can look back at this time.
Most notably (and relevant to the average consumer) are the prices. Yes, the supposed prices for BOTH versions of the coming PS5 are stated as roughly 560 and 450 USD for the full and slimmed-down models respectively. These prices are interesting in themselves and will be discussed in more depth later on, but just having a price point like this is enough to jumpstart budgeting plans and debates. Worth considering also is the November 2020 release date, a date that, as will be expounded on shortly, would coincide well with officially-released information.
The typical Google searches for fact-checking where titles and summaries are scanned for keywords of affirmation will likely lead one to believe this tweet, but a longer look can provide some evidence for reasonable doubt.
What do we know?
When a topic is sensationalized and/or popular, it can become increasingly difficult to gather what TRULY is and is not factual. In avoiding tainting our investigation with unneeded opinions or speculation, to stick with what is 1) easily confirmed and 2) easily understood will help us to, at least, lay a foundation for the rest of our investigation.
Beginning at the beginning, PlayStation's official website gives us an image of the PS5 logo, the console, and aesthetically-matching accessories with the caption, "Holiday 2020".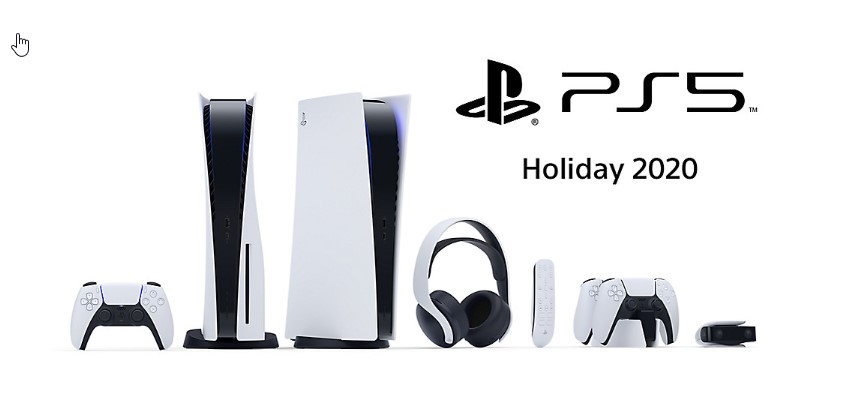 The front-page poster on the official PlayStation website.
Second, there is the tweet that we already discussed. Ben Gaskin is a well-known and trusted leaker who is primarily known for his leaks relating to products in the iPhone line. As an established leaker, his reputation precedes his words, crediting them in the paradoxical manner that reputations do. This being said, even leakers with clean track records should not be above scrutiny and skepticism. This is in no way to disparage Geskin or the work he does; leaks and official news in any context should both be taken with some withholding of trust as both will inevitably come from humans who may have motives for reporting the way that they do.
An official statement from Amazon was chronologically the third and most recent part of this development to take place. The official statement, given to Tech Radar, disowns the information in the tweet. Official statements often are weighted more reliable than information from third parties, understandably, but large companies are not beyond denials that eventually turn out to be true.
What is interesting about this price?
How much this plays into the legitimacy of this leak is somewhat subjective, but that is a part of speculation: it is not without reasonable variance.
PlayStation models have had somewhat of a mountains-and-valley style over the last few console generations. The PS3 originally launched at $599.99 for the higher-end model. If this were to happen today then it would likely receive a poor reception just as it did in 2006. Come 2013, PlayStation seemed to have learned from their previous mistake and launched the PS4 at a much more modest and reasonable $399.99 which no doubt contributed to its wide success. The newest gen naturally would be expected to be more expensive as the quality of hardware and software rises with the latest developments.
The slimmed-down PS5 which will support only digital games should reasonably be cheaper than the full, traditional version. The leak proposes a 100 Euro difference. Most would agree that it would seem like a realistic reduction.
What to carry on with?
Do these factors, the alleged price date, do enough to affirm one story or another? What about the myriad of other points and details that line and fill discussion threads and forums? No, they sadly do not, but people are inevitably going to speculate. That is not necessarily a bad thing! What is a bad thing? Guarding as inerrant fact something that does not inherently support itself soundly and attacking others.
#GamingTogether