How to Make Money Streaming Games
Updated: 23 Aug 2016 11:26 am
How do you become a successful video game streamer?
If you are in tune with the PC gaming community, you have most likely heard of Twitch, a broadcasting service by which people livestream popular video games. While streaming gameplay is fun and enjoyable, a lot of people cannot imagine being able to support themselves by doing this; perhaps they believe they will not become popular enough or that it is way too difficult and selective to do. In this article, we will look at what you need to do to take your hobby of video gaming to a completely different level by making money streaming on Twitch.
Step 1: Make Sure You Have Acceptable Hardware
In order to become a streamer, you need to make sure your stream is high quality in regards to picture quality and audio quality. To achieve the level of streaming you want, you need to invest in the appropriate hardware. Many streamers sport multiple monitor setups, above-average desktop computers, high resolution webcams, and quality headsets. Different streamers have different preferences, but the following products are considered to be the best by a large part of the technical community:
These monitors, graphics cards, headsets, and webcams are touted to provide the best in responsive video graphics, audio and video recording, and game display. Hardware at this level often comes with a pretty high price tag; however, gaming setups a rung below is still good enough for streaming on Twitch. More than having an expensive setup, be sure you have one that you like and genuinely enjoy using. It takes a lot of fun out of broadcasting for you, the streamer, if you do not enjoy the setup you are working with.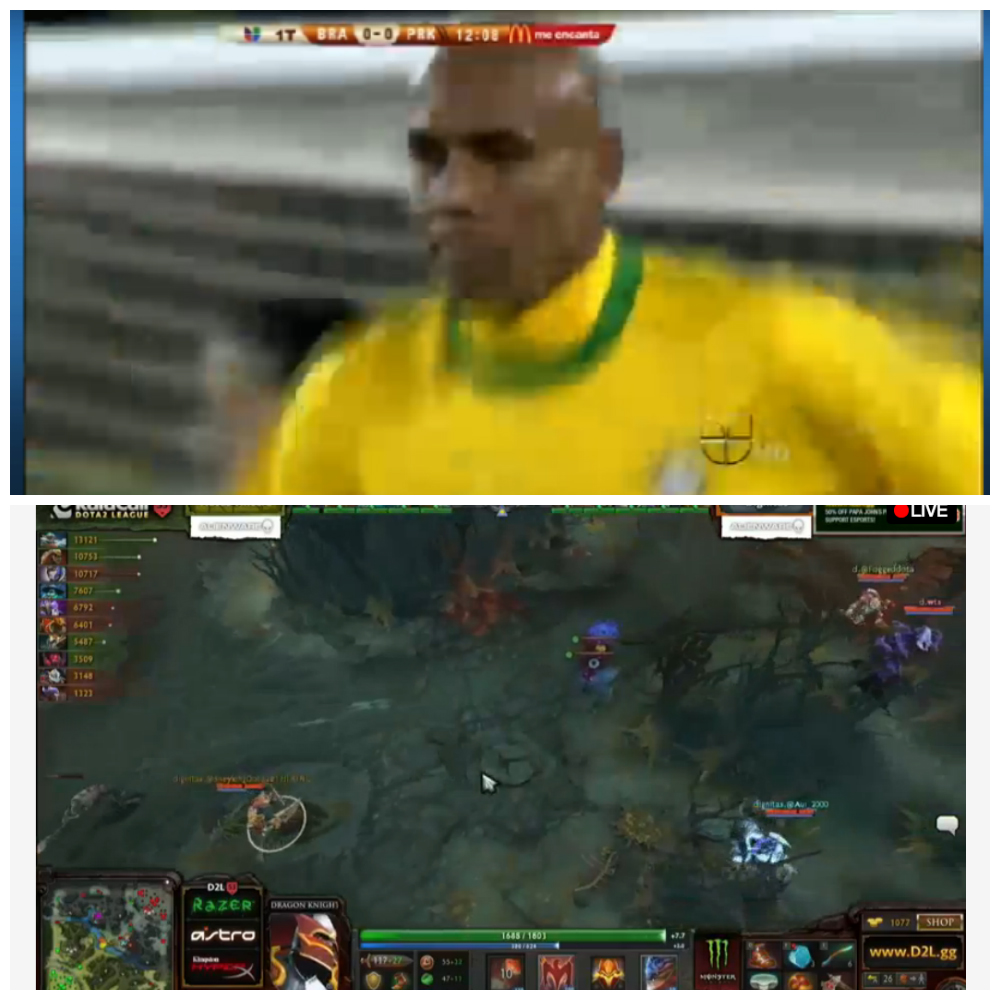 In addition to having the appropriate physical hardware to conduct the best streams, having a good internet connection is also important for streaming games. Poor internet connection and high ping causes pixelated webcam and game capture feeds, which certainly turns viewers away from your channel. As a viewer, the last thing you want to do is watch a stream you can hardly see. Better internet connection provides better image quality. In the collage above, the top image represents poor streaming quality, while the bottom image displays a higher quality stream through Twitch.
Step 2: Know How to Set Up a Stream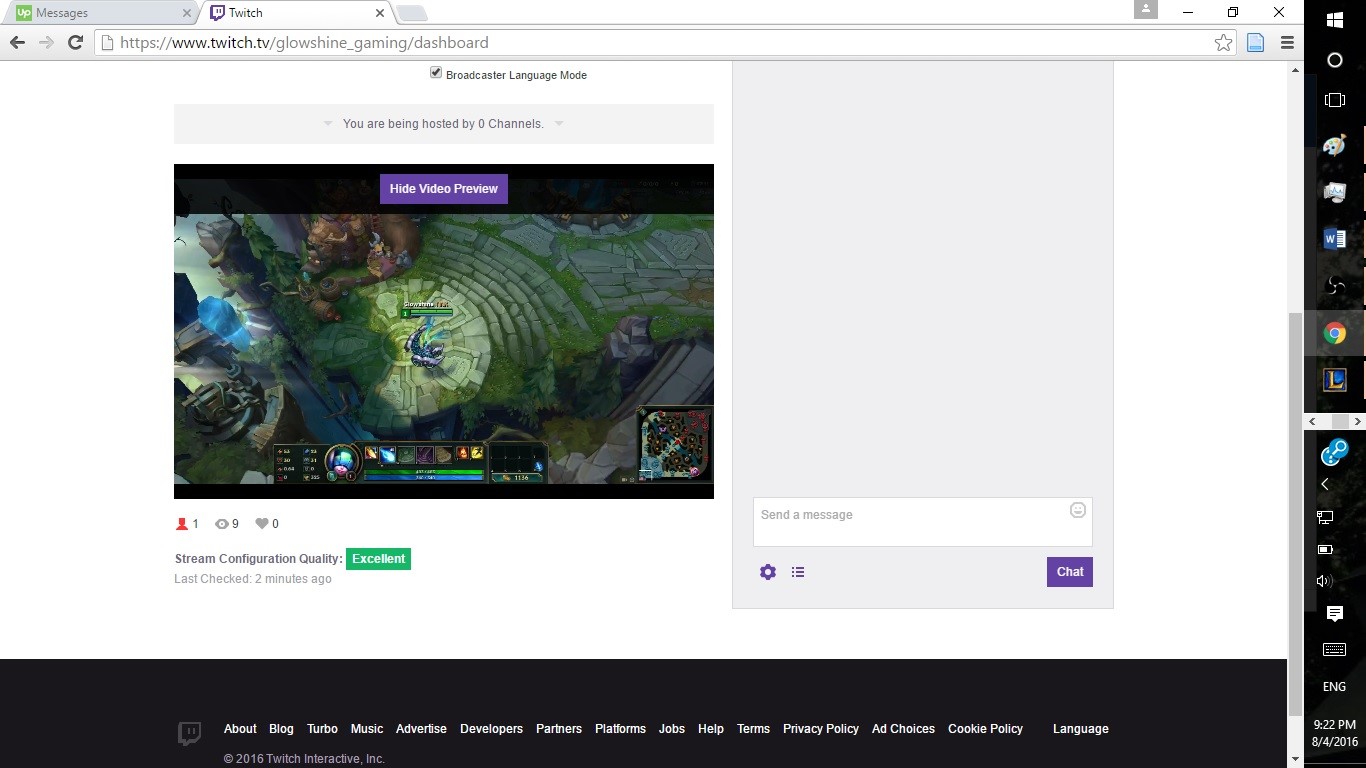 Being able to stream your gameplay is obviously the most important part of being a streamer. If you want to use Twitch, there are two important steps you need to follow in order to get started there:
Having a Twitch channel and a dedicated streaming software installed on your computer are the key components for starting your journey as a streamer. For a step-by-step guide for how to stream on Twitch—from finding your stream key to optimizing your settings in Open Broadcast Software—follow this link.
Step 3: Choose Your Game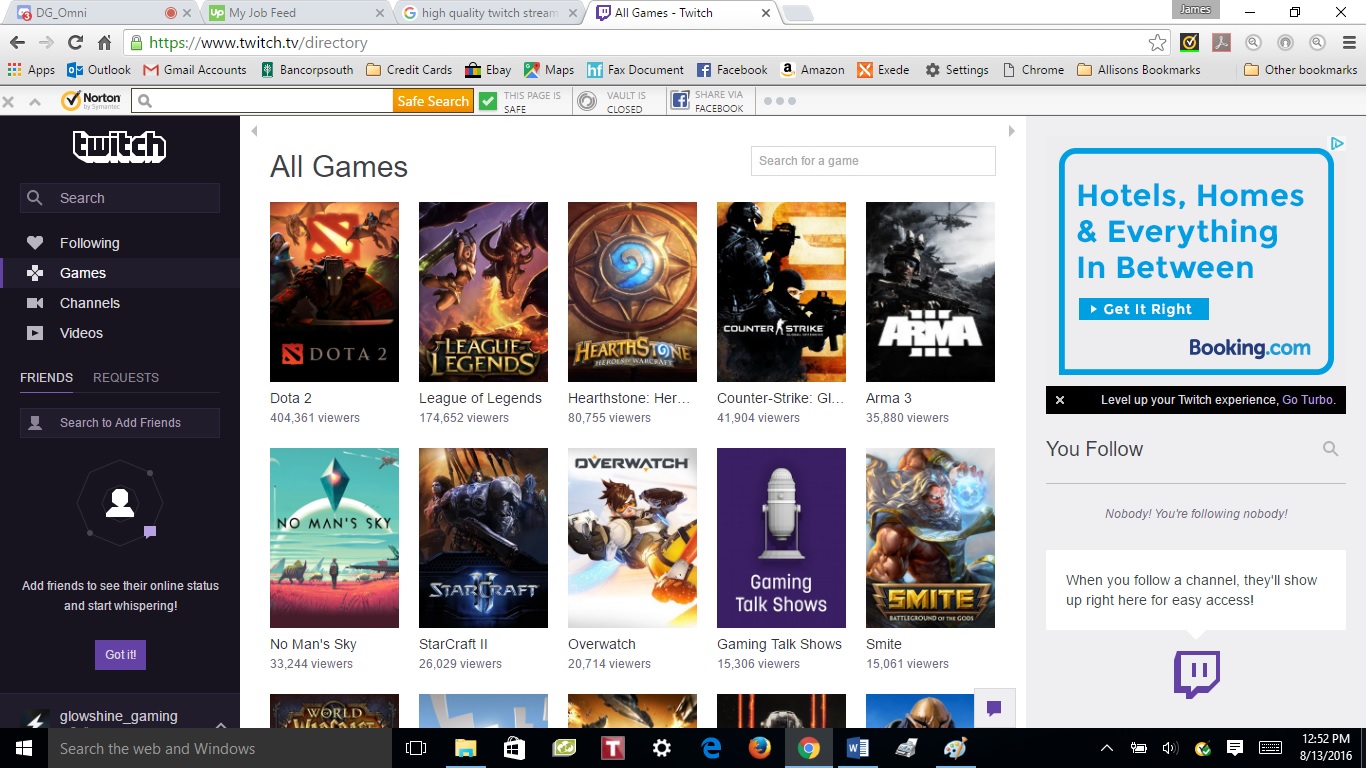 Streamers vary tremendously in what type of games they stream. Some are dedicated to streaming only a single game, some only stream games in a certain genre or time frame, and others will stream anything they can get their hands on. Choosing your game is an important decision for your streaming career; more popular games attract more viewers, and more viewers provide better opportunities for more concurrent watchers and more followers. Some of the most popular games on Twitch are:
Popularity should not be the only deciding factor in your gameplay decision. Most importantly, the streamer should play games they enjoy playing, even if it fits into a more niche fan-base.
Step 4: Learn Your Game
When you start streaming your game, you want to have some degree of proficiency in it. It does not necessarily matter if you are good at the game, as long as you are knowledgeable about it and can comment on what is going on. Viewers do not enjoy watching a streamer who has no clue about what game they are playing, especially if they have the option to watch other streamers with more experience. The game you choose to play should be one you have plenty of experience playing, and something you can continuously improve on as you stream.
Step 5: Set Up Your Twitch Profile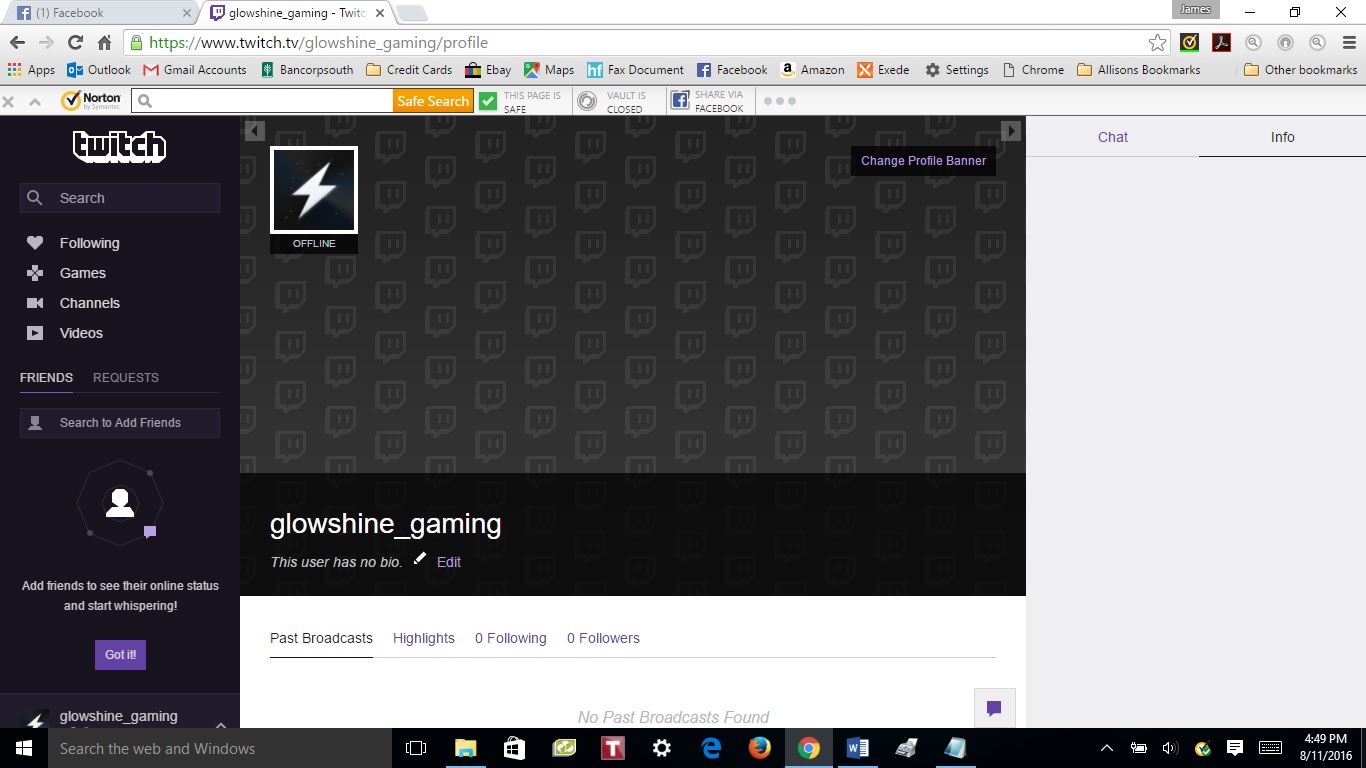 One aspect of streaming that is just as important as the stream is your profile on Twitch. This is part of a viewer's first impression of you as a streamer; everything about your profile, from your page banner to your bio, should exude your personality and the experience you want your stream to give off. A profile should include a few pieces of key information:
A brief bio
A dedicated streaming schedule
Contact information
Social media links
Paypal donation button
A bio, along with banner pictures and profile icons, are very important with helping your viewers understand you better as a person, streamer, and gamer. You can discuss a variety of topics in your bio; the types of games you stream, your experience with gaming on multiple platforms, your interests outside video games, and more.
Streaming schedules are an important aspect of communication between streamers and viewers. Especially as a new streamer, it is important for viewers to know when you are going to be streaming and what games you are going to be showing off; in instances where you cannot stream during your dedicated times, updating that schedule to let your viewers know is massively important.
Contact information and social media links are hugely important in establishing bonds and closeness between streamers and viewers. Streaming is definitely a way to meet new people and a way to interact socially—having methods for your viewers to get in touch with you via e-mail, Twitter, Tumblr, or more is especially important when you are getting started.
Some viewers like to support their favorite streamers through donations, so providing a donation link to your viewers is one of the primary ways to start making money through Twitch's streaming services, especially when you are starting out and unable to get sponsors (we'll discuss sponsors later in this article).
Step 6: Retain and Gain Viewers
In order to experience any degree of success through Twitch streaming, it is important that you not only gain new viewers on a consistent basis, but also retain continuous viewership from the same individuals. If your stream is "stale" or boring, it will be difficult to maintain any sort of regular viewership. There are multiple ways to maintain viewership, all dependent upon what type of stream you want to put out and how you would like to be perceived by your viewers.
Interact With Your Audience: Ideally, your stream should be fun and lighthearted; viewers should enjoy watching a positive and upbeat stream that is full of interesting comments and funny reactions. Furthermore, it is important that you interact with your viewing audience. Unless you intentionally disable the feature, all Twitch streams have a chat box that viewers can use to communicate with the streamer and vice versa. Addressing viewer comments or answering their questions during the stream will make your broadcast more personable and draw viewers back to watch again, or tell their friends about "this really cool streamer" they saw on Twitch.
Be Yourself: Another way to maintain your viewership is to be yourself. Express your personality honestly and fully, and do not try to act a certain way—the way you think game streamers "should" act, or like streamers you have seen before. Viewers enjoy originality and uniqueness, and no one is more unique than you! Showing your emotions, whether it is being overjoyed at a good play, hilariously raging over a difficult level, or crying when you reach the sad part of a game's plot, will allow viewers to empathize with you and humanize you.
Entertain Your Audience: Viewers are not going to watch a stream that is boring, so you need to learn how to keep them entertained! Whether it is through funny facial expressions or personal anecdotes, you need to do something with your stream that adds a little extra and makes you different from other streamers. Some individuals do raffle giveaways, where your number of free entries are based on concurrent viewership, while others may cosplay, tell jokes, or dance during their streams. Whatever you choose to do to entertain your viewers is up to you!
Step 7: Set Up Goals for Your and Your Channel
If you want to be successful in Twitch streaming, you cannot do it by only haphazardly maintaining your channel. It takes work to make money by being a streamer, and there are three important marks and goals you need to set for yourself in order to succeed.
Allocate Streaming Time: In Step 5, you were encouraged to post a dedicated streaming schedule on your profile—but before you do that, you need to decide how much time you want to stream. Some people choose to stream on a daily basis, while others choose to devote time to streaming every other day or every couple of days. Ideally, you should dedicate three to five hours to streaming a day, especially when you start out. It provides a large window for people to jump in and out of your stream, and a consistent streaming basis to develop a concurrent viewership.
Have a Social Media Presence: When you are not actively streaming or logged into Twitch, some viewers may want to be in touch with you, know your thoughts and feelings on things going on in the gaming world, or ask you questions. Therefore, it is important to have a social media presence outside of Twitch. Twitter is easily considered one of the most important social media tools for streamers; personal blogs, Tumblr, Instagram, and more are also very popular.
Set Follower Goals: After putting so much work into setting up your stream, entertaining your viewers, and promoting your channel, it only makes sense that you would set up follower goals. For many ten new followers a day is considered the ideal. The more followers you get, the more opportunities you are given. After you reach an average of 500 recurring viewers, you are eligible to apply to the Twitch Partner Program, where users can subscribe to your channel and get perks in exchange for monetary payment. Many people who become part of this program set up additional follower goals; instead of only ten followers a day, they shoot for ten followers and one subscriber. Gaining followers is certainly very nice, but maintaining follower and subscriber numbers is just as important and exciting.
​Step 8: Seek Out Sponsorship
The final step to making money on Twitch is to seek out sponsorship. By this point, you have hopefully set up a channel and have gained both viewers and subscribers through the Twitch Partner Program. Now, you can start seeking out sponsorship from various brands. Sponsorship is where you are paid by websites or companies to mention and/or discuss their products in your streams.
If you want to seek out sponsorship before getting involved with the Twitch Partner Program, you certainly have every opportunity to! Many streamers who choose to seek sponsorship ahead of this usually have 5,000 followers and a minimum of 100 concurrent viewers. When applying to be a Twitch partner, existing sponsorship looks quite nice, and could encourage Twitch to be a bit more lenient in their concurrent viewership requirement
These steps provide the foundation for taking a hobby of streaming games on Twitch even further. From learning how to entertain your audience to approaching companies for sponsorship, becoming a lucrative streamer is a learning process, and is something you can only improve at the more you do it. Hopefully the process of streaming is as rewarding and enjoyable for you as it will be for your viewers!