Dishonored 2 Collector's Edition: What You'll Get
Updated: 22 Jun 2017 4:27 am
Bethesda has a special Collector's Edition of Dishonored 2 for all of those hardcore fans out there that want exclusive content and merch!
All You Need To Know About Dishonored 2 Collector's Edition
Dishonored 2 was originally released in November of 2016, after being announced at the same year's E3. What was also announced was the ability to pre-order not only the game but a special collector's edition. Although the Collector's Edition now doesn't include all of the same things that were available during the pre-order, it's still available!
What's In The Collector's Edition?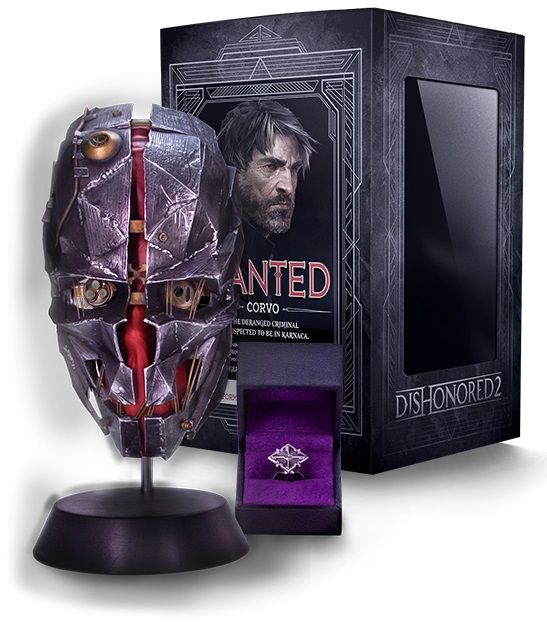 Corvo's metal mask, ready for display, and a replica of Emily's ring tucked safely into a velvet lined box.
In the Dishonored 2 Collector's edition you get exclusive replicas of Corvo's mask and Emily's ring (pictured above). The mask itself is 13 inches in height, 6 in width, and has a depth of 5 inches. Sadly, the mask isn't very wearable due to its size, and it's just a display piece; which may be exactly what you want if cosplay isn't your thing.
The ring itself is wearable, but it may not fit you if you're on the large or small ends of ring sizes. The ring comes in a black box labeled "Dishonored 2" and is lined with purple velvet.
A rather dark and striking metal case to keep your limited edition copy safe.
Along with the collectable items from the characters is a special edition metal game case (above) to house the copy of the game you get with the package. One side pictures Corvo Attano in his legendary mask and the other pictures Emily, eyes glowing and ready for battle.
Also included is a limited-edition propaganda poster (below) that's featured in the game. One side is the image of "deceased" Emily Kaldwin saying "Long Live The Empress." The other sports Delilah saying "All Hail The New Empress."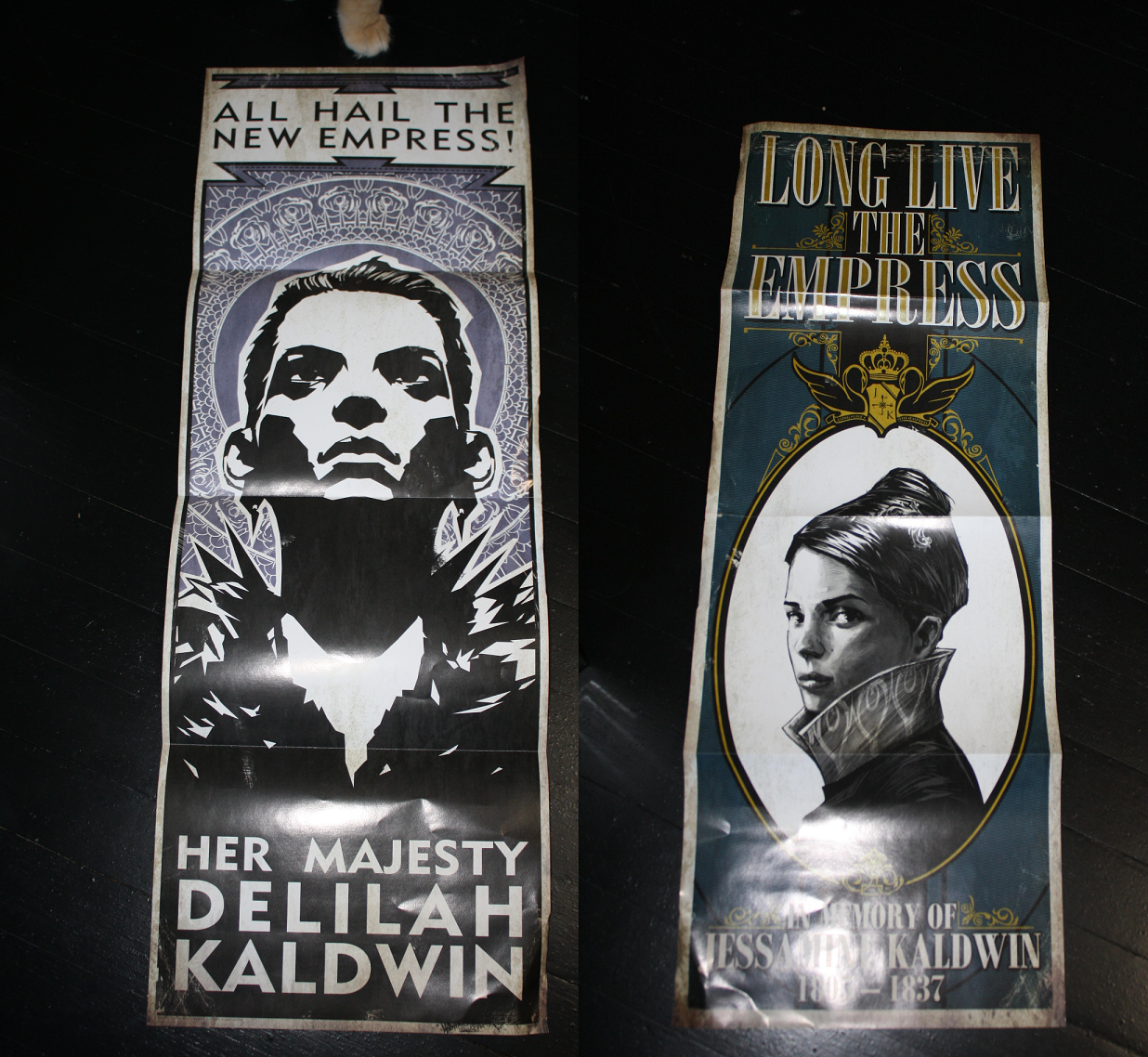 The striking propaganda posters that were featured in the game, one of Delilah's many attempts to keep the throne.
The case of the Imperial Assassin's pack, including images of what the pack gives you.
Included in the original pre-order, and unclear as to if it's included now, is the Dishonored 2 Imperial Assassin's pack. The pack includes special edition bonecharms holding the new skills' Duelist's luck, which can get you an extra bullet, and Void favour, which creates a better chance of powers consuming no mana. Included as well is lore, special edition art, and 500 extra coins to use in the black market.
The final piece of what you receive, which is not pictured, is the Dishonored: Definitive Edition. The Definitive Edition includes the original game plus the add-on content: Void Walker's Arsenal, Dunwall City Trials, The Knife of Dunwall, and The Brigmore Witches. The game was also remastered to be compatible with newer consoles.
Price
Now you're probably wondering, with all this great stuff how much does it actually cost. The whole packages is a whopping $99, excluding tax and shipping. So this collector's edition is for those out there who are determined to shell out for stuff like this.
How to order
If you want to order the collector's edition you can head over to Bethesda's Dishonored website and when you scroll down it lets you select your country and then gives you a list of retailers to select from.
As of right now it appears the only retailers that carry it are Amazon and Best Buy. From there you can order it and it'll be mailed to you, or you could pick it up at the nearest Best Buy.
You May Be Interested In