[Top 5] Terraria Best Journey Mode Seeds That Are Fun
Updated: 08 Jun 2022 4:08 pm
Let's journey through Terraria's Journey mode!
Journey mode is a new game mode added in Terraria's aptly named Journey's End patch. It allows you to play the game in Easy mode with extra features that border from item duplication to changing gameplay difficulty. It can be compared to Minecraft's Creative mode where you have almost complete control over what happens in your game. If that isn't enough, 1.4 added the Seeds feature where you can play worlds that other people play or worlds that are entirely crazy. Find out which seeds are great in our Top 5 best Terraria Journey mode seeds that are fun!
5. This is a very good seed
Seed: thisisaverygoodseed
Size: Small
World Type: Classic
Evil: Corruption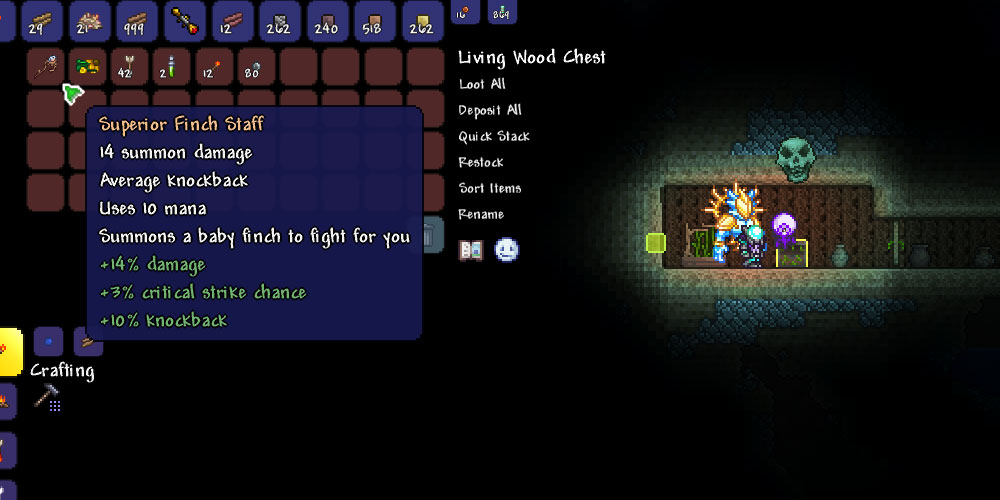 Finding a good weapon when starting in any Terraria mode is a tough challenge. This seed has 1.4's most recent summon weapon packed with a rare prefix which enhances its overall power. The Finch Staff is one of the many boons this seed has as there is more treasure easily found around the map. The other Living Trees in this world have access to Gold Chests and Life Crystals which is great for reaching max health through duplication.
What is great about this seed:
2 Rare items inside one chest, the other being the Sunflower Cart
Great starting weapon for Journey Mode
Early Life Crystals for survivability
The gold chest contains a Magic Mirror
4. For The Worthy
Seed: for the worthy (case insensitive)
Size: Any
World Type: Any
Evil: Any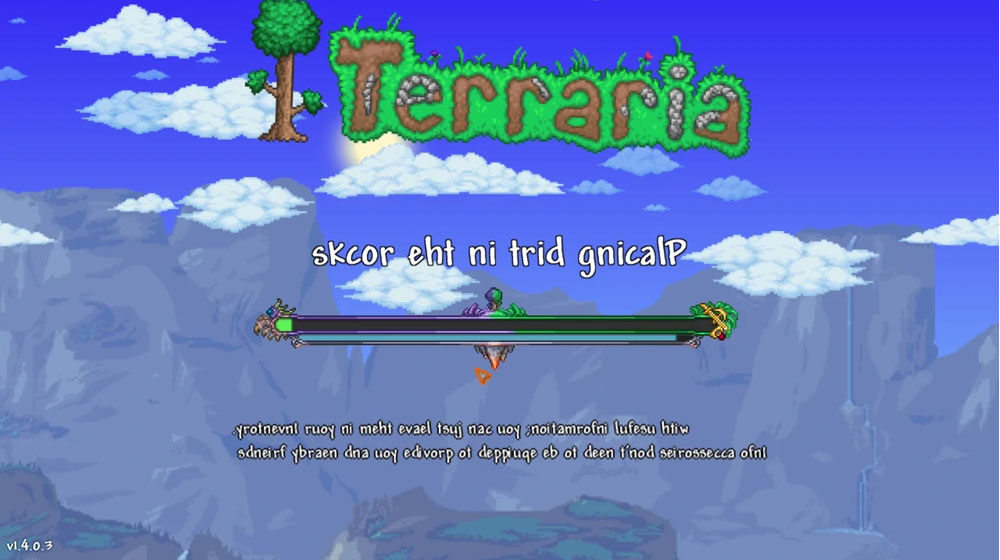 Although this is considered to be Terraria's hardest seed, playing this in Journey Mode allows you to enjoy the extra features of this hardcore map. Enjoy all this seed has to offer without having the extra pain of the added difficulty.
What is great about this seed:
Play with Terraria's hardest seed in Easy Mode
3. Celebrationmk10
Seed: celebrationmk10
Size: Any
World Type: Any
Evil: Any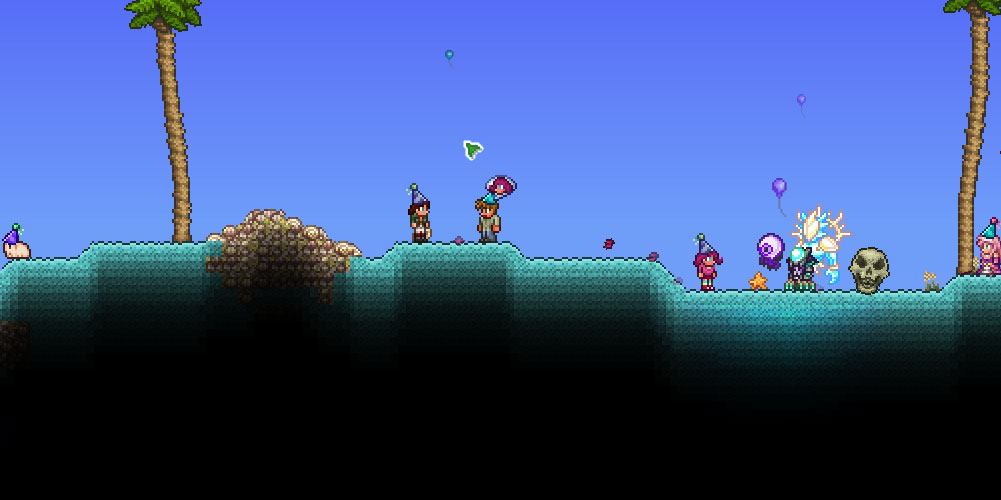 This seed is Terraria's 10th birthday seed. You'll find that you'll spawn in a very colorful world while starting at a beach party. All rare item drop rates are increased, allowing you to research and duplicate with ease. This seed also features the Jungle Mimic and the Golden Slime for extra loot!
What is great about this seed:
Increased rare item drop rates
Two unique enemies: Jungle Mimic and Golden Slime
Princess sells Slime staff and Discount Card
Items found in chests will always have the best modifiers (ex. Legendary or Warding)
2. Drunk World
Seed: 05162020
Size: Any
World Type: Any
Evil: Any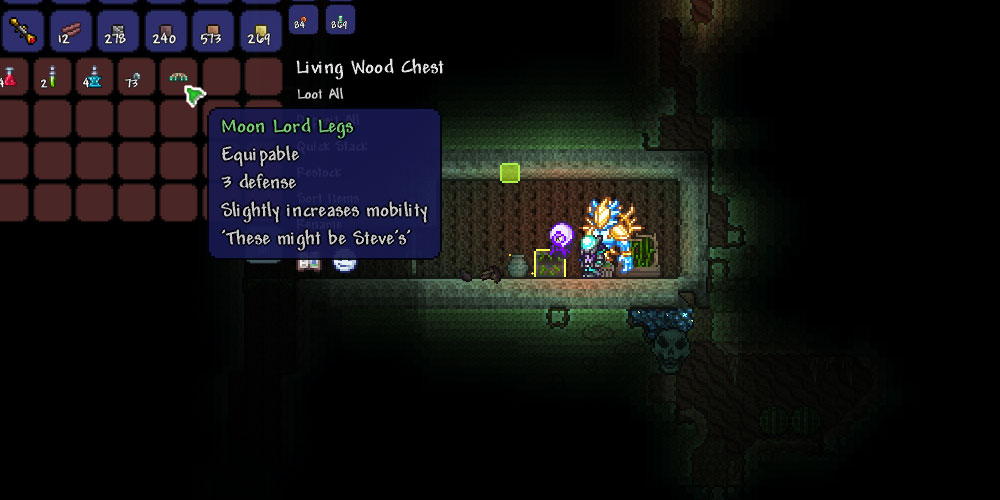 If you're trying to get all the items in one world then the Drunk seed is your best option. It allows you to have access to both the Corruption and Crimson biomes while having access to the unique Moon Lord Legs and Chippy's Couch (item from a popular Terraria YouTuber).
What is great about this seed:
Only seed where you can get the Moon Lord Legs
Only seed with Chippy's Couch item
The world is still different even if others use the same seed
Early access to the Dungeon (entrance is replaced with a living tree chute)
Outright weird world gen makes for a very unique experience
Has BOTH Crimson and Corruption
1. The Constant
Seed: constant, ​theconstant​, the constant, ​eye4aneye, ​eyeforaneye
Size: Any
World Type: Any
Evil: Any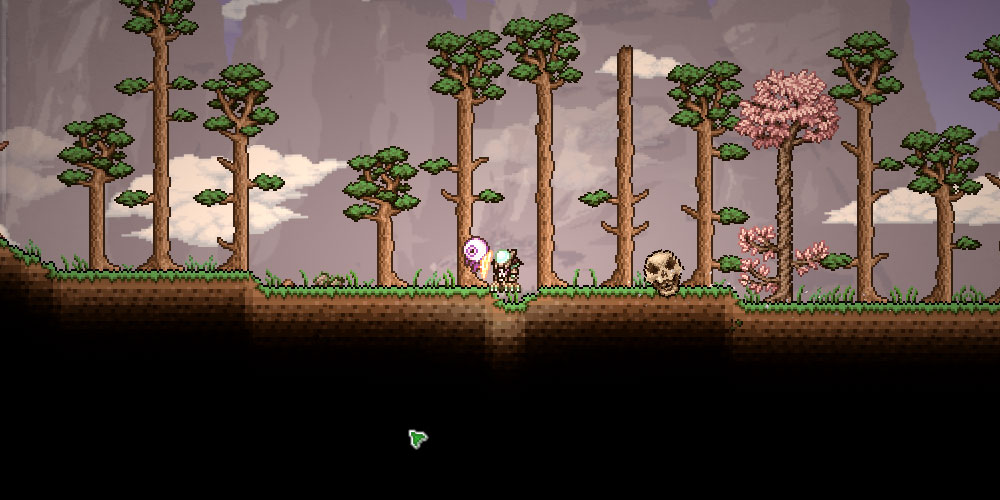 Enjoy Terraria's Don't Starve seed with absolute ease in Journey mode. This allows you to duplicate food which is a huge part of the seed's gimmick. Gives you better access to the Don't Starve-themed items. Play through this seed's features without the fear of the increased difficulty.
What is great about this seed:
Don't Starve mechanics have been added
Higher drop rates for Don't Starve related items
Hunger mechanic makes the gameplay completely different
Cool shader effect that gives off a gloomy vibe
Low light can kill your player
You may also be interested in: