The Top 10 Multiplayer Survival Games for PC
Updated: 08 Mar 2023 12:55 am
Thermometer in hand the zoologist cautiously approaches the timid Shaleback King.
What Are The Best Multiplayer Survival Games?
Unless you are independently wealthy or have a Sugar Mama or Daddy you probably don't have bundles of cash lying around to blow on substandard games. Moreover survival gaming requires a substantial time investment. Who wants to spend all that time gathering supplies, building stamina, fortifications and the like, all on a game that turns out to be as exciting as watching paint dry. On the flip side who wants to miss out on the fun of joining your friends in an immersive RPG sandbox that could change the very meaning of your existence in the universe… hey it could happen. A Steam Multiplayer Survival search returned 169 results. This guide will help you pick the best from that overcrowded niche and make that next purchase worth it's weight in Ender Pearls.
10. Don't Starve Together
Don't Starve Together gameplay
Fans of KLei's Don't Starve will enjoy this stand alone expansion, now friends can join  gentleman scientist Wilson as one of 10 other characters (with more to be unlocked) in this strange and fascinating realm. But be sure to stock up on fire supplies because the nighttime is no time to be caught outside in the dark. I love the graphics, and you can randomly generate new 3D worlds for your 2D characters, it reminds me of a storybook version of "The Nightmare Before Christmas".
Better have a night light, the dark is a real killer.
Trap birds and harvest seeds to start a crop.
9. ARK: Survival Evolved
ARK: Survival Evolved gameplay
From humble beginnings you'll start on this Land of the Lost-esque island, but the sky is literally the limit. Best to have a few or a lot of friends to team up with because resupply and fortification can get a bit tedious when your technology starts to evolve. But hey, who ever said that pimpin Dinosaurs was easy? I prefer my survival with a lot of action and even more adventure, and Studio Wildcard did not disappoint.
Best to team up to take down the big guys.
How to train your dinosaur? Very very carefully.
8. MIST Survival
MIST Survival gameplay
All you Zombie Apocalypse survivalist out there will loooove this game. Though I use the term zombie loosely, the infected aren't actually undead, but if it walks like a duck.  Most of your time will be spent finding supplies and building fortifications, however the night belongs to the infected as does the mist that rolls through occasionally, so keep your health up.
Conserve ammo for the mist, to protect health.
Find batteries, tires, etc. to repair abandoned vehicles
7. Town of Salem
Town of Salem gameplay
This strategy multiplayer pits the townspeople against the mafia, serial killers, arsonists, etc. Every night the killing goes down and the next day comes the hangings. If you are good at lying and lie detecting then you should be ashamed of yourself, but you should do very well in the Town of Salem.
Strategic liar liar
The claim game
6. RUST
RUST gameplay
Facepunch Studios delivers on it's namesake, you spawn into this world not wearing a stitch and must use whatever you find including other players to survive, that's right animals aren't your only source of food. As fun as running around naked might be, you had better find some clothing to ward of the cold, fire and shelter will also help. Rust is a must play, its like my Grandfather use to say, "Sonny boy, the hallmark of any good survival game is naked cannibalism".
His spear is so much bigger than mine.
Hot air balloon update might have its weaknesses.
5. Conan Exiles
Conan Exiles gameplay
Defy those that exiled and crucified you by erecting not only a home, but a fortress and eventually your own kingdom. Defeat other players in battle or take on the computer in single play when you fashion your very own version of Schwarzeneggar, or more recently Momoa, in this Funcom iteration of the Barbarian universe.  All of the action you would expect from an open Barbarian world. Unbelievably imagined and detailed beasts, monsters, and giants to fight, as well as other players. I have always placed a premium on games with great graphics, and this is one of my favorites.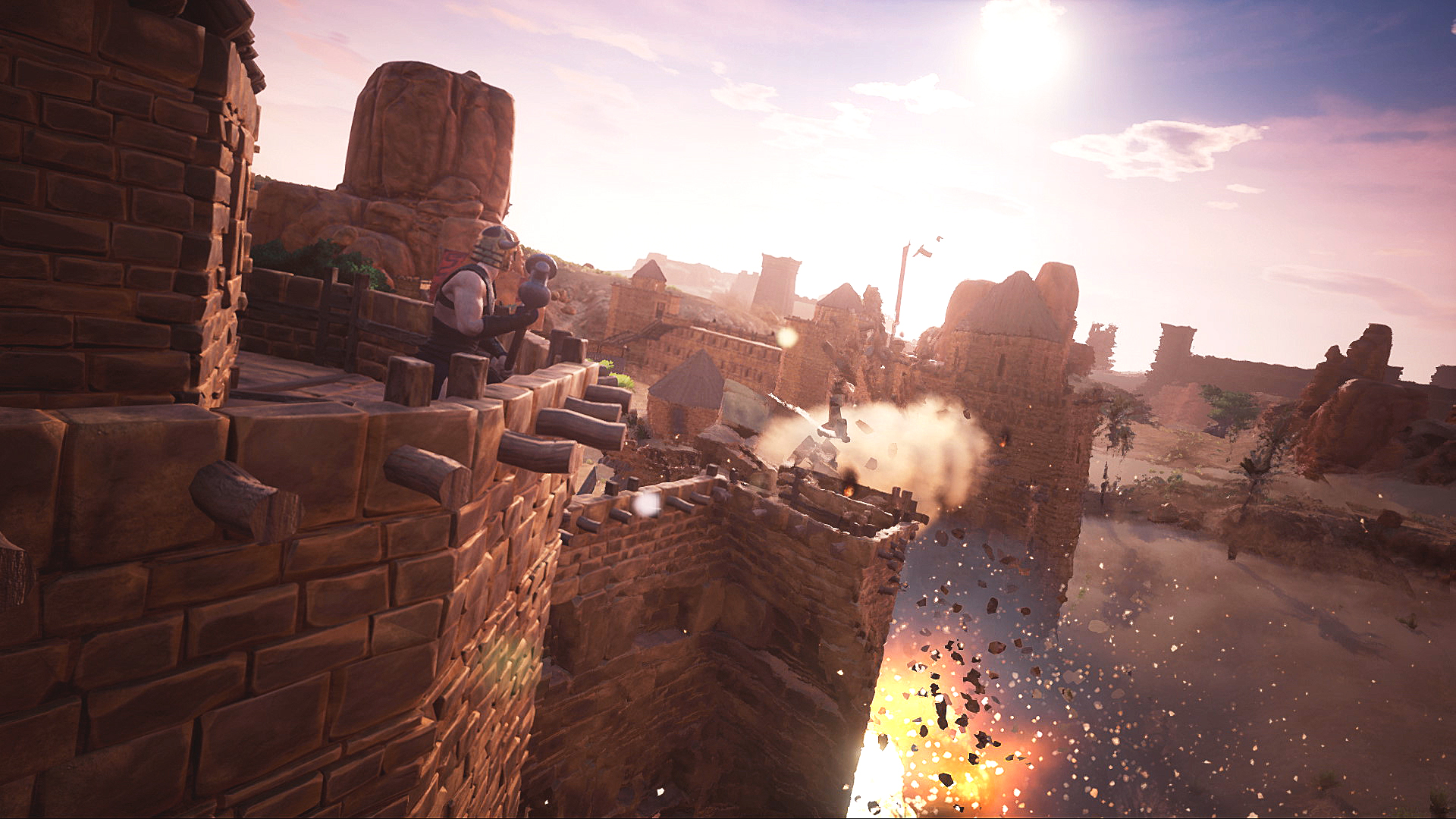 Attack and defend fortresses.
Other players may be the least of your worries.
4. Hurtworld
Hurtworld gameplay
Take care of the basics - chopping wood for fire, using seeds to grow a crop, and finding ore to build a hut. But the real fun comes when you take on other players as you fight to stay alive and eventually form alliances, or raid and repel to protect what is yours. Though this FPS is still in early access, I believe it is a worthwhile investment.  Fashioned for more hardcore gamers, Bankroll Studios designed a deep survival multiplayer minus the triviality. Unfortunately bugs crept in after several updates. I still believe that Bankroll will pull things together because of the enormous fan support that they initially received. Here's hoping.
Difficult gameplay for hardcore gamers.
Taking a ride with friends online.
3. Unturned
Unturned gameplay
Search for supplies and weapons to survive zombie attacks alone or in multiplayer. Beware of radioactive dead zones and anyone that is not your ally. Team up and fight other teams or single players in arena mode. Growing up in the 80s and 90s, my friends and I hailed the coming of 16 bit, 32 bit, 64, 128, etc. I think a tear ran down my cheek when I first saw the graphics on Street Fighter II Championship edition on my cousin's Super Famicom. Watching the progressions of game graphics were milestones in our lives, the evolution of all we held sacred. So I just cannot wrap my head around the appeal of games like Minecraft. Granted Unturned looks a little cleaner but still. Nonetheless, because of its popularity, the scary (although blocky) zombies, and because the gameplay is pretty solid I felt obliged to include it in my list.
Wow this makes Minecraft look like crap.
Hmm… When the icon looks better than the gun your holding.
2. 7 Days To Die
7 Days to Die gameplay
Feed clothe and shelter your avatar, a survivor of a nuclear holocaust. As you scour the ruins of civilization for supplies, beware of zombies that will relentlessly attack humans and their dwellings. Beware, the bloodsuckers are quicker and more relentless at night. Labeled, the survival horde crafting game, it really is a mix of RPG, FPS, survival horror, and tower defense. Released in 2013 this is one of the oldest games in the countdown. But it is still relevant and in my opinion one of the best.
Graphic violence, a key element of any horror game.
The Fun Pimps 2013 release.
1. SCUM
Scum gameplay
Finally we come to Scum, in the place of number one, after sculpting your ideal prisoner attributes your character is spawned onto Supermax prison, Scum island, where you must learn tactical, weapon, and even pooping skills to survive. Gather food and eat in order to keep track of highly detailed vitals specs, as this can negatively impact numerous factors such as aim, cognizance, and stamina. So pay attention to the extensive character customization when you begin, not just facial and skin color aspects, but body type, weight, and muscle tone are adjustable by degrees, the guys and gals at Devolver Digital really went all out. That body type will affect gameplay parameters such as how much food you will need and how far or fast you can run. Add this to the graphics and the kick ass prisoner vs prisoner vs. zombie premise and you have me sold.
I don't think those mushrooms look edible.
Improve your accuracy with a little target practice.
You may also be interested in:
Image Gallery