LoL Best Morgana Skins Revealed (All Morgana Skins Ranked Worst To Best)
Updated: 22 Jan 2023 7:46 am
I hear you dark soul looking to feed your desires. I'm bringing you this list with the best Morgana skin. Find out which one is it!
13. Sinful Succulence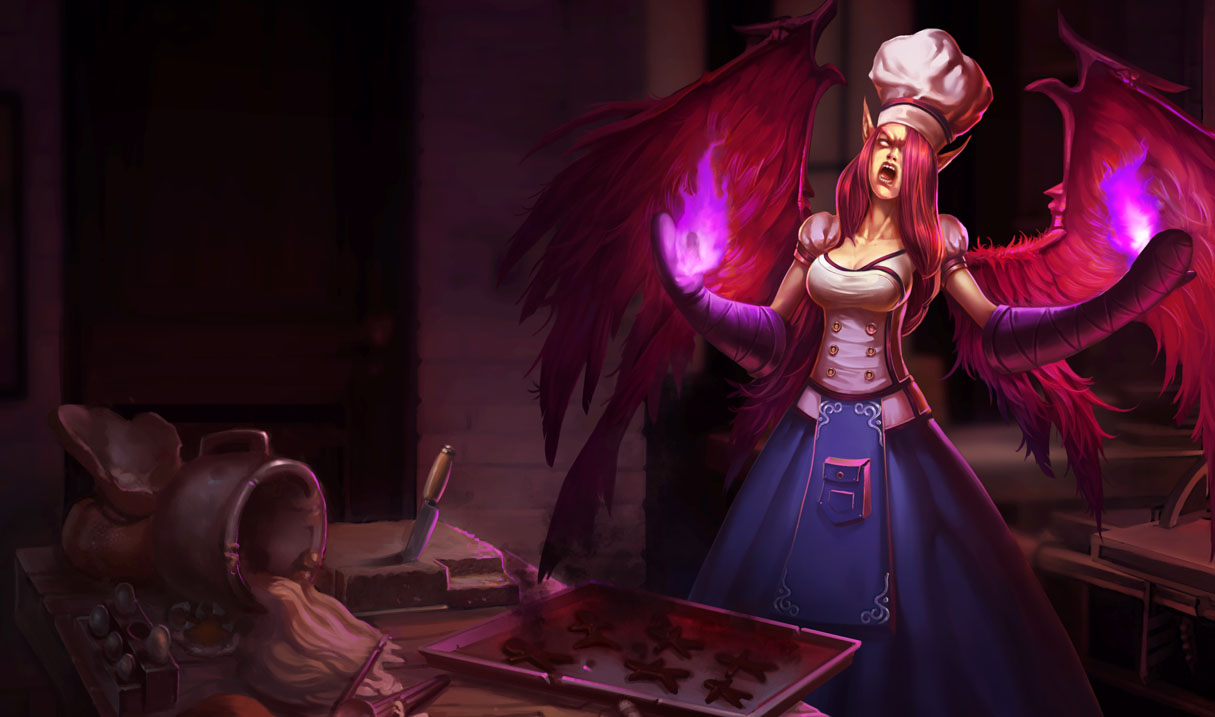 This is the old splash-art. She overcooked that cookies. 
Skin spotlight:
Well, this is awkward. There's nothing to say about this skin. It's just the base Morgana with a chef uniform. In the old lore, she was running a bakery and that was the reason for this skin. They changed that and replaced it with a cookie competition. The splash art reflects Morgana's anger toward her sister who won the competition. To be honest the best part of this skin is the splash art. There's nothing new apart from the uniform.
How to get Sinful Succulence Morgana: it's a legacy skin that can be obtained when the legacy vault opens or through a chest.
12.  Blade Mistress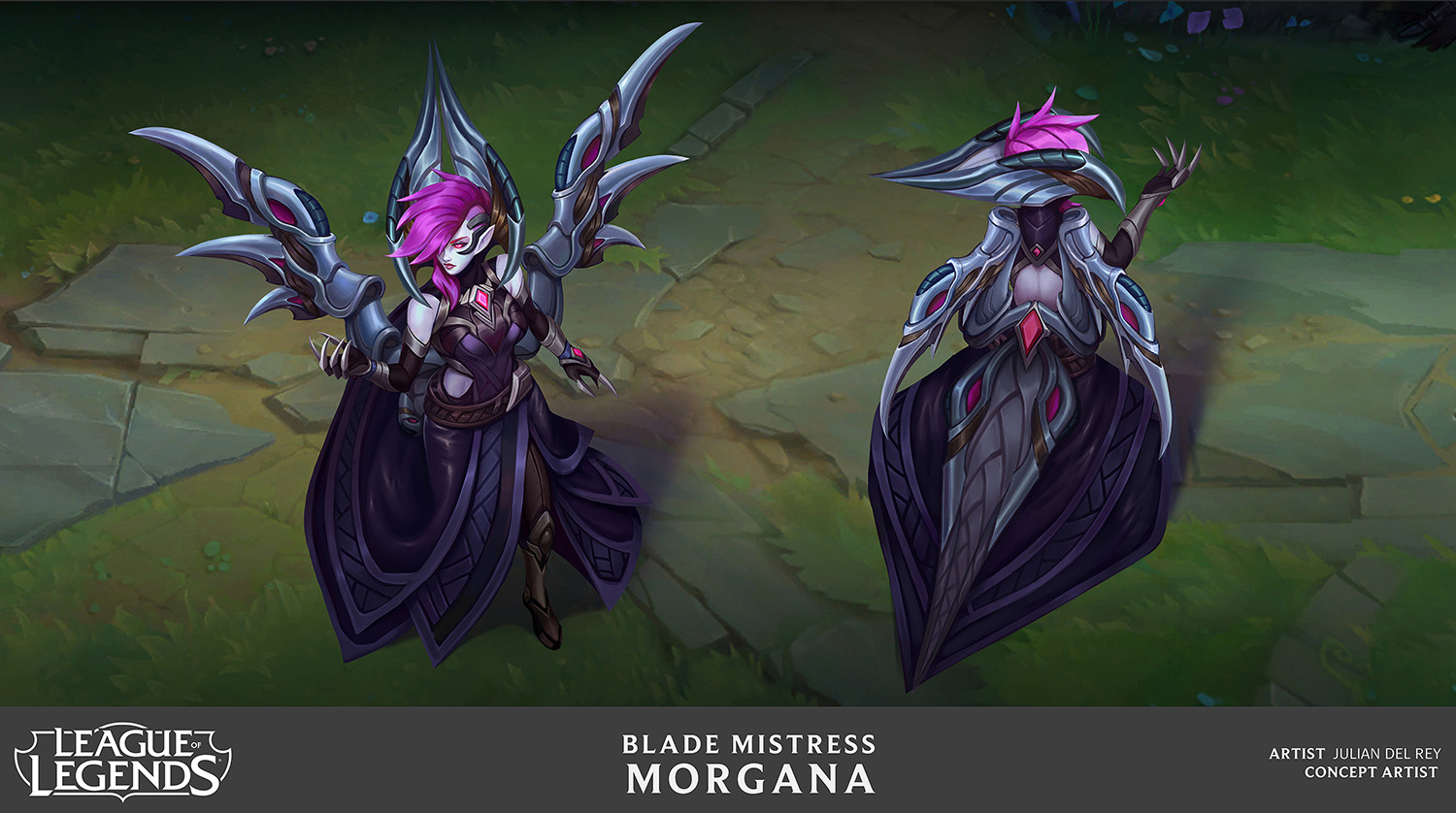 The model design is wonderful. 
Skin spotlight: 
This skin has an amazing model design. It looks like an improvement from the original Morgana. And that's why I don't think anything is surprising apart from the looks. The model seems metallic but the color remains the same. Visual and sound effects also remain the same. It's still a cool design.
How to get Blade Mistress: It's available on the game's store for 750 RP.
11. Victorious Morgana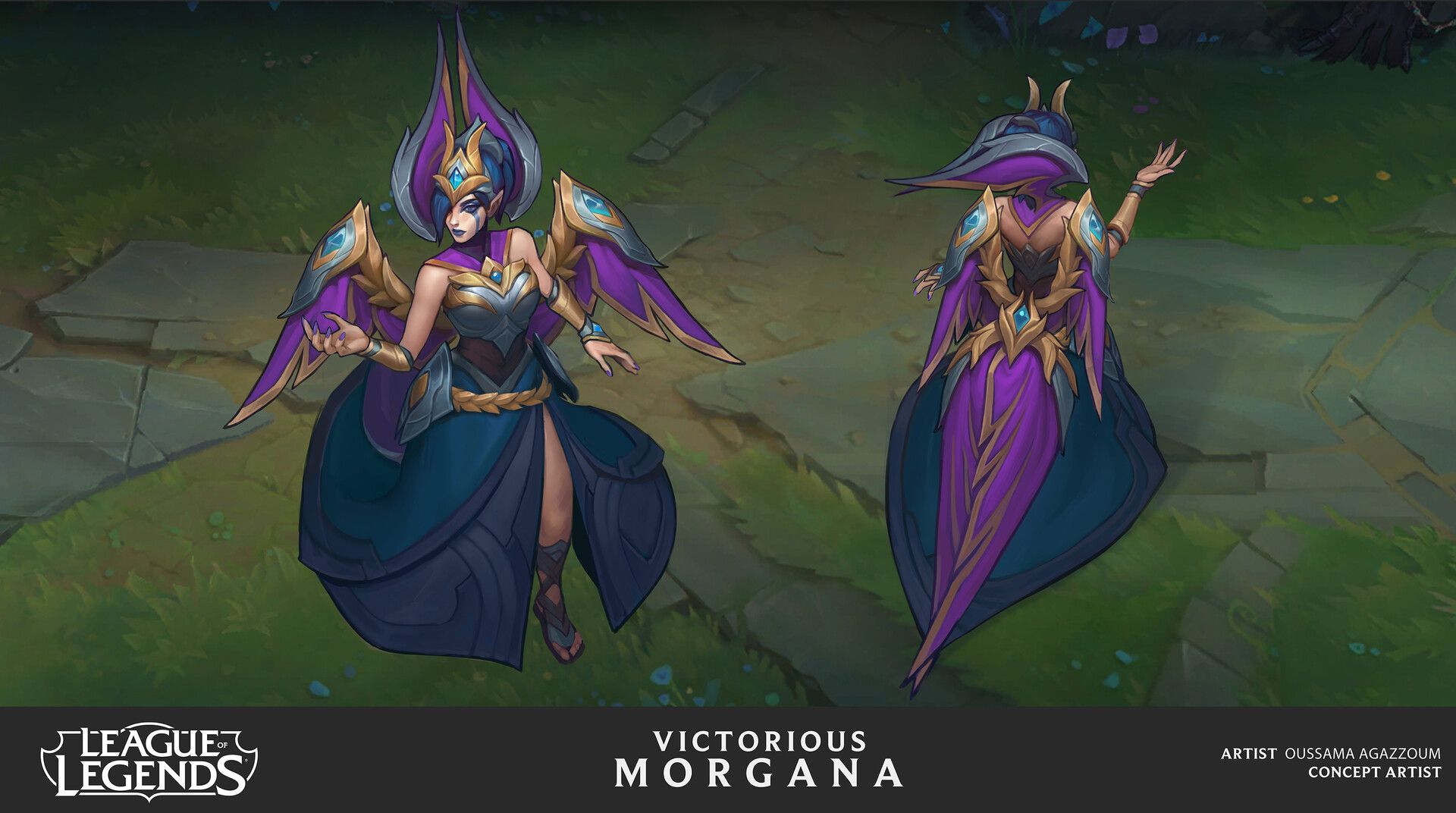 Not a victorious look for me.
Skin spotlight:
I dislike everything about this skin. The colors they chose for her and her spells. The model in general it's quite ugly. Although the splash art looks decent, the skin in-game doesn't look like that at all. If it wasn't for her R I would say it's her worst skin. You can see Janna and Elise in the splash art wearing their victorious skins. 
You can't get this one through chests or buy it. It was a gift for those players who reached Gold in the year 2014.
How to get Victorious: as with all Victorious skins, it was only available during the 2014 season.
10. Exiled Morgana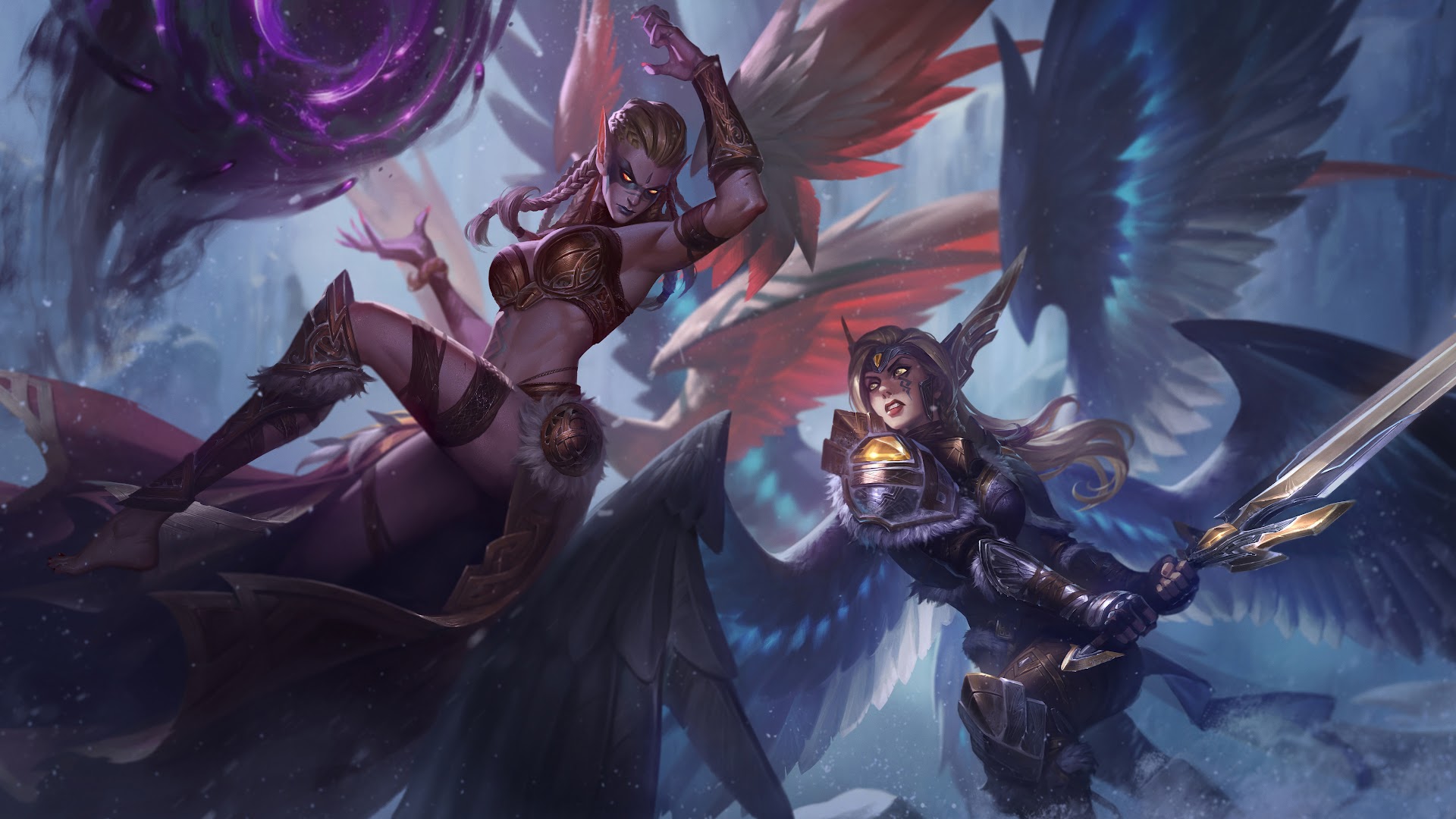 The sisters fighting, as if it was real life.
Skin spotlight:
Did you know that this is how Morgana looked before she and Kayle killed their father? She shares the splash art with her sister Kayle as in the original splash art. Kayle is in her battleborn skin. Morgana is seeking revenge on her betrayers and her sister. 
I think it gives a different and fresh perspective. She indeed seems more like a valkyrie than a fallen angel but it's still great. A reddish color instead of orange-yellow would have looked better though.
How to get Exiled Morgana: as a Legendary skin you can't buy it. You can try with a lucky chest or wait for it to randomly appear in the store.
9. Lunar Wraith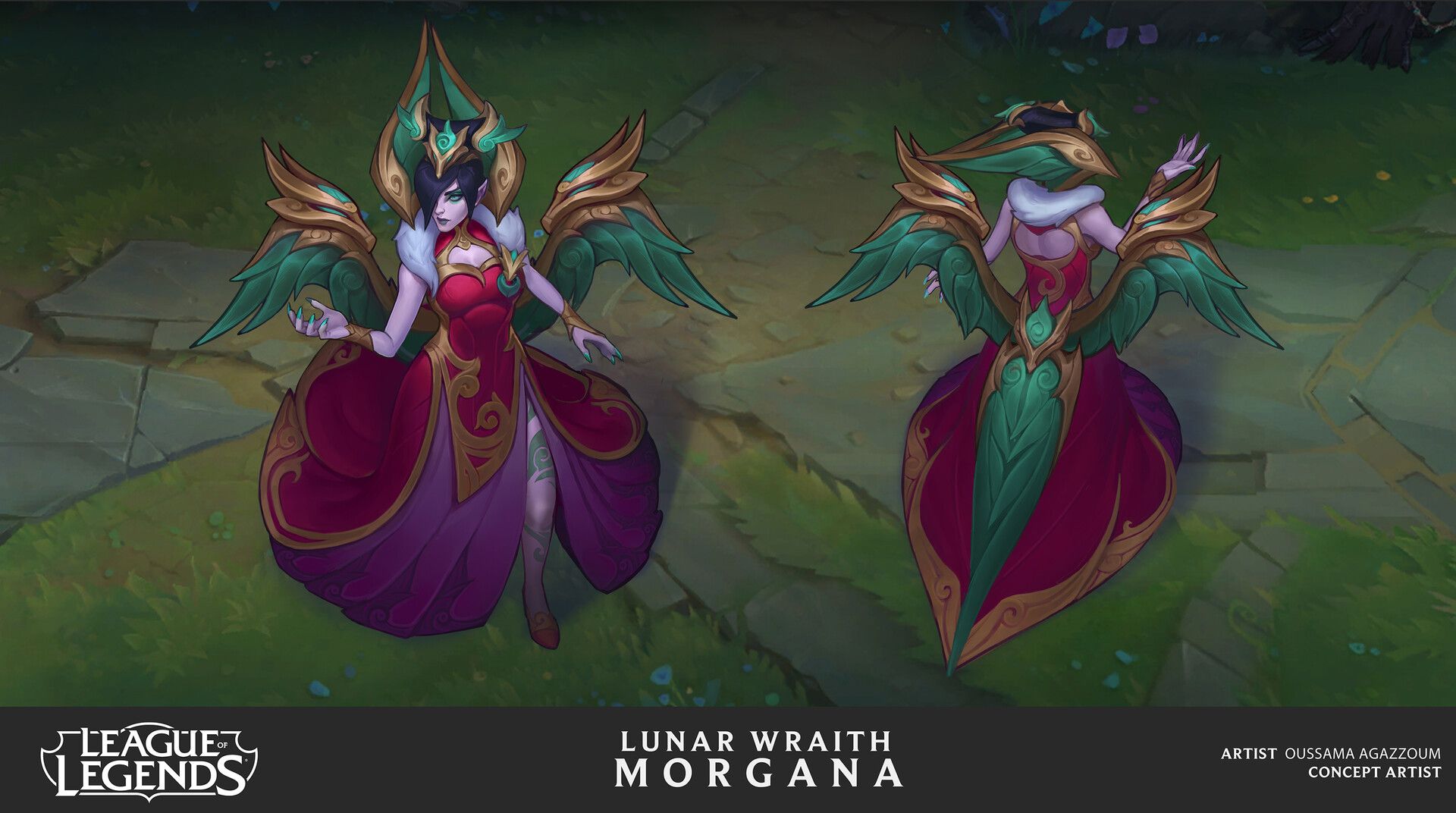 Green suits her
Skin spotlight: 
Why would they do that with her recall? No one knows. But it's similar to Warwick which is extremely uncomfortable to look at. Beyond this the skin is beautiful. The green color turning red is a hell yeah. 
Did you know that she is a specter that seduces her victims to get their souls? Also, Caitlyn shares the skin line and the splash art. These two girls with this skin line are a terror nobody wants to face in the summoner's rift.
How to get Lunar Wraith Morgana: another legacy skin that can only be bought when the legacy vault opens and also from a lucky re-roll or chest.
8. Ghost Bride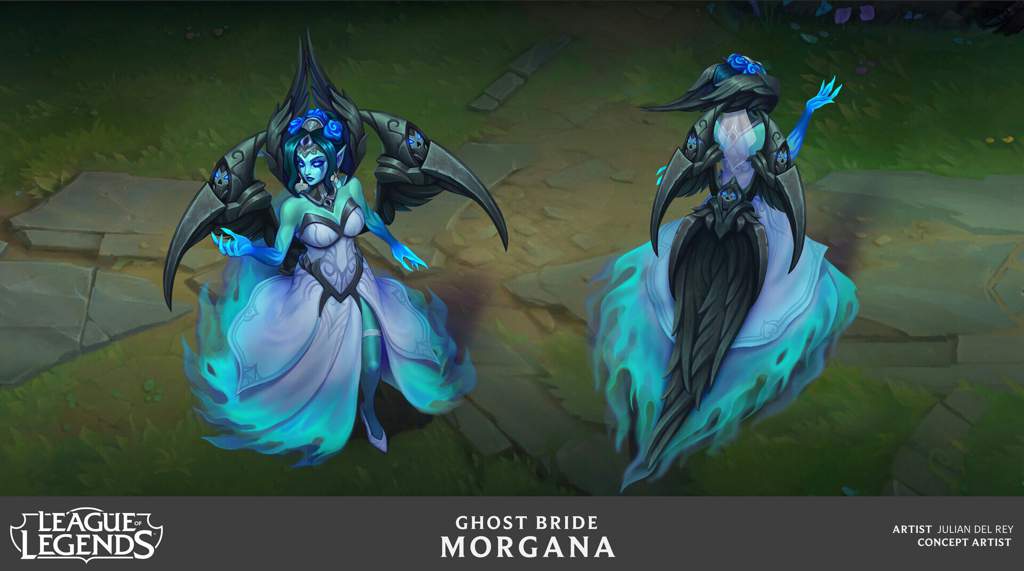 If you look at the details of the model design is very surprising. 
Skin spotlight:
There are two sides to the story behind this skin. Did you know that she's called "La Llorona" in LAS? This is a creepy Mexican urban legend. But it's also a reference to the famous Corpse Bride by Tim Burton. Her model design is highly inspired by Emily. The blue palette and the story behind it. Morgana is a spirit who is looking for her missing husband. Both are great paths to be inspired by. So I believe this skin is a must-have.
The recall is everything! We need more creepy skins like this one.  
How to get Ghost Bride: it's available in the game's store for 975 RP.
7. Blackthorn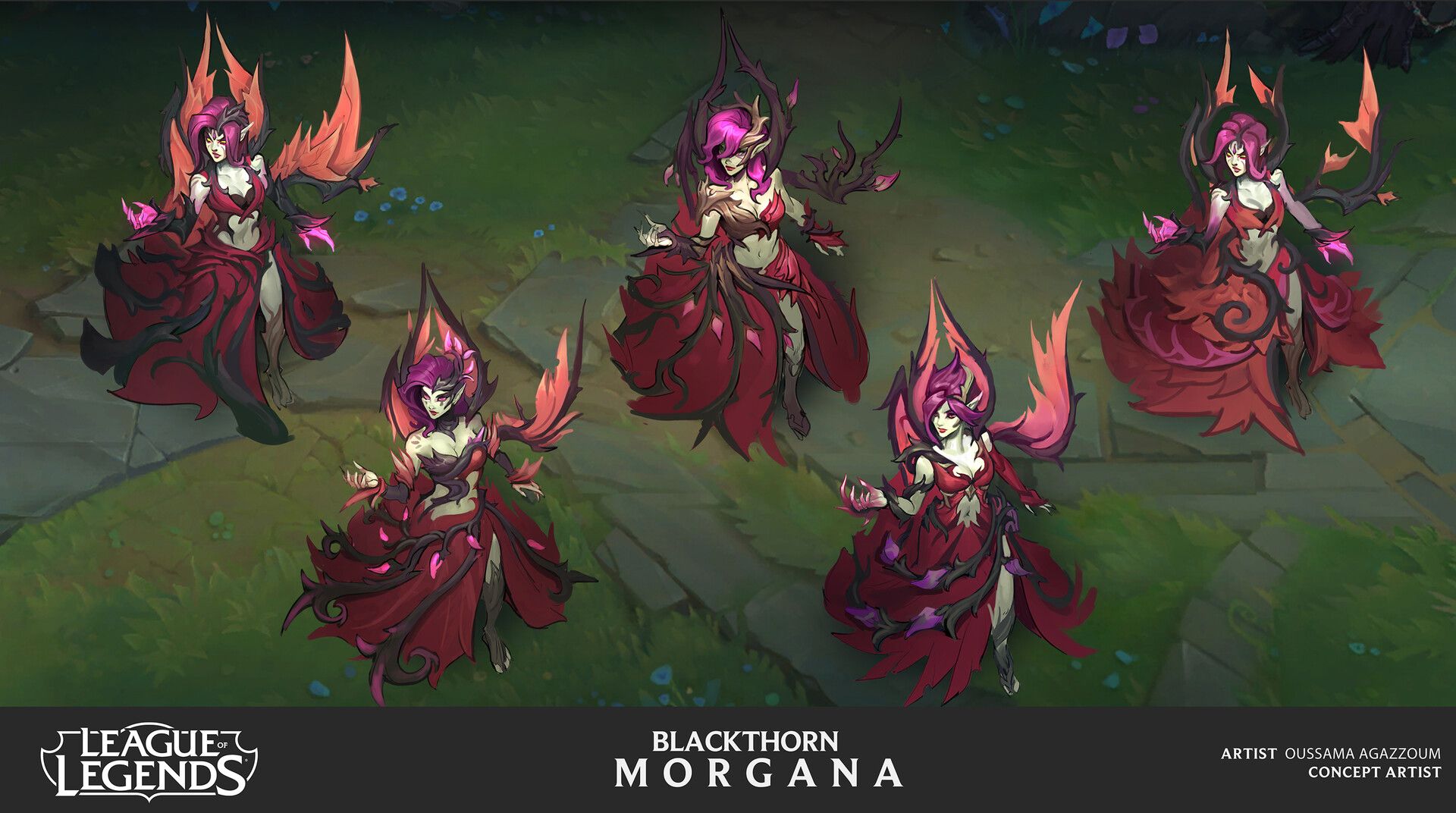 These are the different concepts for the model design.
Skin spotlight: 
I love this skin. The sound effects are hella satisfying. The oldest skin before rework was by far better. But this one is still good. I try not to think about the old Morgana because there's no comparison. Especially this skin is a whole failure if we compare. So let's not do that. 
They kept the death animation very similar to the original one. I'm grateful for it because that animation is gorgeous. 
In the splash art, we can see Viridian Kayle facing Morgana. Another great splash art with the sisters in it. As you may have noticed in the splash art, she is an Elf. The lore talks about a dark elf with great power.  Although elves don't usually have wings, I guess she is an exception.
How to get Blackthorn Morgana: you can purchase it on the game client's store for 1350 RP.
6. Bewitching Morgana

Look at those wings!
Skin spotlight:
This is a rare skin released for Halloween of 2016. 
If it wasn't for the hat, this one could easily be my favorite. I love the bat wings and the detail of the potion. But I stitch with the old design. It had this detail about the frog in the recall that they shouldn't have changed. In the old skin, the frog appears from a portal. In the new one, the frog appears out of nowhere. Another detail they changed is the letters around her W. In the old one it gave the effect of an incantation ritual. In the new skin, they just took the letters off.
If you look closely, the outfit gives more of a pirate vibe than witchy vibes. But it has beautiful visual and sound effects. A lot of bats included. Overall it's a nice skin but it could be better. 
How to get Bewitching Morgana: It's not available in the store. You're more likely to buy it during Halloween or another special event. 
5. Bewitching Prestige Edition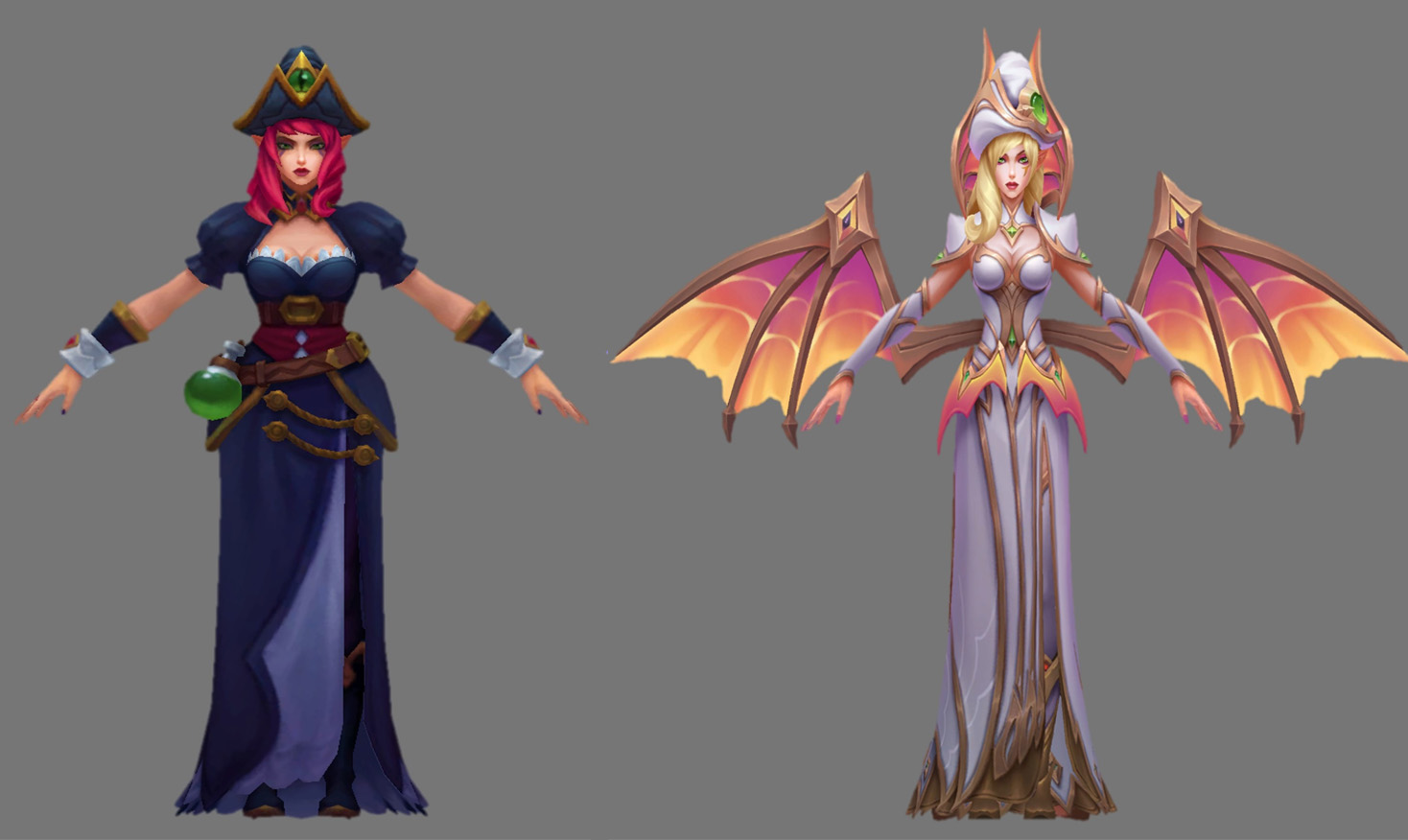 What do you think? Which one looks better?
Skin spotlight:
I believe the model design in-game doesn't look exactly like in the splash art. But that's something they always do. At first, I thought she was going to be in flames. I expected the pink details to be fire. But sadly for me, it was pink. Although it's much prettier than the original bewitching, it looks more like a fairy to me. The particles are still quite beautiful.
The coolest detail is the little devil Teemo on the cauldron. 
How to get Bewitching Prestige Edition: It will be available in the mythic store, just wait for it to appear. It will probably cost you around 135 and 150 mythic essence.
4. Dawnbringer

Look at her cute face. She's a wonder.
Skin spotlight: 
We're finally on that side of the list where all skins are perfect. A very soothing skin with delightful sound effects. It grants a precious experience. Morgana looks like a powerful ice queen. She is fighting chaos and corruption. She desires to bring back order with the triumph of the dawn.
All the spells are perfectly done together with the basic attack animation. 
How to get Dawnbringer Morgana: it's available in the game client's store for 1350 RP.
3. Star Nemesis
Oh hell yeah. This is a whole show!
Skin spotlight:
What an amazing new addition this skin was. Released a few months ago, it's her best Epic skin so far. I believe Majestic Empress is better because it brings a different appearance to Morgana (from evil to angelical). But Star Nemesis has nothing to envy from other skins. It's very well done. They put a lot of effort and care into it. The pool -W spell- has a reflection that no other skin has. The R visual effect is insane. She becomes more corrupted as the ultimate goes on until she transforms into a dark creature completely. If you're looking for an Epic skin I would recommend you this one. In-game is phenomenal. It makes you want to spam her.
How to get Star Nemesis: it's available in the client's store for 1350 RP.
2. Majestic Empress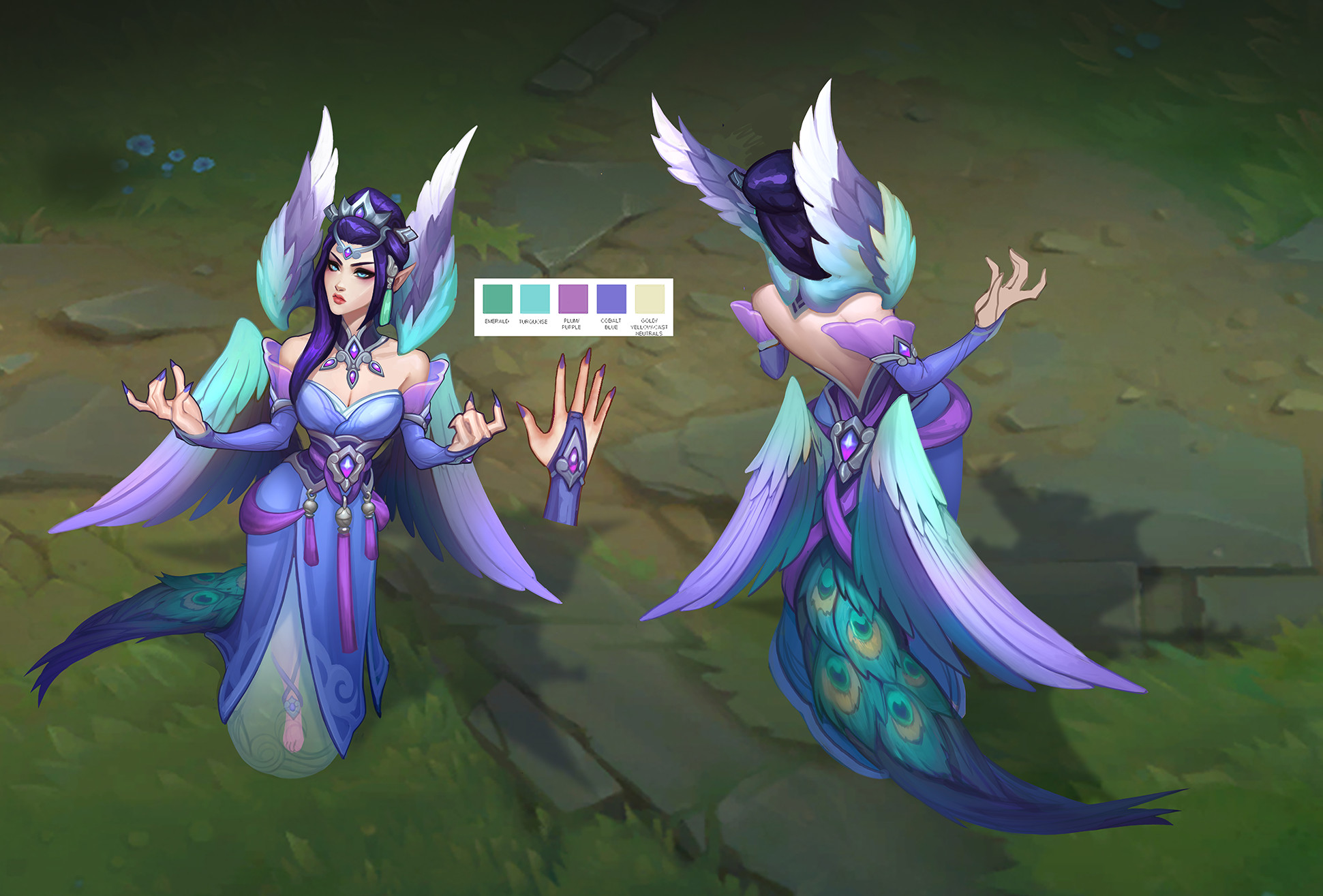 I love that she's barefoot.
Skin spotlight:
She does look like an Empress. No complaints. It's worth every cent. The model design is so delicate. The colors, visual and sound effects are pure gold. It might be one of the most beautiful skins in the whole game. This one could have been a legendary skin easily. Sad they decided to keep it as Epic. It's her most comfortable skin. It gives a soft feeling when playing that no other Morgana skin does. 
I highly recommend you use this one. It's very well-balanced and it gives a trippy sensation when throwing her spells.
You can notice enduring blade Talon in the background of the splash art. It was supposed to be a canon ship for the skin universe but it didn't happen. 
How to get Majestic Empress: you can purchase it at the client's store for 1350 RP.
1. Coven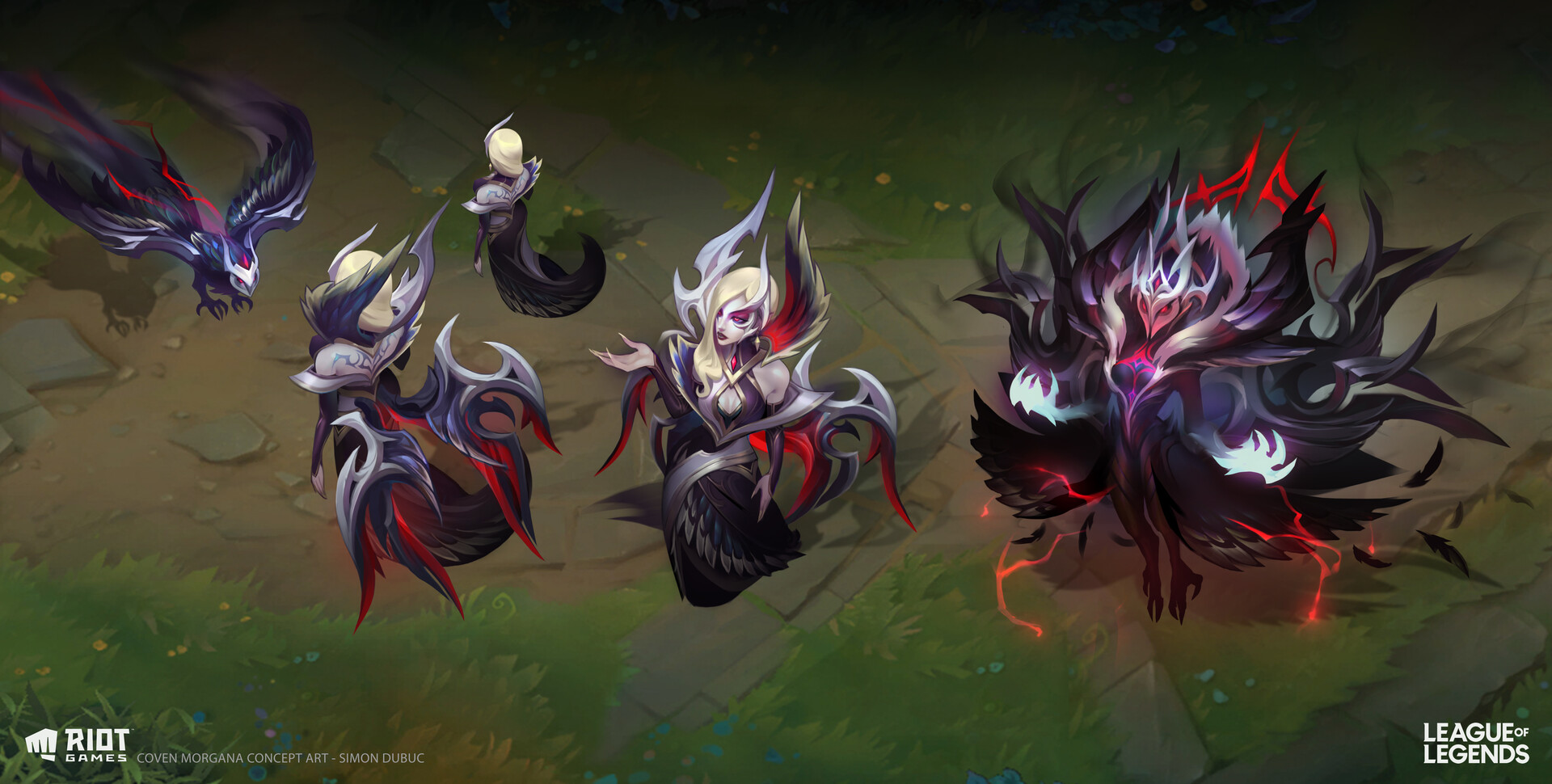 The perfect design no doubts.
Skin spotlight: 
Perfection. This is how you describe Coven Morgana. This skin is all about grace and darkness. Just like Morgana. 
If you want to invest in your gameplay, this skin is the right choice. Did you know that it has a chroma called Dark Ritual? A perfect detail for a perfect skin. It's so perfect that it makes me doubt about Riot doing a better job than this. It will probably take a long time.
How to get Coven Morgana: luckily available in the game's store for 1820 RP.
Also be sure to read:
Image Gallery