[Top 5] Hunt Showdown Best Pistols That Are Excellent
Updated: 28 Sep 2022 6:27 am
Pictured: Hunters who just got done reading this article.
With all the pistols in Hunt:Showdown, which ones are the best? 
Hunt: Showdown is full of useful weapons and guns, with multiple variations for each. These range from pistols with scopes on them, to a rifle with a sword attached to the end. So with all these options, what are the best pistols to take along for back up or even a main weapon ? The answer is all these I'm about to show you. 
5. Nagant M1895 Silencer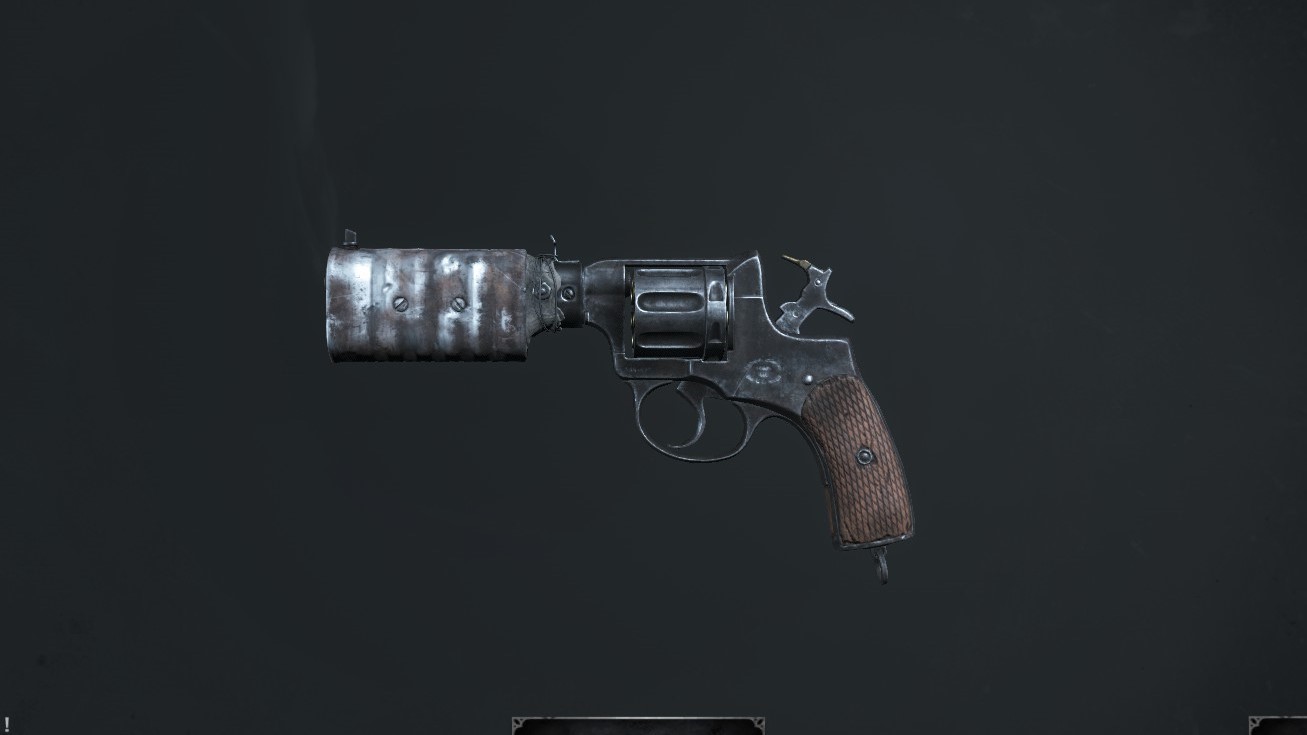 For those that prefer a more subtle approach.
Pistols in Hunt:Showdown your bread and butter secondary weapon and this silent pistol is as buttery and bready as they come. Silence is golden in Hunt, something this pistol is best at. From clearing pesky AI enemies, to melting a bosses health bar, this little guy can do it all. Deep reserves and access to multiple types of ammunition give this weapon some of the most utility in Hunt. 
What makes the Nagant Silencer a Great Pistol:
Silent and deadly.
Deep ammo reserves, for more hits or misses depending on your aim. 
Wide variety of ammunition, giving it great utility range. 
Clean iron sights. 
Silencers make that fun "pshoo" sound. 
Nagant M1895 Silencer Stats
Damage- 91
Rate of Fire- 40 Rounds per Minute
Effective Range- 56 meters 
Bullet capacity- 7 with 21 in reserves. 
Bullet Velocity- 250 meters a second
4.Caldwell 92 New Army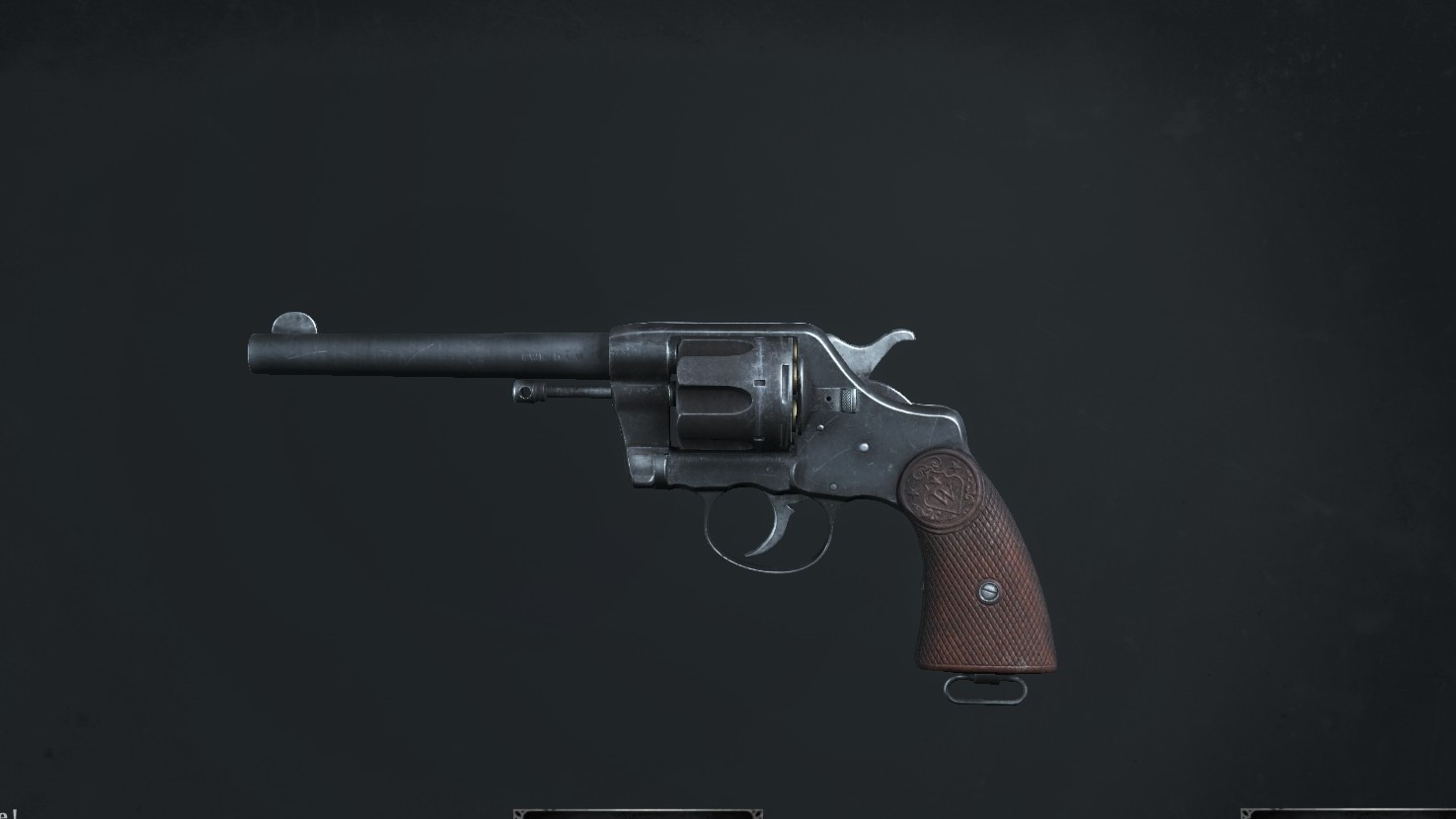 Double Action is always better than one. 
If you're looking for something to compliment your long range primary weapon, look no further than this fast firing little devil. Cheap and quick (like your dad) this weapon is a great supplement to a loadout featuring a good long range primary, as its double action allows it to spray all 6 of its bullets in seconds. For extra punch, pair this weapon with its selection of Dum Dum for bleeding or Full Metal Jacket for extra penetration and range. 
What makes the Caldwell New Army a Great Pistol:
Fast fire rate for close range encounters. 
Fastest firing pistol for the price, at 90 Hunt Bucks. 
Decent range and good sights for medium distances. 
Has access to bleeding and full metal jacket ammos. 
Caldwell 92 New Army Stats
Damage- 97
Rate of Fire- 107 Rpm
Effective Range- 79m 
Bullet Capacity- 6 with 12 in reserves
Bullet Velocity- 230m/s
3. Sparks Pistol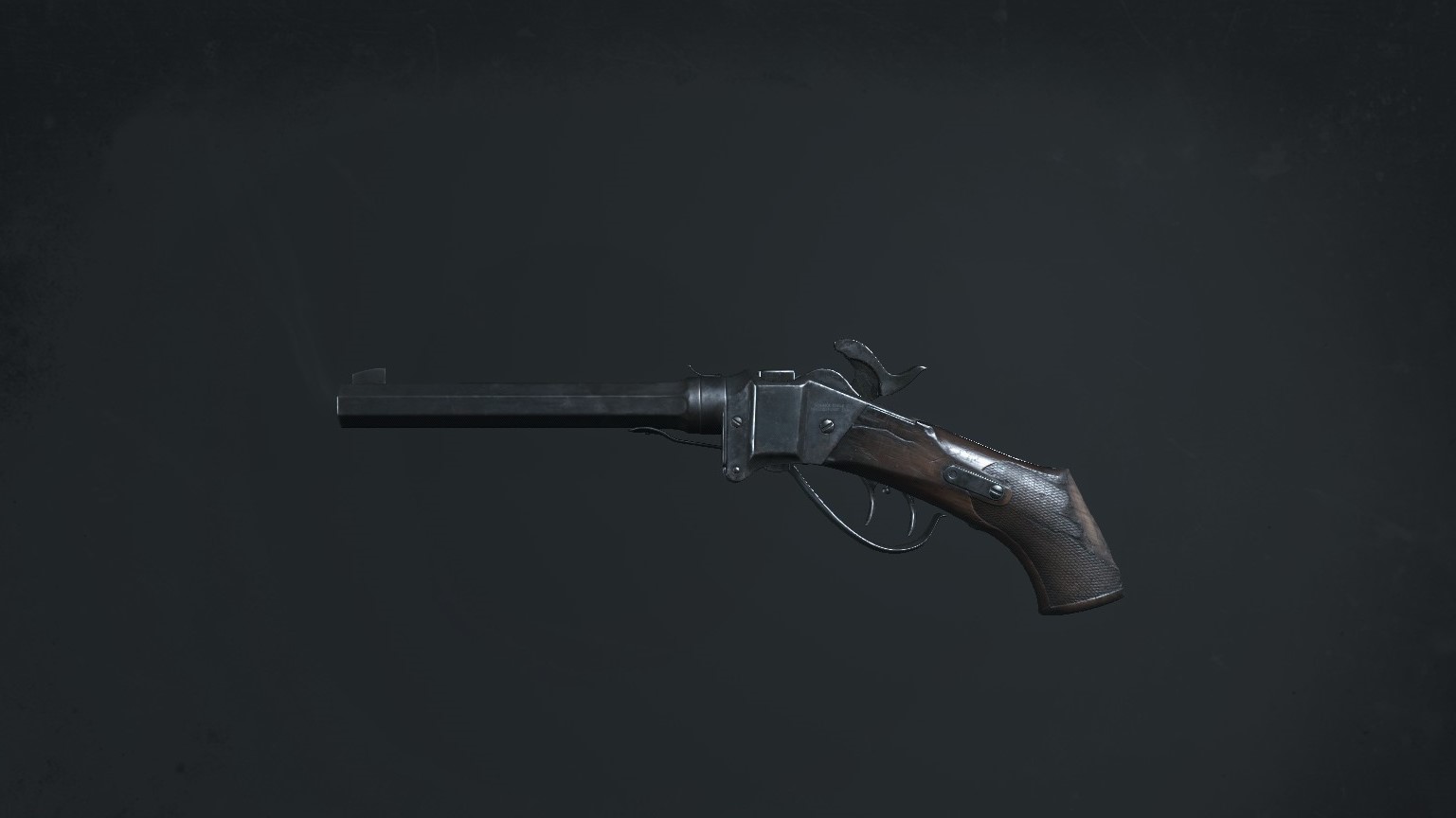 If you don't like this gun, then you dont like Spussy in power. 
The most recent addition to Hunt:Showdowns arsenal of old west weapons, this one shot weapon makes up for what it lacks in bullets with a hell of a punch. The Sparks Pistol, or Spussy in some circles, is a great long range option for a shotgun loadout, as well as a good way to carry extra long ammo for your bigger primary guns.This gun packs a serious punch and one shot can take an enemy hunter down to 1 HP.  Additional benefits include carrying multiple ammo types, such as fire and poison, as well as getting to feel like a pirate while playing a cowboy game.  
What makes the Sparks Pistol a Great Pistol: 
Long ammo allows for good range and maximum damage. 
One shot chamber allows for carrying multiple ammo types, as well as flexing. 
Get to feel like a pirate. 
Clean iron sights for fighting at all ranges. 
Sparks Pistol Stats
Damage- 149
Rate of Fire- 38 rpm 
Effective Range- 150m 
Bullet Capacity- 1 with 14 in reserves. 
Bullet Velocity- 453 m/s
2. Caldwell Pax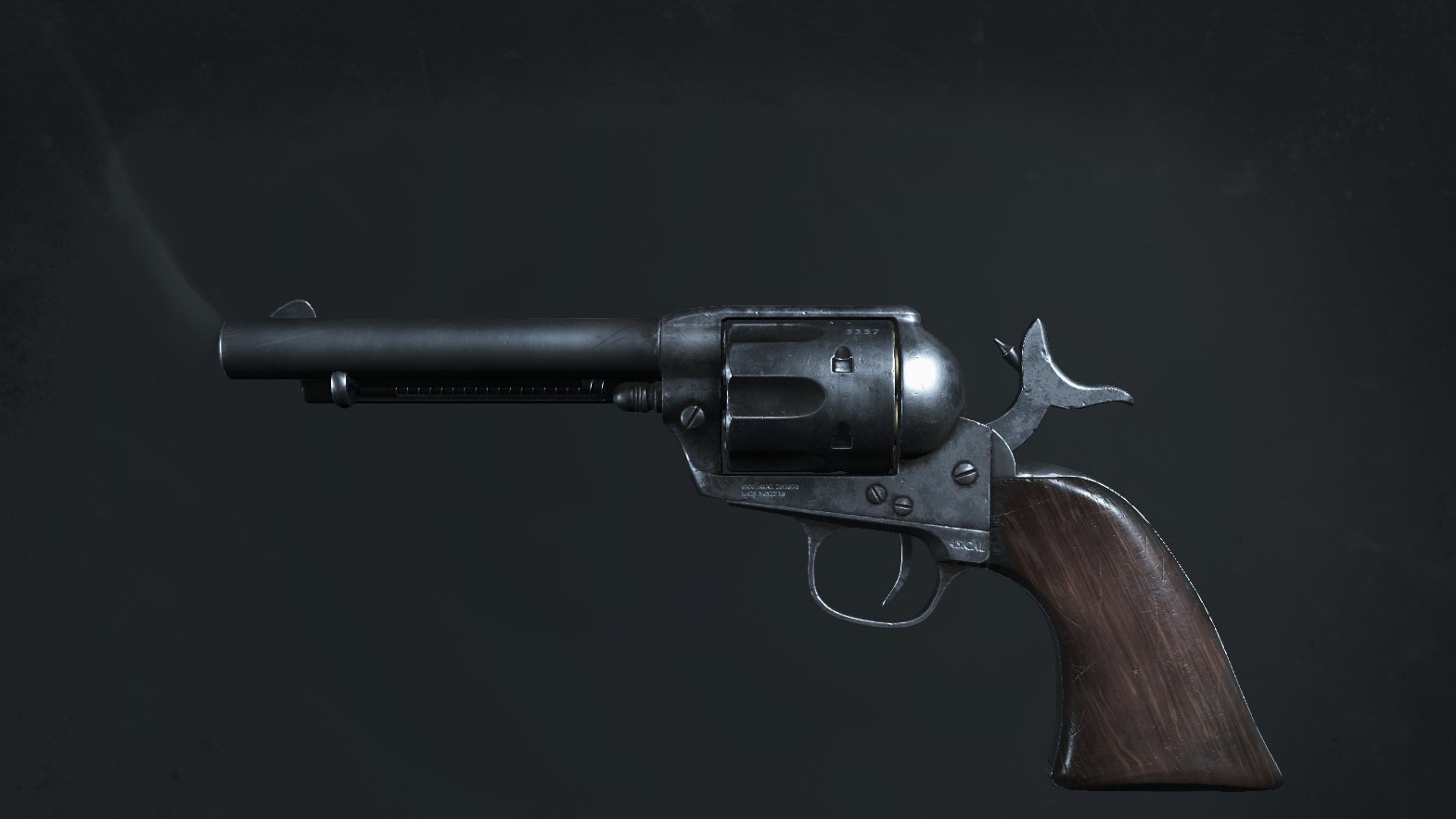 Can't go wrong with a classic. 
Back to the bread and butter goodness of a reliable backup pistol, this archetypal cowboy revolver is as reliable as they come. Packing the punch of medium ammo allows this gun to keep fire at range, as well as finish off closer targets. Whether providing range for a shotgun loadout or backing up a long range rifle, you can't go wrong with this workhorse. Adding Dum Dum ammo for bleeding or Incendiary ammo for lighting your enemies on fire, act as cherries on top of this great cowboy sundae. 
What makes the Caldwell Pax a Great Pistol: 
Great range for short or medium fights and can hit at long ranges as well. 
Accurate over longer ranges for getting good hits on enemies. 
Access to Dum Dum and Incendiary Ammo for great utility and extra firepower in a fight. 
Get to feel like a rootin tootin cowboy gunslinger. 
Caldwell Pax Stats
Damage- 110 
Rate of Fire- 46 Rpm
Effective Range- 86m 
Bullet Capacity- 6 with 12 in reserves 
Bullet Velocity- 330m/s 
1.Caldwell Conversion Uppercut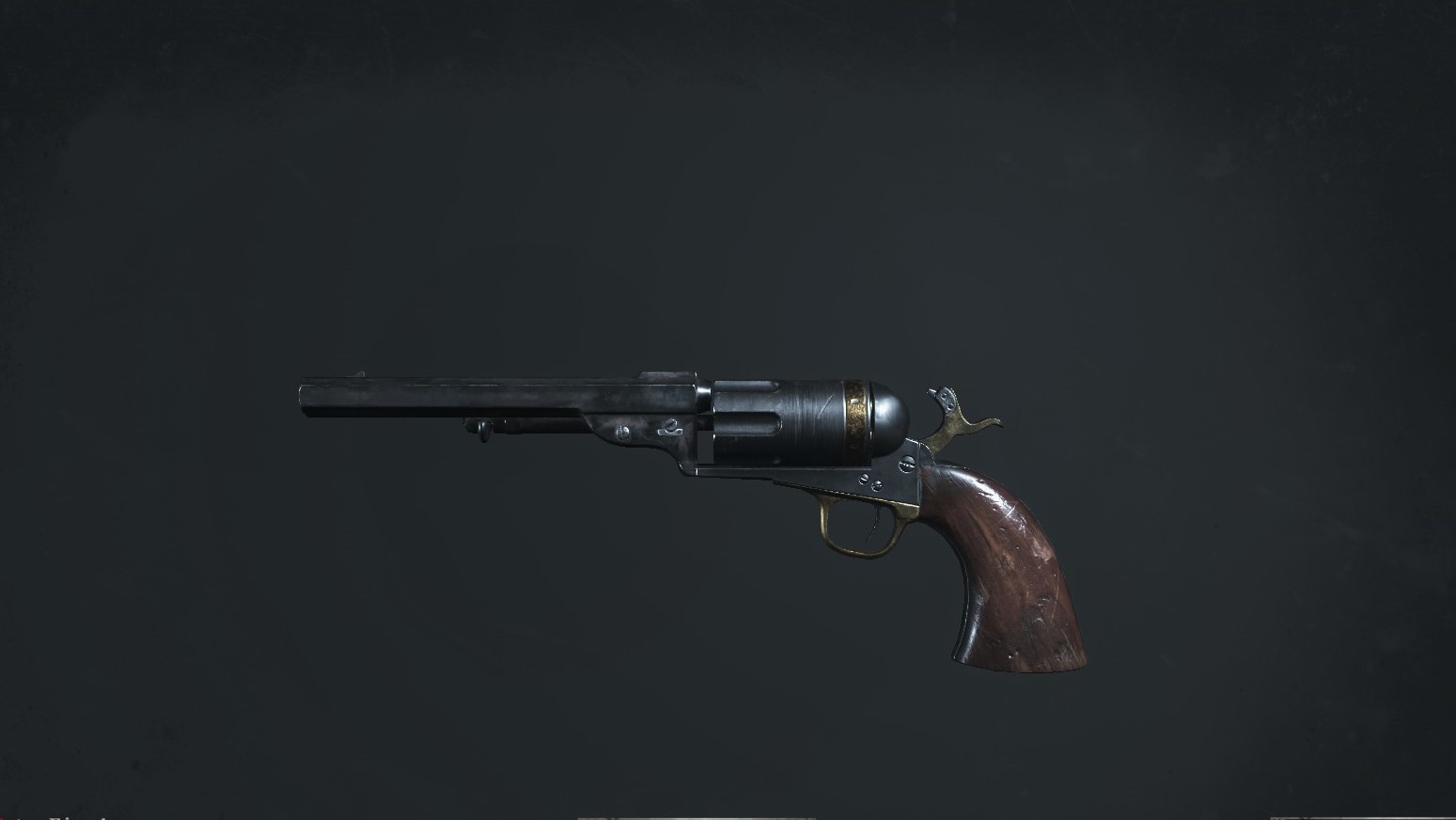 "Big things come in small packages" - She  
The Grandparent of all the pistols, this heavy hitter is a must for any hunter looking for the punch of a primary weapon in the package of a revolver. Firing long ammo means this gun can pick off enemy hunters at range, as well as make any up close foe regret getting within 2 meters of you. This gun can act as your primary long range weapon or beef up your long ammo reserves as a secondary. While it may take a long time to unlock, this gun is well worth the effort. 
What makes the Caldwell Uppercut a Great Pistol:
Holds 6 long ammo bullets. 
High damage and accuracy. 
Pairs nicely with long or close range primary weapon. 
Clean Iron sights for fighting at range or up close. 
Caldwell Conversion Uppercut Stats
Damage- 126 
Rate of Fire- 40 Rpm 
Effective Range- 115m 
Bullet Capacity- 6 with 9 in reserves
Bullet Velocity- 410m/s
You May Also Be Interested In: 
[Top 5] Hunt Showdown Best FOV Settings For An Advantage
[Top 10] Hunt Showdown Best Loadouts (For Early and Late Game)
[Top 5] Hunt Showdown Best Pistols That Are Excellent
[Top 10] Hunt Showdown Best Early Weapons
[Top 15] Hunt Showdown Best Audio Settings and Tips That Give You An Advantage