[Top 10] Hunt: Showdown Best Legendary Hunters
Updated: 06 Aug 2021 3:34 am
"You tell 'em I'm coming, and Hell's coming with me!"
 [Top 10] Hunt: Showdown Best Legendary Hunters
This is a list of the 10 best legendary hunter skins you can acquire and use in Hunt: Showdown. This list will be a combination of my favorite hunters as well as the common legendary skins I see other players going with when hunting in the bayou.
10. Monroe
Monroe looks like someone who might cut his own finger off and throw it at you, all while laughing maniacally. He is a unique fellow, to say the least. After being committed to the first asylum, Monroe vowed to escape by any means. During a particular moment of chaos and confusion, he leaped into action and escaped a free man. He now roams the bayou with the very chains that once confined him, a constant reminder of everything he was put through. Monroe, with his devilish smile and thousand-yard stare, also carries with him a glass knife named Pane, and a Romero 77 shotgun named Lock and Key, which he stole from the warden himself during the escape. Monroe is available by purchasing The Committed DLC.
9. Sheriff Harden
Sheriff Harden is one of my personal favorites to use. Mainly because he and I both enjoy wearing a nice leather jacket. Sheriff Harden roams the bayou upholding the law and laying down the long arm of justice to any and all who oppose him. He can be purchased for 500 Blood Bonds in the Legendary Hunter menu.
8. The Reverend
Wearing a traditional holy garb with a cross painted on his forehead, The Reverend vows to rid the swamp of all that is infected. Costing 700 Blood Bonds, The Reverend is a great choice for those who want to blast their enemies back to hell. I personally love to run around the bayou with this character screaming "THE POWER OF CHRIST COMPELS YOU!" 
7. Cain
The newest legendary hunter added to Hunt: Showdown, Cain is a sort of feral human who abandoned the man he was long ago. He now lurks the bayou looking to unleash his anger on anyone who crosses his path. Cain already has many nicknames in the Hunt community, such as Ooga Booga, The Caveman, and That Old Dirty Guy (Okay I made that last one up.) Cain is only available after buying the Through the Bone Briar DLC.
6. The Bone Doctor
Doctor John is a former slave and doctor who has risen to prominence since becoming a free man. His unorthodox voodoo practice and ability to heal the sick has led some to speculate he might be responsible for the very plague he fights against. Adorned with a skull face mask and a necklace made of bones, The Bone Doctor is always looking for more bones to add to his collection. Available through a DLC called Legends of the Bayou.
5. Felis
Nika Felis bears the skull of one feline adversary on her head as a warning to others that she has capabilities as powerful – and as dangerous. Rumored to be a shapeshifter and a colleague of Doctor John. Felis is one of the most popular legendary hunters roaming the bayou. Acquiring Felis will cost you 700 blood bonds.
4. The Phantom
This former lawyer turned violent hunter, The Phantom, formerly known as Gus Leroux, wears a white mask that strikes fear in all those unlucky enough to come across him. The Phantom is a favorite among the player base. To use this hunter, you'll need to buy The Phantom DLC.
3. Redneck
Get away from my chickens! William Moses is the proprietor of Moses Poultry, a compound included in the new map, DeSalle. The Redneck is a favorite of mine and many others. I often run across entire groups of rednecks, speaking in thick-country accents and talking a whole mess of nonsense as they howl and yee-haw all around me. The Redneck is a perfect addition to Hunt: Showdown and doesn't require a DLC, as he can be purchased using 500 Blood Bonds in the Legendary Hunter menu. Yee-haw partner.
2. The Prodigal Daughter
After the death of her mother, who was a heroic Union spy during the Civil War, Sarah Burton inherited her mother's outfit and wears it into battle when hunting in the bayou. With her authentic Union soldier outfit, along with a really cool and unique mask, The Prodigal Daughter is a favorite in the bayou. Available through the purchase of The Prodigal Daughter DLC.
1. The Black Coat
William Durant, or The Black Coat, is a scoundrel and murderer. An untrustworthy criminal who cares about no one but himself. Watch out hunters, The Black Coat will kill you and take your boots. And your bounty, too. He's a great hunter to bring in night games as his all-black attire makes it harder for enemies to see you. Although, he does stick out like a sore thumb in daytime maps. Either way, The Black Coat is an awesome-looking legendary hunter. A favorite in the bayou for obvious reasons, The Black Coat can be bought for 500 Blood Bonds.
Honorable Mentions: 
Billy Story
My personal favorite legendary skin in all of Hunt: Showdown and would have been my number 1 if not for the fact he is unobtainable at the moment. Billy Story is a legendary skin that was only made available through a twitch drop back in 2020 that lasted from June 29th to July 6th. Billy Story is reminiscent of Bill the Butcher from the movie Gangs of New York, which was based on the real-life politician, butcher, and brawler William Poole. The skin has never been made available to buy through a DLC or blood bonds. Which is a damn shame, as I'd happily pay real money for this outfit. Do the right thing, Crytek. Take my money!
Plague Doctor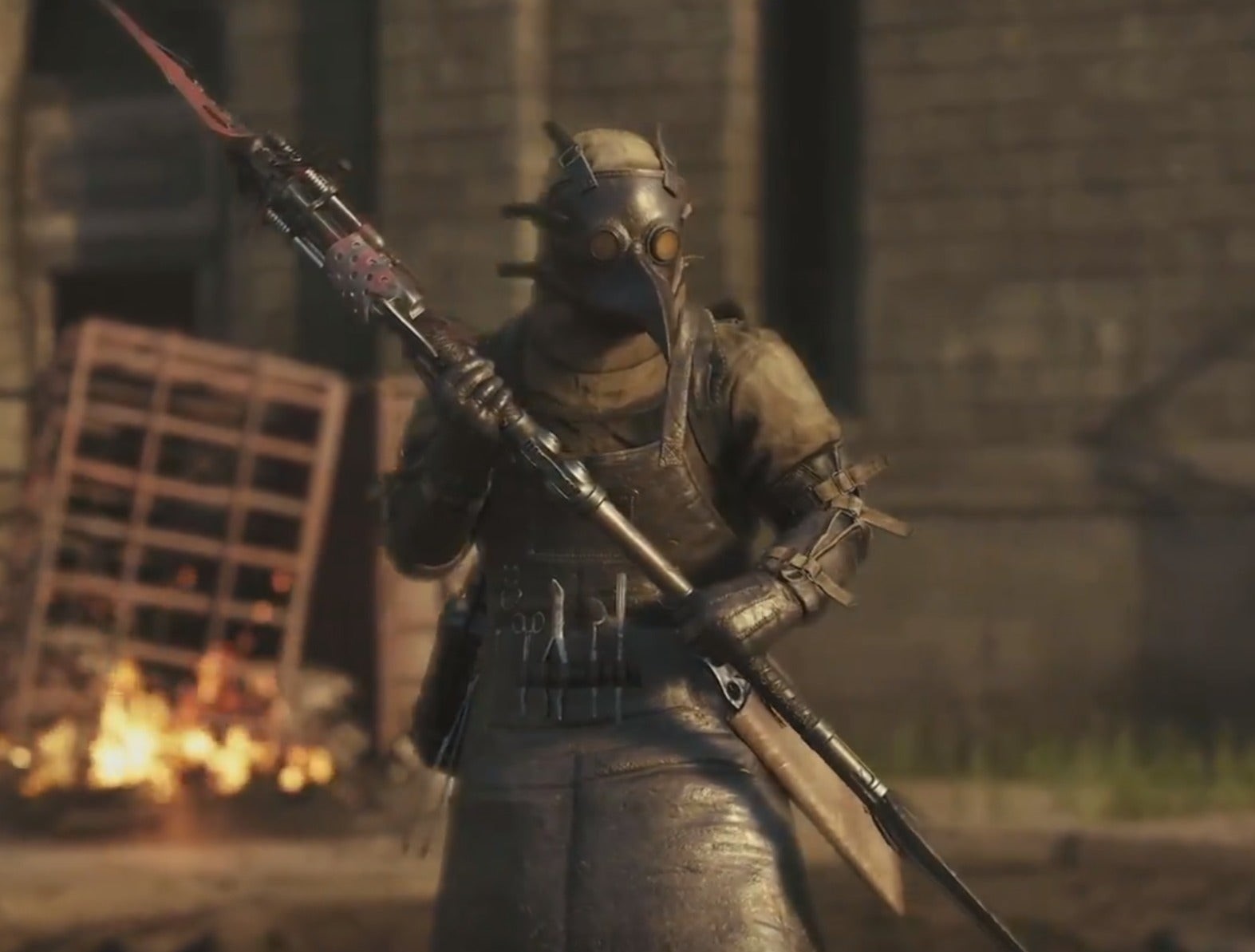 Only available if you played during the As The Crow Flies event. The Plague Doctor is a legendary hunter that wears an outfit that seems impenetrable from all outside infection. He also wears a classic plague doctor mask and has a head in a jar attached to his waist. No one knows why he carries that head around. It's gotta be uncomfortable but, I'm sure he has his reasons. With not a single inch of skin showing, the Plague Doctor is ready to venture into the most infected areas and rid them of their evil using fire, lead, and anything else at his disposal.
Redshirt
Whether you play this hunter as a meme or genuinely like how he looks, the Redshirt is a super unique legendary hunter who, as you can see, wears a bullseye over his chest. Those that frequently use this skin might refer to themselves as the Red Shirt Gang. A very funny and original skin that will cost you 700 blood bonds to unlock.
You may also be interested in: