[Top 5] HALO 4 Best Armor (Most Fashionable)
Updated: 18 Sep 2021 1:00 am
Just three pals strolling up to the fashion show
Dazzle the Halo 4 fashion world with these stylish armors 
"What should I wear?" is a constant concern in modern society. You don't want to show up for a hip party in last season's khaki shorts, and you certainly would not want to wear out-of-style combat armor to a 4v4 battle to the death. But if you don't know your EVA pauldrons from your Prefect leggings, you need help finding the best fashion that Halo 4 has to offer. So I shall be your guide in this important and complex matter. 
Halo 4 can be somewhat disorienting for fashionistas in the Master Chief Collection. When 343 Industries took over the Halo franchise, they overhauled the art design, especially the aesthetics of player armor, and some fans have complained ever since. As you transition from the five Bungie games in the MCC to Halo 4, the only 343 game in the collection, the difference is quite clear.
So in honor of loud fans disliking 343's art direction so much that the developers are walking it back for Halo Infinite, let's rank the 5 most fashionable armor sets in Halo 4. These looks will strike envy into your foes. Even though pieces can be swapped in and out to create hundreds of unique combinations, we will be judging complete armor sets here. 
As you read this article, please feel free to play your most pumping jams and imagine these armors strutting across the catwalk. Let's get fashionable, Spartans.
#5. Stalker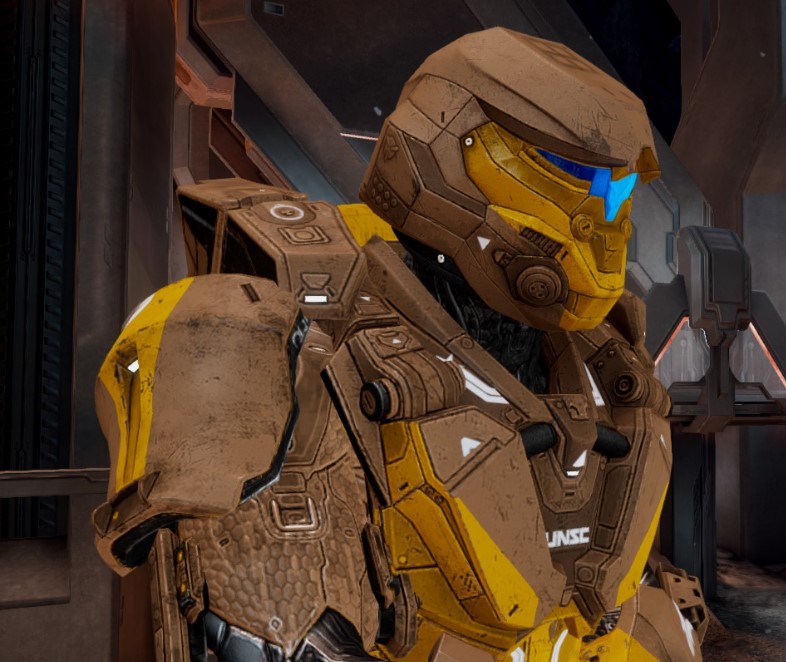 With a keen balance between sleek and bulky, this design is sure to be the envy of any military organization. It comes to you from the Naphtali Contractor Corporation, who took inspiration from the alien Jiralhanae, or Brute, species. If you look below the helmet's visor it looks like there's a funny little face grinning at you, and it's bold design choices like this that make people sit up and take notice. 
According to Naphtali's notes, this armor is specifically designed to make enemies think "wait, what the hell is that?" and be distracted at crucial moments. I think we can safely say, "mission accomplished, Naphtali!" This is a perfect fusion of form and function. Unfortunately, fashion is not function, so the Stalker armor only makes #5 on this list.
Awesome Armor Details:
Smoother design avoids over-cluttered look on shoulders and chest
Slim but strong, like a panther
Rebreather in the helmet has a lot of utility in all the underwater areas you'll never go to
Makes people stop and take notice
Funny lil face
#4. Scout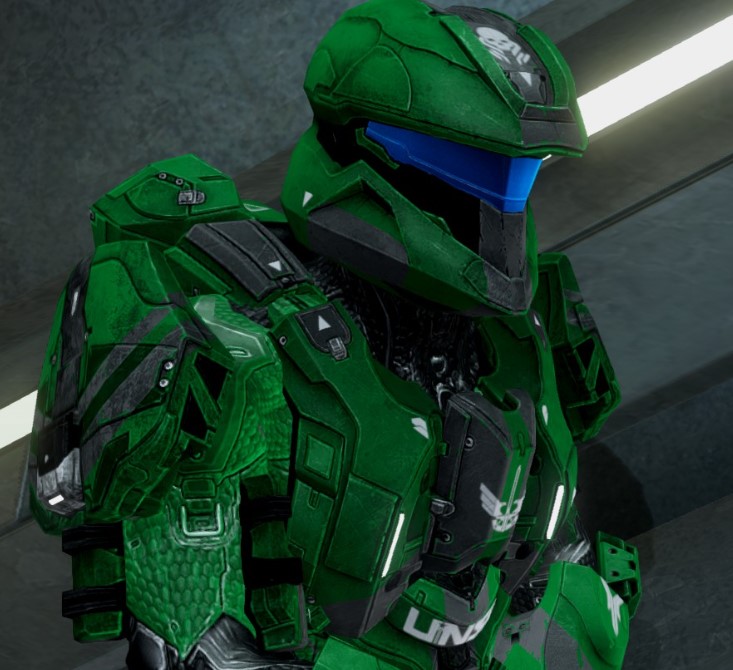 Here's an old favorite returning from Halo's 3 and Reach, the Scout armor. Its designers over at the Materials Group tell us that this armor is designed to facilitate stealth… but who would want to avoid being seen when this armor looks so good?
Its smooth helmet design oozes competence and determination. Its  thin visor lets everyone know that you're a focused professional with no time for excess visor glass. Also note the painted skull on top of the helmet: understated, but effective at communicating meaning. What meaning, you ask? Good question.
Awesome Armor Details:
Tiny skull is cute and edgy at the same time
Unique and intriguing helmet
Shoulder pads convey lean strength
Good sternum guard, which is important for rib cage protection
Fun stripe pattern livens up color monotony
#3. Orbital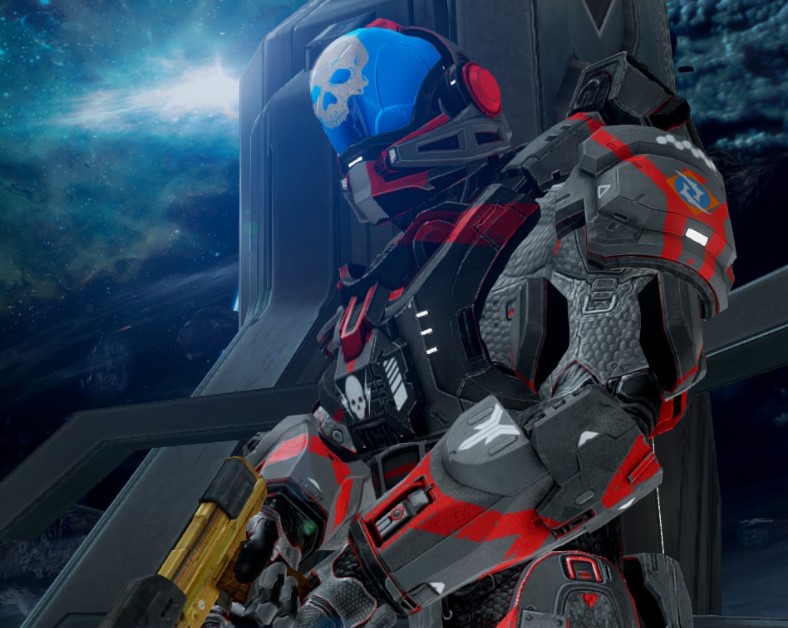 I just complimented the subtle skull placement on the Scout armor, but here comes Orbital to show us how it's really done: with giant skulls painted directly  on the face and the chest. There's a time and place for subtlety, and the armor catwalk is neither. Orbital is here to strike fear (and skulls) into the hearts of your enemies.
This design is another Naphtali masterwork, built for use in orbital situations, hence the name. It certainly looks like it can float around in zero-g, bringing to mind the classical astronaut suit… but with skulls. Like a ghost astronaut. Bonus points for unique theming on this one.
Awesome Armor Details:
Neck guard in the front is fashionable for astronaut theme and practical for throat  protection
Good for space
Bold stripe accents
Did I mention the skulls? Face and chest?
I did? Well I'm mentioning them again because there's two of them; you'll cut down any and every enemy with all that edge
#2. Mark V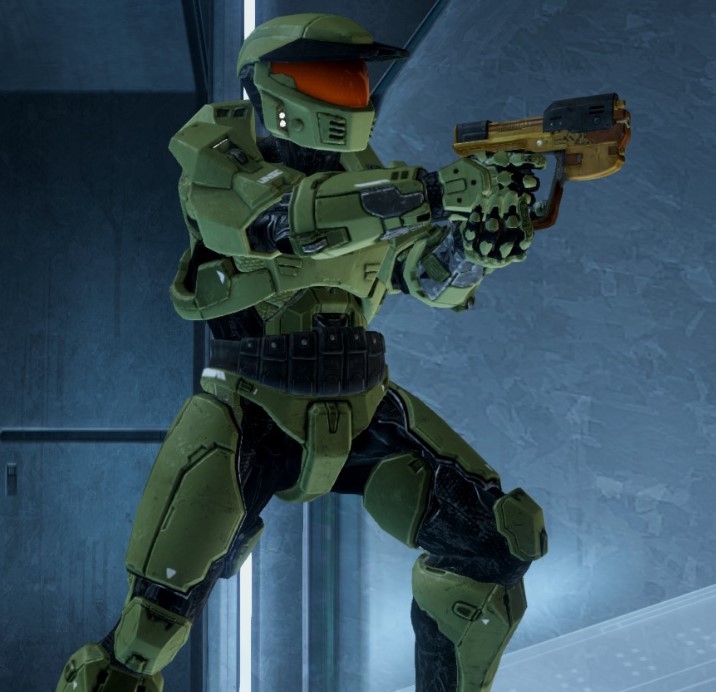 Here we have the most classic of the classics, the armor set for people who really hate the 343 style, but not enough to not play Halo 4. It's the Combat Evolved-inspired Mark V, and you won't find any extraneous blocks over the toes on this set. This is simple, clean, and reliable armor, indicative of a bygone, less visually cluttered time (that you can easily and immediately return to by switching games on the MCC).
This is another Materials Group design and has persisted through the years as the iconic first look of Master Chief himself. Sometimes fashion goes back to what worked in the past. We should bring back capes in real life. Call your political representatives and ask for capes to be fashionable again.
Awesome Armor Details:
Utility belt/six-pouched fanny pack lets you carry all the phone numbers you'll get while wearing this (because people still write phone numbers down on paper, I guess)
Clear, uncluttered design
Elegant and classy
Big visor lets you see all the out-of-style fools around you
#1. FOTUS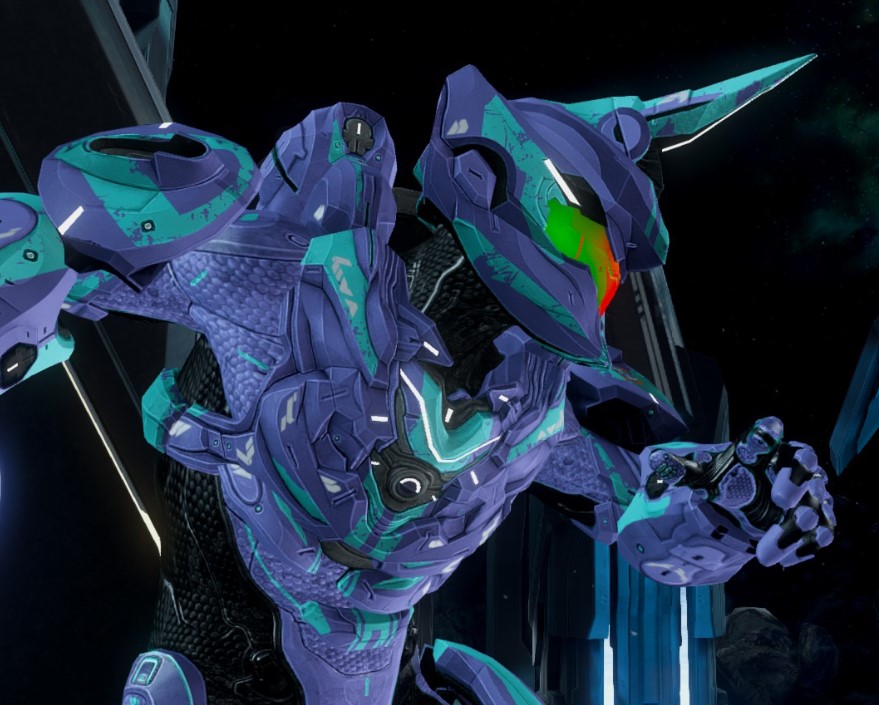 What's this? Why, just the absolute peak of all that is *S*T*Y*L*E*. If the Mark V is the most chic, then the FOTUS is the most magical. It is said to be made partly from Forerunner technology, a rarity in the Halo apparel scene. With such quality, you can be sure that this will be the talk of the town for the Halo fashion season.
Manufactured by 343 Industries, who put themselves inside their own lore as the makers of this fabulous inside joke, the "Fist of the Unicorns" armor uses its massive horn to puncture the walls of fiction. This is not just good fashion, it is transcendent, overcoming the bounds of reality itself. Also it's stain-repellant.
Awesome Armor Details:
Smooth, clearly advanced sculpt
Aesthetically pleasing trim
Visor shape has a lot of personality, just look at that little guy
Giant unicorn horn looks great and can be used to headbutt enemies
Metafictional and metaphysical; wear this and break the world, take the empty throne of God as your own
Disclaimer: All armor details are lore only, everything is functionally identical in-game. Do  not try to headbutt enemies while wearing FOTUS in Halo 4 multiplayer because you can't. Stalker and its weird face might still make people confused though, feel free to try that.
You might also be interested in: