CoD Modern Warfare Best M4a1 Loadouts (Top 3)
Updated: 09 Jul 2020 4:01 pm
One of the best assault rifles in Modern Warfare, the M4A1
Call of Duty: Modern Warfare TOP M4A1 LOADOUTS (TOP 3)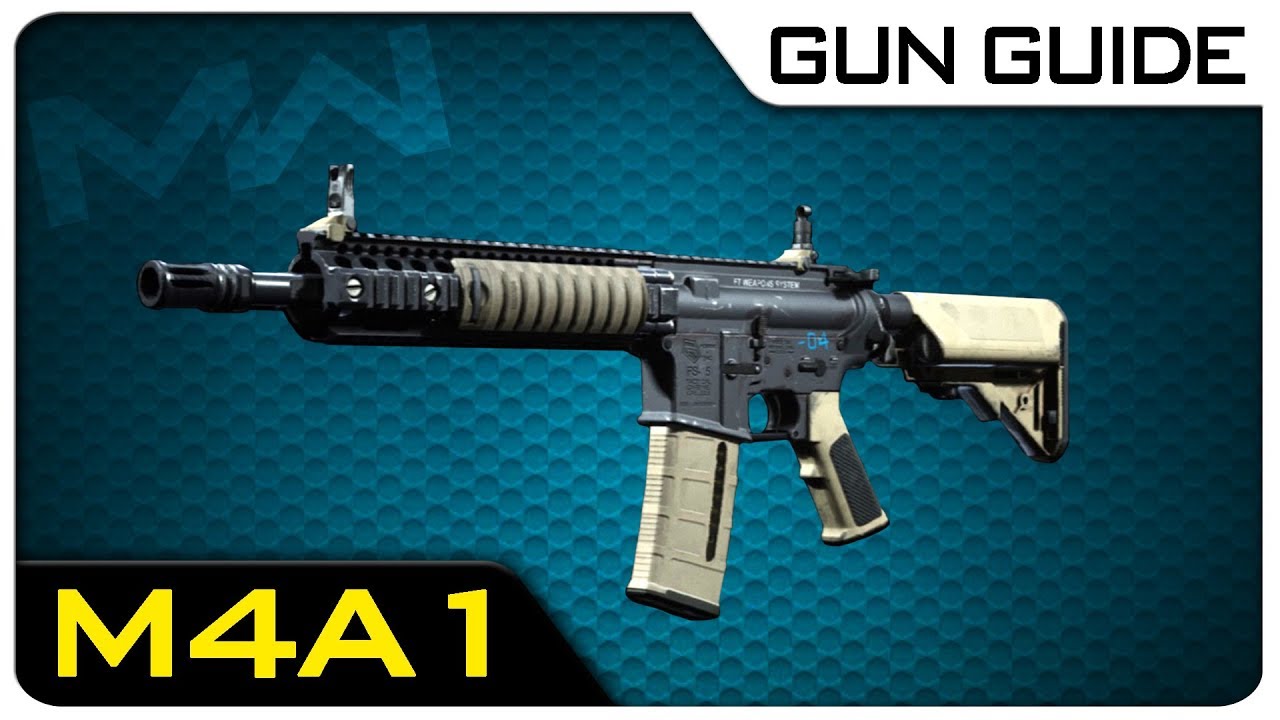 The M4A1 assault rifle is an extremely powerful and accurate weapon that, for much of the early stages of Modern Warfare, was deemed overpowered. As the game has carried on the M4A1 has settled in and become a reliable assault rifle with the ability to obtain kills from all distances and angles. Because this weapon is so popular, there are a ton of loadouts that can be used to maximize this gun's potential. With an abundance of loadouts that have been built, we decided to compile a list of the best loadouts to use with the M4A1. These are the top three M4A1 loadouts to use in Call of Duty: Modern Warfare.
3. Quiet and Quick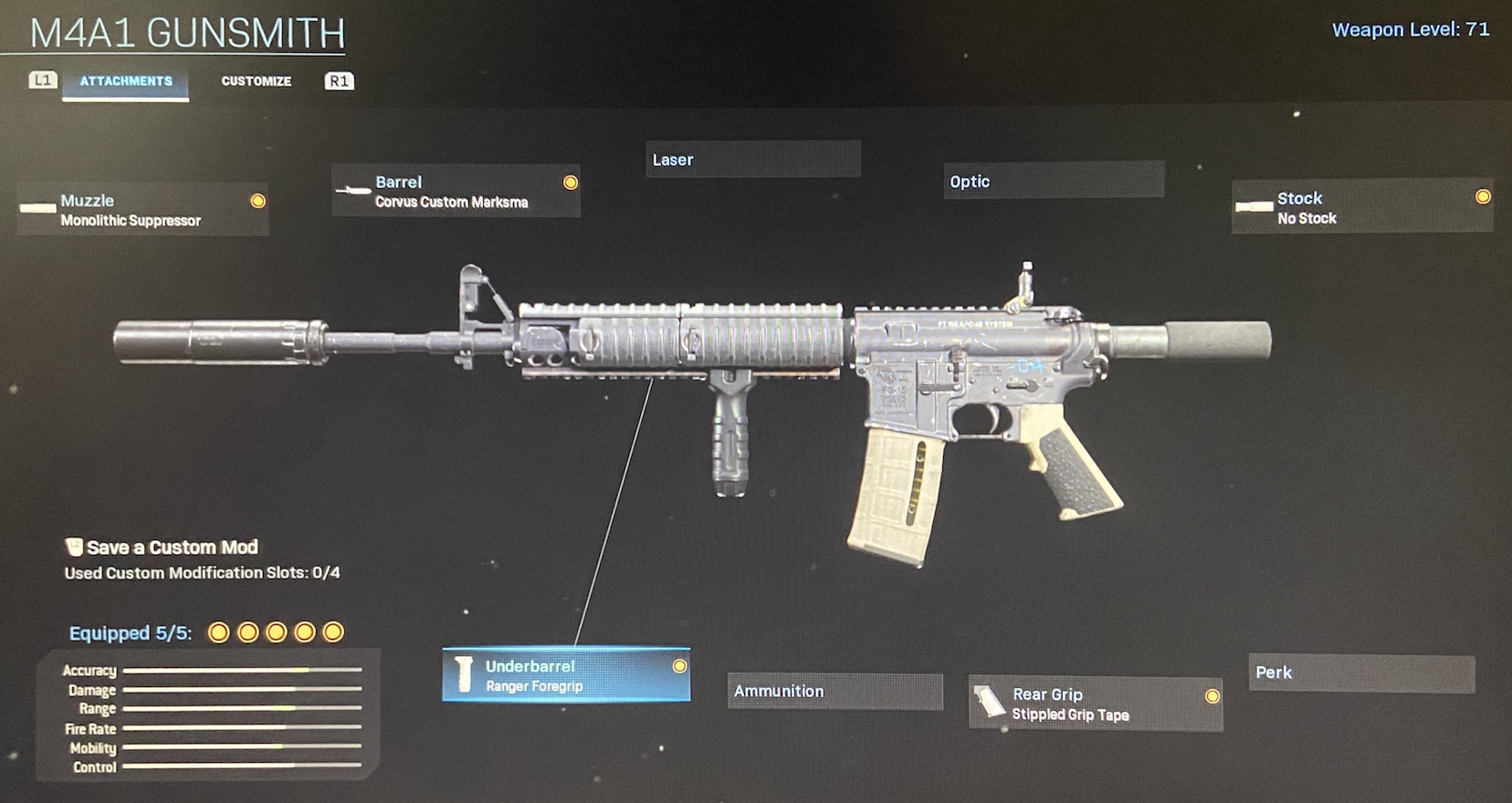 The Quiet and Quick M4A1 build
This M4A1 build makes this weapon, which is already deadly and accurate, stealthy and quick. The attachments on this weapon make this gun more accurate, mobile, and quiet, making it a perfect build for the battle royale game mode Warzone. Quick and silent, this M4A1 build allows you to be stealthy without sacrificing the range and damage that this weapon normally has.
Things that are amazing about this build
Stealthy and quiet
Quicker than normal
Does not sacrifice the range or damage that the average M4A1 possesses
Loadout
Monolithic Suppressor (Muzzle)
Corvus Custom Marksman (Barrel)
No Stock (Stock)
Stippled Grip Tape (Rear Grip)
Ranger Foregrip (Underbarrel)
Details
Accurate
Extremely powerful
Well rounded
Quiet and stealthy to go along with the extra quickness
2. Extreme Accuracy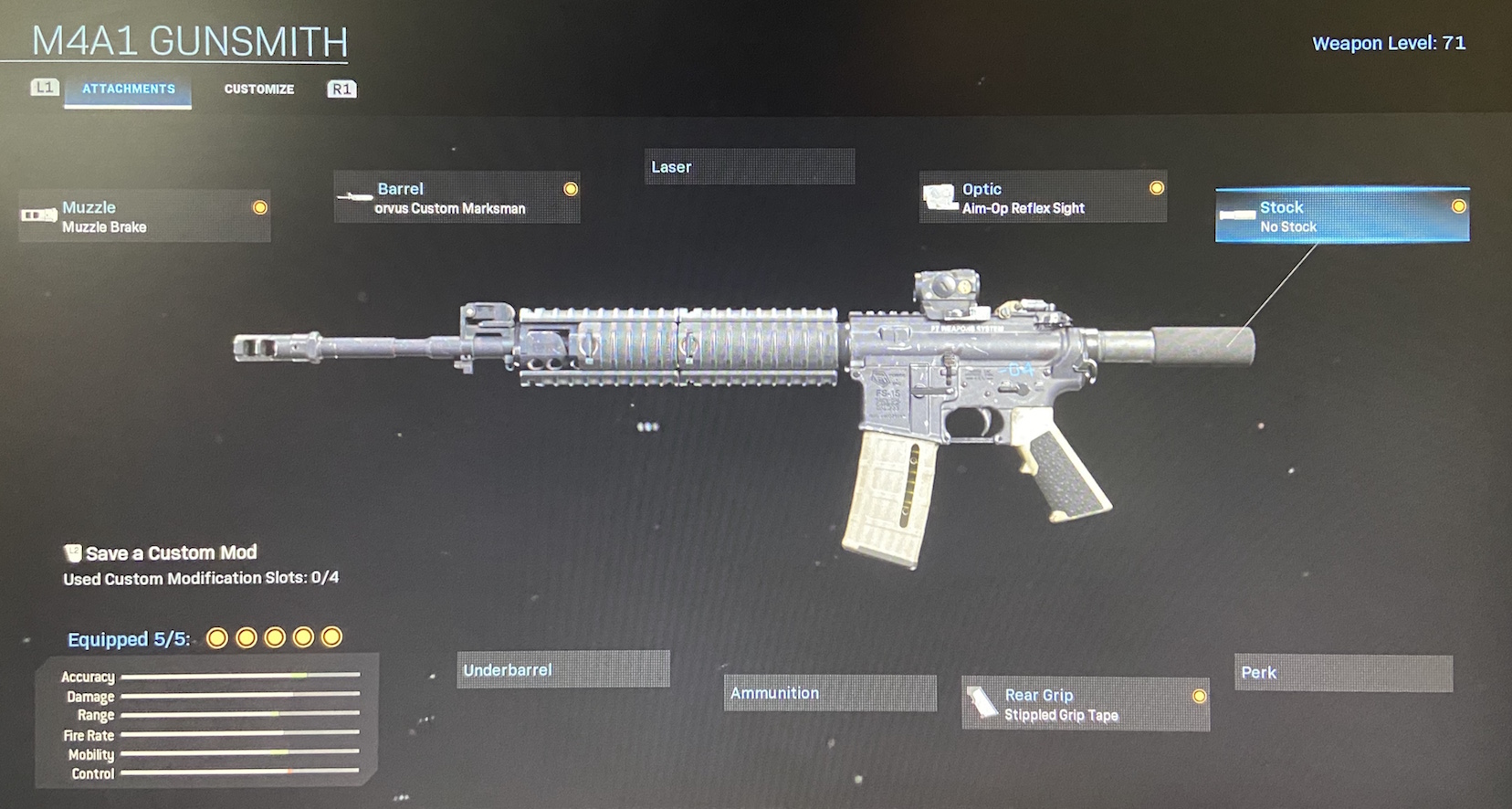 The Extreme Accuracy M4A1 Build
This M4A1 build is as accurate as this gun can be, but sacrifices a little bit of mobility to get the extra range and accuracy. The combination of attachments make this gun even more deadly at all distances and angles, which almost makes the gun feel too powerful. Combine the extended range with even more precision and this gun becomes a killing machine with the ability to mow down any enemy at any time.
Things that are amazing about this build
Extreme range and damage, making it feel super powerful in-game
Super accurate
No recoil
Loadout
Muzzle Brake (Muzzle)
Corvus Custom Marksman (Barrel)
Any optic of preference (Optic)
No Stock (Stock)
Stippled Grip Tape (Rear Grip)
Details
A little slower than the average M4A1
Extended damage and range
Incredibly accurate
1. Heavy Hitter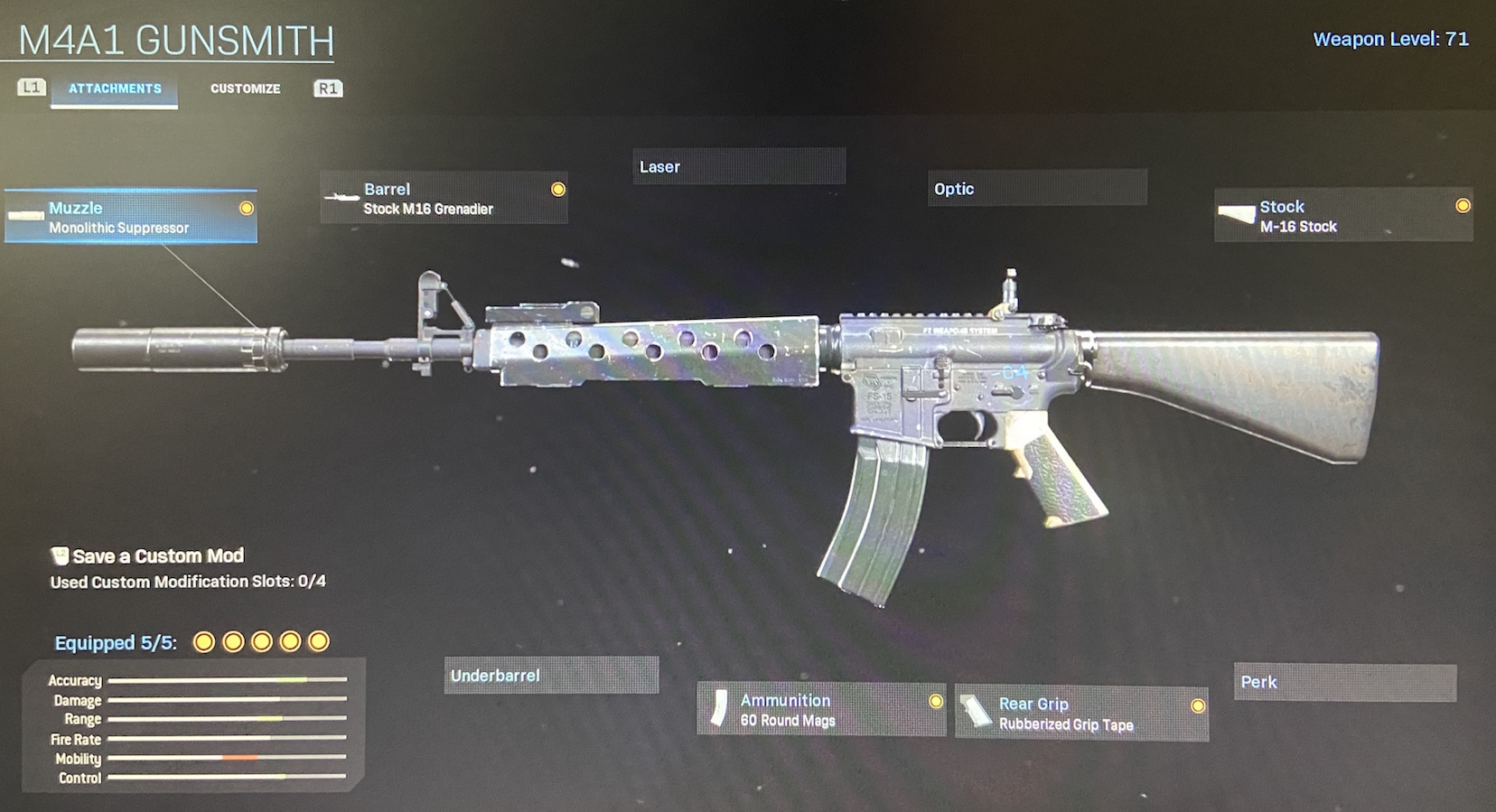 The Heavy Hitter M4A1 Build
The final M4A1 build in our top three list is the hardest hitting version. A lot slower than its counterparts, this build makes this weapon play like a hybrid LMG-AR combo. However, with the lower mobility, this M4A1 has double the clip size, longer range, and higher damage which makes it perfect for Warzone or ground war.
Things that are great about this build
Double the ammunition per clip
Extended range and damage
Perfect for Warzone
Loadout
Monolithic Suppressor (Muzzle)
Stock M16 Grenadier (Barrel)
M-16 Stock (Stock)
Rubberized Grip Tape (Rear Grip)
60 Round Mags (Ammunition)
Details
Slow
Plays like an AR-LMG hybrid
Lives up to its name
Also Be Sure To Check Out
Call of Duty: Modern Warfare Best Sniper Loadouts (TOP 5)
CoD Modern Warfare Best SMG and Their Loadouts (Top 5)
Call of Duty: Modern Warfare Best MP5 Setups (Top 3)
Call of Duty: Modern Warfare Best LMG (Top 5)
Image Gallery