Top 10 Best Free Shooter Games for PC
Updated: 08 Feb 2019 12:04 pm
Hello Robot: My gun, my rules.
Ready! Aim! Fire! We bring you the Top 10 best FREE shooter games for PC.
Oh shooter games, how we love shooter games. Behind every single gamer there is a soldier just waiting to grab hold of a firearm and shoot down whatever comes in front of them. We all started out with the simple shooter games from Megaman all the way to Counter Strike shooter games and enjoyed every single second. We get the rush when we have to fight another shooter just wanting to take you down.
There are loads of shooter games coming out right now in different platforms, but who could compare to the feeling of full control vision using a mouse and keyboard. Since we have so many shooter games it makes it hard to choose one among them. So here we have a list of shooter games that might just be the one you're looking for.
10. Call to Arms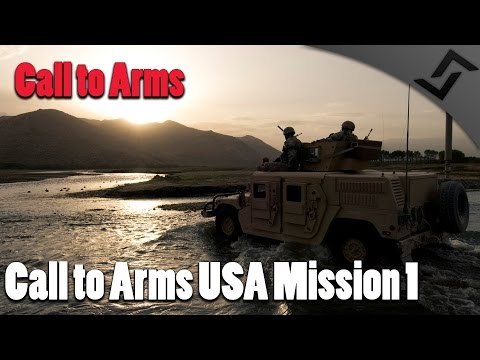 Call to Arms Gameplay
Call to arms is a real-time tactical strategy game that has two main factions. The factions are the US Army and the Global Revolutionary Movement. The game offers two types of play style. The third-person action mode where you can control a single unit and kill all your enemies or by the real-time tactical strategy mode where you send your units to fight as you observe.
Things to look forward to:
Real-time strategy. Yes it is a shooter game and a real-time strategy game.
Full control. When you select your troops, you can select a single unit and control it yourself in a third-person mode.
Multiplayer. Well sometimes we just need to play with other players right?!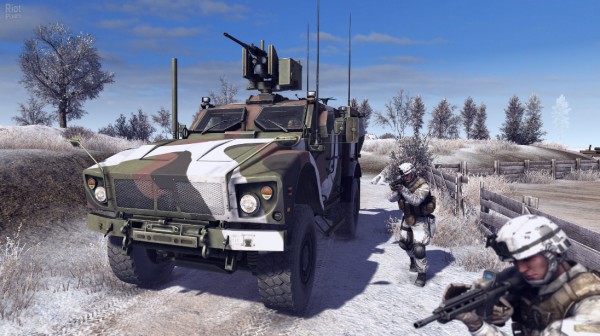 Full Assault: Two soldiers accompany a battle jeep.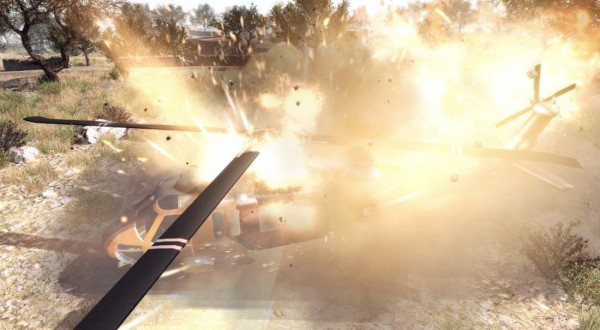 Here comes the BOOM!: In any shooter game with a helicopter, we HAVE to shoot it down!
9. Cuisine Royale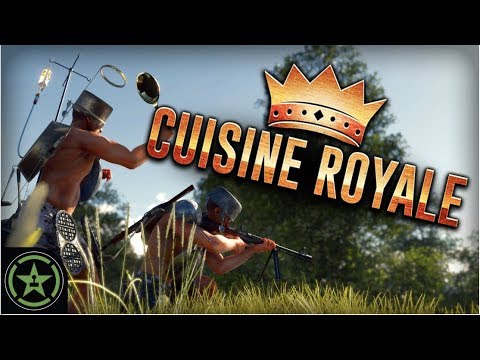 Cuisine Royale Gameplay
Getting tired of those shooter games with full army uniforms? Or even those shooter games with robot and alien like armor and weapons? Then this is the game for you! Cuisine Royale is a third-person shooter game where you fight for survival alone or with a team. You get to find unusual armors and weapons like a frying pan, bunny slippers, colanders, and much more!
Things to look forward to:
Intense Battles. You can fight up to 30 other people with your trusty frying pan and waffle iron!
Armor Quality. Get a boost of speed when running with bunny slipper or protect yourself by equipping a colander on your head.
Refrigerators. Most games don't ever use refrigerators for anything but aesthetics, but in Cuisine Royale refrigerators are the most valuable loot boxes ever!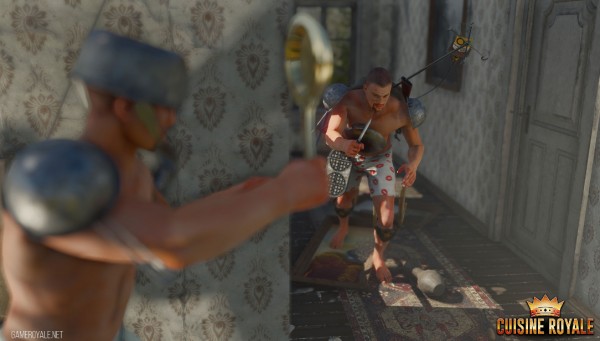 Queue Music!: A player waits silently with his golden frying pan to strike at his prey!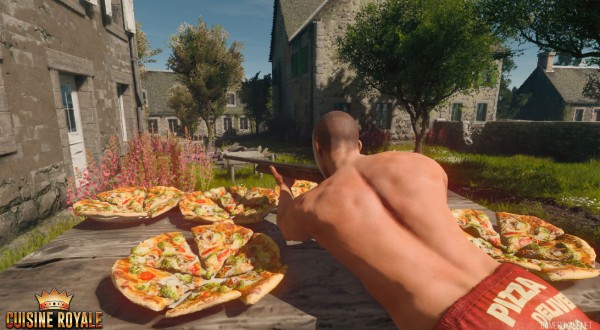 One Pizza Please, no extra Cheese: This has got to be the worst hiding place ever, who doesn't love running at the sight of PIZZA?!
8. Defiance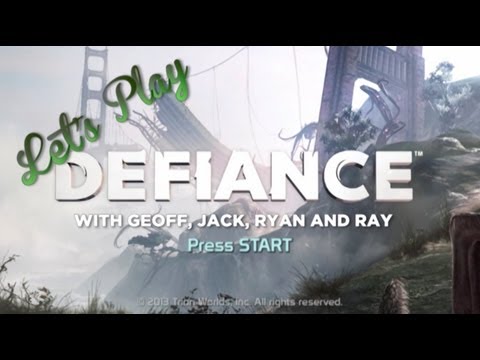 Defiance Gameplay
Perhaps you like shooter games or even just open world games? Well Defiance 2050 will bring both of those together with its open world sci-fi shooter MMORPG! The game takes place in the future when the earth has already been visited by aliens. Yes, this will definitely make your dreams come true.
Things to look forward to:
Large Skilltree. Most shooter games actually do not have a skill tree. In Defiance you have the option or options to change how your character plays overall.
Auto-Queue. You can complete quests with other players without even knowing it!
Quest System with Open World. Questing actually gives any game a reason to continue playing. The Open World gives you choices, lots and lots of choices.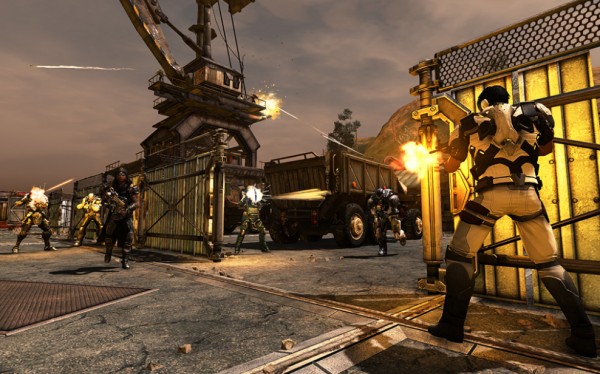 When you see it: A second look is needed!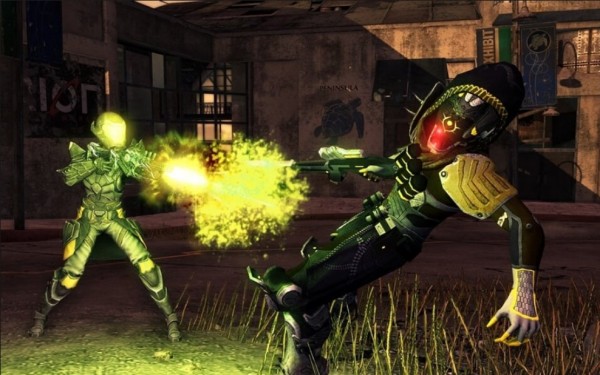 Oopsies!: When your slip up will cost you your life. AHAHAHA
7. Deceit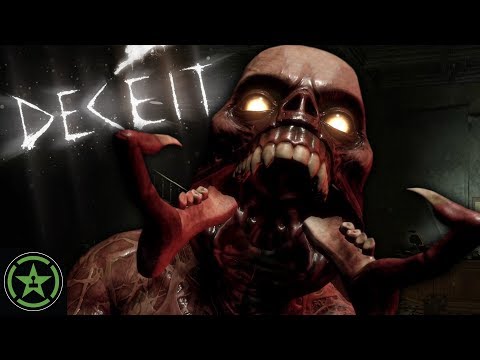 Deceit Gameplay
"Greetings and welcome. I wanna play a game". Sound familiar? Are you good at solving puzzles? Do you want a thrill while playing your game? Then Deceit is the right game for you! Deceit is a shooter game that puts you and 5 other people in a place where you have to solve puzzles and shoot down whatever comes to kill you in order to survive and find an exit.
Things to look forward to:
Horror + Shooter = FUN. Who doesn't like the feeling of being able to be in a horror shooter game that allows you to kill whatever comes at you?
Puzzles. The puzzles in the game will keep you on edge as you have to watch your back almost every single moment!
Team Play. Prove to your friends that you can get them through the game without letting a single one die.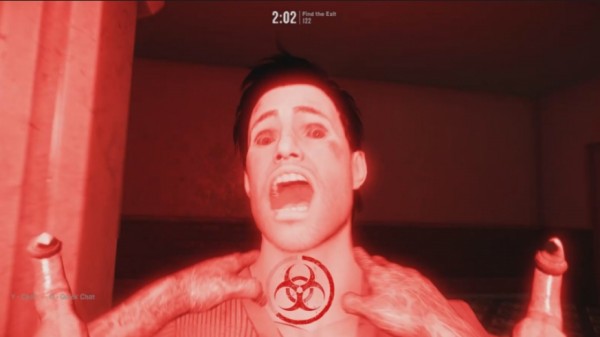 I'm ready for my close up: You know something is up when your screen turns red.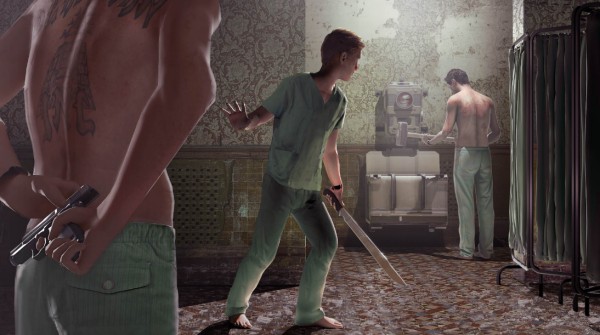 Guess what's behind my back?: Nothing like the classics.
6. Heroes & Generals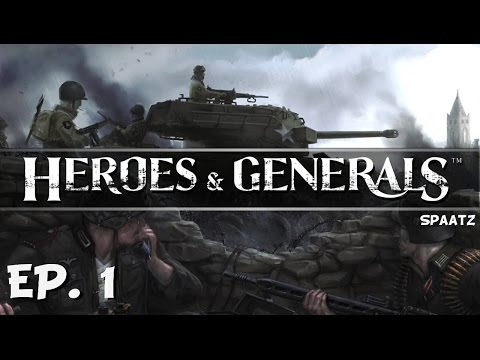 Heroes & Generals Gameplay
World War 2, we continuously hear stories about the war. Now we get to feel for ourselves how the soldiers of that war felt. Heroes & Generals is a shooter game that takes place in the middle of World War II where you can play as the Germans, Americans, or Soviet Union and fight against other players to conquer the place. If you're into history and shooter games, then this would be the perfect game for you!
Things to look forward to:
Realistic Weaponry. Most games have beam guns and alien weaponry, but if you like to see the classic weapons then get your ass in here!
Vehicle Combat. Yes you heard right! Vehicle combat, you have the option to control tanks and planes in this game!
Become a GENERAL. Do you have what it takes to command an entire army? The game also allows you to become the general and you get to call all the shots that needs to be made to defeat your opposing armies.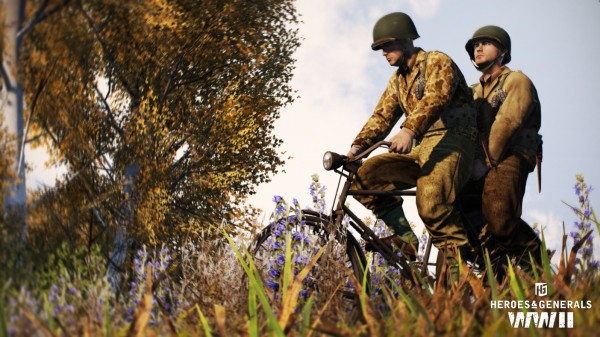 No man left behind: Nothing says manly and friendship like two men riding a single bike.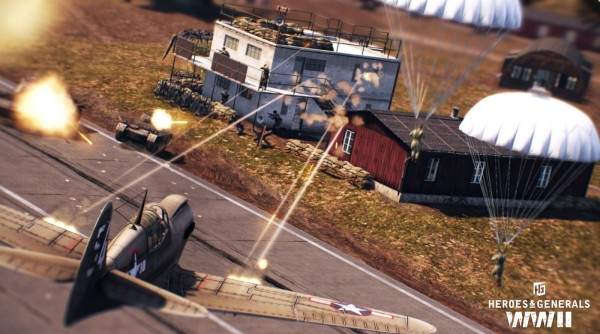 Ratatatata: Even a picture could make you hear sounds.
5. The Expendabros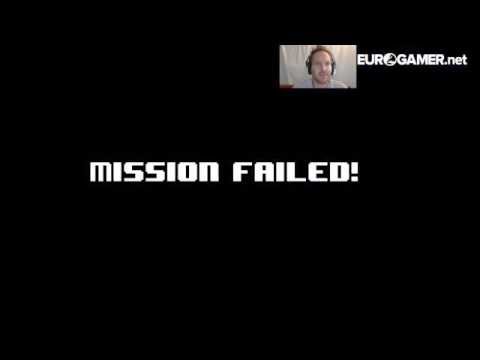 The Expendabros Gameplay
I'll be back! Yippee-kay-yay! Those are just some of the quotable lines you'll find in the expendables movie. Who doesn't want to play as one of these legendary action heroes? Expendabros will give you what you're looking for. Expendabros is a platform shooter game that takes you back in the time of Contra. Play through the different levels in solo missions or even 4 player missions and fight off with the "bad guys" like James Munroe and Jean Claude Van Damme.
Things to look forward to:
Characters Selection! Parody of the characters adds a fun twist on the game. Play as Broney ross, Lee Broxmas, Trent Broser, and many more!
Nothing like the classic. The classic shooter game concept also adds the fun of playing it like in the 90's.
Level editor and Level sharing. Yes you can make your own levels and share it online to challenge other players!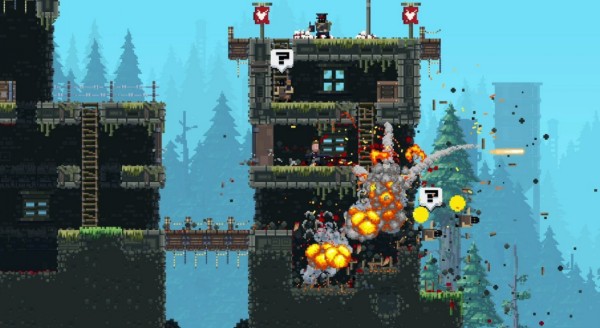 Explosions!: No game that has these characters will have no explosions.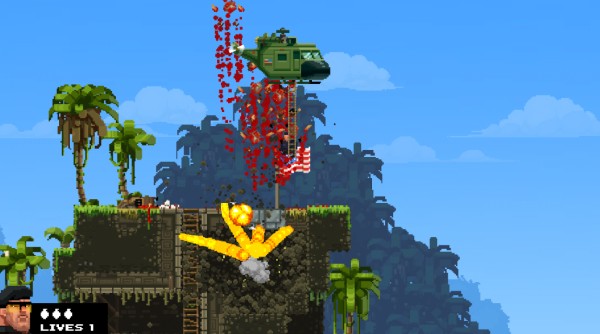 Queue Action Music: When you get to the end of a movie that certain bad ass music has to play.
4. Fistful of Frags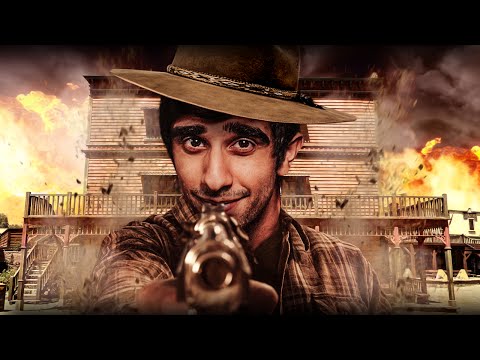 Fistful of Frags Gameplay
This town ain't big enough for the two of us. Welcome to the Wild West! Fistful of Frags is a FPS game that takes place in the Wild West. You play as an outlaw against other outlaws and whoever gets the most kills is the fastest gun in the west (YeeeeHaaaw!!!). If you're into mission's old west style, then go into the single player mode and GIT 'ER DONE!
Things to look forward to:
Online play. Nothing like online play to take out some stress shooting people.
Single Player Missions. Going on missions old school style can keep you on them longer than you think.
No school like old school. Let's face it, we all wanted to be a cowboy at one point in our lives. YEEEEHHAAAAWW!!!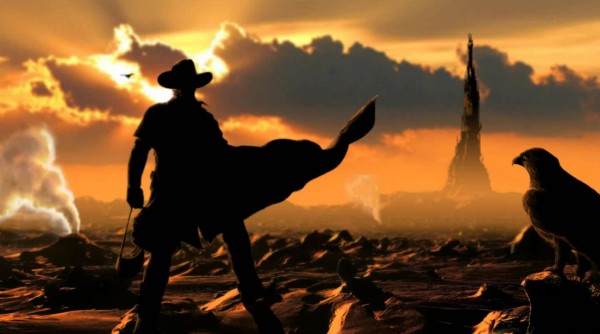 "I tried to be reasonable, but I didn't like it.": That crow must be curious about what's happening.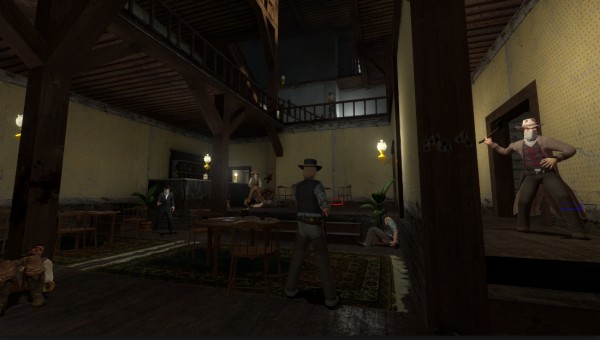 They'll never see me comin': Always watch your back in a shootout!
3. Team Fortress 2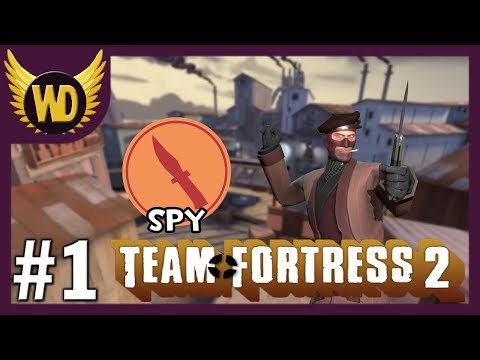 Team Fortress 2 Gameplay
Team Fortress one of the pioneers of shooter games. We watched it grow from the heavy pixelated game into the smooth cartoonish game it is today. This fast paced shooter game will improve your reaction time and teamwork skills. Team Fortress 2 now has better graphics and lots of classes to choose from compared to the other shooter games out there.
Things to look forward to:
Classes.  Different classes means different play styles! Be the best in any class and steamroll your opponents!
Fast Paced Gameplay. Sometimes shooter games can get boring when running around during a 1-on-1, but in this game it will take almost a second to search and find your target!
Community Trading. Ah trading, one of the most useful things you can do when you have items that you don't really need to get you the ones you DO need.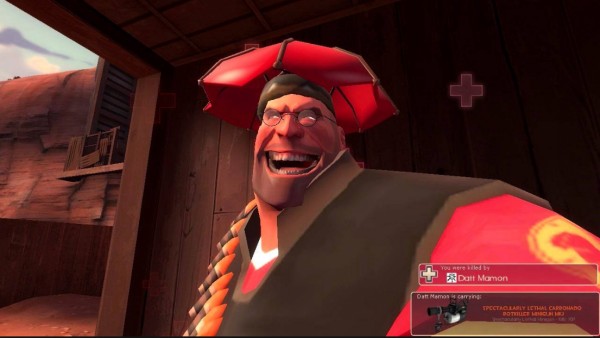 Trolls, they're everywhere!: We have to admit, we all trolled once in our lifetime!
Oh CRAP!: Just another day of seeing a bomb come towards you.
2. Warframe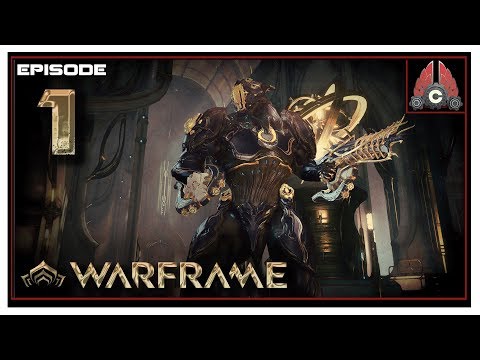 Warframe Gameplay
Feeling like a bad ass alien is now all in past. In Warframe you play as a blade and gun master who has to battle against different factions and protect your home planet. You start your adventure as an alien called Tenno and learn to master the armor called Warframe. Get ready for an adventure unlike before! You're going to have to travel to different planets to take down your enemies!
Things to look forward to:
Insane Graphics. The worlds of Warframe are insanely detailed and beautiful. You know all that money you spent on that kick ass video card for? It's for this game!
Level up system. Yes there is a levelling up system here! You have a reason to continually play when you know that there is an end goal to reach!
Open World Team Missions. The Digital Extremes development team has added an open world to the game. You now have access to go on missions with your friends!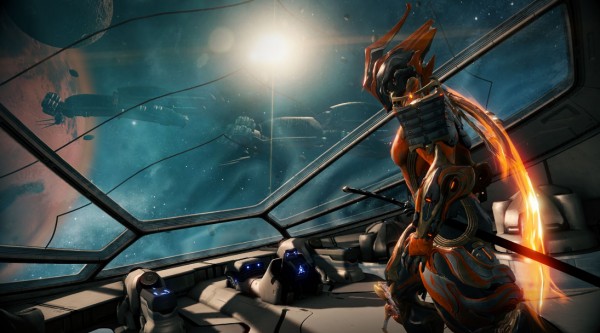 Is that Yasuo?!: When two games have similar character models.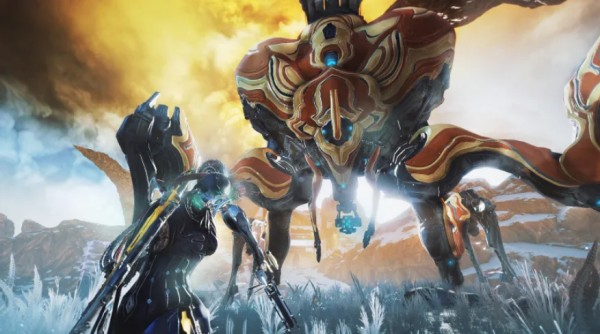 Oh EM GEEE!!: The Strong Shall Live And The Weak Shall Perish
1. PlanetSide 2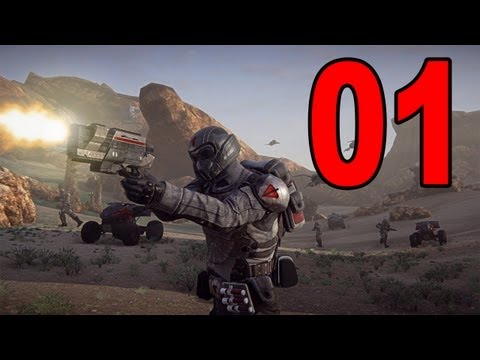 PlanetSide 2 Gameplay
You know sometimes you think to yourself, what am I playing for? Why do I do next? Well if you want constant battle and I mean CONSTANT battles, then PlanetSide 2 is the answer. The game allows you to select between three factions at constant war to conquer the entire world of PlanetSide. You will work together with hundreds of characters in a constant battle over territory.
Imagine yourself in the middle of a war with your tiny ass gun with over a hundred players pointing their crosshairs at you. That's what you have to go through in this game. When you get the hang of it, you're going to be one of the players on the other end of that scenario! So still yourself for the battle of a lifetime.
Things to look forward to:
Massive Battle Grounds. When I say massive, I mean MASSIVE! The areas in this game are so big that you'll actually need an aircraft to get to the battles!
Challenging Missions. Mission objectives in this game will either make you a hero or a zero. The game will require certain objectives to be met before you are able to complete them. Well then, Challenge Accepted!
Aircraft Battles. The s*** just hit the fan. Remember all those movie and shows we watched that had air battles? Well with the massive battle area, you're going to be fighting with your aircraft against a lot of other aircrafts!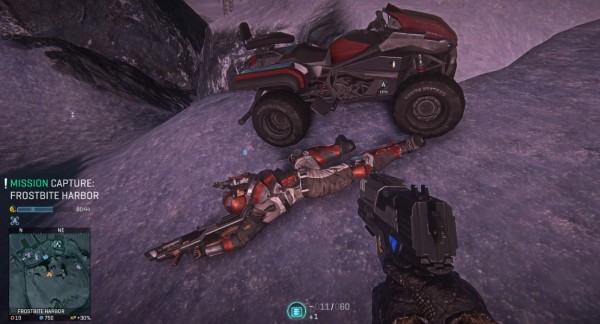 Wait! Don't Shoot!: This guy must be having the worst day.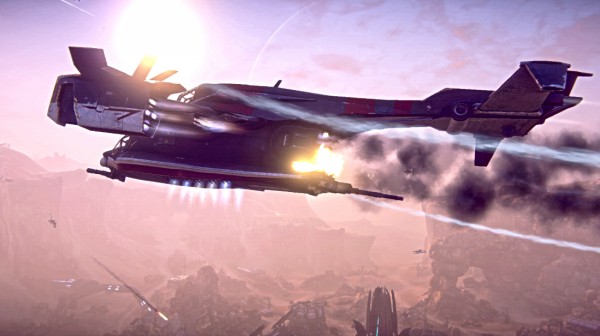 Captain We Have A Problem: Fire + Aircraft = PRAY!
You may also be interested in:
Image Gallery