[Top 5] AC Valhalla Best Cloaks (And How To Get Them)
Updated: 12 Oct 2022 7:25 pm
Eivor is staring enviously at the better armor on the list. If only she read this article before taking on Balor from The Wrath Of Druids. Save yourself from Eivor's pain and take a deep dive with me to learn about the top 5 Cloaks in AC Valhalla.
Elevate your play style with a cloak whose strengths give you an edge. Selecting something beyond the Raven Clan Cloak, will increase your speed or armor. For certain play styles, you will want more armor or more speed. In this article, you will find a breakdown of the best cloaks in the game and how to get them.
5. Raven Clan Cloak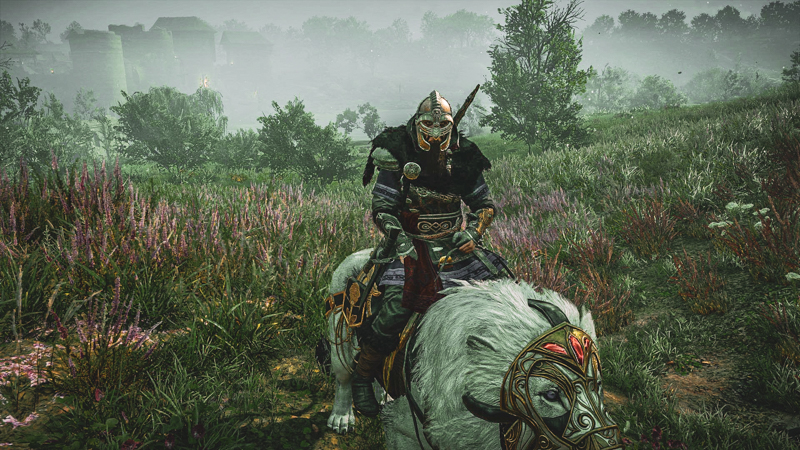 Eivor is riding a lion to siege an outpost using the protection of his Raven Clan Cloak.
Be the fastest lad in the war party by dressing in the Raven Clan Cloak. With the highest evasion in early-game armor, the Raven Clan cloak is excellent for light weapon attacks, dodging, and playing dynamically. This is the easiest cloak you can get in the game. You get this cloak by default. The damage resistance isn't far off from other armors in the game, making this a great build throughout the game. It doesn't give bonuses to a particular play style, like Thegn's Cloak or the Mentor's Cloak. Once you figure out your preferred play style, I suggest switching to another cloak on this list.
Raven Clan Cloak Review
This is a great cloak if you like to use a variety of play styles. The stats of this cloak are good for heavy, light, and ranged players. This cloak has good armor and attack resistance without sacrificing evasion or weight. If you want a cloak for a specific play style, look elsewhere.
If you enjoy light or ranged weapons, then this is a great cloak with its high evasion and low weight. There are better light cloaks on this list. This cloak will keep you safe throughout the game, no matter your play style. It is really easy to get because it is your default armor.
This is a good cloak for people who don't want to stray from the story while still surviving the great battles ahead. This cloak will take you through the end game without putting in the effort to search for it. You will get the cloak by completing the story in Norway. If you upgrade the cloak, the stats will be competitive when compared to other cloaks.
Raven Clan Cloak Stats (Mythic Base):
Armor: 34
Light Resistance: 40
Heavy Resistance: 36
Evasion: 23
Weight: 12
How To Get the Raven Clan Cloak:
The Raven Clan Cloak is the easiest armor to get in the game. You get the cloak after killing Rikiwulf and freeing your crew members in Avaldsnes.
4. Brigandine Cape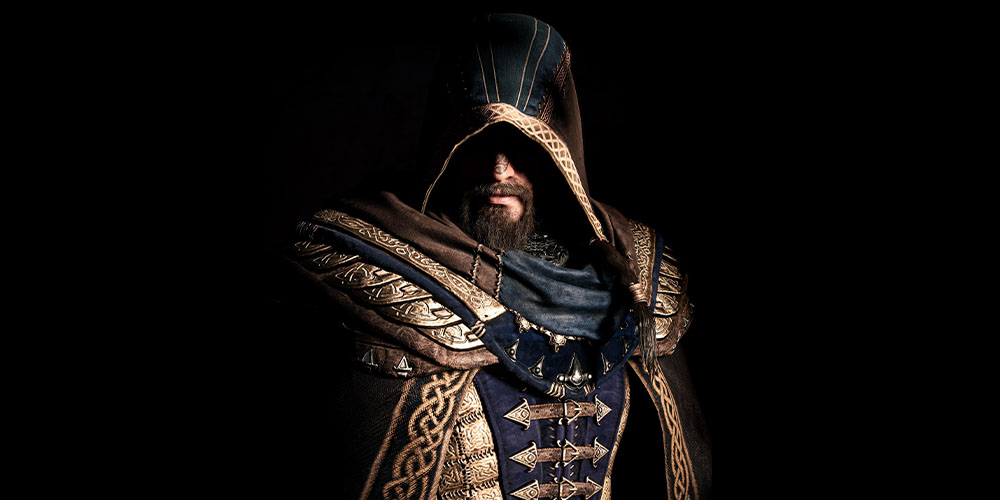 Is this medieval England or a fashion show?
The Brigandine Cape will fill you with lust for jumping into hordes of enemies to cut them down. This is for the warriors who crave the chaos of the battle's storm. Feel your heart rage. This cape is a good choice for heavy melee players who prefer combat to stealth. It has a high armor stat, moderate light resistance, and high heavy resistance. These stats make it perfect for a heavy weapon play style. With its low evasion, it's not a great choice for light weapons, light bows, or stealth players.
Brigandine Cape Review
For heavy weapons players who love to jump into combat, this is a great choice. It has high armor and heavy damage resistance, but low evasion.
With careful evading of powerful enemies, you can get this armor right when you first land in England. This cape will give you an edge in the early game because it starts off as superior quality, which is better than the base quality of your current armor.
The cape has a subtle design that isn't dramatic or distracting from the Viking theme of the game.
Brigandine Cape stats (Mythic Base):
Armor: 41
Light Resistance: 36
Heavy Resistance: 41
Evasion: 16
Weight: 17
How to get the Brigandine Cape:
The cape is located in Quatford, Sciropescire in a cave behind a destructible stone wall. Use your Incendiary Arrow ability to destroy the wall and open the chest.
3. Thegn's Cloak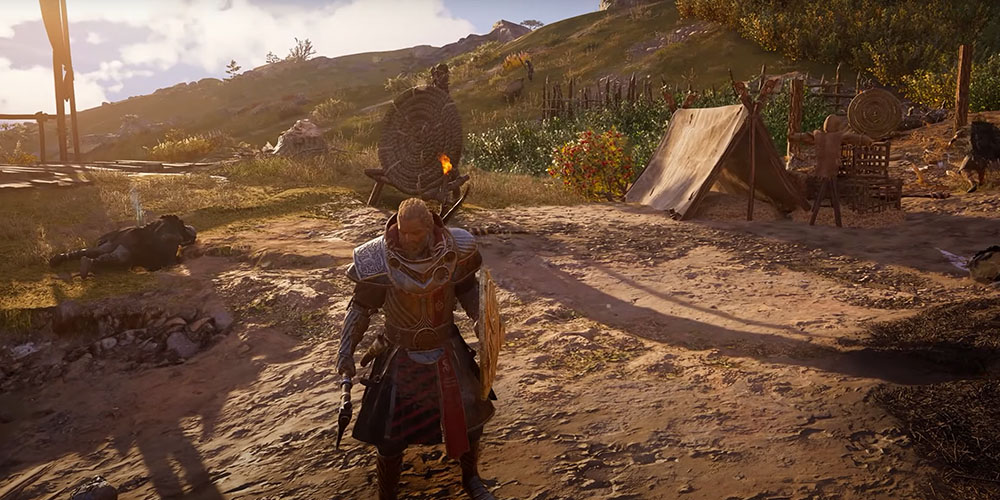 Eivor decimates an outpost using Thegn's Cloak paired with an ax and shield; a potent combination.
Better than the Brigandine armor and more Knightly than Viking, Thegn's Cloak is the best melee cloak in the game. If you like the metal-clad look of knights and Templar, then you will love this cloak. This cloak has a higher evasion and light resistance than the Brigandine cloak. Although the heavy resistance is less, it is fully balanced with light resistance, unlike the other cloak.
Thegn's Cloak Review
This is the best melee armor because it has high damage resistance. The damage resistance is equal between light and heavy categories. You will find those stats useful when fighting enemies in large groups. Large groups of enemies are often mixed with light and heavy opponents.
For heavy weapon players, you will love this cloak more than the Brigandine set. Heavy weapons are typically slow, but they benefit most from armor with high armor stats. This cloak provides high armor stats and has a remarkable evasion statistic, which makes your heavy weapon attacks faster.
Some people prefer to use heavy weapons and prefer dodging to blocking. The way the armor and damage resistance are balanced against its weight and evasion make it good for the heavy-weapons play style.
Thegn's Cloak stats (Mythic Base):
Armor: 40
Light Resistance: 38
Heavy Resistance: 38
Evasion: 17
Weight: 16
How to get Thegn's Cloak:
Thegn's Cloak is found in a chest in Bishop's Residence, Wincestre. It's on the second floor behind a barred door.
2. Hidden Ones' Hood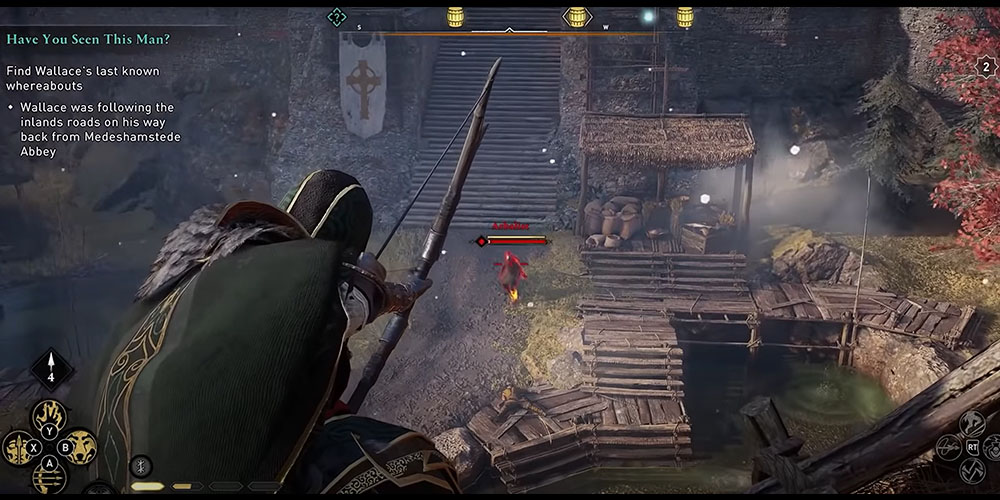 Eivor is perched high, making a stealth kill. Will he need to rely on the protection of his Hidden Ones' Hood?
Some things are powerful once it's grown on you. No, I'm not talking about the mole on my butt. I'm talking about the Hidden Ones' Hood. Despite low baseline stats, the Hidden Ones' Hood grows to become one of the best cloaks in the game, second to the Mentor's Cloak. With a low weight and high all-around defense, this is a powerful cloak once it's fully upgraded. The design of the cloak reminds me of the original Assassin's Creed style.
Hidden Ones' Hood Review
Despite its low armor stat, the mythical Hidden Ones' Hood has 2 points more evasion and 3 points less weight than Thegn's Cloak. This is better for a light weapon and stealth play style because it favors speed.
The Hidden Ones' Hood is the best at blending the original Assassin's Creed character style and the historical Viking's style. While you can wear the original Assassin's Creed outfits, you stick out in comparison to the character models of Assassin's Creed Valhalla.
When fighting heavy opponents that you can't stealth kill, this is a great choice of a cloak. This cloak favors defenses against heavy damage. You receive more heavy damage when fighting heavy opponents. Match this with dual daggers, then you will be swift and deadly.
Hidden Ones' Hood stats (Mythic Base):
Armor: 32
Light Resistance: 35
Heavy Resistance: 41
Evasion: 25
Weight: 10
How to get Hidden Ones' Hood:
To get the armor, you have to earn it by finding codex pages and the lost Hidden One Bureaus. Then, you get the armor when you return the lost information to your settlement.
1. Mentor's Cloak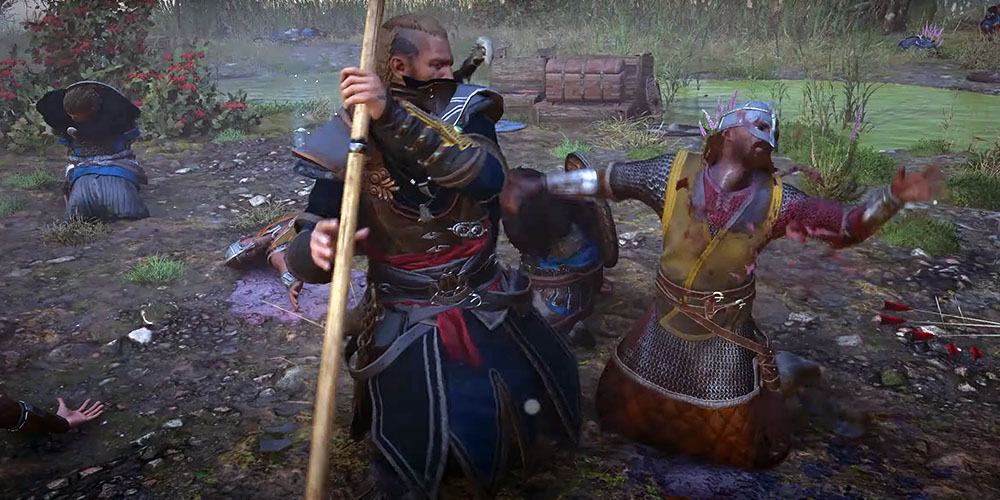 Eivor is using the power of his cloak and spear to liberate his friends from the enemy.
Are you looking for the ultimate cloak to enable your speed and strength? The Mentor's Cloak will help you dodge or absorb the heavy attack of your opponents. This cloak has the highest heavy damage resistance of all the cloaks on this list. Its evasion is impressive, coming in several points higher than Thegn's Cloak. This is the best armor for a light weapon, bow, and stealth play styles.
Mentor's Cloak Review
The Mentor's Cloak has the best balance of armor and damage resistance to evasion and weight. It has a difference of 1 point in evasion and weight compared to the Hidden Ones' Cloak. It sacrifices those 2 single stat points by having 6 more armor stats than the Hidden Ones' Hood. This is great for dealing with those opponents that have a lot of health, like bosses and Zealots. With long battles of a single enemy, it's likely you'll get hit a few times. Staying alive is vital. Adding the armor will help you while staying very agile for your play style.
The cloak has 2 points more evasion than Thegn's Cloak, but it has 10 points less armor. This is best for a light weapons play style. Your build can lower your weight and increase your evasion to give you more dodges before running out of stamina.
The Mentor's Cloak is stronger than Thor's armor in evasion, damage resistance, and weight. While it isn't as flashy, nor does it offer as powerful perks. However, the stats of this cloak overwhelms even the most sought-after cloak for players who value dodging and a high rate of damage.
Mentor's Cloak stats (Mythic Base):
Armor: 39
Light Resistance: 35
Heavy Resistance: 41
Evasion: 24
Weight: 11
How to get Mentor's Cloak:
The cloak is found in the Loch Clunbre Hideout in Snotinghamscire inside a hut. There is a barred door that you have to break open.
Also Be Sure To Read: