Will Las Vegas Be The Epicenter Of Esports?
Updated: 27 Sep 2016 4:28 pm
Not a bad backdrop for your next esports tournament!
Amongst the ever growing esports scene in downtown, Las Vegas is upping the ante with a 15,000 square foot esports arena and casting facility.
Las Vegas is slowly becoming the go-to spot in North America for anything esports. Already having locations like GameWorks, Esports Gaming Arena and even the Downtown Grand Casino hosting gaming tournaments, what else could they do to draw in gamers? Well Pro Gaming League Inc. is turning the Neonopolis building into a 400-500 seat esports arena and casting/production facility, they have even already booked the North American Halo Championship Series Open Circuit to be played there this November.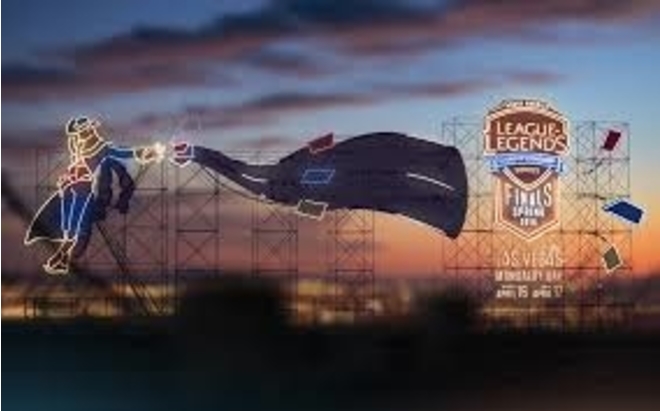 TSM take on CLG for the NA LCS Spring Split Championship at Mandalay Bay Casino in Las Vegas.
Why Vegas? What is in it for them?
Las Vegas has always been on the forefront of getting involved in new sports and competitions, from UFC to the spike in poker popularity. With viewership in esports climbing at a tremendous rate, the industry stands to be big business in years to come. The League of Legends World Championship saw 36 million unique viewers, a increase of 9 million from 2014. All of this fanfare is a big draw for Las Vegas, creating spillover traffic for their casinos and even more betting opportunities for esports in general.
The League of Legends NA LCS Spring Split Championship drew 6,000 fans to the event center of the Mandalay Bay Casino in downtown Las Vegas. This shows the investors that esports is in fact a money making venture and getting in on the ground floor is a smart move. In years to come when the teenage fan base is older, the industry will grow even larger. It is possible that we might see games such as LoL, CS:GO or DotA 2 take over the thrones of major sports in popularity.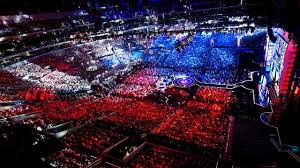 A esports arena filled to capacity.
It's a new age and Vegas seems to see the vision.
The future for esports in Las Vegas and just esports in general is looking very bright, viewership numbers keep climbing and the viewer base isn't what you would expect. The thought is that esports fans are teenage kids in their parent's basements surrounded by Mountain Dew cans, when in all actuality the base is 20 something year olds including parents and 38 percent are women... not what you expected, is it?
With those types of numbers there is a lot of money to be made and that is what Vegas is really all about. More light will be shed on the subject after the gaming commission finishes making regulations for the esports betting niche and the "Esports & Casino Resorts" conference is held in late October in Vegas. All signs point to the area becoming the headquarters for gamers pro and casual alike, with the "esports district" growing in size and popularity and the esports culture sky rocketing.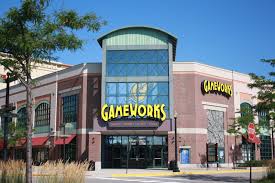 GameWorks Las Vegas
Las Vegas seems like the perfect place to nurture and grow the budding esports culture, providing a perfect setting for major events and tournaments. The pairing of the two could mean a lot to both, bringing young esports fans into a huge tourist city and exposing esports to Vegas's thousands and thousands of visitors every year. If you are true esports fan you should probably start getting to know a little bit about Vegas, because it seems like in the near future we are going to be making trips there to fill all our esports needs.
If you like this article, here are a few more that might interest you:
10 Countries Where Esports Is Growing Massively
Top 15 ESports Teams In The World
Esports: 11 Interesting Facts About The Rapidly Growing Industry
Image Gallery