Overwatch Cole Cassidy "New Blood" Challenge Celebrates Change
Updated: 09 Nov 2021 4:47 am
Cassidy, formerly known as McCree
Overwatch has announced a new challenge called the New Blood challenge, which will take place from 9 November 2021 till 23 November 2021, and celebrates the renaming of Jesse McCree to Cole Cassidy. 
The Cassidy New Blood Challenge revolves around Cole Cassidy, the Overwatch cowboy formerly known as McCree.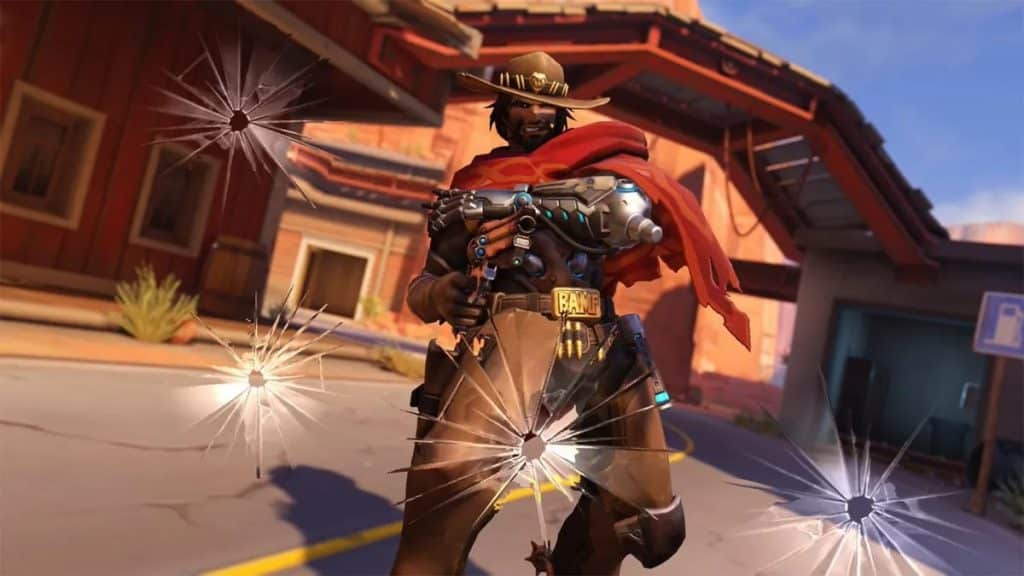 Cassidy and his Peacekeeper in action. Image by Overwatch.
It was decided to change McCree's name to Cole Cassidy after the sexual harassment scandal at Blizzard, as Mcree was originally named after the Blizzard game designer, Jesse McCree, who was fired due to his part in the toxic culture at Blizzard.
Cole Cassidy is a gunslinger whose primary weapon is the Peacekeeper revolver, and deals 35 to 70 damage per hit, and has a 20 to 45-meter falloff range. His secondary fire mode is a burst mode called "Fan the Hammer" where Cassidy will fan the hammer on his revolver to fire all the rounds remaining in his revolver in rapid succession.
The "Fan the Hammer" ability deals 27.5 - 50 damage per shot with a maximum damage of 300 and a falloff range of 18 to 30 meters.
Cassidy's ultimate ability is called "Deadeye" and is a rapid burst-fire mode similar to the "Fan the Hammer", but this deals up to 550 damage per second and has a range of 200 meters.
The New Blood event for Cole Cassidy is a welcome content filler between the Overwatch Halloween event and the annual Winter Wonderland event. 
The New Blood event also presents an opportunity for some new lore to go with the renaming of Cole Cassidy by the potential creation of a plot twist in his story.