[Top 10] Sims 4 Best Careers (Highest Paying Jobs)
Updated: 30 May 2020 11:46 pm
I don't want to know what kind of science he's doing to that pastry.
Which career is the best in Sims 4? 
What does your sim want to be when they grow up? A successful artist? Fabulously wealthy? Choosing a career is one of the biggest decisions in a sim's life, but there are so many options it can be hard to decide what the best path for you is. Here we'll try to narrow it down by looking at the best careers in The Sims 4, and diving into what makes them each so special.
10. Military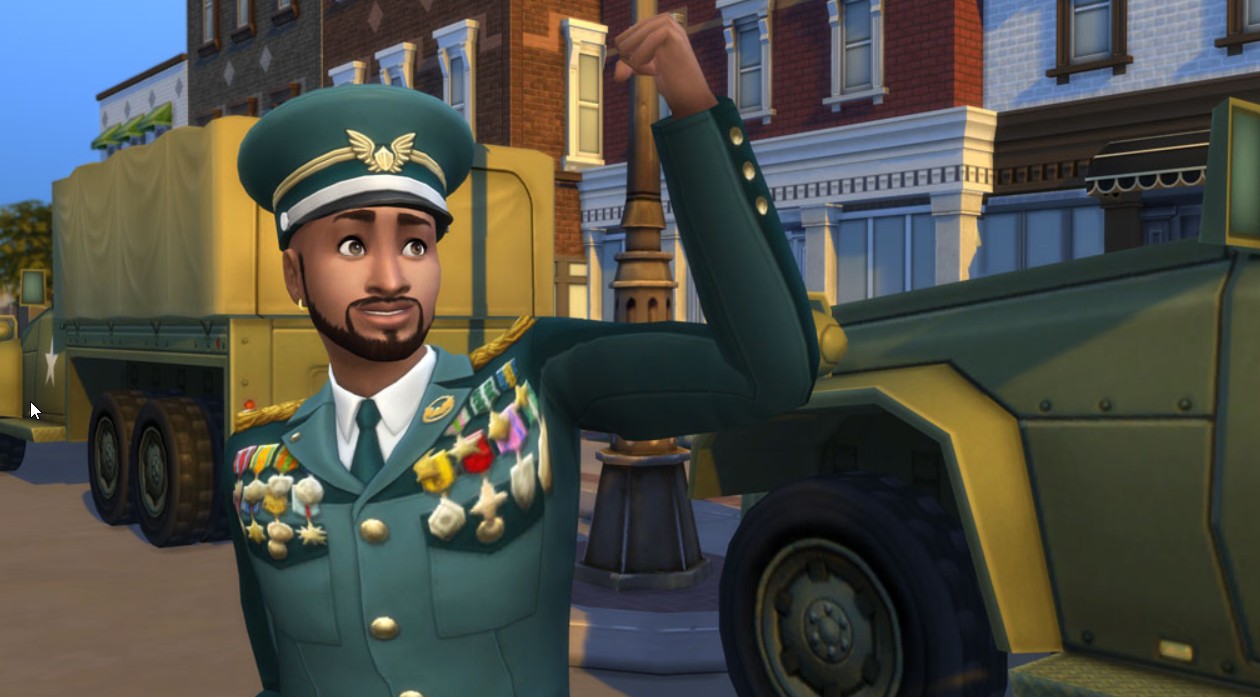 Look at all those medals! This sim commands respect. 
With the Strangerville pack, we got a brand-new Military career, essential for keeping the secrets of Strangerville under lock and key. With some hard work and determination, you too can rise through the military ranks. After all, everyone loves a sim in uniform.
Military Highlights: 
Both branches of this career have the same earning scale! 
Choose Covert Operator if you want your sim to have a night schedule (6 pm-2 am) or Officer for more traditional work hours (10 am-6 pm).
Rewards include a fashionable case to show off your medals.
Military Earnings: 
The most weekly earnings in any career at level 10, §16,880.
Large cash bonuses of §1k-3k at higher-level promotions.
Military Career Path: 
This career is chosen from your phone or computer under "Find a job". 
Fitness, logic, and charisma are the important skills for this career. 
9. Small Business Owner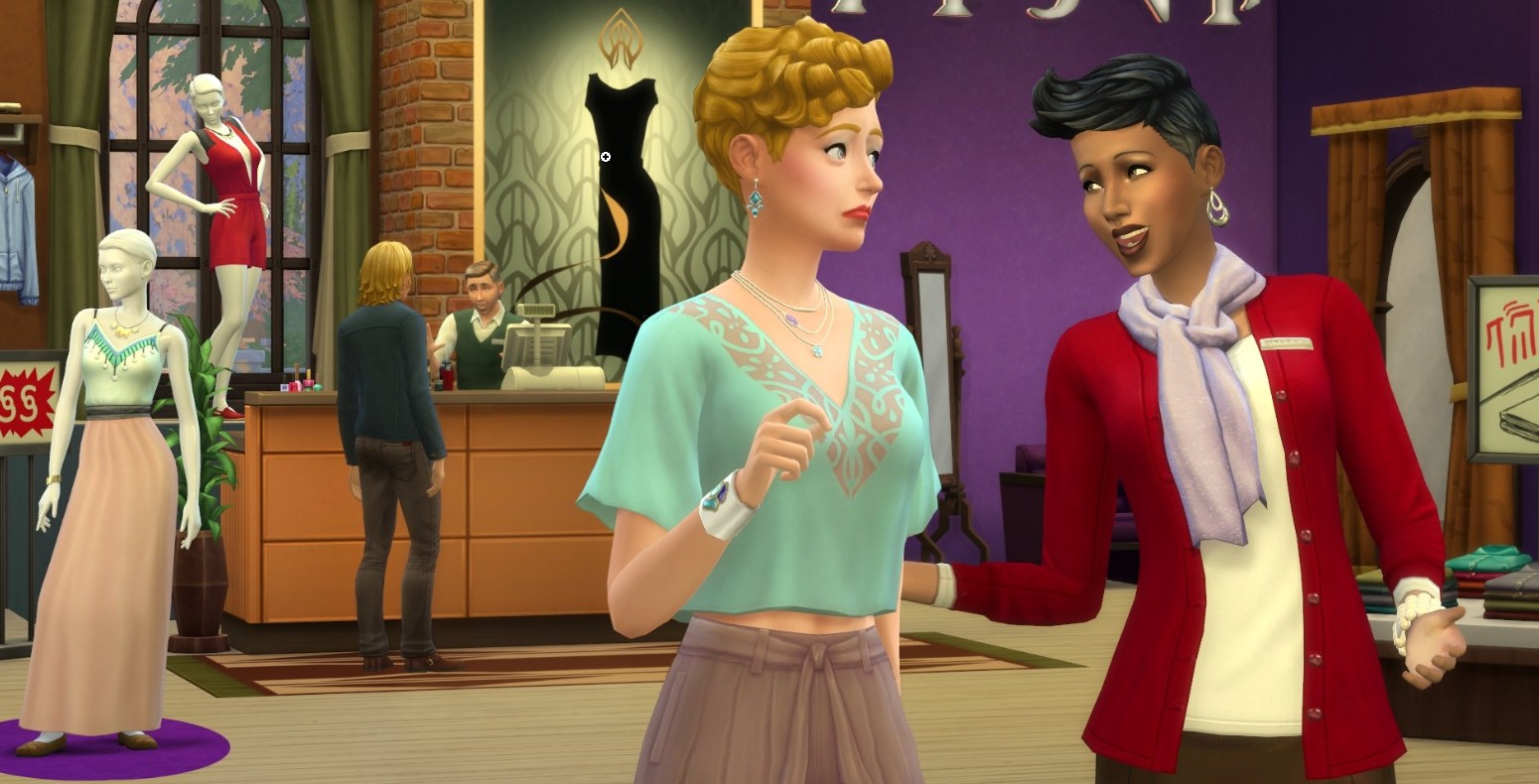 Buy from me and you'll be the best-dressed sim this side of Willow Creek.
One fun thing you can do in The Sims 4 is to run your own business. Whether it's a vet clinic, a retail store, or a bakery, your sim can be the entrepreneur they always dreamed of being. Exploit your employees and jack up your prices for some extra fun (note: your customers may not like that).
Small Business Owner Highlights:
Set your own schedule.
Decide what to sell. You can sell clothes, collectibles, books, items your sim creates - really anything you want!
Small Business Owner Earnings: 
Retail income starts out slow, but with hard work and a little strategy, your store can be very profitable! My painting gallery easily makes §4,000 a day. 
Small Business Owner Career Path: 
Select "Buy a Retail Store" from the phone to buy a lot.
Build and design your store (or download one from the gallery).
Stock the items you want to sell, hire employees (or make household members help for free), help customers, and ring up sales!
8. Astronaut: Interstellar Smuggler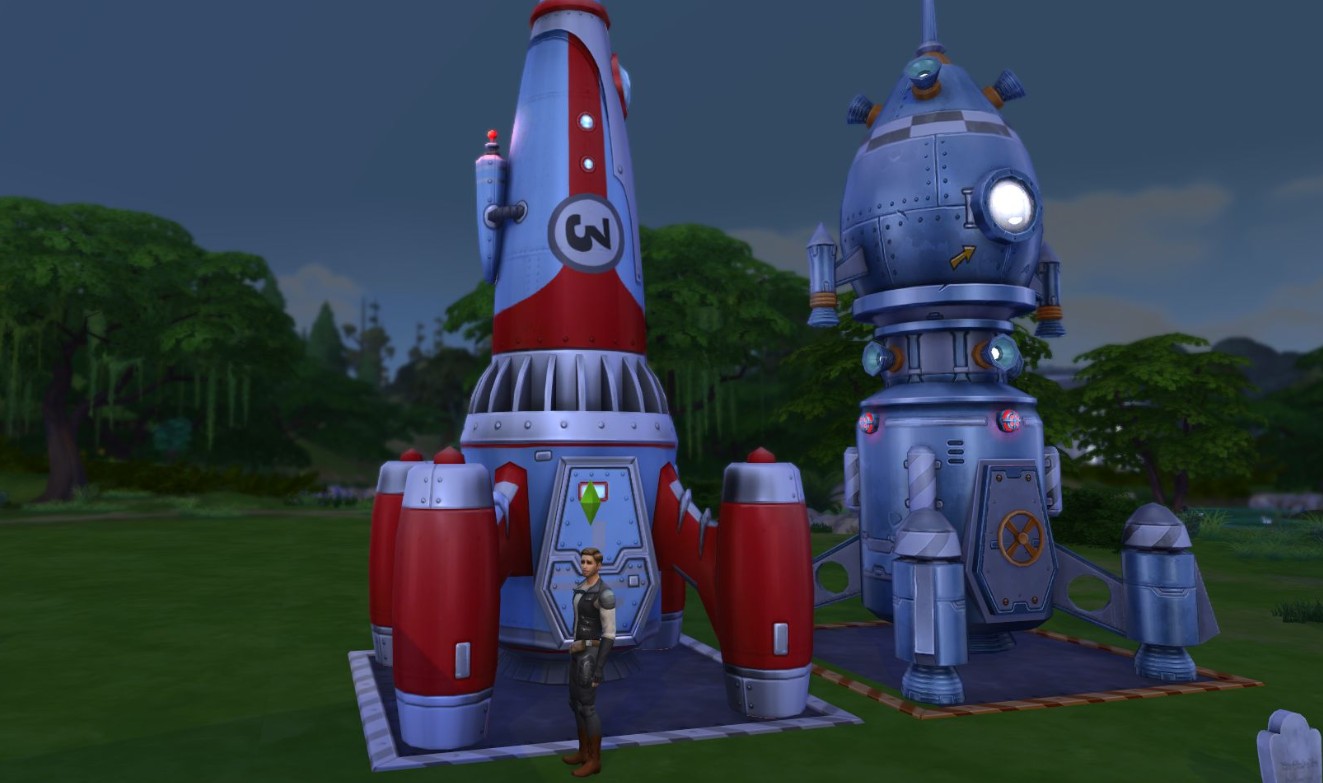 To infinity, and beyond!
Every sim wants to be an Astronaut when they grow up - but does your sim want to be more of a Han Solo type space traveler? Then this could be the perfect career for them. Trade goods with aliens, drink alien juice, and go on exciting space missions!
Interstellar Smuggler Highlights: 
Get the alien juice drink recipe that gives your sim a random moodlet after drinking.
Earn lots of cool reward items that give off a confident aura.
At level 10 you get a Retro Rocketship!
Interstellar Smuggler Earnings: 
At level 10 earn a whopping §14,868 per week (significantly more than the Space Ranger branch).
Huge cash bonuses at higher levels, ranging from 1k-5k.
Interstellar Smuggler Career Path: 
The Astronaut career is chosen from your phone or computer under "Find a job". The Interstellar Smuggler branch can be chosen at level 7.
Work hard on your logic, fitness, and rocket science skills.
Promotions don't come easy with this career, so always send your sim to work in a positive mood with their needs as full as possible.
7. Writer: Author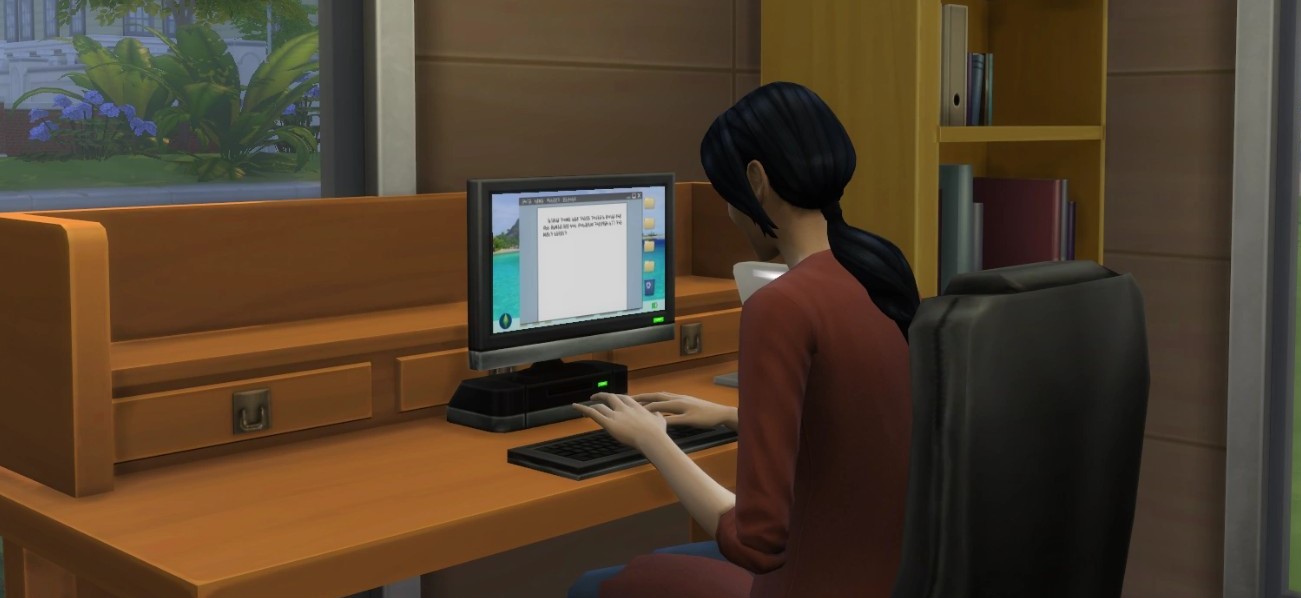 This is going to be the novel of a generation!
Whether your sim is more of a Jane Eyre or a Stephen King, the heart of a great writer beats beneath their bosom. If they have the chops, your sim can make a great career as a bestselling author! Just put the pen to paper and watch those royalties roll in.
Author Highlights: 
At higher levels, you actually have to go to work very little. Only two days a week at level 10.
Set your own writing schedule.
Earn rewards with an inspiring aura to make the most out of your writing time.
At level 10, learn how to make the mysterious Book of Life.
Author Earnings: 
Base salary of up to §2,790 a day. 
Produce bestsellers for publishers and literary digests to earn the most royalties! Bestsellers can go for up to §800 a day each, and you can write as many as you have time to pump out (royalties do decline over time, so keep producing books).
The "Creative Visionary" trait can be purchased from the rewards store for 2,000 aspiration points and makes your sim 20% more likely to produce a bestseller.
Author Career Path: 
The Writer career is chosen from your phone or computer under "Find a job". The Author branch can be chosen at level 6.
The essential skills for this career are writing and logic.
6. Business: Investor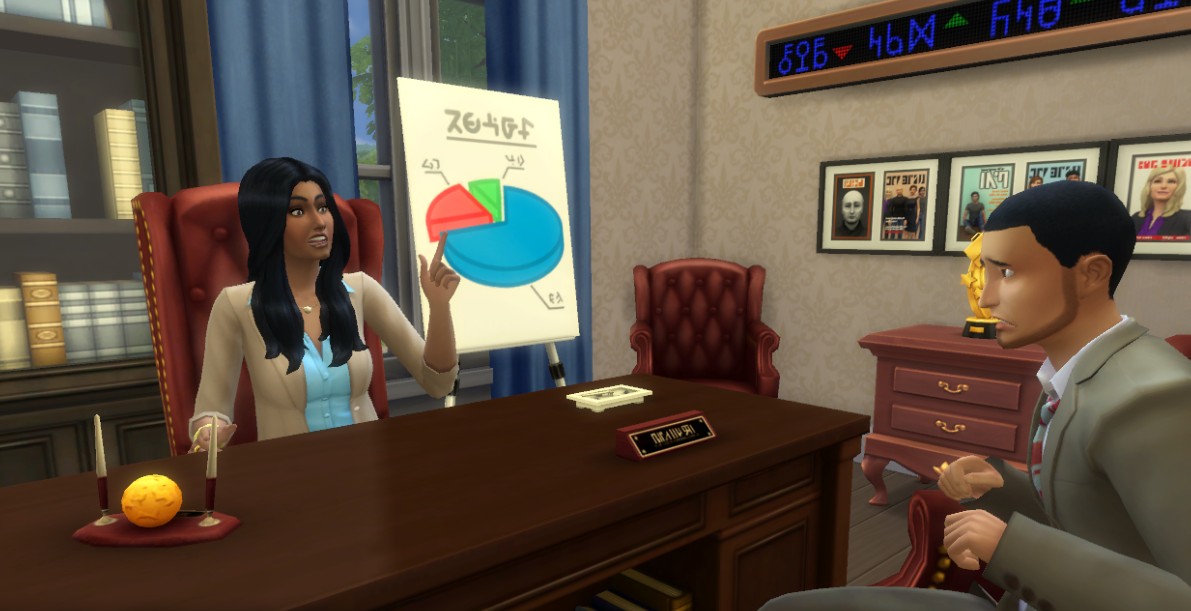 Based on his face I'm not sure this is going well.
It makes sense that the Business career would be one of the most lucrative for an aspiring sim, but business doesn't have to be boring. Investor is the career for a sim that's a gambler at heart and knows that a big risk can mean a big reward.
Investor Highlights: 
Gain the ability to invest up to §5,000 every 48 hours.
Earn a set of fancy new office furniture.
Research Stocks to earn a +1 focused moodlet whenever it may be helpful.
Investor Earnings: 
Base pay up to §12,992 per week.
Earn bonuses of up to §2,600 with each promotion.
With investments, sims can potentially make an additional §12,500 every 48 hours - or they could lose all but 20% of their invested money.
Investor Career Path: 
The Business career is chosen from your phone or computer under "Find a job". The Investor branch can be chosen at level 7.
Key skills are charisma and logic.
Using the "Research Stocks" ability before making an investment increases the likelihood of a good outcome.
5. Tech Guru: ESport Gamer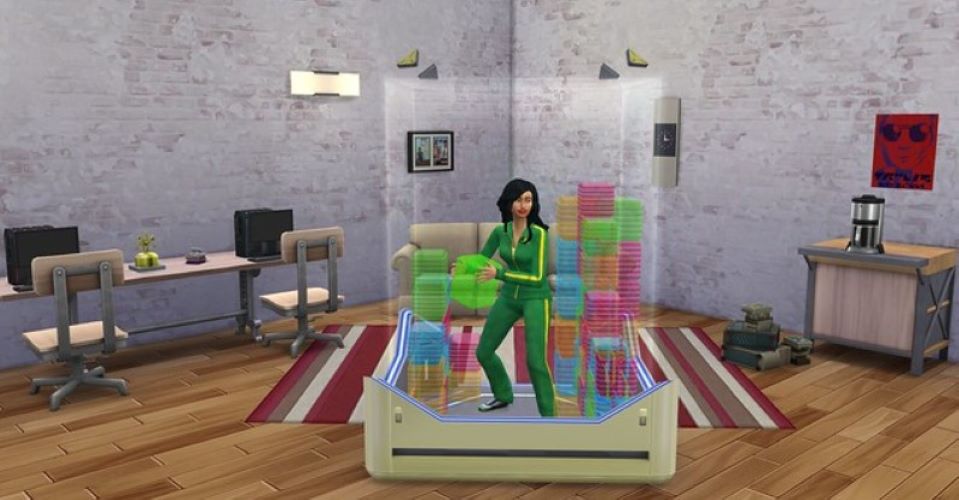 Being a BlicBlock champion is harder than it looks.
ESport gamer is a tricky career that may not jump out as a big earner. It has a higher salary at low levels, making it great when you're just starting out. Though the base salary less alluring once you get past level 5 or so, you can still make big money with the livestreaming ability - but it will take some work.
ESport Gamer Highlights:
Great rewards like the PrioPerfection Motion Sensor Game Mat and the Top Secret Computer.
Active job components like entering tournaments and livestreaming.
Earn money playing video games!
ESport Gamer Earnings: 
Base pay of up to §1,968.
Promotion bonuses up to §3,129.
Earn donations through livestreaming. These will be small at first, but if you can get yourself over one million followers you can earn as much as §80,000 per session. 
ESport Gamer Career Path: 
The Tech Guru career is chosen from your phone or computer under "Find a job". The eSport Gamer branch can be chosen at level 7.
Work to perfect your video gaming and programming skills. You may also want to work on the handiness skill to make computer repairs.
Get more followers by winning video game tournaments.
4. Criminal: Boss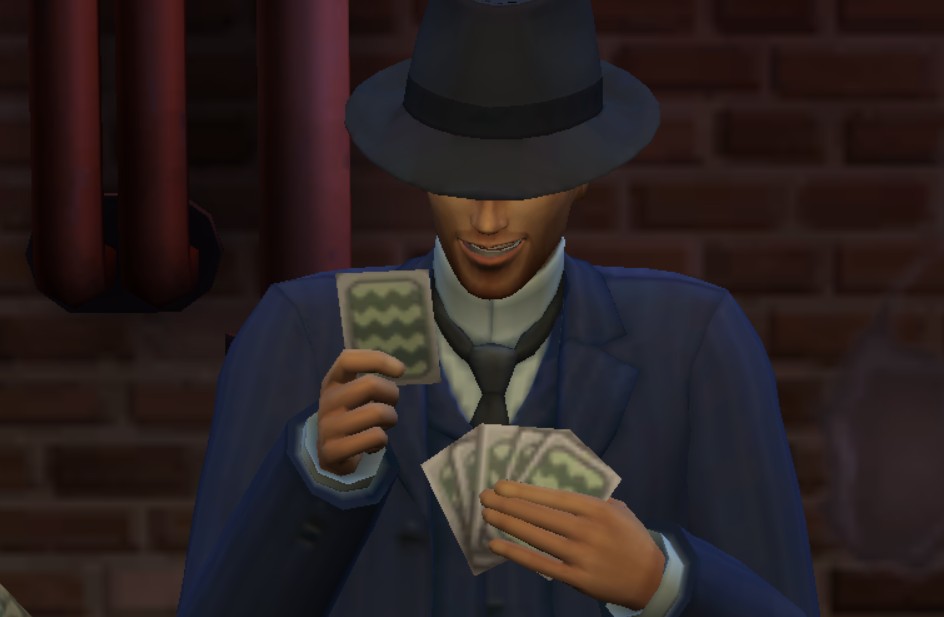 You never win when you gamble against the boss.
If you're going to do the crime, it pays to be the boss. Some sims are just shady characters, and those sims inevitably end up in the Criminal career. 
Boss Highlights: 
Unlock the pickpocket skill at level 3.
The level 4 job title is "Felonious Monk" which is easily the best job title in the game.
The "Dastardly" bonus trait makes mean interactions more successful, which is great if you're trying to make a sim who's a real jerk.
Boss Earnings:
Base pay of §12,460 at level 10.
Big promotion bonuses, up to §8,039 at level 10, the biggest promotion bonus in the game.
Statues and other rewards that can be sold for extra cash.
Boss Career Path: 
The Criminal career is chosen from your phone or computer under "Find a job". The Boss branch can be chosen at level 6.
Focus on mischief and handiness skills.
3. Gardener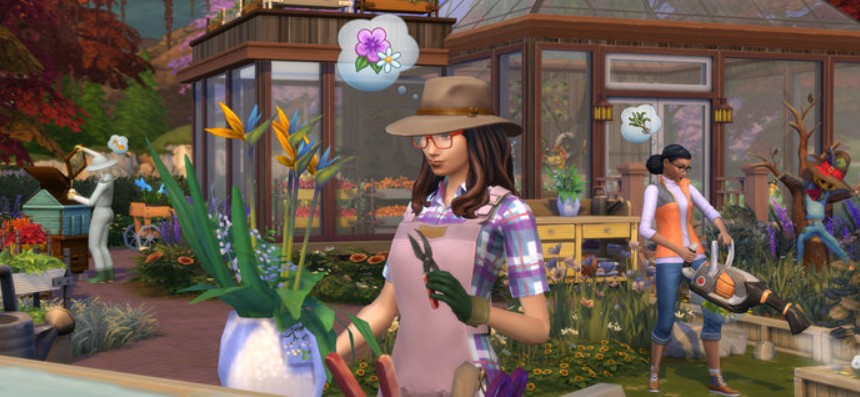 There's no better job than spending the day in the garden.
Both branches of the Gardener career, Botanist or Floral Designer, are equally fun and both very lucrative, so I couldn't decide between them. Gardening is a great career because it takes an aspect of the game that was already a hobby - and one that makes a lot of money on its own - and adds a salary to it! What could be better?
Gardener Highlights: 
Grow plants and create lovely flower arrangements!
Earn tons of money doing your sim's favorite hobby.
Gardener Earnings: 
The level 10 base salary is for Botanist and for Floral Designer.
The Botanist can apply for grants at level 10 and receive over §1500.
Earnings from actual selling of harvestables vary greatly, but if you plant particularly high-priced plants like roses or a money tree, you'll see big, consistent returns (a perfect quality money tree will itself yield §22,225 upon harvest). 
Gardener Career Path: 
The Gardener career is chosen from your phone or computer under "Find a job". The Botanist or Floral Designer branch can be chosen at level 5.
Both branches require the gardening skill. For Botanist you'll also want logic and writing, and for Floral Designer you need flower arranging.
2. Style Influencer: Stylist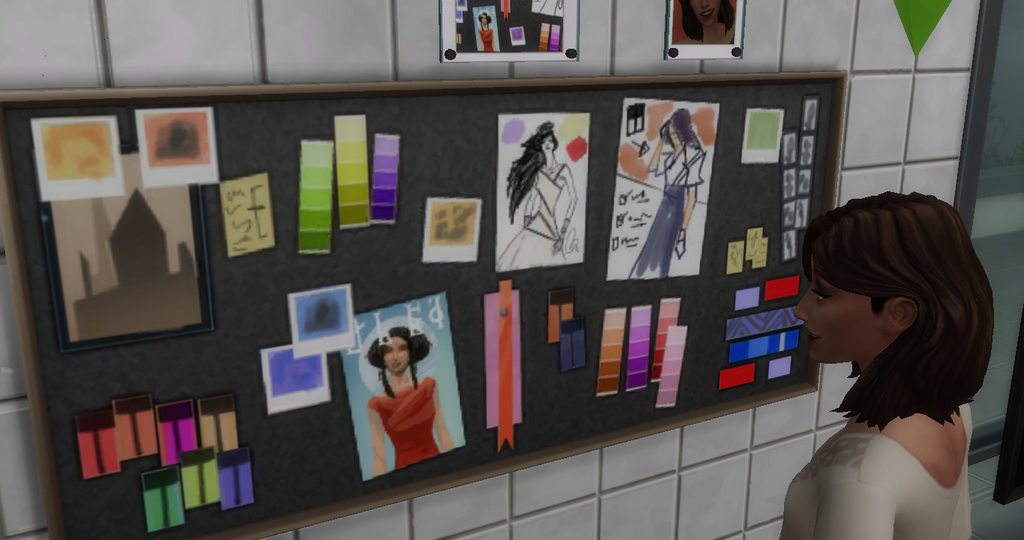 It's not just a job - it's an art form.
If you are a Create-A-Sim fan like I am this career is SO much fun. As soon as you choose the stylist branch, you get the friendly interaction "makeover sim", which lets you take the townie you're talking to into Create-A-Sim and completely redo their look! The style board interactions can take some getting used to, but all told this is a fun, hands-on, and creativity fueled career. 
Stylist Highlights: 
Get to makeover any sims you choose!
Great rewards like a digital tablet for painting, a digital camera, and an All-in-One Powerful PC.
Work from home option allows schedule flexibility and chances to work on improving career-vital skills.
Stylist Earnings: 
This is one of the highest paying careers with base pay topping out at §15,000 a week.
Stylists need high skills in writing and painting, as well as level 4 in photography, which all produce sellable goods that are particularly profitable as you improve.
Stylist Career Path: 
The Style Influencer career is chosen from your phone or computer under "Find a job". The Stylist branch can be chosen at level 6.
1. Scientist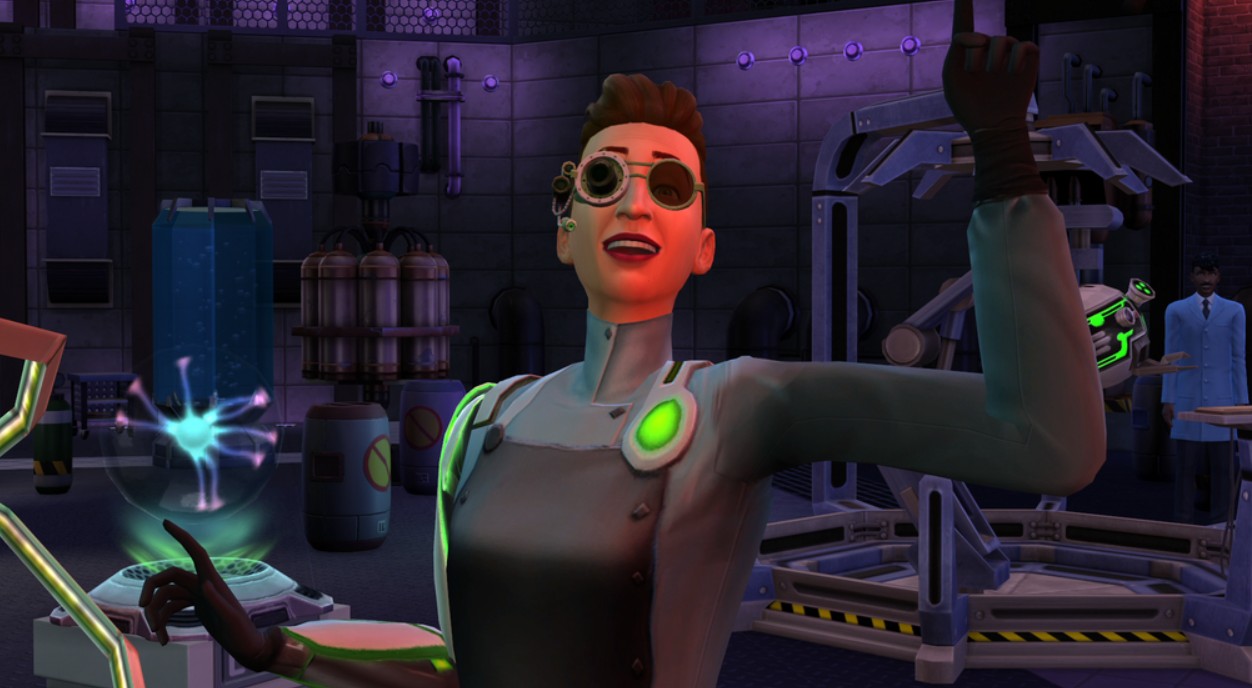 If you're going to be a scientist, you might as well be a mad scientist.
The active scientist career easily adds the most gameplay with fun inventions, serum mixing, and alien visitors! Chances are you'll get abducted at some point while you're working on this career, which seems like as good a reason to take a sick day as anything.
Scientist Highlights: 
Build cool inventions that let you transform objects, mind control other sims, start a town dance party, and even make clones.
Travel to the alien planet of Sixam to meet aliens in their homeworld and collect rare objects.
Skip the Geo Council for getting elements, meaning you can complete the element, crystal, and metal collections much faster.
Craft serums that fix moods, fill needs, reverse age, grant alien powers, and more!
Scientist Earnings:
Earn §11,115 per week at level 10.
Transform items into more valuable items with the Simray and sell them for a profit.
Get valuable meta; and crystals from your coworkers.
Scientist Career Path: 
The Scientist career is chosen from your phone or computer under "Find a job".
Choose interactions with the lightbulb and gear icons to increase your chance of having breakthroughs and coming up with new inventions.
Go to work with your sim to take advantage of all the science lab equipment and move forward in your career.
As The Sims 4 continues to expand, more careers will be added for your sim to explore. Will these make their way onto a best-of list? Only time will tell, but there is certainly some stiff competition!
You may also be interested in:
Image Gallery