[Top 5] Overwatch Best Crosshairs (Used By The Best Players In The World)
Updated: 03 Mar 2023 7:58 pm
Maximize your Crosshair Potential
 [Top 5] Overwatch Best Crosshairs Used By The Best Players In The World)
So you want to use a pro gamer crosshair?
Having the right crosshair for your hero is an essential part of mastering Overwatch. A fundamental part of any FPS game, your crosshair allows you to track where your bullets will hit.
Depending on the gun, fist, or hammer, different crosshairs can vastly improve your gameplay experience. If you're playing Doomfist or Reaper, you could try a mid-sized circle crosshair to hit big AOE shots. Playing Ana? Use a 5x5 crosshair like streamer ML7 to track long and close range targets.
While you won't immediately rank up to Grandmaster after you tweak your crosshair, you will be able to track your targets more effectively and have a better idea of what your gun is aiming at. 
5. Ryujehong
At number five, we have the Korean support god, Ryujehong, known for his superhuman aim and mastermind plays. He won the 2016 and 2017 Overwatch World Cup, carrying as the Korean team's flex support. Ryu is also considered one of the best Ana players in the professional scene.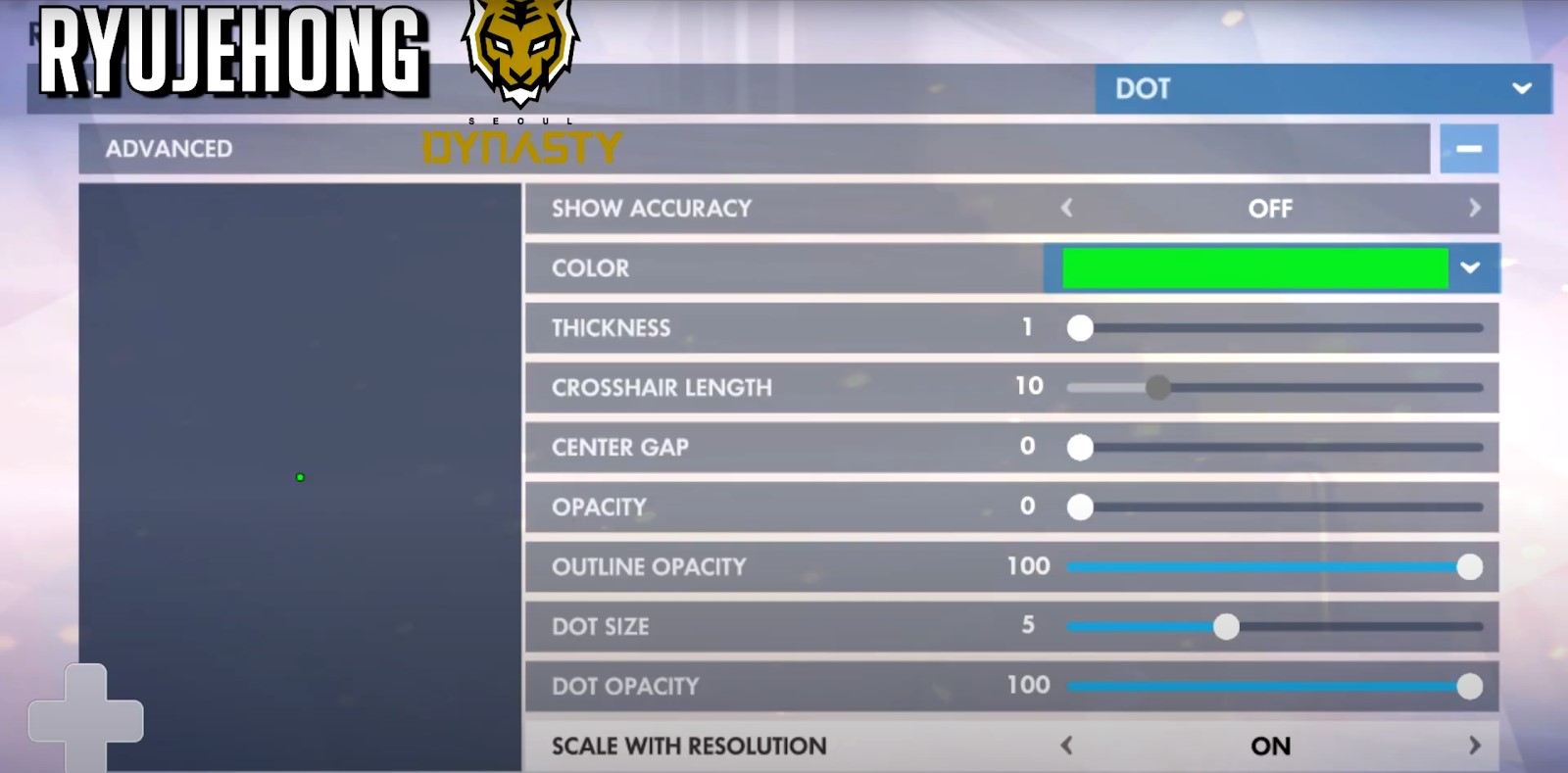 Ryujehong is a legendary gamer, so it's only natural he uses the green dot of death. The dot combined with low sensitivity is especially good for Zenyatta, a signature pick for the Seoul Dynasty flex support.
The maximum amount of information on screen due to small crosshair size.
Improves your aim instinct rather than rely on crosshair placement.
The dot combined with a lower sensitivity can improve your aim if you have a larger mousepad to work with.
Ryujehong's eDPI is 1720, or 400CPI at 4.30 sensitivity.
4. Super
Another great crosshair for Overwatch comes from one of the most decorated competitive Overwatch players, the American main tank and captain, Super of San Francisco Shock. As he loves to remind his Twitch viewers, his titles include: two-time Overwatch League Champion, World Cup Champion, Stage 2 Champion, May Melee Tournament Champion, Role Star, All Star, and MVP Runner-Up.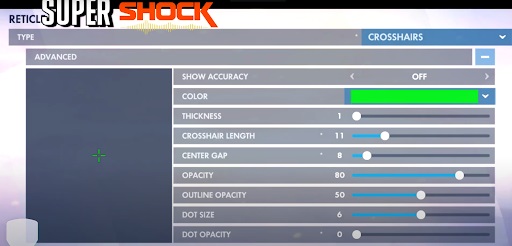 Super uses a mid-sized green crosshair with a medium-sized opening. Being a Reinhardt player, his primary focus is protecting his team with his shield, as well as swinging on his enemies when the time is right.
Mid-sized crosshair is great for flex tank heroes like Sigma or Hammond.
The 11 crosshair length allows you to accurately aim at head height at all times.
Higher sensitivity can be useful for hitting targets and shielding your teammates faster as Reinhardt.
Super uses 6200 eDPI, or 800CPI at 7.75 sensitivity.
3. ChoiHyoBin
 At number three, we have another SF Shock player, the Korean Off-Tank player ChoiHyoBin. Choi is known for his Dva and Roadhog and was the T-Mobile Grand Finals MVP in the 2019 Overwatch League, and recently won the 2020 Overwatch League Grand Finals with the SF Shock.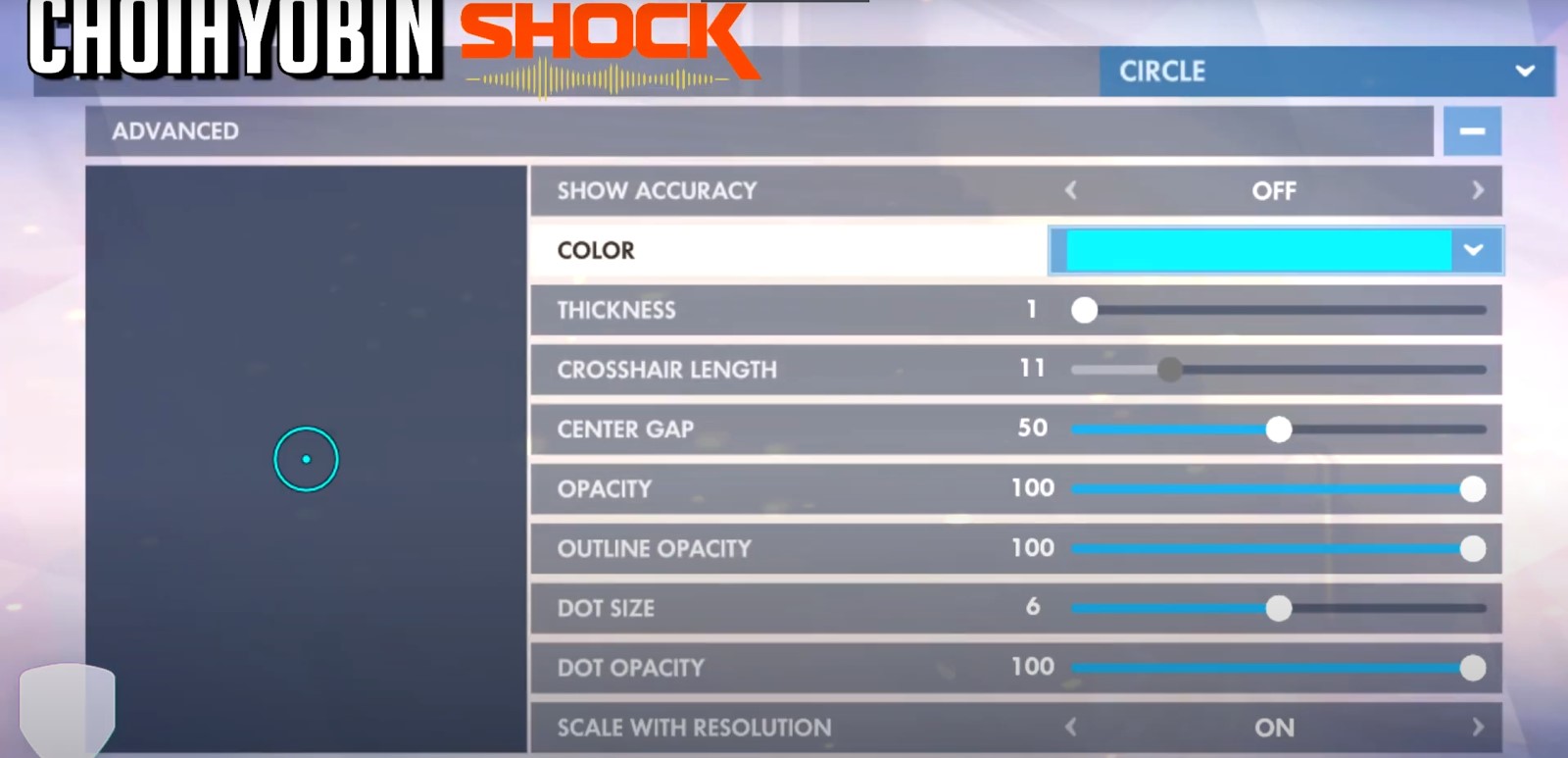 Choi uses a medium blue circle + dot crosshair, which is quite common for heroes that do spread damage such as Roadhog, Dva, or Reaper.
With shotgun heroes such as Dva and Roadhog, a circle can be a more effective crosshair to show where the spread damage will land.
Depending on the spread of the gun, you can change the size of the crosshair.
ChoiHyoBin uses 4000 eDPI, or 800CPI at 5.00 sensitivity.
2. Sinatraa
Another player from the most dominant teams in recent memory, SF Shock, Sinatraa is an American DPS and Off-tank player who was the Regular Season MVP, World Cup MVP in the year SF Shock won the Overwatch League and World Cup Championships. 
Sinatraa has since left SF Shock and Overwatch to play Valorant with the Sentinels.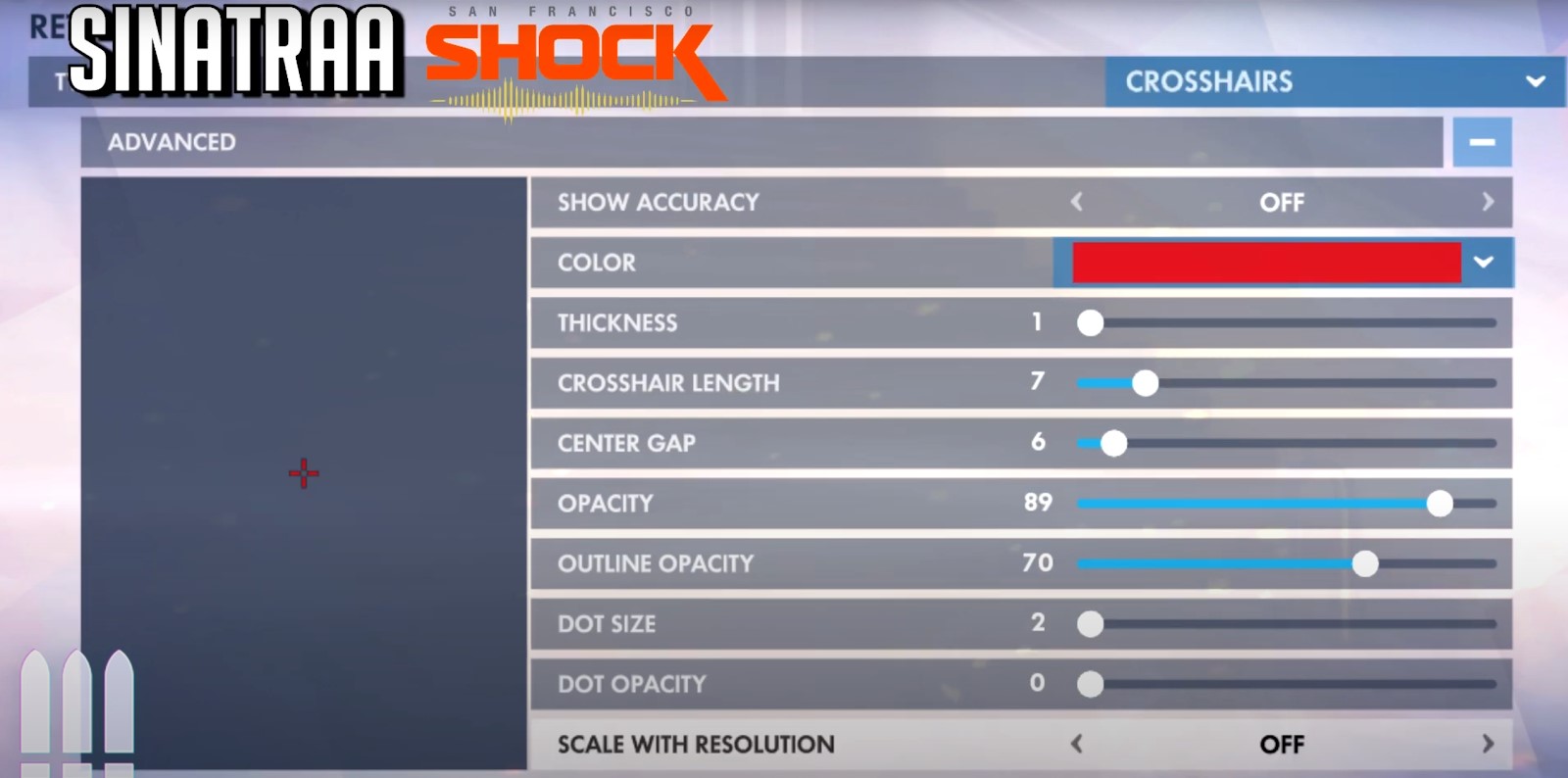 Sinatraa uses a red crosshair with slightly lower opacity to compensate for the bold red color of the crosshair. 
Compared to the green crosshair, red catches your eye quicker and lets you track targets better.
This crosshair can be good for DPS heroes, especially tracking heroes like Soldier, Zarya, or Tracer.
Sinatraa uses 72000 eDPI, or 800CPI at 9.00 sensitivity.
1.JjoNak
Ranking first, we have the Korean Zenyatta God himself, JjoNak of New York Excelsior. His notable achievements include the T-Mobile MVP in the Inaugural Overwatch League, as well as World MVP in the 2018 Overwatch World Cup. He is currently captain of the New York Excelsior.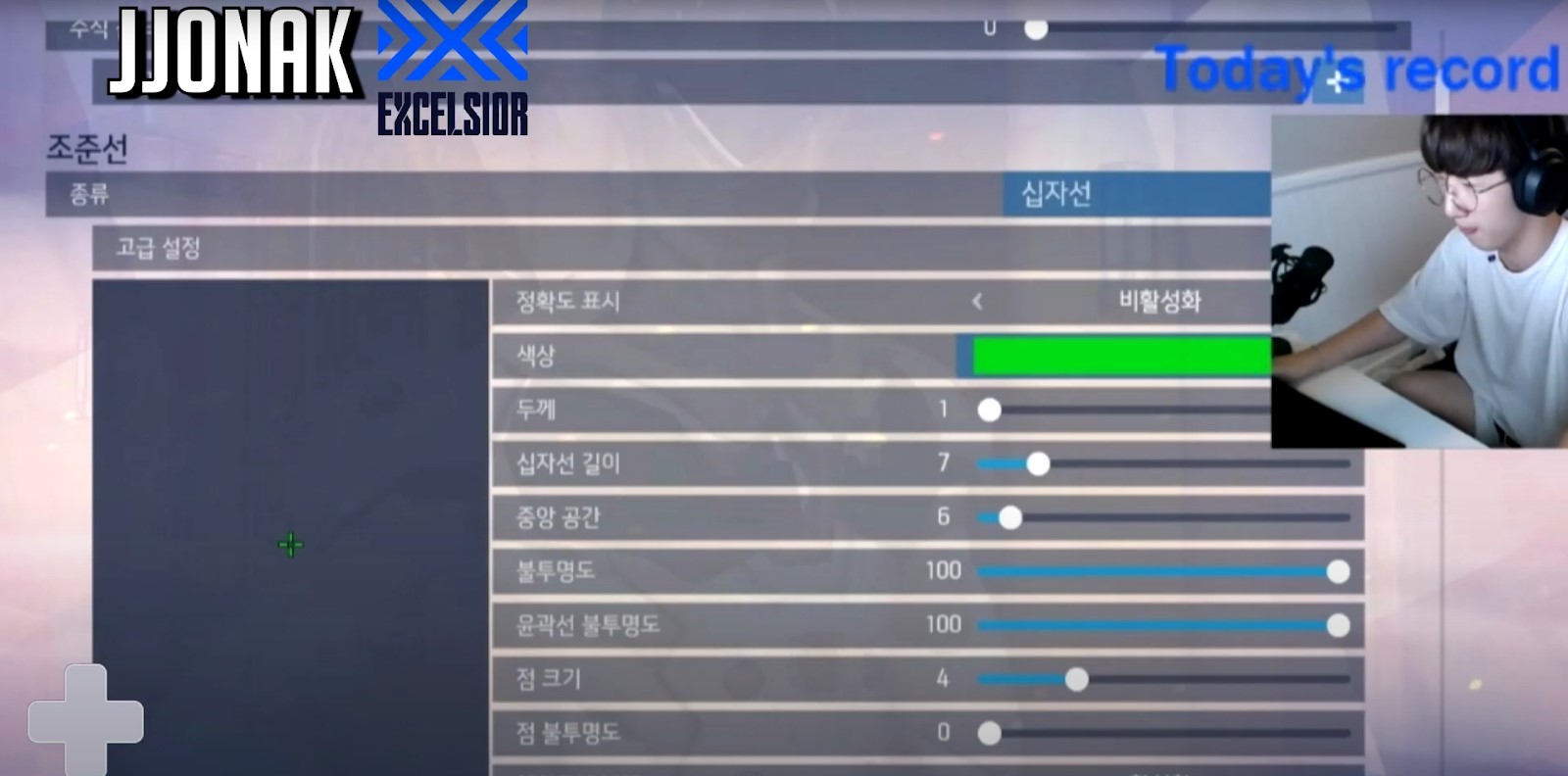 JjoNak uses a small green crosshair with a small opening. The small crosshair combined with a low sensitivity is especially good for Zenyatta, JjoNak's signature hero.
Small crosshair size enables you to see your enemies more clearly while still tracking at head height.
A tighter grouping of crosshair is good for hitscan heroes like Mcree or Widow.
Considered a top-tier crosshair by expert Overwatch players.
JjoNak's eDPI is 2000, or 1000CPI at 2.00 sensitivity. 
Ultimately, crosshair settings are up to your own personal preference and can vary from player to player, as well as hero to hero. Changing your crosshair by itself won't make you an aimbot killing machine. However, with these pro gamer examples to serve as your guide, you'll be getting a lot more kills and wins on Overwatch in no time.
 
You may also be interested in:
Image Gallery